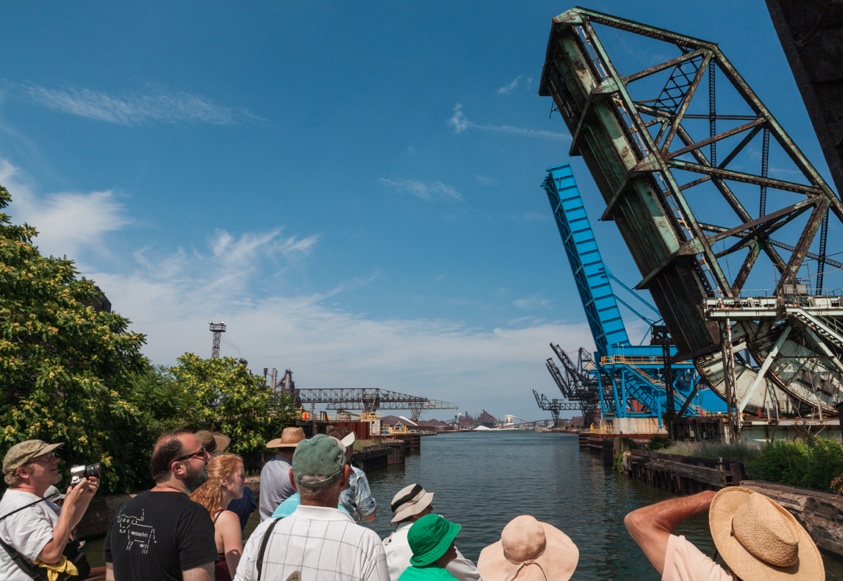 Matthew Kaplan
Less than 20 miles from the Main Branch of the Chicago River is one of the most unknown, unexplored, and forgotten sites in the Midwest, the Indiana Harbor Canal. Forgotten Chicago explored this remarkable industrial waterway for the first time in July 2013; details and additional photographs of our exclusive tour follow below.
Many thanks to everyone who joined Forgotten Chicago in 2013 for our sixth season, which featured 15 all-new and exclusive tours and six never-before-offered presentations. A summary of our busiest season to date follows below; watch this site in January for a sneak peak at our 2014 season.
2013 Forgotten Chicago Tours, Presentations & Events
---


Left and Center: Chuckman Collection Right: Realty & Building, 1978
A standing-room-only crowd of 45 guests joined Forgotten Chicago on Saturday, December 7 for a free presentation focusing on the overlooked history of Back of the Yards and environs. Held at the new Back of the Yards branch of the Chicago Public Library, which opened in August 2013, this presentation covered the long and complex history of the area around the famed Chicago Stockyards, which closed in 1971 but has a surprising number of remnants remaining. The presentation covered the history of the Yards, its architecture, and some of the other industries that once located in the area — including the country's first industrial park.
More than 100 little-seen images were included and discussed, including the sole bar that remains open along South Ashland Avenue's famed "Whiskey Row" above center. This presentation delved deeply into the history of and interactions between the Chicago Stockyards and the surrounding neighborhood, including ethnic history, overlooked neighborhood architecture, retail relics, and other oddities and remnants. Also discussed were unrealized plans for the area, such as developer Harry Chaddick's plans for a major shopping center in the area above right.


Left: White Way sales brochure, no date Center: Pleasant Family Shopping Right: Architectural Record, 1948
On the day before Thanksgiving 2013, WGN Radio 720 AM's Bob Sirott and Marianne Murciano interviewed Jacob Kaplan and Patrick Steffes on Forgotten Chicago's six years of research, presentations and tours. The wide variety of topics related to Chicago's overlooked built environment discussed included Bob Sirott's memories of the long vanished Henrici's at the Merchandise Mart, above right, Carson Pirie Scott's once elaborate Christmas displays at their State Street flagship, which celebrated its last holiday season in 2006 seen above center in 1971, and the mostly vanished Shoreline Motels, explored in a series of four Forgotten Chicago articles, above left. Bob and Marianne's entertaining interview may be heard in its entirety on the WGN Radio 720 AM web site.


Patrick Steffes
Forgotten Chicago's third tour of Chinatown and environs was conducted for students of the University of Chicago on a brisk fall day on Saturday, November 23. The many sites covered included the 1937 railroad viaduct over Cermak Road built in 1937 using federal WPA funds, and once used by the New York Central and Rock Island Lines railroads. Although these venerable names in transportation history disappeared in 1968 and 1980, respectively, their names are still visible over Cermak Road today. The long industrial and manufacturing history of the area west of Chinatown was discussed, including the 111-year old former Schoenhofen Brewery powerhouse above right, written about by Forgotten Chicago in 2008.


Left: Realty & Building, 1954 Center: Wikipedia Right: Limited Ways: A Plan for The Greater Chicago Traffic Area, 1933
Decades of unrealized and little-known projects was the focus on an all-new and exclusive Forgotten Chicago presentation on Unbuilt Chicago for Mather Lifeways on Friday, November 15. Utilizing FC's proprietary database of thousands of images, articles and ephemera taken from decades of non-digitized publications, Chicago's post-World War II obsession with attempting to demolish vast sections of the central city was discussed, including the ill-fated 151-acre Government Administration Center, above left.
Also discussed were the many ambitious supertall buildings announced in the previous decade, including the 107-story Waldorf-Astoria Hotel and Residence Tower project, announced in 2007. Another project discussed were the many 1933 city plans for a series of elevated and limited access roadways, including one heading northwest from the Merchandise Mart, above right. A similar and now-demolished viaduct travelling over Goose Island and the Chicago River was discussed by Forgotten Chicago in 2009.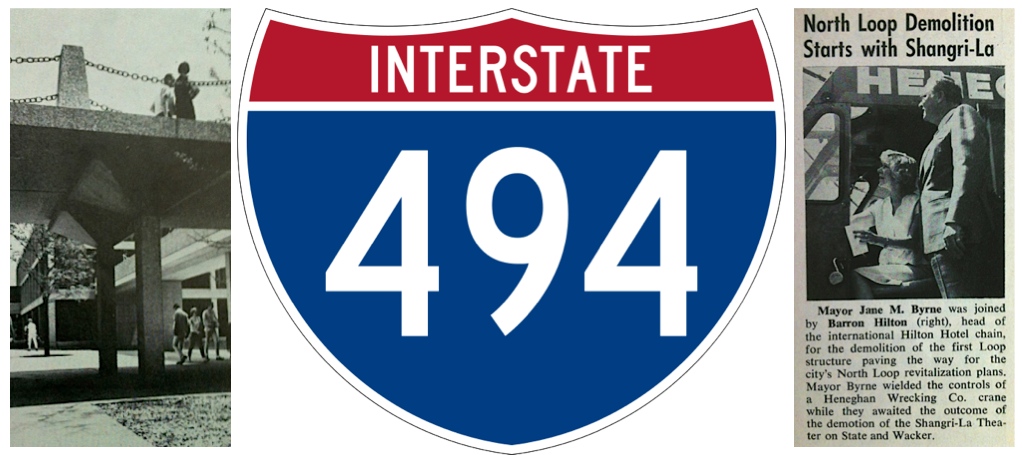 Left: Inland Architect, 1965 Center: Wikipedia Right: Realty & Building, 1981
An overview of planning in Chicago was the focus of Forgotten Chicago's presentation to the University of Illinois at Chicago's Urban Planning Alumni Association on Wednesday, November 13. Seen above left is a section of the "sidewalks in the sky" which once connected multiple buildings on the UIC campus; these were removed in a renovation in the early 1990s. The long and ultimately unsuccessful battle to build the Crosstown Expressway (Interstate 494) was discussed, as well as other unbuilt limited access roadways in the region.
Less well known than the notorious Block 37, and mostly forgotten today, was the city-led redevelopment of Blocks 16 and 17 in the North Loop, covering the two blocks bounded by State, Clark, Lake and Wacker. Above right, Mayor Byrne is seen above demolishing the pornographic Shanrgi-La Theater in 1981 to begin redevelopment of this site. This block was also the site of Chicago's first Municipal Parking Garage by Shaw Metz & Dolio, completed in 1955 and privatized during the Byrne administration.


Left: Patrick Steffes Center and Right: Matthew Kaplan
Five years after the November 2008 election of Chicago's Barack Obama as President of the United States, Forgotten Chicago, Pullman-area native Tom Shepherd, and The Public Historian Cynthia Ogorek presented a first-ever bus tour of sites crucial to the rise of Barack Obama in Chicago in the years before his move to the White House. On Sunday November 10 this exclusive tour visited many of the sites that helped shape Obama and his historic rise to the presidency between 1985 and 2008, including his early role as a community organizer.
Some of the many sites visited on this tour included Altgeld Gardens, where resident Cheryl Johnson above center, the Director of People for Community Recovery, described how Obama would visit their home to help organize residents improve living conditions at this Far South Side CHA community. Chicago author Edward McClelland also offered the group insights on Obama's early Chicago life and career, as described in his 2010 book "Young Mr. Obama" above right.


Left: Patrick Steffes Right: Matthew Kaplan
This tour also made a stop in Pullman, where participants visited Reformation Evangelical Lutheran Church and heard from Reverend Joel Washington and Ada Scott, two local residents who worked closely with Obama, and are currently compiling an oral history project on Obama's early community organizing work in Pullman. The group ended the tour in Hyde Park, above, where the group enjoyed lunch at Valois, one of the presidents favorite restaurants, and a walking tour including Obama's barber shop above left, as well as the location of Barack and Michelle Obama's first kiss. The usual visits to forgotten and overlooked sites included a former synagogue in Pullman, and Chicago modernist architects George Fred and William Keck's 1948 "essential services building" in Altgeld Gardens. Both The Chicago Tribune and CBS Chicago reported on this tour.


Left: Chain Store Age, 1943 Right: Realty & Building, 1954 Right: United States Geological Survey, 1938
Nearly 60 people learned more about the forgotten history of Rogers Park and West Ridge in a free presentation held on Tuesday, November 4 at the Northtown Branch of the Chicago Public Library. Sites discussed included the large number of intact commercial buildings in the area, including the former Hillman's Pure Foods store by Leichencko and Esser, above left. Also discussed was purportedly Chicago's first solar home from 1954, seen above center, along with the long and scandalous history of the current Warren Park, first discussed by Forgotten Chicago in 2010. The local web site DNAInfo Chicago posted an article on our presentation with an extensive slide show the following day.

Patrick Steffes
Forgotten Chicago helped the landmark Sears store at 6 Corners celebrate its 75th anniversary with two exclusive tours on Sunday, October 13. These sold-out tours offered guests behind-the-scenes access to one of the largest extant department stores in the Midwest, in FC's first tour to focus on a single building. Led by Dale Harris, a Sears contract employee since the late 1960s and the head of the store's 75th anniversary celebrations, a tour highlight was a visit inside the store's massive two-story former display window at the corner of Milwaukee, Cicero and Irving Park, seen inside and out above center. This tour also included a trip down the store's grand Art Deco "marble staircase" that has been sealed off for decades, back-of-the-house stockroom and employee functions, and remnants of the former Hillman's grocery store that operated in the store's lower level from 1938 to 1967.


Patrick Steffes
Forgotten Chicago's encore tour of Chinatown was conducted in association with the Chicago Chinatown Chamber of Commerce on a beautiful fall afternoon on Sunday, October 6. Forgotten Chicago Co-Founder and Editor Jacob Kaplan above left led the group to Sun Yat-Sen Playlot Park, a popular park adjoining the Stevenson Expressway; FC first wrote on some of these curious 1970s-era Expressway Parks in 2008. Also explored was Chinatown's long and complex social history, early industry, and challenges being constrained by transportation infrastructure. This tour also discussed local landmarks, including Chinatown Square by Harry Weese & Associates above right, built on a former Santa Fe Railroad yard in the early 1990s. Following the tour, guests were able to enjoy an optional lunch at Phoenix Restaurant.


Left: Patrick Steffes Right: Inland Architect, 1962
No fewer than 75 sites in twelve municipalities were explored during Forgotten Chicago's inaugural "Corporate Kings of the Suburbs North" bus tour, held on a sunny afternoon on Sunday, September 29. Using an air-conditioned 55-passenger motor coach to cruise the north suburbs in style, we explored corporate, manufacturing, retail, housing and transportation sites in the northern suburbs. Sites explored included an interior look of the Deerbrook Mall in Deerfield, a 1973 indoor mall with a nearly intact interior.
Also explored was a 2012 Forgotten Chicago discovery, a virtually unknown commission by one of the most overlooked architects of the twentieth century, Minouri Yamasaki, architect of New York City's original World Trade. Originally built for Detroit-based pharmaceutical giant Parke-Davis, this former office and warehouse was nearly completely intact until significant exterior alterations recently began; we took a look at these changes on this tour.

Left and Center: Patrick Steffes Right: Realty & Building, 1960
Exploring decades of development, construction and change in the region, we drove past Hausner & Macsai's distinctively purple former Hyatt House in Lincolnwood above center currently undergoing demolition. We also took a look at a lesser-known project by the same firm, the former Park Ridge Plaza Hotel, still featuring its distinctive thin-shell roof. We discussed the 30,000 abandoned "dead land" residential lots that plagued Skokie starting in the 1920s until well into the middle of the twentieth century, former and current corporate headquarters, award-winning architecture, early retail landmarks including the first Kmart in the Chicago area, the remains of a Roaring Twenties airport in Northbrook, and much, much more.


Left: Dave Gudewicz Center: Patrick Steffes Right: The 606
A sold-out crowd joined Forgotten Chicago Contributor Terry Banich (above left) and Sarah Morton of The Trust for Public Land on Sunday, September 15 for FC's tour of the former Bloomingdale Line, being repurposed into The 606 beginning in 2014. Terry's exhaustive research for his article, one of our most popular in our history, was the basis for this exclusive tour, offered by Forgotten Chicago for the first time. This tour took an in-depth look at the area around this former elevated freight rail line, including colorful murals, former and current industrial facilities, and many of the neighborhood oddities seen on every FC tour.


Left: The 606 Right: Patrick Steffes
A ground breaking for The 606 occurred in August 2013; this tour examined the Bloomingdale Line in its current state prior to the start of construction on this $91 million park. Besides the Bloomingdale Line, this tour also examined remnants of the Damen Junction of the former Humboldt Park Branch of the "L" that (mostly) vanished more than 50 years ago, also researched in-depth by Terry here. Additionally, this tour examined many other overlooked curiosities, including the factory that made the drums used by The Beatles during their 1964 American television debut, a former ice skate factory, and a nearly 100-year old parking garage still facing Humboldt Park.


The Belt Railway Company of Chicago
On Sunday, September 8 in association with the Clear-Ridge Historical Society, guests enjoyed a rare guided tour of the normally off-limits Clearing Yards, the largest switching terminal railroad in the U.S., and a key part of the nation's transportation infrastructure. Spanning more than five miles and nearly 800 acres south of Midway Airport, guests were able to appreciate the vast size of the Clearing Yards from the inside during this fascinating tour. We also drove directly under the "hump" that uses gravity to move trains downhill onto their correct track.


Left: Forgotten Chicago collection Center: Chicago Tribune Right; Patrick Steffes
This quickly sold-out tour also explored other overlooked sites, including an abandoned and deteriorating 1959 bank by famed Chicago architect Harry Weese above left, and a unique 1937 factory above center by Fred Foltz that curiously featured a rooftop dance floor. Little studied but an integral part of the history of Chicago, the 1900 Clearing Industrial District is one of the earliest and most important examples of a planned industrial park – the predecessor to the suburban industrial parks now commonly found along the Interstate Highway System. Many thanks to he Clear-Ridge Historical Society, The Belt Railway Company of Chicago, and to the participants on our tour!


White Way sales brochure, no date
On Thursday, September 5, more than 75 guests enjoyed a free, encore presentation of Forgotten Chicago's "The Overlooked Loop" in conjunction with Friends of Downtown at the Chicago Cultural Center. We explored everything from the first major office building completed in the central area since the Great Depression, Holabird & Root & Burgee's 1954 Sinclair Oil Building on Wacker Drive below left, completed one year before the better-known Prudential Building on Randolph Street, and now demolished.


Fourth from Right: Day-Brite Lighting Fixtures Ad, 1955 Third from Left: Chain Store Age, 1933 Second from Right: American Architect, 1932 Far Right: White Way sales brochure, no date
Forgotten Chicago also shared some of our exclusive database of images, including the Art Deco Wise Shoe Store on State Street third from right, one of many lesser-known retailers in the Loop. Additionally, we explained how Chicago has long been an innovator in parking, including the first vertical "parking machine" second from right on Monroe Street. Finally, we shared many images of overlooked buildings still extant, including the 1949 former Bond Clothing Store far right by 1949 Friedman Alschuler & Sincere with Morris Lapidus, altered but still standing today.


Left and Right: Dave Gudewicz Center: Patrick Steffes
In a sold-out tour on Sunday, August 25, we conducted our first Cable Car Remnants Bus Tour, led by Chicago author and historian Greg Borzo, above left. Almost completely forgotten until the publication of Greg's book in November 2012, Chicago once had, in terms of passengers and equipment, by far the largest cable car system the world has ever seen, with more than one billion total rides. This tour, offered for the first time by any organization, closely examined sites associated with this remarkable system, including an interior visit to an 1893 former cable car waiting room in Hyde Park above center, now home to the Hyde Park Historical Society. Above right, tour guests also received an up-close examination led by Greg of a cable car replica housed at the Museum of Science and Industry.

Left: Roy G. Benedict | Publishers' Services Right: Courtesy of David Clark
This tour traveled extensively to visit other sites associated with this system, including a drive along an original cable car "Loop", two former powerhouses, a former cable car barn, the site of one of two tunnels that carried cable cars under the Chicago River, historic bridges, and many other overlooked sites featured on every Forgotten Chicago tour. The tour exited the bus several times for photographs and questions for Greg, whose encyclopedic knowledge of Chicago's cable car system made for a memorable and very enlightening tour. Greg's Forgotten Chicago Cable Car Remnants article may be read here.


Left & Center: Patrick Steffes Right: Jacob Kaplan
The overlooked and the very forgotten was the focus of Forgotten Chicago's first tour of Evanston on Sunday, August 18, held in conjunction with Downtown Evanston. A near-capacity crowd enjoyed two exclusive interior visits, including a tour of Evanston's monumental Masonic Temple and the Hilton Orrington Hotel's long-closed indoor swimming pool. Above left is a portion of the Masonic Lodge's hand-painted English wallpaper dating from the building's completion in 1926. Above center is one of the Lodge's ceremonial flags inside this opulent building that has many of its furnishings intact from its completion. Seen above right, guests were able to examine and photograph the many intact details of the Hilton Orrington's large indoor pool and intimate bar overlooking the pool, which closed in 1972. The outline of the still-intact pool may be seen on the floor above right.


Left: Architectural Record, 1937 Right: Patrick Steffes
In addition to Evanston's unique history, thriving downtown, and its 121 years prohibiting the sale of alcohol, our tour examined office buildings, condominiums, churches and long-gone department stores by architects such as Barancik, Conte & Associates, David Hovey, Marion Mahony, Hausner & Macsai, and Shaw, Metz & Dolio. We also closely examined the 1936 former Marshall Field's parking structure and Firestone service station (above left), still extant today, as well as the crucial role parking has been to downtown Evanston merchants for decades. Additionally, we took a look at how downtown Evanston thoroughly reinvented itself after the opening of Old Orchard Mall in neighboring Skokie 1956, its many intact and forgotten landmarks, and its dramatic transformation in the twenty-first century.



Top left: Chuckman Collection Top center and right: Patrick Steffes Bottom: Chicago Tribune
Forgotten Chicago's first exploration of the utterly forgotten Pennock industrial village, industrial corridors west of Logan Square, and the area around Kosciuszko Park was held on Sunday, August 11. Besides the large number of industrial facilities located surprisingly close to residential areas, this tour explored many other overlooked sites in this neighborhood. Top left is the former Olson Rug Park and Waterfall, which delighted generations of young and old Chicagoans from 1935 into the late 1960s. At top center is what may be one of the only remnants of the waterfall, a concrete deer perched in a nearby front yard. Top right is one of the many terrazzo entryways still extant along Milwaukee Avenue for long-vanished retailers. Forgotten Chicago also located and pointed out several of the remaining houses built as part of the doomed Pennock, Illinois, along with architectural oddities and other curiosities in Pennock and the "Land of Koz."


Patrick Steffes
The inaugural Forgotten Chicago's tour of Chinatown was conducted in association with the Chicago Chinatown Chamber of Commerce on a sunny afternoon on August 10. This sold-out tour focused on the many overlooked aspects of this fascinating neighborhood, including its history as a large Italian settlement. Above left is a Chinese guardian lion in front of the cornerstone of the 1904 Madonna Incoronata Church, now the St. Terese Chinese Catholic Mission. Above center, guests explore the Lumber Street area, the former home of numerous paint factories, and the site of the company that invented the first electric popcorn popper. Above right is the first of a new series of boathouses along the Chicago River in the new section of Ping Tong Park; this facility opened in June 2013. Following the tour, guests were able to enjoy an optional lunch at Phoenix Restaurant.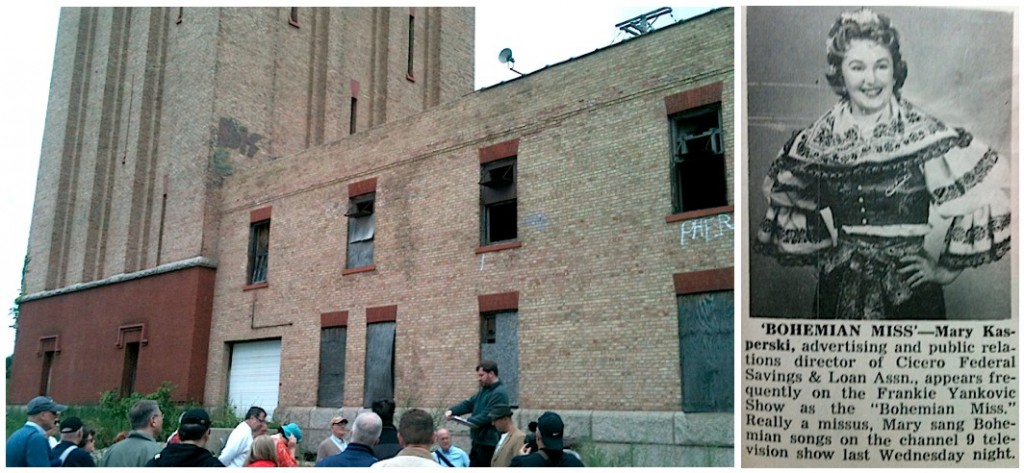 Left: Patrick Steffes Right: Realty & Building, 1956
Forgotten Chicago's first walking tour exploring the fascinating communities of Cicero and Berwyn was presented to a sold-out group on Sunday, July 28. Above left, the group pays a visit to one of the only remnants of the vast former Western Electric / AT&T Hawthorne Works, which once produced every Bell System telephone in the U.S. This staggering 110-acre complex contained nearly 6,000,000 square feet of space, 50% more than the Merchandise Mart, and at its peak employed 43,000 people. At right, the tour also explored the long legacy of locally owned financial institutions along Cermak Road, long known as "Bohemian Wall Street."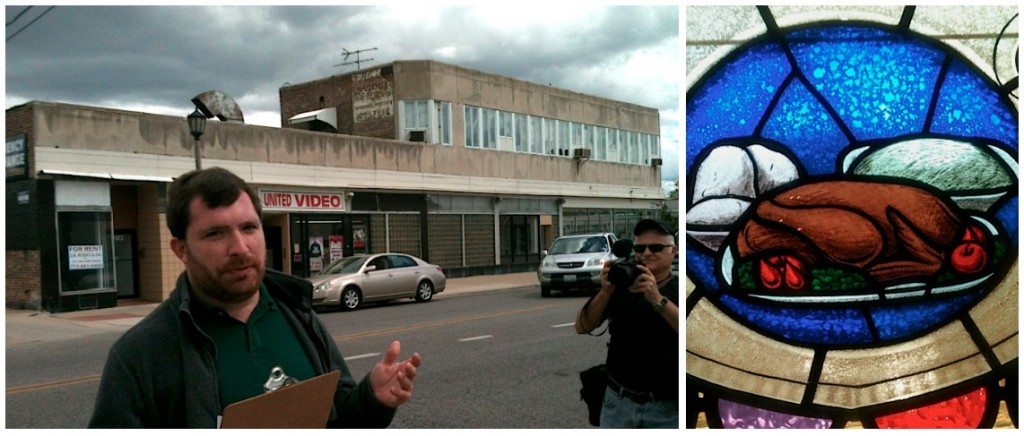 Patrick Steffes
Forgotten Chicago Editor and Co-Founder Jacob Kaplan shows the group one of the most intact and little-known art deco gems in the region – the 1931 Medical Arts Building by Walter Conley and D. W. Carlson. Barely visible above center is a curious ghost ad that states in part, "Employment for Working Girls Permanent & Temporary 100% Free." At right, guests also enjoyed an exclusive interior tour of Klas, an old-school Czech restaurant serving delicious Bohemian food on Cermak Road for more than 90 years.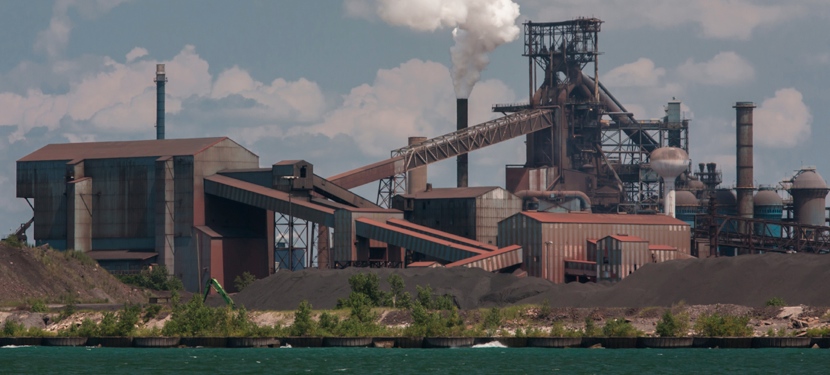 Matthew Kaplan
On Sunday, July 21, a sold-out group enjoyed what may have been the first public tour of the Indiana Harbor Canal in East Chicago in decades. Although virtually unknown, the Indiana Harbor Canal is a vital component of the billions of dollars in annual economic output in the Chicago area, and home to the largest steelmaking complex in North America.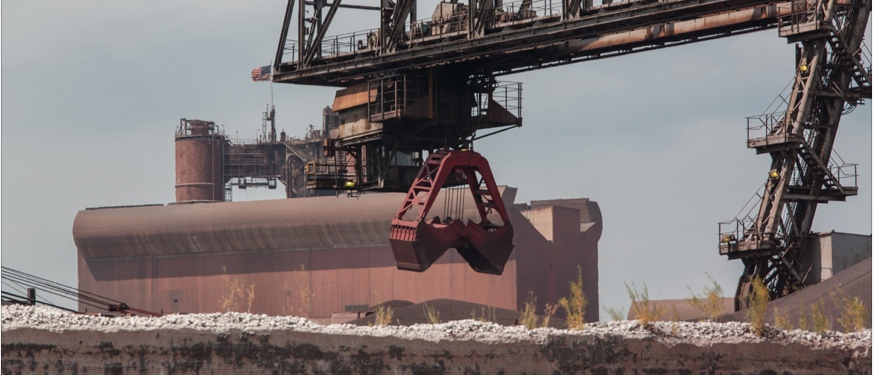 Matthew Kaplan
Our five-hour boat tour set sail at noon under sunny skies from Burnham Harbor. Besides the Indiana Harbor Canal, we took a look at Graham Anderson Probst & White's 1929 State Line Generating Station, which featured the world's largest turbine generator when built, and has been closed and threatened with demolition since early 2012; the U. S. Steel Company's massive former South Works, slated to be redeveloped as a residential and commercial district; and BP's expansive Whiting Refinery, previously explored in a sold-out FC Calumet Region bus tour in April 2013.


Serhii Chrucky
Besides an extensive lunch buffet and unlimited beer and wine, guests enjoyed an exhaustively researched tour and a souvenir 10-page guide featuring images from the archives of Indiana University Northwest in Gary. Once home to some of the largest employers in the Chicago area – Inland Steel, LTV Steel, Youngstown Sheet and Tube, and Standard Oil (Indiana), the area on and around the canal is now home to global companies ArcelorMittal, BP, and others. Some of the sights visible from the boat included blast furnaces, rolling mills, rows of bascule bridges, and a stunning panorama of enormous ore unloaders (above).


Matthew Kaplan
After six seasons of Forgotten Chicago tours, the Indiana Harbor Canal is by far the most forgotten location we've explored to date. Nearly all of the 120 guests on this tour, many of them avid Chicago-area explorers for decades (including the captain of our charter boat) had never been on this waterway prior to our cruise. Due to high demand, we are planning to visit this incredible area again in the future. Many thanks to everyone who joined us on this tour!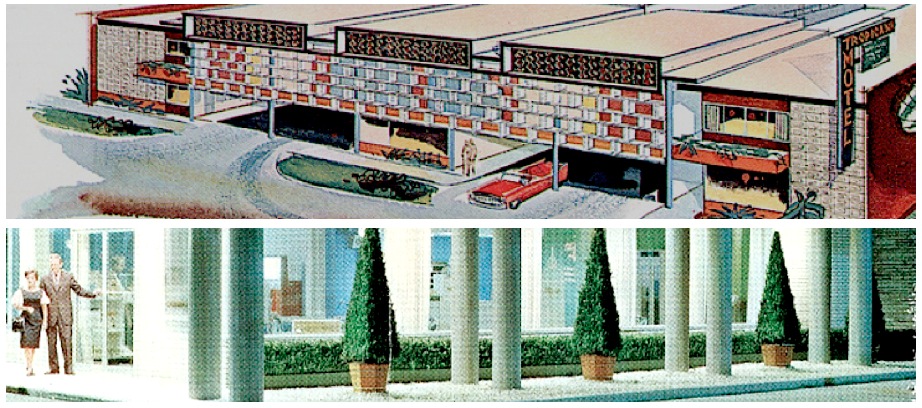 Top: Chuckman Collection Bottom: Courtesy Edgewater Historical Society
A standing-room-only crowd of 85 people enjoyed an encore presentation of the little-known history of Chicago's Shoreline Motels on Saturday, July 20 on behalf of the Edgewater Historical Society. Held in the newly rebuilt Edgewater Public Library, we covered motels from the far north side in Rogers Park to the South Shore community, with a particular focus on the four properties built in Edgewater. This presentation looked closely at why this type of accommodations flourished so briefly on or near Chicago's lakefront, and what remains of these forgotten motels in 2013.
Utilizing some recent discoveries, including a rare brochure recently acquired by the Edgewater Historical Society of the short-lived Tides Motel, this presentation included dozens of non-digitized images, articles, and ephemera related to this curious category of accommodation. Guests also learned more about Forgotten Chicago's exclusive 2013 season, upcoming events, and the vast array of research information and links available on our web site.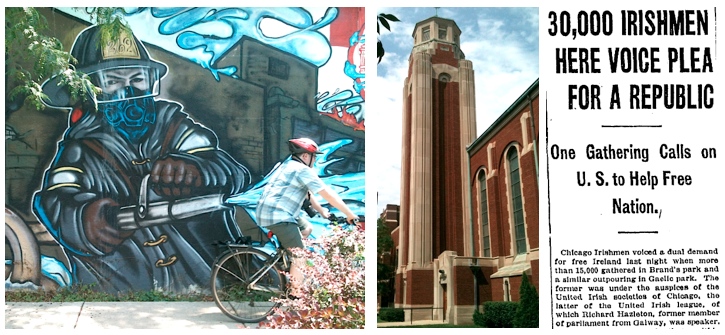 Left and Center: Patrick Steffes Right: Chicago Tribune
Forgotten Chicago conducted our first biking tour of the dynamic Avondale neighborhood under sunny skies on Sunday, June 23. Conducted by Jacob Kaplan and Dan Pogorzelski, two of the authors of the forthcoming book Images of America: Avondale and Chicago's Polish Village, guests enjoyed a wide variety of Avondale's fascinating and often-overlooked sights, including early factories, historic political landmarks, former movie theatres, and a sampling of Avondale's many iconic religious buildings.
Above left, a tour participant rides past a recent addition to Avondale – a mural dedicated to Chicago Fire Department Company 106 painted on an extant retaining wall of the former electric railroad built by Commonwealth Edison more than 100 years ago. Above center is St. Wenceslaus Church, a rare Chicago Art Deco-inspired church completed during World War II. At right is a 1917 newspaper article about one of many utterly forgotten political rallies held at Brands Park, a vast former beer garden built by the owner of the recently demolished Brand Brewery complex.


Left: Dave Gudewicz Center and Right: Patrick Steffes
Forgotten Chicago returned to the fascinating and little-explored Jefferson Park neighborhood on Sunday, June 9 in a sold-out walking tour in association with the Northwest Chicago Historical Society, examining nearly 40 local landmarks, many very forgotten. Seen above left: although the Jefferson Nickelodeon only operated on North Milwaukee Avenue from 1914 to 1917, its one-time name is still prominently spelled out in brick more than 95 years after this early movie theatre closed.
Above center, Forgotten Chicago co-founder and editor Jacob Kaplan points out the nearly intact former 1941 art moderne Charles Bruning factory on West Montrose Avenue, designed by prolific local architect Victor L. Charn and first explored by Forgotten Chicago in 2009. Above right, tour participants view the dramatic cut made by the Northwest (now Kennedy) Expressway, forever changing Jefferson Park prior to and after its opening in 1960. This tour examined many other aspects of the neighborhood, including local institutions, the area's large and influential ethnic communities, real estate booms, curious housing stock, and other forgotten oddities. Also examined in depth was the role that public transit, including streetcars, commuter rail, and CTA rail after 1970 all played in the development of the unique community of Jefferson Park.


Left: Charles Cushman Archive, 1949 Center: Realty & Building, 1966 Right: Chuckman Collection, no date
On Sunday, June 2 Forgotten Chicago conducted a private bus tour of Chicago's Jewish West Side for the Decalogue Society of Lawyers. This thoroughly researched tour included many known, along with many forgotten, current and past landmarks of this area. Using Forgotten Chicago's vast database of more than 12,000 mostly non-digitized and non-catalogued articles, images and city plans, this tour delved deeply in the area's extensive Jewish history of settlement, commerce and religious and social institutions. We also visited other aspects rarely discussed during Chicago tours, including urban renewal, construction of the area expressway system, public housing, municipal parking garages, overlooked modernist landmarks, and former local retailers.
Also explored was the University of Illinois and their aggressive expansion and urban dislocation, especially related to the controversial removal of Maxwell Street. Seen above center is a slum clearance scheme published in 1966 showing the planned removal of this legendary street from Blue Island to the Dan Ryan Expressway; the buildings on Maxwell Street east of Halsted would not be cleared for another 30 years. At left is one of the many color Charles Cushman images from the 1940s shared during the tour; this 1901 synagogue was located near the intersection of Maxwell and Halsted. At right is what remains of the still remarkably intact commercial shopping district at Madison and Crawford (now Pulaski); successful and long-gone local retailers, many Jewish owned, were also discussed during this tour.


Left: Patrick Steffes Center: Jerzy "George" Skwarek Right: Google Maps
On Thursday, May 23 a standing-room only crowd of over 50 guests enjoyed an exclusive Forgotten Chicago presentation on the history of Chicago's dynamic and ever-changing Avondale neighborhood. Held at the Logan Square branch of the Chicago Public Library, the presentation was given by Jacob Kaplan and Dan Pogorzelski, two of the authors of the forthcoming book Images of America: Avondale and Chicago's Polish Village.
Delving deeply in the past and present of this fascinating and often-overlooked community, this presentation covered Avondale's ethnic communities (including the large and influential Polish population, once commemorated in long-vanished street signs above center), industry past and present, political powerbrokers, and the nearly forgotten nightclubs and music venues once filled with "holidaymakers" who would work in Avondale for a short time and then return to the Eastern Europe. Also examined was the demolition and disruption the Northwest (now Kennedy) Expressway caused in Avondale, including to its namesake park, seen above right.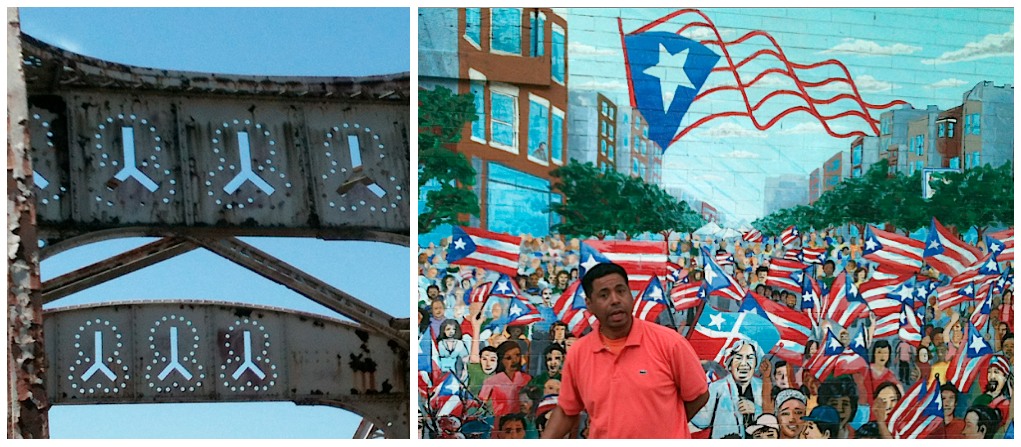 Patrick Steffes
Many thanks to participants of our first-ever walking tour to focus on a single thoroughfare, Chicago's fabled and ever-changing Division Street. Our sold-out tour was held on Sunday, May 19 in conjunction with Paul Durica and Pocket Guide to Hell, exploring this seminal thoroughfare in-depth, with its myriad identities from Paseo Boricua to "Polish Broadway."
One of the many highlights of our Division Street tour was the unique 109-year old Studs Terkel Memorial Bridge just west of Halsted Street, which is currently threatened with demolition. Above right, Eduardo Arocho, Executive Director of the Division Street Business Development Association gave the group an in-depth overview of the significant contributions of the Puerto Rican community to Division Street and Chicago. Other highlights included the former site of Cabrini-Green high-rise apartments, industrial remnants, an interior tour of the Chopin Theatre, the lively Polonia Triangle, a pre-1909 street address marker, and a former Schlitz tied house tavern.


Dave Gudewicz
Forgotten Chicago's inaugural out-of-state tour took place on Sunday, April 21 with a sold-out group traveling through the Calumet Region and exploring overlooked industrial, architectural and retail landmarks in Indiana and Illinois. The Industrial Might and Architectural Surprises bus tour shared some of our favorite sites, including the Universal Portland Cement building in Gary (above left), as well as the enormous and partially abandoned 1948 Standard Oil (Indiana) Research Laboratory in Hammond, one of the least-known works in the Chicago area by prolific local firm Holabird & Root & Burgee, seen above right.
In addition to highlighting the region's vast industrial infrastructure past and present, this tour also visited the remarkable and endangered 1917 Marktown community in East Chicago, remnants of the mostly demolished Woodmar Mall in Hammond, and lesser-known works by Chicago-based firms Skidmore, Owings & Merrill, Helmut Jahn and Graham, Anderson, Probst & White. This tour concluded with a look at the recently closed State Line Generating Plant on the Illinois-Indiana border, and a drive past the sites of the two southernmost Shoreline Motels.


Top: Jacob Kaplan Bottom: Chuckman Collection
On Saturday, April 6th, Forgotten Chicago presented a free lecture to a standing-room only crowd at the Edgewater Historical Society on the history of Chicago's Shoreline Motels. Examining this short-lived and all-but-forgotten chapter of Chicago's hospitality industry, this presentation gave an overview of the 13 Shoreline Motels built on or near Lake Michigan, including the four built in the Edgewater community.
This presentation also gave a sneak peak to the fourth and final article in this Forgotten Chicago series, which explore these motels in the Hyde Park and South Shore communities. Because more than two-dozen people had to be turned away due to space constraints, we conducted an encore presentation on Shoreline Motels for an additional 85 guests in July.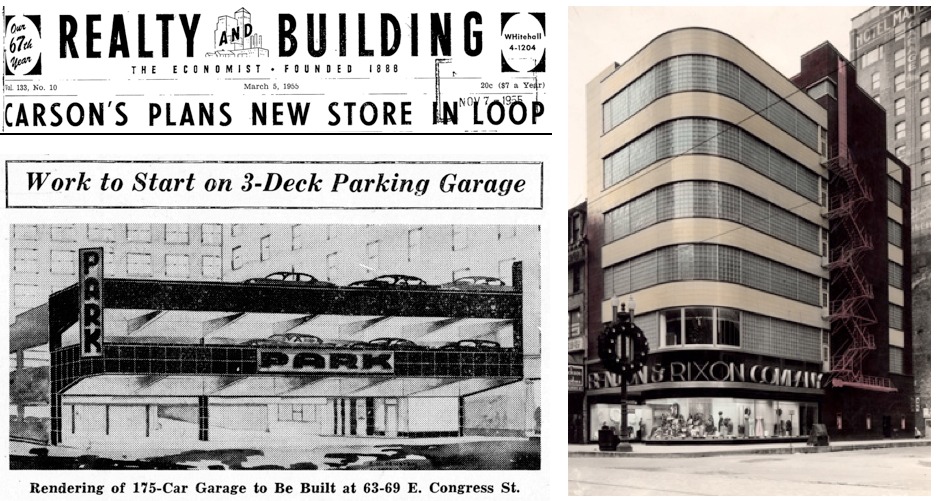 Left: Realty & Building Right: American Terra Cotta and Ceramic Company Records (N 5), Northwest Architectural Archives, University of Minnesota Libraries, Minneapolis
Thirty-five guests had to be turned away when the presentation room in the Chicago Cultural Center reached its capacity of 125 for Forgotten Chicago's lecture on The Overlooked Loop, given on behalf of Friends of Downtown on Thursday, February 7. Utilizing Forgotten Chicago's vast archive of thousands of non-digitized articles and images, we enjoyed presenting a small sample of our many discoveries relating to central Chicago.
Top left, we revealed the forgotten 1955 plans by Carson Pirie Scott to abandon their Louis Sullivan-designed landmark and build a new store complex nearby; Carson's would stay put at State and Madison until 2007. Below left, we discussed the 60-year old and dramatically cantilevered parking garage across from the Auditorium Theatre that is remarkably intact today, part of an enormous network of little-known parking garages built in central Chicago in the last 100 years. Above right, Alfred S. Alschuler's 1937 Benson-Rixon store on South State Street remains standing today, though now altered.
Other highlights of this presentation included still-extant remnants of the early Loop, retail relics, early industry, overlooked (and sometimes abandoned) office buildings, building modernizations, and the "taxpayer blocks", buildings meant to be temporary revenue-producing placeholders before a more substantial building can be built on the site in the future. Due to strong interest, Forgotten Chicago repeated this presentation in conjunction with Friends of Downtown in September.


Yes, Sir, Senator! Forgotten Chicago's Fifth Anniversary Event
---
A large crowd joined the Forgotten Chicago crew on Tuesday, January 15 or an event celebrating our first five years at Haymarket Pub & Brewery at the corner of Randolph and Halsted in the West Loop. Our free event featured our second trivia contest (the results of our first contest is detailed here), a look back at our recent activity, and a sneak peek at our exclusive 2013 tour season. We were also excited to include a presentation by Greg Borzo, author of the recently published book (and Forgotten Chicago article) on the history of Chicago's once-vast cable car network, which was almost completely forgotten until Greg's extensive research.

Forgotten Chicago's event featured a presentation on recent FC activities, including articles, events, and exclusive tours. Shown from left to right is a walking tour of Bertrand Goldberg's Rush Street and environs, a bus tour of near-west suburban "Corporate Kings of the Suburbs," and our popular and sold-out Calumet River boat tour.
Also shown during our event was a small sample of Forgotten Chicago's exclusive research database of thousands of mostly unknown and little-seen images. These include, from left to right, a rendering of an unbuilt superhighway barreling through Union Park, the short-lived Carousel-in-the-Sky restaurant at the Morrison Hotel, and one of renowned local architect David Hovey's first buildings, a now-demolished 1983 home in Winnetka.

Additionally presented at this event was a preview of the 2013 Forgotten Chicago tour season, including an all-new bus tour of the complex and overlooked Calumet Region (center), and a bus tour highlighting lesser-known Mid Century Modern buildings of the north suburbs including Don Erickson's remarkable, but now abandoned, 1964 Decorel headquarters (right) in Mundelein.


Center: Greg Borzo Right: Chicago Transit Authority
Guests enjoyed an in-depth presentation by Greg Borzo on Chicago's cable car network, once the largest such network in the world. During its 25-year history, this network provided over one billion passenger rides, and Greg has discovered a surprising number of extant remnants of this network throughout Chicago, detailed in a recently published book (above left), and an exclusive Forgotten Chicago article.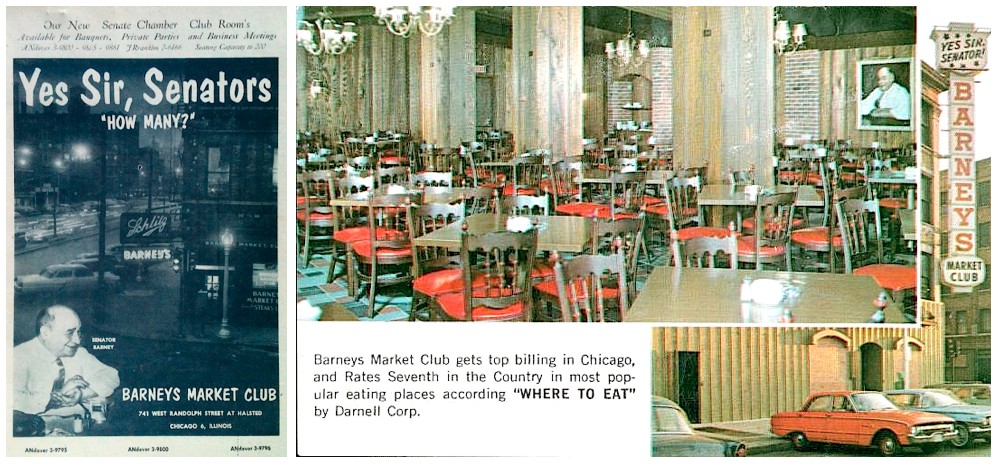 Left: Haymarket Pub & Brewery Right: Chuckman Collection
Our event was held at Haymarket Pub & Brewery; this location was once the home of the famed Barneys Market Club. Legendary local journalist Rick Kogan, in a January 24, 2011 Chicago Tribune article, described the colorful history of the former long-term occupant at this location. The full article excerpted below may be read here:
It was long assumed that its familiar slogan was born of the patronage of politicians. Though many elected officials (as well as mobsters, businessmen, cops and others on their way to and from events at the Chicago Stadium) were known to drop in, it was owner Barney Kessel's inability to remember anybody's name that gave birth to the slogan that eventually emblazoned menus, matchbooks and the prominent sign that hung high from the building. He called almost everybody "Senator."