Forgotten Chicago's Exclusive 2017 Event and Tour Season
---
Forgotten Chicago's tenth season of events promises to be our most diverse and far-reaching yet.
Offering several all-new tours and presentations, none of them ever offered before by any other organization, we look forward in 2017 to exploring some of the countless overlooked corners of the Chicago region, including
South Shore, the Illinois Medical District, Gage Park,
and much,
much
more.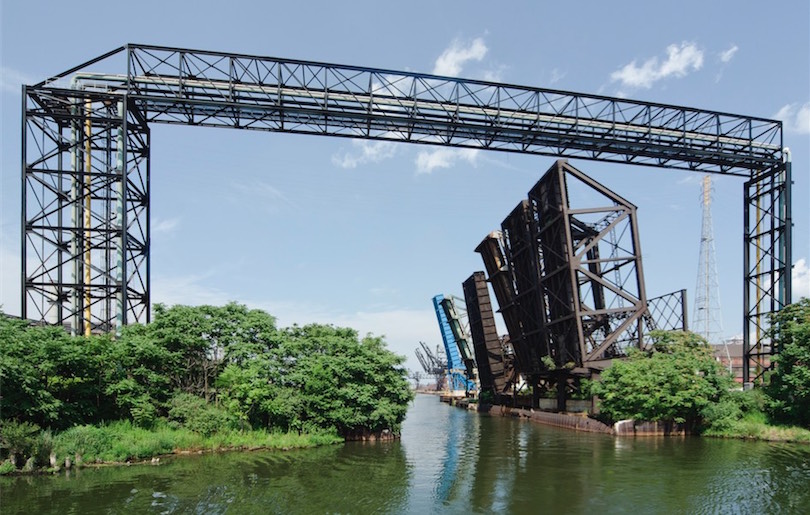 Matthew Kaplan, 2013
Of particular note in 2017 are two tours visiting the vast and often-overlooked history and industrial landscape of Northwest Indiana and the Calumet Region, including a boat tour of the otherworldly panorama of the Indiana Harbor Canal, as seen above. When this exclusive and sold-out boat tour was offered for the only other time in 2013, it may have been the first (and until this year, the only) public boat tour of this waterway since the 1960s.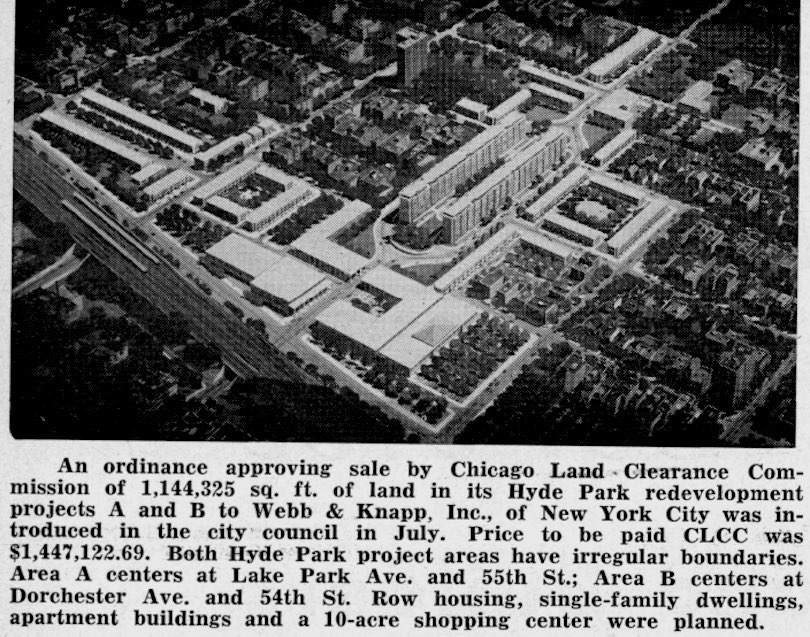 Realty & Building, 1958
Offered for the first time since 2012, Forgotten Chicago's Hyde Park tour will explore the built environment and lesser-known modern architecture of Hyde Park from the last 90 years. Subject to an enormous urban renewal scheme in the 1950s, we will also explore the often-stark contrast of these two very different urban landscapes.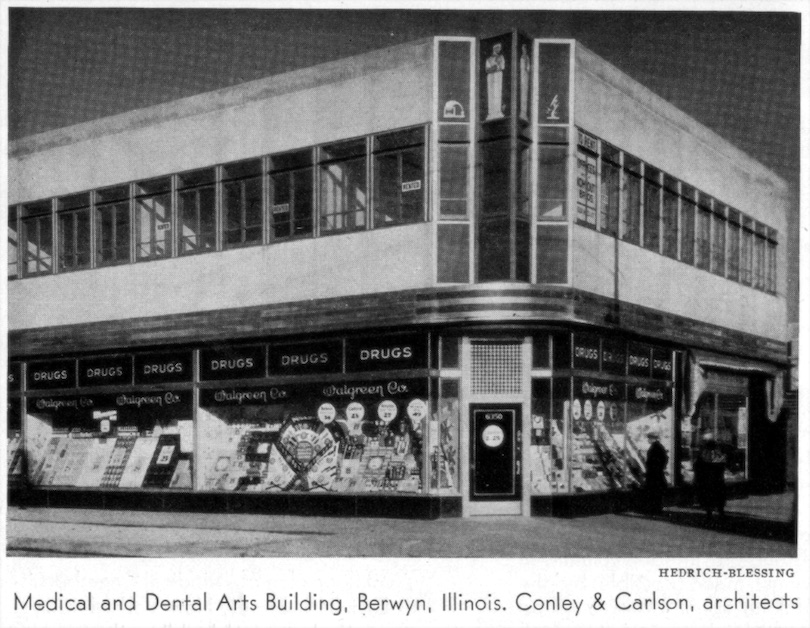 American Architect, 1933
A rare commercial building started in the depths of the Great Depression in 1931, Conley & Carlson's mostly intact Medical and Dental Arts Building was one of the many unexpected sites explored during our tour of Berwyn and Cicero on Sunday, June 11, 2017. This unique building also features Art Deco relief panels at the top corner by noted French sculptor Edouard Chassaing, and features design motifs that would become common in the decades ahead, such as ribbon windows and an unadorned granite exterior.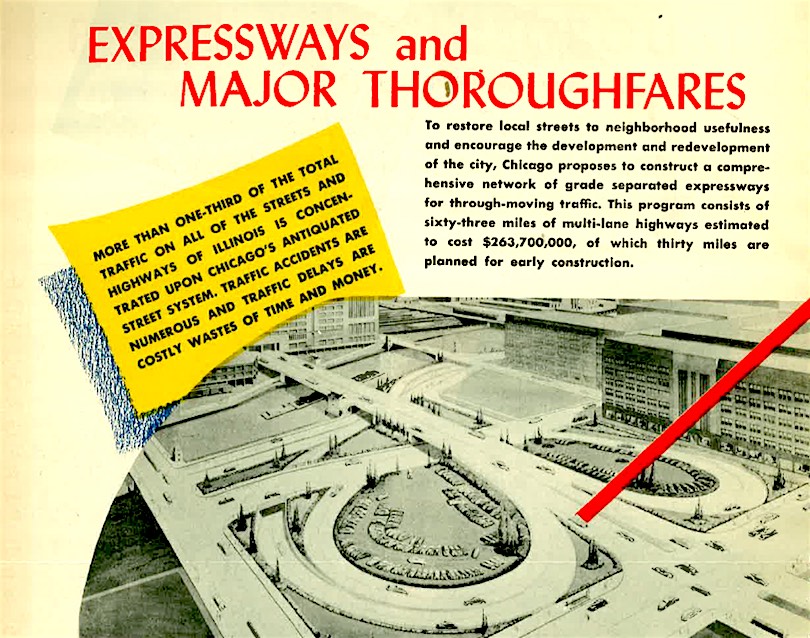 Chicago Looks Ahead: Design for Public Improvements, 1945
In 2016, Forgotten Chicago explored three often-overlooked areas north of the Chicago Loop, and on Sunday, August 13 we will look just southwest of the Loop to the area around the Jane Byrne Interchange. The region's highway system was contemplated for decades before being realized starting in the early 1950s, and one of the key components of the entire system, the Jane Byrne Interchange, will be examined in an all-new and exclusive tour, as described below.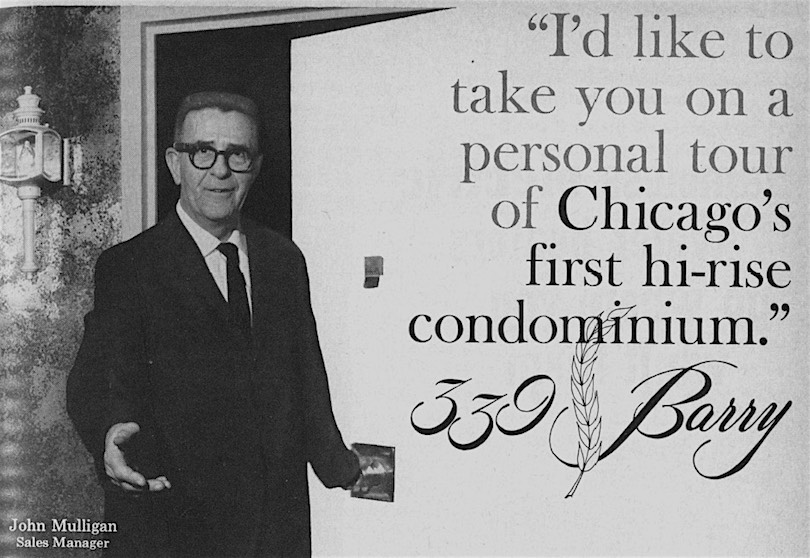 Commerce, 1965
In the last fifty years, countless high-rise condominium buildings have been built in the Chicago area, but only one building was the first. Opened in April, 1964 by architects Fridstein & Fitch, this building may qualify as one of the most significant, if overlooked, buildings in Chicago. Forgotten Chicago's Lake View tour on Sunday, September 24 will walk past this non-landmark landmark building, who's distinctive script seen above was still extant at the entrance to this condominium as of this writing, more than 50 years after forever changing Chicago development.
Please note: tickets for most of these tours will go on sale about a month before each tour. Please sign up for our email list on the FC homepage if you want to be the first to know when they go on sale.
2017 Event & Tour Season:
• Hyde Park Walking Tour — Sunday, July 9, 2017 — Tickets now on sale
• Gage Park Walking Tour — Sunday, July 16, 2017 — Tickets now on sale
• Canaryville Library Presentation — Wednesday, July 19, 2017 — Please RSVP to library branch
• Division Street Walking Tour — Sunday, July 30, 2017
• Jane Byrne Interchange Walking Tour — Sunday, August 13, 2017
• 35th Street Walking Tour — Sunday, August 20, 2017
• Illinois Medical District Walking Tour — Sunday, August 27, 2017
• South Shore Walking Tour — Sunday, September 17, 2017
• Lake View Walking Tour — Sunday, September 24, 2017
• Logan Square Walking Tour — Sunday, October 1, 2017
• Calumet River/Indiana Harbor Boat Tour — Sunday, October 29, 2017
Hyde Park Walking Tour, Sunday, July 9, 2017
---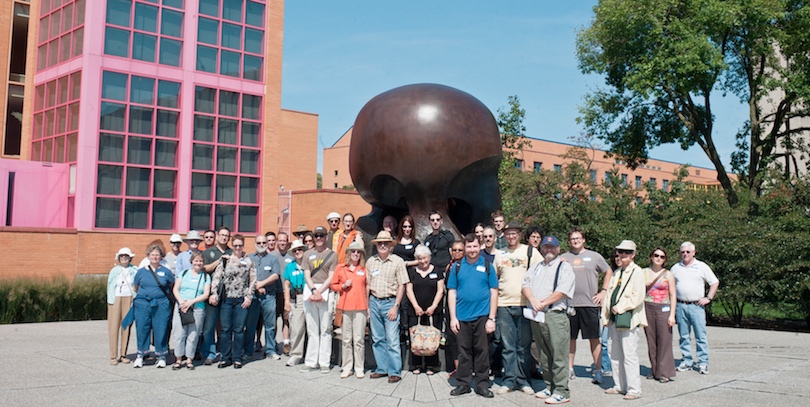 Marc Monaghan, 2012
Join Forgotten Chicago on Sunday, July 9, 2017 as we explore Hyde Park for the first time since 2012 with an exclusive walking tour. Venturing far beyond the cliche (Collegiate Gothic and gargoyles), the beloved (a low-slung Prairie School house), and the familiar (a long-gone fair and those swept up in its dark side), our exploration of Hyde Park will show an incredible array of lesser known and often remarkable built environment from the past eight decades.


University of Chicago
There are few places in the United States with a more encyclopedic and concentrated overview of the last 80 years of modernist architecture than Chicago's Hyde Park neighborhood. From George Fred and William Keck's minimal 1937 cooperative apartments above left to Tod Williams and Billie Tsien's towering Logan Center for the Arts above right, Hyde Park offers a comprehensive collection of eight decades of modernist masterpieces (and a few misfires). Additionally, Hyde Park offers a living example of the benefits and perils of large-scale land clearance and urban renewal.


Stores and Shopping Centers, 1962
Architects Bertrand Goldberg, Edward Dart, Edward Durell Stone, Edward Larabee Barnes, Helmut Jahn and Mies van der Rohe and their patrons and builders have enthusiastically embraced (briefly, in some cases) everything from the International Style to New Formalism, Brutalism and the current preference for sustainable design. Some Hyde Park landmarks remain intact but have been remodeled to be nearly unrecognizable today, including the 1959 Hyde Park Shopping Center by Harry Weese and I.M. Pei, seen above. We hope to see you on an this exclusive tour of Hyde Park!
Click here for more details and tickets.


Gage Park Walking Tour, Sunday, July 16, 2017
---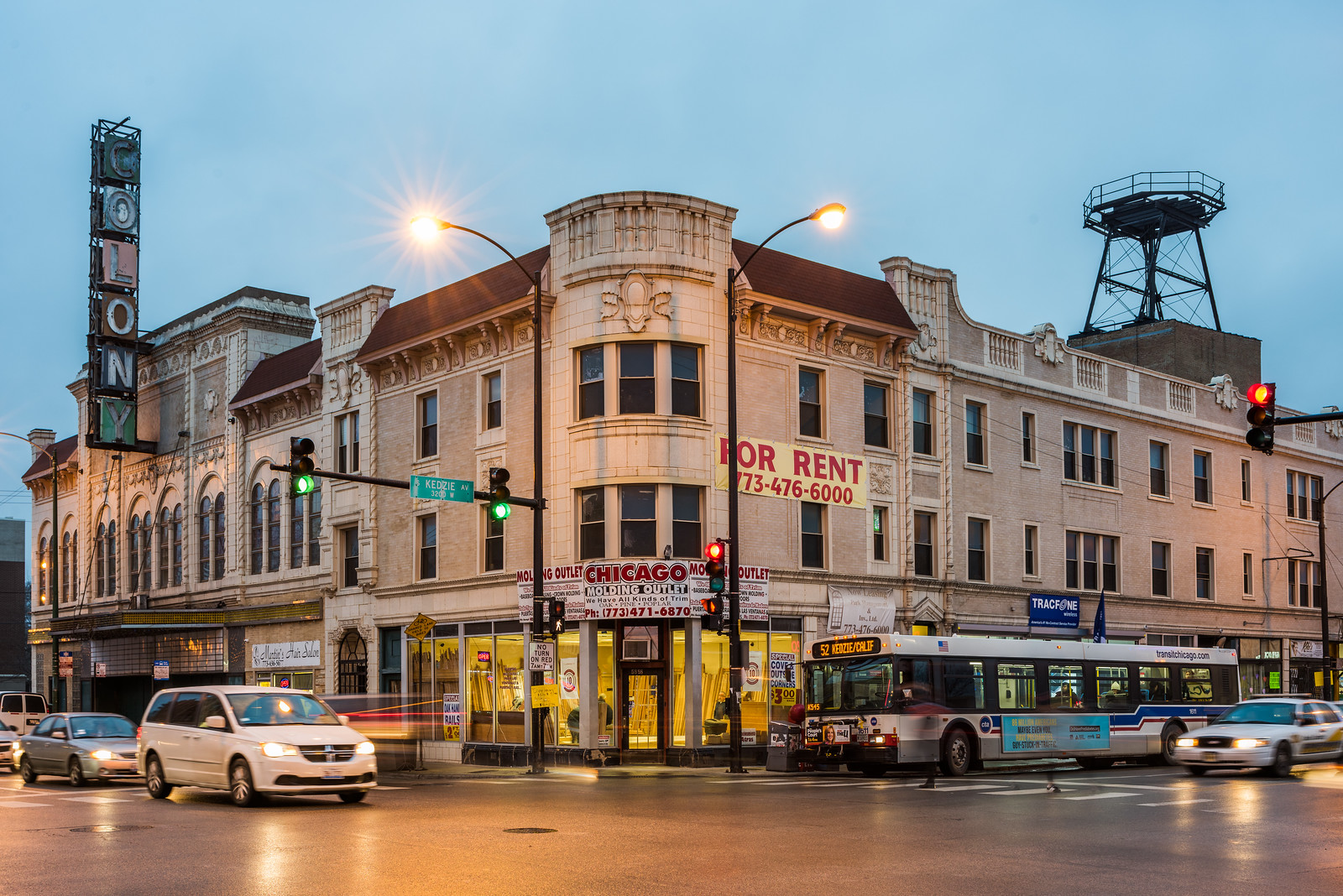 Located on the Southwest Side of Chicago, Gage Park is a diverse working-class community that often gets overlooked in the grand scheme of Chicago neighborhoods. It is also a great example of an area where growth was spurred on by recreational developments – namely Chicago's boulevard system and its namesake park, which drew developers to the area in the early 20th Century. Join us on Sunday, July 16, 2017 for an all-new tour of this fascinating community.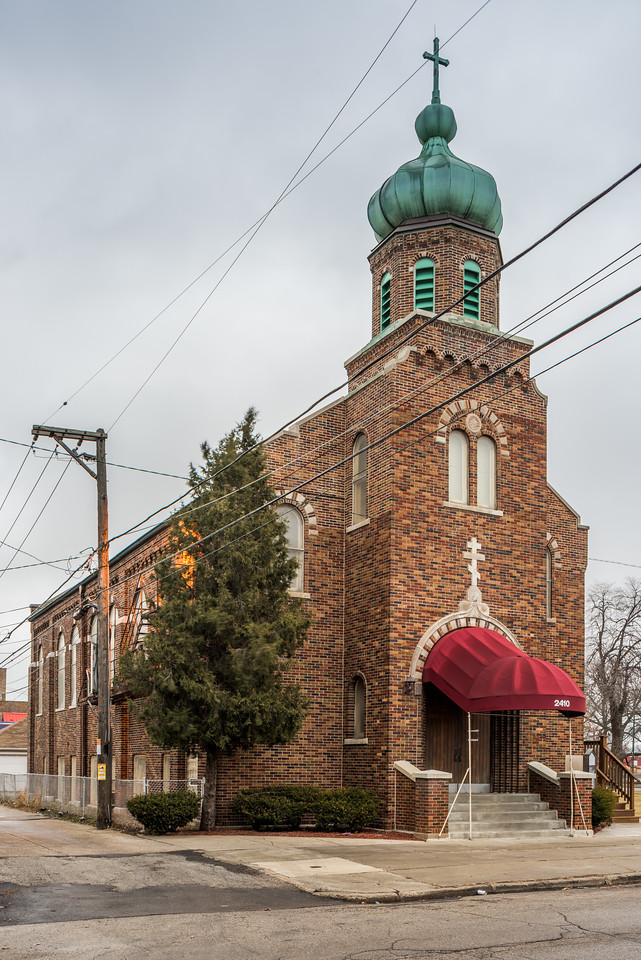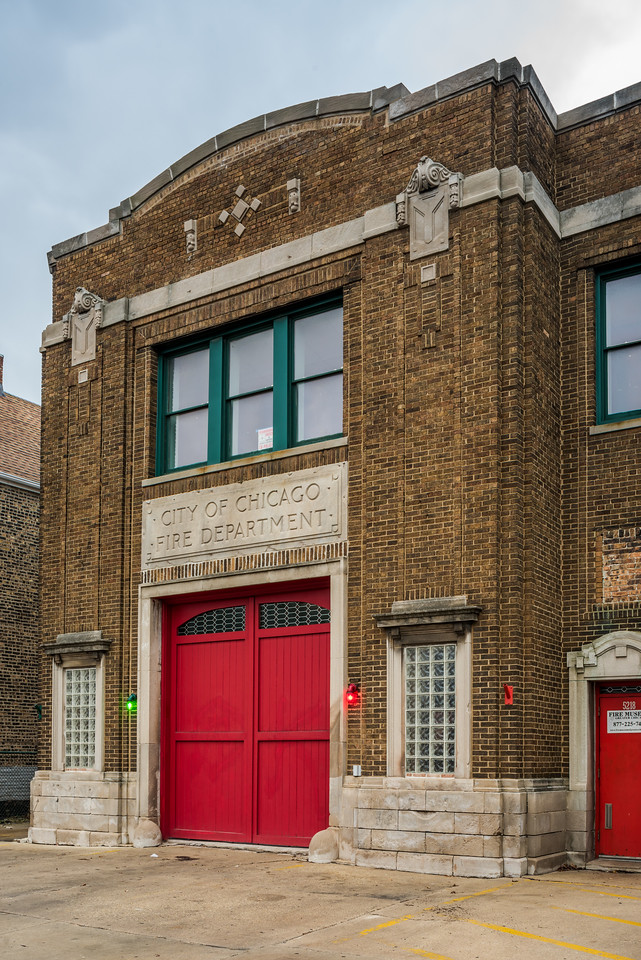 In the early part of the last century, Gage Park grew rapidly, with bungalows and shopping districts popping up across the community. Industry was quite prevalent as well, including small factories, machine shops and other enterprises that located along the many railroads that criss-crossed the community. Churches were an integral part of the community as well, with many ethnicities represented (above left).
Today, Gage Park has a diverse population, with still much of its built heritage intact. This tour will explore the diverse built environment of this historic Chicago community. We will walk by great examples of municipal architecture from the early 20th Century, and will even get a behind-the-scenes tour of the Fire Museum of Greater Chicago (above right). We will also view beautiful historic factory buildings that reflect the industrial heritage of the area, historic ethnic churches, and commercial districts filled with cohesive buildings from the early days of shopping in Chicago. Don't miss our first-ever tour of this historic Chicago community on Sunday, July 16!
Click here for more details and tickets.


Division Street Walking Tour, Sunday, July 30, 2017
---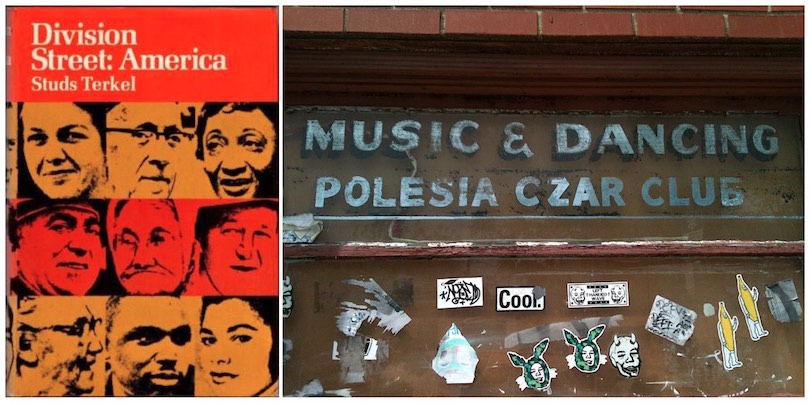 Left: Chicago Public Library Right: Patrick Steffes, 2013
Join Forgotten Chicago on Sunday, July 30, 2017 as we reprise for the first time since 2013 our only tour focusing on one street, Division Street. Conducted during the 50th anniversary year of Studs Terkel's 1967 book "Division Street: America" that was a milestone in urban sociology, we will explore this seminal thoroughfare in-depth, with its myriad identities from Paseo Boricua to "Polish Broadway." As we walk west along Division Street we will examine the remnants of Cabrini Green, industrial Goose Island, overlooked ethnic history, urban renewal, historic storefronts and more. Infrastructure, architecture, and remnants of past eras will be discussed along this historic street that has seen a tremendous amount of change over the years.

Patrick Steffes, 2013
The neighborhoods straddling Division Street are currently undergoing profound change, and many historic structures have disappeared in recent years. Forgotten Chicago is looking forward to exploring this dynamic street, and seeing what remains of its historic built environment. Studs Terkel's vast radio archive, including many segments on Division Street, may be found here.
Tickets and more details will be available about a month before the tour.


Jane Byrne Interchange Walking Tour, Sunday, August 13, 2017
---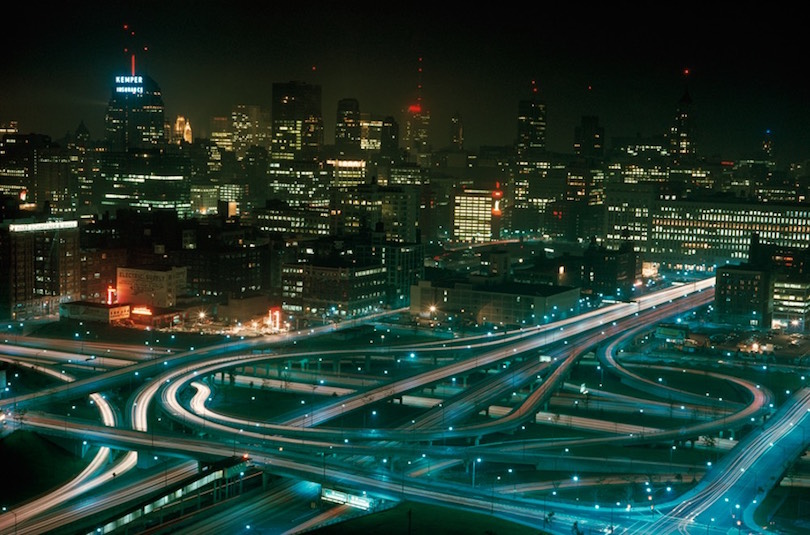 National Geographic, 1968
One of the busiest and most heavily trafficked junctions in the U.S., the Jane Byrne Interchange is an enormous, vital, and often-maddening meeting of three of the nation's busiest roadways, the Dan Ryan, Eisenhower and Kennedy Expressways, as well as Congress Parkway. Completed in 1962 and in the midst of a massive reconstruction since 2013, it was named in honor of former mayor Jane Byrne in August 2014.
Join Forgotten Chicago on Sunday, August 13, 2017 for what is undoubtedly the first-ever public walking tour exploring an area integral to the identity, transportation, and multi-billion dollar economy of the Chicago region, the Jane Byrne Interchange.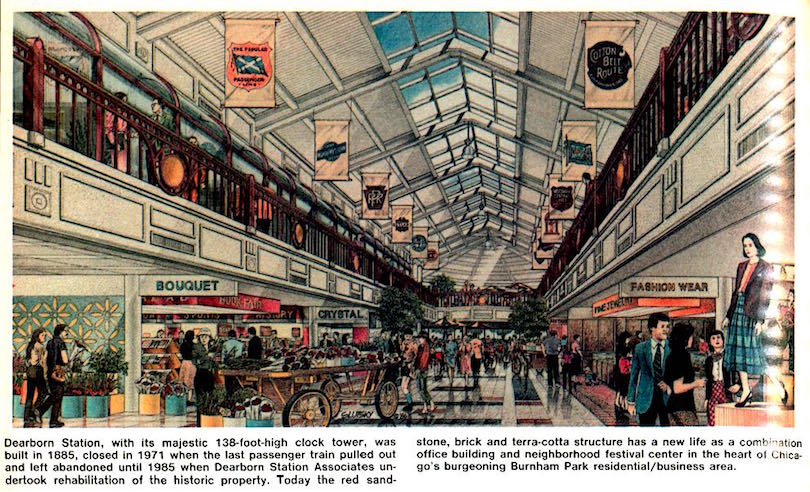 Realty & Building, 1988
This all-new tour will start at the Polk Street entrance of the CTA Red Line, and end at the CTA Green Line stop at Clinton, crossing over and under the Congress Parkway and the Dan Ryan, Eisenhower and Kennedy Expressways several times along the way. We will look at the many nearby remnants both before and after construction of these roadways, including the time-warp Dearborn Station, whose interior is seemingly frozen in time from 1985, when it was transformed into a currently under-utilized "festival center" as seen above.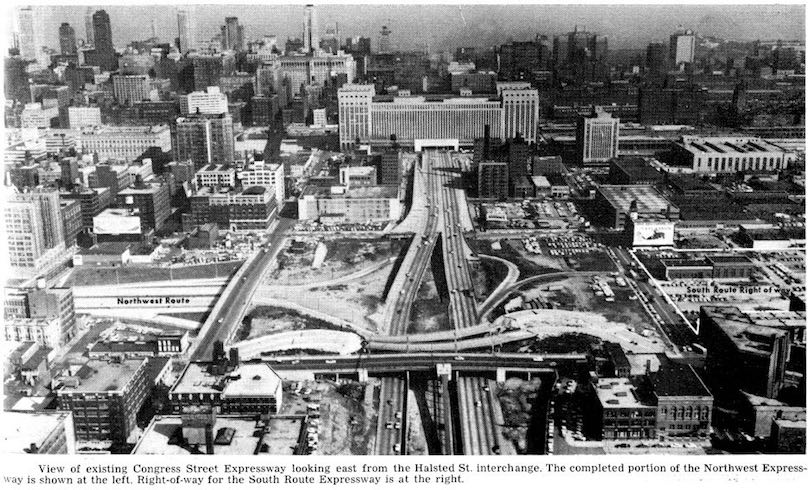 Realty & Building, 1960
The enormous scale of the region's limited-access road system may be seen above, before completion of the Dan Ryan and the Kennedy Expressways. Taken for granted today, the Chicago region as we know it today would not exist without our expressway system and the Jane Byrne Interchange. Forgotten Chicago is looking forward to exploring this curious corner of Central Chicago, for the first time.
Tickets and more details will be available about a month before the tour.


35th Street Walking Tour, Sunday, August 20, 2017
---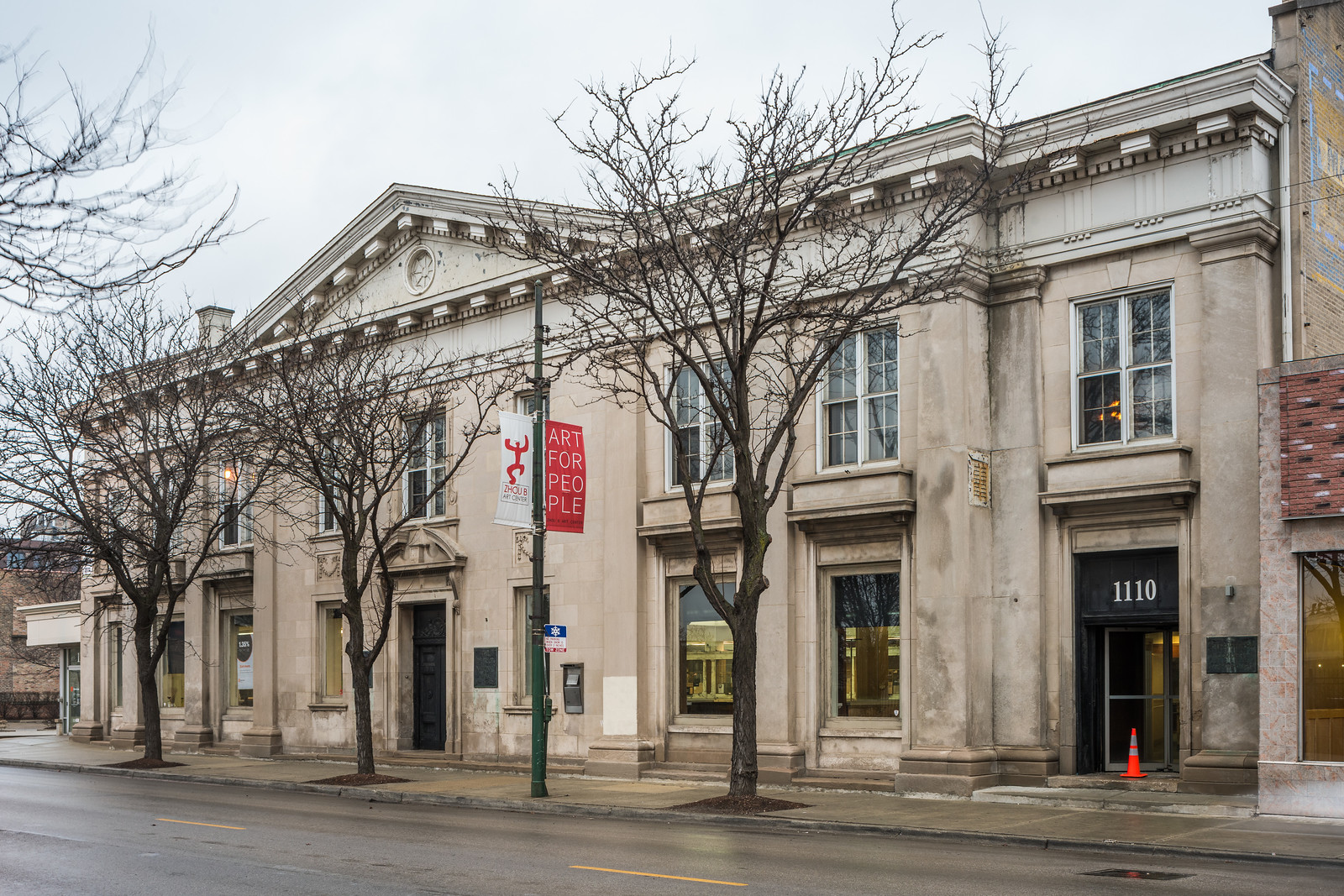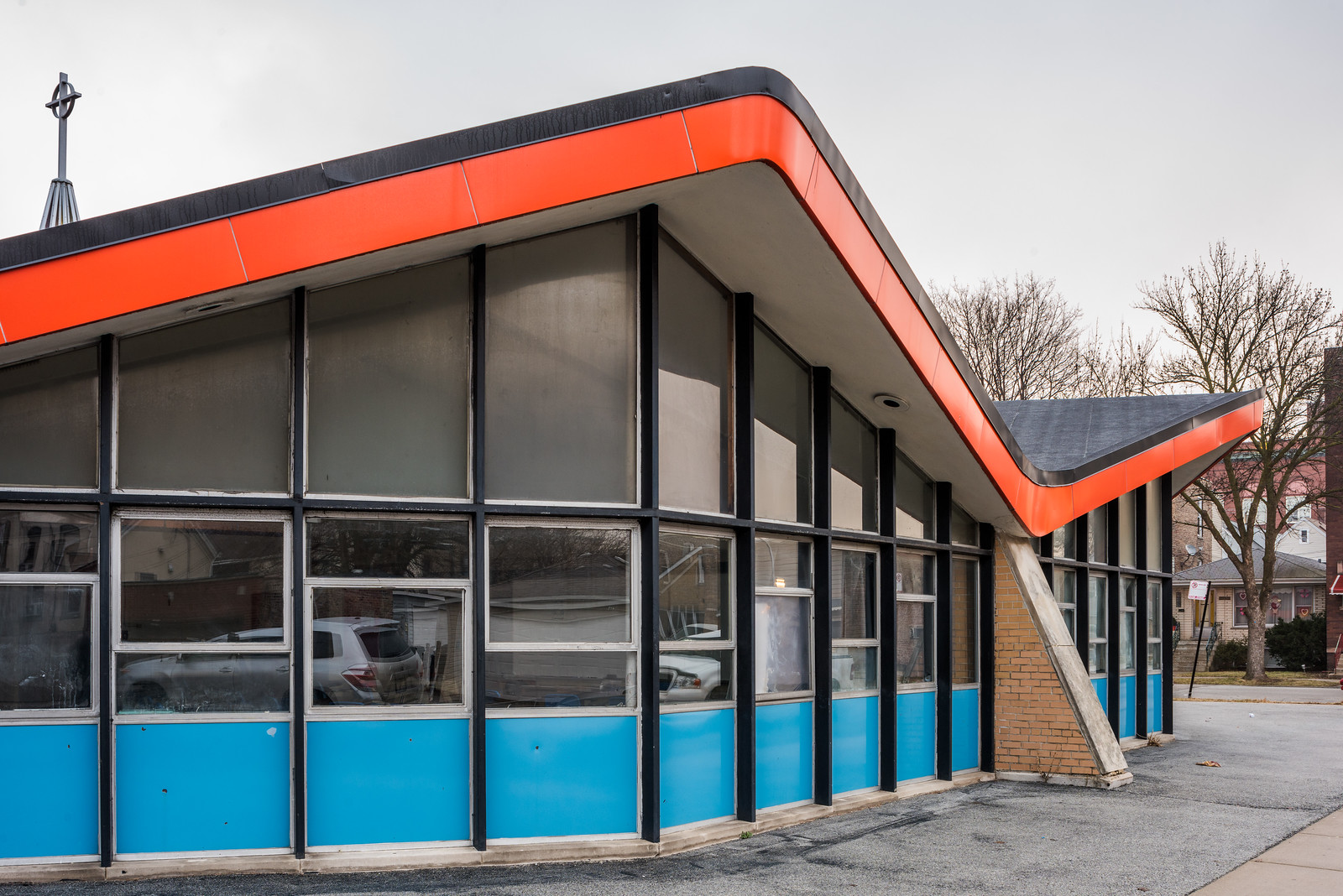 Chicago is a city defined by its street grid, especially since it has so few natural features. Even moreso, the city is defined by its arterial streets. These streets form borders between neighborhoods, serve as shopping districts, transportation corridors, and generally give the city its character. With this in mind, we are proud to offer our first-ever tour of 35th Street, the historic South Side east-west thoroughfare on Sunday, August 20, 2017.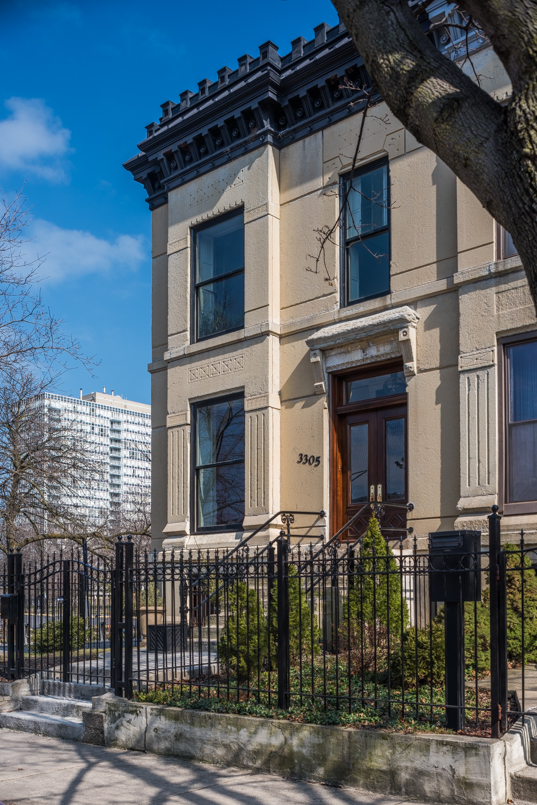 Starting near the Illinois Institute of Technology, this tour will explore neighborhoods on and just off of 35th Street. This includes "The Gap" in Bronzeville, seen above, an area that escaped the urban renewal that was pushed upon much of the rest of the area (which we will also discuss). We will then head west into Bridgeport, discussing much of the history of that storied community and its political aspirants, as well as remnants of one of the first planned-industrial parks in the world. Finally, we will pass through the McKinley Park community, and its historic fabric from the turn of the 20th Century.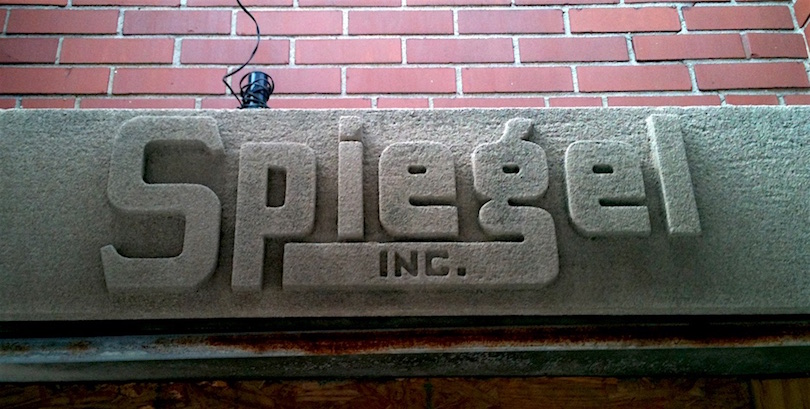 Patrick Steffes, 2013
Along the way, we will of course discuss infrastructure, remnants of historic storefronts, industry, signage, and other curiosities. Don't miss this all-new tour on Sunday, August 20!
Tickets and more details will be available about a month before the tour.


Illinois Medical District Walking Tour, Sunday, August 27, 2017
---

The Near West Side of Chicago is study in contrasts. Remnants of historic urban fabric (below) are located right next to massive cleared areas where large-scale urban renewal was executed in the mid to late 20th Century. Nowhere is this contrast more clear than in the Illinois Medical District, arguably one of the earliest areas of large-scale urban renewal in Chicago. We look forward to exploring this fascinating area in an exclusive new tour on Sunday, August 27, 2017.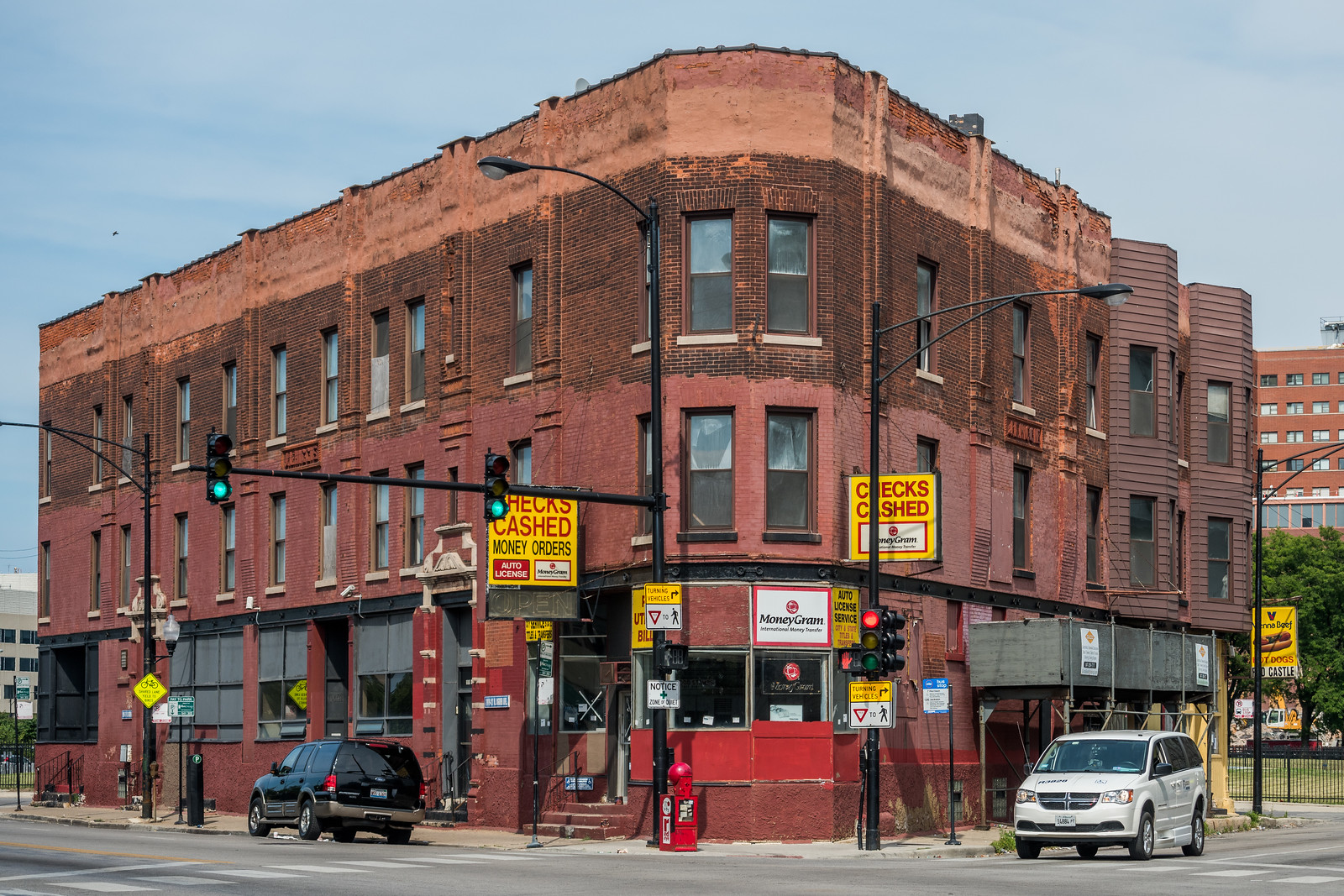 Many large hospitals began to be located in this area in the late 19th Century (Cook County Hospital among the most known), but later state-sponsored planning began to build the area into a massive development starting in the early 20th Century. Existing structures were demolished, new structures were built, and the area began to take shape as a master-planned area. Architectural styles from Gothic to Art Deco to Mid Century Modern were employed in the area.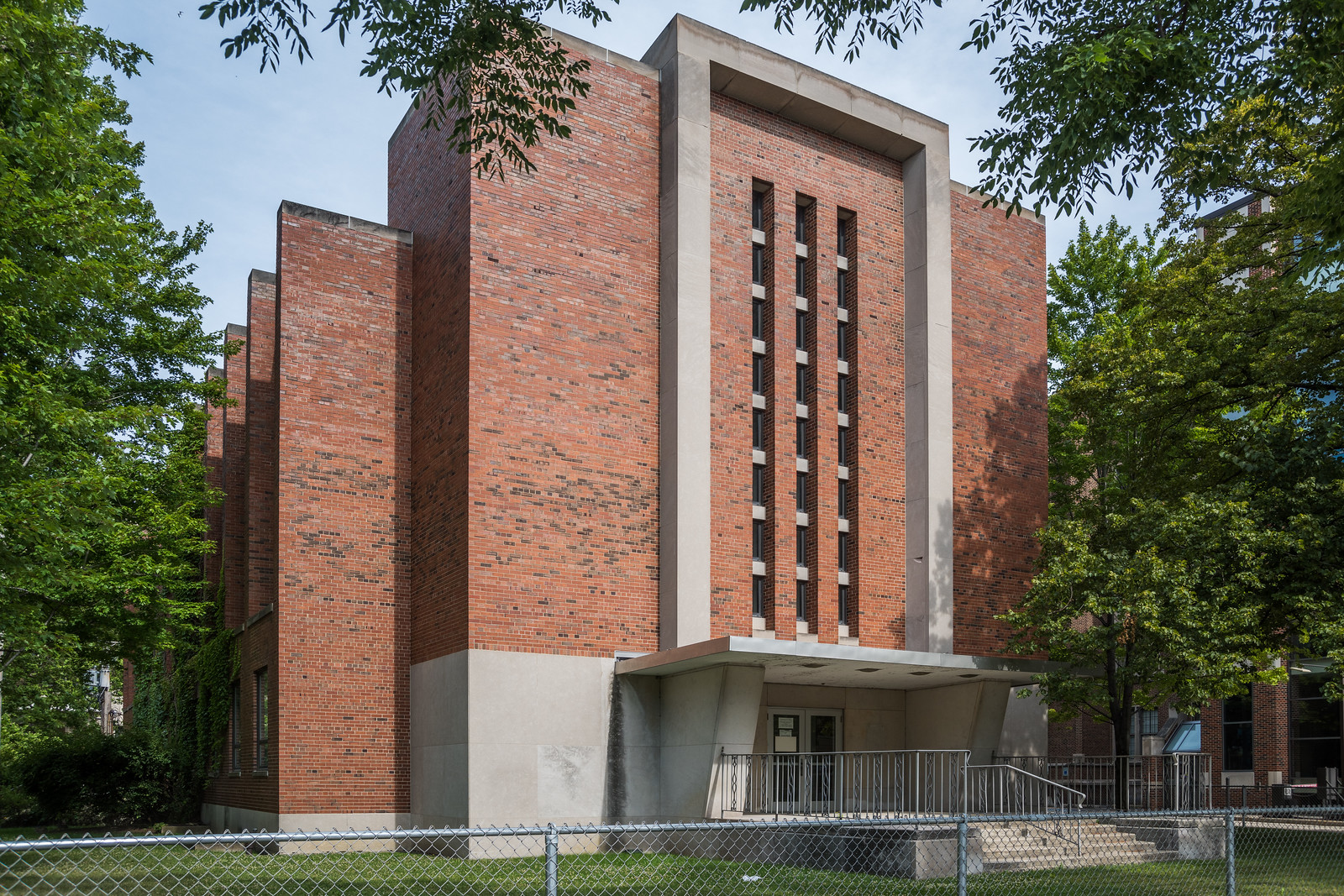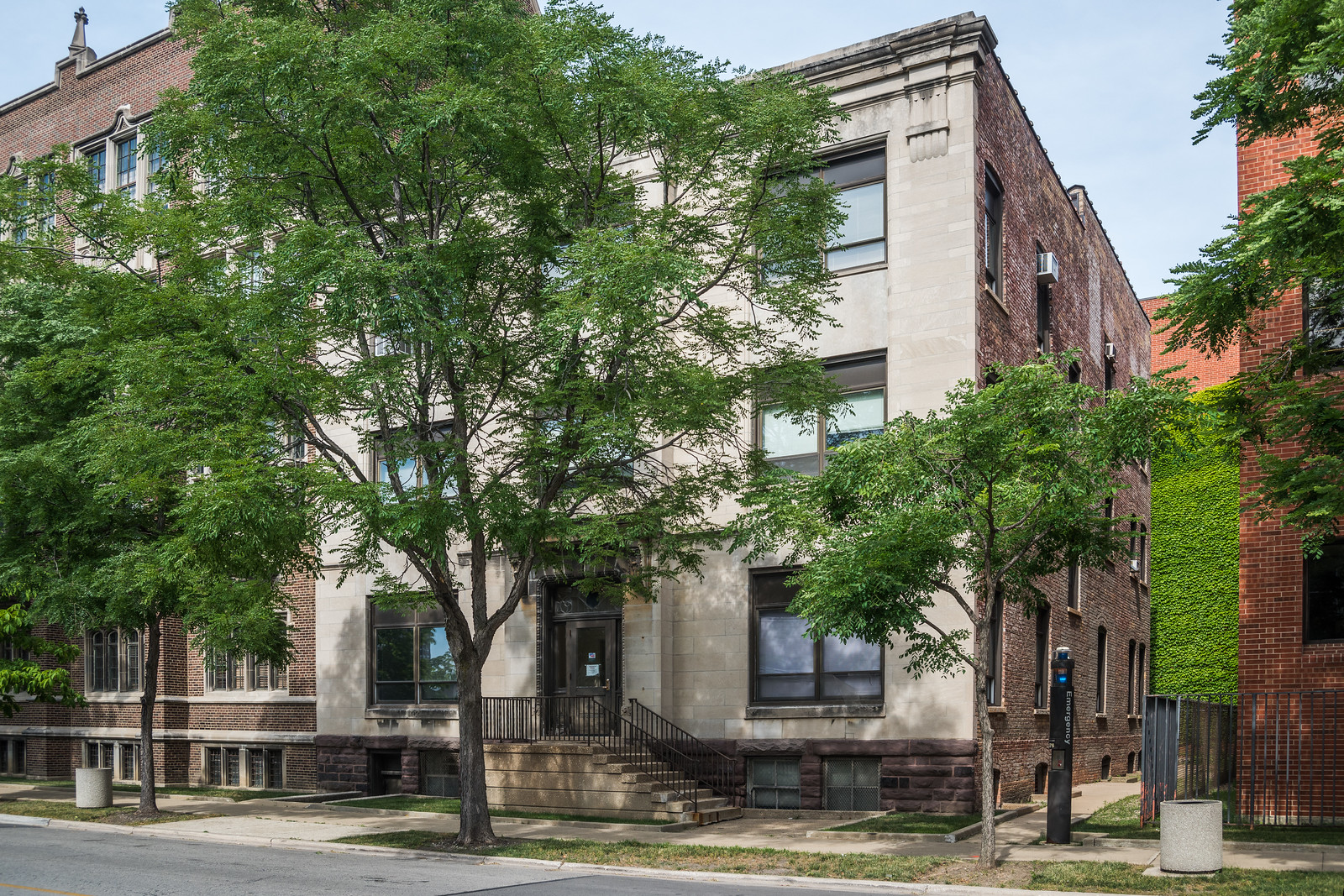 Despite this master planning and urban renewal, the area still includes remnants of its early period when residential and industrial uses were still present. We will explore these remnants, as well as the fascinating architectural curiosities of the district.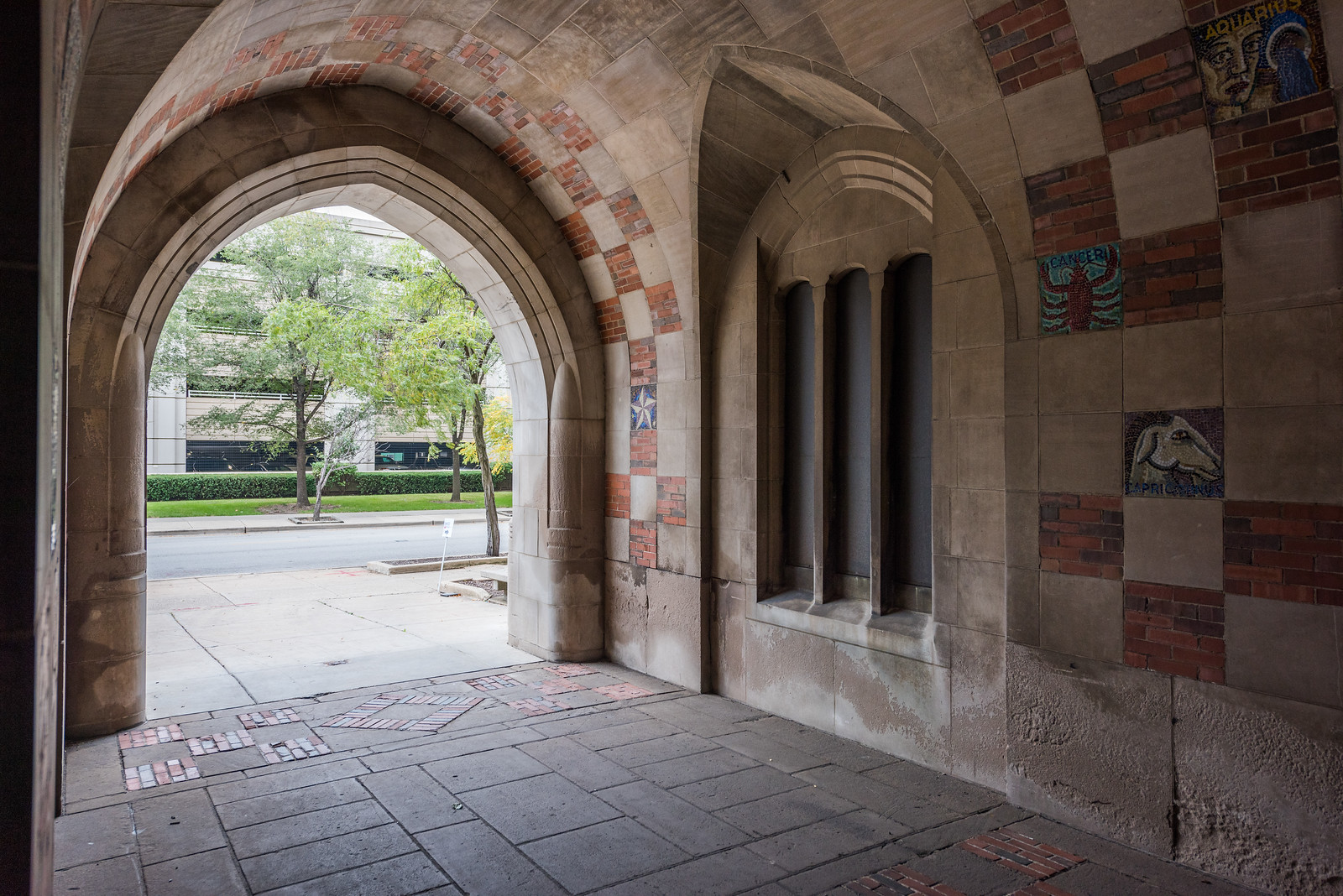 We'll discuss the history, controversy, and general unique nature of this corner of Chicago on this all-new walking tour on Sunday, August 27. Don't miss it!
Tickets and more details will be available about a month before the tour.


South Shore Walking Tour, Sunday, September 17, 2017
---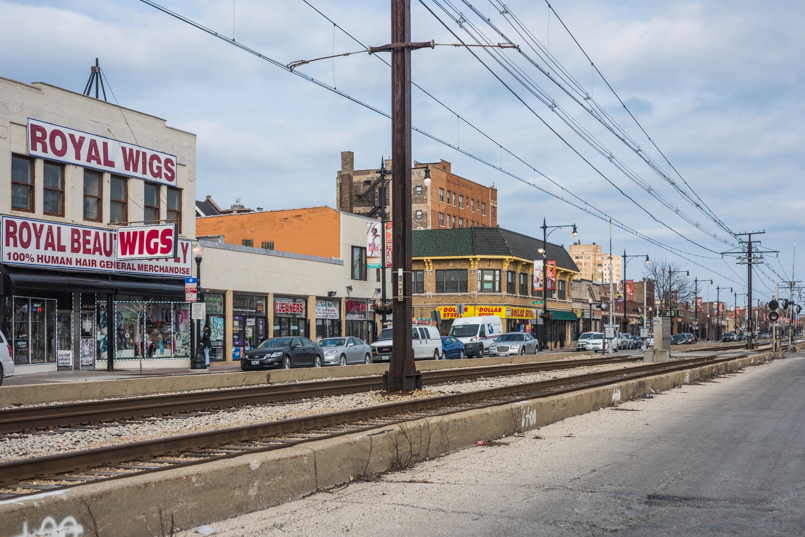 Join us on Sunday, September 17, 2017 for an all-new walking tour of the South Shore neighborhood of Chicago. Notable as one of the few lakefront communities in Chicago where Lake Shore Drive does not block access to the lake, South Shore developed rapidly in the 1910s and 20s into a very dense neighborhood of high rises, large apartment buildings and other grandiose structures. Unique among Chicago neighborhoods, it has an electric Metra line running right down the middle of its major shopping district (above).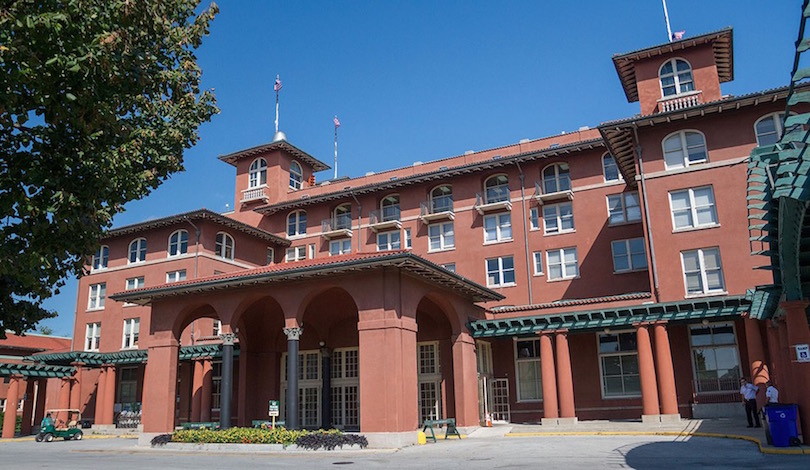 WTTW
Famous for the South Shore Country Club (1906, above), the historic site of Barack & Michelle Obama's 1992 wedding reception, South Shore is today a diverse community with a complicated history. Once featuring a large Jewish population, the area experienced rapid racial change in the 1960s, becoming nearly 100 percent black by 1980. Predatory real estate agents and other actors helped cause this rapid change.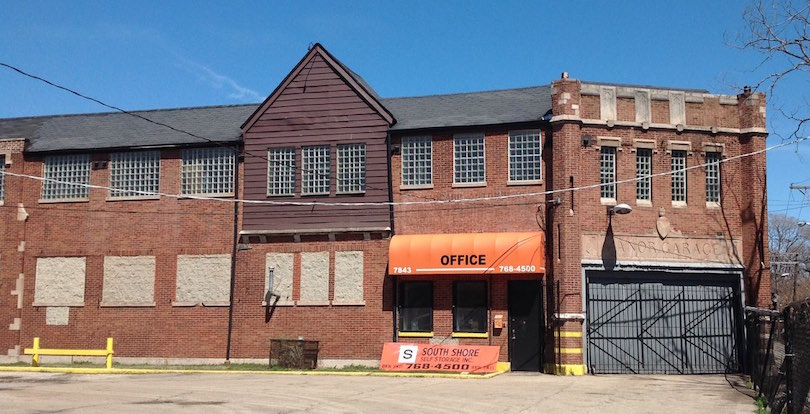 Patrick Steffes, 2016
Our walking tour will feature both the commercial and residential districts of South Shore, where many remnants from earlier eras remain. We will also discuss the churches, former synagogues and other institutions that reflect different eras of the community, as well as the change that has occurred over the years. Historic and unique residential architecture by noted Chicago architects will be featured. And of course, other oddities and overlooked remnants of the built environment, such as the former Manor Garage, above, and social history of the area will be discussed in our tour of this historic and dynamic community.
Tickets and more details will be available about a month before the tour.


Lake View Walking Tour, Sunday, September 24, 2017
---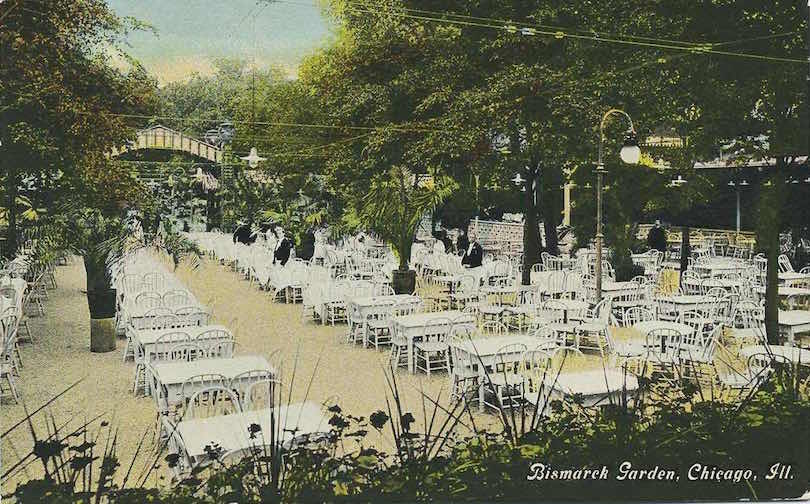 Chuckman Collection, no date
Join Forgotten Chicago on Sunday, September 24, 2017 for an encore of our Lake View walking tour that explores this neighborhood's built environment and the many remnants of the past. Skipping sports bars, chain stores and a certain athletic field, we will take a look at the lesser known and utterly forgotten remnants of this ever-changing neighborhood. One of the highlights is what remains of once-legendary Bismarck Gardens seen above; this German pleasure spot would meet strong anti-German sentiment during World War I and be renamed, although its 100 year old former dancing pavilion remains intact and utilized today.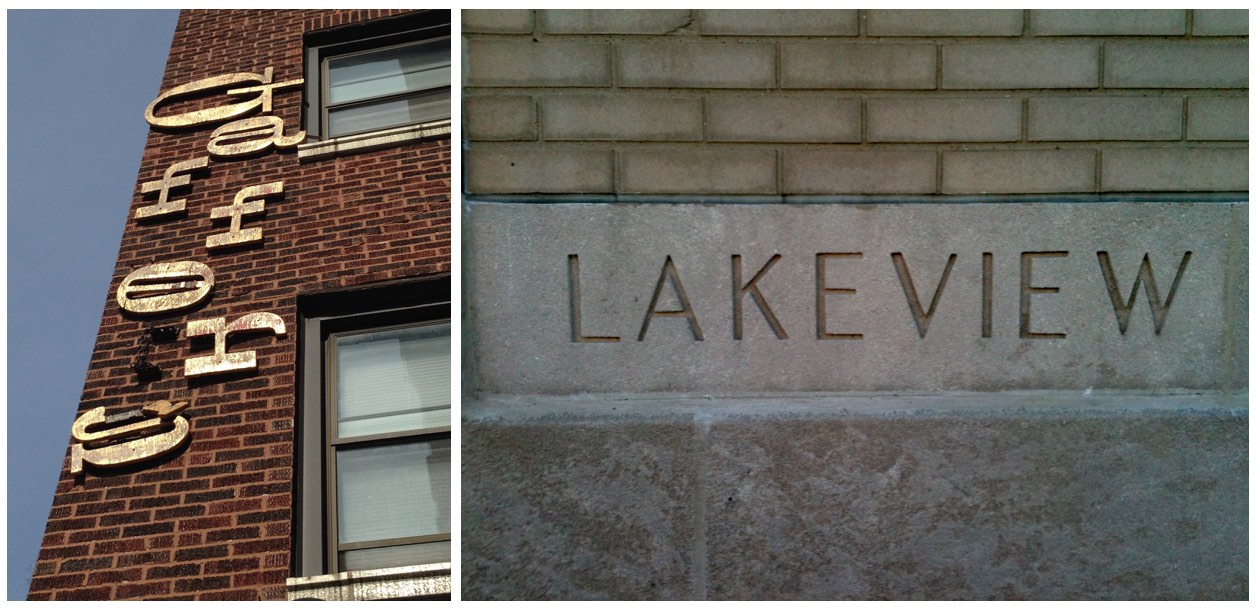 Patrick Steffes, 2017
Planned around the schedule of the current World Series champs to avoid congestion (they are playing that day in Milwaukee), we will be cover a large area of Lake View and explore a great deal of history and the built environment. A few of the many highlights will include what may be the world's oldest extant former parking garage, an enormous former tabernacle church turned into retail stores, and what may be the oldest remnant of gentrification in Lake View: Gafffer's, shown above left. In 1972, Gafffer's would host young professionals who would dance to the music of the late 1950s and early 1960s, plan an old-timey Antioch farm picnic as a "reactionary answer to Woodstock" and host a retro prom at a "corny" Loop hotel.
Tickets and more details will be available about a month before the tour.


Logan Square Walking Tour, Sunday, October 1, 2017
---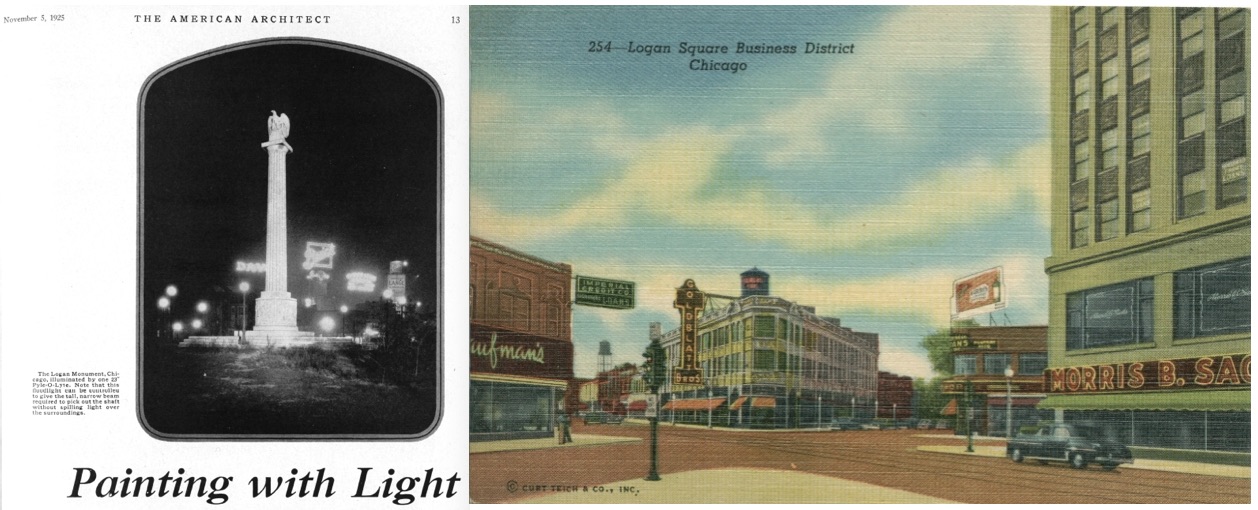 Left: American Architect, 1925 Right: Chuckman Collection
Coinciding with the release of the brand-new book Images of America: Logan Square, co-authored by Forgotten Chicago co-founder Jacob Kaplan and editor Daniel Pogorzelski, this encore presentation of our 2016 tour on Sunday, October 1, 2017 will explore the successive waves of development and redevelopment in a community that is undergoing gentrification. We will take an in-depth look at the place where magnificent greystones along Logan Boulevard abut working-class cottages.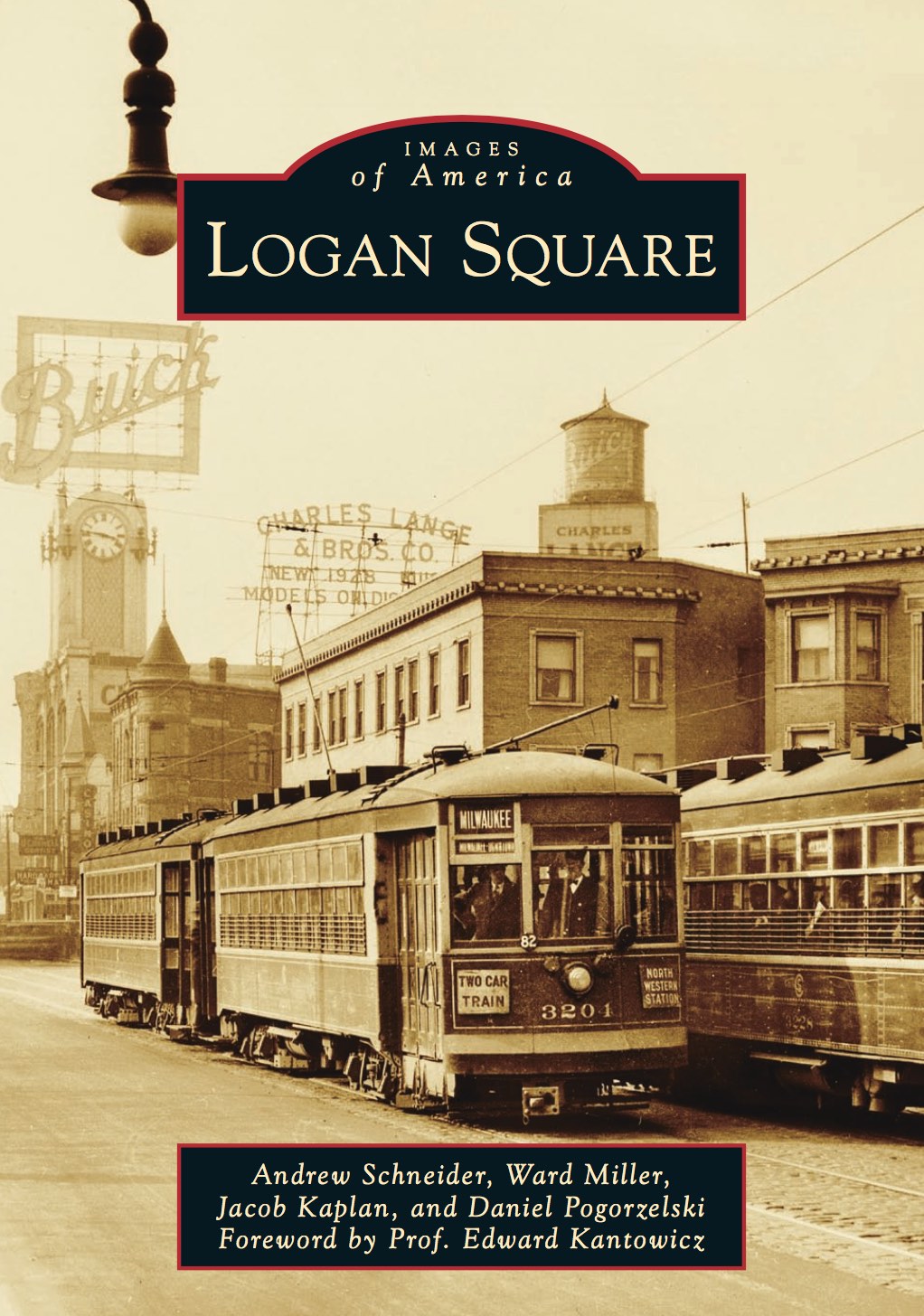 Of course, we will examine the rich history of the area. We'll discuss factories that employed hundreds, historic and noteworthy church structures, unique and historic retail architecture, and the housing stock that served many waves of new immigrants. Along the way, our hope is that participants will gain new perspectives of how a Chicago neighborhood has developed, changed, and continues to evolve over time.

Tour participants will also have the opportunity to see the historic Logan Square Boulevard District in detail. We will also look at sites reflecting the area's ethnic history, along with architectural oddities and other curiosities in the built environment. All of these elements will be tied together as we study the evolution of one of Chicago's unique outlying neighborhoods. Signed books will be available for sale at the end of this tour.
Tickets and more details will be available about a month before the tour.


Calumet River/Indiana Harbor Canal Boat Tour, Sunday, October 29, 2017
---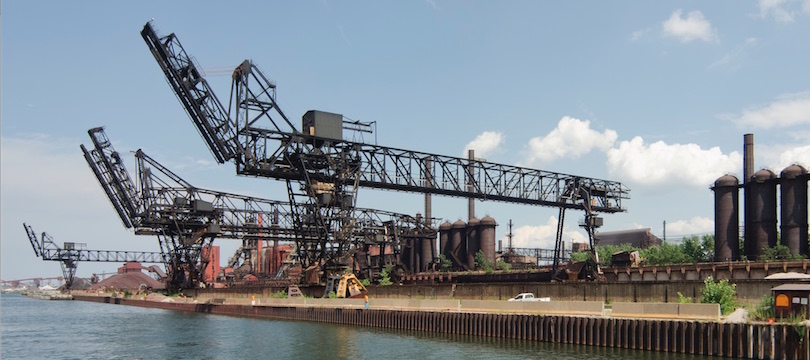 Matthew Kaplan, 2013
We're proud to announce a brand-new tour combining our two unique Calumet Region boat tours!
Encyclopedia of Chicago
This tour will examine the Indiana Harbor Canal, perhaps the most unexplored navigable waterway in the Chicago region.
Join us Sunday, October 29, 2017 for a boat tour of the Calumet River and Indiana Harbor Canal. This tour will include a rare opportunity to see and photograph some of the last remnants of Chicago's steel industry, plus active steel industry along the Indiana Harbor Canal in East Chicago. Leaving from our boat's harbor in Dolton (easily accessed from I-94), a chartered boat will take us through the O'Brien Locks and up the Calumet River. Heading up the Calumet, we'll discuss the historic sites where roaring blast furnaces once stood, as well as the last few steel mill structures still standing (some of which are currently under demolition). We'll pass under a number of bridges, including the Chicago Skyway, railroad lift bridges, and bascule structures.
The tour will then head out into Lake Michigan and towards the Indiana shore (past the active BP refinery in Whiting), and into the Indiana Harbor Canal. We will pass very close to active steel mills in a waterway that few pleasure boats (and even fewer tour boats) ever get to experience. Once we get to the end of the navigable portion of the canal, we'll turn the boat around and head back the way we came towards the Dolton harbor, discussing more locations along the way.
But wait, there's more! Unlimited beer and wine and an extensive snack buffet are included with each ticket. Can you think of a better way to spend a Sunday afternoon in October? Neither can we.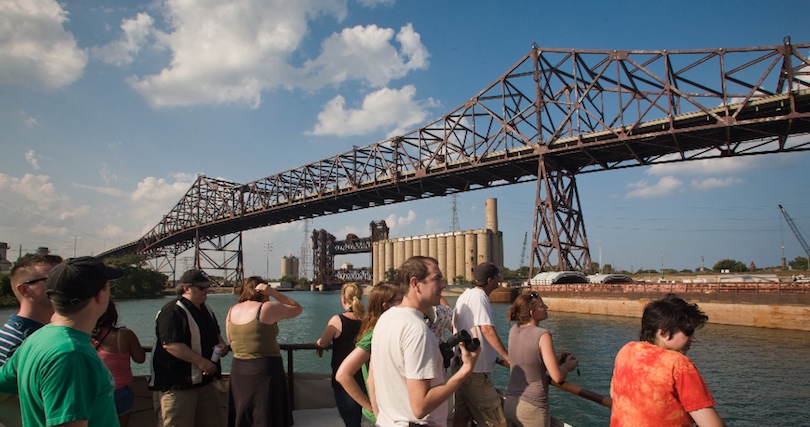 Matthew Kaplan, 2010
Note: In the unlikely event that lake conditions are too extreme to venture between the Calumet River & Indiana Harbor Canal, we will instead tour the Calumet River, Lake Calumet and portions of the Cal-Sag Channel. Rest assured that this tour will be informative and interesting no matter what happens!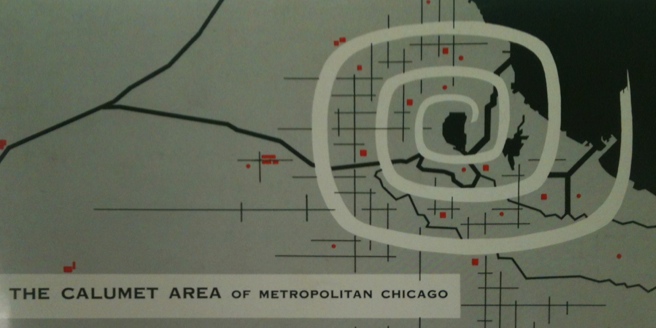 1956 Calumet Region Report, Special Collections, University of Illinois at Chicago
Tickets and more details will be available at least two months before this tour.
Previous 2017 Forgotten Chicago Appearances & Events
---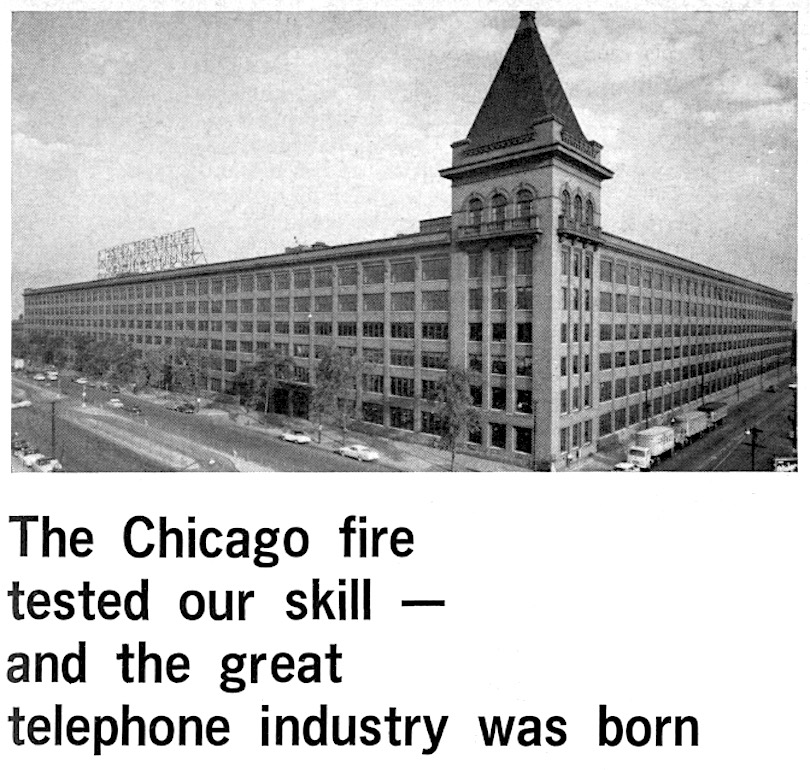 Western Electric ad, Commerce, 1965
A sold-out group joined Forgotten Chicago on a sunny summer day on Sunday, June 11, 2017 for our first tour since 2013 of the fascinating built environment of Cicero and Berwyn. Fittingly, we started at one of the few remnants of Western Electric's once-massive Hawthorne Works at the southeast corner of Cermak Road and Cicero Avenue (shown above in 1965), and in operation from 1905 to the mid-1980s. Hawthorne Works at its peak produced nearly every telephone manufactured in the U.S. and employed no fewer than 42,000 people in an enormous complex 1 ½ times the size of Chicago's Merchandise Mart. Visit this link for a comprehensive history of the Hawthorne Works site.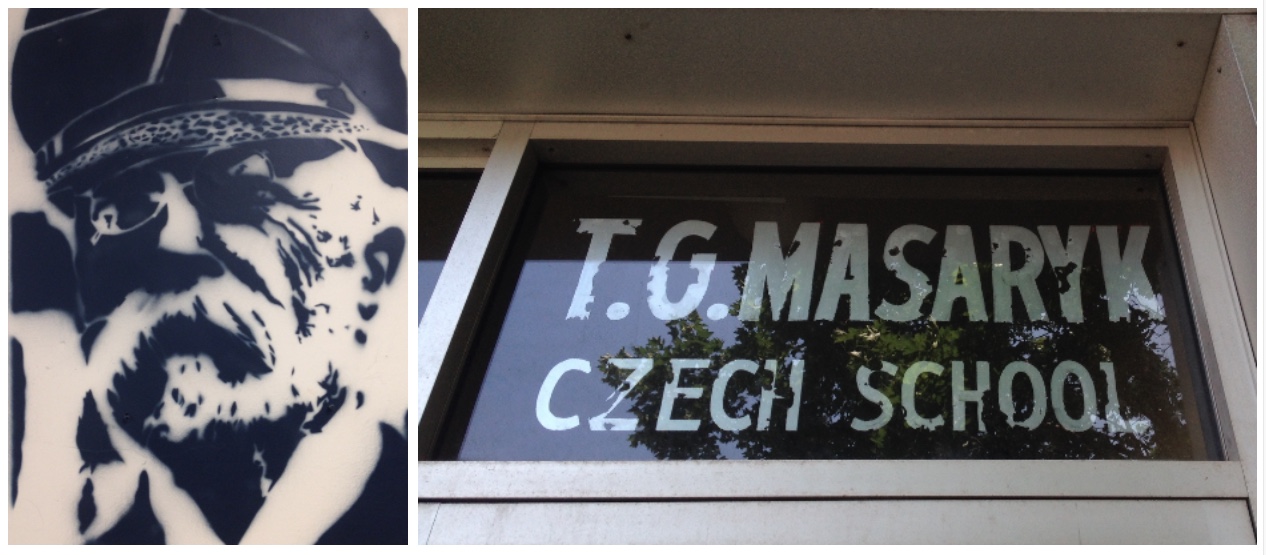 Patrick Steffes
This tour also explored the many remnants of Cicero and Berwyn's rich ethnic history as one of the world's largest settlements of Czechs and Slovaks. As a special treat, we were joined by two instructors at the T.G. Masaryk Czech School, continuing the tradition of these immigrants enormous contribution to these communities, and were given a tour inside this thriving school named after the first president of Czechoslovakia.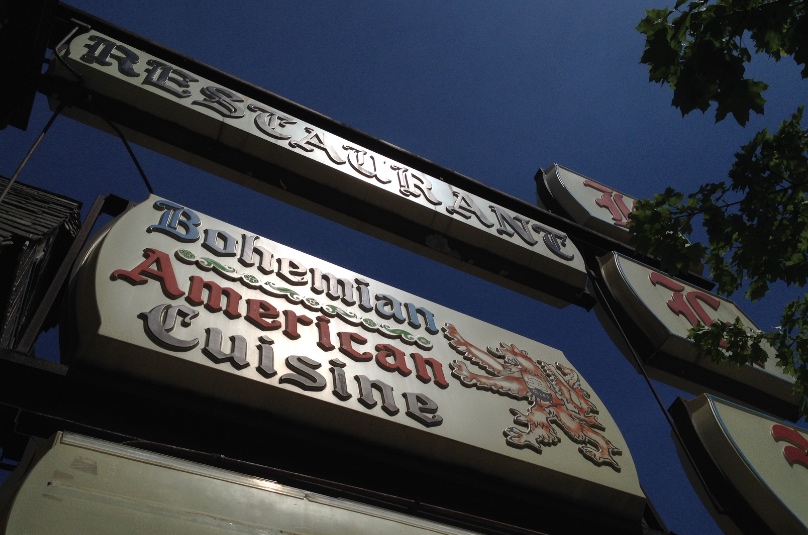 Patrick Steffes
Also explored were buildings related to the "Bohemian Wall Street" along Cermak Road, remarkably intact storefronts from the 1920s and 1930s, former movie theaters, the large array of commercial buildings from the middle of the twentieth century, and the growing Hispanic community. Appropriately, we ended the tour outside of Klas Restaurant, a beloved Cicero institution with a stunning building and interior. While Klas appears to have closed in 2016, it is our hope that this remarkable institution can reopen soon.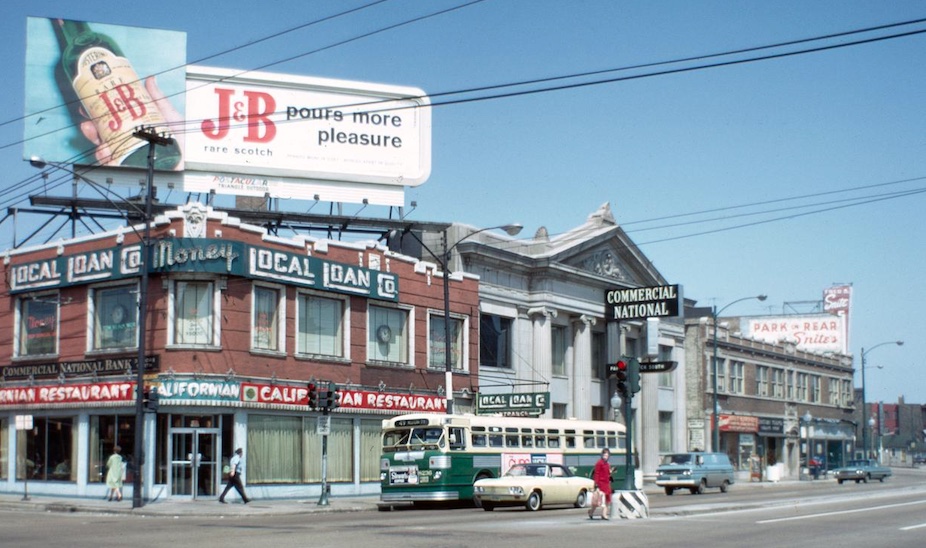 C. William Brubaker Collection (University of Illinois at Chicago), 1967
Seventy people joined Forgotten Chicago for a free and all-new presentation on Tuesday, June 6, 2017 on the rich history of Albany Park, held at the neighborhood's namesake library branch. Exploring the built environment and history of this North Side community, we looked at many neighborhood landmarks hiding in plain site, including the former Commercial National Bank (now MB Financial Bank) at the corner of Western and Lawrence. Now buried in a later addition, the bank's peaked roof can clearly be seen in aerial views and from the Walgreens across the street.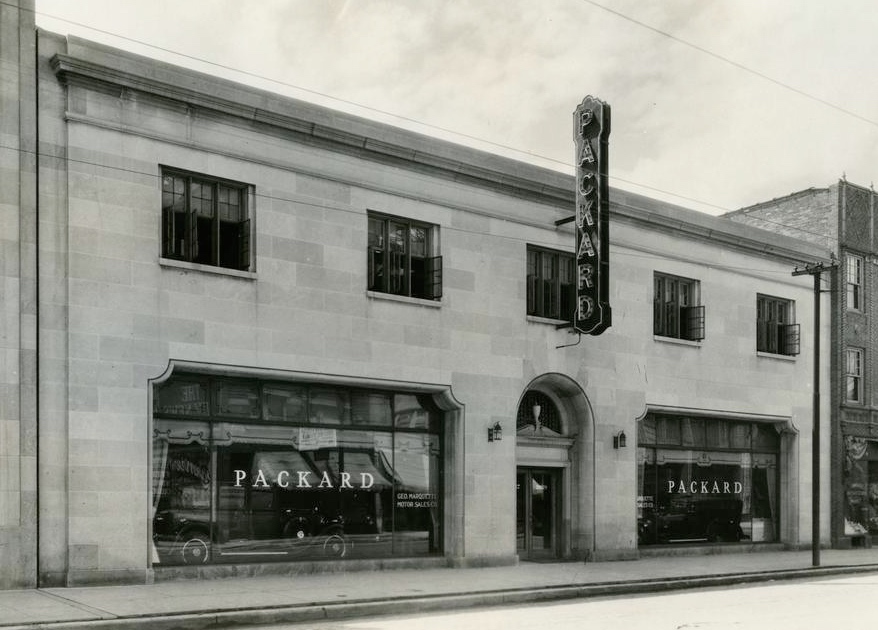 Building a Nation: Indiana Limestone Photograph Collection, Indiana University
The lively commercial heart of Albany Park then and now is Lawrence Avenue, once containing a large number of automobile showrooms. Zook & McCaughey, best known for the Pickwick Theater in Park Ridge and many eclectic homes in Chicago's western suburbs, also designed several little-known commercial buildings, many of which have been discovered by Forgotten Chicago in recent years. Although the Packard brand disappeared in 1958, this deluxe former auto salon remains nearly completely intact today.
Many thanks to the large group who joined us in Albany Park!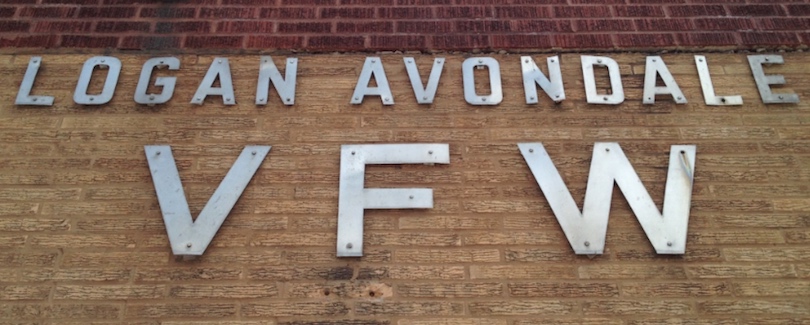 Patrick Steffes
A sold-out group joined Forgotten Chicago on Sunday, June 4, 2017 for an all-new tour examining the curious community of East Avondale in an all-new tour, examining the neighborhoods once known as Bricktown, California Park, Little Cassubia, and California Park along the Chicago River in the eastern reaches of the Irving Park and Avondale community areas. We also looked at remnants from the area's early history as a crossroads of water and rail transport, as well as visit sites connected to the growth and evolution of this overlooked nook of Chicago's Northwest Side.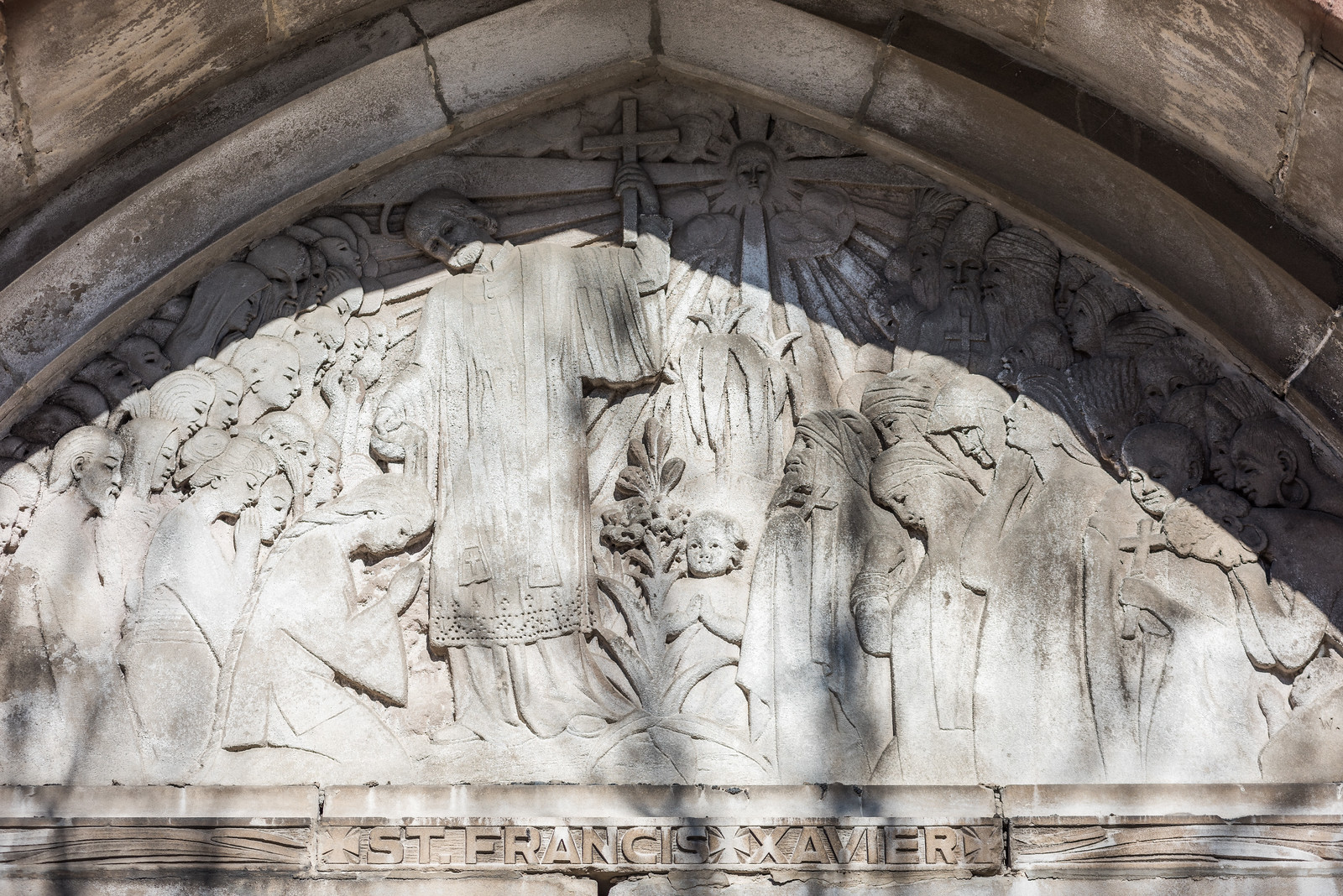 This tour also discussed this area's industrial and ethnic history, historic homes, a forgotten elevated railroad, a massive former beer garden turned into city park, overlooked religious buildings and hiding-in-plain-sight remnants and curiosities. Many thanks to those who joined us in East Avondale!

Courtesy of WGN Radio
The Forgotten Chicago crew was honored to appear in two segments on one of the nation's leading radio stations, WGN 720, in spring 2017. The first segment, hosted by Dave Plier and originally aired on Sunday, April 30, 2017 featured Jacob Kaplan and Patrick Steffes, and may be heard here.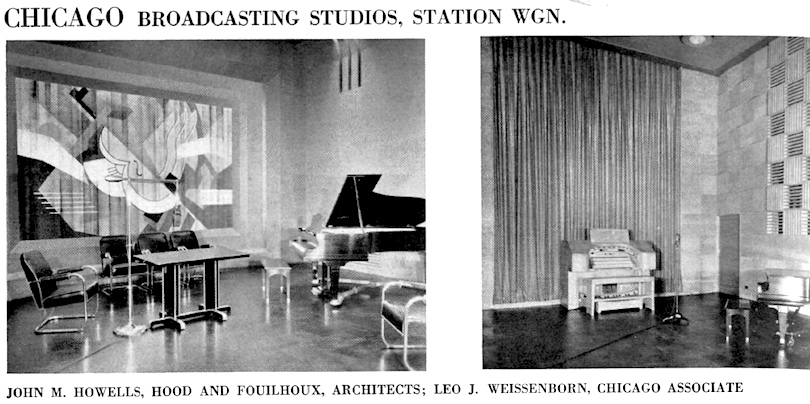 Architectural Forum, 1936
The second WGN Radio segment aired live on the Bill Leff and Wendy Snyder Show on Wednesday, May 10, 2017 and featured Jacob Kaplan, Patrick Steffes and Dan Pogorzelski. This entertaining segment may be heard here.
While today's broadcasting studios are more utilitarian than the ones from the 1930s, WGN's 50,000 watts continue to reach an enormous audience throughout the Midwest. Many thanks to the producers and staff of WGN Radio!


Top: Architectural Forum, 1938 Bottom: Google Street View, 2016
Built for one of the world's largest cosmetics company at the time, Detroit architect Albert Kahn created an up-to-the minute factory for Lady Esther in Clearing that opened in 1938, including a stunning reception area, above top right. Heavily modified but still standing today, Lady Esther is one of the many unexpected industrial and architectural landmarks of Clearing.
A group of 60 guests joined Forgotten Chicago on Wednesday, May 10, 2017 for a free presentation on the fascinating history of Clearing and Chicago's Southwest Side. Presented for the first time since 2011 and containing many new images from our ever-growing and exclusive research database, we showed how this often-overlooked area has been crucial in the development of the Chicago region's multi-billion dollar global economy.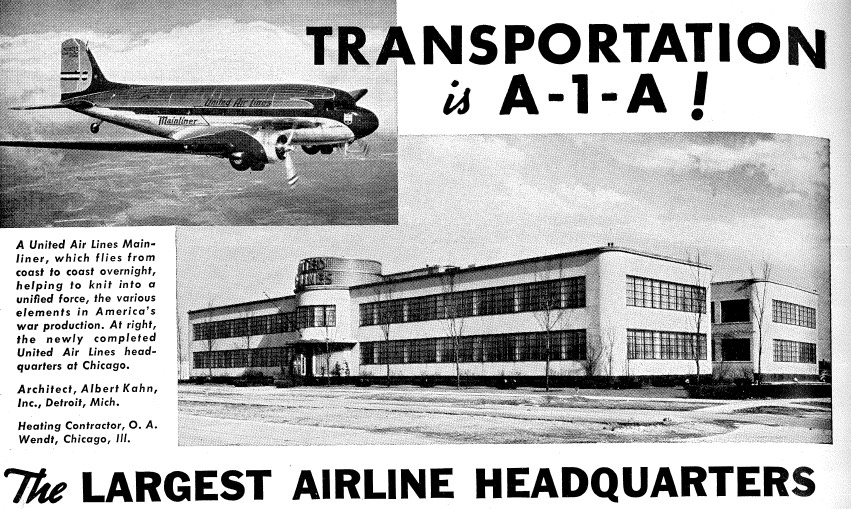 Top: Architectural Forum, 1942
Celebrating it 90th anniversary in 2017, what is now known as Midway International Airport has had an immense influence in Clearing, the Southwest Side, and American civil aviation. Another Albert Kahn one-time landmark, this massive (at the time) headquarters for United Airlines on Cicero Avenue was demolished in the late 1990s for the reconstruction of Midway.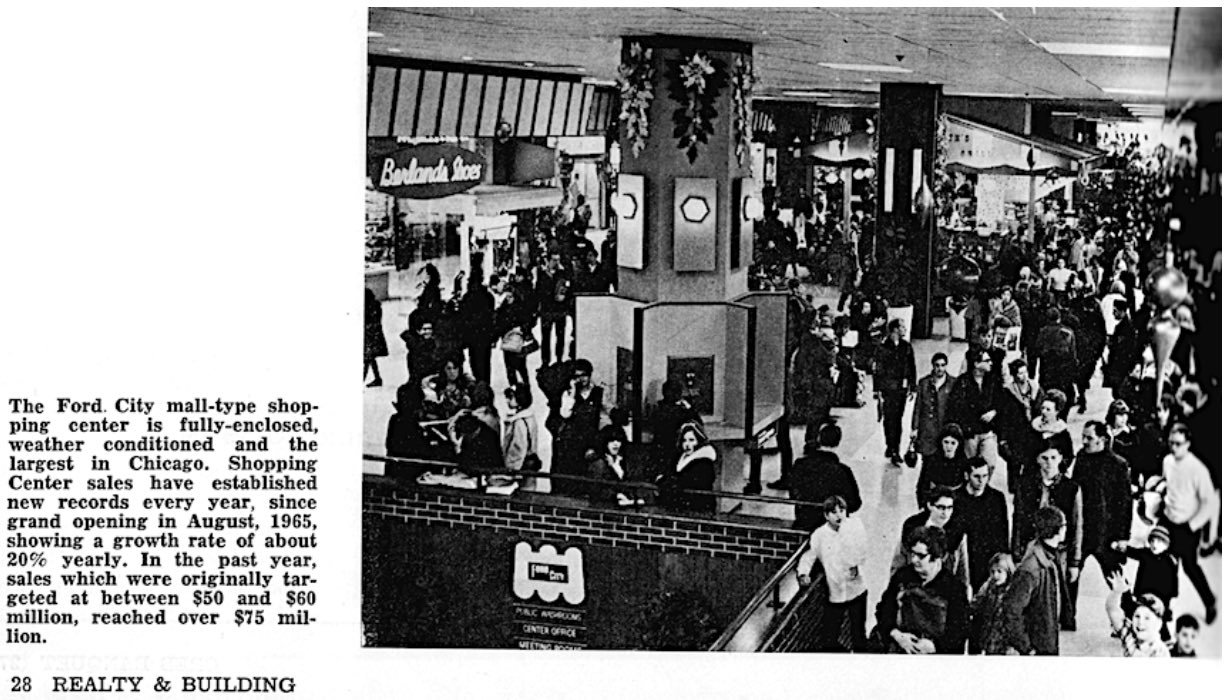 Realty & Building, 1970
Yet another Albert Kahn design, the massive Dodge Chicago Plant was the world's largest building ever constructed when it was completed in the early 1940s, and was a vital component of Allied World War II defense production. Purchased by innovative businessman Harry Chaddick and opened as Ford City Mall in 1965, this retail power center was visited during a Forgotten Chicago tour in 2012. For more on Harry Chaddick's Chicago legacy, visit this site.
Many thanks to everyone who joined us in Clearing!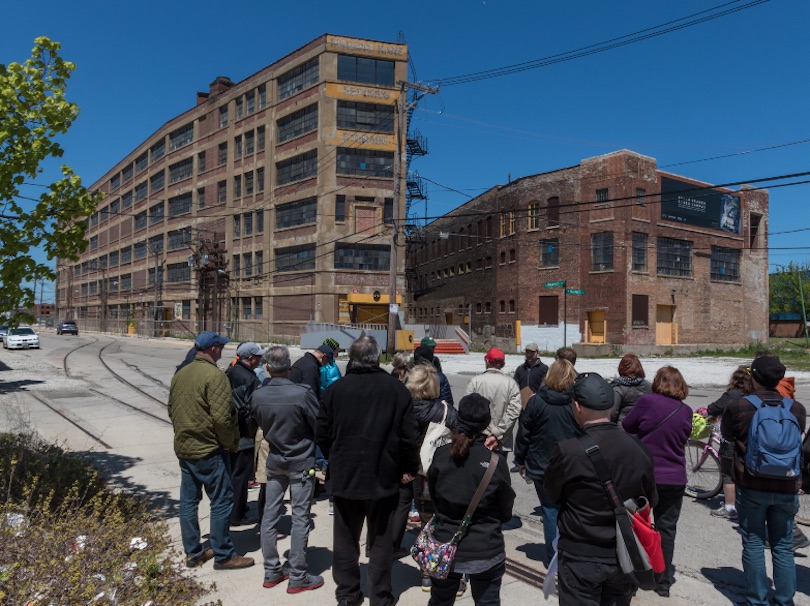 Matthew Kaplan
This grouping of warehouses were formerly adjacent to the long-vanished Ogden Avenue Viaduct, built in 1932 and demolished in 1993. To get a sense of the scale of this structure on Goose Island, the portal at the far right of the above image once opened directly onto the roadway.
A sold-out group joined Forgotten Chicago on a bracing spring day on Sunday, May 7, 2017 for a reprise of our exclusive tour exploring the remnants of Ogden Avenue. One of the most peculiar chapters in Chicago transportation history, Ogden Avenue was researched by Forgotten Chicago for an article published in 2009. A major arterial street that was extended from Union Park to Lincoln Park at enormous expense and disruption in the 1930s, the extension of Ogden was closed in stages starting in 1967.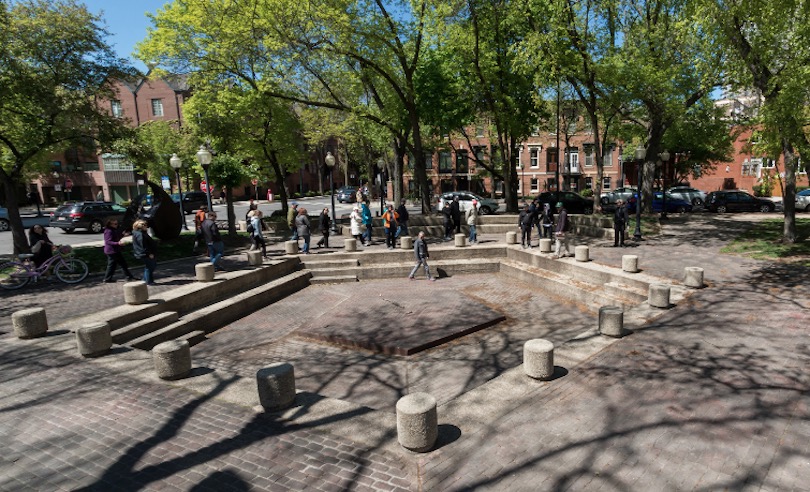 Matthew Kaplan
While the long-gone sections of the former Ogden Avenue are largely forgotten, this tour examined its numerous remnants through the Near North Side, including Richard J. Daley-era public space and oddly positioned housing and religious buildings. The more than 100-foot wide vacated right of way of Ogden Avenue in an established urban neighborhood allowed for a unique collection of 20th century homes by noted architects including Stanley Tigerman, Larry Booth, and Walter Netsch.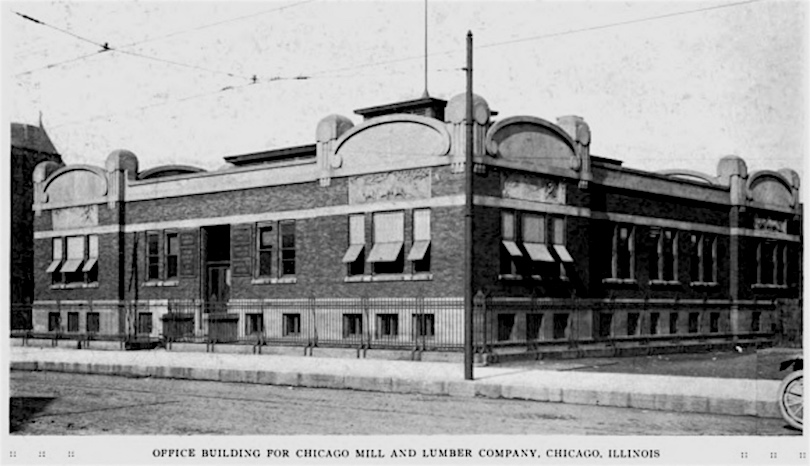 Western Architect, 1915
The many oddballs and oddities on and near the route of the former Ogden Avenue were also examined, including the nearly completely intact former lumber company office building that surrounds an 1870s Italianate house. The original roofline and cupola of this buried house may be seen in both the image published in 1915 and (at least for now) in 2017.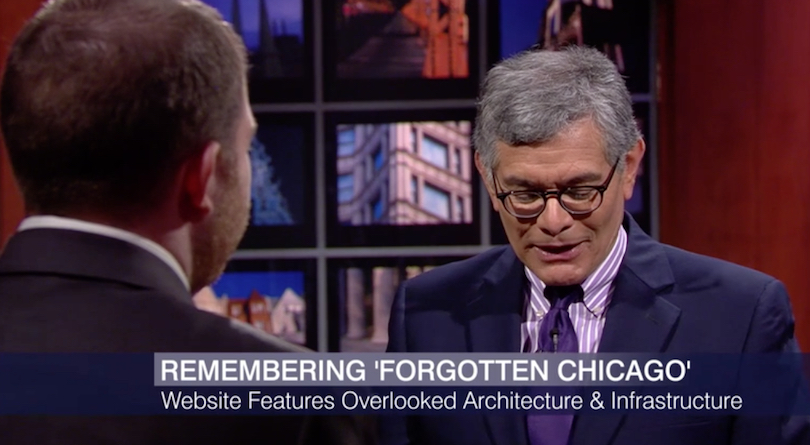 Courtesy of Chicago Tonight, WTTW
On April 20, 2017, Phil Ponce of WTTW's Chicago Tonight interviewed Co-Founder and Editor Jacob Kaplan for a segment on the tenth anniversary year of Forgotten Chicago researching, writing and exploring the Chicago area's overlooked built environment. This entire segment may be seen here. Many thanks to Phil Ponce and the producers of Chicago Tonight!

Patrick Steffes
Our exclusive Calumet Region Tour included three interior stops, including one of the homes in Marktown in East Chicago, Indiana.
This unique community was built in the English Garden City style in 1917 by architect Howard Van Doren Shaw and famed landscape architect Jens Jensen. Marktown, a National Historic Landmark since 1975, has deteriorated over the years and many of its buildings have been demolished, with the entire site now endangered. More information on
Marktown may be found here
A sold-out group joined Forgotten Chicago on a glorious spring day on Sunday, April 23, 2017 as we explored by bus the often overlooked, but fascinating, Calumet Region of Illinois and Indiana, telling the story of one of the most productive industrial regions in the world. The Calumet Region, Chicago's "industrial downtown," is filled with ethnic and industrial history, as well as surprising architectural oddities. Offered for the first time since 2013 and visiting many sites associated with the former Standard Oil Company of Indiana, guests also received a unique souvenir – a piece of some of the 700,000 square feet of white Italian Carrara marble that was installed (and removed) from their former corporate headquarters at 200 East Randolph in Chicago.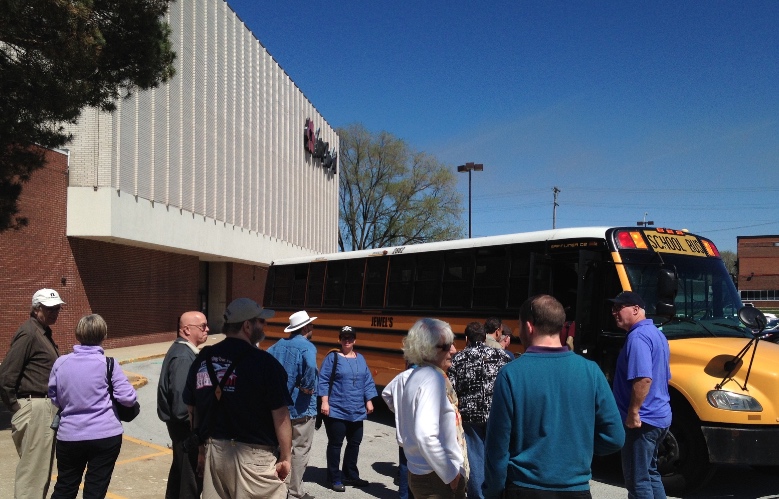 Patrick Steffes
No visit to the Calumet Region is complete without a visit to the site of the former Woodmar Shopping Center in Hammond, designed by famed shopping center architect Victor Gruen and one of the earliest in the region when it opened in 1954. While the shopping mall portion of this complex was demolished in 2006, the unique five-sided Carson Pirie Scott still stands, at least for now. Along with Woodmar, this tour also pointed out other relics and unique examples of mid-century modern design, Calumet Region-style.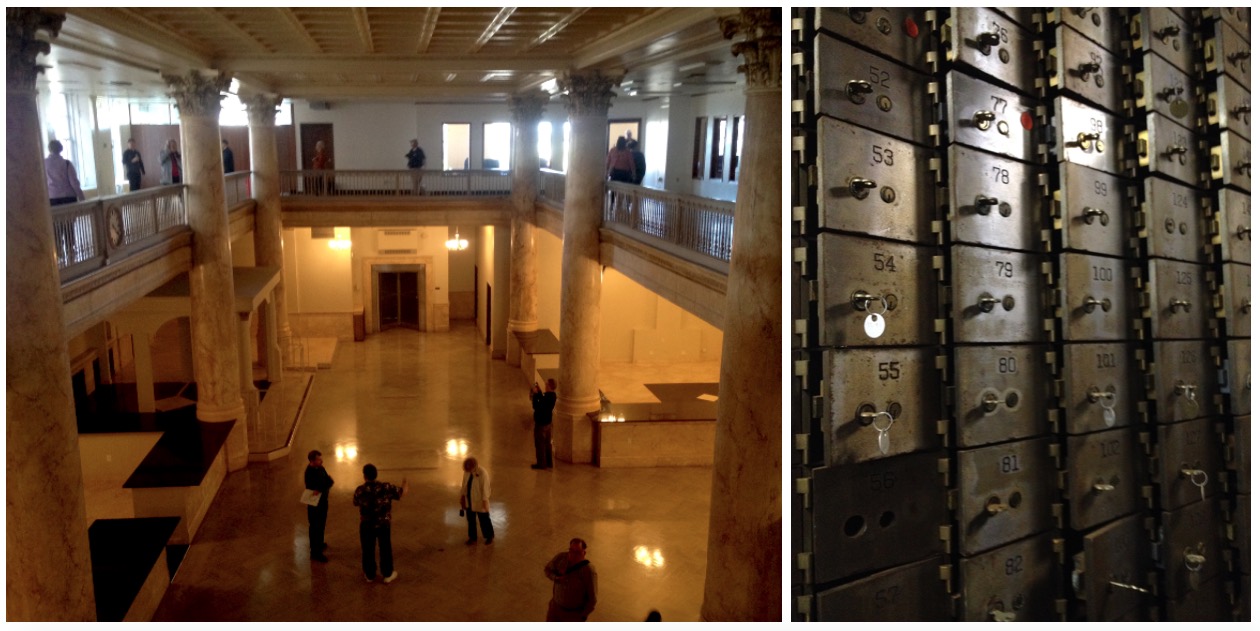 Patrick Steffes
Long-forgotten industrial sites on both sides of the state line were examined on this tour, such as the decaying but beautiful remnants of the Acme Steel coke plant in Chicago. Heading south from central Chicago into the netherworld of industrial Chicago on our trusty yellow school bus (used again for added maneuverability and to keep prices low), we also paid a visit to the stunning interior of the 1927 former Gary State Bank building, whose elegant lobby and intact vault are now used as a private event venue.
Many thanks who joined us in the Calumet Region!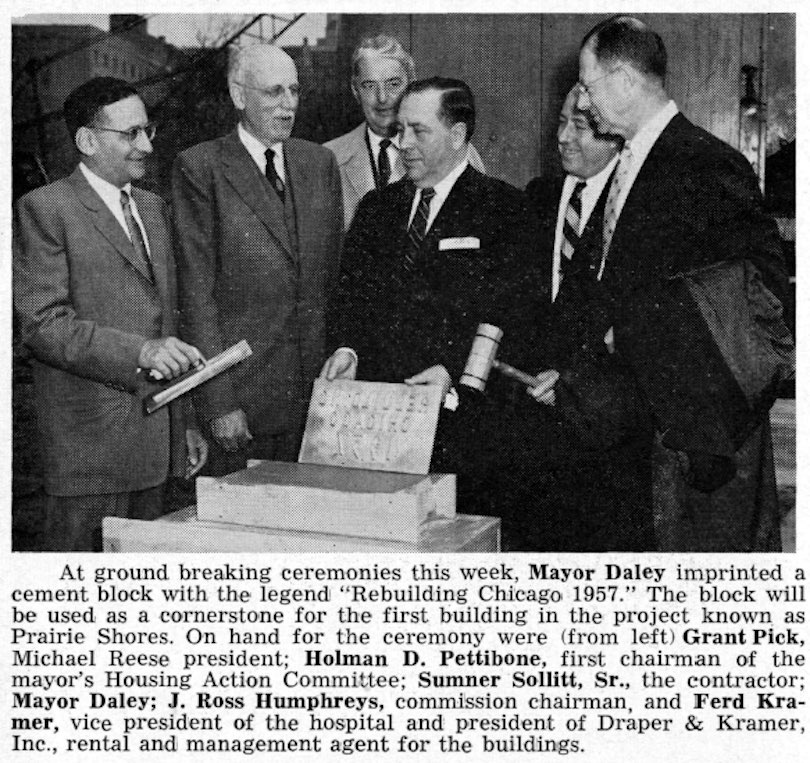 Realty & Building
A group of 45 guests joined Forgotten Chicago on March 18, 2017 for a free event as we helped celebrate the 60th anniversary of the Bezazian Branch of the Chicago Library with an all-new presentation. During this discussion, we expolored the past and present of the Uptown community, and the curious remnants of Uptown history that are hiding in plain sight. We also looked at the incredible growth and change happening throughout the Chicago region the year the Bezazian Branch opened in 1957, including building the region's expressway and tollway system, urban renewal, and the enormous number of new housing, retail and office construction in the region. Many thanks to those who joined us in Uptown!
Read More
---
Tweet