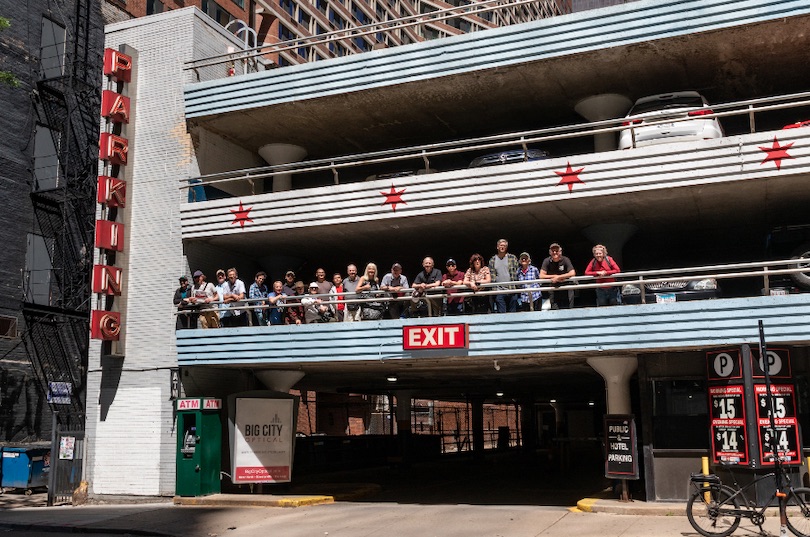 Matthew Kaplan, 2022
Currently scheduled for demolition, this 1955 parking garage was the final of ten
constructed in the central area in what was at the time the largest municipally-funded parking garage network in the world and
explored in a 2008 Forgotten Chicago feature.
On Saturday, June 18, 2022, a lively group joined the Chaddick Institute for Metropolitan Development at DePaul University and Forgotten Chicago for an exclusive walking tour exploring Cityfront Center / Lakeshore East, the area just north of the Chicago River and between Michigan Avenue and future DuSable Park.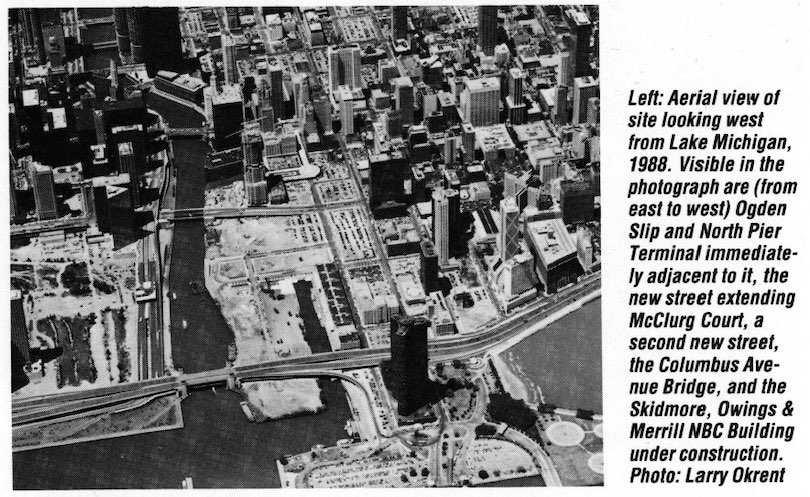 Architecture Chicago, 1988
One of the largest and highest-profile urban redevelopments in the U.S., Cityfront Center / River East has significantly changed Central Chicago's commercial and residential landscape in less than two generations

Matthew Kaplan, 2022
A bleak post-industrial landscape less than forty years ago, the area once wholly owned by the Chicago Dock & Canal Trust is home to a surprising number of curious and overlooked remnants today. Without question one of the most desirable development sites in North America, the area where Lake Michigan and the Chicago River meet has been subject to a variety of completed and delayed projects, including the site of the ill-fated Chicago Spire.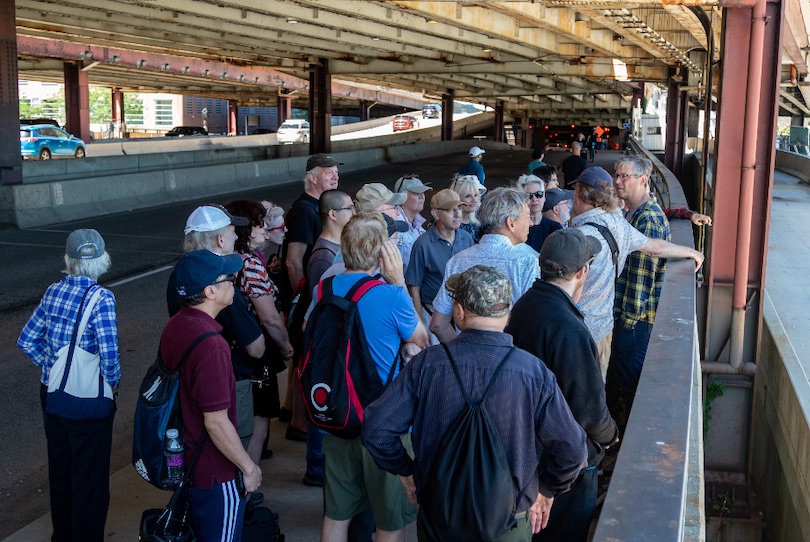 Matthew Kaplan, 2022
Integral to the development of Cityfront Center and Lakeshore East and discussed in depth was the opening in 1982 of the William P. Fahey / Columbus Drive Bridge and the rebuilding of DuSable Lake Shore Drive from 1982 to 1986, as seen above.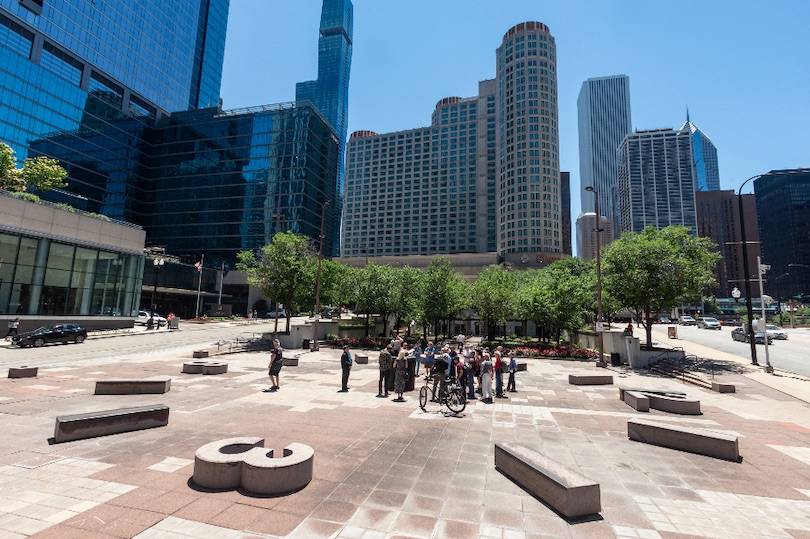 Matthew Kaplan, 2022
A highlight of the tour was perhaps Chicago's most forlorn major public artwork, Vito Acconci's Floor Clock II near the intersection of North Columbus and East Illinois (shown above) has been missing its signature movable hands for years, an enormous clock for which time has figuratively (and literally) stopped.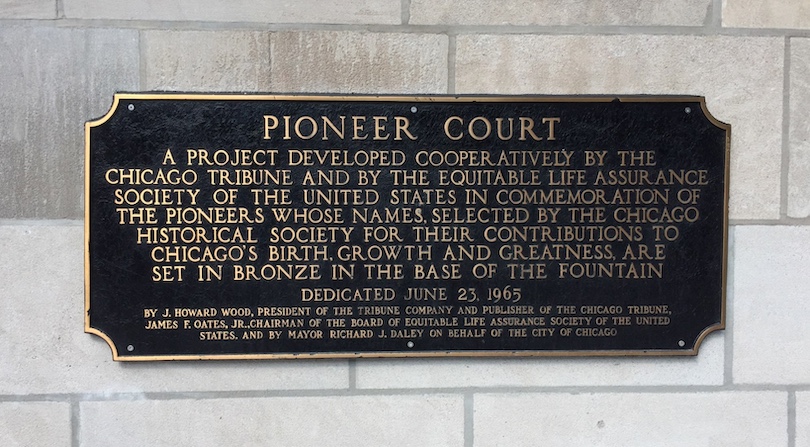 Patrick Steffes, 2022
Also visited was one of Chicago's first industrial areas, at the northeast corner of Michigan Avenue and the Chicago River. Once Home to Cyrus Hall McCormick's famed McCormick Harvesting Machine Company, a firm that would later become International Harvester, this factory would be destroyed in the Great Chicago Fire and be rebuilt on the South Side. Home to a surface parking lot for decades, by 1965 this site would become Pioneer Court in honor of first permanent settler Jean Baptiste Point du Sable and other Chicago pioneers.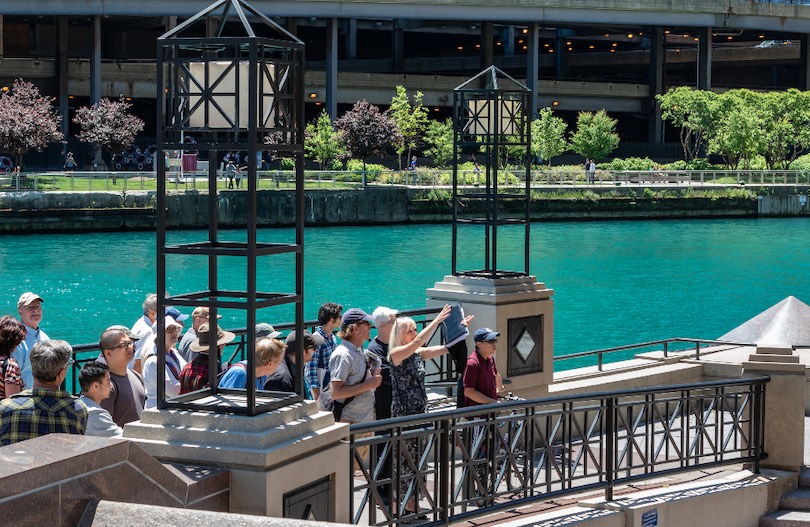 Matthew Kaplan, 2022
Many thanks to all those who joined us for this exclusive Chaddick Institute tour. Forgotten Chicago looks forward to collaborating again with the Chaddick Institute and community partners for more exclusive events exploring the Chicagoland built environment.
Read More
---
Tweet