This is the second in a multi-part series on lost and found 1980s architecture and interiors in the Chicago area. This article examines projects that tend to be ephemeral and forgotten during any decade, but receive little research or documentation. For part one in this series, visit here.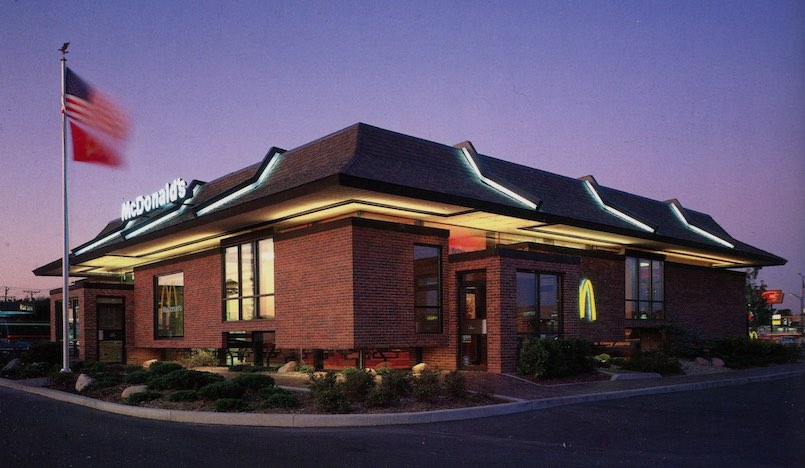 SITE
Demolished with no notice or attention starting in August 2015,1 this internationally publicized McDonalds was designed by architect James Wines of SITE of New York City. This building was located in the equally one-of-a-kind (and now nearly completely altered) Cermak Plaza at the southeast corner of Harlem and Cermak in Berwyn, Illinois.




Architectural Record, 1984
James Wines and SITE would create an utterly unique restaurant, one that attempted to completely reconfigure what Wines called one of the most "universal icons" (above) in the U.S. In Berwyn, SITE deconstructed the elements of a standard McDonald's with the walls and roof "floating" above glass. The demolition of this McDonald's was particularly galling as nearly every other built work by SITE, one of the most publicized architectural firms in the world in the 1980s, have also been destroyed in recent decades.


Google Street View, June 2015
Two months before its August 2015 demolition, the unique design of this restaurant can clearly still be seen, although its glass window below the roof and brick walls have been inexplicably filled in to more closely resemble thousands of McDonald's restaurants built from 1968 to the 1990s.
McDonald's has a long and unfortunate record of destroying their own notable and historic buildings. An upcoming Forgotten Chicago article will examine some of these vanished and endangered structures.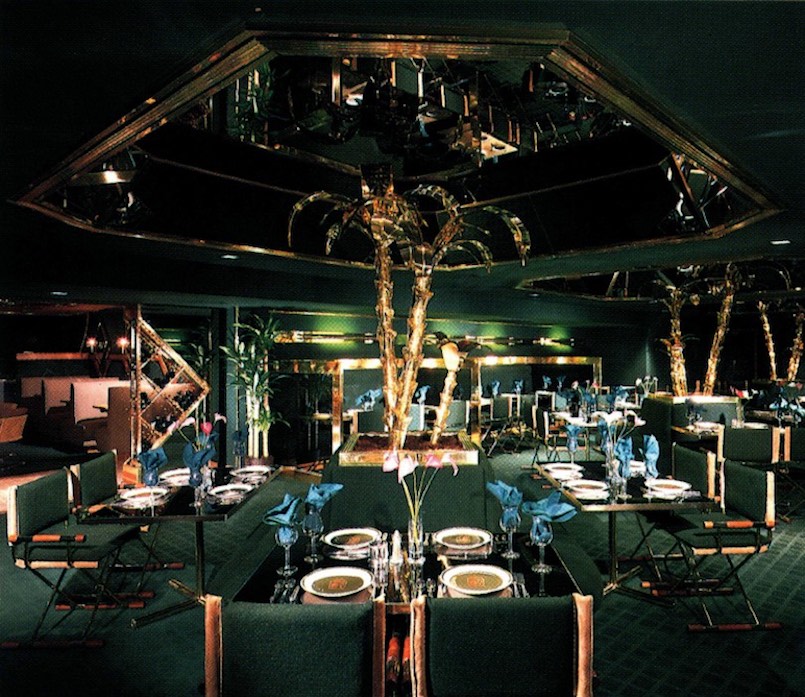 Dining by Design
Opened at the dawn of the 1980s on February 4, 1980,2 Cartouche was a would-be high-end restaurant with an Egyptian motif in what then the Radisson and is now the Inter-Continental Hotel at 505 North Michigan Avenue. Typical of many venerable decades-old hotels, Cartouche was built as a way to bring new traffic and publicity in the highly competitive Chicago hotel market.
Despite Cartouche's lavish, expensive, and unfortunately uncredited design, the restaurant received a scathing Chicago Tribune review that noted "an ambitious food service concept that is far beyond the comprehension of its inexperienced staff."3 Seemingly short lived, the final ad for this long-forgotten Egyptian Modern-meets-Rush Street Disco was published in the Chicago Tribune in May 1982.4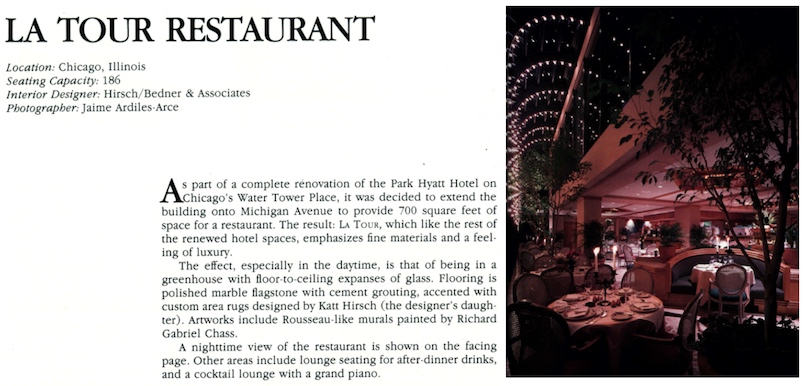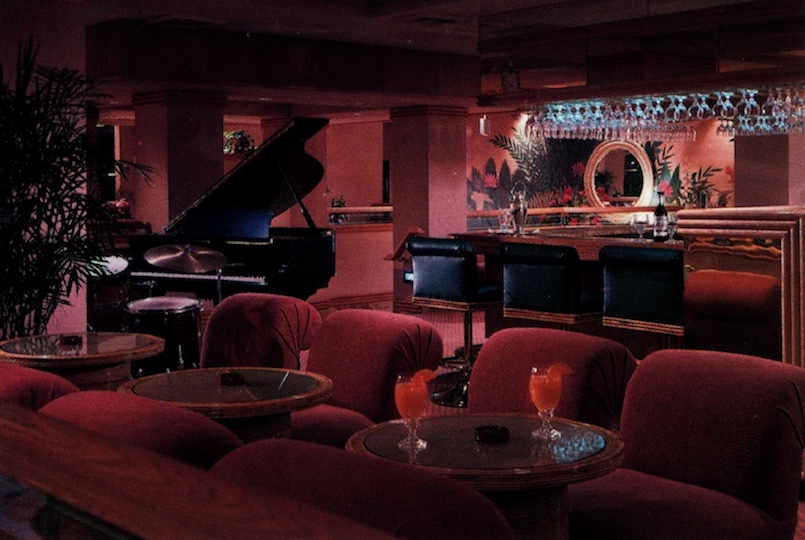 Dining by Design
By 1984, another extravagant hotel restaurant opened along Michigan Avenue following a major remodeling of the Park Hyatt at Chicago and Michigan. La Tour was a French restaurant offering street-level views of the Old Water Tower and was designed by Hirsch/Bedner Associates.5 The Park Hyatt (originally Water Tower Inn) opened in 1961 and was designed by Hausner Macsai Associates. This classic Mid-Century Modern hotel (and La Tour) was demolished in 1999 and replaced by another Park Hyatt hotel at the beginning of the 2000s.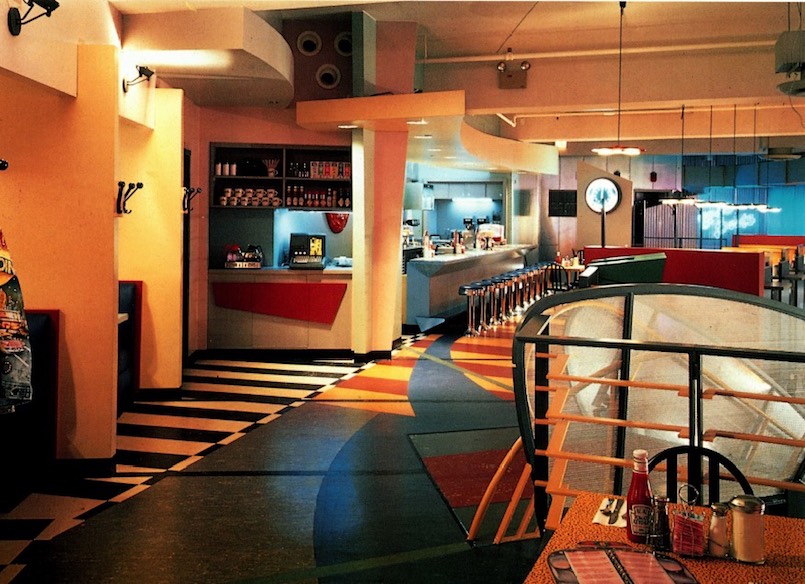 Stores of the Year / 6, 1991
Described above as a migraine-inducing and curious mishmash of several decades of pop culture, Boogie's Diner, was located at the lower level of the parking garage of the massive 900 North Michigan Avenue complex that opened in 1988. First mentioned in the Chicago Tribune in 19896, Boogie's was a pet project of Leonard "Boogie" Weinglass, the founder of the long-defunct Merry-Go-Round retail chain.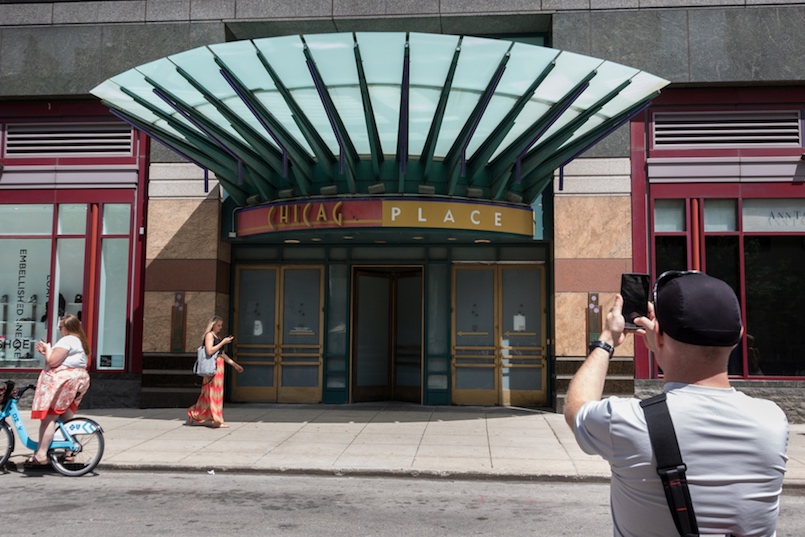 Matthew Kaplan, 2016
The interior mall and upper floors of the former Chicago Place mall on North Michigan Avenue have been abandoned since 20097 and are considered lost because areas outside of the street-facing stores are not accessible to the public. Visited above during a Forgotten Chicago tour in 2016, this may be seen as the last major central area mixed-use project of the decade. Chicago Place mall opened in September 1990 at the beginning of a significant commercial real estate recession, with the interior and exterior of this $200M project planned during the 1980s.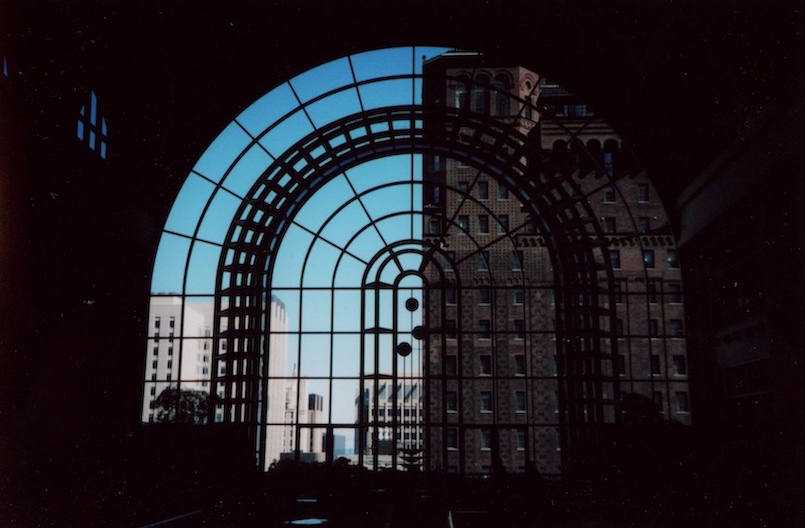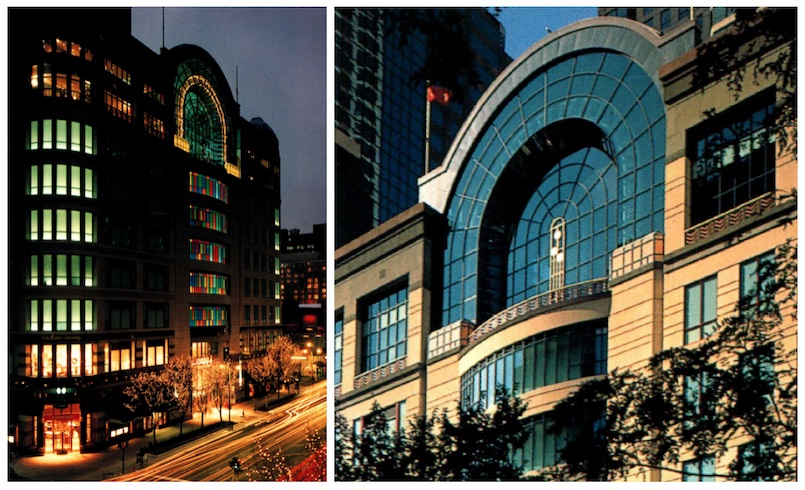 Top: Author, 2007 Bottom: American Shopping Centers 2
Unusual for a mixed-use project, it was designed by two firms: the lower retail section of Chicago Place was designed by SOM and the condo tower by Solomon Cordwell Buenz. Seen by some (including the author) as poorly designed in terms of circulation, the mall's interior did include a dizzying full-height atrium and dramatic seventh-level food court with an enormous window framing the Allerton Hotel across Michigan Avenue, as seen above. The food court also included a water feature, fountain and dramatic views looking north up Michigan Avenue.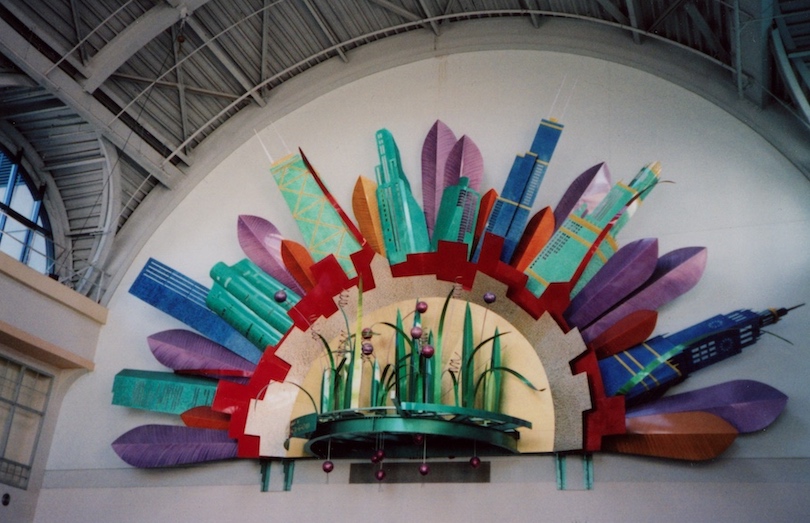 Photo by author, 2007
Also uncommon for a major shopping center at the time, Chicago Place included several enormous site-specific and Chicago-themed art pieces, including the skyline installation by Fernando Vasquez in the seventh-level food court. It is not known if this work has been removed.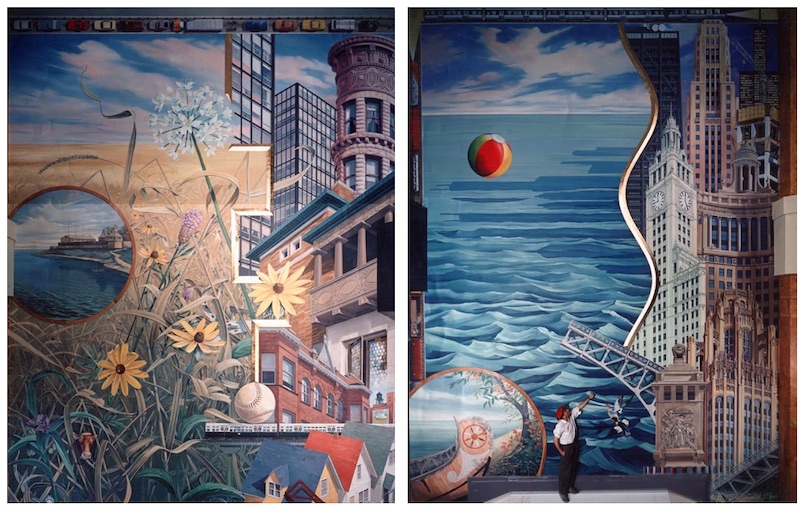 www.thomasmelvin.com
For Chicago Place, local artist Thomas Melvin created an enormous pair of murals each measuring 42' x 23' murals titled Chicagua for the Michigan Avenue entrance, with the south section above right and the north section above left. Currently the entrance to a phone retailer, it is not known if these distinctive murals remains under a new interior wall or have been destroyed.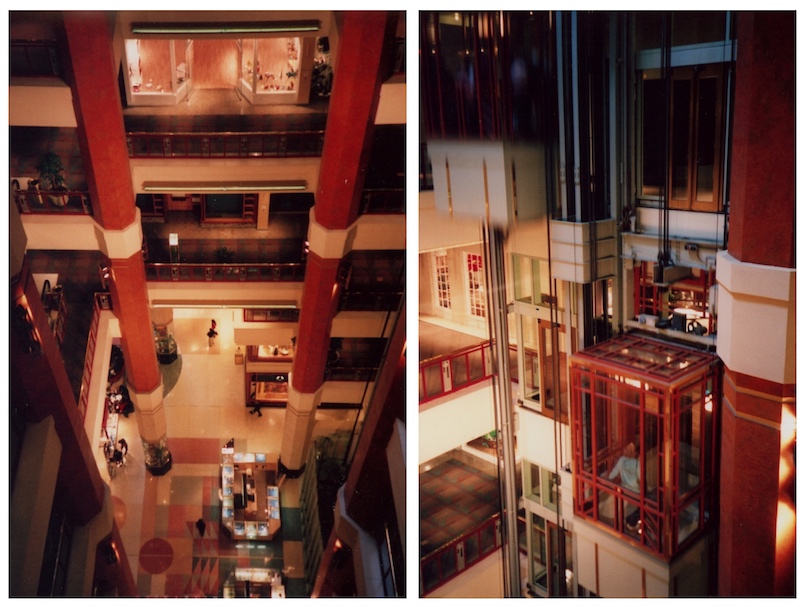 Photos by author, 2007
The mall portion of Chicago Place was a distinctive assembly of color and form. Designed by Southern California-based Sussman/Prezeja Design, it plays homage the style of the first Chicago School, with Prairie School references.

Olympic Games
Principal designer Deborah Sussman (1931-2014) was a remarkable American graphic designer, best known for her identity for the 1984 Los Angeles Olympics, seen above. A rare historicist commission for Sussman, this interior was (and perhaps still is) a significant work of 1980s Chicago design.
Top: Realty & Building, 1987 Bottom: Realty & Building, 1988
Mostly demolished just five years after opening, 1800 Clybourn had one of the most inspired 1980s interiors in the Chicago area.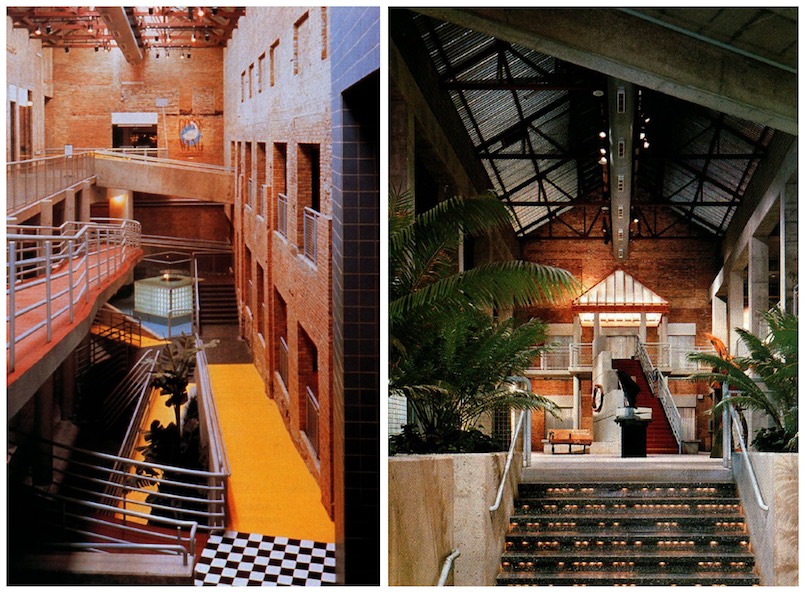 Visual Merchandising & Store Design, 1990
The project at 1800 Clybourn opened at the end of the decade in April 1989. The conversion of a former Turtle Wax manufacturing facility (previously William D. Giblson Company) was undertaken by development firm Horwitz & Matthews and architect Pappageorge Haymes.8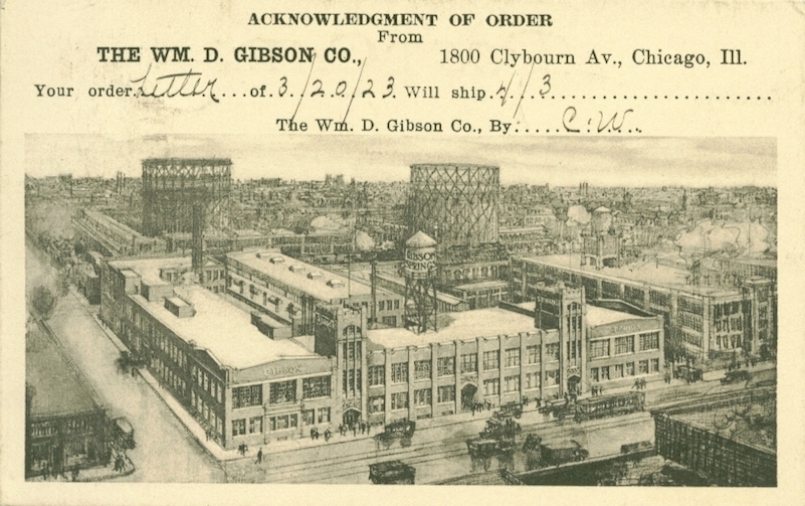 Chicago History in Postcards
By the mid-1980s, the triangle bounded by Clybourn Avenue, North Avenue and Halsted Street was transforming from manufacturing to mixed-use projects catering to young professionals, and was rapidly becoming as a trendy retail and dining destination. Incorporating the industrial aesthetic as seen above in a 1923 postcard of the site, 1800 Clybourn was perhaps the flagship early development in the area, and its demolition half a decade later was a significant loss of 1980s design.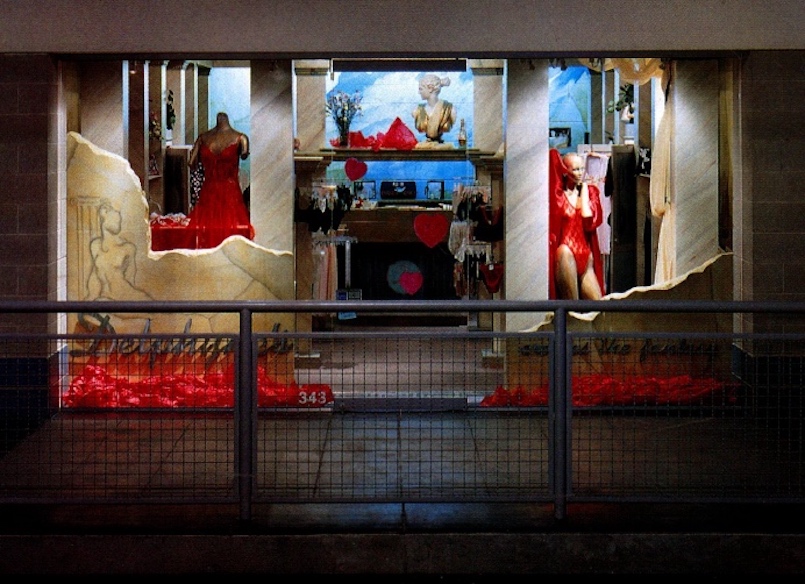 Visual Merchandising & Store Design, 1990
While no full tenant list of 1800 Clybourn has been located as of this writing, this project purposely included small, local retailers and no anchors, which may have help lead to its quick demise. Two of these stores are shown above, including Spare Parts, a women's accessories store, and Delphyne's, a lingerie store.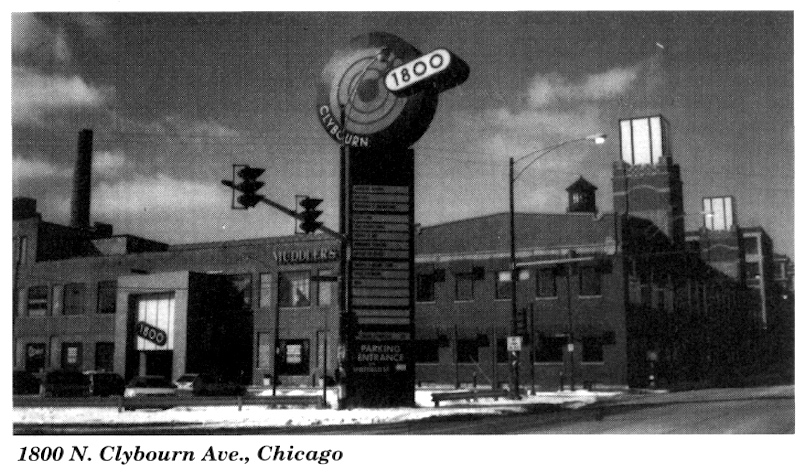 Realty & Building, 1994
The project at 1800 Clybourn may be Chicago's shortest-lived major commercial project since the Great Fire. In early 1994, less than five years after opening, 1800 Clybourn was sold and the indoor mall portion soon demolished for parking for adjacent retailers. Goose Island and several other businesses remain in portions of the original industrial buildings, as do both towers. The landmark sign and distinctive logo, however, are long gone.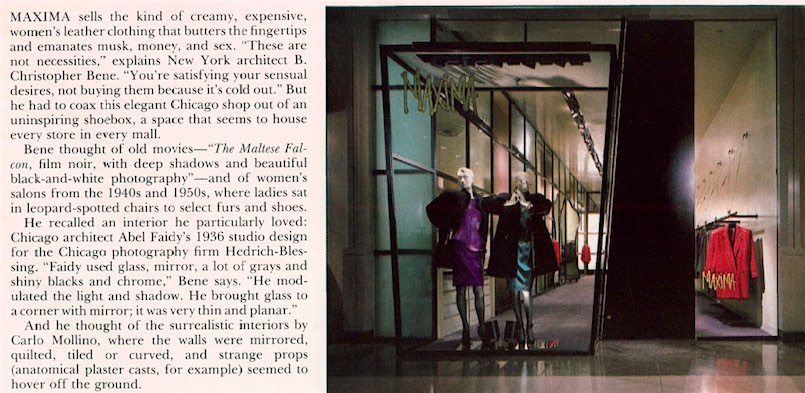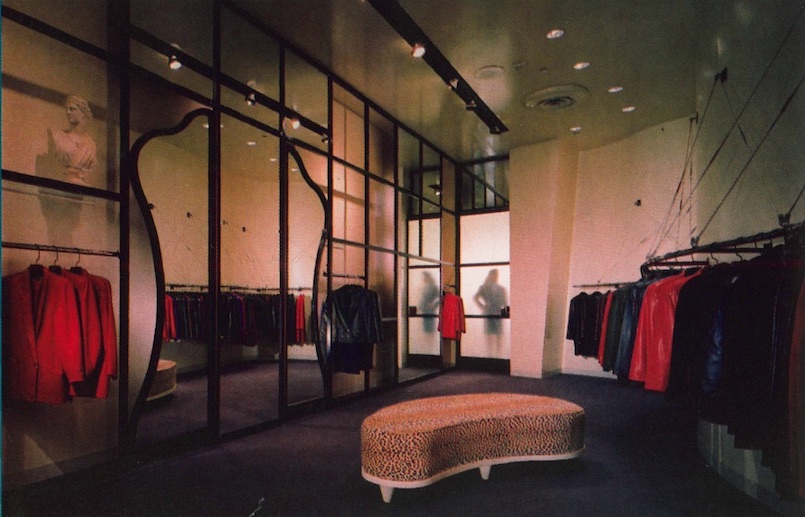 Progressive Architecture, 1989
Trendy retail stores are inherently ephemeral, but the loss of notable examples from any decade are still a loss for the history of architecture and design in the Chicago area. Colorfully described above as "leather clothing that butters the fingertips and emanates musk, money and sex," Maxima would open by February 19899 in the then-new 900 North Michigan Avenue shopping mall designed by New York-based Kohn Pedersen Fox Associates. While the mall itself was remodeled in 2017 with new elements including large video screens, 900 North Michigan still has one of the most lavish 1980s interiors in Chicago. The Maxima store, and its Abel Faidy-inspired interior have long since passed into retail and design history.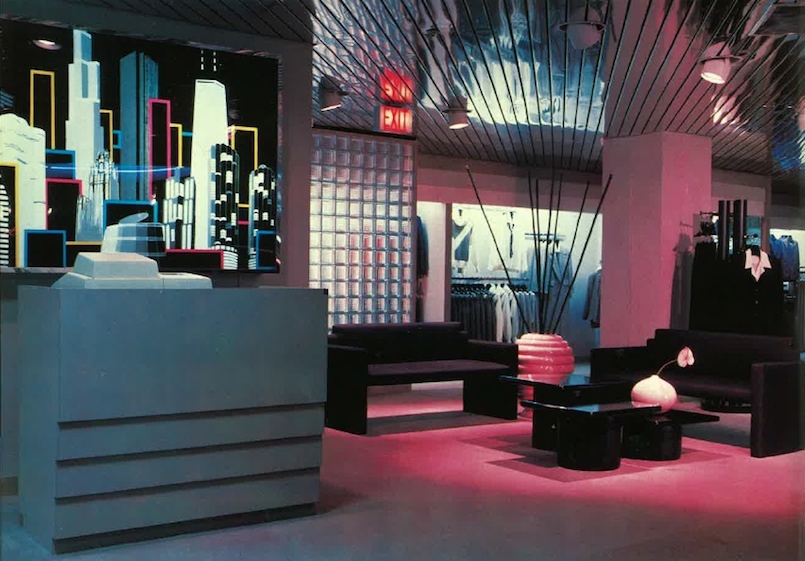 Stores of the Year, Book 4
By the early 1980s Chicago-based department store Carson Pirie Scott had for decades been the perpetual also-ran to their perennial rival, Marshall Field's. Carson's would undertake a dramatic and up-to-the-minute remodeling of much of their State Street flagship, first remodeling their basement, which was reimagined into Corporate Level and the epitome of a 1980s retail experience. Designed to make Carson's "the most exciting store in the country" the basement was the first (1984) of many floors to be renovated. This project was led by senior store executive Dennis Bookchester and Judy Niedermaier, president of Chicago-based Niedermaier Display.10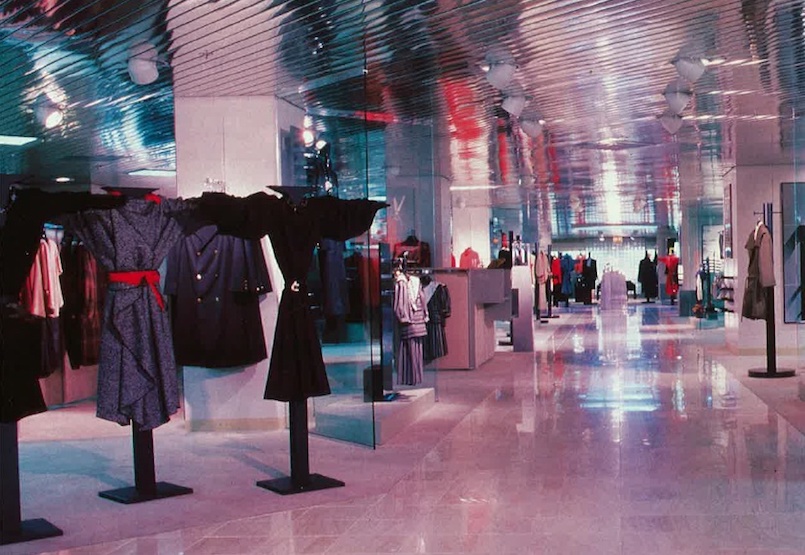 Stores of the Year, Book 4
Masterly renovating the basement of a then-80 year old department store, Corporate Level for Women quickly became the most successful department in the store.11 A subsection of Corporate Level was Executive Level, schizophrenically described as both "dedicated to the woman who is committed to excelling in a man's world – without having to look like one" as well as "soft, feminine, filled with flattering pink lights and cool blue shadows" in the same paragraph.12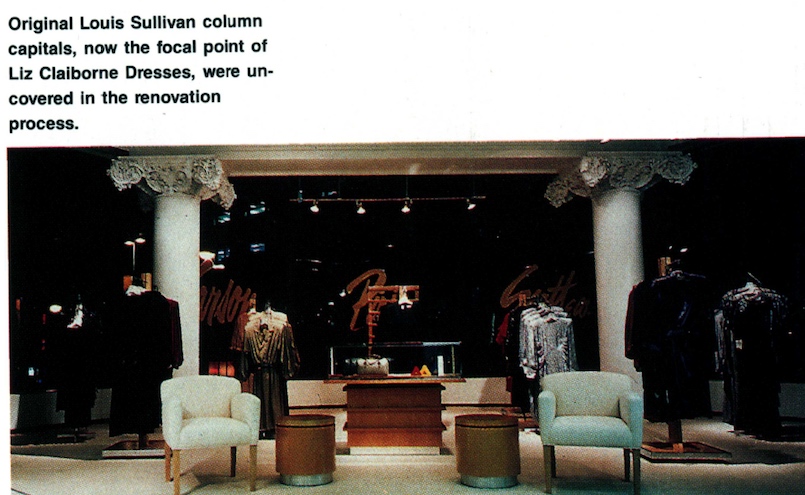 Visual Merchandising & Store Design, 1987
Judy Niedermaier and her namesake firm would continue redesigning in their distinctive style throughout Carson's. The second floor included a Liz Claiborne boutique in the curved corner facing State and Madison, as seen above.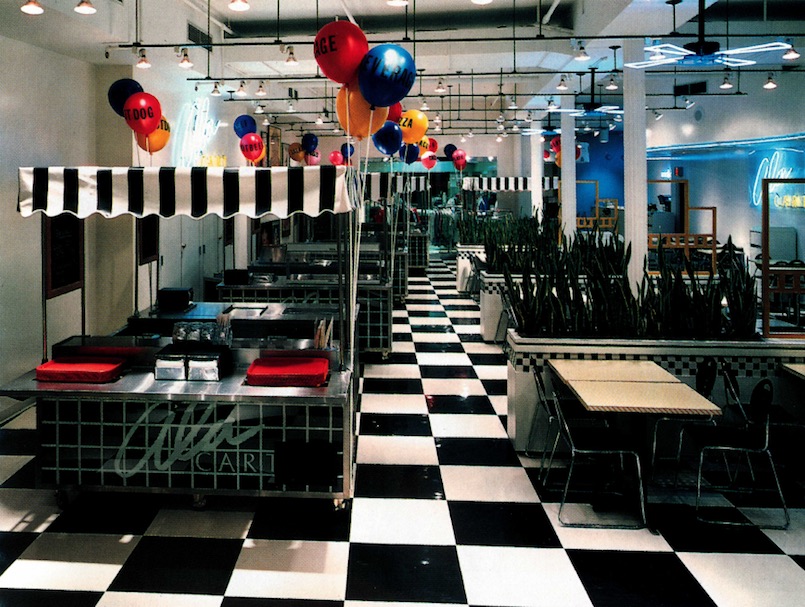 Visual Merchandising & Store Design, 1987
Perhaps the ultimate in 1980s design at Carson's was Ala Cart on 2, a diminutive food court near the Juniors Department and with windows facing the L on Wabash Avenue. Ala Cart featured extensive neon, including the ceiling fans shown above right.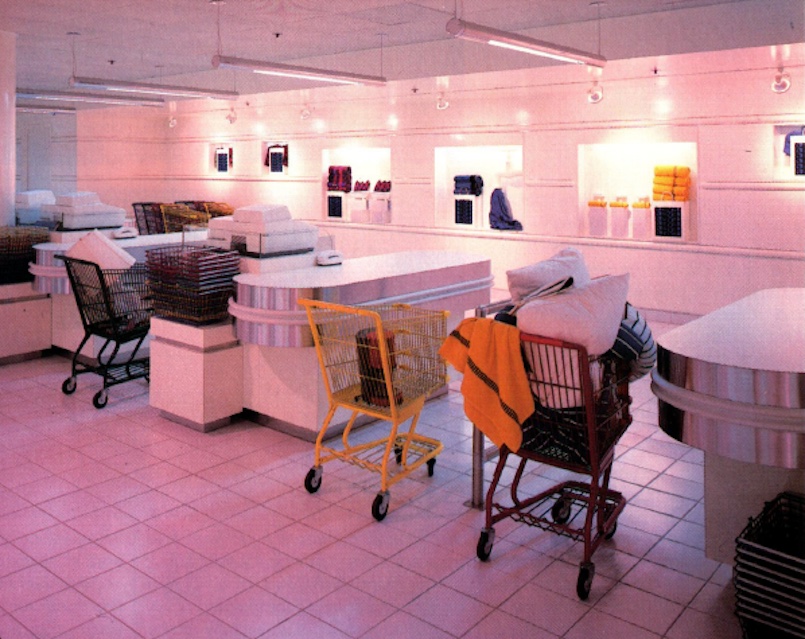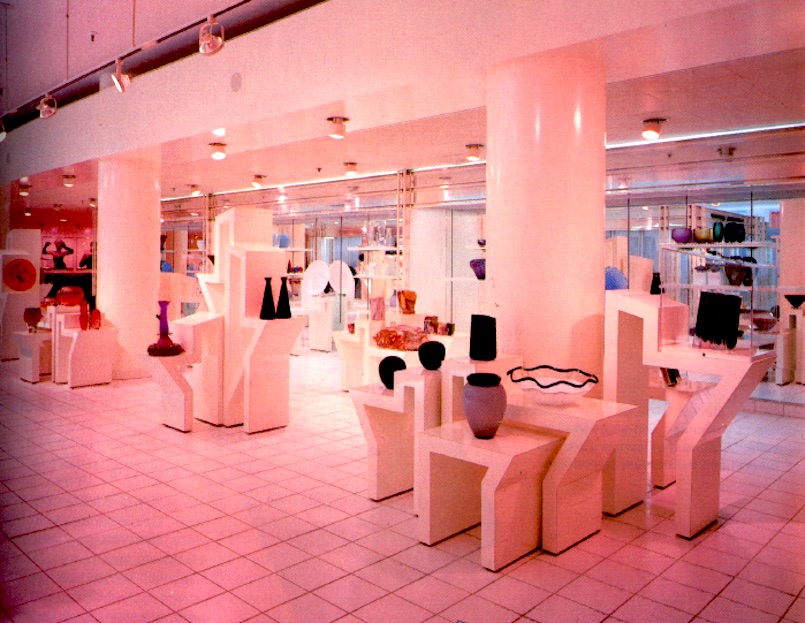 Visual Merchandising & Store Design, 1985
Other remodeled floors of the Carson's flagship were equally distinctive. Shown above is the sixth floor housewares department, with shopping carts in primary colors and custom display tables.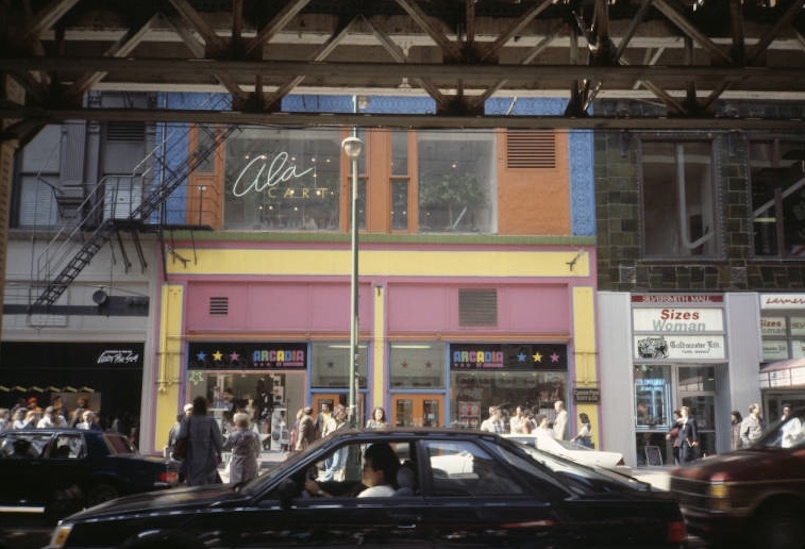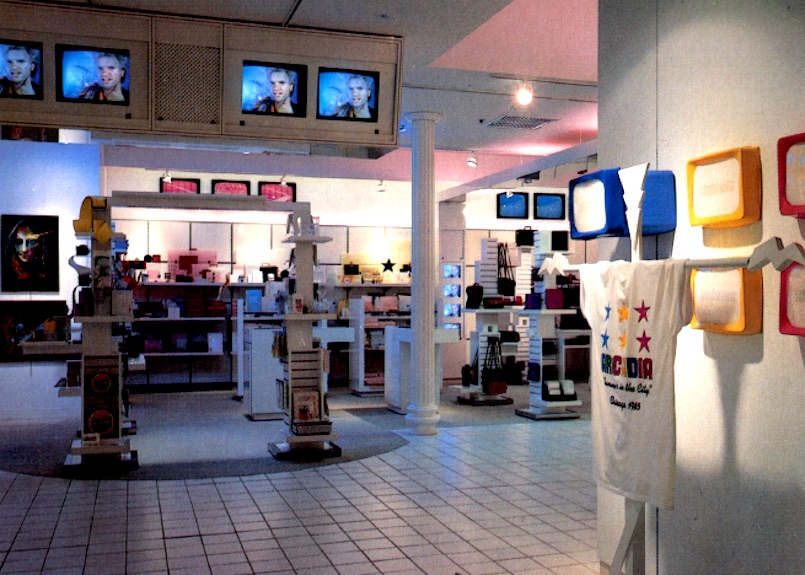 Top: C. William Brubaker, Wabash Avenue Storefronts, 1987, C. William Brubaker Collection, University of Illinois at Chicago Center and Bottom: Visual Merchandising & Store Design, 1985
The final 1980s remodeling of Carson's State Street flagship examined in this article was their trendy gift and accessories store Arcadia. Opened in 1985 on the first floor between Wabash Avenue and the alley running through the building, Arcadia was described as "a thriving stationery department that looks like a 21st-century penny arcade – with neon decorations and peacock-colored notebooks, yogurt machines and rows of televisions blaring rock videos."13
Carson's would ultimately open 22 Arcadia stores throughout the Chicagoland area, but its investment would not continue past the 1980s. Following Carson's acquisition by P.A. Bergner & Co., in 1989, the Arcadia chain was sold to Miami-based Claire's Stores Inc.14 It is unknown as of this writing how long these Arcadia stores operated with this distinctive design and merchandise selection.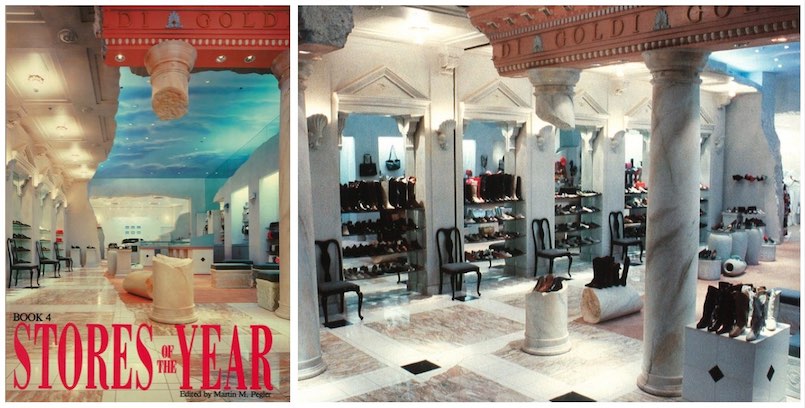 Stores of the Year, Book 4
The final examples of lost 1980s retail are two stores for Goldi, a shoe store founded in Madison, Wisconsin in 1972 by Goldi Lepold-Miller and a chain of seven by 1987 in Illinois and Wisconsin.15 Nationally publicized in the Martin Pegler-edited Stores of the Year Book 4, the Goldi at Woodfield Mall in Schaumburg was a curious hybrid of ancient Rome meets Southern California, circa 1957.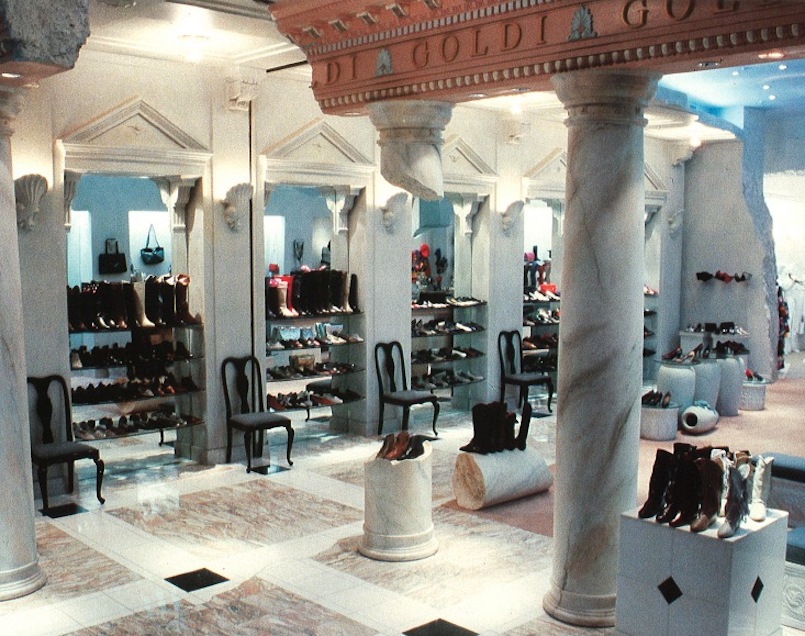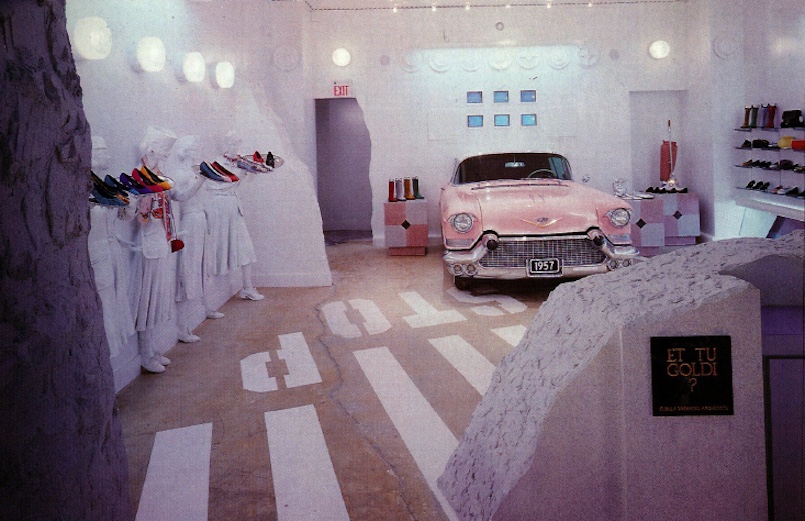 Top and Center: Inland Architect, 1987 Bottom: Visual Merchandising & Store Design, 1987
Both Goldi stores in this article were designed by the Cedarburg, Wisconsin firm Kubala Washatko Architects, Inc., founded in 1981.16 Combining a unique mix of Postmodern and Deconstructivism, it is not known what other retailers at Woodfield Mall thought of this store.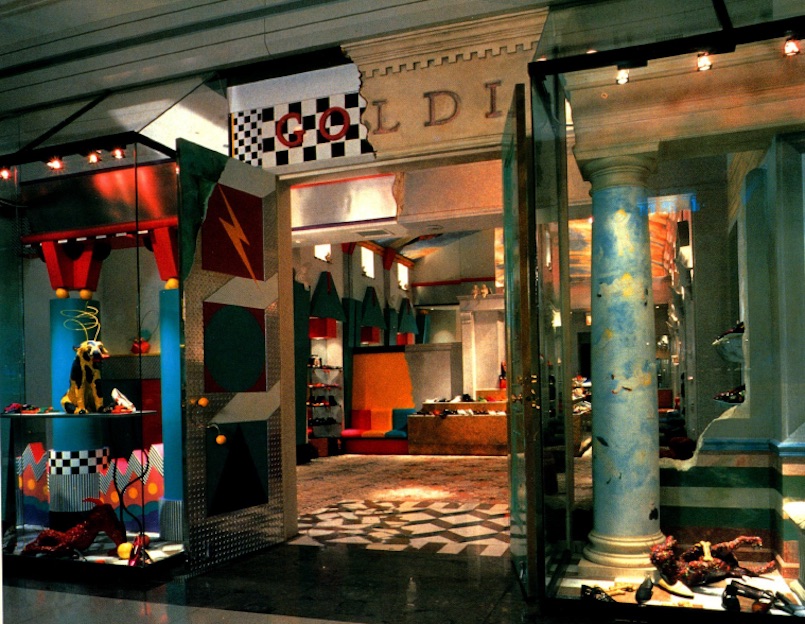 Storefronts and Facades 3
Although Goldi's architectural firm is thriving in 2019, nothing has been found on the later history and closure of Goldi stores, one of the most distinctive retailers in the Midwest. The location above was located at 900 North Michigan; it is not known if it was located near the Maxima store mentioned earlier.
Forgotten Chicago's research and documentation of lost and found 1980s buildings and interiors in the Chicago area will continue in 2020 with additional articles.
Sources
---