80s (Lost) & Found 1: Lost Mixed-Use, Civic & Residential
---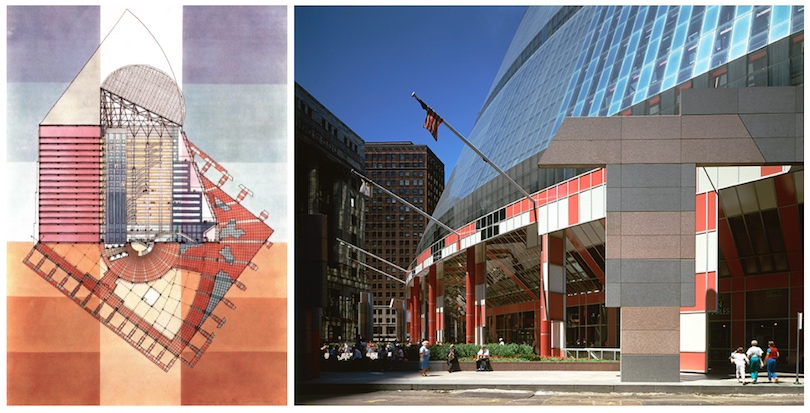 Left: Moderne und Postmoderne: Architektur der Gegenwart 1960-1980, 1985 Right: JAHN
In this author's opinion, when a building is 30 to 40 years old, the appreciation of its historic and aesthetic value is at its lowest point. After Philip Johnson's AT&T Building in New York City was made a landmark in 2018, Chicago has perhaps the largest and highest-profile threatened building from the 1980s in the U.S., the 1985 James R. Thompson Center (formerly State of Illinois Center) by Murphy/Jahn, seen above.
It is worth noting, however, that many other Chicago area buildings and interiors completed from 1980 to 1989 have been and continue to be lost, generally with little of no notice or attention. While no means a complete list, this multi-part series of articles will highlight local vanished projects, as well as some lesser-known surviving buildings and interiors completed during the 1980s.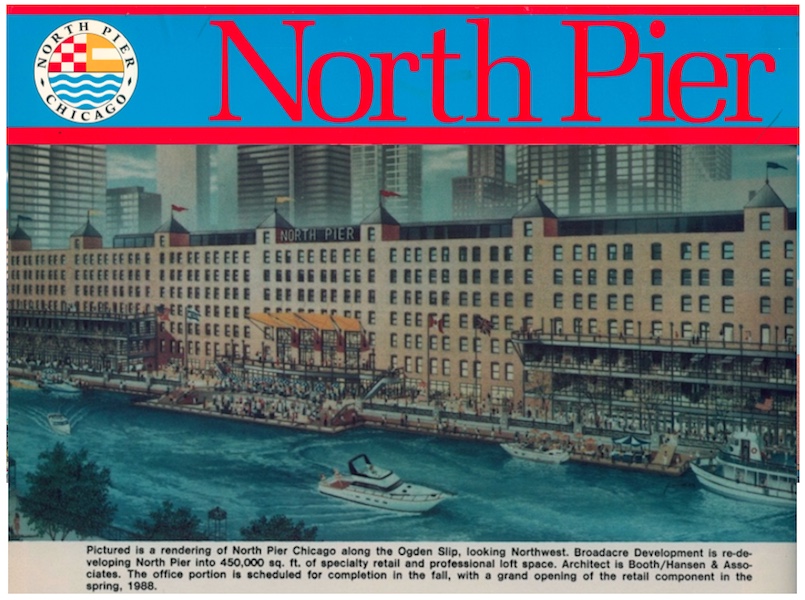 Navy Pier Terminal Brochure, Broadacre Development Company, 1987. Courtesy Harold Washington Library Center, 5th Floor Reference
Opened in 1988, North Pier was the first project completed in CityFront Center, the massive Dock & Canal Trust and Equitable Life Insurance Society redevelopment scheme between Michigan Avenue and Lake Michigan and north of the Chicago River, announced in 19821 and still not completed today. Remnants of North Pier's 1980s transformation into a retail, dining and office complex were mostly removed in the 2010s.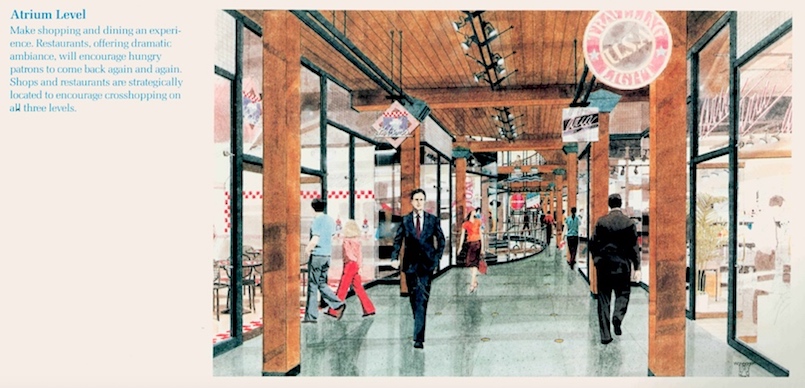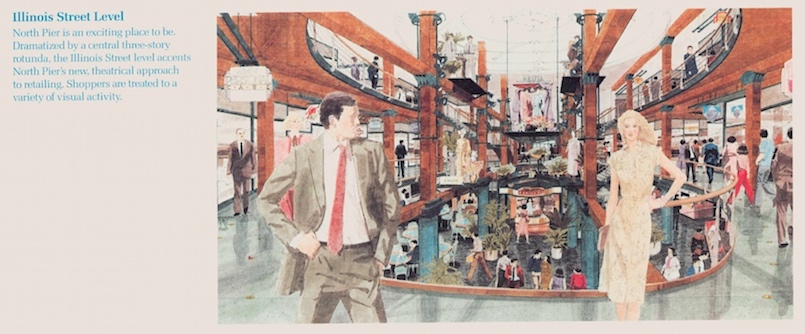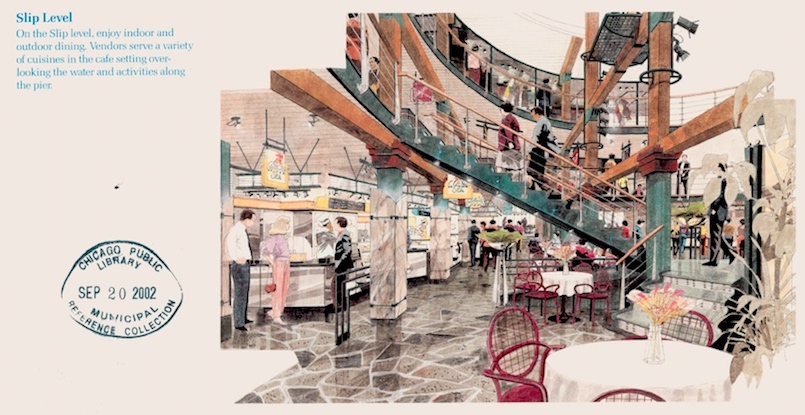 Navy Pier Terminal Brochure, Broadacre Development Company, 1987. Courtesy Harold Washington Library Center, 5th Floor Reference
Extensively remodeled by Booth/Hansen & Associates and The Austin Company, North Pier was an updated version of a "festival marketplace", a popular retail trend in the 1970s and 1980s that featured stores, restaurants and bars catering largely to tourists, and notably did not include an anchor store. North Pier was doomed following the massive redevelopment of Navy Pier that opened to the public in 1995, just a few blocks away. Booth/Hansen would design other projects in the 1980s that have also been demolished.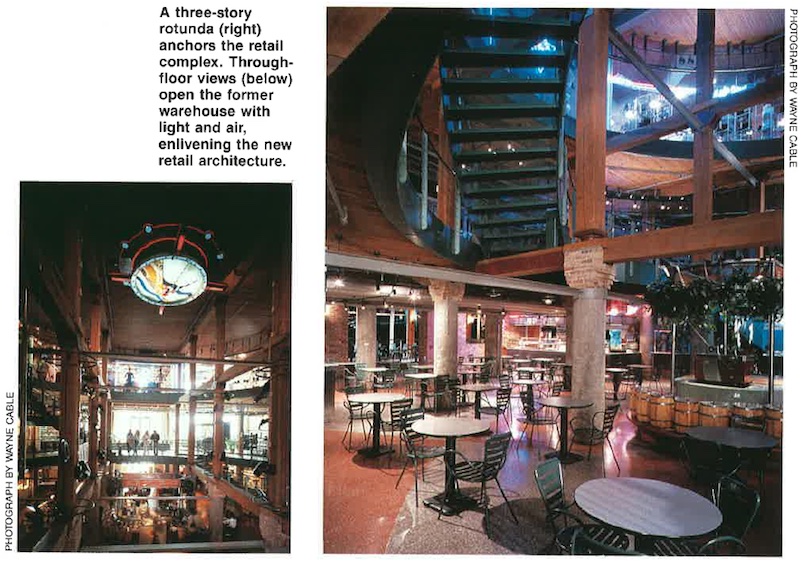 Inland Architect, 1990
The converted North Pier had one of the more remarkable lost Chicagoland interiors of the 1980s, expertly blending the building's industrial architecture with a modern aesthetic in an industrial building.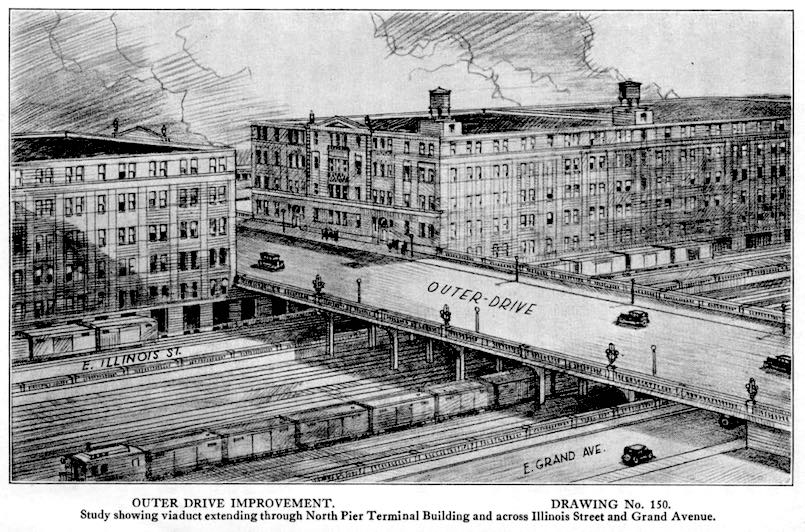 The Outer Drive Along the Lakefront, Chicago Plan Commission, 1929
A 1929 rendering of North Pier Terminal from the Chicago Plan Commission shows how Lake Shore Drive would split the original 1905 building by Christian Eckstrom in half in the 1930s, with each of the eastern and western wings abutting directly onto the Drive. As happened with many new road projects and road widening projects such as North LaSalle Street, the newly exposed portion of these sheared buildings were given a more contemporary façade, in a modern style not remotely matching the rest of the building (see photograph below).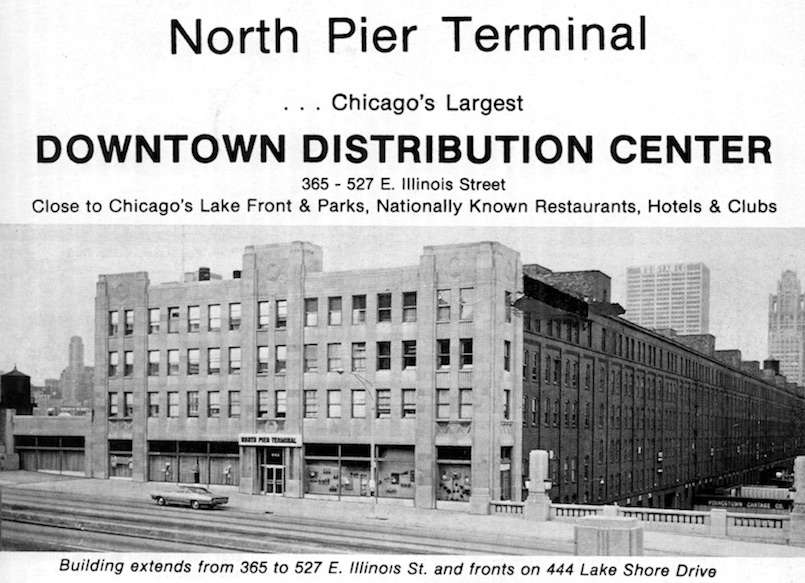 Realty & Building, 1977
In 1977, just ten years before its transformation as a would-be tourist magnet, North Pier was a utilitarian structure, and functioning as a distribution center. This section of the building facing Lake Shore Drive was demolished in the 1980s for the towering apartment building by Dubin, Dubin, Black & Moutoussamay that opened in 1991 at the eastern end of North Pier and the recently rebuilt Lake Shore Drive.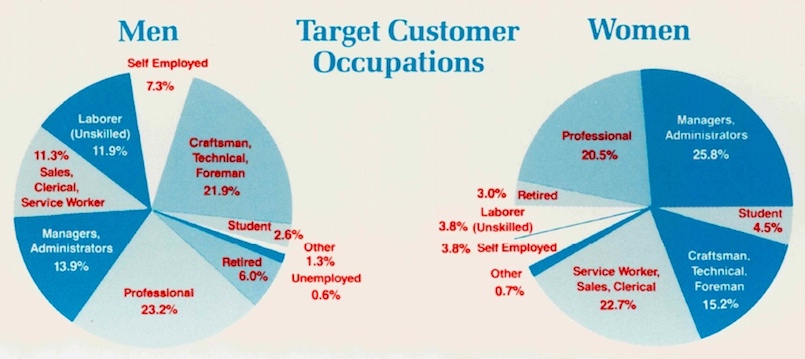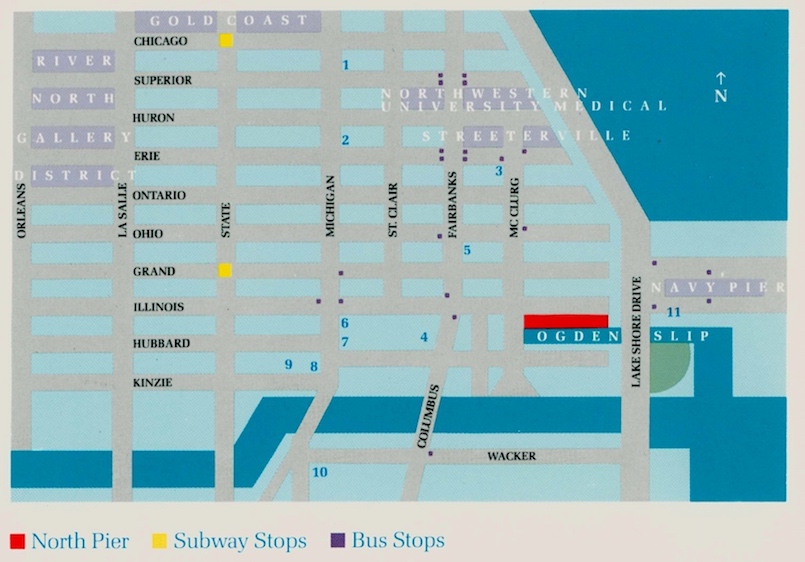 Navy Pier Terminal Brochure, Broadacre Development Company, 1987. Courtesy Harold Washington Library Center, 5th Floor Reference
Ironically, North Pier's greatest strength – its location in a rapidly redeveloping and high income area facing Ogden Slip, near Lake Michigan, and just north of the Chicago River – would ultimately be its undoing. Literally the gateway to Navy Pier along one-way eastbound Illinois Street, as soon as Navy Pier opened in 1995 with its own shopping, dining and attractions, North Pier would go into a long period of decline, despite extensive pre-opening demographic research and marketing by Broadacre Development.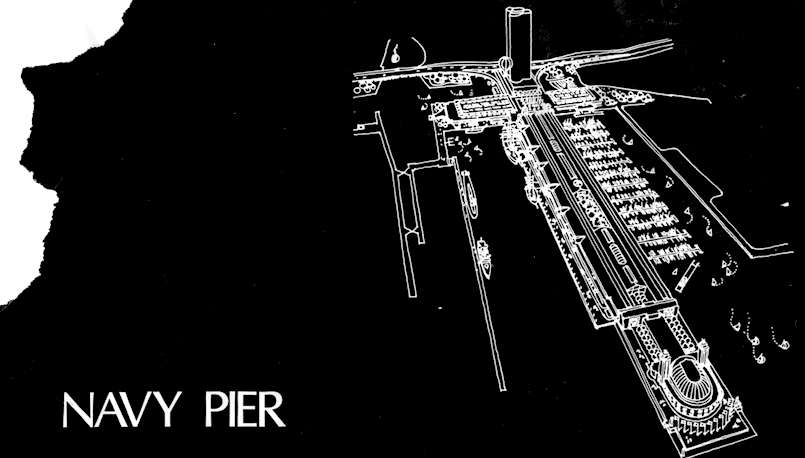 Navy Pier, Preliminary Concept Plans & Views: Development of the Navy Pier by Rouse Company, 1980. Courtesy Harold Washington Library Center, 5th Floor Reference
Navy Pier itself was scheduled to be redeveloped by the mid-1980s, but was delayed until 1995 due to a variety of factors, and long after the festival marketplace trend had peaked. Nonetheless, Navy Pier has endured for more than 20 years as a wildly popular attraction for tourists and locals. The original scheme above was prepared by The Rouse Company in 1980 and included features not included in the rebuilt Navy Pier, such as a 400-slip marina to the north and a conspicuous and above-grade 2400-space parking structure to the west where Polk Brothers Park is now located.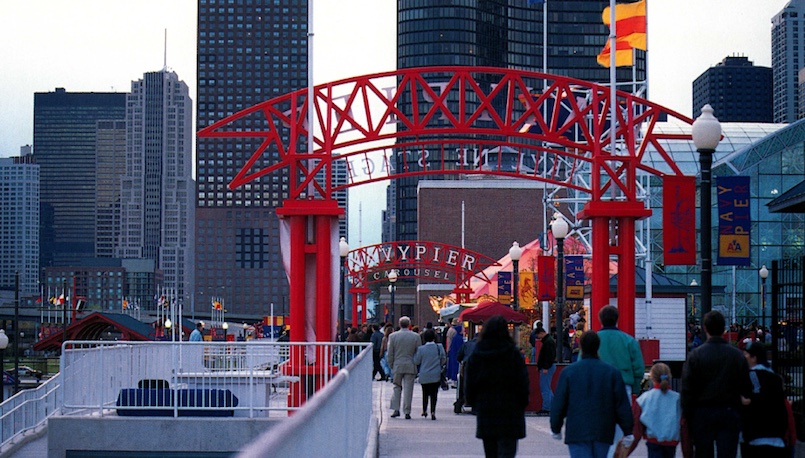 American Shopping Centers 2, 1996
Ironically, many of Navy Pier's own 1995 exterior and interior details by VOA Associates and Benjamin Thompson Associates were themselves largely removed for a remodeling completed in 2016. When there is currently little or no appreciation for lost 1990s design, there will likely be another Forgotten Chicago article examining a style now seen as ridiculously out of date, and one that is also disappearing fast.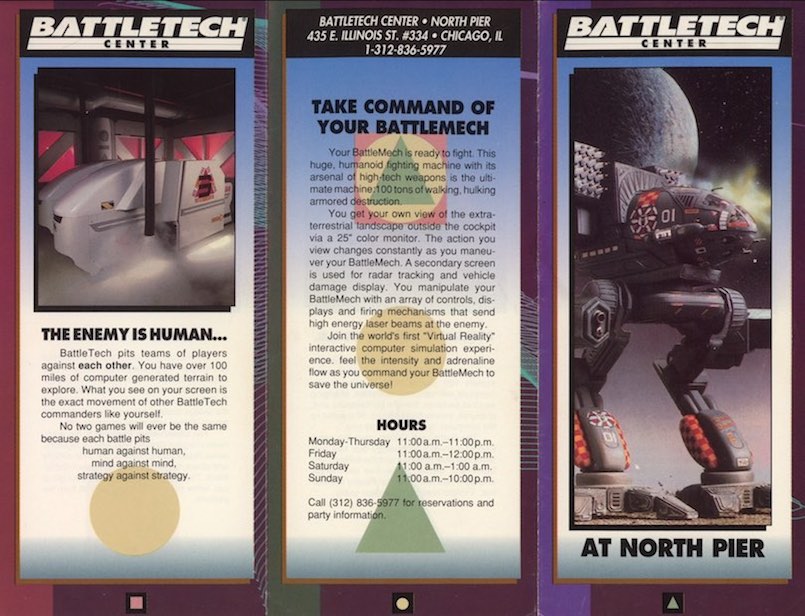 Courtesy of Joe Sislow
In its heyday, North Pier had a curious mix of stores, attractions, dining and entertainment, such as Battletech Center, a state-of-the-art arcade game. Opened at North Pier in 1990 and developed by game company FASA, Battletech was an early virtual realty interactive game where teams of players competed against each other2. A full tenant list of North Pier has not been located as of this writing.

Matthew Kaplan
Seen during a Forgotten Chicago tour of the Dock & Canal Trust in July 2016, the former North Pier was later remodeled and renamed the River East Art Center, a venture that would end in bankruptcy. In this decade, the structure was converted to apartments and office space, with far less retail, dining and entertainment than in its 1988 iteration. North Pier's 1980s interior and exterior details by Booth/Hansen were mostly removed or drastically altered during its recent remodeling projects.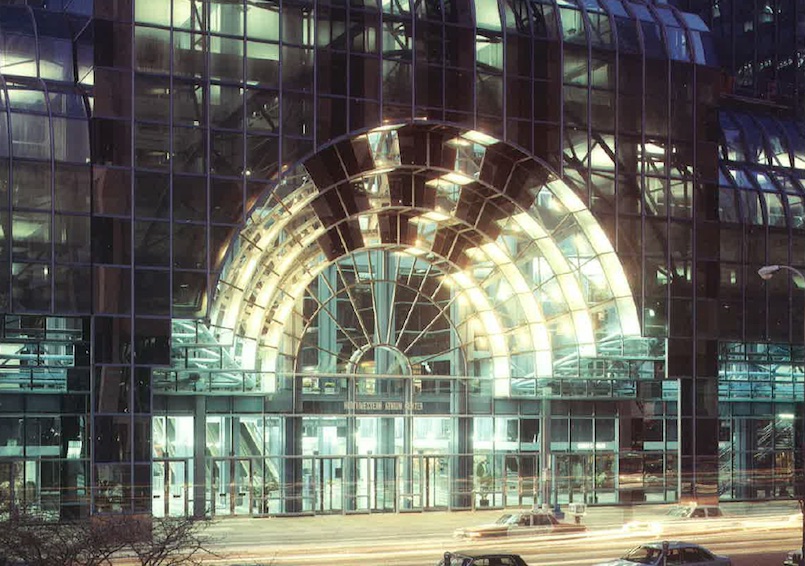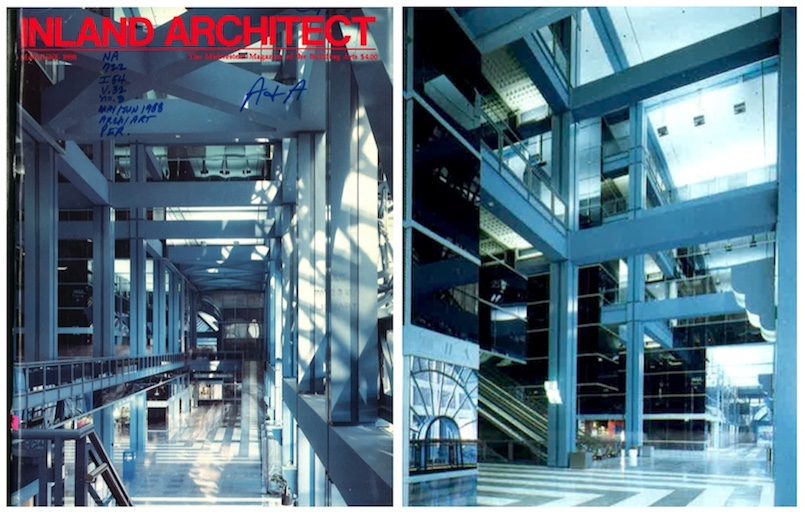 Inland Architect, 1988
Helmut Jahn of Murphy/Jahn completed three massive projects in Chicago in the 1980s – the State of Illinois (later James R. Thompson Center) in 1985, and both the United Airlines Terminal at O'Hare and the Northwestern Atrium Center in 1987. Although structurally little-changed in 2018, the Northwestern station (now Richard B. Ogilve Transportation Center) underwent an unfortunate remodeling in the early 2010s that removed much of the cohesiveness of Jahn's interior, with the original blue-gray color scheme covered in thousands of gallons of white paint, the removal of staircases (including the one above lower left), and the installation of light fixtures and surfaces entirely incompatible with Jahn's original interior design.
The removal of most of Jahn's original color scheme and design is unfortunately typical of countless 1980s interiors. It is the author's hope that the interior of the former Northwestern Station will be restored to its original colors and layout as Helmut Jahn's remarkable body of work gains wider appreciation and respect in the years ahead.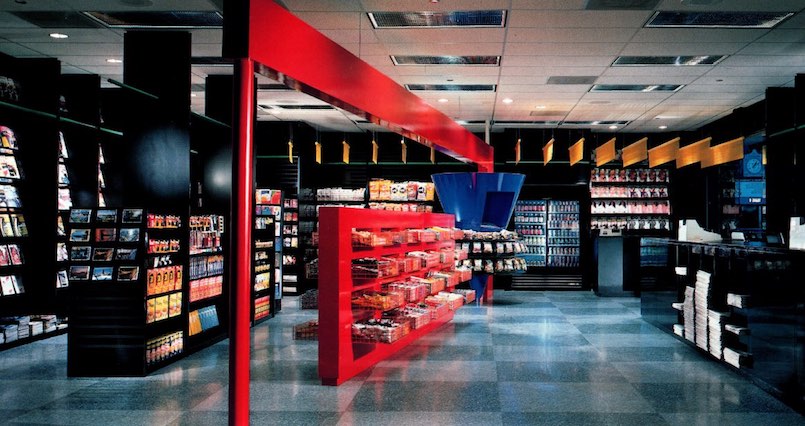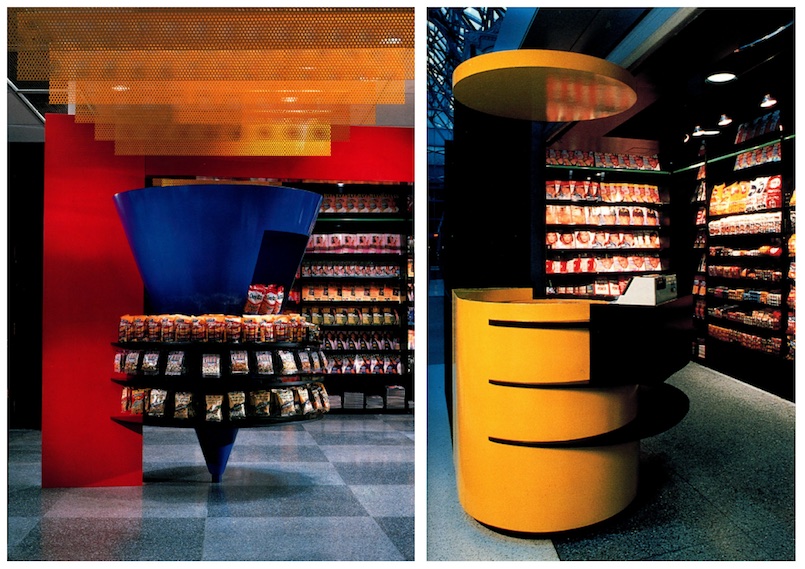 Store Designs for the 90s, 1990
Although not designed by Murphy/Jahn, by 1990 a distinctive 1,100 square foot newsstand within the Northwestern Station was also representative of the exuberant style of the 1980s. Designed by Mary Beth Rampolia of Eva Maddox Associates, Inc. of Chicago,3 the T.W. Best Newsstand had a corner location on the station's upper level mezzanine, between and the skywalk to the former Daily News Building and the Metra tracks. It is not known when this location was remodeled; the space is still occupied by a newsstand in 2018, but none of Rampolia's arresting interior features survive today.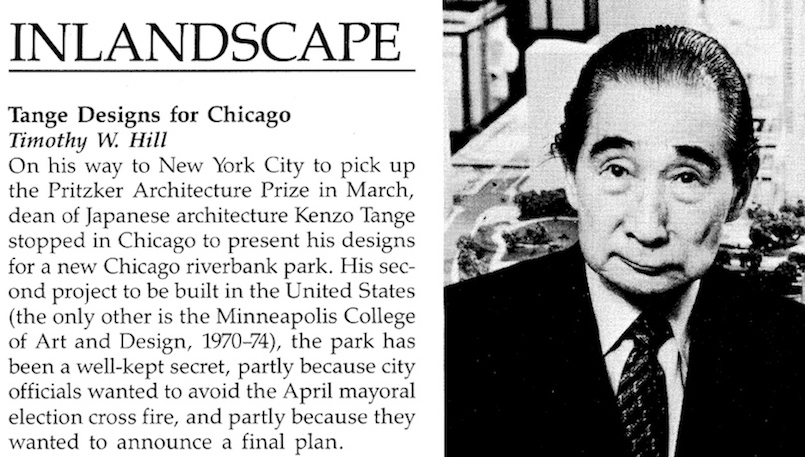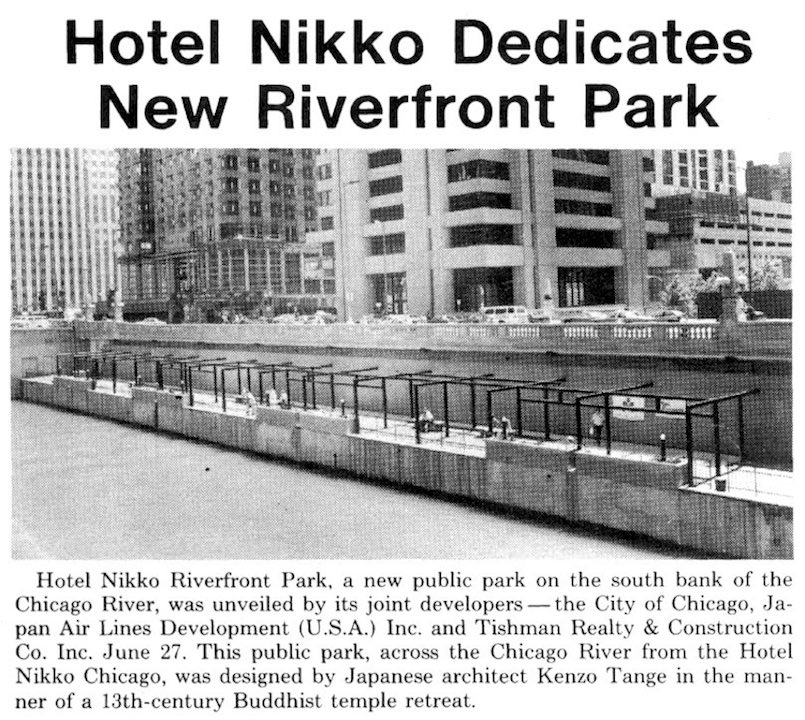 Top & Bottom: Realty & Building, 1988 Middle: Inland Architect, 1987
Easily the most forgotten high-profile civic project in Chicago in the 1980s was by world-renowned (and the then-new winner of the Pritzker Prize) Japanese architect Kenzo Tange. Tange (1913-2005) designed a section of the Chicago Riverwalk between Clark and LaSalle that opened in June 1987. Tange's second U.S. project is not known to be included in any books on Chicago architecture and design, and its demolition date is not known. Noted local architect Carol Ross Barney would rebuild the south bank of the Riverwalk along the Chicago River starting in 2009.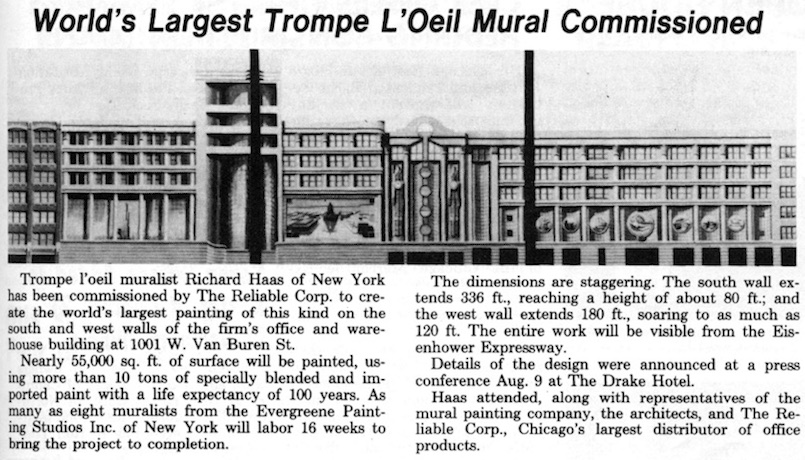 Realty & Building, 1984
In 1984, famed muralist Richard Haas was commissioned to design the "world's largest" trompe l'oeil facing the Eisenhower Expressway on the south and west sides of a massive building at 1001 West Van Buren Street. Touted at the time as featuring "specially blended and imported paint with a life expectancy of 100 years" Haas's stunning and nearly 45,000 square foot depiction of Daniel Burnham's unbuilt plan of Chicago is barely visible 34 years later, and there seem to be no efforts by the building's current owners to restore what is likely the largest public artwork ever commissioned in Chicago.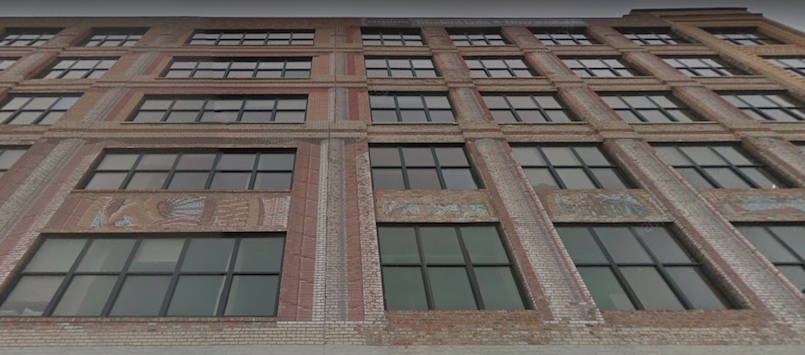 Google Street View, October 2016
Faded sections of Haas's work remain on the building today, but the original panorama of the unbuilt Plan of Chicago have been lost. As of this writing, no photographs of this completed work have been found, including on the Richard Haas's own web site.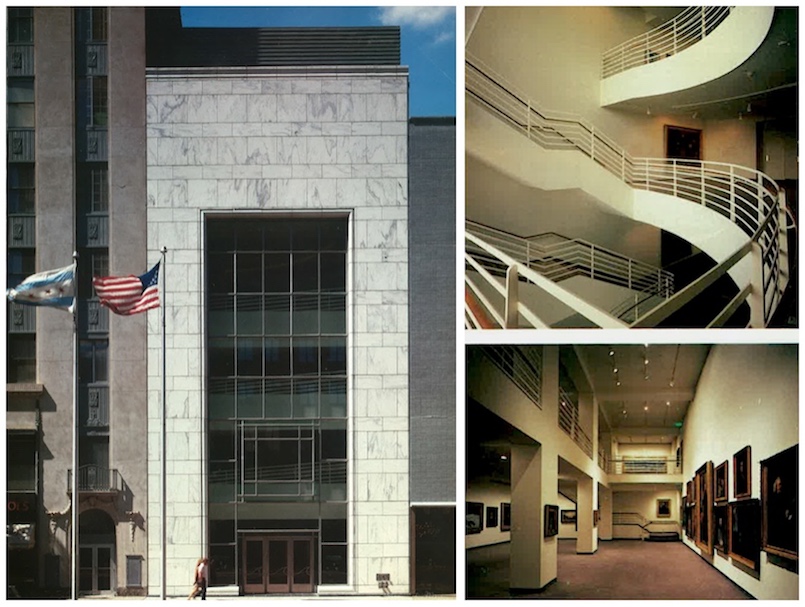 Architectural Record, 1987
Chicago's North Michigan Avenue is one of the most famous and visited streets in the Midwest, generally filled with retail stores and office buildings. In 1987, local art collector David Terra opened the Terra Museum of American Art in a converted beauty salon and the adjacent Farwell Building at the northwest corner of Michigan and Erie Street (above far right). The Terra Museum would close just 17 years later, with much of its collection going to the Art Institute of Chicago on a long-term loan.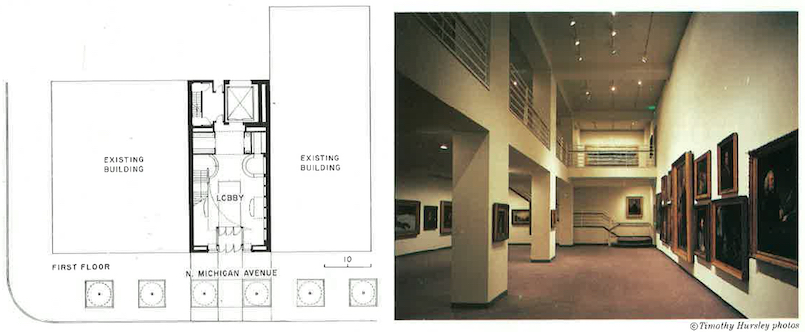 Architectural Record, 1987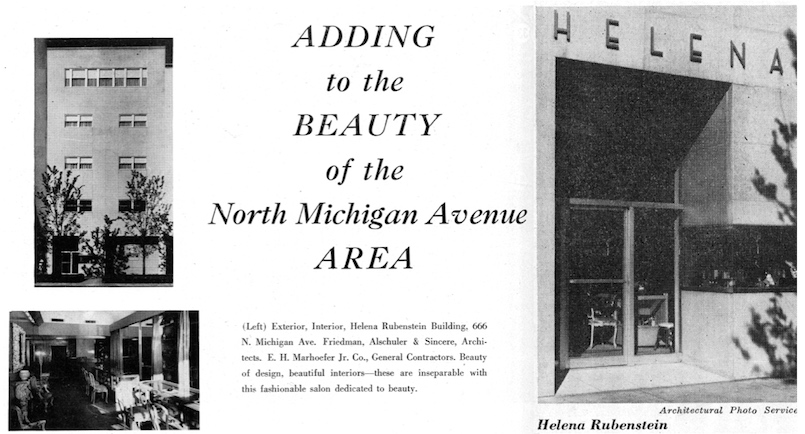 Realty & Building, 1951
Terra's Museum had modest beginnings, starting some 25 years earlier in 1951 as the Helena Rubinstein Building (spelled incorrectly above). Completed by prolific local architects Friedman, Alschuler & Sincere and turned into the Terra Museum by Booth/Hansen, this building was one of many little-studied post-World War II buildings by noted architects that are now demolished.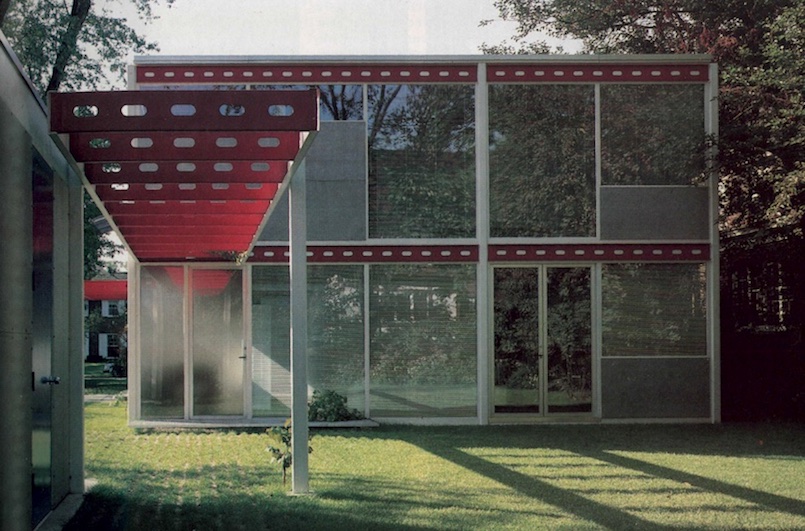 Top: Optima, Inc. Bottom: Progressive Architecture, 1983
Built by modernist architect David Hovey as a home for his family, this ultra-modern design was completed in 1982 at 575 Elm Street in Winnetka. The destruction of this home highlights the lack of historic landmark protection throughout the Chicagoland region, especially with architecturally significant homes in suburbs with extraordinarily high land prices.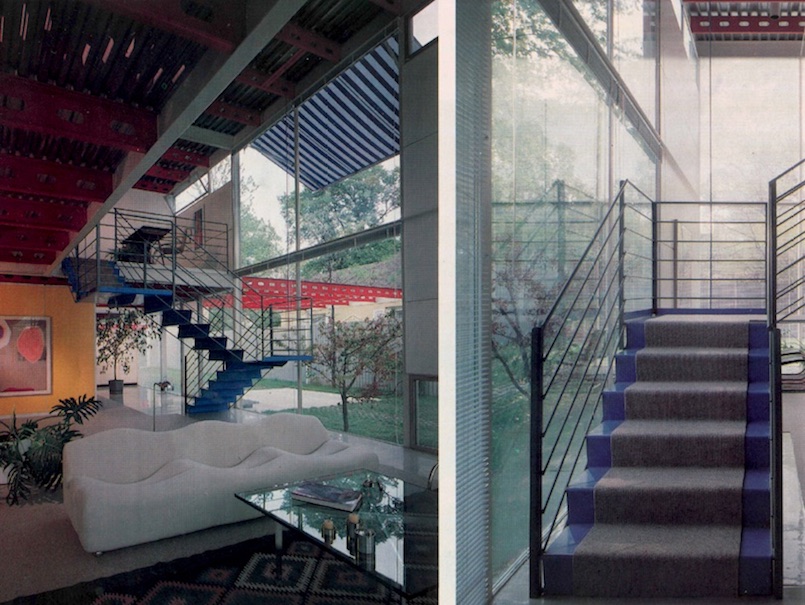 Progressive Architecture, 1983
Throughout his long career, Hovey's style has remained remarkably consistent, employing primary colors, extensive glass and industrial metal detailing. Although this house is long demolished, projects by Hovey and his firm Optima are still extant, including other residential projects in Illinois and Arizona. For an overview of Hovey's remarkable career, visit the Optima web site.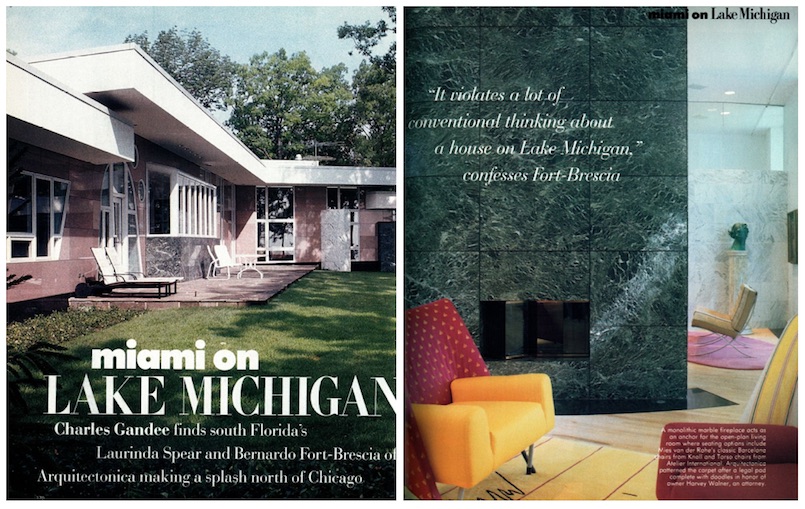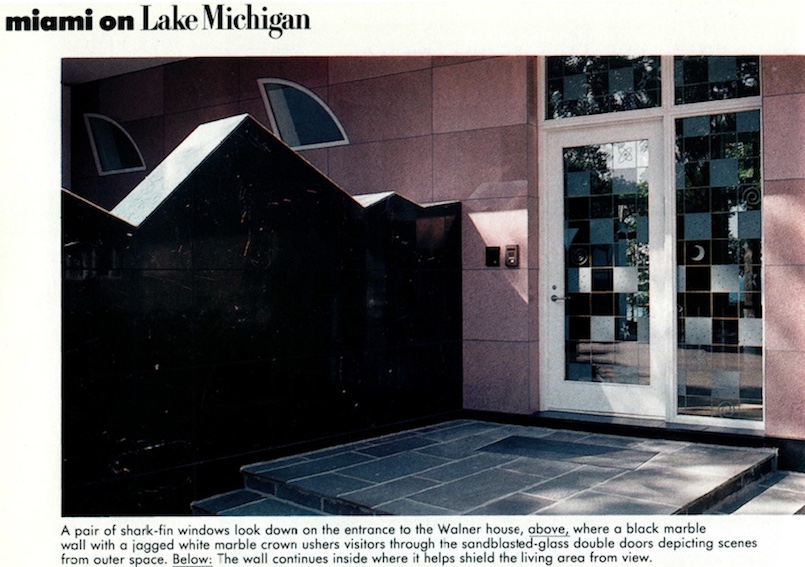 House & Garden, 1988
Completed in 1988, there may be no other lost Chicagoland building that epitomizes 1980s style as the former Barbara and Harvey Walner House in Glencoe. Designed for an attorney who had an extensive contemporary art collection, this 8,000 square foot pink granite house featured a truly one-of-a-kind interior and exterior.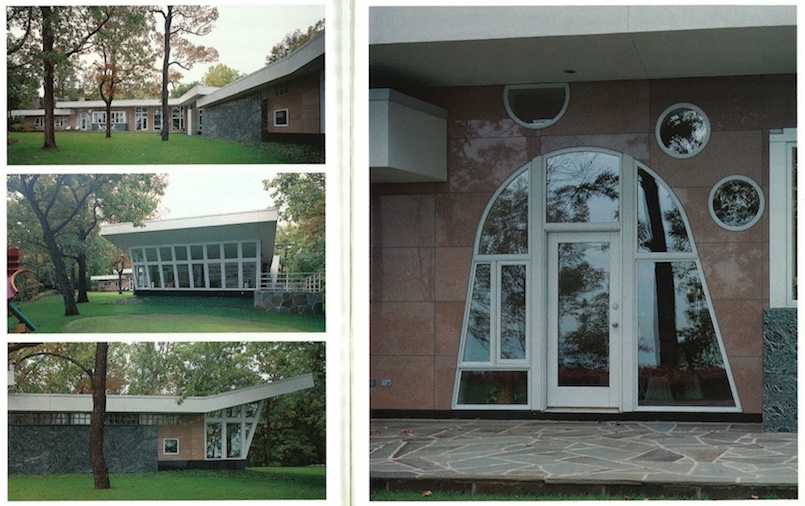 Architectural Record Houses, 1989
In the U.S., no firm exemplified 1980s cool more than Arquitectonica, based in Miami and instantly famous when their iconic Atlantis Condominium was featured in the opening credits of Miami Vice starting in 1984. Arquitectonica completed at least three projects in the Chicago area in the 1980s; this house in Glencoe, a house in Northbrook and an industrial building in Elk Grove Village. The later two are extant as of this writing, and will be featured in a later article in this series.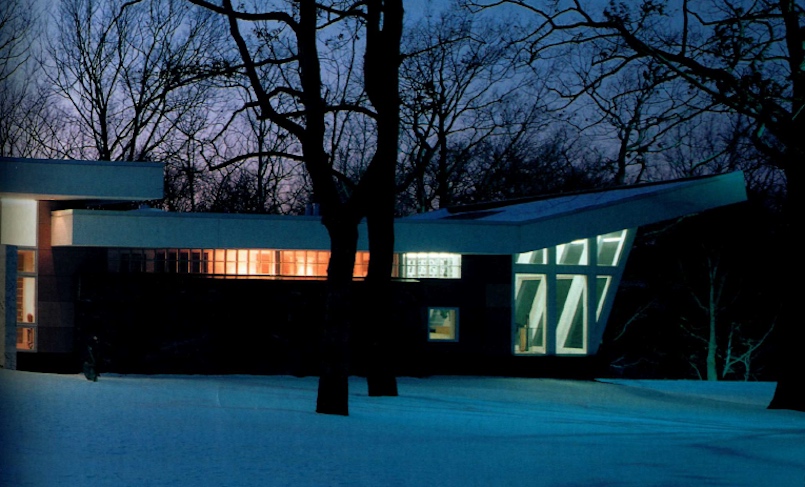 Arquitectonica, 1991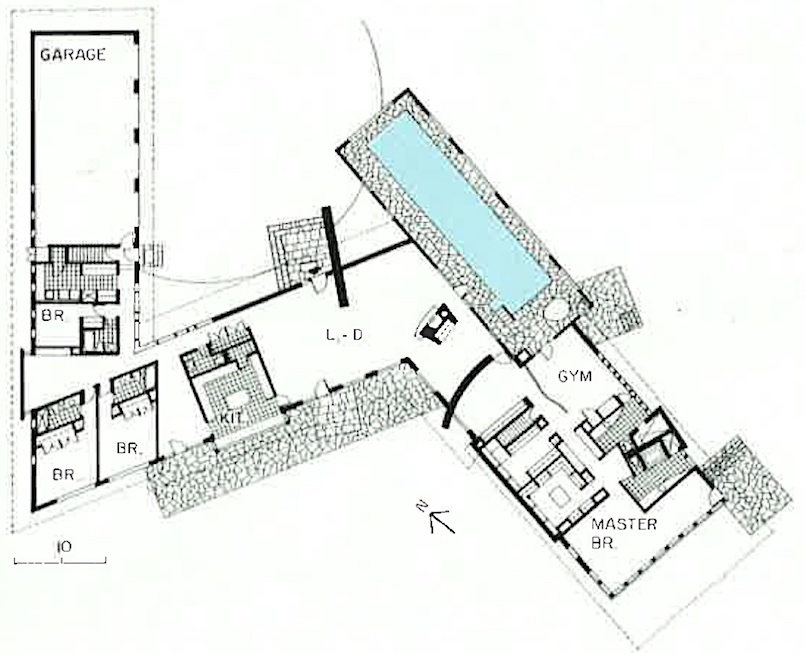 Architectural Record Houses, 1989
The Walner house had a unique modified "Z" floor plan designed to highlight views of Lake Michigan, as seen above. This opulent house featured a 12 x 50 foot indoor swimming pool, home gym, an enormous master suite overlooking Lake Michigan, a four-car garage, and an additional three bedrooms, all with a full bath.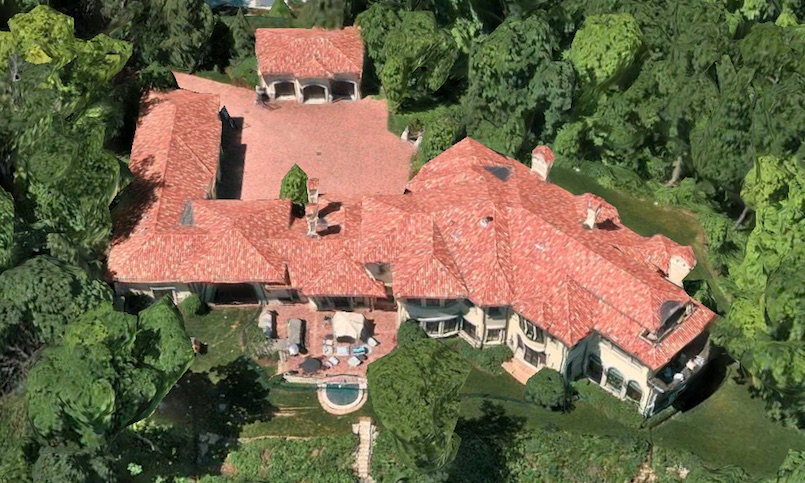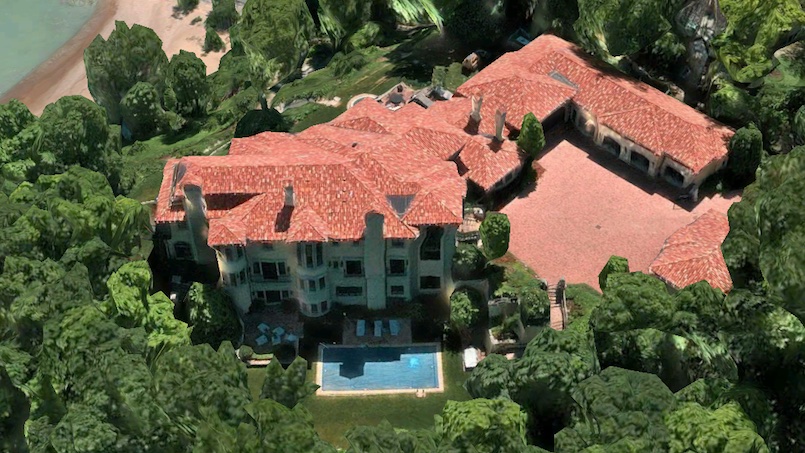 Apple Maps, no date
Little additional information can be found on the history of the Walner house following its completion in 1988. Thirty years later, the footprint of a house in Glencoe near Lake Michigan seems to match a portion of the original home (notably the four-car garage) and is shown above. Based on the different angles in the aerial view it appears that parts of the original house was demolished and rebuilt into what resembles the world's largest Olive Garden restaurant.
Upcoming Forgotten Chicago features on 1980s Lost & Found will examine additional destroyed projects from the 1980s, along with the buildings and interiors from this era that survive, for now.
Sources
---