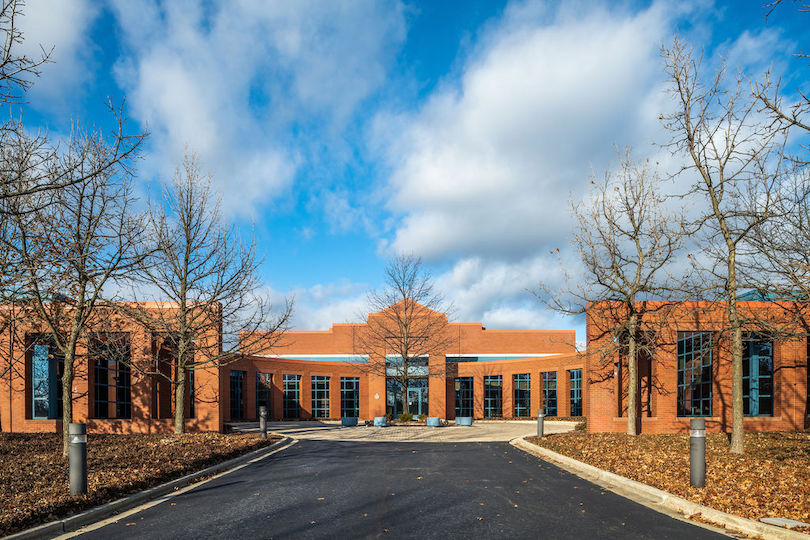 Serhii Chrucky, 2020
Few cities in the world have more books devoted to their architectural history than Chicago. A notable omission, however, is research and books that explore buildings outside the central city and Chicago City limits. Glaringly, Chicago's suburbs and the state of Illinois have never been included in a comprehensive survey or publication of architecture and design.
This is the third article in a Forgotten Chicago series on Lost & Found 1980s architecture and design. The first article on 1980s Lost buildings and interiors was published in 2018, followed in 2019 with our second article. As of this writing Forgotten Chicago is also undertaking an exhaustive survey of extant Postmodern buildings, primarily residential, from Chicago's Near North Side to Lake View.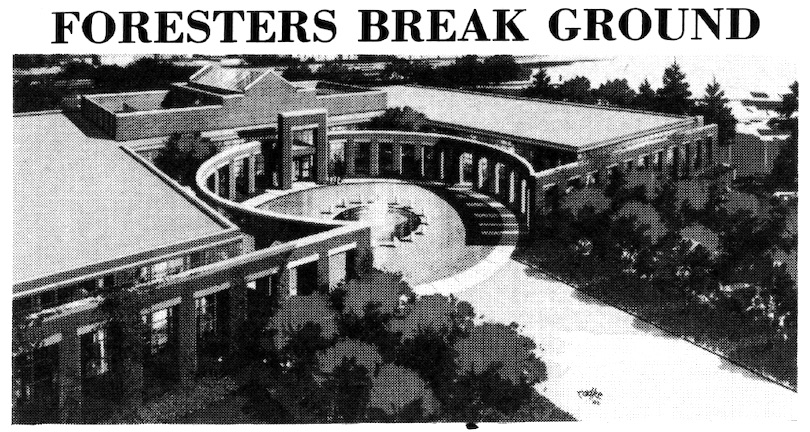 Realty & Building, 1984; entrance fountain in rendering no longer extant
For over 15 years, Forgotten Chicago has been researching, exploring and documenting Chicagoland's built environment, with an ongoing emphasis on often-overlooked buildings in both Chicago and its little-studied suburbs. Our research includes reviewing over 95,000 pages of the non-digitized and non-indexed pages of The Economist / Realty & Building, Chicagoland's premier real estate for more than 110 years. Published from 1888 to 2003, there is arguably no greater single source of Chicago area development history from the nineteenth centurey to the early twenty first century.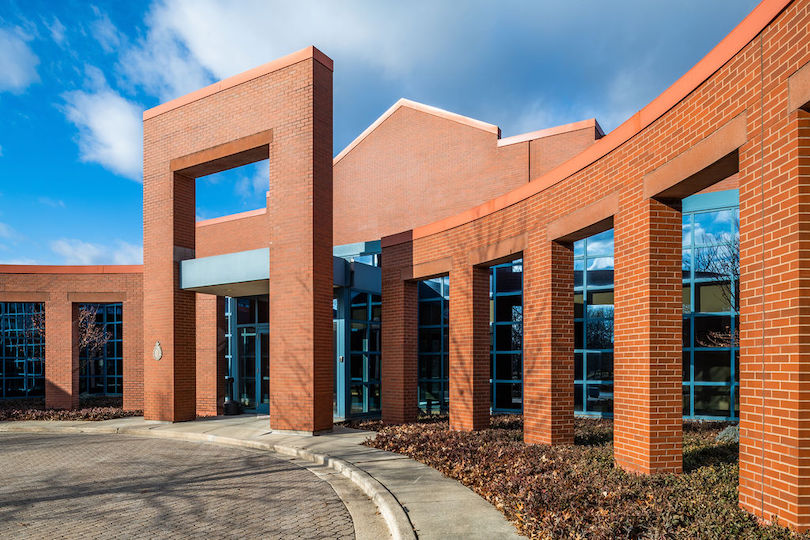 Serhii Chrucky, 2020
The epitome of forgotten 1980s design, the Catholic Order of Foresters headquarters building was built for a fraternal benefit society based in Naperville, Illinois. Announced in 1983 and completed the following year,1 its headquarters building was well publicized at the time of its construction but is utterly unknown today.
Designed by Holabird & Root, a venerable Chicago-based firm that was responsible for many notable buildings in the later decades of the twentieth century, this project is little changed more than 35 years after completion. Embracing the Postmodern style with complete abandon, it won a 1985 Distinguished Building Award from the Chicago Chapter of the American Institute of Architects, it was described by judges as "the arcade provides lots of juice and not many tricks. The divisions created by the windows lend character. It's just enough, just right."2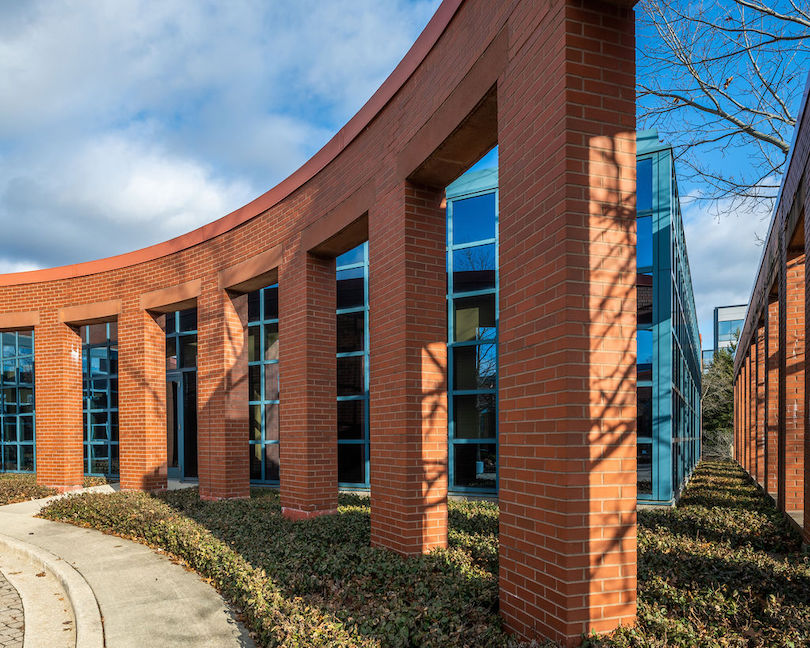 Serhii Chrucky, 2020
Forgotten Chicago hopes that by documenting and featuring this and other buildings we will inspire our readers to venture far outside central Chicago and explore the built environment throughout the region, including overlooked tollway-adjacent office parks such as this one.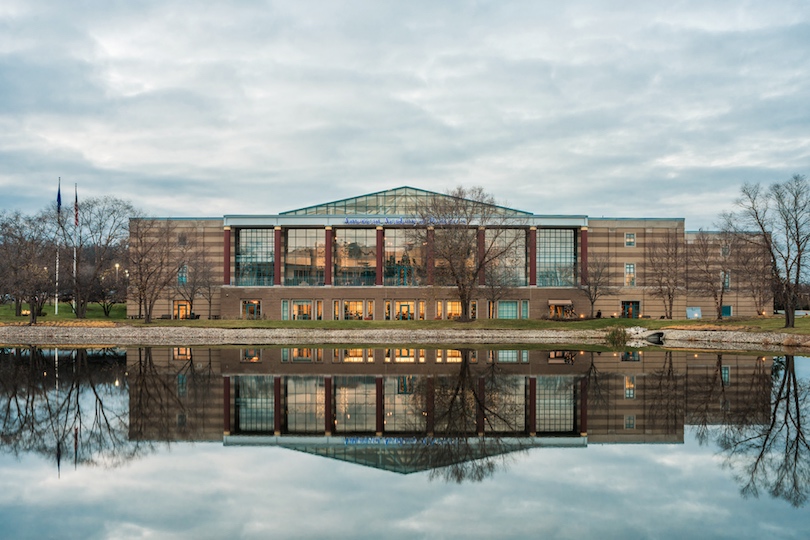 Serhii Chrucky, 2016
Another forgotten Postmodern non-landmarked landmark is the former headquarters of the American Academy of Pediatrics in Elk Grove Village. Completed in 1985 by Hammond Beeby and Babka, a firm perhaps best known locally for the Harold Washington Library Center, it was described soon after completion as "an oasis in the ticky-tacky desert of light industry skirting Chicago's O'Hare airport."3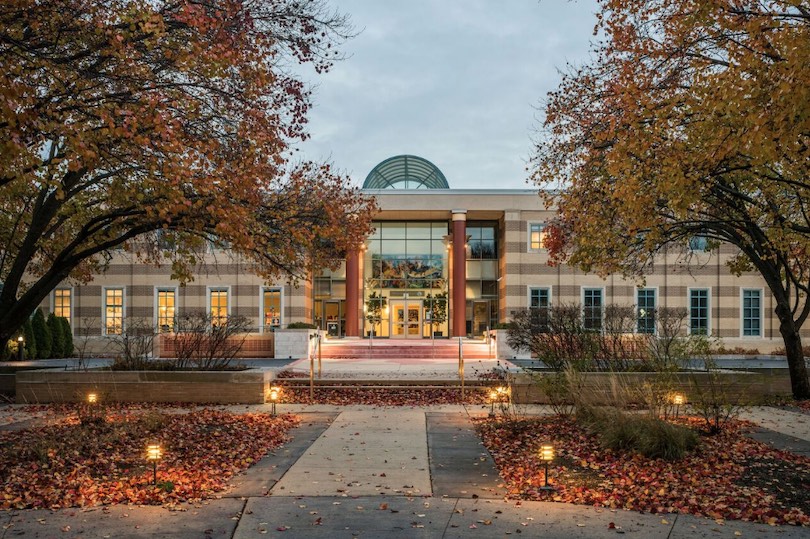 Serhii Chrucky, 2016
In 1985, this building won a Distinguished Design Award from the Chicago Chapter of the American Institute of Architects.4 In reporting this award, long-time Chicago Tribune architectural critic Paul Gapp note that "this building epitomizes the design firm's main strength: its ability to draw on classical notions of order and beauty without tipping over into the funky, junky idiom so beloved by undisciplined Postmodern radicals."5 Well said. The American Academy of Pediatrics moved in 2017 to an equally striking building in Itasca, Illinois designed by VOA (now Stantec).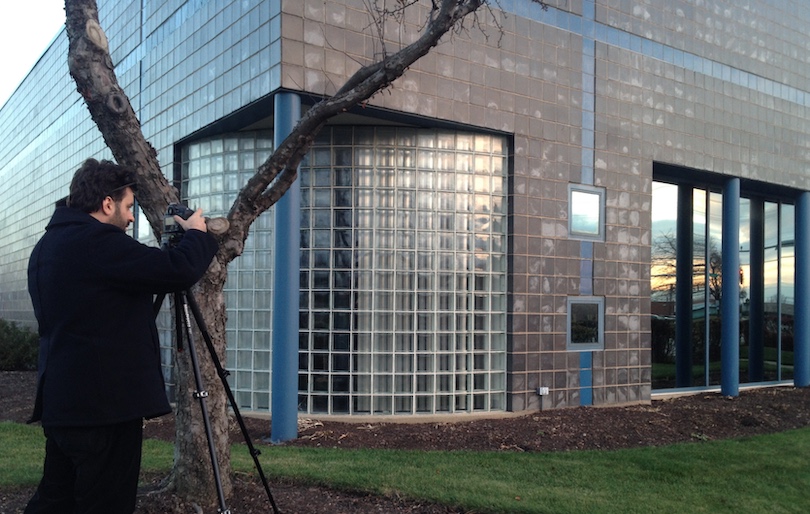 Author, 2016
Also in Elk Grove Village and found in 2016 while driving to photograph the former Pediatrics headquarters, your author and Forgotten Chicago cofounder and photographer Serhii Chrucky (above) stumbled upon some of the most remarkable 1980s buildings in Chicagoland. Presumably built as speculative office buildings, nothing has been found as of this writing on these buildings' architect or developer.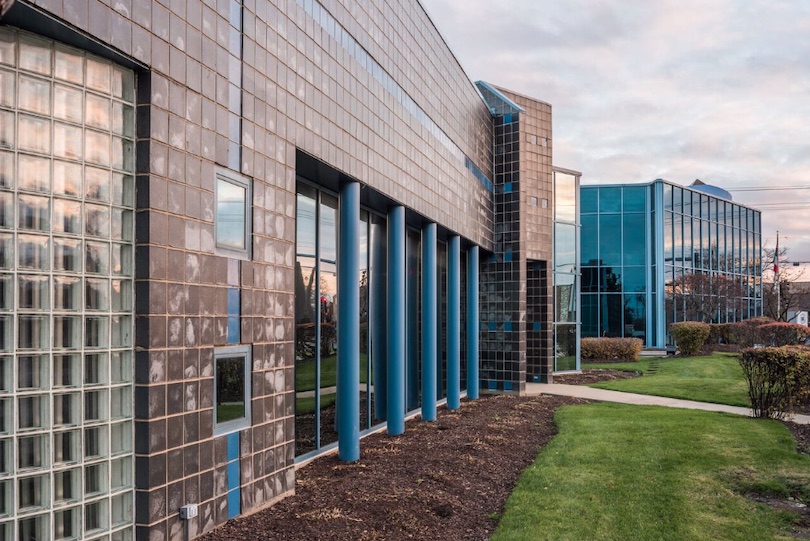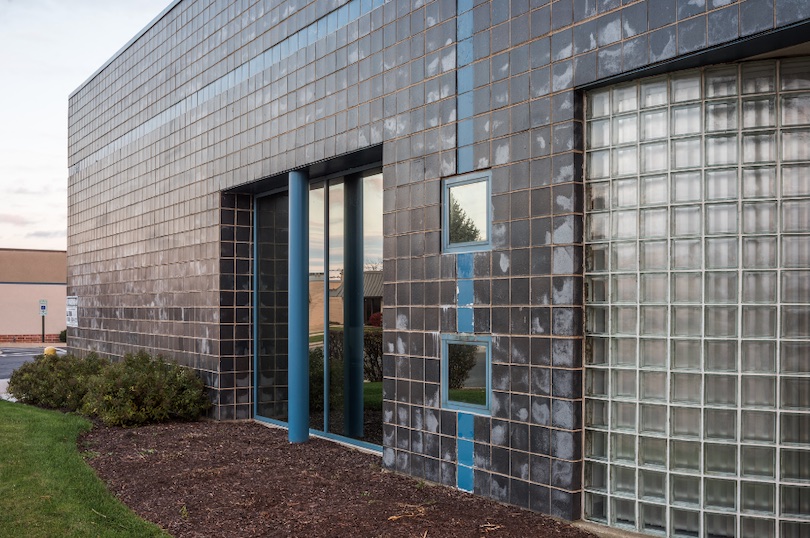 Serhii Chrucky, 2016
Based on the recurring design motifs, high quality of materials and uber-1980s design, it is the author's opinion that these adjacent buildings were built by the same developer and the same architect during the time this style was at its most popular, approximately 1984 to 1989. Worth noting is that while the seven images in this article show a vast variety of facades and elevations, there are only two buildings in this development.

Serhii Chrucky, 2016
Office parks and industrial buildings are little studied and rarely, if ever, covered in architectural surveys or books in any metropolitan area. The Forgotten Chicago Research Bureau has driven thousands of miles through the region researching and documenting notable examples such as these, and many more wait to be discovered.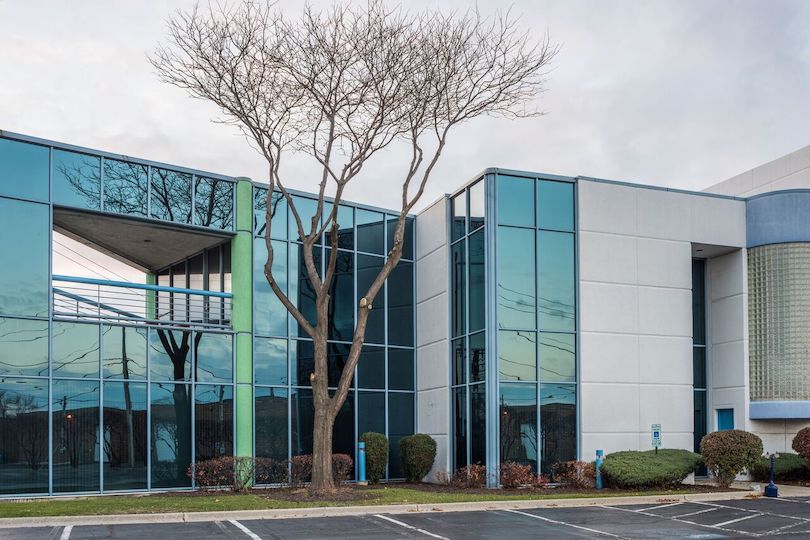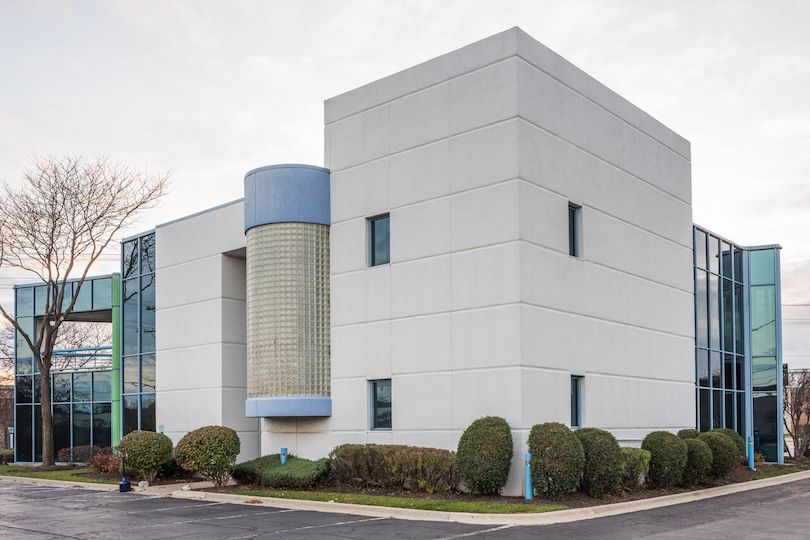 Serhii Chrucky, 2016
Well landscaped and maintained, these buildings have an exceedingly high level of detail and an imaginative use of color and materials. More information on photographer Serhii Chrucky's work in documenting Postmodern Chicagoland buildings may be seen here.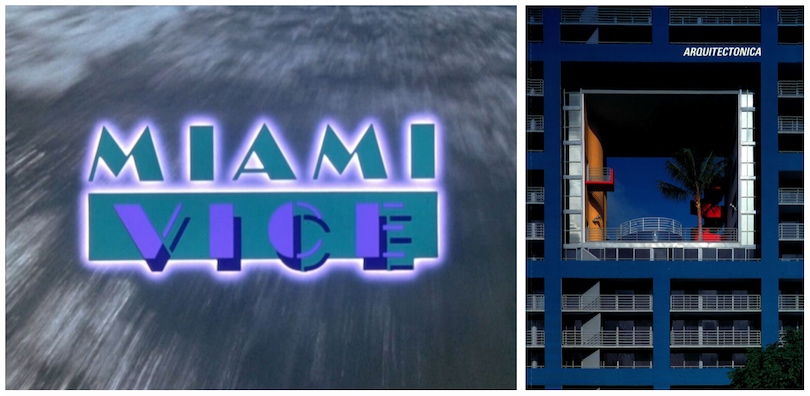 Left: Fandom.com Right: Arquitectonica
As mentioned in Part I in this series, no architectural firm in the 1980s had a greater cool factor than Miami-based Arquitectonica. This firm became famous when their iconic Atlantis condominium building was featured in the opening credits of Miami Vice, broadcast on NBC from 1984 to 1989. Arquitectonica completed at least three little-known and forgotten projects in the Chicago area in the 1980s; a now-demolished house in Glencoe featured in Part I in this series, an extant house in Northbrook to be featured in Park IV of this series, and the industrial building in Elk Grove Village, seen below.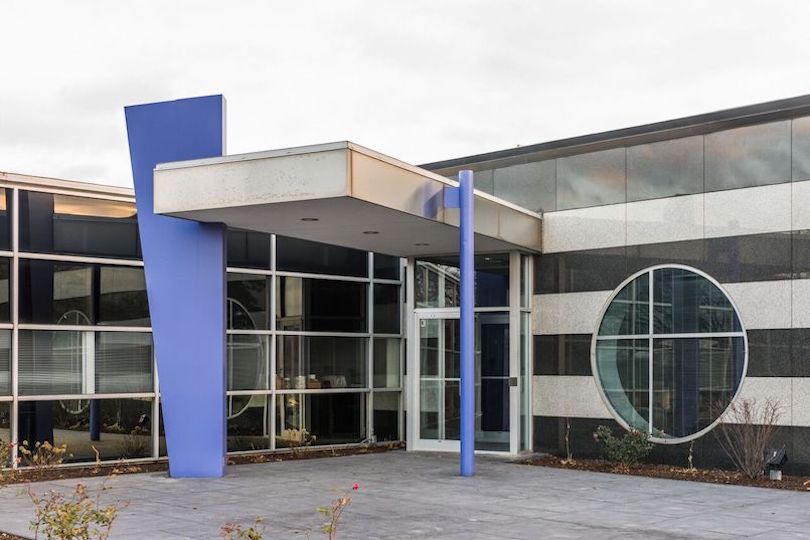 Serhii Chrucky, 2016
This tiny taste of South Florida was found in the 1989 book titled "Architecture Chicago Volume 7: Alternative Visions" published by the Chicago Chapter of the American Institutes of Architects. Annual publications and awards from organizations such as AIA are an invaluable source for locating little known and forgotten buildings, and it is this author's hope that printed award publications such as these continue to be published and acquired by libraries for study by future researchers.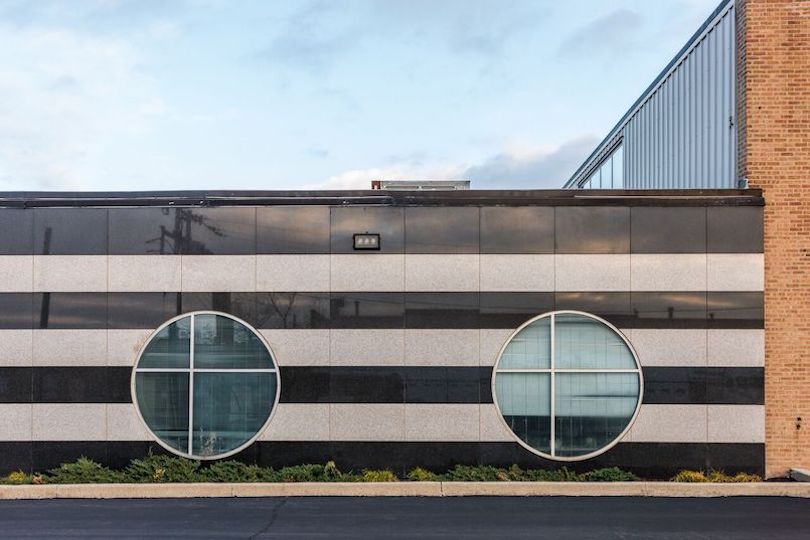 Serhii Chrucky, 2016
This project was constructed for Tang Industries in Elk Grove Village. Bloomberg describes the company as follows:
Tang Industries, Inc. manufactures metal castings and trades scrap metal. The Company produces steel stampings, aluminum extrusions, die castings, and other metal products. Through subsidiaries, Tang manufactures vehicle components for the automobile industry, and office furniture.6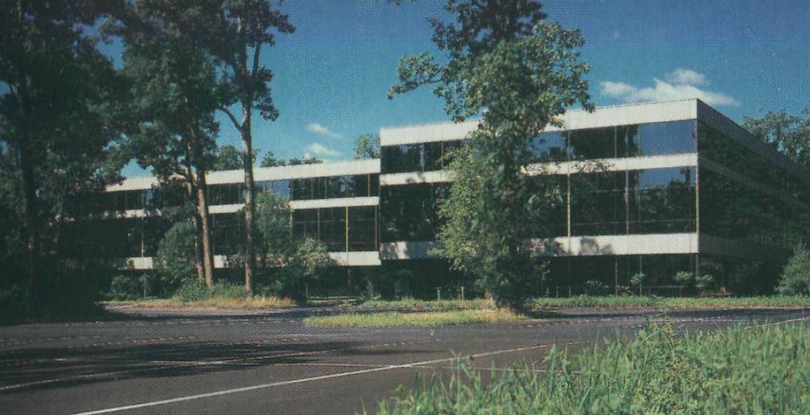 Progressive Architecture, 1989
Not in the Postmodern style but still an exceptional 1980s design is this abandoned office building addition in North Suburban Lincolnshire from Chicago's Kruek & Olsen (now Kruek & Sexton). Best known prior to this commission for their meticulous condominiums and a stunning Lincoln Park single-family home, this project was built at the same time as an office building in Rowayton, Connecticut for the same client, Hewitt Associates, and were the firm's first commercial projects.7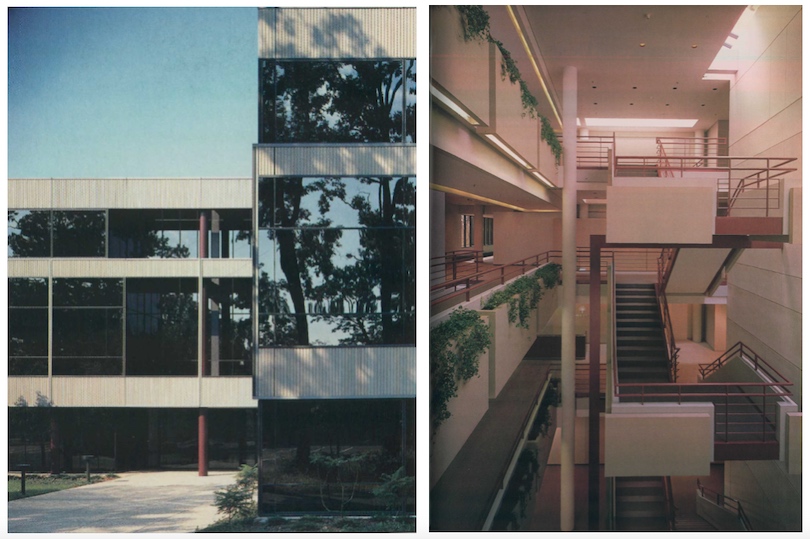 Progressive Architecture, 1989
Completed in 1989, the Lincolnshire building is a 140,000 square foot addition connected to a 1978 building designed by Hammond, Beeby & Babka.8 Designed to complement the existing building as well as heavily wooded site west of the Tri-State Tollway, the building is clad in cedar, an unusual exterior material for the firm.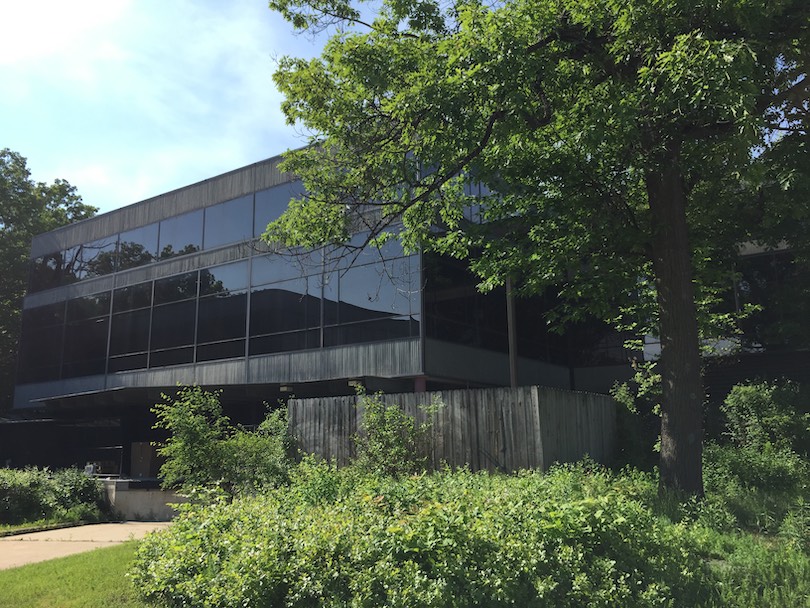 The abandoned and beautifully weathered Kruek & Sexton building photographed by author, June 9, 2018
Both buildings on the former Hewitt campus have been abandoned since at least 2018 and are highly endangered at this writing. In March 2016, then-owner Medline purchased and began moving its staff to the former Kraft Heinz complex in Northfield.9 Lincolnshire village trustees approved the conversion of the former Hewitt campus to a 450,000 sports complex known as The St. James in August 2018.10 On March 9, 2020, the same week that the COVID-19 pandemic shut down much of the Illinois economy, the Lincolnshire village board approved demolition of the Hewitt buildings, with the sports center expected to open in 2022.11 It is not know as of this writing if demolition has begun.

Architectural Record, 1985
Our last two featured buildings are both high-profile retail projects completed in what were, by the mid-1980s, marginal but rapidly gentrifying former industrial neighborhoods. Dearborn Station salvaged the north section and tower of what is the oldest remaining passenger train station in North America's long-time railroad capital, and featured a newly constructed two-story public portion on the site of the station's former train shed.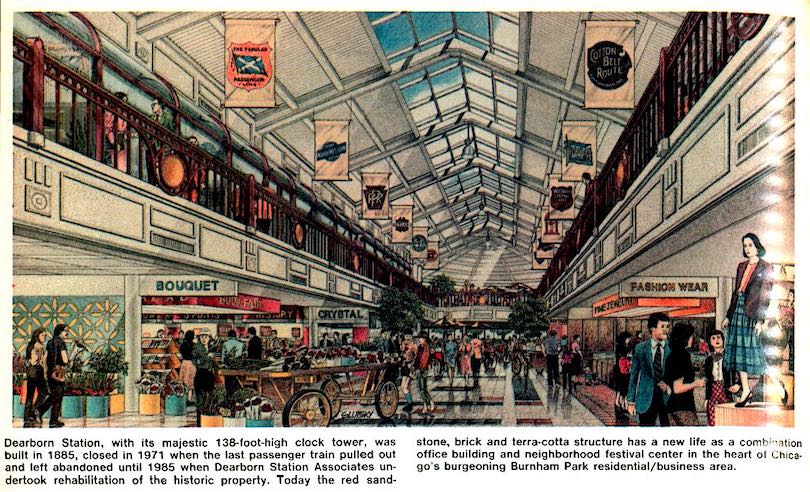 Realty & Building, 1988
Abandoned for 14 years, Dearborn Station reopened in 1985 as a combination office building and "festival center," as described above. Not living up to its full potential in recent years as a public space, it is the author's hope that this space is repurposed in the years ahead, keeping every aspect of its remarkably intact 35-year old design.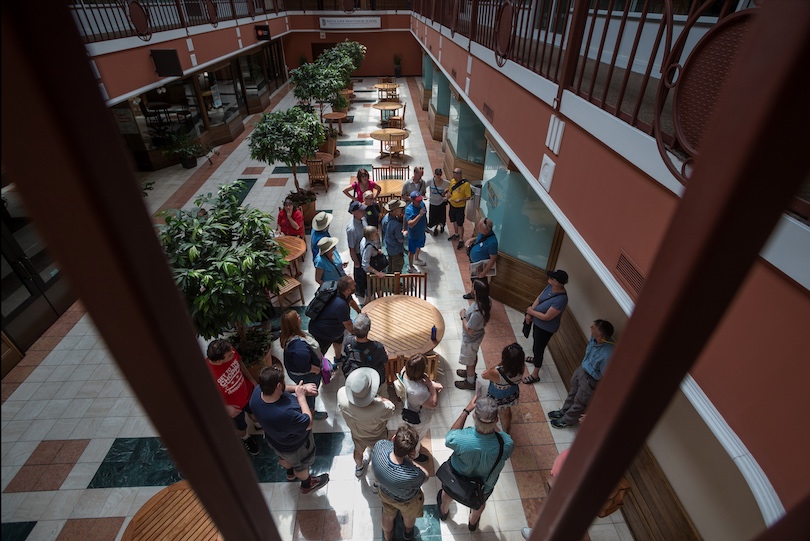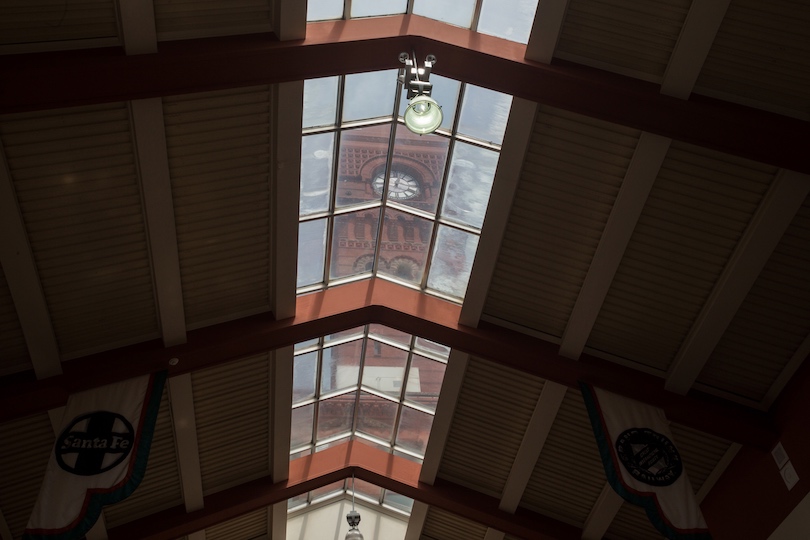 Matthew Kaplan, 2017
Dearborn Station's Postmodern interior is, of course, visited during Forgotten Chicago tours. Seen above during our inaugural Jane Byrne Interchange walking tour in August 2017, guests enjoyed this amazingly intact interior, including the old-timey banners featuring railroads that once served the station. This interior was also included in the Terminal Town fifth anniversary tour conducted with the Chaddick Institute of Metropolitan Development at DePaul University in October 2019.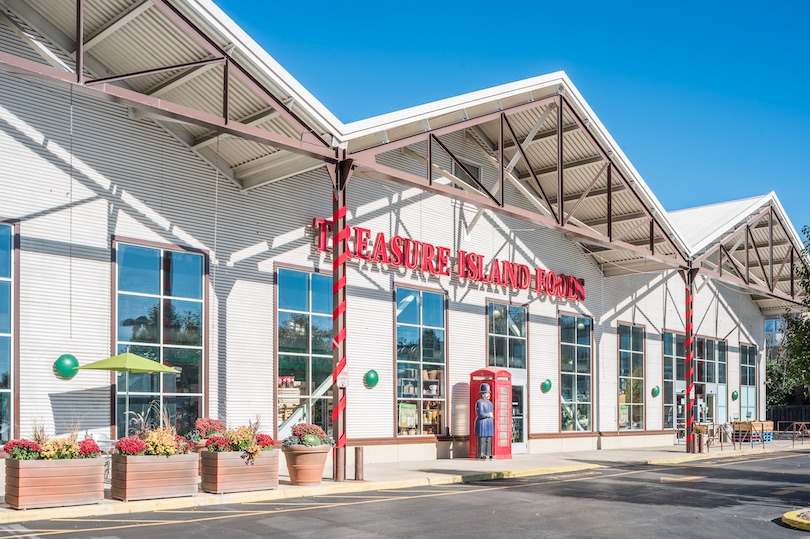 Serhii Chrucky, 2016
Our final entry here was considered the ultimate "found" building and interior from the 1980s when this series was first conceived in the mid-2010s, but this now-abandoned former Treasure Island closed suddenly and without warning on September 9, 2018. Your author decided to include this here because as of his last visit, the building has not been repurposed or demolished, and it is presumed that some of the remarkable and nearly completely intact 1980s interior remains intact.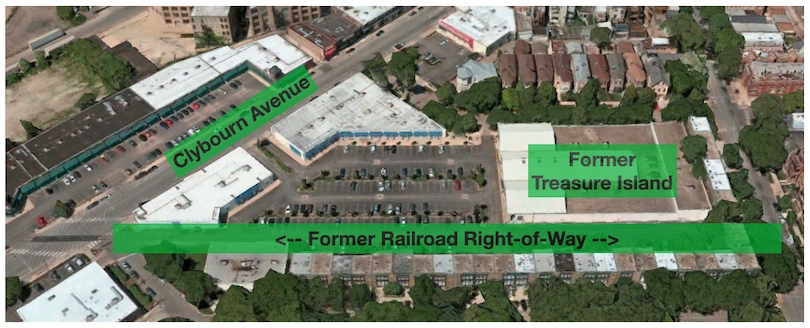 Apple Maps and descriptions added by author
Although having a street address of 2121 North Clybourn, the former Treasure Island did not have any frontage on the busy commercial avenue and was set back in a clever use of an oddly shaped lot containing ample parking and a surrounding strip shopping center named Market Square. Notably designed around what was then an active railroad right-of-way (since abandoned), this project was developed by The Argent Group and opened in 1987.12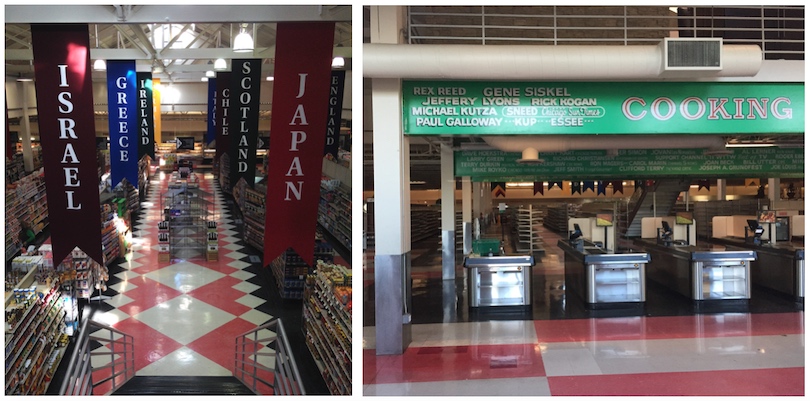 Left: Author, 2016 (store open) Right: Author, 2018 (store abandoned)
Designed by the prolific Chicago-based firm Booth/Hansen & Associates, the former Treasure Island was a veritable temple of 1980s interior design, all the more remarkable for not being substantially updated in the 31 years before its sudden closure. Featuring dramatic pink, white and black checkerboard floors, the flagship location of the one-time leading gourmet supermarket chain in Chicago was a charmingly dated store in one of the most competitive upper-income retail grocery markets in the United States.
The Treasure Island on Clybourn oddly featured names of 1987 Chicago celebrities painted on steel support beams. It is not known as of this writing if these local celebrities and media companies gave permission to be featured in this store, were paid for their names to be displayed in the store or if Treasure Island wanted their customers to think they would casually bump into Roy Leonard or Bob Greene while doing their shopping.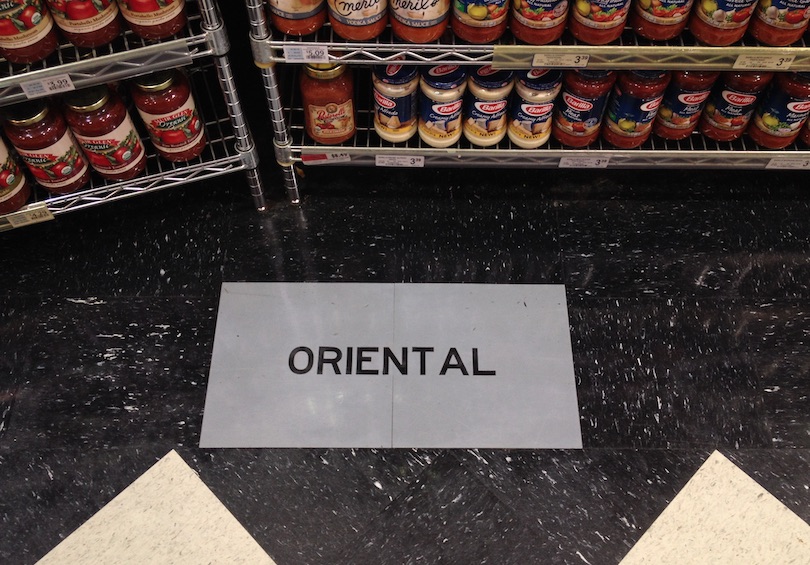 Author, 2016
Just as strangely, Treasure Island also featured the names of ethnic food sections in the aisles, such as the questionable "Oriental" seen above, and stocked in 2016 with packaged pasta sauce. Not shown is the Israeli section, stocked with adult incontinence products at the time.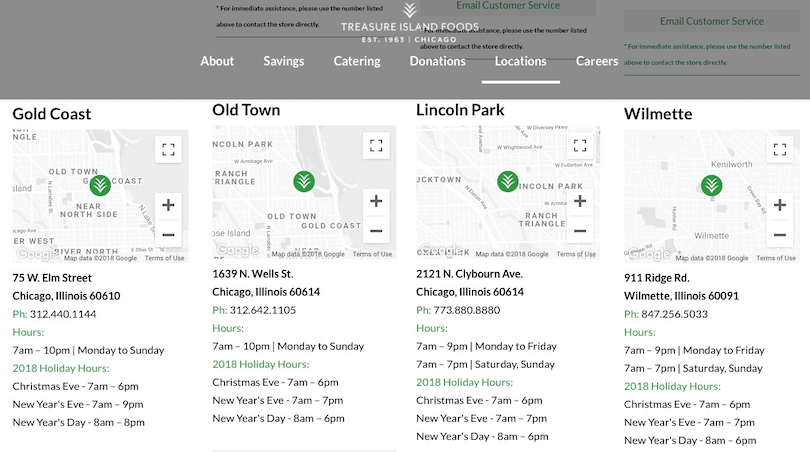 Treasure Island web site, September 10, 2018
Your author makes a point of taking screenshots of retailer's web sites soon after they close stores or declare bankruptcy, including Carson Pirie Scott and Filene's Basement. The above image was captured the morning after the Treasure Island Lincoln Park store on Clybourn had permanently closed in September 2018.
An overview of the rise and fall of Treasure Island, and the source for their long-time slogan, was published on September 30, 2018, by Inc.:
Treasure Island Foods was founded in 1963 by Christ Kamberos and his brothers. Christ Kamberos was born in Chicago to Greek immigrants. His father sold produce from a cart. Kamberos, on the other hand, became known as a grocery innovator who traveled the world to find exotic foods for Chicagoans to sample. Julia Child once praised the store as "America's most European supermarket."
Kamberos died in 2009, and his death was followed by a lawsuit in which his daughter Christi Kamberos Matthews accused her stepmother, Maria Kamberos, the company's current CEO of deliberately alienating her from her father and reducing her inheritance.13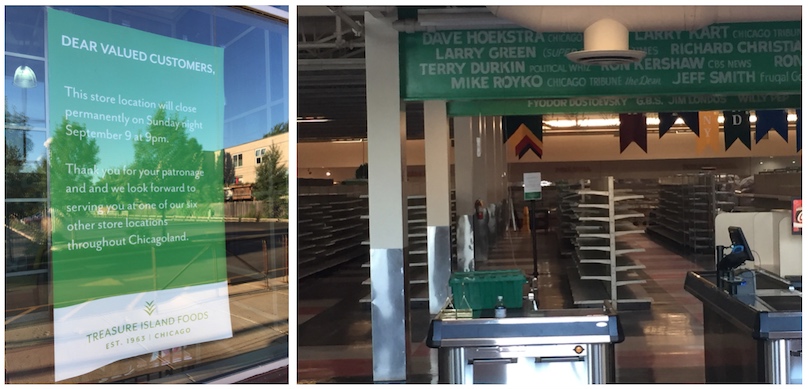 Author, 2018
The author wishes to thank his long-suffering friends who patiently endured a tour of this retail relic after its intact interior was discovered in 2016. It is also worth noting that if you see a building or interior that is historic, interesting or unusual, always assume that it will close or be demolished the following day, and take as many pictures as you can.
Correction: This article originally mentioned the incorrect architect for the current American Academy of Pediatrics in Itasca. This project was designed by VOA (now Stantec) with Opus as the general contractor. We apologize, and wish to thank the reader who alerted us to this error.
Sources
---