Bertrand Goldberg in Tower Town is a three-part set of articles detailing this Chicago-based architect's one-time residence in the 1930s. This article looks at a beauty salon announced as having been designed by Goldberg. While opened, it may or may not have actually been completed by the architect. This beauty salon opened by 1938 at 840 North Michigan Avenue, on the same same block as Goldberg's former "commune" residence detailed in part one of this series.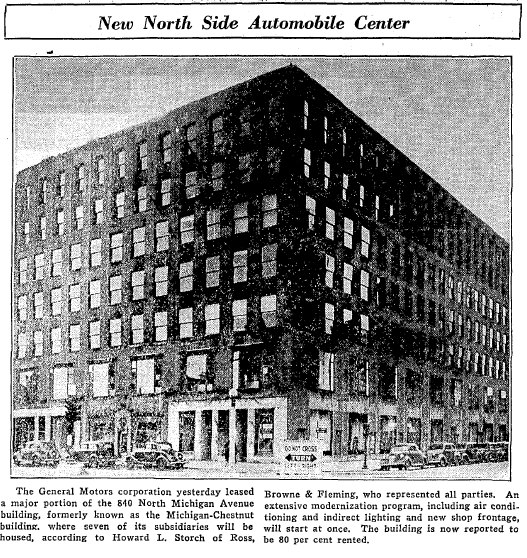 Chicago Tribune
Bertrand Goldberg was just 23 years old the first time his name is found in the archives of the Chicago Tribune, for a two-story interior remodeling in a former department store adjacent to his one-time residence. In a February 21, 1937 Tribune article (right), it was announced that General Motors had leased 35,000 square feet of a 1928 Holabird & Root designed building at 840 North Michigan Avenue, also known as the Michigan-Chestnut building. The primary tenant since the building's completion had been New York-based department store Saks Fifth Avenue; Saks had recently vacated five of the seven floors of the building for a new location further south on Michigan Avenue.1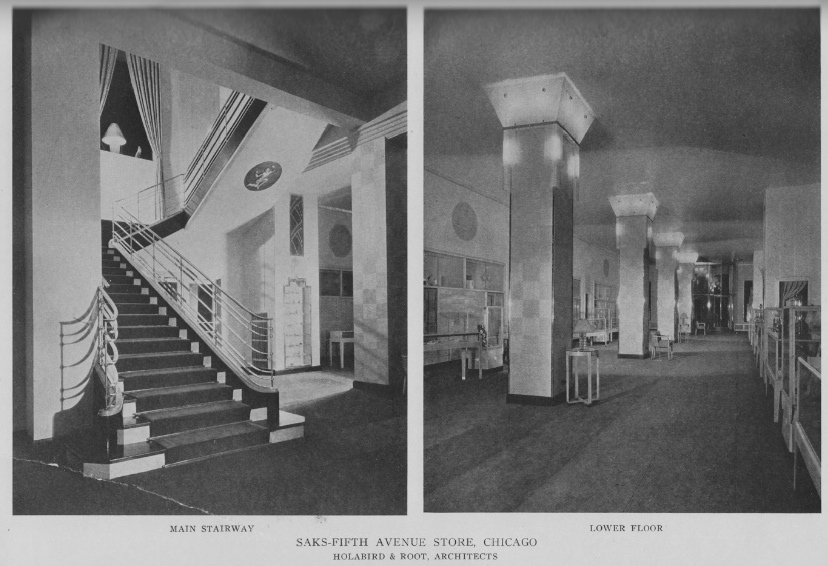 Architectural Forum
Images published in 1929 show the opulent, and little-seen, Holabird & Root designed interior of the Saks Fifth Avenue at 840 North Michigan in 1929, prior to its conversion to other uses less than ten years later.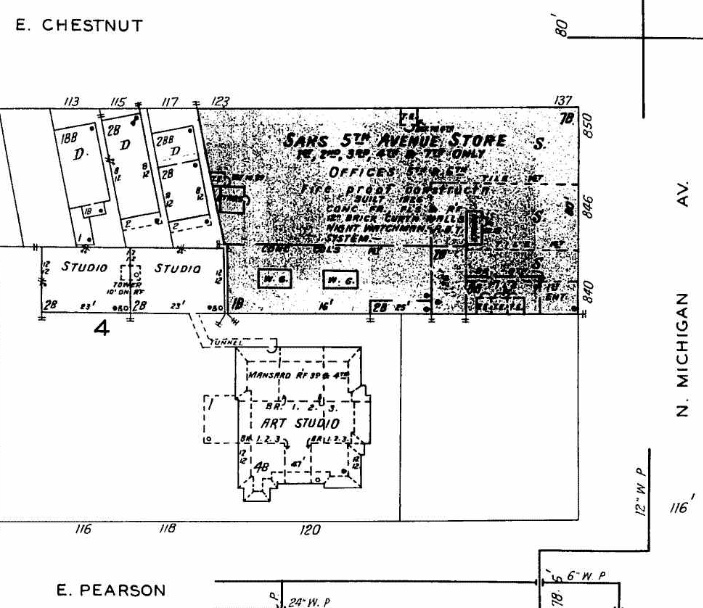 Left: Sanborn. Right: Chicago Tribune
Left: 1935 fire insurance map showing location of the Saks Fifth Avenue at 840 North Michigan Avenue; Goldberg lived on the adjoining property to the southwest during the same decade. Right: February 1937 Chicago Tribune article announcing Bertrand Goldberg as architect of the Pierre Andre beauty shop
As part of a larger renovation of the former Saks store, the Tribune article (above right) states that Goldberg had been hired to design a 5,000 square feet beauty salon on two levels for a Pierre Andre location, at a reported cost of $20,000.2 The Pierre Andre beauty shop chain had been founded by Jean Andre Gourgeuchon (1910-1985), a Paris-born immigrant who arrived in the U.S. from La Havre, France aboard the M/S Lafayette, landing in New York City on August 17, 1930.3 According to Gourgeuchon's obituary, there had been eight total Pierre Andre salons,4 with the second location opening at 840 North Michigan as detailed below.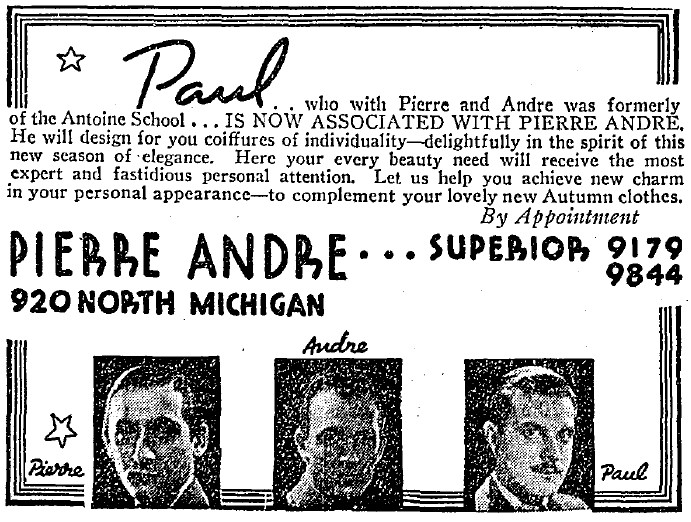 Chicago Tribune
October 1934 ad for the original Pierre Andre salon at 920 North Michigan Avenue.
Besides founding a chain of beauty salons, other members of the family found success in the U.S. Gourgeuchon's mother, Leone, "widowed the first day of World War I",5 had been in the restaurant business for many years when she launched "Menu de France," a frozen food company specializing in "French delicacies" in January 1953, following two years of experimentation in her home in Peoria, Illinois.6
According to the March 1938, December 1938, and March 1939 Illinois Bell Classified Telephone Directory for Chicago, Pierre Andre operated a salon at 840 North Michigan Avenue, along with the previously existing (and by now renamed) Pierre & Paul Salon at 920 North Michigan.7


Illinois Bell Classified Telephone Directory
December 1938 Chicago phone directory showing the Pierre Andre location at 840 North Michigan Avenue.


Illinois Bell Classified Telephone Directory
March 1941 Chicago phone directory listing Pierre Andre salons at 114 East Oak and another location in Hyde Park.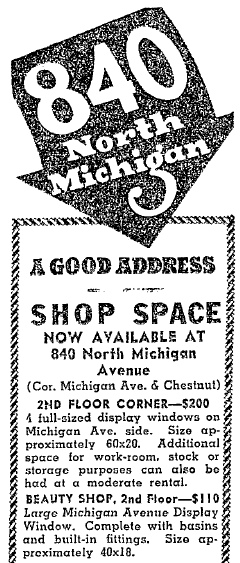 Chicago Tribune
August 1939 ad showing availability of a beauty salon space for rent at 840 North Michigan.
The second Pierre Andre location would not last long at the corner of Michigan and Chestnut, however. By August 1939, a far smaller (720 square feet) beauty salon space was listed as being available for lease at 840 North Michigan (right). Possibly the former Pierre Andre location, it is not known if this was only a portion of the original salon, of if this was the size of Pierre Andre as built. By the time the March 1940 classified telephone directory was printed, the 840 North Michigan Pierre Andre location is no longer listed, and there is a new location less than two blocks from the original location, at 114 East Oak Street.8 In the March 1941 directory (above), the original store at 920 North Michigan is gone, the store on Oak Street remains, and there is yet another store at 1654 East 53rd Street in Hyde Park9
As of this writing, there is no other information available about the Pierre Andre salon, and it is not known whether Goldberg prepared renderings or completed this project, or did any additional proposals or work for Pierre Andre. The Pierre Andre project is not listed in the Bertrand Goldberg archives, and building permits searched from 1937 and 1938 have not been found listing Goldberg as the architect.10 The 840 North Michigan building was demolished to construct the current Plaza Escada building, which was completed in 1992.11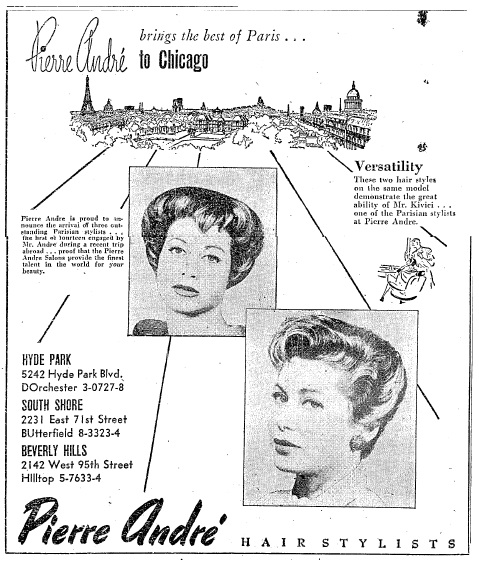 Chicago Tribune
October 1956 ad listing three Pierre Andre salons, with salons no longer listed on North Michigan Avenue or Oak Street.
In a career that spanned the mid-1930s to the mid-1990s, Goldberg designed very few commercial interiors. If Pierre Andre was built using plans by Goldberg as announced, it is intriguing to ponder what he would have created with such a large salon and a comparatively generous budget at such a prominent location.
By 1960, there would be four completed Goldberg commercial structures within a mile of the announced Pierre Andre location – the 1940 Clark-Maple Service Station at 1101 North LaSalle; the 1956 Walton Gardens multi-use building at 44 East Walton; the separate 48 East Walton building, also completed in 1956; and the 1960 Happy Medium Theatre at 901 North Rush. All four buildings will be detailed in a future Forgotten Chicago article on Bertrand Goldberg's Rush Street and environs.
Acknowledgements
---
The author wishes to sincerely thank Jacob Kaplan for his expertise, assistance, and countless hours (and miles) exploring the existing, altered and demolished buildings of Bertrand Goldberg in the Chicago area. Additional thanks go to Laurie Chipps, Serials Librarian at the Ryerson & Burnham Libraries at the Art Institute of Chicago, who was a tremendous help in using and navigating the vast Bertrand Goldberg archives.
Finally, a deep debt is owed to Jim Merklein, who many years ago gave me Michel Ragon's 1985 book "Bertrand Goldberg: Dan la Ville / On the City" which was an invaluable tool in my research, and over 25 years after its publication continues to be perhaps the most comprehensive overview of Goldberg's extraordinary career and body of work.
Sources
---
1. AL CHASE. General Motors Leases Major Portion of Seven Story North Michigan Avenue Building, Chicago Daily Tribune (1923-1963); Feb 21, 1937; ProQuest Historical Newspapers Chicago Tribune (1849 – 1987) pg. C14 (accessed October 4, 2011).
2. Ibid.
3. List or Manifest of Aliens Employed on the Vessel as Members of Crew; Sheet Number 15, August 17, 1930. U.S. Department of Labor, Immigration Service.
4. "Obituary 5 — No Title", Chicago Tribune (1963-Current file); Jan 11, 1985; ProQuest Historical Newspapers Chicago Tribune (1849 – 1987) pg. A11 (accessed October 4, 2011).
5. RUTH MacKAY, "White Collar Girl", RUTH MacKAY, Chicago Tribune (1923-1963); Jun 22, 1953; ProQuest Historical Newspapers Chicago Tribune (1849 – 1987) pg. B5 (accessed October 9, 2011).
6. Ibid.
7. Illinois Bell Classified Telephone Directory for Chicago. Chicago: The Reuben H. Donnelley Corporation with permission of the Illinois Bell Telephone Company, March 1938, December 1938, March 1939, March 1940 and November 1941,
8. Ibid.
9. Ibid.
10. Chicago building permits for 840 North Michigan Avenue, 1937 to 1941, Richard J. Daley Library, University of Illinois at Chicago; records searched on September 16, 2011.
11. http://felipetilca.com/web20/demos/michigan/docs/840%20North%20Michigan%20Ave.pdf accessed October 10, 2011.
Read More
---
Tweet