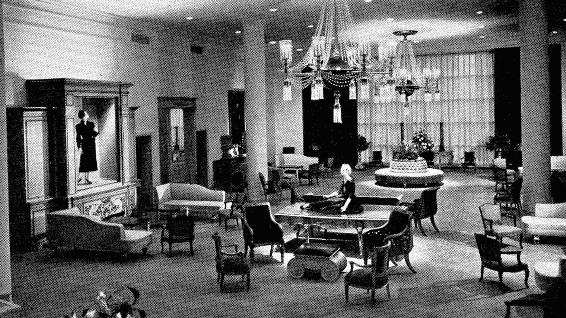 Architectural Forum
One of the oldest extant former single-tenant stores on North Michigan Avenue, Bonwit Teller operated in the entire building at the northwest corner of Michigan and Pearson from 1949 to 1969. Heavily modified over the years, the proportions of the room pictured above were revealed in 2011 for the first time in nearly 20 years for its conversion to the current tenant. This view is looking to the south; the large window at the rear overlooked the Water Tower.
Bertrand Goldberg in Tower Town is a three-part set of articles, and Postwar Development of Michigan & Pearson is the second in a series of several Forgotten Chicago features highlighting this Chicago-based architect's one-time residence in the 1930s, and lesser-known built and proposed projects in the Chicago area. This article looks at the demolition in the 1940s of Goldberg's former 1930s "commune" for retail and housing, and changes to the site since that time.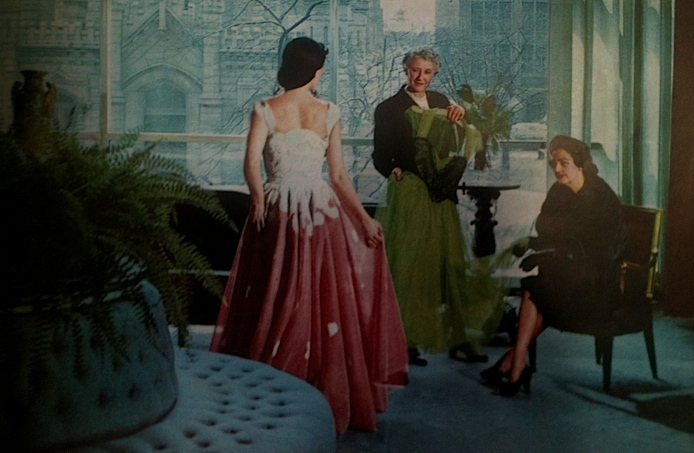 Holiday
It was reported in November 1946 that New York City-based specialty store Bonwit Teller would build a store on the site of Bertrand Goldberg's former home at the northwest corner of Michigan and Pearson.1 Facing Chicago's historic Water Tower, this store would be built on the location of the former Senator Charles Farwell home and stables, and would join existing Bonwit Teller locations in New York City and White Plains, New York, and Palm Beach and Miami, Florida.2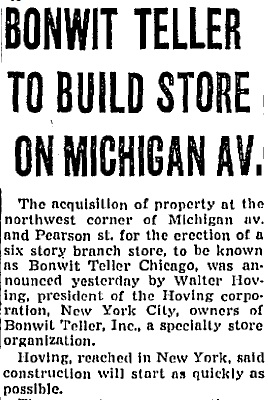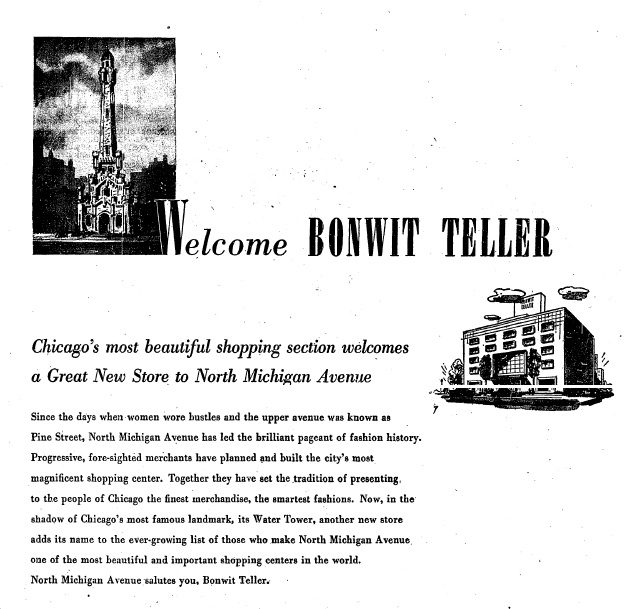 Chicago Tribune
The property was "more than an acre" and was purchased for $575,000 from Webb & Knapp, a New York-based real estate firm.3 Bonwit Teller would build on a lot that was L-shaped, with 306 feet of frontage on Pearson Street, 107 feet on Michigan Avenue, and running behind 840 North Michigan with 133 feet of frontage on Chestnut Street.4 It was announced that the Bonwit Teller building would cover about 15,000 square feet of the lot and that parking would cover the remaining 30,000 square feet of the property.5 The exterior of the building was Indiana limestone, with white marble trim surrounding the windows.6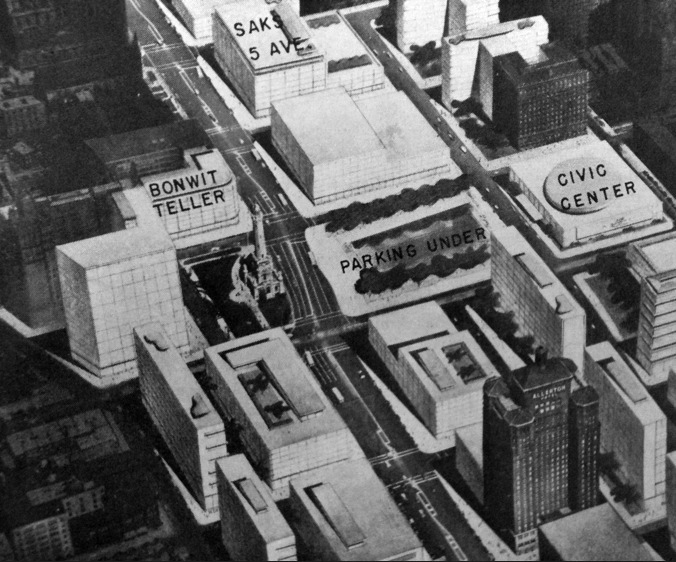 Architectural Forum
Proposed as a joint venture between Chicago's Arthur Rubloff and New York City's William Zeckendorf, Sr. and published in May 1947, pictured is one of several ambitious plans for the Magnificent Mile. Unrealized except for the Bonwit Teller store, note the proposed demolition of the Chicago Avenue Pumping Station and Fire Station ("Parking Under") and the Chicago Avenue National Guard Armory ("Civic Center").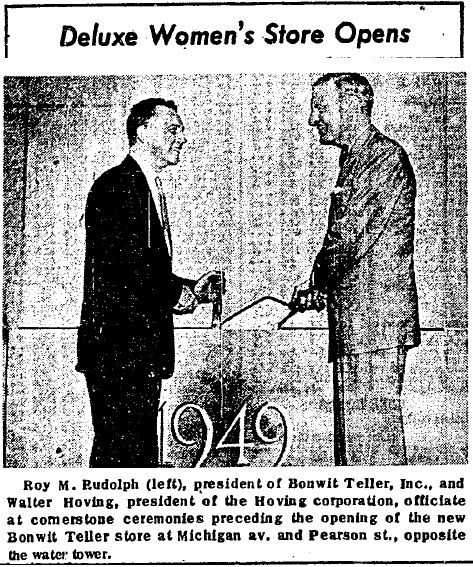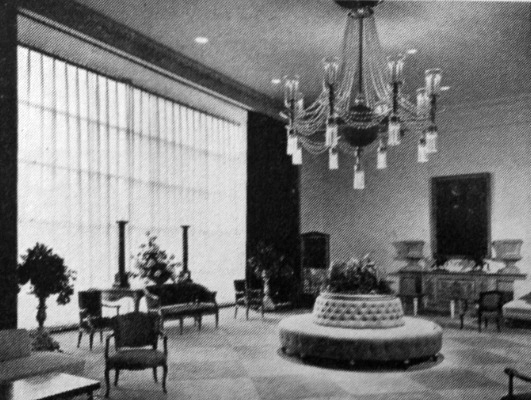 Left: Chicago Tribune. Right: Architectural Forum.
Left: Opening Bonwit Teller in August 1949; the former location and current whereabouts of this cornerstone is unknown. Right: Part of the original 18-foot ceiling height of Bonwit Teller's second floor dress salon, seen here in July 1950, was revealed with the conversion to a Topshop / Topman store in 2011 and the removal of part of the store's third floor.
Although the "old Farwell mansion" was torn down to construct Bonwit Teller, It is not clear if the buildings to the rear of the property at 116 and 118 East Pearson (the presumed site of Bertrand Goldberg's former residence) were demolished at the same time, or had been demolished earlier. Bonwit Teller opened nearly three years after the project was announced, on August 24, 1949, in a building designed Alfred Shaw of Shaw, Naess & Murphy (later Shaw, Metz & Dolio).7
The most noteworthy feature of the new Bonwit Teller store was the second floor dress salon, which had an 18-foot ceiling in a room 100 feet by 50 feet.8 For this room, the Chicago Tribune describes, "an enormous window gives a view of Michigan av., as seen across the water tower square."9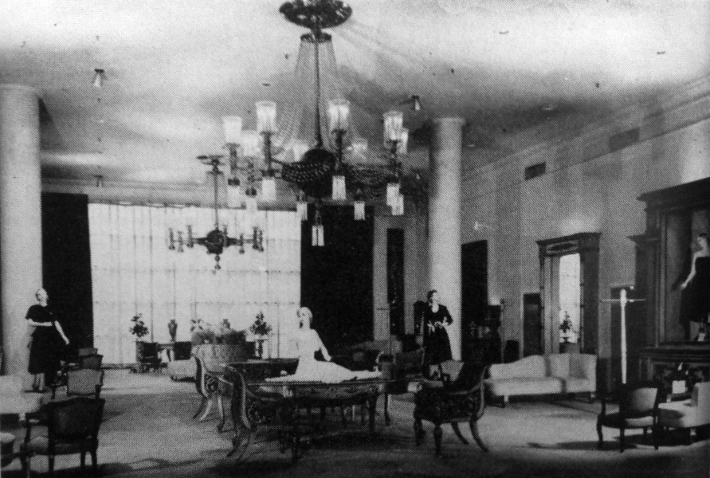 Realty & Building
Another view of the Bonwit Teller dress salon published in December 1951. Compared with Michigan Avenue retailers today, this large room is unusual for containing virtually no merchandise except mannequin displays; customers would have items brought to them or be worn by models.

Architectural Forum
Although this building remains standing, its appearance and layout are vastly different today. The former Bonwit Teller's first floor plan (above left) was very formal, unlike many other stores constructed in the years following World War II. As described in an article on new stores in Architectural Forum in December 1949, this store "challenges all the generally accepted principles in contemporary store design." The article noted that Bonwit Teller had "no open front, no blank, windowless walls, no modern furniture, no new lighting fixtures."


Honeywell Customized Temperature Controls
More forgotten details of the Bonwit Teller store, courtesy of a 1952 ad for Honeywell Customized Temperature Controls. At left is a floor plan of the second floor, at center is a view of the fur salon, and at right is a hat storage room. Bonwit Teller was also unusual in that the 25 fitting rooms on the second floor were positioned along the building perimeter, with all but four having windows overlooking North Michigan Avenue or the Water Tower.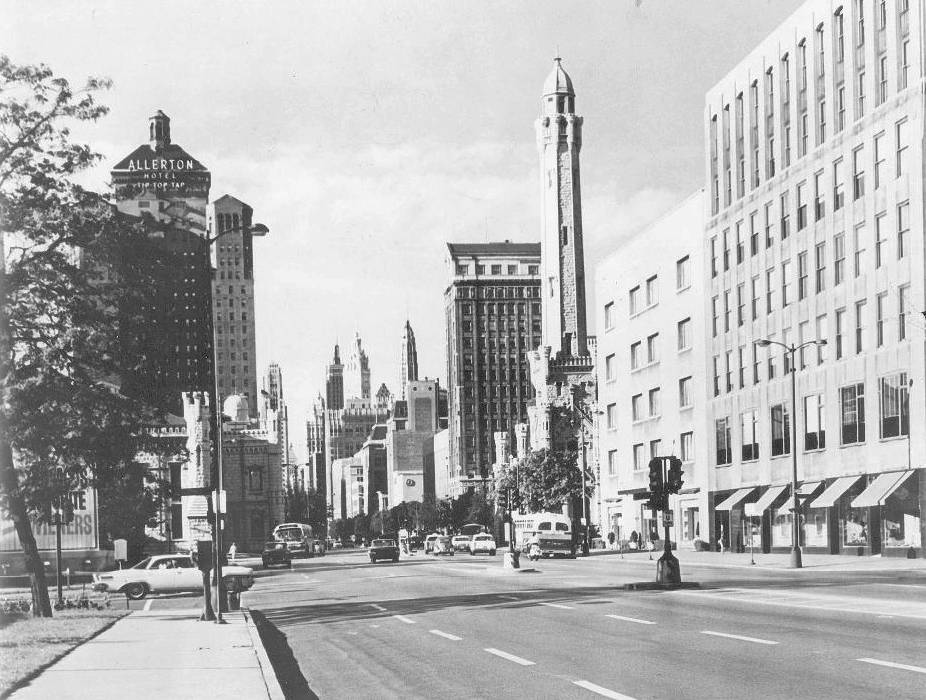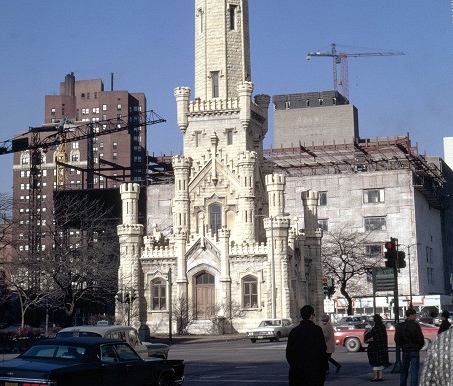 Left: Chuckman Collection. Right: C. William Brubaker Collection (University of Illinois at Chicago).
Left: View in 1966 of 840 North Michigan Avenue (far right) and 830 North Michigan prior to its expansion and renovation for I. Magnin (to the left); in 1937, the Michigan Avenue side of 840 North Michigan was announced as the site of a Bertrand Goldberg-designed beauty salon (detailed in part three of this series). Right: Expanding the former Bonwit Teller store for I. Magnin in 1971, including a parking garage under construction (left), and an additional floor being added.
In November 1969, Bonwit Teller moved across Michigan Avenue to the recently completed John Hancock Center. In March 1970, the now-empty store at Pearson and Michigan was the site of a farewell party sponsored by local property developer Winston Development.10 Winston Development was expanding and remodeling 830 North Michigan for a new tenant, I. Magnin, as well as constructing the 56-story 111 East Chestnut apartment building next door.11 During the farewell party, it was reported that a "huge yellow wrecking machine" had been stationed at the Pearson Street entrance, "just for effect." It was also noted that, "the first floor bar was set up in the former intimate apparel room of the store, which was strung with bikini panties for nostalgic Bonwit shoppers."13
Following Bonwit Teller's move across Michigan Avenue, an additional story was added, and the building was expanded from 84,000 square feet to 132,000 square feet, becoming the first Chicago-area location of San Francisco-based I. Magnin.14 The first I. Magnin east of the Rocky Mountains and the 22nd store in chain opened at Michigan and Pearson on October 22, 1971;15 In the Chicago area, Magnin's would later include locations at Oak Brook Center and Northbrook Court.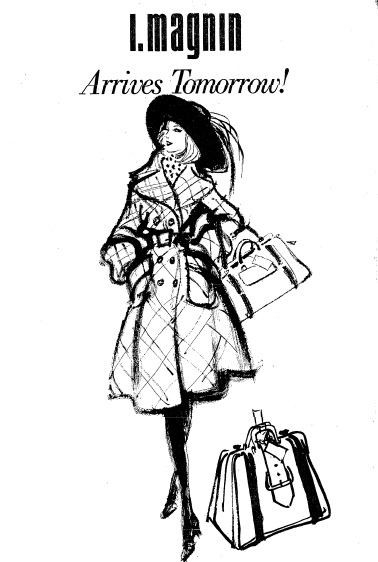 Chicago Tribune
Bertrand Goldberg's most iconic building, Marina City, is mentioned in an October 1971 ad for the grand opening of I. Magnin, a store partially located on the former site of his "commune."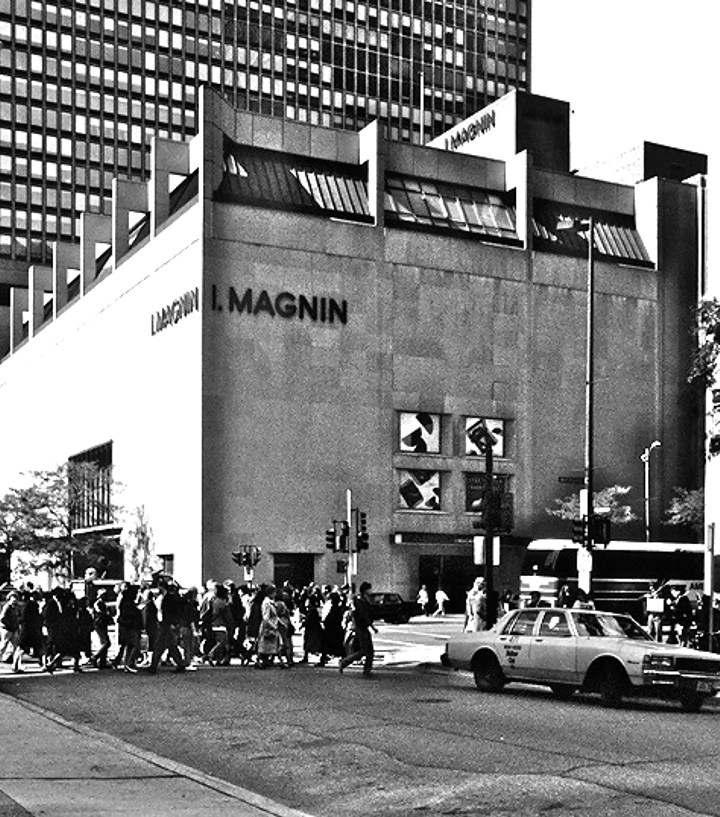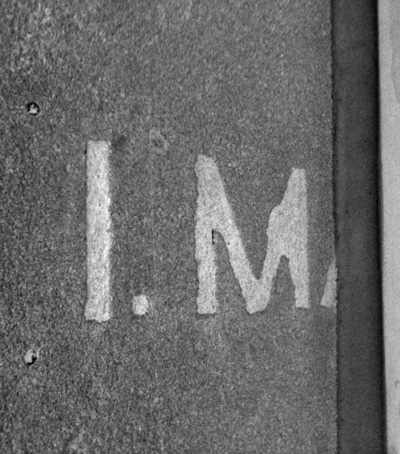 Left: The Department Store Museum.
Left: The Solomon Cordwell Buenz-designed I. Magnin store as completed, date unknown. Right: I. Magnin labelscar near Father Quigley Preparatory Seminary, January 2012.
Following the closure of the Michigan Avenue I. Magnin store in June 1992,16 the prominent retail space remained empty for nearly three years, until Borders Books and Music, Filene's Basement and other tenants occupied it beginning in 1995. The move from high-end specialty store I. Magnin to discounter Filene's Basement, however, was met with controversy. According to a news account prior to opening, Filene's Basement had "originally hoped to open the store for the 1992 Christmas season; then it aimed for the 1993 Easter season. But its plans were set back by legal problems over the lease and opposition from merchants in the Greater North Michigan Avenue Association. They objected to a discounter moving into the posh shopping strip".17
View from the sixth floor of 830 North Michigan Avenue (Filene's Basement) in December 2011. Unlike during Bonwit Teller's occupancy in this building, one of the most comprehensive views of the Water Tower and North Michigan Avenue was barely visible by shoppers during the lease of Filene's Basement, as display racks and merchandise storage mostly blocked these windows.
The future tenants of the fourth, fifth and sixth floors of 830 North Michigan are in question again as of this writing. In November 2011, the parent company of Filene's Basement announced it was filing for bankruptcy protection, and that all stores, including the Magnificent Mile location, would close by 2012. Following the closure of the Borders chain, the fourth primary tenant on the lower floors of the 62-year old building is Topshop / Topman, which opened in September 2011. Additional tenants in 2011 include Columbia Sportswear and Ghirardelli Ice Cream and Chocolate Shop.
Developing the Rest of the Site
---
The remainder of the former Charles Farewell property, including the site of Goldberg's former residence, would not be developed for more than 20 years following the completion of the Bonwit Teller store. As detailed in the article "Bertrand Goldberg's Former Commune", Goldberg mentioned in his oral history that he lived in the former stables of the Charles Farwell mansion in the 1930s. Concurrent with the remodeling and expansion of the former Bonwit Teller store for new tenant I. Magnin, construction began on the apartment (now condominium) building partially on the site of 116 and 118 East Pearson on June 30, 1970.18 In a newspaper article noting the start of the apartment project (known then as now by its address of 111 East Chestnut), it was reported that the site had previously been used as a parking lot for Bonwit Teller.19 The 56-story apartment building opened in 1972.
Although this area of Chicago has changed tremendously over the past 80 years, buildings on these parcels are built on long-established lot lines. As is common where diagonal streets such as Rush bisect the street grid, the distinct and long-extant lot lines seen in the block bounded by Michigan Avenue and Rush, Chestnut and Pearson Streets are still evident in the shapes of the present-day buildings. Because land and building values are so high on and around North Michigan Avenue, buildings are demolished and replaced with relative infrequency, which may explain why decades-old angled lot lines remain intact. Additionally, replacement buildings in this area tend to be built utilizing the maximum space available on these lots, whether at a right angle or a diagonal.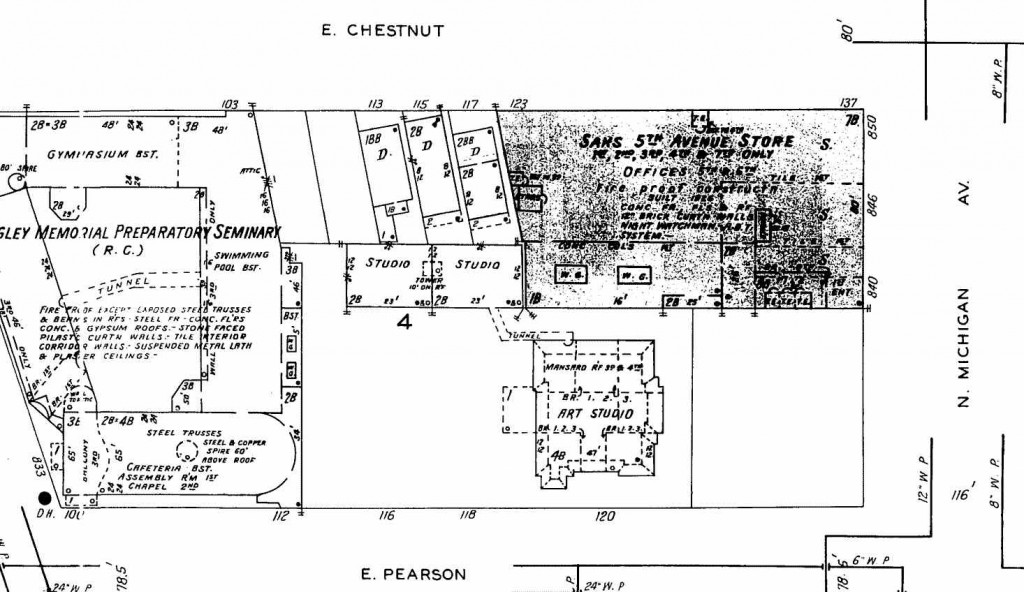 Sanborn
1935 fire insurance map showing angled property lines and the location of Bertrand Goldberg's former "commune"; more than 75 years later, many of these lot lines remain intact in the aerial view below.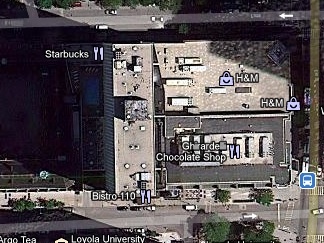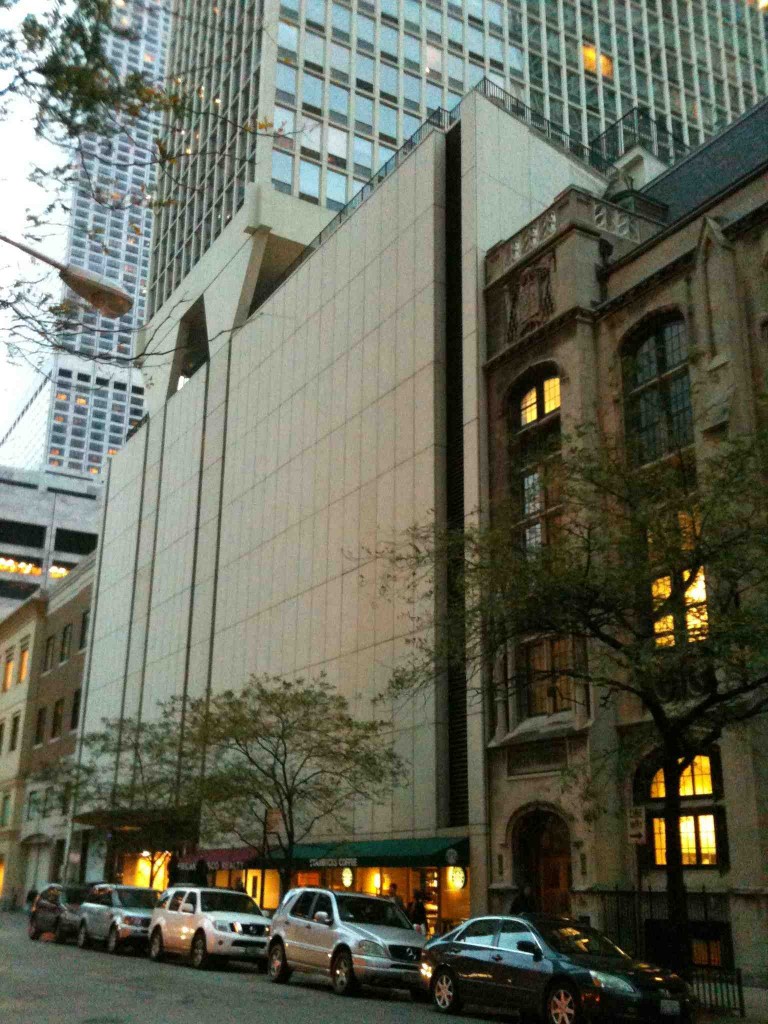 Left: Google Street View
Left: Angled property lines seen in 1935 are still intact in this August 2011 Google aerial view, visible to the left of the rooftop pool of the 111 East Chestnut building, and at Plaza Escada at 840 North Michigan Avenue. Right: The angled property line of 111 East Chestnut, adjoining the former Father Quigley Preparatory Seminary, is seen in the building's exterior.
The final article in this series will detail a Goldberg-designed beauty salon announced in 1937 on the same block, at the southwest corner of Michigan Avenue and Chestnut Street. Presumably unbuilt, Goldberg was mentioned as the architect of what could have been an early high-profile project for the architect, as part of a major renovation of the former Saks Fifth Avenue store into office space and new commercial tenants.
Sources
---
1. "BONWIT TELLER TO BUILD STORE ON MICHIGAN AV.", Chicago Daily Tribune (1923-1963); Nov 30, 1946; ProQuest Historical Newspapers Chicago Tribune (1849 – 1987) pg. 6 (October 6, 2011).
2. Ibid.
3. Ibid.
4. Ibid.
5. Ibid.
6. AL CHASE. "START WORK THIS WEEK ON TWO STORES", Chicago Daily Tribune (1923-1963); Jan 11, 1948; ProQuest Historical Newspapers Chicago Tribune (1849 – 1987) pg. SW14 (accessed October 6, 2011).
7. "Deluxe Women's Store Opens", Chicago Daily Tribune (1923-1963); Aug 25, 1949; ProQuest Historical Newspapers Chicago Tribune (1849 – 1987) pg. A7. (accessed October 6, 2011).
8. Ibid.
9. Ibid.
10. MARCI GREENWALD. "Fond Farewell to the Old Bonwit's", Chicago Tribune (1963-Current file); Mar 25, 1970; ProQuest Historical Newspapers Chicago Tribune (1849 – 1987) pg. B3 (accessed October 10, 2011).
11. Ibid.
12. Ibid.
13. Ibid.
14. "New High Rise", Chicago Tribune (1963-Current file); Jul 1, 1970; ProQuest Historical Newspapers Chicago Tribune (1849 – 1987) pg. C7. (accessed October 1, 2011).
15. "I. MAGNIN TO OPEN OUTLET HERE IN 1971", Chicago Tribune (1963-Current file); May 6, 1970; ProQuest Historical Newspapers Chicago Tribune (1849 – 1987) pg. C7 (accessed October 1, 2011).
16. ADAM BRYANT. "R. H. Macy Plans to Close Five I. Magnin Stores", New York Times, Published: March 06, 1992, http://www.nytimes.com/1992/03/06/business/r-h-macy-plans-to-close-five-i-magnin-stores.html (accessed October 1, 2011).
17. WILLIAM GRUBER. "Michigan Ave. To Get Basement, Others May Not", Chicago Tribune, October 07, 1994
http://articles.chicagotribune.com/1994-10-07/business/9410070342_1_michigan-avenue-store-magnin-store-store-openings-next-year (accessed October 9, 2011).
18. "New High Rise", Chicago Tribune (1963-Current file); Jul 1, 1970; ProQuest Historical Newspapers Chicago Tribune (1849 – 1987) pg. C7 (accessed October 10, 2011).
19. Ibid.
Read More
---
Tweet