Many thanks to everyone who attended FC175 on Saturday, March 31, 2012 at Greenhouse Loft. We hope attendees had as much fun at our event as we had putting it together! If you were unable to attend, we hope you enjoy this summary of the event.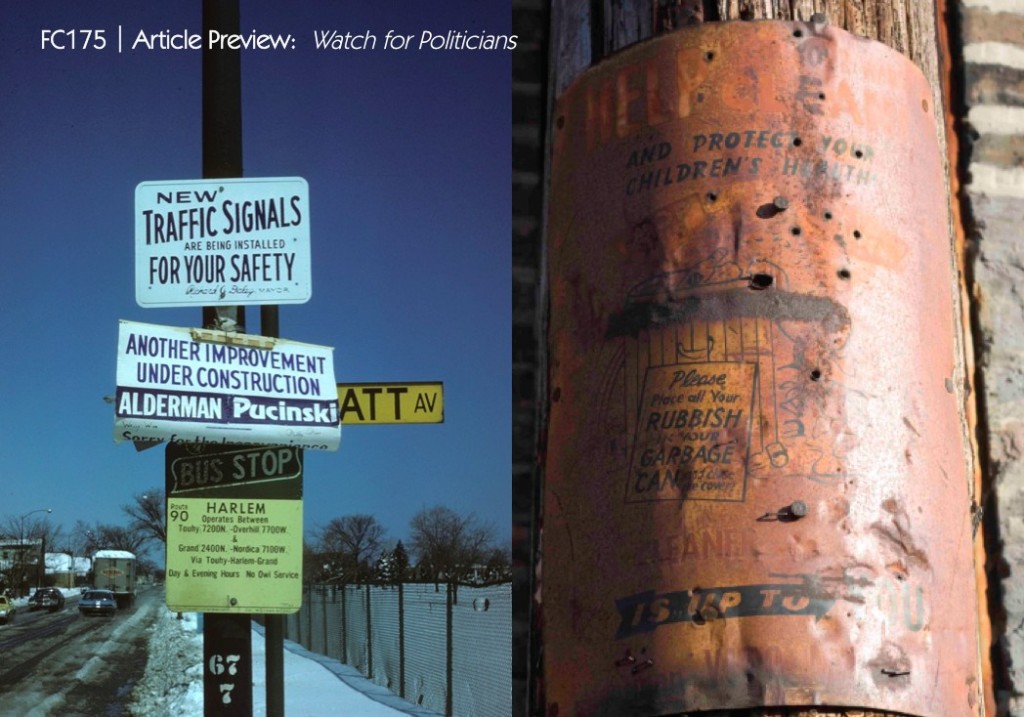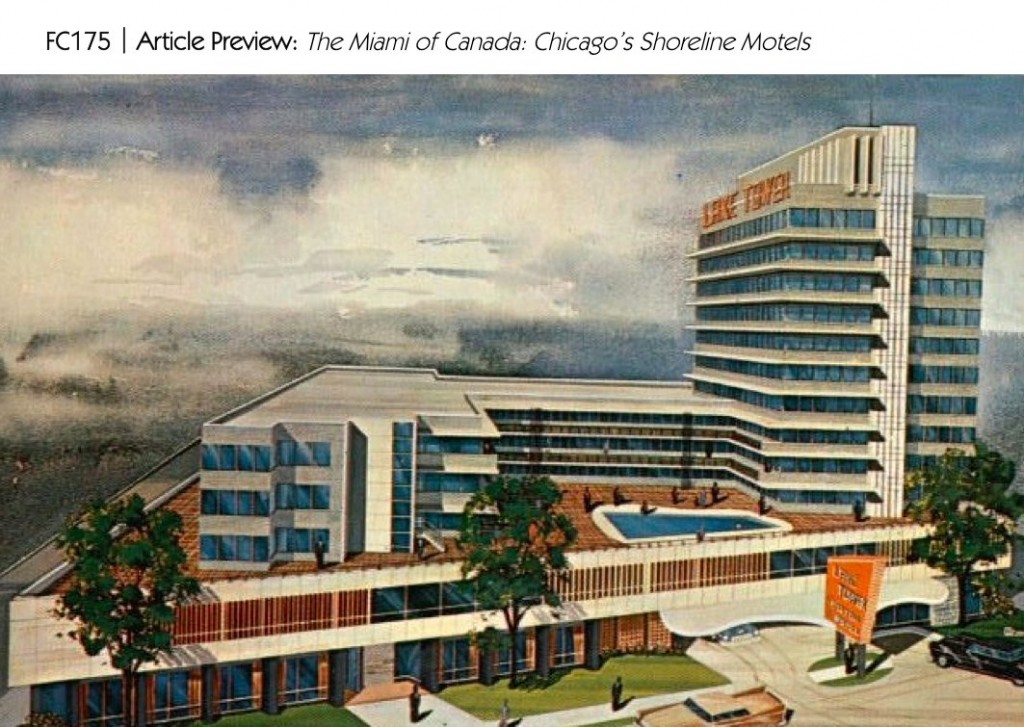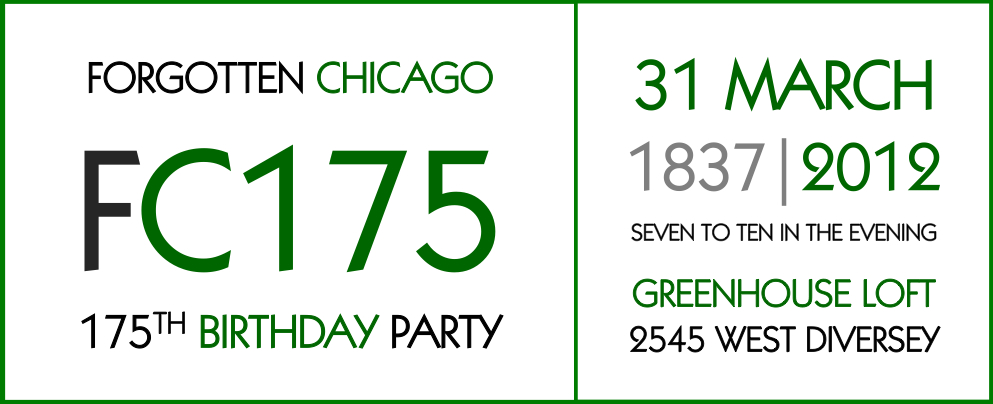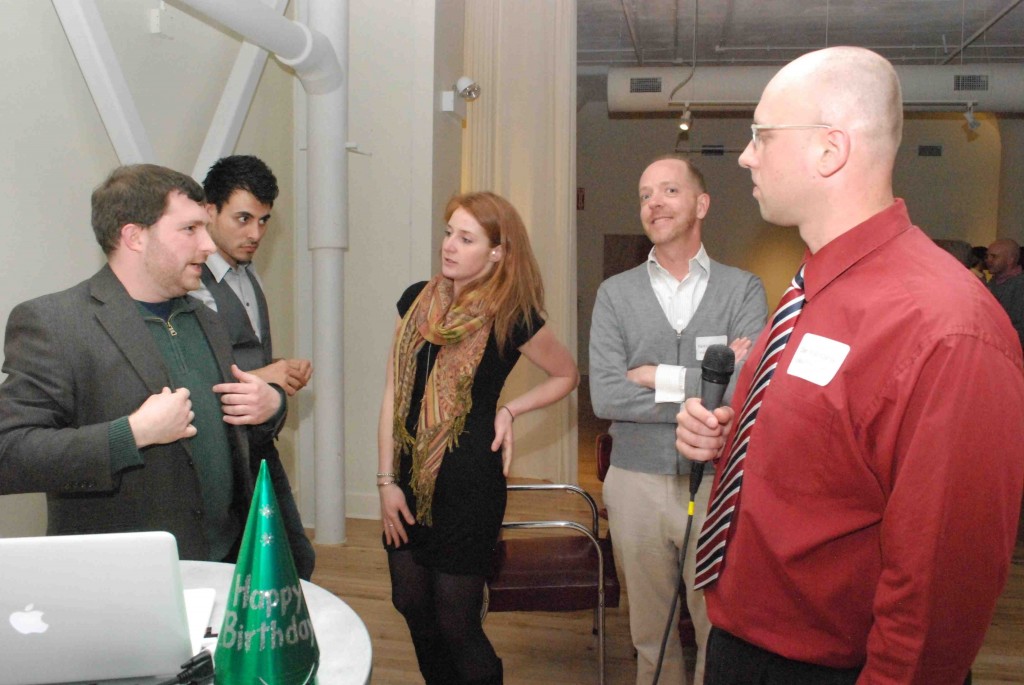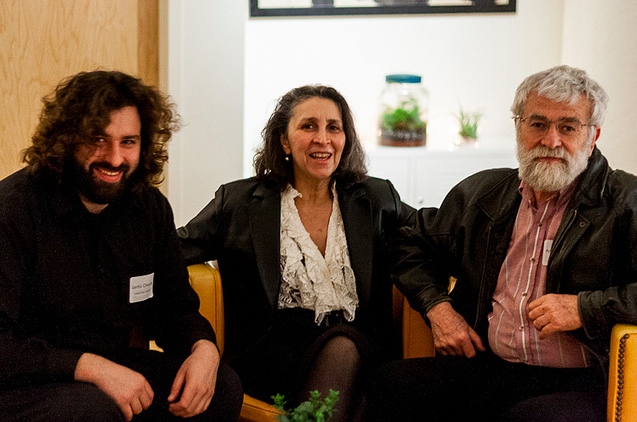 Top photo: Mark Dobrzycki. Bottom two photos: Robert Magala
Besides great food, drink and music, FC175 included special guest speakers described below. Additionally, we were proud to present the first Midwest screening of Vivian Maier film footage of Chicago in the 1970s during our event.

FC175 was held in the nation's most sustainable special event venue, Greenhouse Loft, which opened in November 2011. This event featured delicious and sustainable Midwestern food by Pure Kitchen catering, an open bar featuring beer from Revolution Brewing, and music from Windy City Soul Club.
About the Food

Forgotten Chicago featured a delicious selection of hors d'oeuvres by Pure Kitchen Catering, who use only fresh ingredients from local farmers and producers, and whose philosophy is that the less time between the farm and your plate, the brighter the taste.
About the Drinks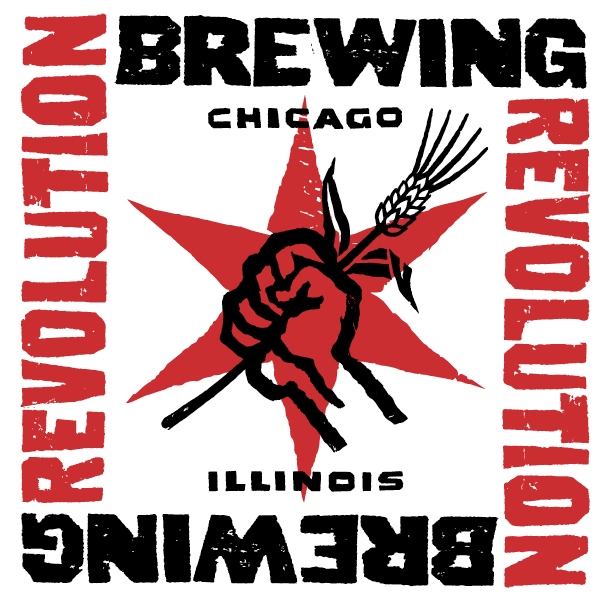 FC175 guests enjoyed a three-hour open bar featuring Iron Fist Pale Ale from Logan Square's Revolution Brewing, wine, and a welcome drink of Mead, a honey liqueur popular for centuries throughout Europe.
Revolution Brewing is a strong supporter of Chicago's brewing culture and its future. Besides their existing brewery and restaurant in Logan Square at 2323 North Milwaukeee, Revolution Brewing is currently building a 50,000 square foot brewing facility at 3340 North Kedzie in the nearby Avondale neighborhood to expand beer production to the greater Chicagoland area. The new brewery is expected to be open in April 2012, and will produce 25,000 barrels a year.
About the Music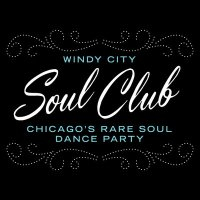 Guests at FC175 grooved to the music of Windy City Soul Club, who played a special mix-tape of rare Chicago soul tunes exclusively for our event. Windy City Soul Club are known for their Northern Soul variety, Motown-style gems, regional hits, ace dancing tunes as well as your favorite recognizable sing-along classics.


Chicago Board of Trade Observatory; Right: Kate Joyce
FC175 guests had an exclusive look at never-before-seen images from the upcoming book Secret Spaces atop Chicago, with essays by Tony Macaluso, photography by Kate Joyce, photo editing by Meg Handler, an introduction by Tim Samuelson and afterword by Jeanne Gang, which will be published by Hat & Beard Press / J.C. Gabel in early 2014. Macaluso is a co-author of the 2009 book Sounds of Chicago's Lakefront: A Celebration of the Grant Park Music Festival.

www.bloomingdaletrail.org
Terry Banich wrote one of the most popular stories in Forgotten Chicago history when he published "Remnants of the 'L'" in July 2011. Terry gave FC175 guests an exclusive preview of his upcoming article on the history of the Bloomingdale Line, which will be repurposed into the Bloomingdale Trail in the years ahead.
Bloomingdale Trail is a well-publicized effort to convert the abandoned elevated railway running along Bloomingdale Avenue into a greenway that would give pedestrians, bikers and joggers a safe and accessible alternate way to traverse part of Chicago's northwest side. The Bloomingdale Line was adjacent to many factories and industrial concerns that once used it to receive and deliver shipments via trestles, and at one time the line even offered passenger service. This forthcoming Forgotten Chicago article will examine how the Bloomingdale Line played a vital role in Chicago's industrial past, just as the Bloomingdale Trail promises to be a unique part of the city's recreational future.
More About Forgotten Chicago and FC175
Since 2007, Forgotten Chicago has explored the overlooked, unexpected and forgotten in the Chicago area, including articles and tours of little-known or researched areas such as industrial Lincoln Park, Little Village, West Town, and an in-depth tour of the then-intact Michael Reese Hospital campus just prior to its demolition for the 2016 Olympic Games. During FC175, we previewed upcoming articles and announce our 2012 tour schedule – research, tours, and online content you won't find offered by any other organization.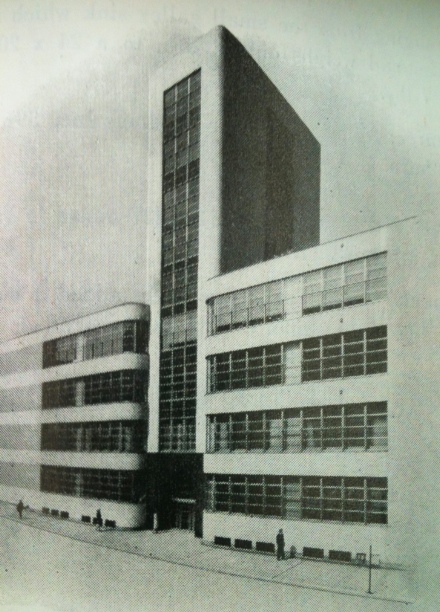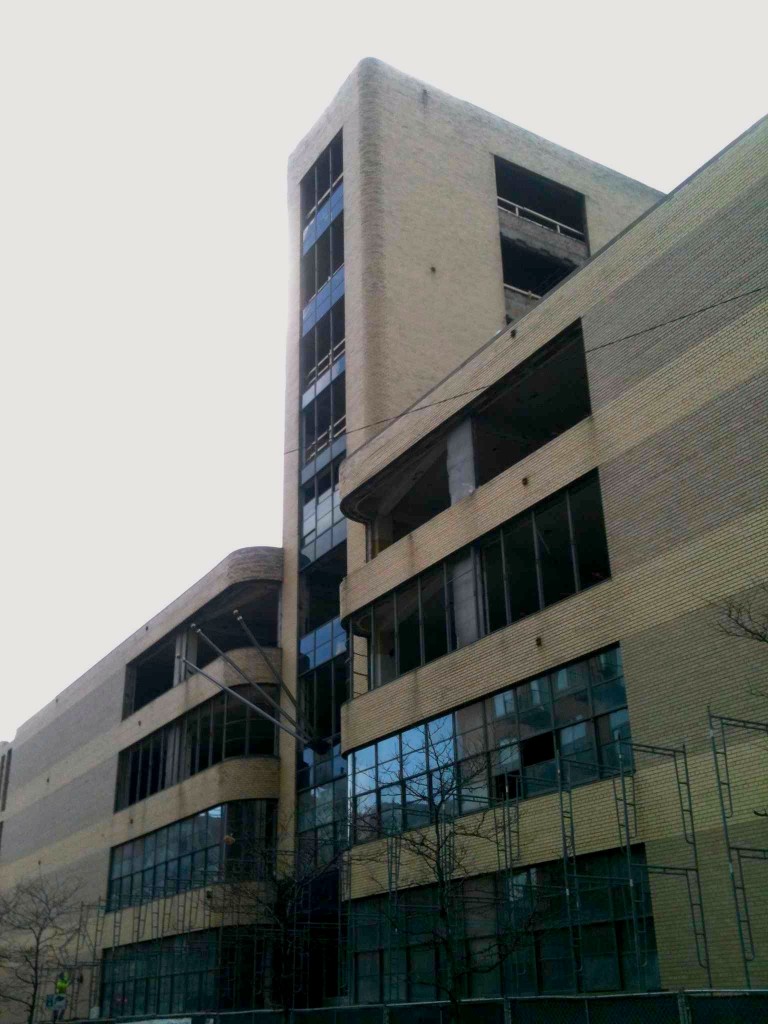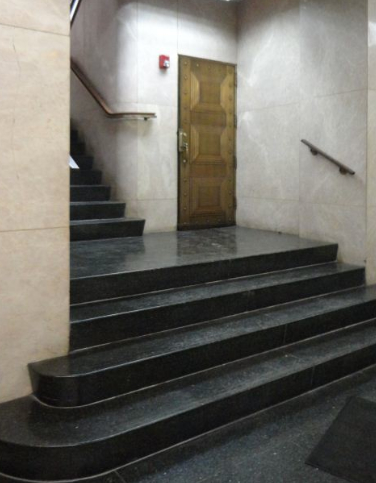 Left: Realty & Building. Center: Patrick Steffes Right: Perkins & Will
Chicago's industrial architecture and heritage is often considered disposable and not worth preserving. One of Forgotten Chicago's goals for the years ahead is to draw more attention to Chicago's overlooked industrial legacy, including buildings like the Newman-Rudolph Lithography Company. Located at Van Buren and Jefferson, it was designed by Friedman, Alschuler & Sincere, with interiors by noted Chicago modernist James Eppenstein. This striking 1946 Art Moderne structure remained largely intact until substantial alterations began in early 2012 (center) for the conversion of this building into the new headquarters for Hillshire Brands.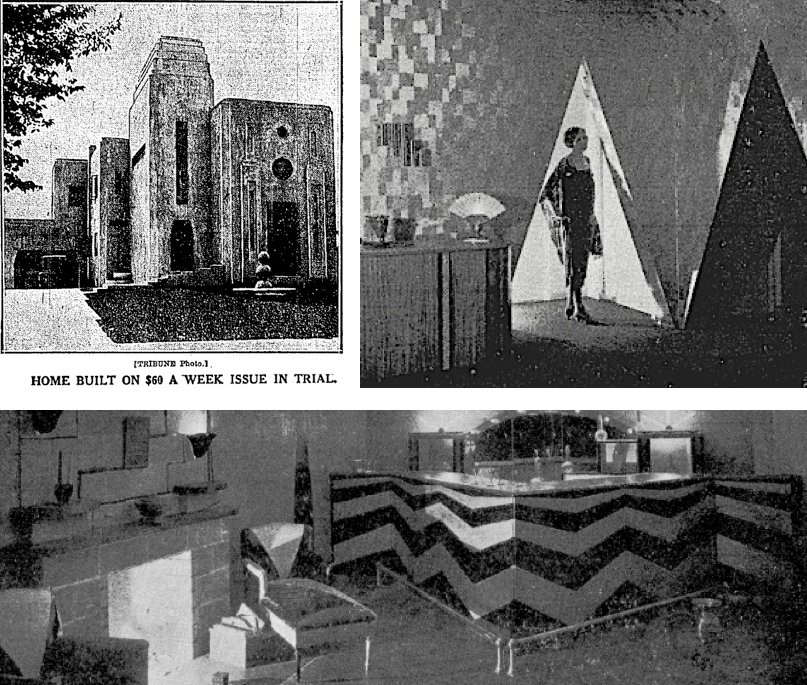 Chicago Tribune
Forgotten Chicago prides itself in championing the overlooked – and perhaps nothing is as overlooked as recently discovered details of Chicago's most extravagant Art Deco house, hiding in plain sight on the North Side more than 80 years after the arrest and imprisonment of its owner for embezzling $70,000 – over $1 million in current dollars – to construct and furnish this home. While the exterior remains mostly intact, it is not known how many original details, such as the triangle-shaped doorways, circular master bedroom and fireplace, and 346 interior light fixtures survive. Details of this stunning house were discussed during FC175.
At FC175 on Saturday, March 31st, guests enjoyed:
A party suitable for Chicago's 175th birthday, with delicious food, a selection of local beer, wine, and birthday cake
A special one-night-only presentation of recent discoveries by the Forgotten Chicago team
An announcement of 2012 FC tour dates, and the chance to sign up for these tours during the event
The most remarkable, and forgotten, unrealized projects in Chicago history
The bizarre story of Chicago's most scandalous private hospital, repurposed in the 1980s as an Eastern European cultural museum, with many of its original features largely extant
Chicago's rare and deteriorating World War II remnants south of Midway Airport, and the little-studied Clearing Industrial District
Guests also received a sneak peek at some of FC's groundbreaking new articles and tours:
FC article preview of California-Style in Chicago
FC article preview of The Miami of Canada: Chicago's Shoreline Motels
FC article preview of Bertrand Goldberg: Built, Altered, Demolished & Abandoned in Chicagoland
FC article preview of Bertrand Goldberg's Rush Street & Environs
FC article preview of Watch for Politicians: Political Signs in the Built Environment
FC tour preview of Chicago's Mid-Century Modern suburban corporate headquarters
FC tour preview of Unexpected Blue Island, featuring an interior tour of a remarkable Bertrand Goldberg single-family home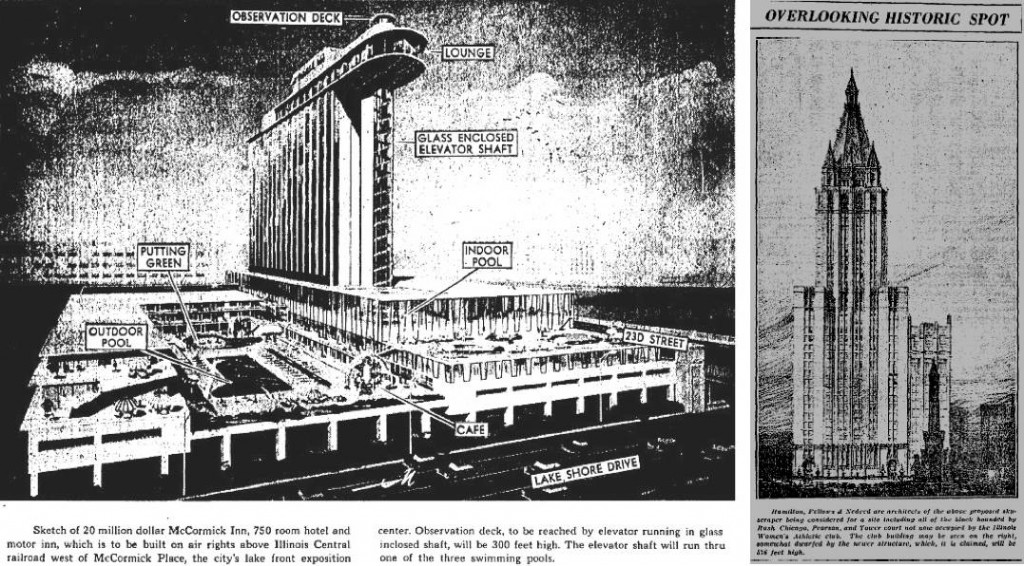 Chicago Tribune
Well before the epic failure of the Spire, Chicago had many other equally implausible schemes. Two of these doomed projects included an extravagant 1962 resort-style hotel on Lake Shore Drive at McCormick Place, with a glass elevator running through one of three swimming pools, and a 1930 skyscraper that would have dwarfed the Water Tower. These and other curious failures were discussed at FC175.

Left: Chicago Tribune. Right: Chuckman Collection.
In a period of less than ten years during the 1950s and 1960s, no fewer than thirteen "Shoreline Motels" facing or near Lake Michigan were built in Chicago from South Shore to Rogers Park; ten of these buildings have since been demolished. A special preview of this exclusive series of upcoming Forgotten Chicago articles was made during FC175.

Left: Commerce
Rarely studied, poorly documented, and often abandoned and under threat of demolition, Forgotten Chicago announced a bus tour in 2012 of Chicagoland's little-known Mid-Century corporate headquarters, office buildings and factories, such as the former Jewel Tea Company headquarters, completed in 1955 by A. Epstein & Sons (left) and the 1964 Decorel offices and factory (right) by Don Erickson.

Left: Realty & Building
One of architect Bertrand Goldberg's least-known works, Walton Gardens, opened in the heart of the Gold Coast in 1956, and remains remarkably intact today. This project, along with many other little-studied, altered, abandoned and demolished Chicagoland works by Goldberg were discussed at FC175, and will be featured in additional Forgotten Chicago articles and explored during a new Bertrand Goldberg's Rush Street & Environs walking tour.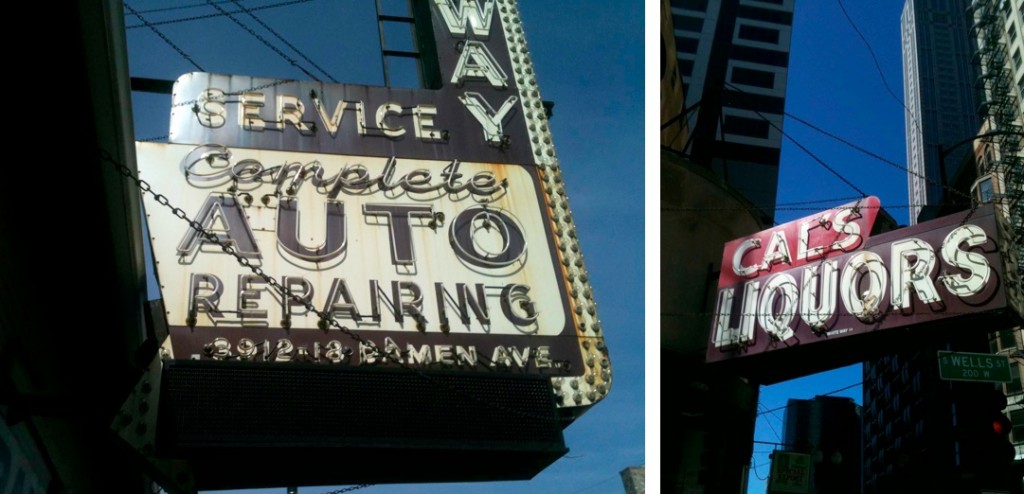 Chicago's few remaining suspended neon signs could soon be removed due to a recent increase in the enforcement of city regulations, forever altering Chicago's dynamic streetscape; this timely issue was discussed during FC175.

Left: Chicago Daily News
This modest development of homes in the Chicago suburbs by the renowned architect of Marina City caused a sensation upon its opening in 1939, but is now utterly unknown and forgotten, even in the village where it is located. Forgotten Chicago recently found these homes, and discussed them at FC175.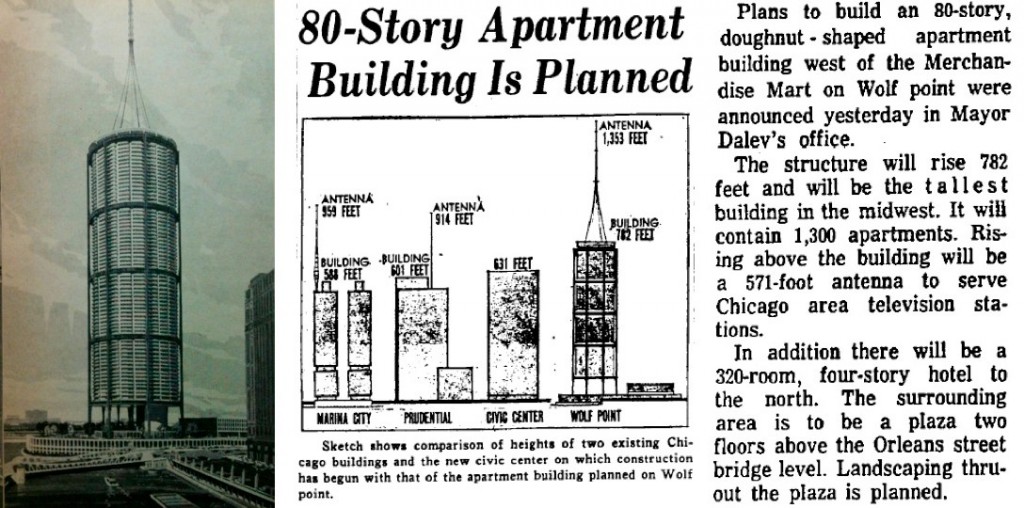 Left & Center: Chicago Tribune. Right: Realty & Building.
Nearly a half-century before the Kennedy family announced ambitious plans in January 2012 for Wolf Point, this 1,353-foot tall and not-very-subtle "doughnut-shaped" homage to Marina City by PACE Associates inexplicably featured corridors open to the weather between the elevator core and apartments, more than 700 feet in the air. Guests learned more about this and other unbuilt Chicago oddities at FC175.
Left: Chicago Tribune. Right: Architectural Record.
In Chicago, the unbuilt and the extant are equally forgotten. At left, three years before Skidmore Owings & Merrill completed their famed Lever House in New York, the firm designed a remarkably similar glass-walled International Style tower for the Chicago Loop. At right is a 1940 furniture store by Robert Heller, still nearly completely intact 72 years later and just a block from one of Chicago's busiest commercial intersections. Both were discussed at FC175.
About the Venue

Left & Center: Commission on Chicago Landmarks
FC175 was held in a landmark factory built for the Vassar Swiss Underwear Company, and subsequently home to the Fredrick Cooper Lamp Company. Now housing offices and the new event venue Greenhouse Loft, guests had access to the beautiful landscaped courtyard.

Located at 2545 W. Diversey and opened in November 2011, Greenhouse Loft is the country's premier sustainable event venue. Originally built in two stages between 1913-14 and 1923-24, according to the Chicago Landmarks Commission Landmark Designation Report, this former factory is "an early and excellent example of flat slab, reinforced concrete, loft-type construction, which became the preferred industrial type after 1900."
Housed inside Chicago's Green Exchange, the country's largest sustainable business community, Greenhouse Loft is where FC175 guests learned forgotten stories of Chicago's incredible history, all in a sustainable environment unlike anything in the country.
To our partners, sponsors, speakers and guests, many thanks for helping us celebrate Chicago's 175th birthday. We hope to see you at additional Forgotten Chicago events during 2012!
Sincerely,
The Forgotten Chicago Crew

Read More
---
Tweet