Unlike neighboring Milwaukee, Chicago has never been known as a center of brewing. This is not to say it wasn't a sizable local industry. Historically, plenty of beer has been brewed in Chicago with numerous breweries operating in the city. The number of brewing companies reached a peak in the 1880s and 1890s.
National Prohibition (1919-1933) was the final nail in the coffin for a number of Chicago breweries, many of which did not reopen after the amendment was repealed. Others labored on for some time after, but with the 1978 closing of the Peter Hand brewery, Chicago became devoid of large-scale brewing until 1992.
What happened to brewery structures after companies ceased operation? Most were demolished, sometimes after a period of reuse by another industry. However, a few former brewery structures remain standing, and they will be discussed in this article. Some of Chicago's brewing remnants are large, encompassing most or all of the former structures of a brewery operation. Others are considerably smaller, only consisting of a garage or other secondary building remaining from a former brewery.
It is important to note that only one of these structures, the Schoenhofen powerhouse, has attained city landmark status, leaving open the possibility that most all of the tangible remnants of Chicago's once-sizable brewing industry could eventually disappear without a trace. The Schoenhofen complex has already been discussed on its own page, and is not included here.
Chicago is vast in scale and complex enough that there could easily be another brewing remnant or two out there that we haven't yet located. If you happen to know of one, please let us know.
Best Brewing Company
---
The former Best Brewing Company complex is a good candidate for the "best" brewing remnant in Chicago. Located in the 1300 block of Fletcher in Lake View, it was in operation from 1885 until 1961; quite a long run for a Chicago brewery. Between 1885 and 1891 the complex was owned by several brewers, including Klockgeter and Company, before it became the Best Brewing Company.1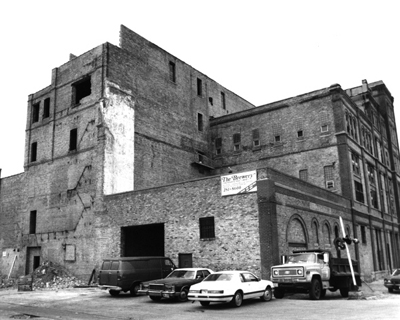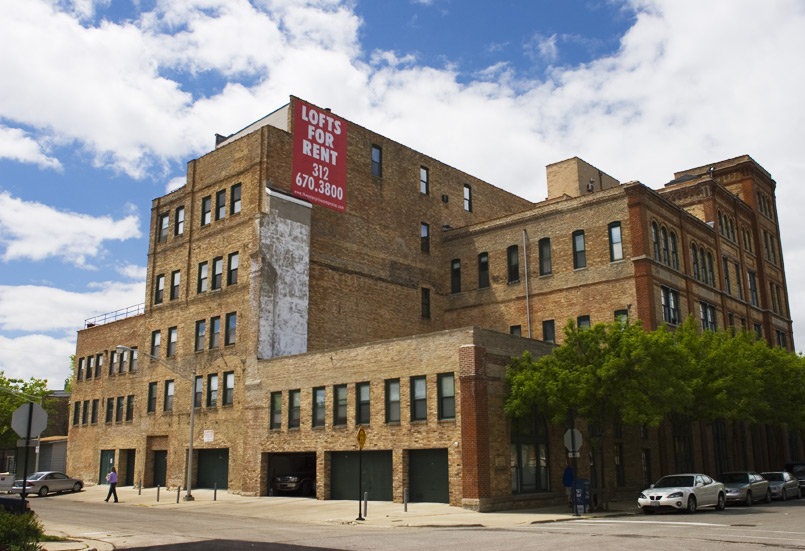 Left: Illinois Historic Preservation Agency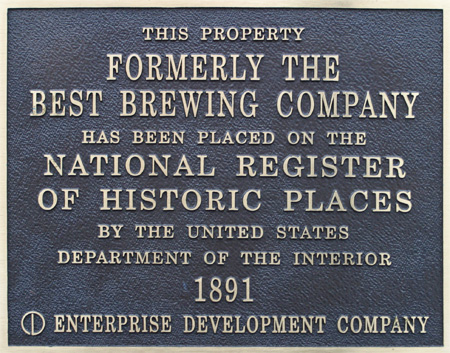 The image at left dates to 1987, when the complex was being converted into a residential loft complex called "The Brewery." The present-day view shows the finished product; many windows were punched into blank brick walls, but the overall design of the buildings was retained. It is also important to note that this side of the building once faced the tracks of the Lakewood Branch of the Milwaukee Road rather than a street, which explains the lack of windows and face brick what would have been the "business end" of the building.
Designed by German architect Oscar Beyer, most of the buildings comprising the Best complex were built in the 1890s, according to the National Register of Historic Places.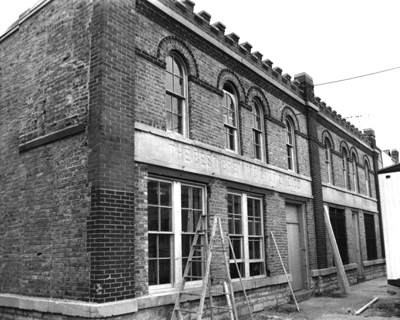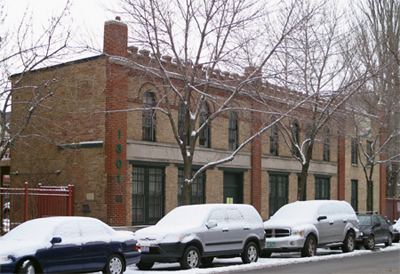 Left: Illinois Historic Preservation Agency
The administration building exhibits a strong Germanic touch with its castle-like cornice. The image at left shows the building being condoized in 1987.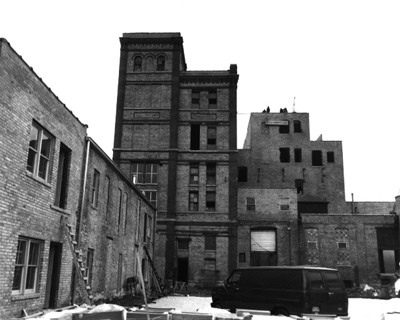 Right: Illinois Historic Preservation Agency
A pleasant, private courtyard forms the interior part of the complex. The image at right shows more of the buildings under renovation for residential use.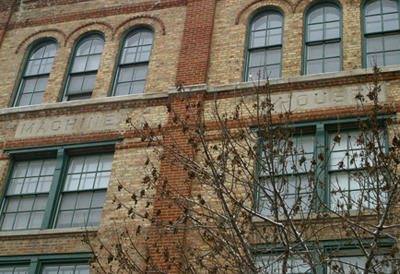 Most of the buildings in the complex have limestone tablets denoting their function. Best was one of the earliest and largest canning breweries in Chicago. It began canning its product for many local grocery stores in 1936.2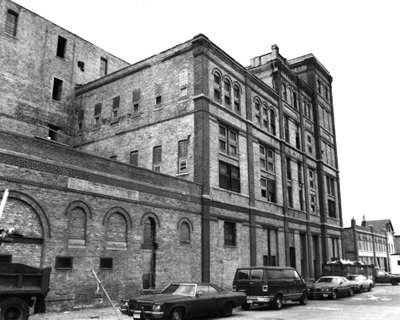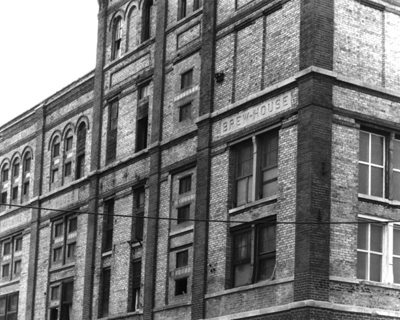 Illinois Historic Preservation Agency
Two more 1987 views show more of the brewery complex. It was built in a simple vernacular style with subtle old-world references, typical of American breweries built during the late 19th Century.
Brand Brewing Company
---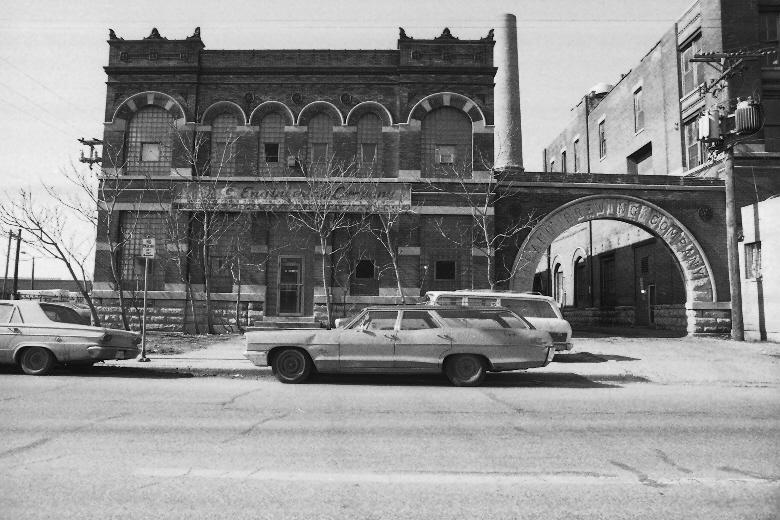 Illinois Historic Preservation Agency
Although heavily altered, the Brand Brewing Company is one of Chicago's most visible brewing remnants. Located at 2530 Elston, it is shown here in an image dating to the mid 1970s. Unfortunately, the large arch uniting the two buildings has since been removed.
Brewing at Brand began in 1899. The history of this brewery is very complex and often confused with another former brewery located across Elston which was also owned by members of the Brand family. The Brand brewery depicted here did not survive for long after Prohibition was repealed in 1933, operating only until 1935.3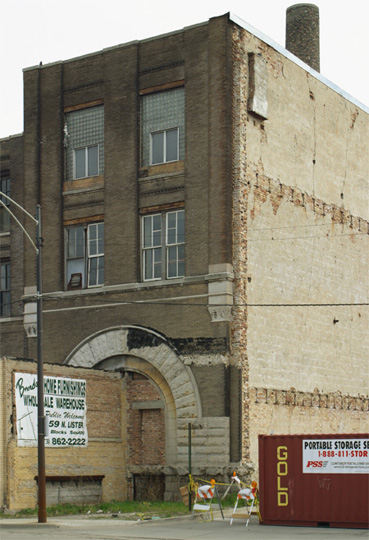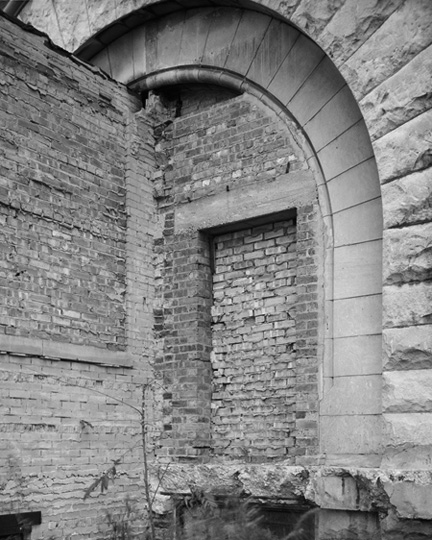 This building was used for hop storage and settling tanks. It originally stood a couple stories taller (as did the building to its left), but was shortened to its current height at some point between 1935 and 1950, according to Sanborn fire insurance maps.
Aside from being an important physical remnant of Chicago's brewing history, the Brand Brewing complex provides an excellent example of the reuse and evolution of an industrial site. In 1950, the brewery buildings were in use by a multitude of firms, including a cold storage company, hardware warehouse, and rubber works. The front office addition was added in 1949, likely for the cold storage operation. Surprisingly, this addition was cut off at some point! When this occurred, a former doorway between it and the older building was bricked up.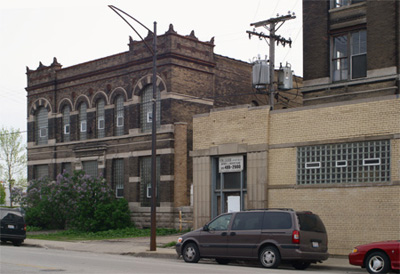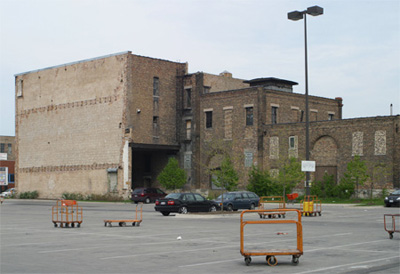 Left: This image depicts the administrative building as well as part of the incongruous 1949 office addition.
Right: The neighboring Home Depot parking lot provides a good view of the back of the former brewery, which once consisted of several more buildings located on the site of this parking lot.
Mutual Brewing Company
---
Constructed in 1907, the Mutual brewery has survived relatively intact. Located on Spaulding just north of Cermak, this small brewery remained in operation until 1924.4 Indeed, brewing continued five years into Prohibition as a 1923 Sanborn fire insurance map confirms. The architecture of the brewery is quite simple compared to others in the city. The tall main building contained the brewing and packing operations. Also still standing along Cermak (not shown) is a small structure that housed offices and storage.

The rear of the building is angled because it was originally served by a railroad siding. Since closing as a brewery in 1924, the building has been used by a variety of other operations. For example, a 1950 Sanborn fire insurance map shows it in use as a warehouse.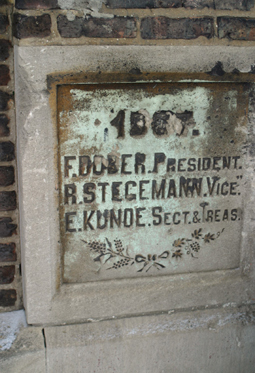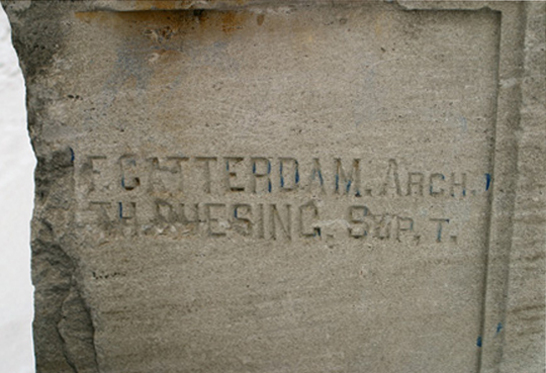 Surprisingly, the cornerstone remains on the building. The date of construction, 1907, and architect, F. Gatterdam, are listed in addition to the names of the company's administrators. Is a time capsule full of breweriana still inside? Perhaps one day we will find out…
City Brewery Company
---
| | |
| --- | --- |
| | It has not been definitively confirmed, but this humble building at the corner of Hoyne and Rice was likely the office for the City Brewery, which brewed in this location between 1882 and 1906. Originally the Francis J. Dewes Brewery, it was known by several other names over the years before finally becoming the City Brewery Company.5 A 1916 Sanborn fire insurance map shows this building being used as the offices for the West Side Ice Company, which seemingly took over the brewery property and was in business for many years; it was still operating at this location in 1950, according to Sanborn maps. |
Carl Corper/Canadian Ace
---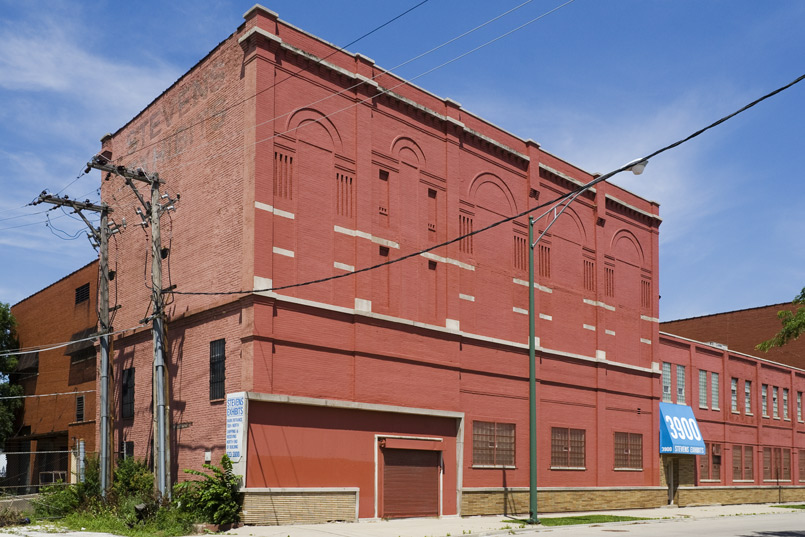 Located on Union just south of Pershing, this brewing remnant has a complex and somewhat murky history. In the 1890s, it was home to the Carl Corper Brewing and Malting Company. Neighboring it to the west, on Emerald, was the since-demolished Manhattan Brewing Company. By the 1930s, the Corper brewery had been acquired by Manhattan Brewing. In 1947, Manhattan, which by then had become one of the largest canning breweries in the country, was renamed Canadian Ace Brewing.6
The brewery was a large complex that included the building pictured as well as many others on Union and Emerald that are now demolished. In 1895 (as part of Corper Brewing), the building pictured was involved in the actual brewing process, while by 1950 (as part of Canadian Ace) it was being used for office space; brewing was happening on the Emerald side (in the old Manhattan brewery) by then, with most of the Union side being used for storage and offices. Canadian Ace remained in business until 1968, though it is unknown if this building was still being used by them up until that time.7
Monarch Brewing Company
---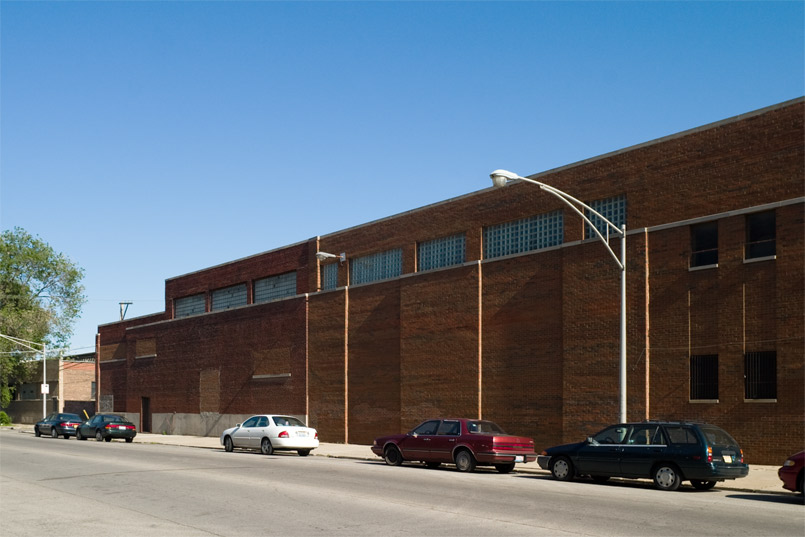 On 21st Street just west of Western sits this nondescript group of brick buildings. Monarch Brewing (first known as the Joseph Hladovec Brewing Company) operated on this site from 1890 until 1967, making it one of Chicago's longer lasting breweries, and one of the few to survive long after the end of Prohibition.8 The section on the left with bricked up windows was once a bottling house for the brewery (likely built in the 1930s), though it has been heavily altered and shortened. A former warehouse and shipping building on 21st Place is also still standing. All of the other former brewery buildings on the site have been demolished over the years.
Pilsen Brewing Company
---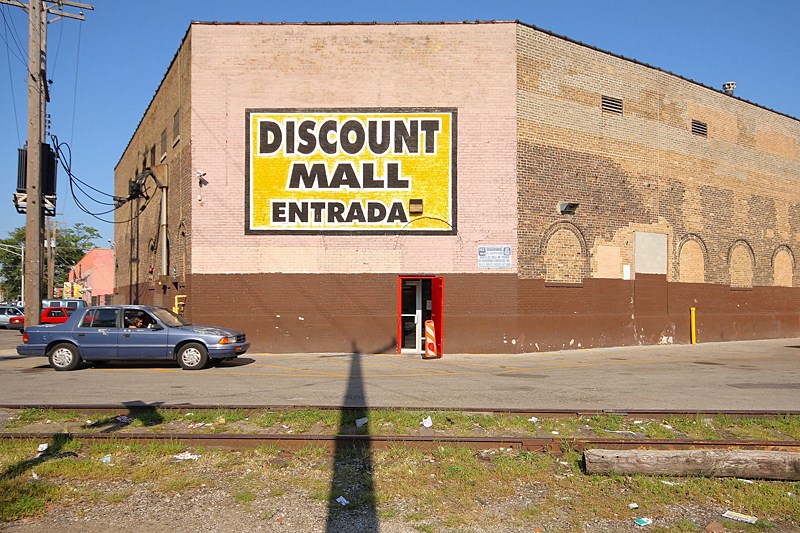 Noah Vaughn
What could be considered Chicago's most hidden brewing remnant is this building from the former Pilsen Brewing Company, brewers of the once locally famous "Yusay Pilsen" beer. Opened in 1903, the brewery was located between 26th and 27th Streets west of Whipple.9 The complex included a notable beer garden associated with the brewery. A 1950 Sanborn fire insurance map shows the building pictured being used for case storage. Pilsen was bought by Canadian Ace in 1963.10 It was apparently closed around the same time, with most of the site demolished and replaced with a shopping center.11 Somehow, this building along 27th Street survived and was integrated into it. A former garage associated with the brewery also survives to the west of this building.
Sources
---
Sanborn fire insurance maps were consulted extensively for this article.
1Dale P. Van Wieren, American Breweries II. 1 ed. West Point, PA: Eastern Coast Brewiana Association, 1995.
2Phil Pospychala and Joe McFarland, The Great Chicago Beer Cans. Libertyville, IL: Silver Fox Productions, 1979.
3Dale P. Van Wieren, American Breweries II. 1 ed. West Point, PA: Eastern Coast Brewiana Association, 1995.
4-9 Ibid.
10 CANADIAN ACE BUYS BREWERY; SECOND IN YEAR. (1963, September 11). Chicago Tribune (1963-Current file),p. e8.  Retrieved August 19, 2009, from ProQuest Historical Newspapers Chicago Tribune (1849 – 1986). (Document ID: 572611032).
11 PILSEN PARK WILL SWING AGAIN SOON. (1964, July 12). Chicago Tribune (1963-Current file),p. w1.  Retrieved August 19, 2009, from ProQuest Historical Newspapers Chicago Tribune (1849 – 1986). (Document ID: 577828732).
Read More
---
Tweet