In terms of municipal architecture, firehouses are probably the most recognizable. In Chicago, they have almost always been designed as attractive buildings that fit in with their surroundings, becoming neighborhood landmarks. Hundreds have been built over the years, especially during decades when the city experienced explosive growth. Over time, many firehouses have become disused and replaced with newer structures which offer up-to-date facilities for firemen. The buildings left behind were sometimes later demolished, though many remain, having been either abandoned or converted to other uses.
| | | |
| --- | --- | --- |
| This firehouse is located on 108th Street in Pullman, just north of the charred remains of the famous factory. Built in 1895 and home to Engine Company 80, this is the last former firehouse in Chicago with an observation tower. Many 19th century firehouses originally had them to aid in locating fires. This station was disused in 1957 and currently sits abandoned. | | Illinois Historic Preservation Agency |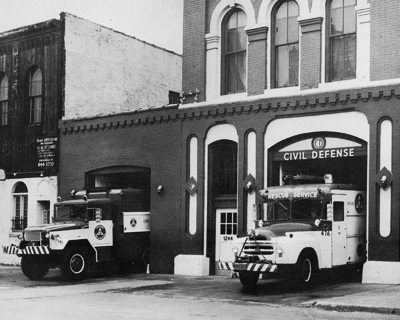 Left: Chicago Fire Department.
Chicago's oldest firehouse, at 1244 N. Wells, was built in 1874 and was originally home to Engine Company 27. In 1960, it became a "Civil Defense Station," which would respond to major disasters. It was finally disused in 1978 and is currently home to a boutique.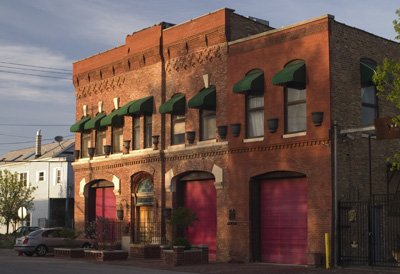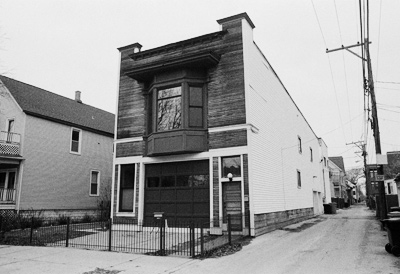 Left: This station at 445 N. Wolcott was home to Engine Company 26 and Truck Company 7. The last station to be built when the Fire Stations were still part of the Board of Police, it was completed in 1875, and disused in 1975. Exactly 100 years of service! It has been renovated and currently appears to be a residence.
Right: By most accounts, this is Chicago's last remaining frame firehouse, at 2414 W. Cuyler. Numerous frame firehouses were built throughout the city near the turn of the 20th century, especially in new rapidly developing areas. Most were eventually replaced (often in the 1930s) with a brick firehouse on the exact same site, but that was not the case here. Built in 1899 for Engine Company 86, it was simply closed in 1932 and has remained standing since. It is currently a residence.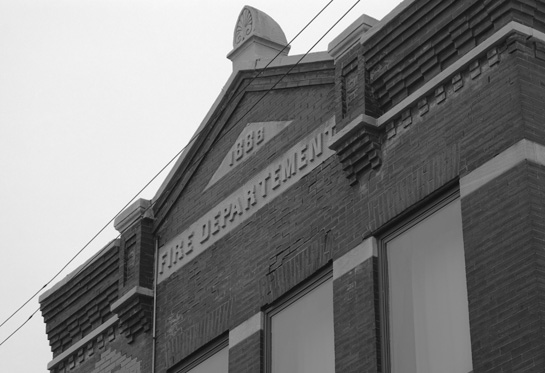 This firehouse was built in 1888 for Engine Company 44, and was later occupied by Engine 66. Located on Lake Street near Kedzie, it was in service for nearly 100 years, before being disused in 1981. There is an error in the stonework that was never corrected; "Departement" is a very noticeable misspelling. This firehouse is currently being used for an unknown purpose.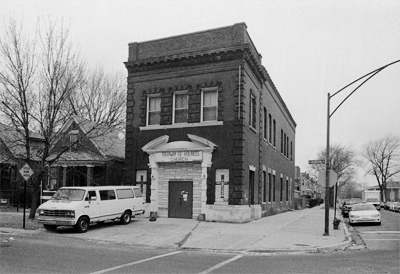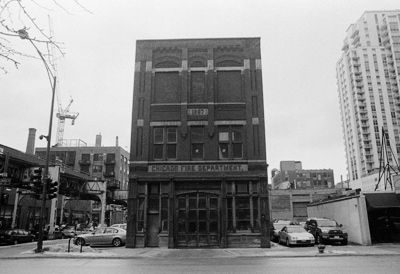 Left: Engine Company 85 was located in this firehouse at 3700 W. Huron. It was built in 1899 and disused in 1981. In a common West Side disused firehouse theme (more on this in later installments), it is now home to a church.
Right: One of Chicago's most visible disused firehouses is Engine Company 42's old station here at 228 W. Illinois. Built in 1888 and disused in 1964, it is easily seen from the "L" and is soon likely to be granted landmark status by the city. It currently appears to be disused.
Left: We were surprised to find out about this one, especially since it doesn't look much like a firehouse at first glance. This station is at 158 W. Erie and was built in 1884. It was home to Truck Company 3 until it was disused in 1968, and is currently home to a business. It has been extensively remodeled in a manner reminiscent of the changes made to Howard Roark's building in the Fountainhead, with classical elements seemingly tacked on.
Right:This unique fire station is located at 1625 N. Damen in Wicker Park. It was built in 1894 for Engine Company 35, and expanded in 1904 to add Truck 28. It was disused in 1974 and currently houses a Potbelly sandwich shop.
| | |
| --- | --- |
| | Left: Here's another one we'd driven by many times without realizing it was a firehouse. This one is at 114 N. Aberdeen and was home to Engine Company 34. It was built in 1884 and disused in 1964. It is also currently home to a business. Notice that firehouses located in the dense areas near the center of the city, such as this one, tended to be narrower and taller (three stories) than most others. We haven't even scratched the surface of all the former firehouses still existing in the city. Keep watching, as there will be at least two more installments! |
Read More
---
Tweet