Chicago's police stations have not been widely known as architectural treasures, let alone as anything out of the ordinary. However, older stations were typically designed to respect the fabric of the neighborhoods in which they were placed and were often aesthetically pleasing structures. Many have been replaced over the years because of new innovations in police work, including an ever increasing demand for parking. Here, we take a look at and tell the story of Chicago's former police stations which still exist today, as well as a few that have been demolished.
In 1960, several on-duty police officers were caught in a burglary ring, stealing from citizens. The "Summerdale Scandals" forced Mayor Richard J. Daley to bring in an outside reformer, criminologist Orlando Wilson, to head the police department. One of Wilson's first actions was the consolidation of numerous police districts. As a comparison, no less than 41 distrcts covered Chicago in the early 1950s. Only 25 exist today.
One primary reason for the restructuring was that it reduced administrative personnel, thus putting more officers on the street. Several of the stations detailed on this page closed in the early 1960s during this restructuring. Others were closed for reasons relating to space constraints or cost effectiveness.
Police districts in Chicago have been shifted around geographically over the years. The police district listed for each station is often the district it served when first opened, or the district it was serving in the 1950s. However, many stations served several different districts during their tenure; we have not listed the entire catalog.
The Oldies
---
Illinois Historic Preservation Agency
Perhaps the most famous disused police station in Chicago, this building dating from 1888 at Maxwell and Morgan was once home to the 22nd District. It occupies a notable location near the original Maxwell Street market. It has also logged some time on the small and big screens; it was featured prominently in the opening scenes of the 1980s cop drama Hill Street Blues, as well as appearing in the 1996 film Primal Fear.
It was closed in May 1961 and the department was combined with the still in use station at Monroe and Racine. It then became headquarters of a new police organizational unit, Area 4. It was used by the Chicago Police until 1997, when it was closed and remodeled by UIC as the headquarters for their police force, a function it still serves.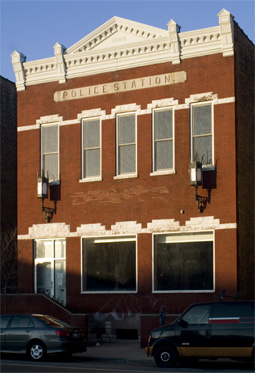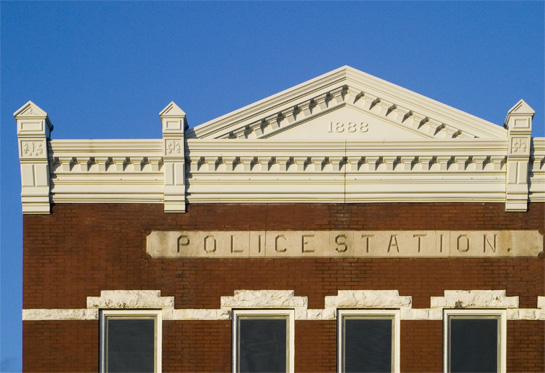 This station on Halsted Street in Lincoln Park also dates to 1888 and once served as headquarters for the 40th Precinct. By the 1930s, it was being used as an American Legion hall. Though it is one of the oldest extant disused police stations in the city, it has been very well maintained over the years and is currently home to a business.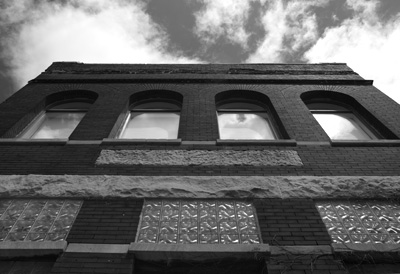 An industrial-cum-big box store stretch of North Avenue just east of Elston features this old police station with an interesting history. Likely dating from the 19th Century, It once served the 33rd Precinct, and was known as the "Rawson Street Station," which is a bit odd because Rawson is the street a full block north of the station, the former name of Concord Place.
It was closed as an economy move in January of 1918 along with several other stations. It was later used by the Sewer Department for many years, until 1953 when the city offered it up for sale, saying that it was no longer suitable for storing "modern" sewer equipment. Its history after that is a bit murky, but it survives today and is used for an industrial purpose.
DN-0008642, Chicago Daily News negatives collection, Chicago Historical Society.

This photograph from the Chicago Daily News archives shows Lieutenant Charles Larkin standing in front of the station in 1910, eight years before it closed.

In the image there is a frame house in the currently empty lot to the right of the station; evidence of the fact that the area surrounding this station used to be substantially more residential.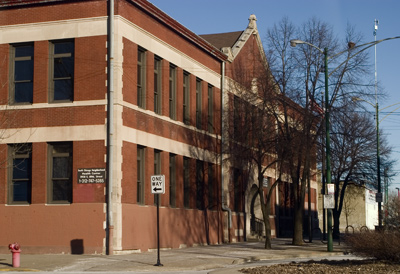 Left: Illinois Historic Preservation Agency
This large, well-preserved station at 89th and Commercial served the bustling South Chicago neighborhood. In the HAARGIS photo from the 1970s, it appears to still be an active police station. It was formerly home to the 8th District, and now serves as a Department of Health clinic, as shown in the current view.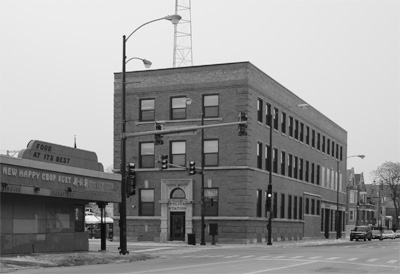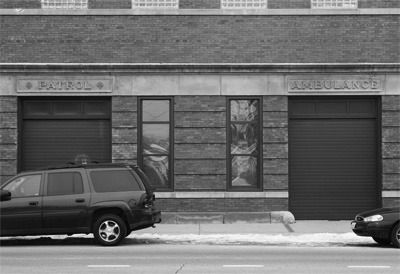 On the corner of California and Pershing stands the former headquarters for the 20th District. The building was designed by architect C. F. Hermann, and was built in 1908. Though it is still used for police purposes of some sort, it hasn't been a District headquarters for quite a while. Note that an ambulance was also stationed here.
DN-0079604, Chicago Daily News negatives collection, Chicago Historical Society.

Left: The entranceway to the California/Pershing station. Right: This Chicago Daily News photograph from 1925 shows Officer Charles Blaul standing in front of an unidentified station with identical text above the entrance way.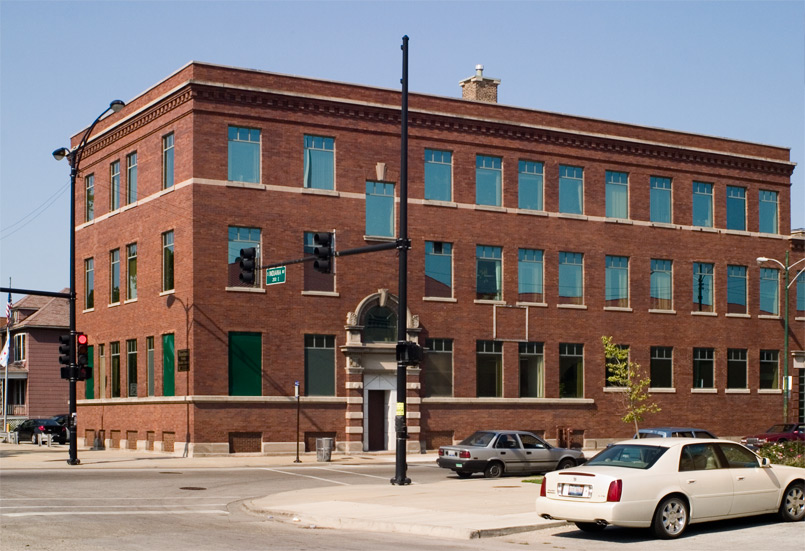 A similar-looking station served the Roseland and Kensington neighborhoods at 115th and Indiana. It once served the 12th District, and is currently in use as a city-run public health center.
The 1920s
---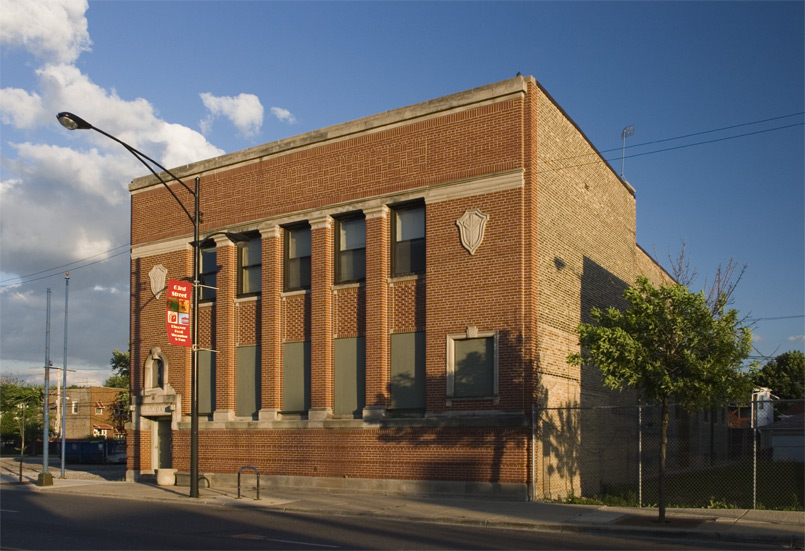 This Chicago Lawn neighborhood police station is located on 63rd Street near Central Park. Built in 1925, it is a rather unique design among Chicago's police stations. It formerly served the 16th District, and was recently closed when the department relocated across the street to a new station.
---
The three following disused stations from the 1920s all follow a similar plan and design. They all have a horizontal profile with two bays, one for a patrol car and one for an ambulance.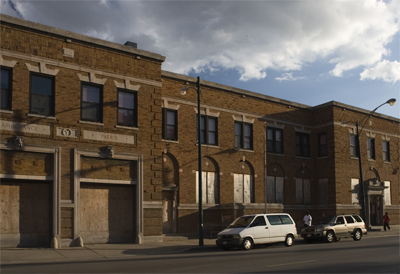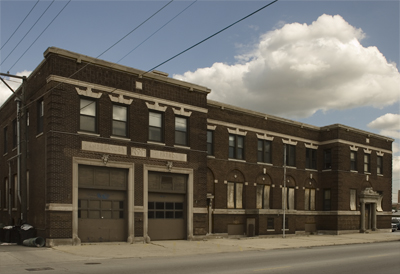 The station at left is on Chicago Avenue west of Laramie. Once home to the 28th District, it has been disused for several years. The station at right, located at 23rd and Damen, once served the 23rd District. It has also been disused for only a few years. The columnar entrance ways, distinctive keystones, and municipal devices (Y's) are among the distinguishing features of this style.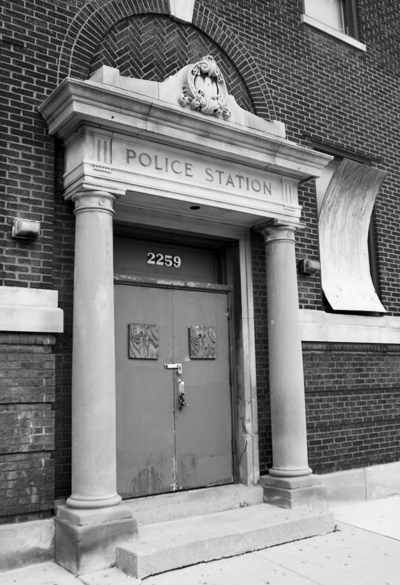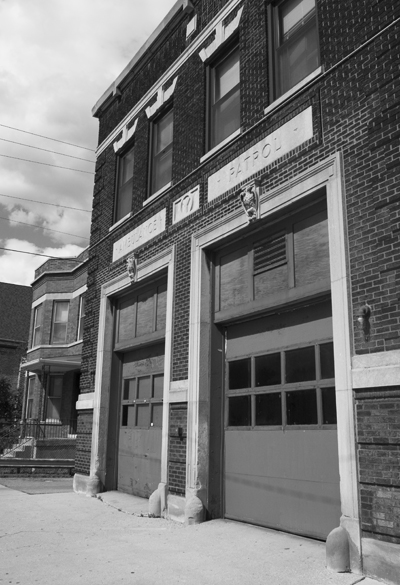 Detail views
of the garages and station entrance.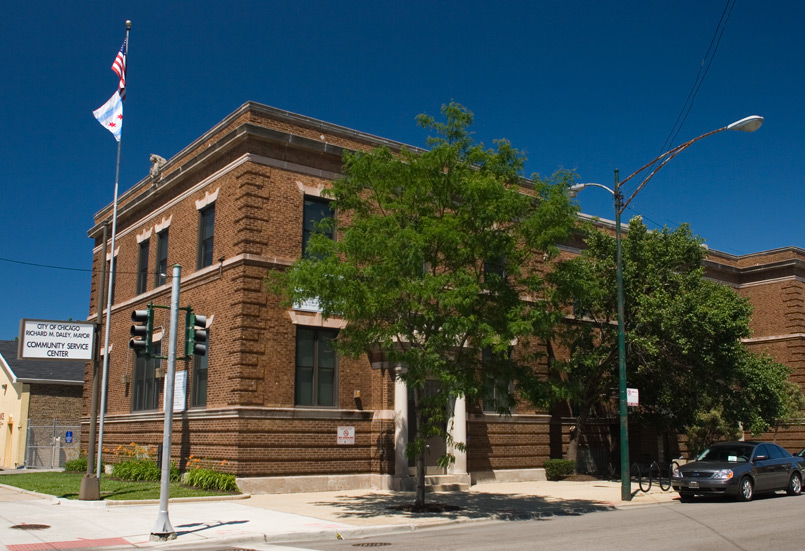 This example is on 91st and Cottage Grove. It formerly served the 11th District, and is currently used as a city-run community service center.
The 1930s
---
In the mid-1930s, Chicago switched to a new plan for police stations. Designed by city architect Paul Gerhardt, Jr., these are more horizontally compact on the facade and deeper on the lot than earlier stations. Ornamentally austere compared to their older brothers, these stations feature heavy use of Indiana limestone. Included were such innovations as a "quiz room" for giving perps the third degree, as well as a garage with space for a patrol and two squad cars. They were financed with the help of PWA funds from the federal government. Most of these stations have been recently disused because their facilities have proven to be too small and inadequate for modern police work, and also because of their lack of parking for the large quantity of police cars currently used.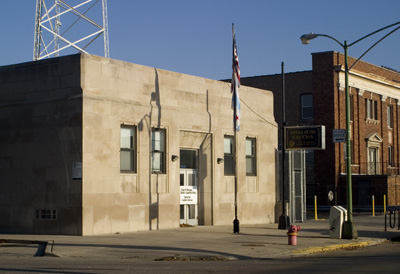 Left:
The Jefferson Park station on Gale near Milwaukee once served the 33rd District. It became disused over five years ago for a new station just a few blocks up Milwaukee.
Right: Pulaski and Sunnyside, formerly home to the 34th District, features a rare two-story design, though it too was abandoned just a couple of years ago for a new station across the street.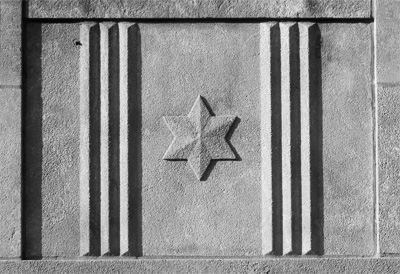 This archetypical example on Foster just east of Damen was abandoned a few years ago for a new station on the "Motel Row" stretch of Lincoln Avenue (on the site of the Spa motel, of course). Formerly home to the 40th District, this station was the namesake of the "Summerdale Scandals" in 1960.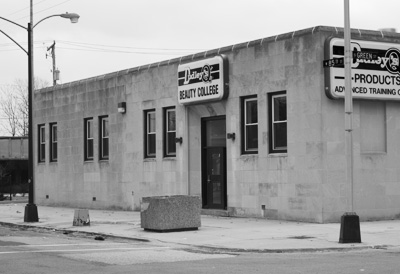 The 14th District
was once located here, at 85th and Green. This station is a little different from most others of its type in that it appears to have undergone later additions. It is now home to an *advanced* training center for "DudleyQ's Products."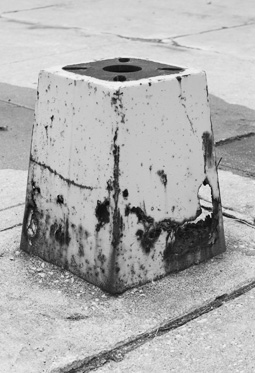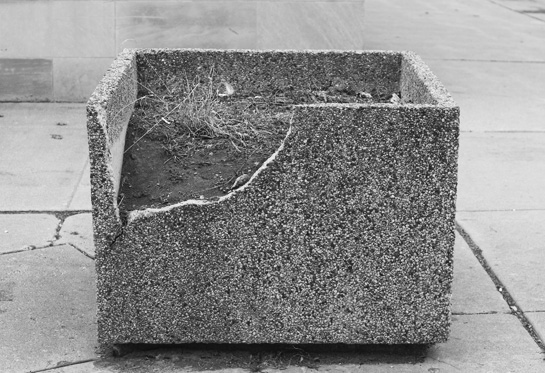 The light pole base
and derelict planter in front of the station, no doubt part of some scheme to brighten up the corner with new street furniture.
Demolished Stations
---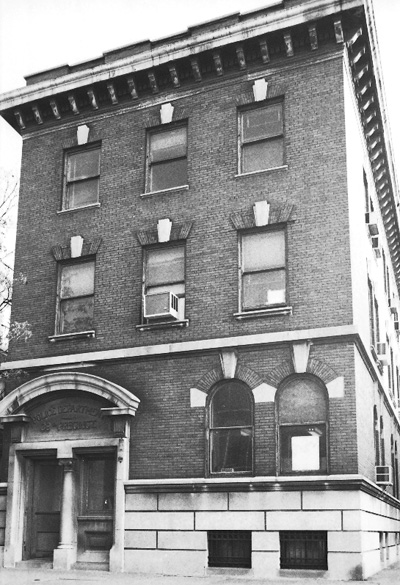 Illinois Historic Preservation Agency
Left: This station at Damen and Grace once served the 39th District. It closed in 1975, and replaced shortly thereafter with a new fire station. It has some interesting details such as the beautiful spiral wrought iron grating for the basement windows, and the vertical light-up signs next to the door.
Right: The corner of Hudson and Blackhawk was once home to the 36th District station. Built in 1906, the architect was C.F. Hermann. It was closed during District restructuring in December 1961 and later torn down.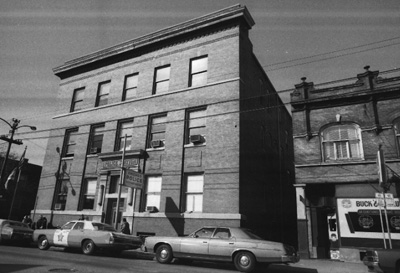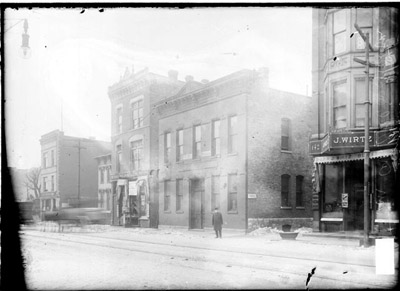 Left: Illinois Historic Preservation Agency. Right: DN-0005770, Chicago Daily News negatives collection, Chicago Historical Society.
Left:
Another 1970s HAARGIS photo shows this station on California just south of Milwaukee, once the headquarters for the 32nd District. It was replaced with a new station on the same site in the 1980s.
Right: This Chicago Daily News photograph from 1908 shows this former station which served the 4th District in Bronzeville at 454 E. 35th. It opened in 1884, and was also known as the Stanton Avenue station. Notably, it was the headquarters for the officers who quelled the 1919 race riots. Officer John T. Scott, who was one of the responders to the incident, later became the first black police captain in the United States when he was made commander of this station. It was closed and combined into a new station at 29th and Prairie in 1952, which is still operating as the 21st District.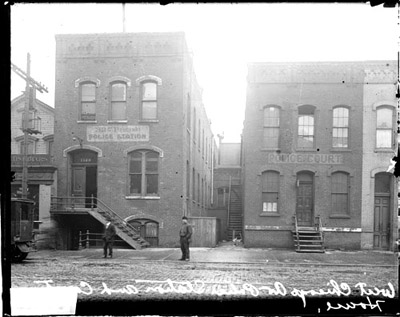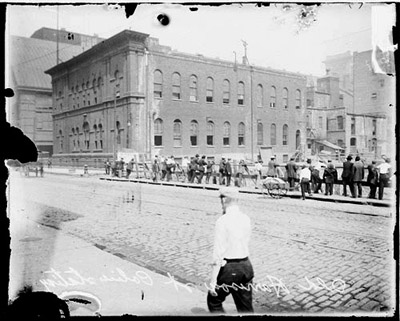 Chicago Daily News negatives collection, Chicago Historical Society,DN-0067671 (left), DN-0057228 (right).
Left:
The 32nd Precinct station was located at 1123 W. Chicago when this Daily News photo was taken in 1917. The station likely dated from the 1880s or before, but it was already disused and likely demolished by the 1950s. We can find little information about this station or the police court located next door, though one wonders how many bribes were paid inside during its existence.
Right: A 1911 Daily News photo shows this station at LaSalle and Harrison streets which served the Loop area as the 2nd Precinct. By the 1920s, it had been replaced with a new station at 1121 S. State, which also served as Chicago Police headquarters for many years.
This covers all of the extant former police stations that we know of, as well as those for which we've found pictures. As always, contributions are welcome! Don't hesitate to email if you know of another former station that still exists, or have photos of one that is long gone.
Sources
---
2 MORE POLICE DISTRICTS WILL MERGE MONDAY. 1961. Chicago Daily Tribune (1872-1963), May 23, http://www.proquest.com.rwlib.neiu.edu:2048/ (accessed June 17, 2008). Six Police Stations to Be Closed Dec. 18. 1961. Chicago Daily Tribune (1872-1963), November 22, http://www.proquest.com.rwlib.neiu.edu:2048/ (accessed June 17, 2008). Chicago to Build 16 Police, Fire Stations; Cost $791,000. 1935. Chicago Daily Tribune (1872-1963), December 15, http://www.proquest.com.rwlib.neiu.edu:2048/ (accessed June 17, 2008). CITY WILL SELL ITS OLD RAWSON POLICE STATION. 1953. Chicago Daily Tribune (1872-1963), October 18, http://www.proquest.com.rwlib.neiu.edu:2048/ (accessed June 17, 2008). NEW $265,000 POLICE STATION WILL OPEN SOON :Pekin Inn, Stanton Av. to Be Replaced. 1952. Chicago Daily Tribune (1872-1963), March 13, http://www.proquest.com.rwlib.neiu.edu:2048/ (accessed June 24, 2008). John O'Brien 1975. 'They'll come back' :Police station closes; era ends for tavern. Chicago Tribune (1963-Current file), December 25, http://www.proquest.com.rwlib.neiu.edu:2048/ (accessed June 24, 2008). "THE OLD RED SHIP – A CENTURY OF HONOR AND MYSTERY AT THE MAXWELL STREET POLICE STATION." Chicago Tribune March 15, 1998, CHICAGOLAND FINAL, MAGAZINE: 10. NewsBank America's Newspapers. . (accessed June 24, 2008). "MAXWELL STREET STATION GOES OUT IN STYLE – OFFICERS SHARE MEMORIES OF `HILL STREET' BUILDING." Chicago Tribune October 12, 1997, CHICAGOLAND FINAL, METRO CHICAGO: 3. NewsBank America's Newspapers. (accessed June 24, 2008).
Read More
---
Tweet