A "tied house" was a type of saloon that originated in England, but gained infamy in pre-prohibition America. An institution that was believed to promote intemperance, tied houses were one of many factors leading to national prohibition in 1919. A number of former tied houses remain in Chicago, long after the practice has been made illegal. Most of the remaining buildings were tied to the Milwaukee-based Schlitz brewery.
Ironically, the event which led to tied houses arising in Chicago came from an attempt at reforming liquor sales. In 1884, license fees to operate a saloon in the city were steeply raised in order to squeeze out lower class dives. Instead of going out of buisness, many saloon owners who could not afford the fee turned to breweries for financial assistance. The brewery would supply all the necessary accouterments to run a saloon. In exchange, the saloon keeper would be compelled to sell only that supporting brewery's beer.
Brewing companies soon realized that tied houses were a very profitable way to dump their product on the population. During the 1890's, the number of saloons in Chicago increased dramatically. This led to increased competition and price wars among breweries. However, the cutthroat competition among the breweries had an averse affect on its customers, and served to tarnish the respectability the industry had achieved during the 1870's. To quote the Associated Beer Distributors of Illinois; "pressure was exerted on retailers to maximize sales without regard to the well being of customers or the general public."
The negative effects of alcohol over consumption created a backlash. The tied house concept was not entirely to blame, but it was a definite factor contributing to national prohibition. After prohibition ended, the federal government gave states the authority to control beer and liquor sales. Most states instituted a "three-tier system." Alcohol could only be sold from manufacturers to distributors, distributors to retailers. Each tier is not allowed to have an interest in the other two tiers. Thus, fair competition and moderate marketing practices were encouraged. There are some exceptions and variances to these laws, but the addition of a middleman and separation of interests in general has worked very well for the brewing and liquor industries.
Schlitz
---
The Schlitz brewing company of Milwaukee was the most prolific builder of tied houses in Chicago. Designed by the architectural firm of Frohmann & Jebsen, Schlitz tied houses are generally executed in a revival style such as Queen Anne or Baroque with varying levels of accuracy and detail. One common factor in most Schlitz tied houses are the distinctive globes encircled by a belt, as if Schlitz had a stranglehold on the world. Another common feature is the alternating red and cream face brick which can be found in different patterns.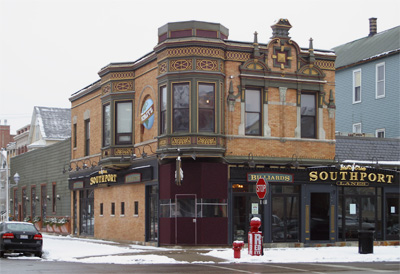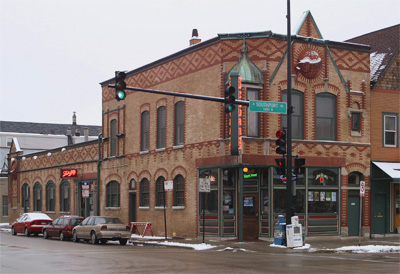 Two very well-preserved Schlitz tied houses. These two locations, less than a half a mile from each other on Southport, are likely the two most well known Schlitz tied houses in Chicago. These are well-known in part because they are located in Lincoln Park, a neighborhood now populated by the sort of people who did not live in this area during the era in which Schlitz was making Milwaukee famous. It is very likely that the influx of the post-1980s-new-monied-upper-middle-class made possible the economic conditions for the spectacular preservation of these two examples. Even the interiors are well preserved, Southport Lanes has what is quite likely the oldest bowling facility in Chicago.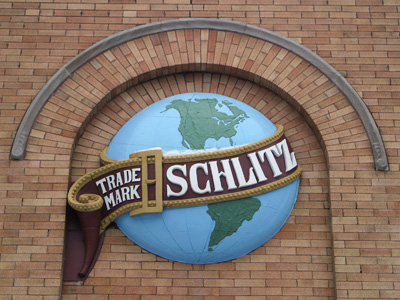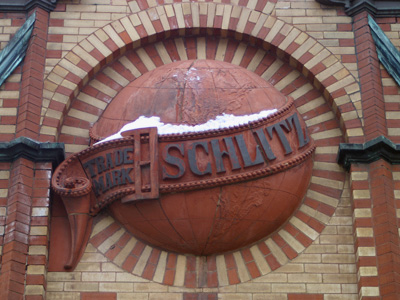 The globes of Southport Lanes and Schuba's compared.
Even though the two previous examples were well preserved, neither has a stained glass window treatment. Once a common feature, the only one we have found is on the saloon at 94th and Ewing. In South Chicago, it is not a matter of active preservation, rather, a passive lack of influence from externalities. You may think that the difference then lies between a paint job and a window treatment, but consider the uses. All serve liquor, but Southport Lanes touts the eponymous, and Schuba's is a music venue. Although it was once an inn of sorts, with sleeping quarters on the second floor, 94th and Ewing is really just a saloon.
It must be kept in mind that these were built in a markedly different time under vastly different social conditions, and served a clientele that was more numerous in the past than now. As evinced by the positioning of tied houses, i.e. at the foot of the South Works, it is clear that these places catered to the working class. Times change, de-industrialization occurs, neighborhoods change, change changes, and if a tied house may remain today, perhaps five others have been removed, and it is only by economic luck that one still exists, whether it has a new coat of paint or not.

Left: Illinois Historic Preservation Association.
Contrary to the previous
examples, this building at Armitage and Damen has been re-bricked on the first floor. See how the original front door has been covered, while the cornering brickwork has been extended down? Unfortunately, the color and pattern of the new brick doesn't even come close to matching the original.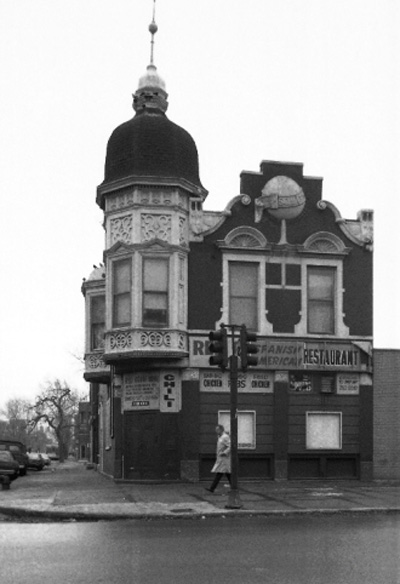 Left: Illinois Historic Preservation Agency.
This example, located at Division and Wood, had its dome and cupola removed, something that would not be obvious without the older photo. Now that we know these are missing, it seems glaring, giving the building in its current state an unbalanced feeling.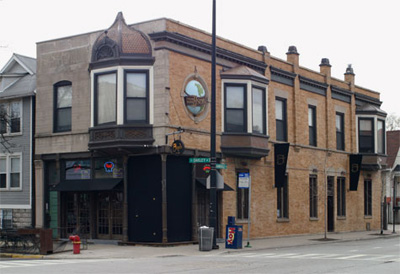 Left: Illinois Historic Preservation Agency.
Except for two minor alterations to the cornice and turret, this tied house at Armitage and Oakley is in excellent condition. Why is it that the most well-kept, well-preserved tied houses are bars? It could be that of any type of business owner, one who owns a bar is the most likely to appreciate brewing architecture.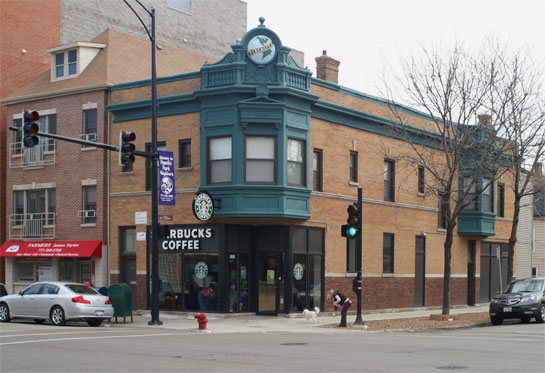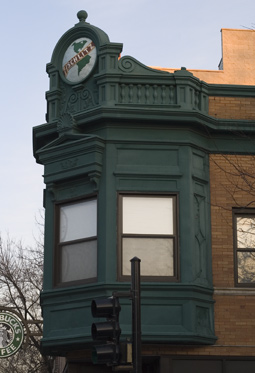 Schlitzbucks, Belmont and Leavitt. Maybe the "McDonald's of coffee" isn't all that bad, after all, would Mickey D's adaptively reuse a historic building? (Another example here). Hell no. As far as Schlitz houses go, this is a modest example. There is none of the usual distinctive brickwork, and all of the ornament is confined to the turret. Notice that the globe is styled differently. The belt is not as pronounced, the words "Trade Mark" are not included to the left of the buckle, and "Schlitz" is rendered in a different typeface. There is another example with this style globe, located at Broadway and Winona (below). This is only a theory, but perhaps this and the Broadway location are older than the rest, considering the more primitive, less distinctive rendition of the globes.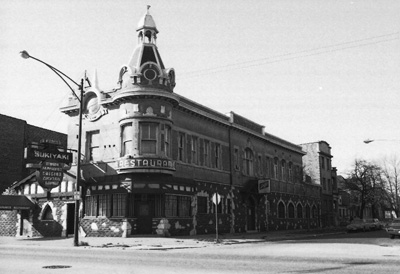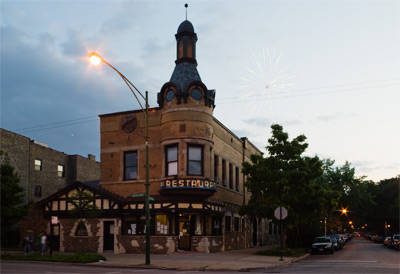 Left: Illinois Historic Preservation Agency.
Broadway and Winona, mid-1970s at left, and 4th of July 2009 at right. The building looks essentially the same today as it did thirty years ago, including the "Restaurant" neon-sans-neon sign. The one major alteration is the removal of the wooden detailing just under the cornice. Located in Uptown, this is one of the northernmost tied houses in Chicago. It is larger and more ornate than the rest, comparable to the 19th and Blue Island location (below). Were these were flagship locations; cathedrals of consumption? Also, the globe is similar to the Schlitzbucks, above.
This non-globed Schlitz example is located at 19th and Blue Island in what could be considered 'downtown' Pilsen. It appears more like a small church than a saloon, and we would have never known otherwise if it wasn't listed in the AIA guide. Perhaps it had a globe at some point, the bottom floor has clearly been refaced. At three stories, it is unusually tall, and its central location in what was a Bohemian neighborhood indicates that it may have been a flagship tied house. A church for drinking.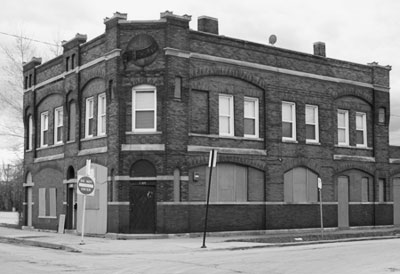 Left: Illinois Historic Preservation Agency.
This example, located at 11402 S. Front Street, has an interesting story. It was part of a complex of buildings funded by Schlitz; of which few remain. Located in Kensington around 115th and King Drive, the complex was built across the tracks from the company town of Pullman. Pullman was dry, built in its founder's Utopian vision of a working town, a vision not all of his workers shared. Schiltz capitalized on this opportunity and went so far as to essentially construct the inevitable vice district. Only some of the complex was dedicated to vice however, most of it was comprised of housing and retail space, in addition to the saloons.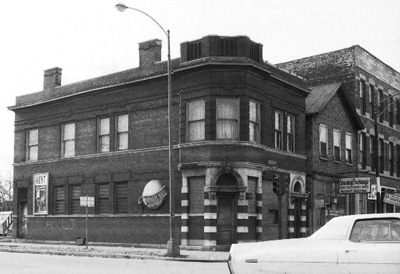 Left: Illinois Historic Preservation Agency.
Located on the corner of Grand and Damen, this example is in by far the worst shape of any tied house on this page. Not terribly exciting to begin with, the molding at the top was sloppily removed, as were the relief portions of the trademark globe (below). Shameful.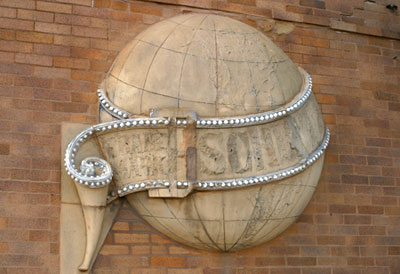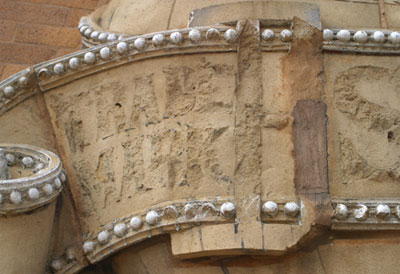 Detail
of the globe, Damen and Grand.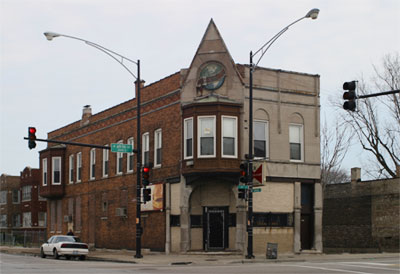 Left: Located at 35th and Western, the layer of grime covering this example's globe reflects its industrial surroundings. Aside from the absent cornice, it appears to be in good condition, tracery on the cupola especially. And as any good former tied house should be, it is still a liquor-vending establishment.
Right: This uniquely designed example at 69th and Morgan seems to lie vacant.

This example at 21st and Rockwell has a number of intact features including the globe, garage, cornice, and advertisement (left). The overall integrity and character remains, however, the turret and storefront have had ugly brown siding slapped on them. Still a great example, nonetheless.
On a different note, Schlitz sales fell off in the mid-1970's when they changed their recipe and method of production. The product was notoriously bad during this era, coming to be pejoratively referred to as "Schitz." However, the brand has seen a resurgence in the past decade for those looking to get retro-drunk.
Stege & Others
---
Tied houses were integrated marketing schemes and chain stores all rolled into one. This was an over saturated market where brewers cut out the middle men (distributors and retailers), and pulled out all the stops in order to win customers. The high-style architecture was utilized to lend respectability to the idea that alcohol consumption could exist as part of a cultural institution. Whether or not they were effective, these buildings decorated what would may have been undistinguished street corners with one-of-a-kind buildings.
Although Schlitz built a staggering 57 tied houses between 1897 and 1905, they were not the only ones at it. This example at 24th and Washtenaw was owned by the now long gone Stege Brewery, which closed in 1923, one of the many casualties of Prohibition.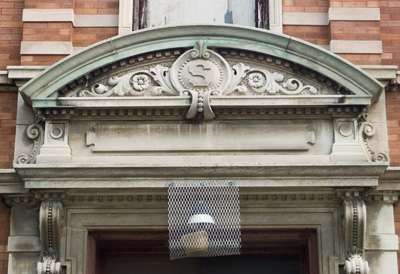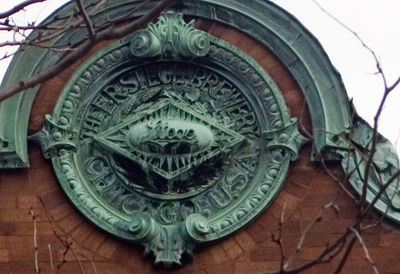 E.R. Stege Brewery, Chicago U.S.A.
Stege was located at 15th and Ashland. We've found three of their tied houses, all in close proximity to one another.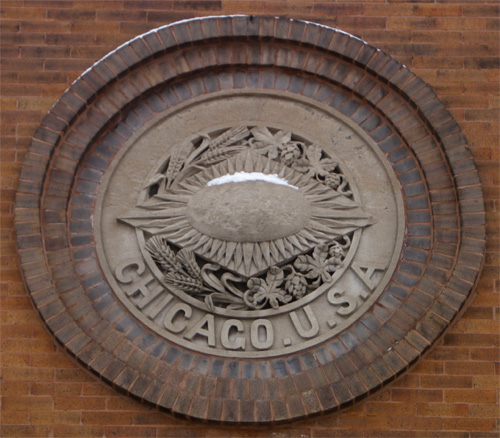 This building
is located at 24th and Western, a mere three blocks away from the Washtenaw location. Compare this logo to the examples above or below The text identifying Stege was removed at some point.
| | |
| --- | --- |
| | |
Located at the corner
of 23rd and California, this is one of the most finely detailed tied houses in the entire city. The classically inspired cornice is executed in copper, as is the Stege logo inset in the pediment. The logo is surrounded by numerous terra cotta fleurs-de-lis (⚜), a symbol generally associated with the French. Perhaps it was used here as a reference to Chicago's early history.
The pièce de résistance on this maison attachée is undoubtedly the Stege logo executed in tile at the front doorstep. Somehow, there are no little pieces missing, nor is it worn heavily. In an impossibly frustrating move, someone had the nerve to cover this tile work with a plain black doormat! Perhaps this is why it is in such good condition. But, it gets worse. Feast your eyes on the "Botelas de High Life $1" banner, the "Seguro de Auto" advertisement, or the just plain odd faux-brick paneling near the entrance. It seems as if the owner doesn't know what he has.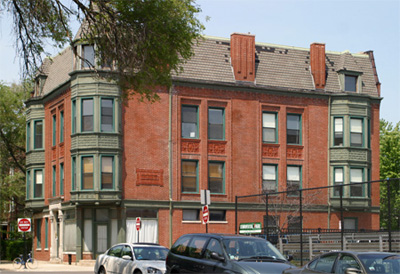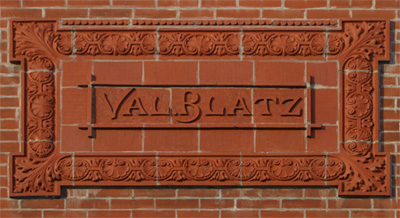 The Valentin Blatz brewery
was one of the many Milwaukee-based shipping brewers that infiltrated the Chicago market early on. The company was sold to Pabst in the 1950's, and lives on in name only, similarly to Schlitz, as one of Pabst's many contract-brewed brands. The former brewery in Milwaukee has been converted into lofts, much like the Best brewery in Chicago. This tied house is notable for its size, a three story masonry apartment building goes far beyond the minimum, as well as the excellent un-glazed terra cotta ornament and logo.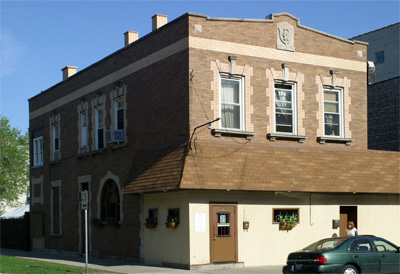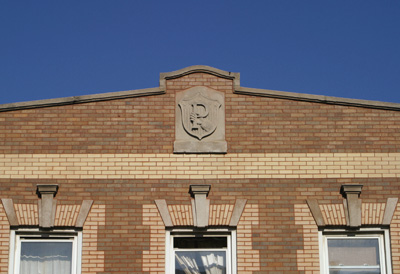 This was an exciting find. This Peter Hand tied house is less than a block away from the Blatz example, seen above. Physical evidence of the stiff nature of the competition turn of the century breweries were engaged in. The Peter Hand Brewery was located at Sheffield and North Avenues until 1978. The brewery's closing marked the beginning of the dark age of Chicago brewing. No breweries operated in the city until 1993 when Goose Island Beer Co. became a full-fledged regional brewery. Although advertising on this building is sparse, it is indeed still used as a bar, as some of our more avid readers may recall.

Right: JK
Left: The "B" here stands for Birk Brothers, a Lincoln Park-based operation which was located along the Lakewood branch railroad at Webster. They were in the brew business between 1886 to 1923, and from 1933 to 1950. During prohibition, the company, like many others, survived by producing malted beverages and near beer.
This tied house, built in 1910, was designed by the architectural firm of Huehl & Schmid, the firm responsible for the Medinah Temple. Although Pabst Blue Ribbon is probably preferred by patrons of the current establishment in this location, a hipster bar called Skylark, it was another self-aggrandizing hooch that was consumed here during the tied house era. It was called "Superb Beer."
Right: Standard Brewery was located at Roosevelt and Campbell and was in business from 1892 to 1923. Unlike Birk, they did not survive Prohibition. This tied house, at Grand and Hamlin, was built in 1903 with keystones the size of a truck.
Demolished
---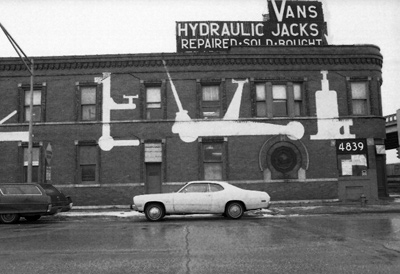 Illinois Historic Preservation Agency.
Left:
11450 S. Front, c.1975. This example was part of Schlitz Row in Kensington. See the earlier entry about 11402 S. Front.
Right:
4839 W. Ogden, Cicero, c.1975. This was on the southwest corner of Ogden and 48th Court. Painted with silhouettes of hydraulic jacks, this Gottfried tied house was located close to the massive Hawthorne Works of the Western Electric Company. It was demolished in the 1990s, prior to the reconfiguration of the Ogden/26th interchange which now occupies the site of this building.
Checklist
---
This is not a complete list of Chicago's tied houses. There are many more out there that we have not yet found, and we are always on the lookout for more.
| Brewery | Logo? | Location | Image? | Notes |
| --- | --- | --- | --- | --- |
| Atlas | N | 2101 W. 18th Pl. | | — |
| Atlas | Y | 3759 W. 26th St. | | — |
| Atlas | N | 2500 S. Whipple | | — |
| Atlas | N | 2202 S. Halsted | | — |
| Atlas | N | 4012 W. Ogden | | — |
| Birk Bros. | Y | 2147 S. Halsted | | Skylark |
| Birk Bros. | N | 2056 N. Hoyne | | — |
| Blatz | Y | Wolcott/Rice | | — |
| Fortune Bros. | N | 401 S. Cicero | | — |
| Gottfried | Y | 25th/Hamlin | | — |
| Miller | N | 1100 W. Webster | | — |
| Miller | N | 1404 N. Hamlin | | — |
| Pabst | N | Ohio/Kedzie | | — |
| Pabst | N | 120th/Halsted | | — |
| Peter Hand | Y | Wolcott/Thomas | | Happy Village |
| Schlitz | Y | Division/Wood | | — |
| Schlitz | Y | 21st/Rockwell | | — |
| Schlitz | Y | Southport/Henderson | | Southport Lanes |
| Schlitz | Y | Southport/Belmont | | Schuba's |
| Schlitz | Y | Ewing/94th | | Bamboo Lounge |
| Schlitz | Y | Armitage/Oakley | | — |
| Schlitz | Y | Belmont/Leavitt | | Schlitzbucks |
| Schlitz | Y | 114th/Front | | — |
| Schlitz | Y | Grand/Damen | | — |
| Schlitz | Y | 35th/Western | | — |
| Schlitz | Y | Armitage/Damen | | — |
| Schlitz | Y | 69th/Morgan | | — |
| Schlitz | Y | Broadway/Winona | | — |
| Schlitz | N | 19th/Blue Island | | — |
| Schlitz | N | Foster/Clark | | — |
| Schlitz | N | Diversey/Francisco | | — |
| Schlitz | N | Diversey/Rockwell | | — |
| Schlitz | N | California/Nelson | | — |
| Schlitz | N | Roscoe/Racine | | — |
| Schlitz | N | 89th/Normal | | — |
| Standard | Y | Grand/Hamlin | | — |
| Stege | Y | 24/Western | | — |
| Stege | Y | 24th/Washtenaw | | — |
| Stege | Y | 23rd/California | | — |
Sources
---
Associated Beer Distributors of Illinois. The History of Beer and the Three-Tier System. http://www.abdi.org/displaycommon.cfm?an=1&subarticlenbr=6 (updated 2005, accessed 20 Mar. 2007).
Schorske, Sara. "Tied House: Pillar of Alcohol Regulation." Vineyard and Winery Management Magazine, Jan/Feb 1997. http://www.csa-compliance.com/html/Articles/TiedHouse.html (accessed 20 Mar. 2007).
Skilnik, Bob. Beer: A History of Brewing In Chicago. Fort Lee, NJ: Barricade Books, 2006.
Wolf, Craig M. "Regulatory Impact of a Negative Supreme Court Decision". Testimony Before Senate Task Force on Illinois Alcoholic Beverage Laws, 1 Apr 2005. http://www.wswa.org/public/legal/IL_Regulatory_Testimony.pdf (accessed 20 Mar. 2007).
Read More
---
Tweet