In October 2012, Forgotten Chicago concluded its fifth season of tours, having shared with over a thousand participants some of the Chicago area's most overlooked, little known, and remarkable sites, most hiding in plain site, and nearly all unexplored in depth by any other organization.
For our tour participants, partners, promoters, and guest presenters, thank you. For all of our readers, we hope you enjoy this look back with us over our first five seasons discovering overlooked aspects of the Chicago area's built environment.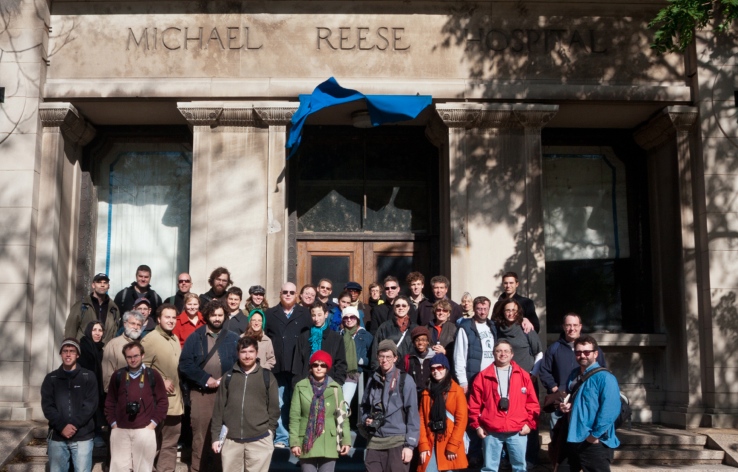 Matthew Kaplan
Pictured above is Forgotten Chicago's third tour in October 2008 of the nearly fully intact Michael Reese Hospital campus. Conducted not long before this site was fenced off and demolished in preparation for the 2016 Olympic Games, this tour featured not only the remarkable buildings at the Michael Reese campus, but also Chicago's Motor Row district, the Gap neighborhood, Prairie Shores urban renewal program, and the 2007 McCormick Place expansion. This tour also visited the small commemorative monument noting the centennial of the invention of softball in Chicago in November 1887; this little-known monument has vanished since our tour.
Forgotten Chicago's tours began as an extension of the November 2007 launch of the FC web site, with our first walking tour conducted on July 27, 2008 in the little-explored West Town neighborhood. Since then, FC's tours have grown into a far-ranging overview of the Chicago area's astonishing array of historic and culturally significant, but largely overlooked, sites in our built environment.
Venturing far beyond the usual tour itineraries for tourists and locals (ghouls, gangsters, shopping and sports), FC's mission since that first Sunday has been to discover, document and explore little known elements of Chicago's infrastructure, architecture, neighborhoods and general cityscape, whether existing or historical.


Left: Dave Gudewicz Right: Patrick Steffes
Chicago Public Media WBEZ's Robin Amer (third from left in image above) joined Forgotten Chicago for our inaugural Goose Island and Pulaski Park tour in 2011. Her story may be heard (and seen) here.
Our Goose Island and Pulaski Park tour dug deeply into the long and colorful history of these two overlooked and complex neighborhoods, and tour participants enjoyed everything from epic tales of local and national powerbrokers to ethnic enclaves, pioneering industry, architectural oddities, and other forgotten curiosities. Above right is a perfect example of see-it-while-you-can Forgotten Chicago: seen during this tour, this decades-old sign in the window of a former Noble Street tavern advertising Chicago's Edelweiss Beer ("A Case of Good Judgment") has since been removed.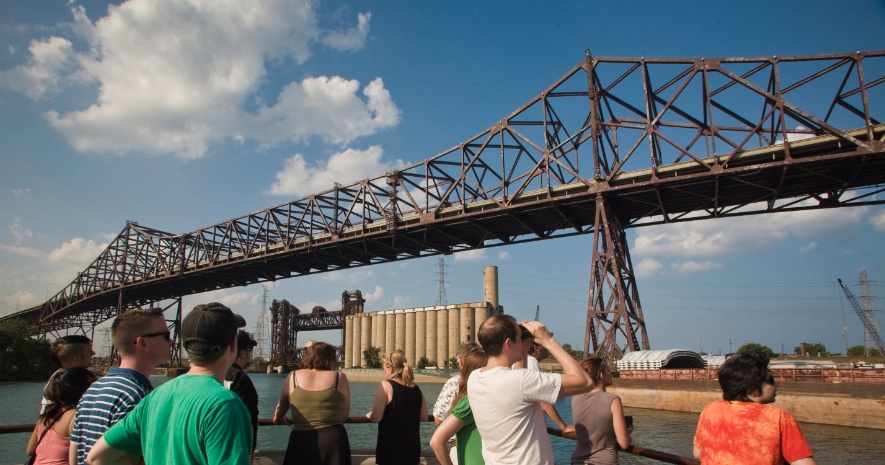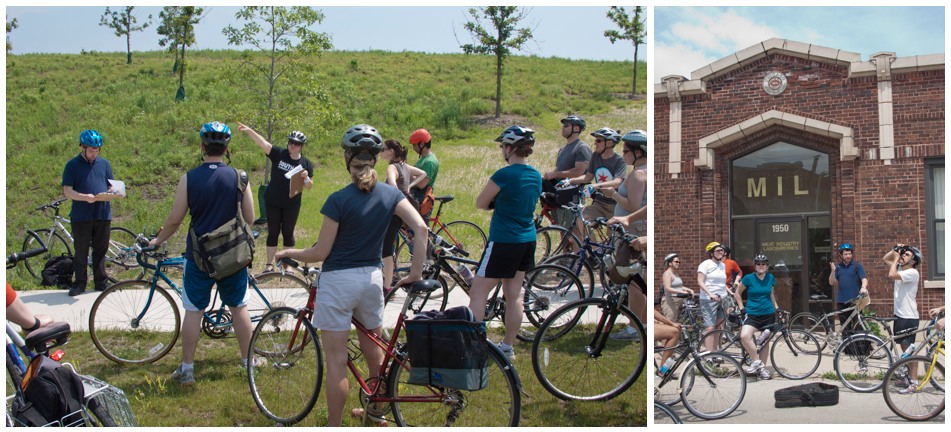 Matthew Kaplan
In our past five tour seasons, Forgotten Chicago has greatly expanded the types of tours offered. FC added our popular Calumet River boat tour in 2010, bicycle tours in 2011, and both bus and factory tours in 2012.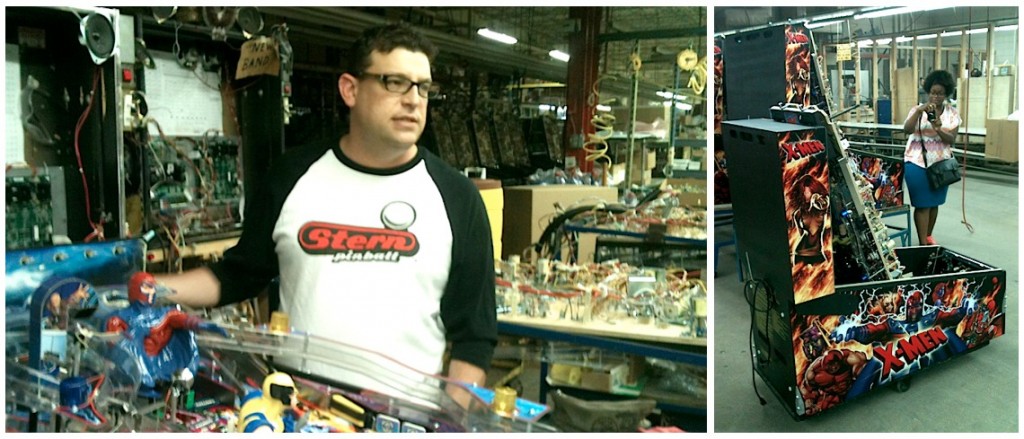 Patrick Steffes
Celebrating Chicago's manufacturing past and present, in 2012 we conducted a "Corporate Kings of the Suburbs" bus tour of near-west suburbs. During this unique and quickly sold-out tour, Forgotten Chicago took participants inside the world's only manufacturer of arcade-quality pinball machines, Stern Pinball in Melrose Park.
In the image above left, Stern Pinball's Director of Marketing Jody Dankberg describes to participants the highly complex process involved in pinball machine manufacturing. Above right, a guest enjoys exclusive access to this remarkable facility. WLUW's Outside the Loop Radio reported on this tour here.

Commerce, May 1955
This FC bus tour also explored some of the least-studied building types in the region, suburban Mid-Century modern corporate headquarters and factories, including the 1955 Jewel Tea Company headquarters by A. Epstein & Sons (pictured above). These buildings were often pure products of the space age and featured forward-thinking modern design, reflecting the optimism and progressive ideals of the era in which they were built. Commissioned by innovative Chicago companies such as Zenith, Motorola, Alberto Culver and Jewel, many of the structures seen on this tour are currently abandoned and/or threatened with demolition.


Patrick Steffes
In addition to Melrose Park pinball factories, Forgotten Chicago takes great pride in our other unique and exclusive interior tours. During our second visit to the Six Corners commercial district, we included three interior tours: The Portage Theatre, the Klee Building, and the former Straus & Schram department store. Completed in 1940 by Robert Heller and A. Epstein, Straus & Schram features a remarkable 50-foot wide column-free interior on all five floors. Owner Marc Sussman spoke to the group and pointed out intact interior details such as the former safe, mechanism for the rotating window display, and original air conditioning system.
Above left is a more than 70-year old original remnant of the store's former linoleum shop being examined by participants during the tour. Above right is a unique view of the Portage Theater from the store's third floor. FC has extensive community connections, opening doors and sharing with our tour participants these normally inaccessible spaces.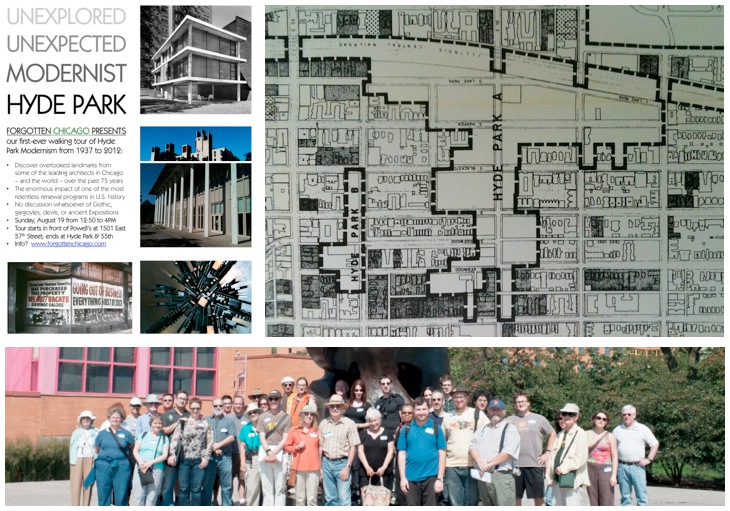 Upper right: Chicago Public Library Bottom: Marc Monaghan
During our first Hyde Park tour, FC left the former fairgrounds and devilish anecdotes to others. Forgotten Chicago's sold-out walking tour highlighted over 30 modernist buildings and public works of art completed since 1937, one of the largest and most concentrated collections of modernist works in the U.S.
This tour also discussed the controversy, legacy, and physical reminders of one of the most relentless land clearance and urban renewal projects in the country. Sharing period maps, rarely seen city reports and physical evidence of this massive redevelopment, our tour delved deeply into this highly controversial period of Hyde Park history.

Patrick Steffes
In 2011, FC conducted what was likely the first in-depth tour of a building type that countless Chicagoans know first-hand: the overlooked and much-maligned four plus one apartment building, a distinctive and unique part of Chicago for over 50 years. Prior to Forgotten Chicago's research, this integral part of Chicago's built environment was perhaps the least studied and documented residential building type in the city.
Pictured above left, Forgotten Chicago co-founder and editor Serhii Chrucky (fourth from left) addresses the group in front of the first four plus one, designed by Jerome Soltan and completed in 1961. Four plus ones were first examined in a January 2009 Forgotten Chicago feature.
The day before our four plus one tour, FC offered another first: an in-depth walking tour of central Chicago parking garages built since the 1920s, a building type never previously examined (as far as we know) by any other organization on a public tour. The image above right shows the former Harrison Hotel Electric Garage, the tallest extant purpose-built, exclusively parking structure in the U.S. Completed in 1930 by local architect Alfred S. Alschuler, this building towers nearly 300 feet above Wabash Avenue. This unique garage abruptly closed in December 2011, its future unknown.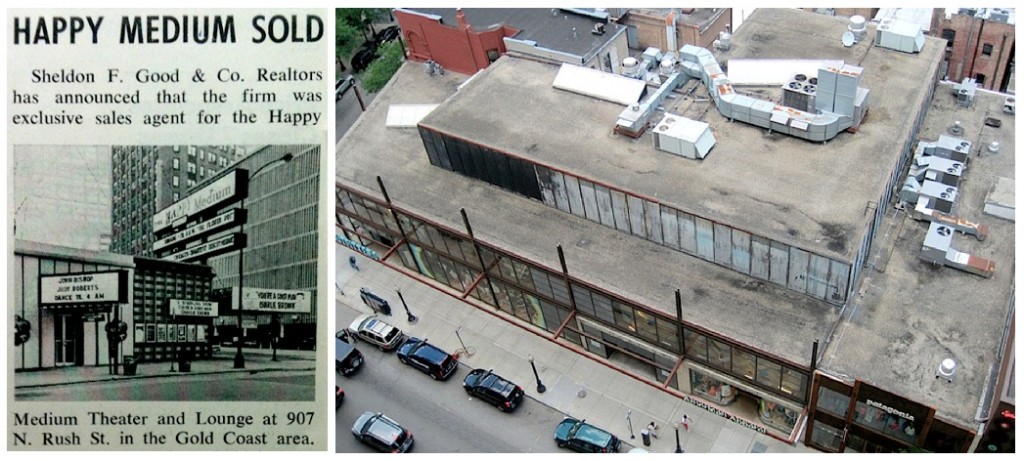 Left: Realty & Building, May 24, 1975 Right: Dave Gudewicz
In 2012, FC conducted a walking tour of the most concentrated area of architect Bertrand Goldberg's built and proposed work in the world – the area on and around North Rush Street. Shown above left is the long-demolished 1960 Happy Medium theatre at Rush and Delaware. At right is a view seen during FC's tour of two 1956 Goldberg projects – Walton Gardens at Rush and Walton (left and center in image above right), and 48 East Walton (far right). This FC tour also explored the site and later commercial uses of Goldberg's 1930s Tower Town "commune", examined previously in a series of Forgotten Chicago articles.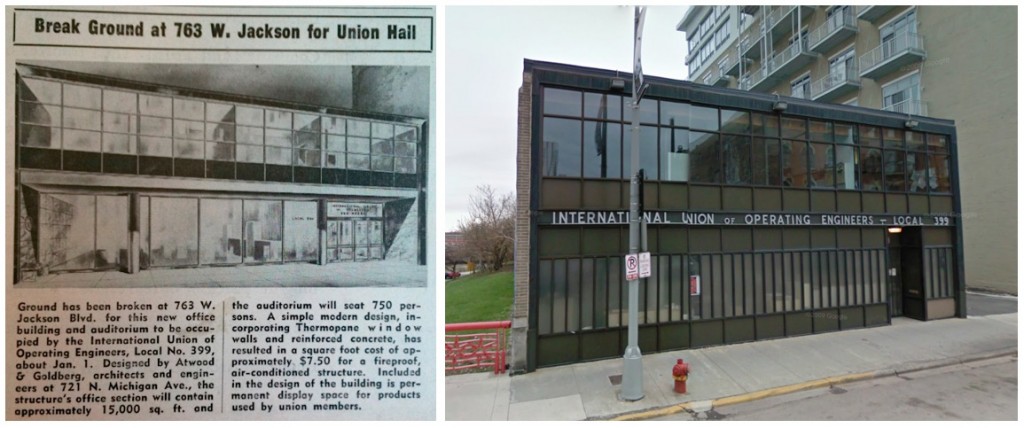 Left: Realty & Building, November 19, 1949 Right: Google Street View, accessed October 16, 2012
Although by no measure a forgotten architect, Bertrand Goldberg's work beyond Marina City, River City, and Prentice Women's Hospital is little studied, with a significant number of his Chicago area projects demolished, altered or abandoned in recent decades. Forgotten Chicago is raising awareness of additional Goldberg projects completed during his remarkable 60-year career, including the little-known work shown above. In May 2011, this Goldberg-designed former union headquarters at 763 West Jackson was razed for a surface parking lot, with no review, no protest, and no attention. As of this writing, this now-demolished building is still pictured on Google Street View.


Upper left: Dave Gudewicz Upper right: Patrick Steffes Lower left: Chicago Daily News, September 23, 1939 Lower right: Patrick Steffes
Other lesser-known Goldberg buildings that have been shared with FC tour participants include an exterior and interior tour of one of the few remaining Goldberg single-family homes (top photos above), the 1939 Dr. Aaron Heimbach House in Blue Island, during our tour of this little-explored and fascinating city. In 2011, Forgotten Chicago rediscovered the location of Bertrand Goldberg's long-lost and partially demolished Standard Homes subdivision in Melrose Park (bottom photos above), also from 1939, which we drove past during our "Corporate Kings of the Suburbs" bus tour.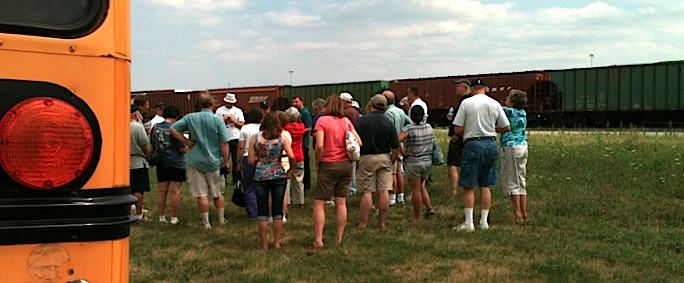 Patrick Steffes
Forgotten Chicago's first bus tour was done in conjunction with the Clear-Ridge Historical Society, and included the Clearing Industrial District and the area around the current Ford City Mall. This tour visited historic sites in the Clearing community, as well as a site crucial to the development of Chicago's vast transportation network, the Clearing Yard. One of the largest rail yards in America, the Clearing Yard covers nearly 800 acres south of Midway Airport; participants got an idea of its immense size during our tour (photo above).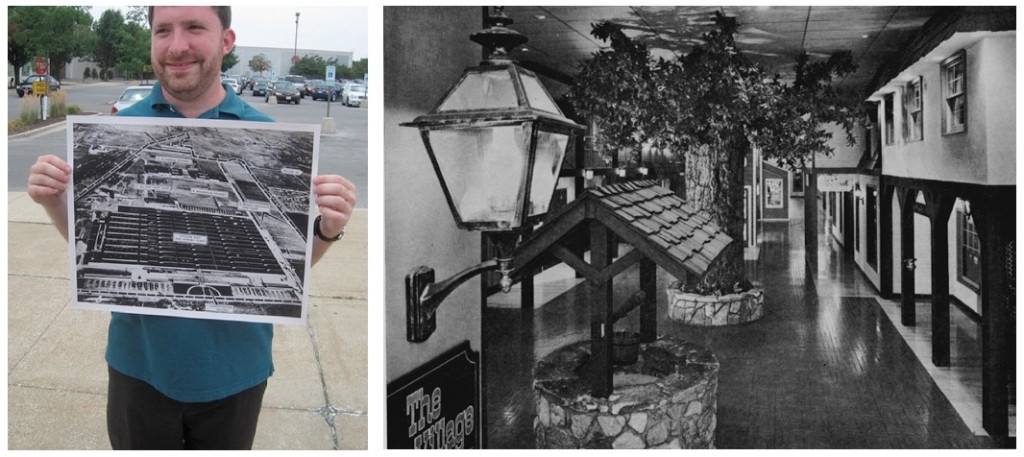 Left: Dave Gudewicz Right: Realty & Building, May 16, 1970
The few remnants of Chicago's enormous and utterly overlooked contribution to America's World War II defense production effort are of great interest to Forgotten Chicago. Above left, during the Clearing and Ford City Tour, FC co-founder and editor Jacob Kaplan shares a vintage aerial view of the Dodge Chicago Plant, which once enclosed over 80 acres. Above right is a rarely seen 1970 Ford City Mall interior view shared during our tour of this former defense plant's reincarnation as a shopping mall.
The Dodge Chicago Plant was purportedly the largest building in the world at the time of its construction. A portion of this remarkable complex has been demolished, but what remains houses the Ford City Mall and a Tootsie Roll factory. During our tour, Forgotten Chicago led guests inside to show extant structural details from this building's former use as a defense plant.


Google Street View, September 2007
This Forgotten Chicago bus tour also drove over the only remaining partial cloverleaf overpass (pictured above over Pulaski Road south of 76th Street) built to ferry thousands of workers into the Dodge Chicago Plant during World War II. This 70-year old piece of Chicago history is in a severe state of disrepair, its future in doubt.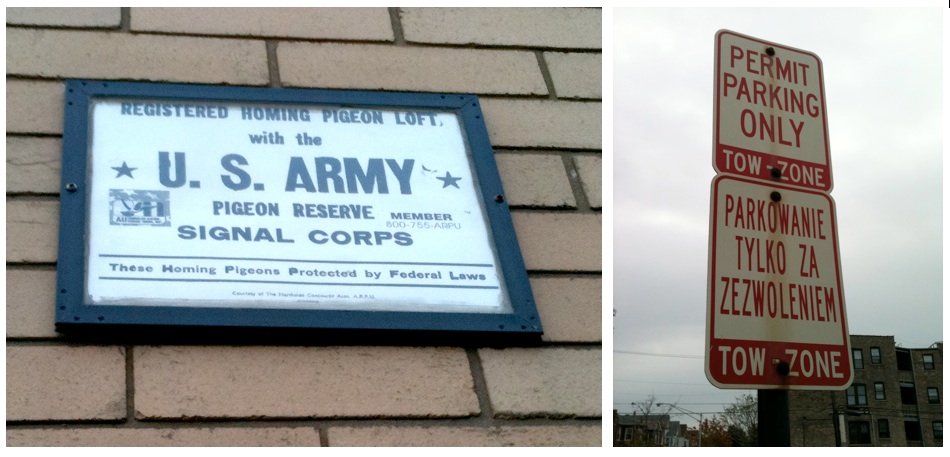 Patrick Steffes
For five seasons, Forgotten Chicago has conducted extensively researched tours of many lesser-explored neighborhoods, including Six Corners, Pilsen and Little Village, industrial areas of Lincoln Park, Bridgeport, and Jefferson Park. During our Avondale walking tour, we visit what appears to be an intact World War II-era sign (above left) identifying a U.S. Army Pigeon Reserve homing pigeon loft, as well as a rare Chicago street sign in Polish (above right), which reflects the strong ethnic past and present of this vibrant neighborhood.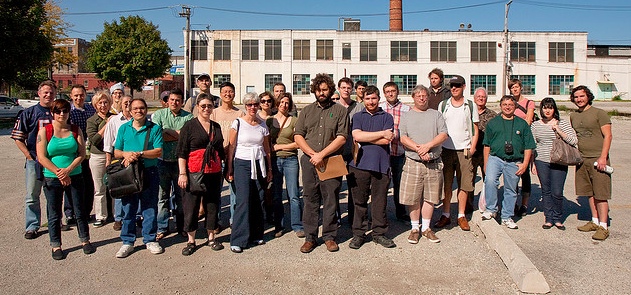 Noah Vaughn
Forgotten Chicago is looking forward to many more years of discovering and researching the Chicago area's overlooked built environment. If you have already joined us on a tour over the past five seasons, thank you. If you have not yet participated in of one of our tours, we hope to see you in 2013, and the years ahead.
Part two of this series will detail Forgotten Chicago's vast and exclusive research archive, and will include the announcement of Forgotten Chicago's first contest.
Special Thanks and Appreciation
---
Finally, Forgotten Chicago wishes to acknowledge the following
web sites, and organizations, whose support, publicity and promotion have been critical to our success over our last five seasons of tours:
• ArchNewsNow
• Chicago Art Deco Society
• Chicago Public Media WBEZ
• Chicagoist
• City of Blue Island
• Clear-Ridge Historical Society
• Curbed Chicago
• Forgotten New York
• Gapers Block
• Landmarks Illinois
• Nadig Newspapers
• Northwest Chicago Historical Society
• Open House Chicago
• Our Urban Times
• PrairieMod
• Preservation Chicago
• Second City Cop Blog
• Southeast Chicago Historical Society
• WCIU (Now.Chicago)
Correction
---
In the original posting of this article, the last photo on the page was incorrectly attributed. It was taken by photographer Noah Vaughn.
Forgotten Chicago regrets this error, especially since we know how important photographers and our Flickr group are to FC's audience and supporters. To see more of Noah's great collection of photos,
check out his website.
Read More
---
Tweet