Since Forgotten Chicago's modest beginnings as a web site in November 2007, we have prided ourselves on the depth of our extensive research on the Chicago area's overlooked built (and unbuilt) environment. In addition to writing articles, giving presentations, and conducting tours, Forgotten Chicago recognizes that an enormous amount of little-known yet invaluable information on Chicagoland history and development to date has never been cataloged, digitized, or made easily accessible to researchers (including us).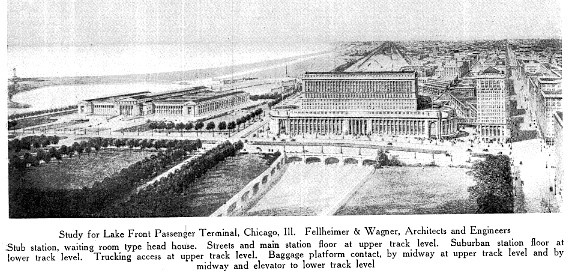 Architectural Forum
For five years, Forgotten Chicago has drawn attention to extant remnants of Chicago's built transportation infrastructure, but little-known and unbuilt projects are also worth noting. One example is pictured above: a 1930 rendering of the ambitious, enormous, and never built Lake Front Passenger Terminal that was proposed and nationally publicized for a site west of the Field Museum, and then promptly forgotten.
Since no one else has, as of November 2012 FC staff has reviewed over 150,000 pages of non-digitized and non-cataloged regional and national publications including Realty & Building, Inland Architect, Commerce, Western Architect, Architectual Forum and Architectural Record, along with decades of non-digitized Chicago telephone directories, maps, and city reports, some of which are seen below.


The Railway Passenger Terminal Problem at Chicago: Report to the City Council Committee on Railway Terminals, 1933
Roosevelt Road in the South Loop was not the only location proposed in the 1930s for a new, centralized passenger railway terminal. Shown above is an unbuilt scheme from 1933 for one of three stations, along with the existing Union and North Western stations, to consolidate all passenger rail traffic arriving in Chicago. For reasons unknown, this project also never made it past the drawing board.
As a continuation of the presentation we made at FC175, our Chicago 175th birthday party in March 2012, below are more finds from Forgotten Chicago's vast and exclusive research database. These images and articles, many unseen for decades, have been shared in the past (with more to be shared in the future) during FC articles, tours and presentations. We hope you enjoy the very small sample of our research below.


Left: Architectural Forum Right: Realty & Building
In the Chicago area, built and unbuilt transportation infrastructure is equally forgotten. At left is the circa 1930 "Spectator's Promenade" by Rebori and Wentworth of the hangar building at Curtiss-Reynolds Airport (building demolished, later site of Glenview Naval Air Station, now the site of Glenview Town Center). For in-depth information about Curtiss-Reynolds Airport, and other abandoned and little-known airfields in the Chicago area and elsewhere, click here.
Seen above right is a curious 1951 scheme for Chicagoland expressways, or superhighways: not only does this image show the little-known and unrealized "River Rd. Superhighway" and the unbuilt (and unlabeled) Crosstown Expressway, but it also shows an unbuilt connector highway that appears to go through (or under) River North and the Merchandise Mart (seen north and east of Wolf Point at far right).
Top: Architectural Record Bottom: Patrick Steffes
In downtown Evanston, a commercial building on Church Street has a forgotten past. Pictured at right in 1937 is a Firestone gasoline and service station, as well as a rooftop parking deck built for patrons of the 1929 Marshall Field's store, located just to the east. Designed by prolific local firm Graham, Anderson, Probst and White, this building is still remarkably intact seventy-five years later (below right); the original round windows and outline of the ramp to the upper parking deck may still be seen in the alley. The lesser-known built environment of Evanston will be explored on an upcoming Forgotten Chicago walking tour.
Forgotten Chicago's research is used extensively in our exclusive tours throughout the region. First offered in 2009, our Pilsen & Little Village tour offers participants an exhaustively researched examination of this dynamic neighborhood. Seen below left is a map showing the large number of sites shown during this tour, including the terrazzo sign of a former Stege tied house on California Avenue (below right). Tied houses (taverns directly owned by breweries and made illegal with prohibition) have been extensively researched by Forgotten Chicago, and are shared on tours where they are still extant. Forgotten Chicago's article on tied houses was published in 2009, and may be read here.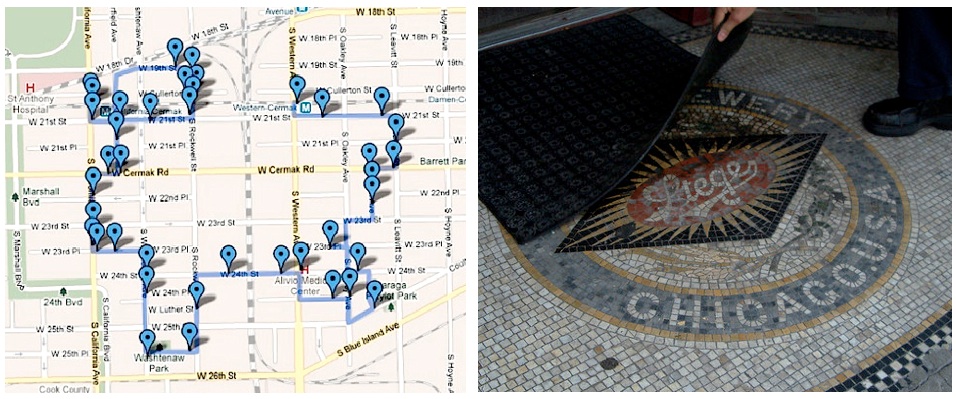 Left: Forgotten Chicago research utilizing Google Maps Right: Flickr User Kendoman26
Forgotten Chicago conducts the research seen here the old-fashioned way – flipping through non-digitized publications, reading microfilm files, and photographing and scanning library special collections that have yet to be made available online. Forgotten Chicago now has an immense research archive of over 11.5 GB of data, including (as of this writing) over 7,500 articles and images from the 1920s to the 1990s, indexed by date, location, purpose, and architect if known, to be used in future articles, tours, and presentations, and shared during public and private tours, presentations, and events.


Report to the Subway Advisory Committee, 1926
FC staff has examined collections of the Newberry Library, University of Illinois at Chicago, Northwestern University, and the University of Wisconsin – Milwaukee, discovering long-forgotten and little-seen images of Chicagoland's built environment and unknown history. Seen above is one of many unrealized early plans for a Chicago subway (this example is from 1925); Chicago's first subway line would not open until 1943, nearly 20 years later.


Architectural Record
Chicago's swank North Shore is generally not associated with low-cost housing, but Forgotten Chicago has unearthed two little-known instances in the 1930s of low-cost North Shore housing featured in national magazines. Above left is Chicago architect Howard T. Fisher's first built example of his planned low-cost, sectional steel General Homes project; this modest home was built overlooking Lake Michigan in Winnetka for famed dancer and choreographer Ruth Page in 1933.
Above right is one of the earliest (1936) published designs by Louis Skidmore and Nathaniel Owings, (later joined by John Merrill to form Skidmore, Owings and Merrill). Pictured is a low-cost (less than $60,000 in 2012 dollars) housing development proposed for, of all places, Highland Park. The plan at right was one of four low-cost home designs for this Highland Park development. The fate of these low-cost housing projects in 2012 is unknown.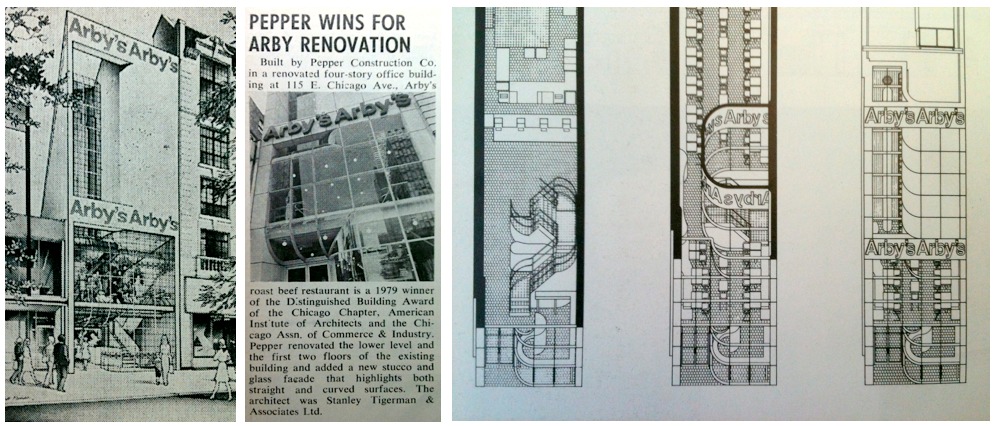 Left and Center: Realty & Building Right: Beyond the International Style: New Chicago Architecture
Forgotten Chicago takes pride in drawing attention to lesser known (or unknown) works by recognized architects, especially those who were or are based in the Chicago area. Seen above is one of Chicago architect Stanley Tigerman's least-known local projects, the AIA Chicago Chapter award-winning 1979 Arby's that once faced the Water Tower near the intersection of Chicago and Michigan Avenues. This one-of-a-kind restaurant is long gone and was, until now, long forgotten.


Left: Realty & Building Center and Right: Patrick Steffes
Another Stanley Tigerman building rediscovered by Forgotten Chicago is a strip shopping center on Rand Road in Palatine, which remains standing but is now heavily altered. Opened in the early 1980s, this building originally featured distinctive keyhole openings along the entire 350-foot long façade; above left is an image of this shopping center as built. The middle image shows original keyhole designs on an interior wall of a store, along with the now-altered front elevation as it appears today. The picture at right shows the rear of the building and the only keyhole design remaining on the building's exterior, with a door labeled "METER ROOMS".


Commerce
Generally overlooked, architects other than Mies van der Rohe also designed notable buildings in the International Style in the Chicago area. In a little-seen image above left, Gary, Indiana once had a startlingly modern car wash on Lake Street and Dunes Highway designed by architect Leonard Klarich. Above right is the 1961 Seven-Up bottling plant by Naess & Murphy once located at 4544 West Carroll Avenue. A Forgotten Chicago forum user ("frworksonpaper") informed us that while this building was demolished in the late 1990s or early 2000s, a few remnants of the original steel frame are visible in the foundation of the building that stands on this site today.


Realty & Building
FC strongly believes that more recent, and little-appreciated, architectural styles in the Chicago area are worthy of research, study and attention. The expressive, blocky and concrete-heavy style widely known as Brutalism (rebranded by Forgotten Chicago with the more user-friendly label "New Monumentalism") may take years, or decades, to be widely seen as worthy of study.
As with past styles such as Queen Anne or Art Deco, by the time this consensus occurs, many of Chicago's most notable examples of New Monumentalism may have already been destroyed. The best-known and highest-profile local building in this style is subject to an ongoing preservation battle; Bertrand Goldberg's remarkable Prentice Women's Hospital.
There are, however, dozens of other Chicagoland buildings in this style that are virtually unknown. Unearthed during our research, seen above left is the unusual and windowless 1970 building at Naval Station Great Lakes; the condition of this building, or if it still stands, is currently unknown.
The award-winning 1971 Hoffman Estates bank seen above right by Mayes, Williams & Associates is virtually unknown outside its community. A Forgotten Chicago reader informed us that this bank is located at 1100 North Roselle Road in Hoffman Estates.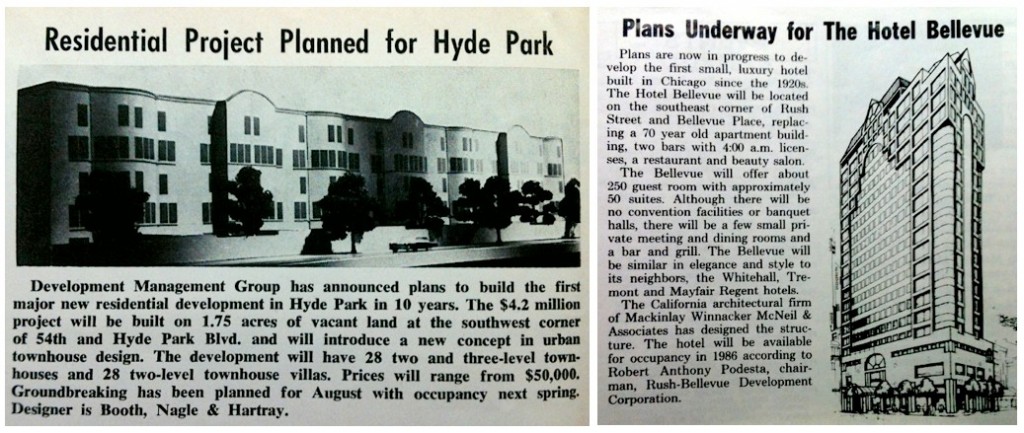 Realty & Building
Forgotten Chicago discovered what may be first major Postmodern building project in Chicago (above left), an expansive Hyde Park condominium project by Booth, Nagle & Hartray announced in April 1977. This building's exterior remains virtually unchanged 35 years after the publication of the rendering above.
Postmodernism is another unloved and little-studied recent architectural style with an immense number of examples in the Chicago area, including the former Hotel Bellevue (opened as Hotel 21 East, later Le Meridien Hotel, now Sutton Place Hotel, to be renamed Thomspon Chicago in 2013) seen above right. This project was announced in February 19841.
Although now widely regarded as a laughably out of date architectural style, the first major retrospective on Postmodernism concluded in early 2012 at the Victoria & Albert Museum in London. Certainly, there will be more interest and appreciation in the years ahead for this style, including in the Chicago area.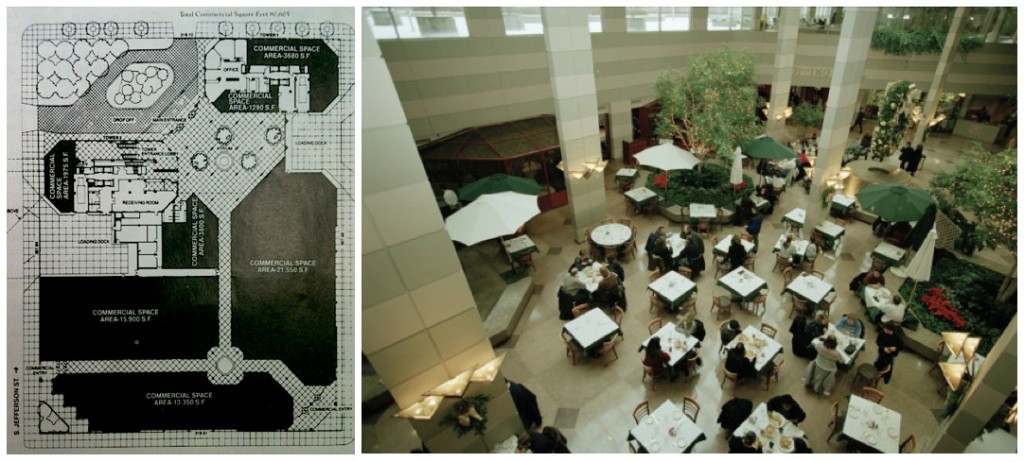 Left: Realty & Building Right: Chris Ocken. Presidential Towers, image 13, 38198100121043_23a. Comer Archive of Chicago in the Year 2000 (University of Illinois at Chicago)
It is worth mentioning that two of Chicago's most significant and high-profile Postmodern projects have seen their original interiors substantially altered in recent years. One notable example is the retail and dining area of Presidential Towers in the West Loop, designed by Solomon Cordwell Buenz & Associates. Until several years ago, this interior that was nearly completely intact, with a mauve color scheme and ficus trees dating from its mid-1980s completion.
Seen above right is how this building appeared in 2000; this very period public space has since been partially demolished and significantly altered. The original terrazzo floor, seen in the image above right, is still intact and may be seen today in what remains of the complex's public space.


Left: Chicago Past Right: Inland Architect
In April 1981, seventy years after it opened, plans were announced to demolish the existing Chicago and North Western Terminal2 and replace it with a new train terminal and office tower. Perhaps the only consolation for this historic loss was that this new project would be designed by renowned local firm Murphy/Jahn and lead architect Helmut Jahn, who had recently completed the United Airlines Terminal at O'Hare and the State of Illinois Building (now James R. Thompson Center).


Left: Realty & Building Center and Right: Patrick Steffes
The new North Western Atrium Center (now Citigroup Center) was a spectacular Postmodern addition to Chicago's architectural landscape, inside and out; seen above left is an original view of the interior published in October 1987. In recent years, however, this long-intact interior has been substantially altered. The staircase and light fixtures seen in the image above left have been removed, and a large portion of the original blue interior has inexplicably been painted white. Additionally, light fixtures with no relation to this original design have been added (above right); time will tell if these changes will be removed and the station will be restored to its original 1980s interior.


Left: Inland Architect Right: Google Street View
Levitating no more, what was once one of the Chicago area's most striking buildings remains standing, but has been so drastically altered that it barely attracts notice at the corner of Harlem and Cermak in Berwyn. The former "floating" McDonald's opened in 1984 and was designed by SITE, Inc., a proponent of a style the firm referred to as "de-architecture". The odd proportions and window placement of this building remain, but the unique features of this building, the only McDonald's in the world built in this style, have been destroyed.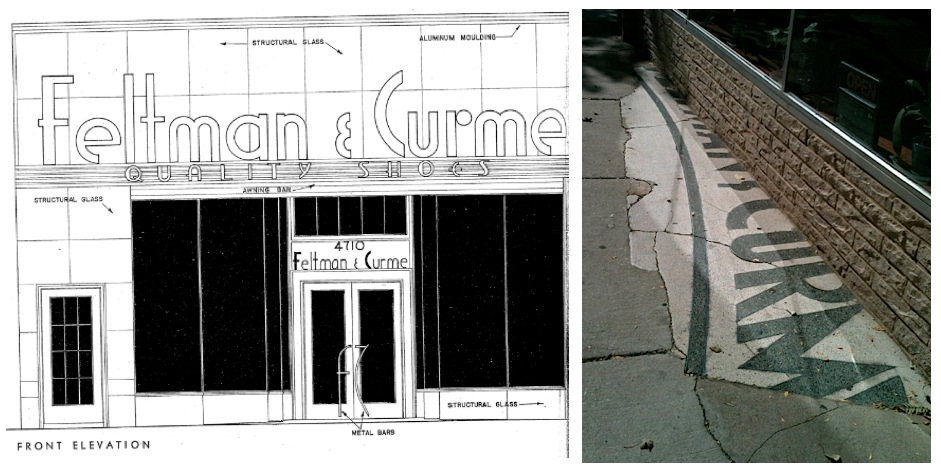 Left: Architectural Record Right: Patrick Steffes
Utilizing Forgotten Chicago's research archive to illustrate the history of the built environment is a specialty of FC staff. While reviewing issues of Architectural Record, we came across a 1936 rendering (above left) showing national shoe retailer Feltman & Curme's former Uptown store at 4710 North Sheridan Road, showing the store's address and distinctive "FC" door pulls.
Although this retailer went out of business decades ago, the building still stands, and the former store's partially intact terrazzo sign (above right) remains at this site today; this 75-year old remnant is a popular stop during FC's Uptown walking tours. Another Feltman & Curme ghost sign was recently uncovered on Milwaukee Avenue north of Irving Park Road, and has been shared with participants during our Six Corners walking tour.


Left: American Terra Cotta and Ceramic Company Records (N 5), Northwest Architectural Archives, University of Minnesota Libraries, Minneapolis Right: Realty & Building
Another FC discovery: The currently vacant (as of this writing) six- and eleven-story office building complex in Uptown at 5050 North Broadway has an unlikely history. Built in 1927 as a private parking garage (image above left) to serve the booming Uptown retail and entertainment district, this building remains very much intact 85 years after its completion.
In the early 1960s, this building was converted and expanded for the headquarters of Combined Insurance Company of America (later Aon; shown partially expanded and converted in 1963 in image above right). During tours and presentations, Forgotten Chicago shares images such as these discovered during our research to give participants a new understanding of the forgotten history of familiar and overlooked buildings.
Another example of Forgotten Chicago's strength in researching the former uses of our built environment may be seen in these images of the north side of Morse Avenue just west of Sheridan Road.
Seen at right are two Sanborn Fire Insurance Maps from 1914 and 1937. The earlier map shows several single-family homes on Morse, which would be replaced by the 1920s with a private parking garage and a commercial building to serve this neighborhood's rapidly growing population, which had (and still has) a chronic lack of parking.
The vintage photograph below left shows the private parking garage (combined with a Dodge dealership) which served residents of Rogers Park. The auto dealership and garage is long gone, but the commercial building to the right in both images remains. These images were first shared during an FC presentation at the Rogers Park / West Ridge Historical Society in 2011.

FC also recognizes that the Chicago area's retail history extends far beyond Marshall Field's and The Magnificent Mile, and we have a strong interest in local retailers, shopping centers, and developers. Seen at right a rendering of one of many Jewel Tea Company grocery stores to open in the 1950s; countless decades-old grocery stores in the area remain standing without their original tenants. Forgotten Chicago points out these buildings during tours when extant.
Also at right is an ad promoting franchising for White Hen Pantry, a Chicago-area convenience store chain started by Jewel in the 1960s and sold to the owner of 7-Eleven in 2006. The demise of the White Hen brand is one of many formerly Chicago-based retailers to disappear, or to later become owned by out-of-state companies.
Other areas of Forgotten Chicago's retail interest besides grocers and convenience stores include lesser-known (and often floundering) shopping centers, along with the enormous number of retail chain stores in the Chicago area before World War II. The dominance of chain stores is nothing new; as an example, in 1935 there were a total of 90 A&P grocery stores within the Chicago city limits, including no fewer than nine outlets along a 14-block stretch of North Broadway Avenue (2901, 3109, 3156, 3211, 3324, 3549, 3810, 4014 and 4214 North Broadway).3
Although millions of square feet of enclosed shopping centers have been constructed in the Chicago area in the last sixty years, the city itself only had two enclosed large regional shopping centers built away from the Loop and North Michigan Avenue. The first was Ford City, which opened in 1965 and was explored during a Forgotten Chicago bus tour in 2012. The second was The Brickyard, dedicated in 1977 (right) which was demolished in 2003 and redeveloped as a more conventional outdoor center.
Seen below left is a rarely seen rendering of Montgomery Ward's massive State Street flagship, the retailer's first Loop store. This site was acquired when Ward's purchased The Fair department store chain in 1957. Seen below is a 1965 modernization by Perkins & Will; Ward's enormous flagship store was demolished just 20 years later for the unbuilt Dearborn Center project.4
The Fair and Montgomery Ward not withstanding, many of Chicago's other iconic former department store buildings are still extant, either on State Street, as stand-alone buildings in outlying commercial districts, or in regional shopping centers. These department stores included long-gone names such as Lytton's, Goldblatt's, Wieboldt's and Maurice L. Rothschild Company. Notably, many of these stores hired prominent architects to design modern and innovative stores, which are often little-known today. Additionally, many of these buildings remain standing, repurposed to other uses.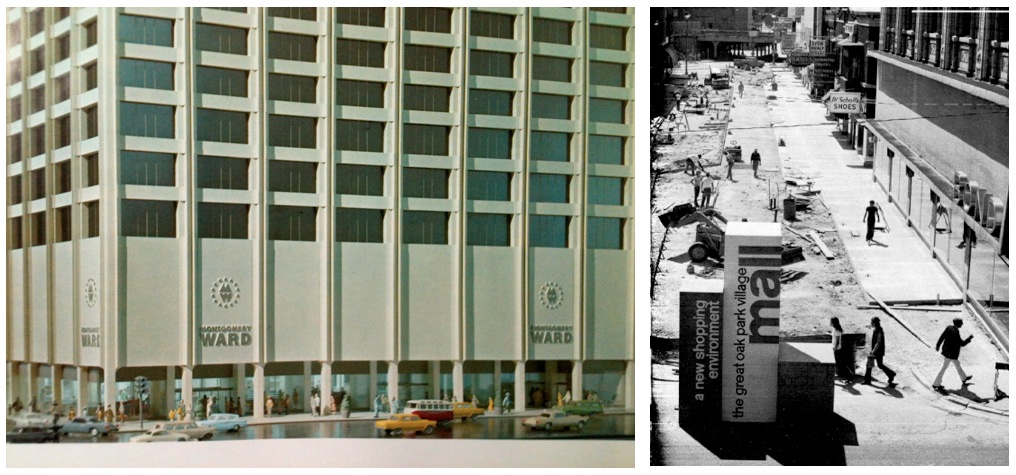 Left: Chicago Magazine Charter Issue, 1965 Right: Inland Architect
Seen under construction above right is the Great Oak Park Village Mall, which turned busy Lake Street from an arterial street into a pedestrian-only mall from the 1970s to the end of the 1980s. Failed pedestrian malls such as the one in Oak Park, as well as the State Street Mall, tend to be forgotten the moment they are reopened to traffic, but not to Forgotten Chicago.


Left: Chain Store Age Right: Chicago Magazine Charter Issue, 1965
Former Chicago-based department store Carson Pirie Scott once enthusiastically embraced modern architecture, and some of these buildings may still be seen today. Both Carson's 1954 five-sided branch department store at the now mostly demolished Woodmar Mall in Hammond, Indiana, as well as the Carson's built- and managed- Seven Continents restaurant from the 1960s at O'Hare remain very much extant in 2012. Both buildings still contain original design elements, and are well worth a visit the next time you find yourself in Hammond or at O'Hare.
In the years ahead, FC plans to conduct tours of two of our region's least-explored areas: Northwest Indiana, and the O'Hare Airport area's long history of development, architecture, and controversy.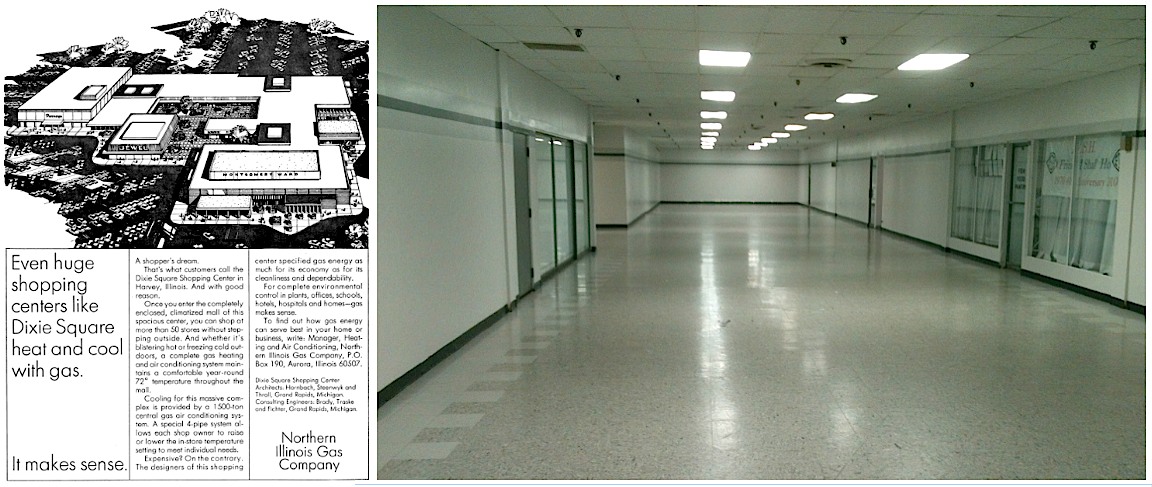 Left: Inland Architect Right: Patrick Steffes
in a region as vast as Chicagoland, enclosed shopping centers that are now demolished, abandoned, or mostly vacant are not particularly uncommon. Arguably the most notable dead mall in the entire U.S. was the recently demolished Dixie Square Mall in south suburban Harvey, Illinois. Dixie Square, infamous for its starring role as a car chase location in the 1980 movie Blues Brothers, stood closed and deteriorating since the 1970s, but was not finally demolished until 2012. Seen above left is a little-seen ad from 1967 promising a climate-controlled "shopper's dream" at Dixie Square.
Forgotten Chicago has researched and visited many of the region's other overlooked and failing enclosed shopping centers. One of these is Meadowdale Mall in Carpentersville, once a bustling shopping center in the northwest suburbs that opened in phases starting in 1957. At one time home to Carson Pirie Scott (formerly Peoria-based Block & Kuhl), Wieboldt's, F.W. Woolworth, Kroger Food Center and Piggly Wiggly, along with dozens of other stores, Meadowdale Mall purportedly had 7,000 parking spaces. Still partially intact as of this writing, Meadowdale is a rare example of a largely empty enclosed local mall from the 1950s, which Forgotten Chicago plans to explore further in the future.


Realty & Building
Finally, it is worth noting that Chicago is not always the city that works, or even a city that begins construction on ambitious civic projects. A plan announced in 1954 would have destroyed nearly every building in the "near-slum area" now known as River North and replaced them with the $400 million ($3.4 billion in 2012 dollars) scheme illustrated above. Comprising an area bordered by the Chicago River and Orleans, Ontario and Rush Street, this project never proceeded past the planning stages.
The Realty & Building article announcing this project featured the above illustration, and helpfully noted at the time that River North was "infiltrated with manufacturing plants and warehouses so that half of its buildings are obsolete beyond rehabilitation."5 The new plan would have raised the street grade one level to make a grand pedestrian-only esplanade, with vehicle traffic and 6,000 enclosed parking spaces on the former street level (now below grade). Included would have been not only the new campus of the University of Illinois, but replacements for the existing public library and city and county building, along with vast state, federal and apartment buildings.6
We hoped you enjoyed this look at a small portion of Forgotten Chicago's research archive. To our web site visitors, tour participants, forum members, Flickr page posters, fans and supporters, thank you for your interest in our research. Forgotten Chicago is looking forward to sharing many more discoveries in the years ahead.
Forgotten Chicago's First Contest
---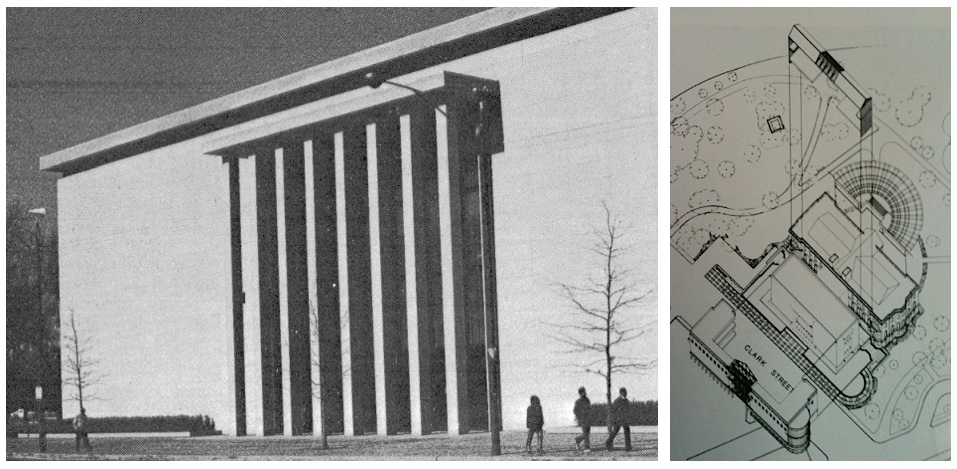 Left: Inland Architect Right: Chicago Architecture: Holabird & Root 1880-1992
On 12/06/12 at 12:06 PM, Forgotten Chicago posted our first contest, asking Forum users to identify the building seen above left. The first person who correctly identified this building won a Forgotten Chicago walking tour for up to 30 participants. The questions and the answers:
1. Just what is this rather grim building? The addition to the Chicago Historical Society (now Chicago History Museum)
2. Where was this built? West of the existing 1932 building; the view above left is on Clark Street north of North Avenue
3. What year was this completed? This building was completed in 1972
4. What architect(s) were responsible for this building? Alfred Shaw & Associates
5. What is on the site of this building in 2012? This building is intact; in 1988, an addition by Holabird & Root (seen above right) was completed, which completely covers and wraps around the 1972 building
In an article in the May 1973 issue of the now-defunct magazine Inland Architect entitled "Stark in the Park: The Historical Society Wing," author Ann Carter is decidedly not a fan of this then-new building at the prominent corner of Clark Street and North Avenue. In the article she states, "there sites a boxy, overbearing, gray-limestore structure that, one must admit, can be mistaken for a mausoleum-a cold, inert building that chooses to face the most uneventful part of its potentially dynamic location"7
Long forgotten, the footprint of this 1972 addition may still be seen using aerial views such as Google Maps. In 2012, the roof of this building is now partially covered with solar collectors, and the imposing columns seen above have been removed.
Sources
---
1. Plans Underway for Hotel Bellevue. Realty & Building, February 4, 1984, pg. 5.
2. Plans Unveiled for North Western Terminal. Realty & Building, April 25, 1981, pg. 1.
3. Illinois Bell Chicago Classified Telephone Directory. Chicago: The Reuben H. Donnelley Corporation with permission of the Illinois Bell Telephone Company, February 1935,
4. Demolition Set to Prepare Site for Dearborn Center. Realty & Building, March 30, 1985, pg. 1
5. Vast Civic Center, Including Apartments and College Campus, Proposed Near River. Realty & Building, January 29, 1954, pg. 17.
6. Ibid.
7. ANN CARTER. "Stark in the Park: The Historical Society Wing". Inland Architect, May 1973, pg. 14.
Read More
---
Tweet