Ten Years of Forgotten Chicago, Ten CHI-llusives
---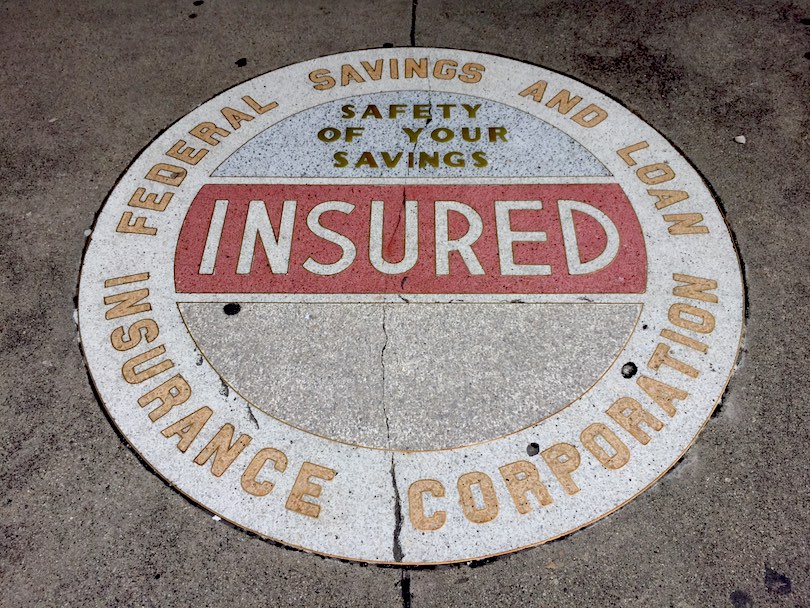 Patrick Steffes
A rare StonEcho in the Loop, this sidewalk near the intersection of Monroe and Clark still advertises federal deposit insurance for a long-vanished Chicago savings and loan. For our definition of a StonEcho, and more examples, see below.
In celebration of the tenth anniversary of Forgotten Chicago's launch as a web site in late 2007, we are publishing some of our favorite recurring elements of the Chicago area's built environment, something we call "CHI-llusives." Always searching for overlooked remnants of the built environment, in recent years the Forgotten Chicago crew and our friends have been on the lookout for these particular urban (and suburban) oddities.
We are calling these ten elements "CHI-llusives" which is itself a made-up word combining Chicago, elusive, and illusive. These three words were combined as "elusive" means often hard to find, and "illusive" because for some of these types, their original use is not apparent at first glance.
CHI-llusives share the following four characteristics:
1. Mostly unstudied and undocumented
2. With a few exceptions, generally no longer being produced or built
3. Sometimes not readily apparent at first glance
4. Often seen as obsolete or dated, and are frequently disappearing from the built environment
Our 10 CHI-llusives include the following:
1. Tidy Town
2. Hizzoner
3. Telebomb
4. Coolidge Coop
5. StonEcho
6. Resurrection
7. Graves Danger
8. Unreal Estate
9. Gladstore
10. Animerchant
Below are descriptions and images of Forgotten Chicago's ten CHI-llusives:
1. Tidy Town
---

Patrick Steffes
Tidy Town (ˈtīdē toun)
Noun. An opaque plastic, molded, backlit sign with raised letters and clip-art style artwork that advertises a local and usually stand-alone business.
Forgotten Chicago's Department of Naming Convention voted unanimously in June 2017 to name these distinctive plastic signs "Tidy Towns" in honor of the namesake coin Laundromat on West Cermak Road in Cicero. The namesake Tidy Town was seen during Forgotten Chicago's tenth event season in 2017 in an FC tour of that community and Berwyn that same month. An apt description, Tidy Towns are far more restrained and tidier, at least after sundown, than the blinking and buzzing incandescent and neon signs that often preceded them.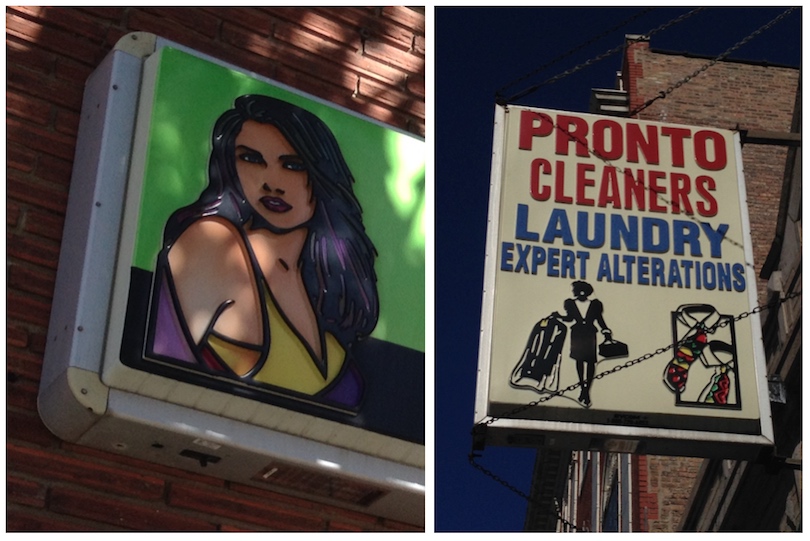 Patrick Steffes
Long considered the cheap step-cousin of the style of signs they often replaced, Tidy Towns feature an opaque off-white background and colorful clip-art style artwork that can be easily read from a speeding automobile or city bus. Tidy Towns were for decades a prolific part of Chicago commercial districts, and have been rapidly disappearing in recent years as their namesake businesses close or newer signs are installed.
2. Hizzoner
---

Matthew Kaplan
Hizzoner (hizz ˈänər)
Noun. A city-sanctioned metal or stone plaque or sign noting a civic project or city-sanctioned improvement area, featuring the name of the mayor and other municipal officials at the time of the structure's dedication.
One of the few CHI-llusives that are in no danger of widespread removal or lack of future placement, Hizzoners may be seen throughout Chicago and the region in buildings such as libraries, parks and public works projects. Along with listing the mayor, Hizzoners usually feature names of other city officials. Despite their masculine connotation, Hizzoners expressly include those featuring Jane Byrne, Chicago's sole female mayor to date, and notably tougher than many of the men that served as mayor before or since her one term from 1979 to 1983.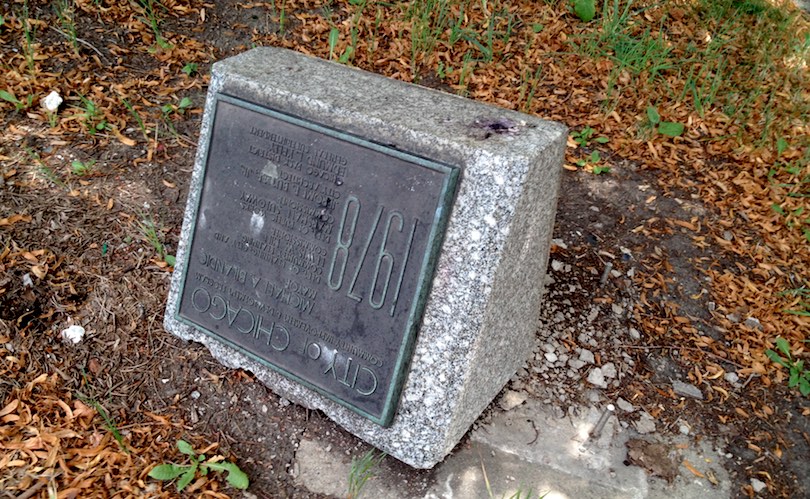 Patrick Steffes
A special acknowledgement of the name is due to Neil Giuntoli, whose 2006 play "Hizzoner: Daley the First" was met with critical acclaim and repeated revivals in the years since its premiere. Giuntoli himself is the great-great-great nephew of Mayor Anton Cermak, whose brief tenure as mayor from 1931 until his assassination in 1933 produced few documented Hizzoners of one of Chicago's greatest mayors.
3. Telebomb
---
ˈteləˌbäm
Noun. A physical remnant of public telephone infrastructure, defunct brand names, manufacturers or consumer products related to the telecommunications industry.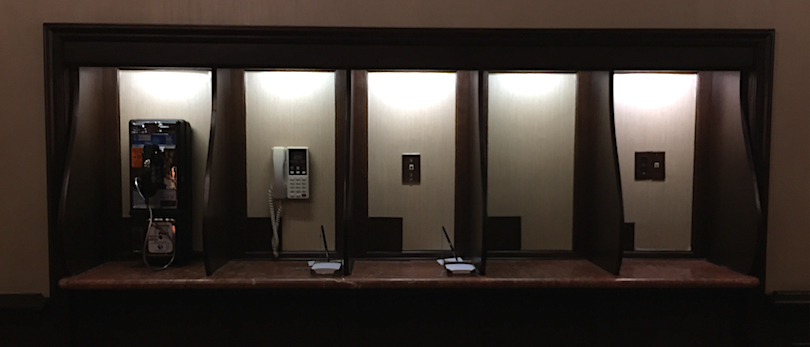 Patrick Steffes
Telebombs are a physical remnant of outdated forms of telecommunication. These include defunct brand names relating to the legacy of the former Bell System including Western Electric, SBC / Ameritech and Illinois Bell that are visible today on places like manhole covers, equipment boxes and on telephone poles.
Telebombs naturally include partially dismantled phone booths or former rows of now-covered pay phones set in a wall in a public building such as a hotel or office building lobby. Still not uncommon today, former locations of pay phones will gradually disappear in the years ahead as building interiors are remodeled.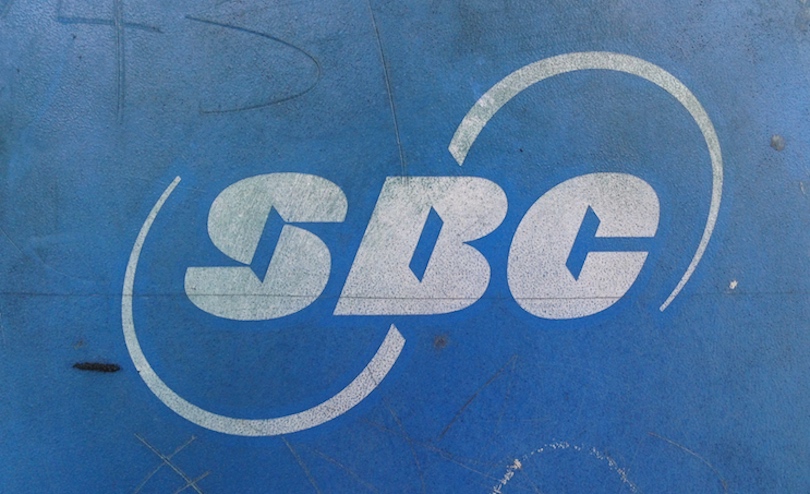 Patrick Steffes
Other forms of now largely disused communication devices are also considered Telebombs, include the more elusive extant signs advertising flip phones, beepers, pagers and faxing services. Physical remnants of long-gone consumer wireless brands that once served northeastern Illinois such as PrimeCo, U.S. Cellular and MCI WorldCom are also part of this category.
4. Coolidge Coop
---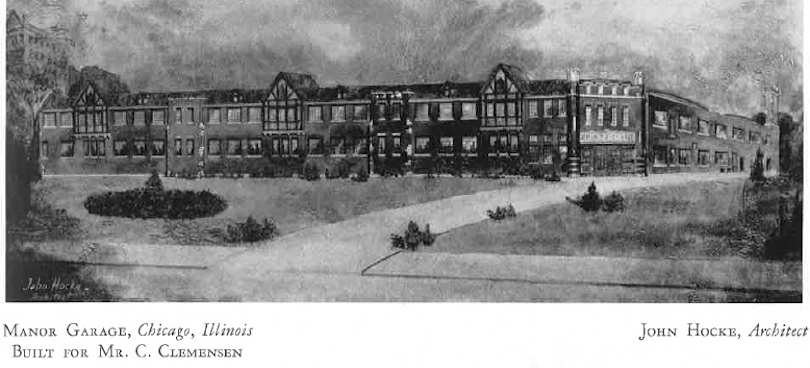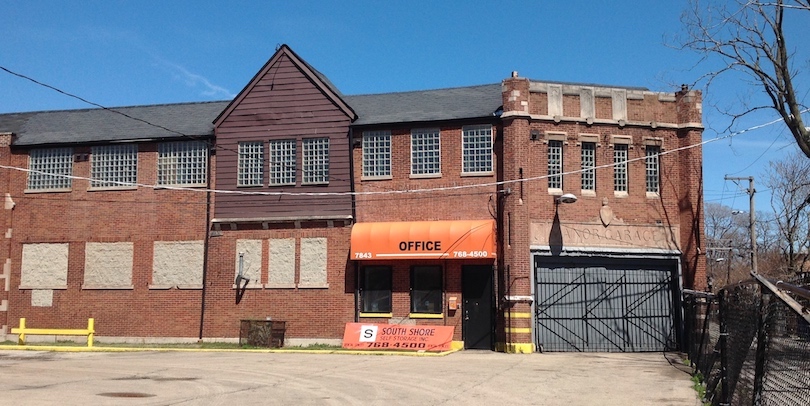 Top: Western Architect, 1928, Bottom: Patrick Steffes
'ko͞olij ko͞op
Noun. A building completed by 1930 that offered enclosed storage of automobiles and remains standing today, either modified to a different use or still offering parking facilities. Coolidge Coops are named in honor of President Calvin Coolidge, whose administration from 1923 to 1929 coincided with the height of private parking garage construction in the first half of the twentieth century.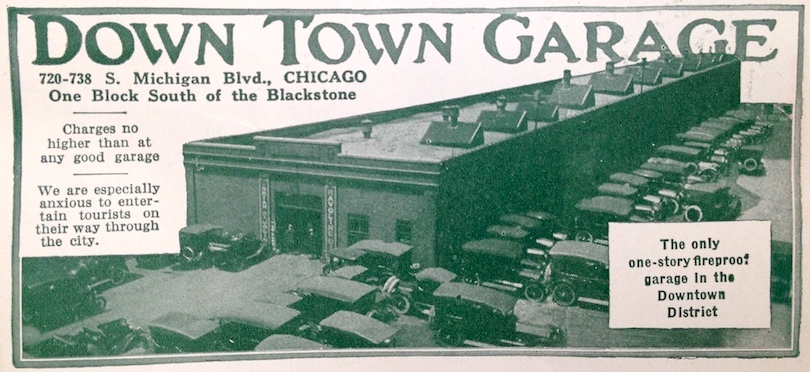 Official Automobile Blue Book, 1918
Not a Coolidge Coop because it is no longer extant, the Down Town Garage would be flattened just a few years after this ad appeared for the construction of the Stevens Hotel, largest in the world when it opened on the 700 block of South Michigan Avenue in 1927. Additional details of this curious and long-forgotten garage have proved elusive, as to what was implied by the staff of a parking garage "anxious to entertain tourists on the way through the city."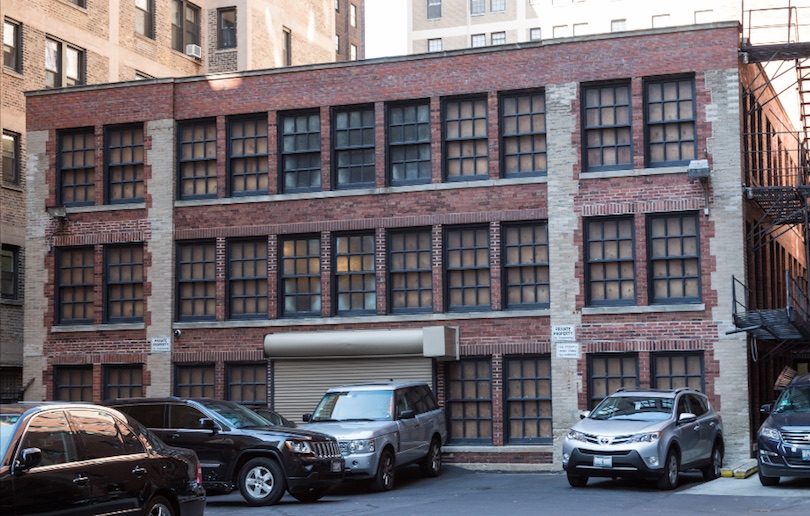 Matthew Kaplan
Despite having an extensive public transportation network decades before and after the advent of the automobile, Chicago experienced an enormous building boom of automobile parking garages from the early 1900s to 1930. Little-researched and often overlooked, many of these sturdy structures remain, either converted to other uses or still offering garage facilities. This handsome and nearly completely intact Coolidge Coop above was seen during Forgotten Chicago's tour of Lake View in September 2017.
5. StonEcho
---
stōnˈekō
Noun. Although correct when first built or installed, a StonEcho is a now-inaccurate name of a building, street or business that was carved in stone or rendered in terra cotta or terrazzo and remains at least partially visible today.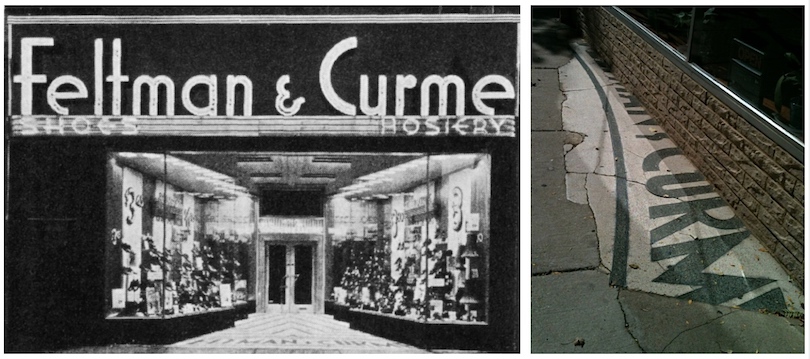 Left: Architecture Record, 1936 Right: Patrick Steffes
Published in 1936, the terrazzo name of Chicago-based national shoe retailer Feltman & Curme may be seen at the bottom of the image on the left. Still extant in Uptown as of this writing in 2017, this classic StonEcho has been visited several times since Forgotten Chicago's first Uptown tour in 2011.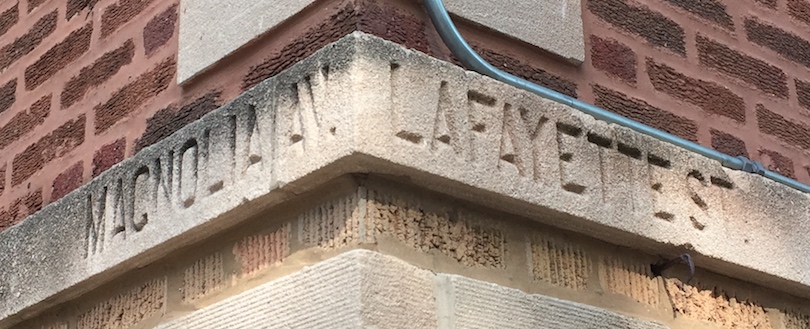 Patrick Steffes
As a neighborhood, Uptown is comparatively lousy with StonEchos. This apartment building just off Broadway and steps from the Uptown Theater still shows Lafayette Street, whose name was changed decades ago. Currently inaccurate former street names inscribed in stone remain in many places in the Chicago area.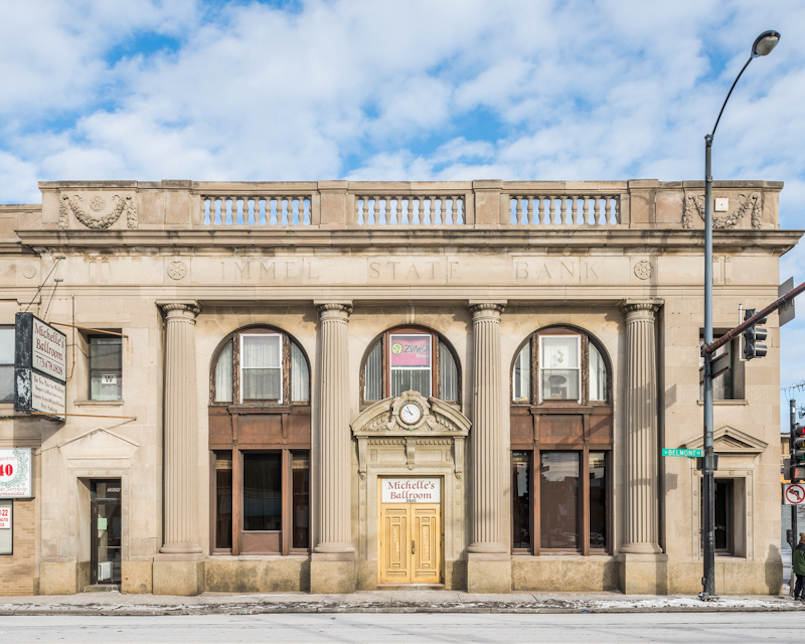 Serhii Chrucky
Numerous Chicago's neighborhood banks failed during the Great Depression, including the former Immel State Bank in 1931 at Belmont, Elston and California. Later a nut company headquarters, the current Michelle's Ballroom was the location of Forgotten Chicago's 10×10 celebration on February 11, 2018.
6. Resurrection
---

Patrick Steffes
ˌrezəˈrekSH(ə)n
Noun. A building originally constructed for religious purposes converted to secular use, or a secular building converted to religious use.
Overlooked Modernist architect David Haid (1929-1993) may be best known in his distinguished career for the Abraham Lincoln Oasis on the Tri-State Tollway, since demolished. Haid also designed a factory in west suburban Wheaton in 1966, converted in 2012 to a church. This Resurrection has been faithful to the building's exceptional industrial architecture.
7. Graves Danger
---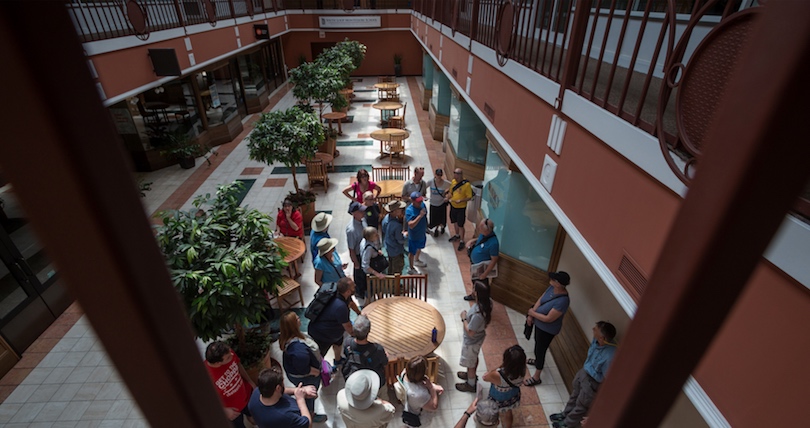 Matthew Kaplan
ˈɡrāvz ˈdānjər
Noun. Named in honor of Postmodern pioneer Michael Graves (1934-2015), a Graves Danger is an overlooked, poorly maintained, or threatened Postmodern interior or building dating from the 1970s to the 1990s.
Visited above during Forgotten Chicago's tenth event season in August 2017, the 1986 Dearborn Station in the South Loop features a nearly-completely intact Postmodern interior. As with many Graves Dangers, this interior may be threatened in years ahead with modernization or a conversion to other uses.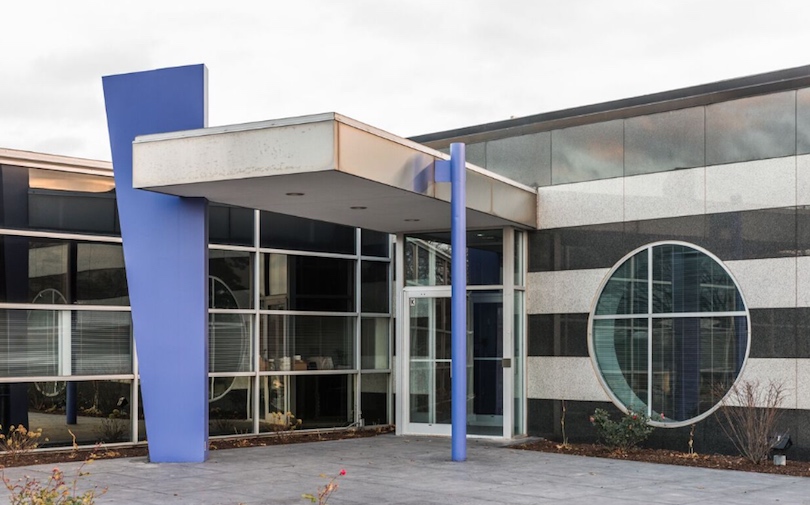 Serhii Chrucky
Northwest suburban Elk Grove Village has a remarkable collection of little-known Postmodern buildings, including the project above by Arquitectonica, one of the most prolific firms in this style and the epitome of South Florida cool in the 1980s. Seen by some as laughably out-of-date, Postmodern buildings and interiors, especially single-family homes, have been threatened in recent years with demolition or drastic remodelings.
8. Unreal Estate
---
ˌənˈrē(ə)l iˈstāt
Noun. A mostly unbuilt or partially completed residential or commercial development with physical remnants dating from its initial construction.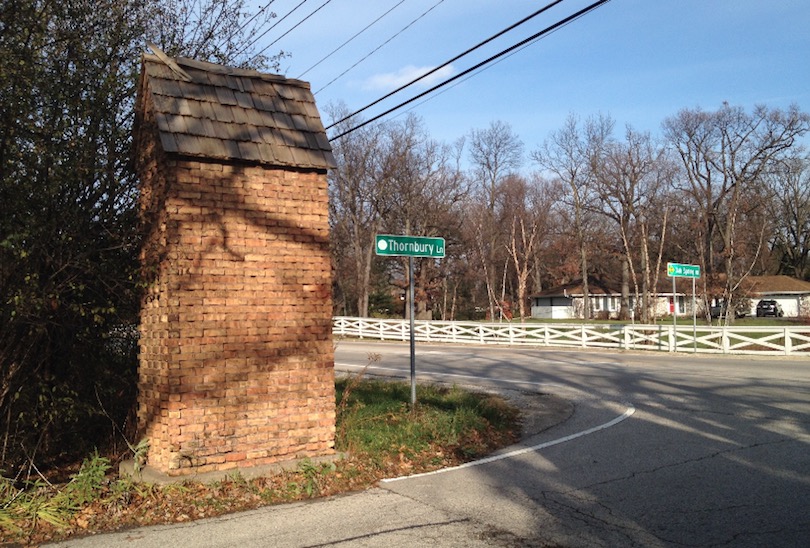 Patrick Steffes
A textbook example of Unreal Estate and the often-outrageous development schemes announced at the height of Chicagoland's 1920s real estate bubble, Thornbury Estates was announced in April 1927 and was planned be a "community of estates" on lots from one-half to up to 20 acres, spread over 450 acres of then-mostly undeveloped land in Lake County, Illinois.
Ninety years later, there are still remnants of this mostly-failed development, including a few brick entrance markers, a few swank period homes, and what may have been a sales office at the entrance to this doomed development. In an area as large as Chicagoland, there are nearly countless examples of Unreal Estate, many waiting to be discovered and documented.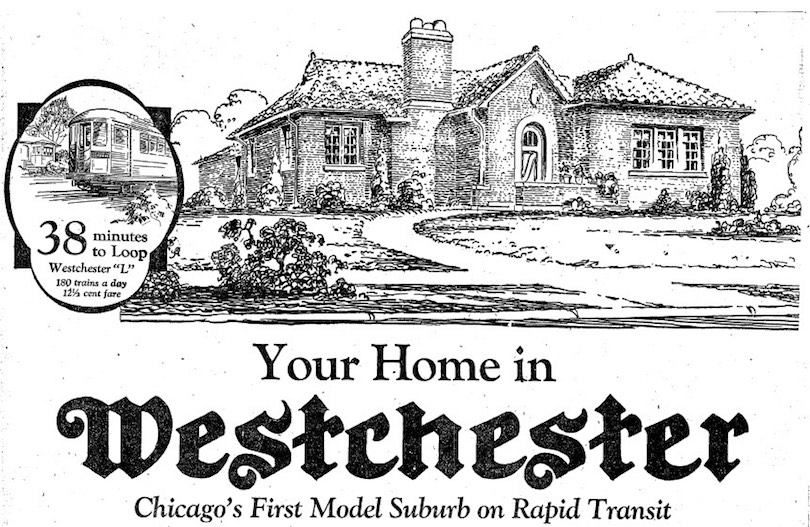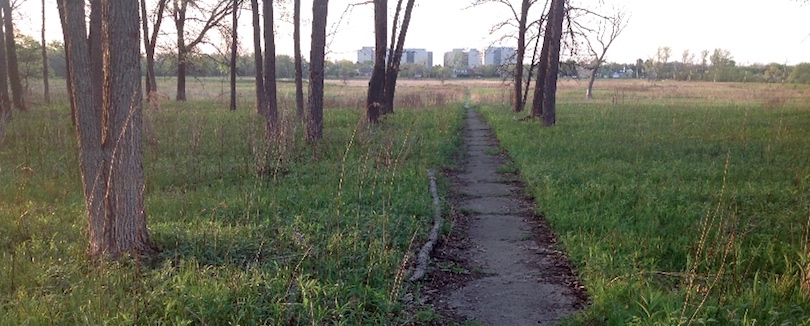 Top: Chicago Tribune, 1929 Bottom: Patrick Steffes
Perhaps no single municipality in the Chicago area was as visibly affected by the 1920s housing crash as west suburban Westchester, which for decades contained seemingly-endless stretches of completed streets and sidewalks and very few actual buildings. A curious Unreal Estate remnant today is a prairie crossed with sidewalks and a 1980s suburban office complex on the horizon, as seen above.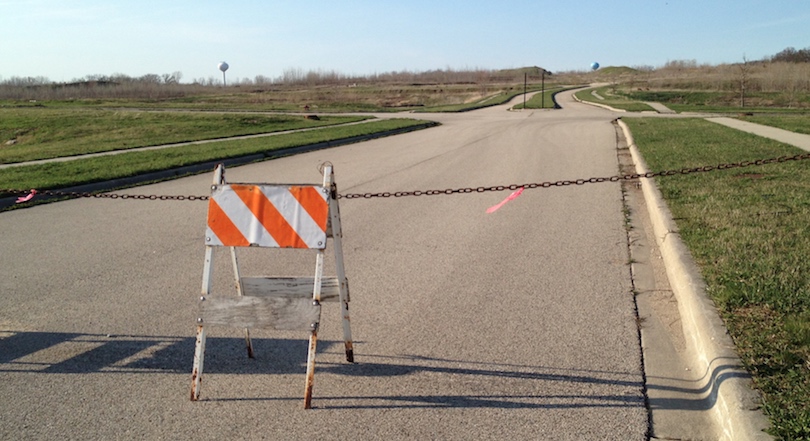 Patrick Steffes
Though not on the same scale as in the 1920s, eighty years later vast and often abandoned and unfinished housing developments were seen again throughout the Chicago area, including this recent example in Lake County, Illinois. Forgotten Chicago has been documenting these landscapes since 2006, traveling hundreds of miles in the suburbs and exurbs of Chicago and Northwest Indiana.
9. Gladstore
---
ɡladstôr
Noun. A circa 1930s to 1960s storefront modernization that does not relate to the remainder of the building it is housed in; often streamlined and with exuberant detail. Gladstores are named in honor of the closed Gladstone Park Bakery on Chicago's North Milwaukee Avenue.

Patrick Steffes
Mainly located in Chicago's outlying shopping districts and inner-ring suburbs, Gladstores were designed to attract the attention of shoppers traveling by foot, bus, streetcar, or automobile. Usually featuring large windows and attention-getting signage, far fewer Gladstores remain today compared with their ubiquity by the mid-1960s.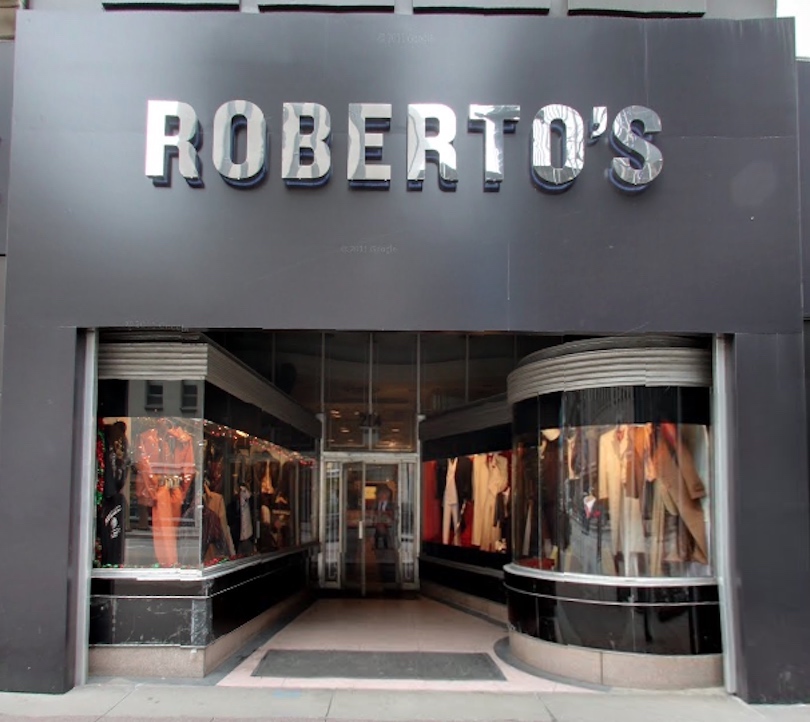 Google Street View, 2014
One of the few remaining Gladstores in Chicago's Loop and obscured as of this writing by a metal grate, the Art Deco storefront of the now-closed Roberto's men's clothing store at 214 South State Street is nearly completely intact from its remodeling in 1935 for the Mitzi Frock Shop.
The epitome of a Gladstore, this storefront adjacent to the highly ornamented 1913 Consumers Building by Jenney, Mundie and Jensen and has absolutely no relation with neighboring buildings built around the same time; the original construction date of the building pictured is not known. The former Mitzi / Roberto's was designed by architect M. Louis Kroman, perhaps best known for his exuberant Art Deco 1929 Coolidge Coop at the southwest corner of South Lake Park Avenue and East 55th Street in Hyde Park.
10. Animerchant
---
ˈanəˌˈmərCHənt
Noun. A cartoon or mascot that is the identity of a business headquartered in the Chicago area.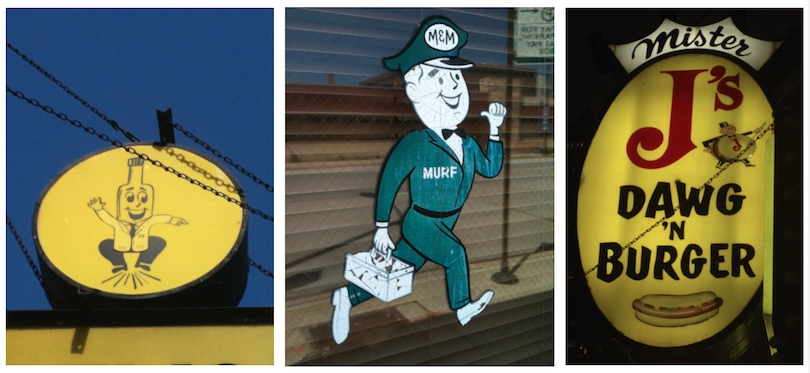 Patrick Steffes
Our final collection of CHI-llusives are Animerchants, cartoon-style illustrations and/or mascots that were or are integral to the identity of locally-based business. Reaching their peak in popularity in the decades after World War II, Animerchants are becoming increasingly rare, as few are created today and older businesses change their identities or close down.

Chicago Tribune, 2017
A notable and welcome exception to the move away from Animerchants is JoJo, the distinctive new mascot and symbol for Jewel Osco that made its debut in June 2017. JoJo's unique appearance marks a welcome return to locally based chains trying to stand out from their competitors with a quirky, fun, and memorable symbol.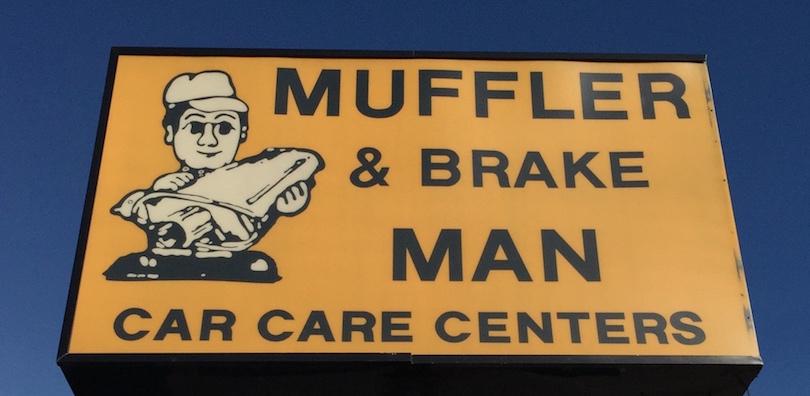 Patrick Steffes
We hope you enjoyed our collection of CHI-llusives, and encourage our readers to share photos of their own finds throughout the Chicago area:

ChEyeBall on Twitter, featuring CHI-llusives and more

ChEyeBall on Instagram, also featuring CHI-llusives

Forgotten Chicago on Instagram
Read More
---
Tweet