John Sexton and Company was a large wholesale grocery firm that originated in Chicago in the 1870s.
At one time, the company also operated a chain of tea and coffee stores.27 In 1908, Sexton moved their warehouse to Illinois and Kingsbury, to a plant designed by Alfred Alschuler. In 1928, a six story addition (also designed by Alschuler) was added to the east of the original building, which pushed the building up to Orleans. Both the addition and the original structure were built with foundations to support a twelve story building, though the postcard depicts the factory in a six story configuration.28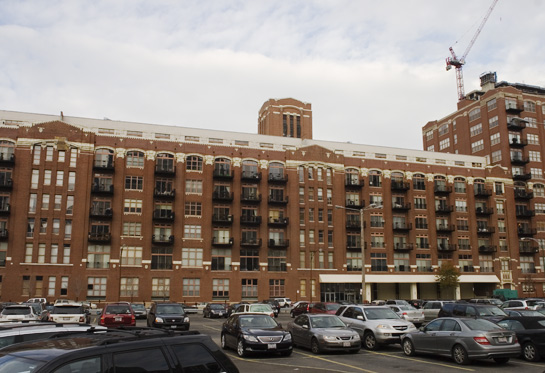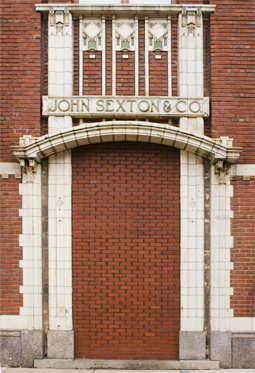 In 1955, it was announced that John Sexton and Company would build a new plant at 47th and Kilbourn and abandon this one. The move likely took place shortly thereafter.28 This building was later converted to condos. At some point, more floors were added to the eastern (1928 addition) section of the building, likely during the condo conversion. Regardless, the building remains in excellent shape, and is a model for the preservation of Chicago's industrial architecture, with one exception; a bricked entrance (pictured at right)!
Exhibiting some of the architect Alschuler's distinctive terra cotta ornament (as well as indicating what the building used to be), it should serve as the grand entranceway and centerpiece of the condo conversion; instead, it has been bricked in, with a nondescript entrance added to the west of it. Alas, perhaps one should simply be satisfied that the building is still extant and well maintained.
Read More
---
Tweet