Here is arguably Chicago's best example of an art deco style factory. The Richter's Food Products "health sausage" factory on Randolph and Carpenter was constructed beginning in 1931 for a cost of $500,000.12 The architect was H. Peter Henschien, a noted and prolific Chicago-based designer of meat packing plants.13 The Tribune described the new building at the time of construction as being "of pleasing design." Bruno Richter had started the firm about ten years earlier in Jefferson Park, with the idea of "marketing sausage through extensive advertising."14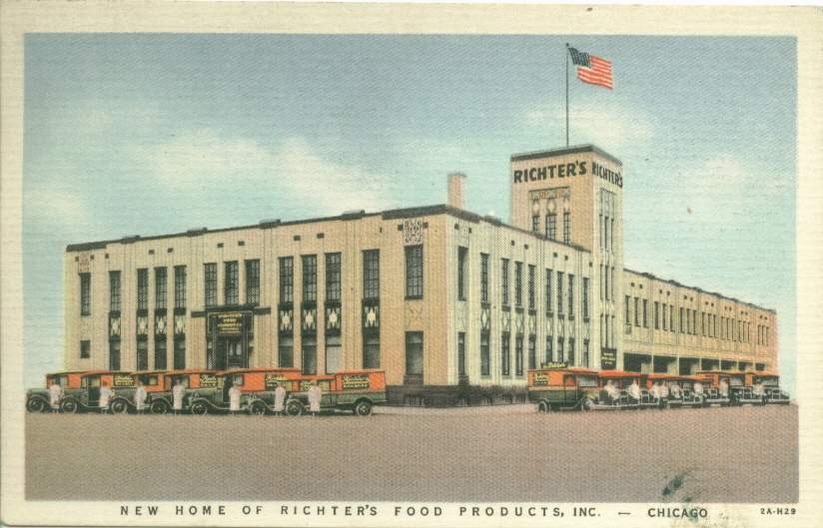 This plant was built to consolidate three other locations in Chicago. At the time, much of Chicago's industrial expansion was occurring at the outer reaches of the city and in the suburbs, this plant being an exception to the rule. However, much of Chicago's food processing industry did remain in the central area instead of relocating elsewhere, so the example of Richter's isn't too out of the ordinary. What is odd (and delightful) is the cost and design expended on the factory, which was built in a then-declining area.
The wonderfully colorful art deco design reflects optimism at the beginning of the Great Depression. The water tower is artfully concealed by the central tower of the building. Such rare amenities as air conditioning for the office spaces were featured when the plant opened in 1932.15 Remarkably, the former Richter's factory remains quite intact, and is currently in use as a furniture gallery.
Read More
---
Tweet