Have you ever wondered which of Chicago's streets is the shortest? How about the fourth shortest? You're in the right place. There are 16 streets in Chicago that are shorter than a quarter of a block, which we've listed here.
Before we start, it is important to know how and what we counted as a "street." The length of these streets was determined by their number of address numbers. The source we used most heavily is Streetwise Chicago by Don Hayner and Tom McNamee. They in turn got the information from official city documents and street numbering guides.
Let's use Oswego street as an example of how this list was compiled. Oswego lies at 1650 west (runs north-south) on the grid from 400-420 north. The start and end point coordinates are then subtracted, thus Oswego runs 20 address numbers. The address numbers determine the street's length and are included in parenthesis after the coordinates for each street on this list.
Stubs of streets that run discontinuously on the grid were not counted. A good example of this is Lacey avenue which has a tiny stub in the Caldwell woods, but continues elsewhere in the city for a small duration. The street must be contiguous and unique. Also discounted were a number of Rosemont streets that run into Chicago for 14 address points. These are normally sized streets, they only happen to be in Chicago for a short period. They are not physically short but are rather bureaucratic anomalies.
Another example of this occurs near a border between Chicago and Harwood Heights. Every house on Redwood avenue, a street of normal length, is in Harwood Heights, except for one. Since Redwood is only in Chicago for 4 address points, it could be considered the shortest. However, this is another anomaly related to administrative borders and not physicality.
A variation of this phenomenon exists near Beverly Park on the south side. 102nd street runs for about a quarter of a block between Artesian Street and Beverly Park as Bosak Avenue. This was not counted because, again, the street is not actually tiny. Bosak is 102nd street, not a unique street. Really, its a matter of semantics. Are Kimball and Homan the same street? What's in a name?
Lastly, private streets were not counted. We could argue that as they are not public property, we would be trespassing in order to get photographs of them. And, as private property they lack the element of the public realm that is so crucial to how we think of streets.
Where's the content already, you ask? Here they are, in descending order:
McCutcheon Terrace 944w 4900-4924N (24)
---
| | |
| --- | --- |
| John T. McCutcheon, 1915. Chicago Daily News negatives collection, DN-0009949. | |
Located in Uptown
, this obscure street connects the one way streets Ainslie and Margate. The namesake of the street and adjoining elementary school was a cartoonist for the Tribune in the first half of the 20th century, shown in the bottom left image. No addresses are located on the street, only a parking lot and Buttercup Park, the latter of which was probably named in a contest to find the most disgustingly saccharine name possible.
Oswego Street 1650W 400-420N (20)
---
North of the embankment
running along Kinzie avenue, there used to be a number of streets running north from Kinzie for the same duration as Oswego. Long-built over streets like Jessie, George, Baldwin, and Bixby. Oswego is the only one remaining, and it is no more than an alley-parking lot-loading area with a name. In fact, the loading docks for the Roman Marble company constitute the primary use for this street. The image at bottom left is the entire duration of the street. The top left image shows Kinzie facing west, Oswego and Paulina streets visible at right, respectively. The bridge in the same image is a former Metropolitan West Side elevated bridge.
Portland Avenue 228W 4500-4520S (20)
---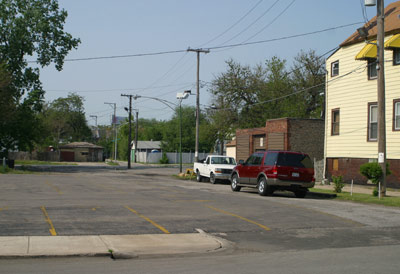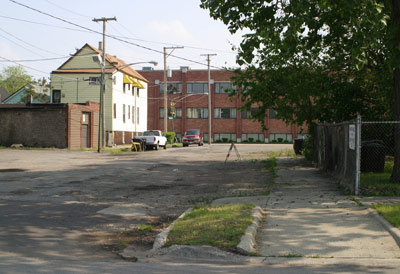 Aside from being
a very small street, Portland is otherwise not worth mentioning. Located in the eastern part of Canaryville near 45th and Princeton, one can pay it a visit to find out firsthand what "urban prairie" means.
Peshtigo Court 500E 500-520N (20)
---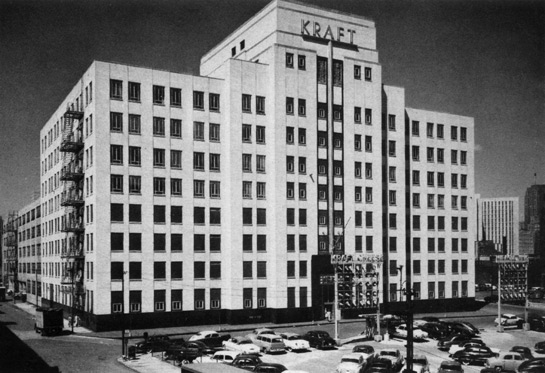 Though it is not evident in these photographs, both of which show Peshtigo in its entirety, the area around the street has changed greatly in the recent past. The formerly industrial Streeterville area has been filled up with high-rise commodity condo buildings and expensive stores. Kraft was one of the last companies to leave the area. Their Streamline Moderne style Kraft-Phenix Building, shown at left, was used by the Police Department before it was torn down in 2003. As of this year, it can be considered retroactively condozed.
Schick Place 500W 1250-1270N (20)
---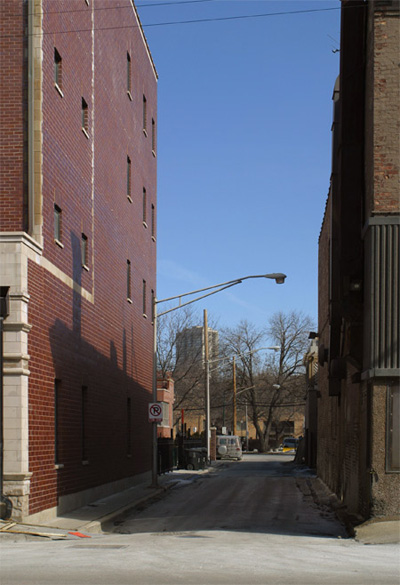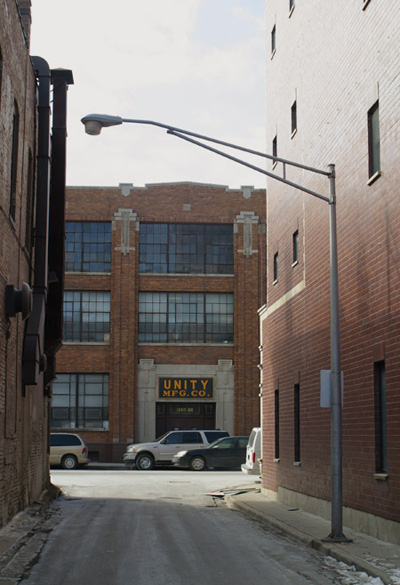 Schick Place
did not always have a name; on the 1886 Robinson map it is simply an unnamed alley. It was named after William Schick, a storekeeper and landowner in the area, probably not too long after 1886. Don't be fooled, its still an alley.
Schorsch Street 3314N 6602-6622W (20)
---
| | |
| --- | --- |
| | Named after the real estate agent brothers who subdivided this area, this street in the Bungalow Belt is not notable for anything other than its length and name. |
Germania Place 1536N 100-118W (18)
---
This street is named for the Germania Club, which is in turn named after the country. The street runs its short course along the south side of the building.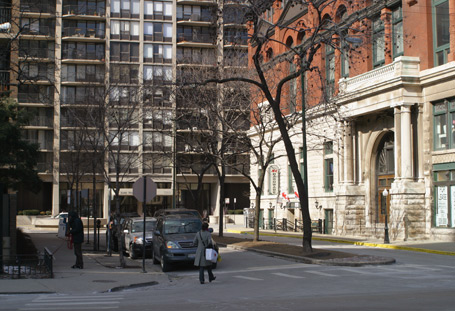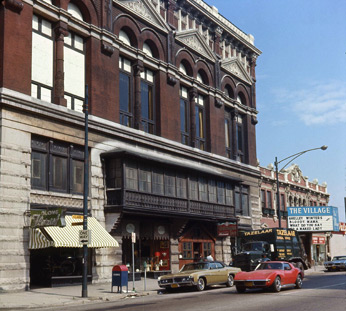 Right: Photographer unknown.
Left:
Germania Place, with the club to the right.
Right:
Germania Club in 1970, prior to National Register status and renovation. The adjacent
Village Theater
, originally named Germania, closed early 2007.
Germania Club houses Chicago's oldest German social organization in addition to a number of ballrooms, halls, and retail occupants. A mix of neo-classical and German Renaissance elements, the building was designed by architect August Fiedler and built in 1889. One of the last vestiges of the Gold Coast's German heritage, it was added to the National Register of Historic Places in 1976. A full renovation followed in 1994. Surprisingly, it is not a city landmark.
Leavenworth Avenue 5300W 5534-5552N (18)
---
The arrangement of the streets on the northwest side around Jefferson Park, Sauganash, Norwood Park, and the Caldwell woods is a big mess. With no less than four major diagonal arterials in the area, streets break the grid in a seemingly random fashion. It has partly to do with the boundaries and internal grid of the Caldwell reservation.
Most of the area around Leavenworth was developed as early as the 1870's, and can be seen as a precursor to the carless sprawl that would eventually characterize new development in the second half of the 20th century.
That said, there is no good reason why this little stub is named Leavenworth other than it being a matter of naming. Leavenworth has a parallel twin to the north, a stub of Leonard street. Leonard continues at a different point northwest of Lynch avenue, however the parallel street there (where Leavenworth would be) is named Manton.
---
| | |
| --- | --- |
| | There are many other places in Chicago where the grid is broken, most commonly near angle streets or the river. This triangular development in Logan Square is no exception; it is bisected by a street running perpendicular to Milwaukee Avenue. This is all well and good. However, being the sticklers that we are, we also like to know the reason developments are platted this way. Perhaps on a whim of the developer, or to provide variety? We can sometimes figure it out, but not with this mysterious triangle. Maybe the reason has already plunged into the depths of obscurity. |
Julia Court 2142N 2700-2718W (18)

---

St. Helen Street 2114N 2700-2718W (18)

---
The two "courts" of these five tiny streets, Julia, and the ever-so-slightly-smaller Henry (four down), were also the first platted. The main streets in the triangle, Point, Stave, and Francis were part of the original subdivision. Julia and Henry courts were added sometime between 1871 and 1879.
Chanay Street 2132N 2720-2738W (18)

---

St. Mary Street 2170N 2748-2766W (18)

---
The three tiny street "streets" in this area, St. Helen, St. Mary, and Chanay (pronounced Chay-nee) were added between 1890 and 1892. My apologies if your address lies on one of these, but they are double-wide alleys with legal parking, notable only for their minuscule length.
Henry Court 2100N 2768-2784W (16)
---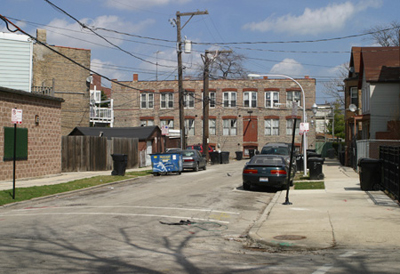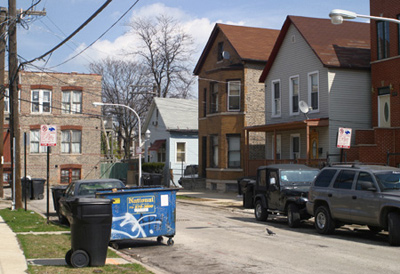 Henry is probably the most interesting tiny street of the five in the triangle. A number of houses front to it; some of them are made of brick (frame houses are common in this subdivision). Officially it is slightly shorter than the rest, and as stated earlier, is one of the older streets in the triangle.
Lucerne Avenue 5100w 6054-6066w (12)
---
This street is in the Caldwell woods and even abuts the Caldwell golf course. This in part accounts for its length, see Leavenworth on the previous page. Other than its unusually short length, there is really nothing special about it, right down to the banal suburban architecture, as seen below. I wouldn't be surprised if someone called the police on us for taking photos during our visit.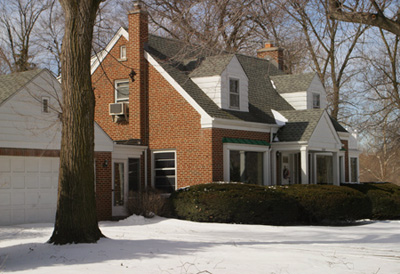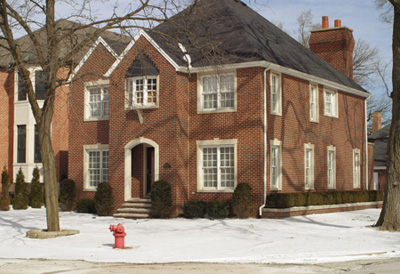 Hoey Street 964W 2702-2712S (10)
---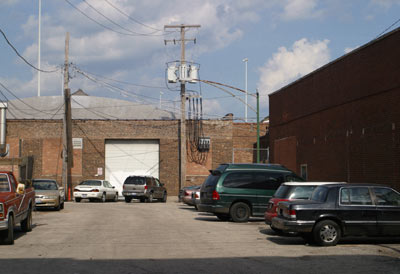 Hoey along with Mary form by far the smallest intersection in the city. Unlike Mary, which exists north of the Stevenson expressway but is bisected by it, Hoey was always this length. The area around it was subdivided, most likely in the 1850's, by a fellow named Hoey. He cut a small street through the property and named it after himself. The detail below of the 1886 Robinson map shows the extent of the subdivision, as well as the type of industry in the area. Small packinghouses are still active here; a trip to Hoey requires one to enjoy the aroma of rendered meat.
McDermott Street 1400W 2928-2936S (8)
---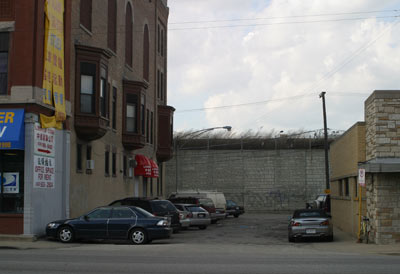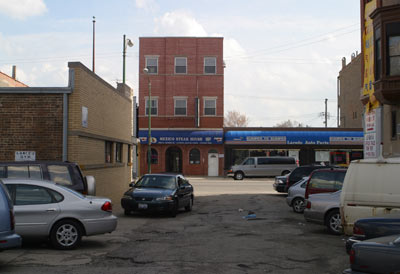 The smallest street in the city. It was not always tiny, but was made so when the Stevenson Expressway cut a swath through Bridgeport. Most of the street was eliminated, but the little bit that remains is, like other tiny streets, effectively a parking lot. Bridgeporters: please brag to your friends that your neighborhood contains the city's two shortest streets.
Speaking of short streets, Short Street proper is at least 138 address points, if you don't factor in for its diagonality. Conversely, Long Avenue is 918 address points. Really, what is in a name?
Sources
---
Hayner, Don and Tom McNamee. Streetwise Chicago: A History of Chicago Street Names. Chicago: Loyola University Press, 1988.
Krefft, Brian. "Village Art Theatre." Cinema Treasures. http://cinematreasures.org/theater/409/ (accessed 26 Nov. 2007).
Sinkevitch, Alice, et. al. AIA Guide to Chicago. New York: Harvest Books, 2004.
Read More
---
Tweet