What do Rogers Avenue and Forest Preserve Drive have in common? They both follow an old Indian Boundary line. The Indian Boundary line came about in 1816, when the Fox and Sauk tribes ceded land in a 20 mile corridor to the United States, at the Treaty of St. Louis. The rest of the land outside the boundaries was still owned by Native American tribes until the Chicago Treaty of 1833. There is a corresponding Indian Boundary line 20 miles to the south (in the Calumet region), but its route is only followed by one short street.
Interestingly, while Rogers Avenue and Forest Preserve Drive follow the boundary line, they were never put through as one complete street. Rogers starts and stops about four different times. Forest Preserve Drive is a rather major thoroughfare near the western edge of the city, but it is short and doesn't connect to Rogers at all.
Now, follow along from east to west as we describe some points of interest along both streets:
East Section
---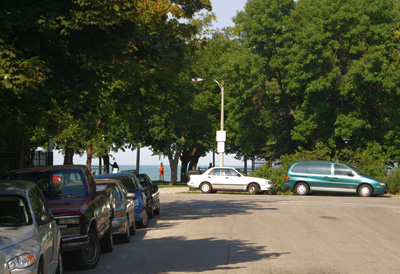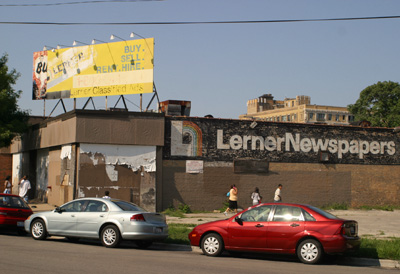 Left:
Rogers begins (or ends) at a small neighborhood beach on the lake in Rogers Park.
Right:
This building used to house Lerner Newspapers, a publisher of community newspapers. It has since been torn down, after laying vacant for years.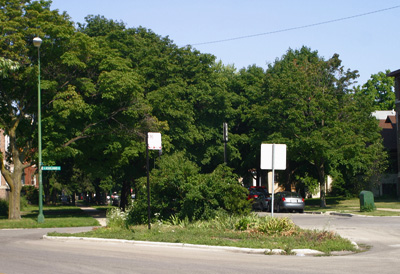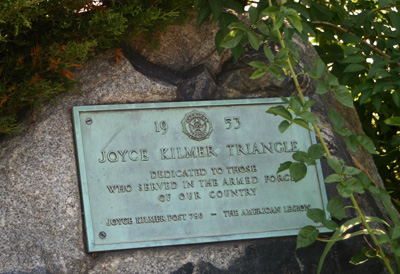 This little triangle at the intersection of Rogers, Birchwood and Ashland is named the "Joyce Kilmer Triangle." It is not known why this World War I-era poet is honored with a plaque, considering that he has no known connection to Rogers Park or Chicago. Interestingly enough, there is also a grade school named for him about a mile south of here.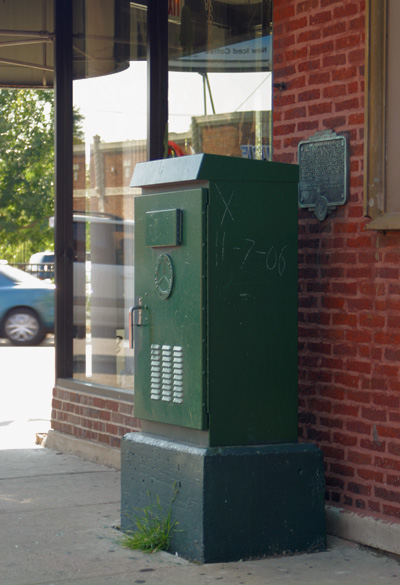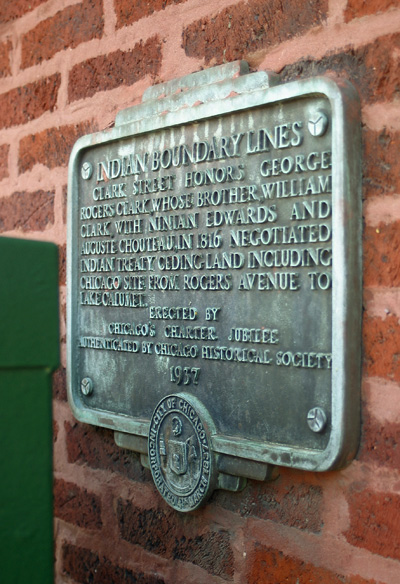 This plaque, located at Rogers and Clark, was installed by the Chicago Charter Jubilee in 1937 and describes how George Rogers Clark's (whom Clark Street is named after) brother was involved in the Indian Treaty for the land that would become Chicago. A few years ago, the city decided to install a lighting box directly in front of it, making it very hard to spot. Nice job!
Indian Boundary Park
---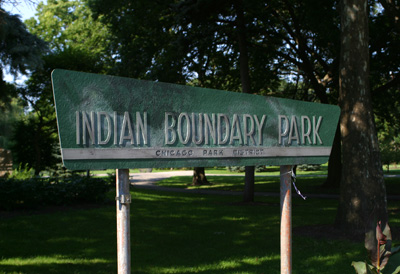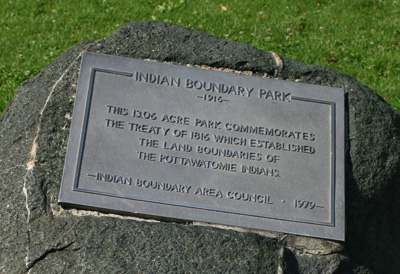 Rogers has its first interruption westbound at Ridge, but the boundary line continues along invisibly. It runs right through its namesake park, the main entrance of which is on Lunt.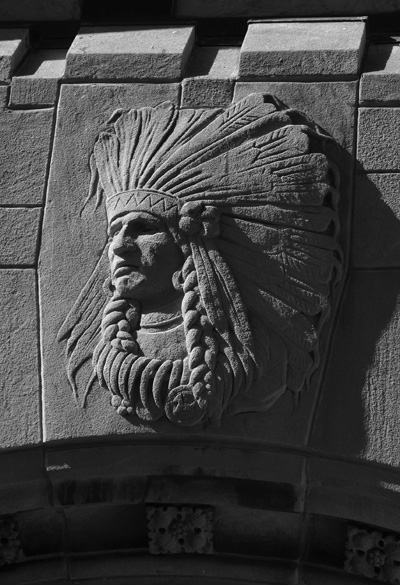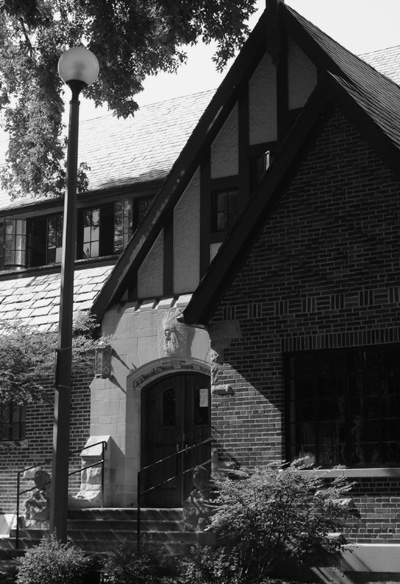 The beautiful arts and crafts style field house on Lunt sports this decorative Native American head above its entrance. A nice way to say, "thank you for letting us take away all of this land!"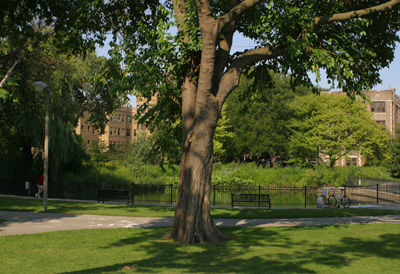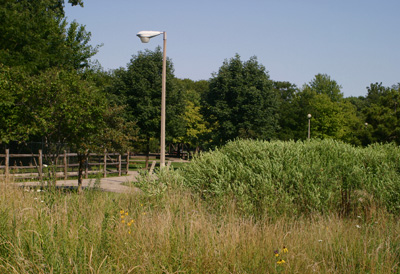 The park
features a pond and a prairie grass restoration.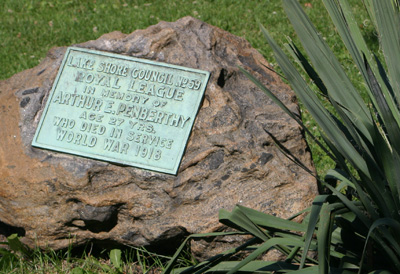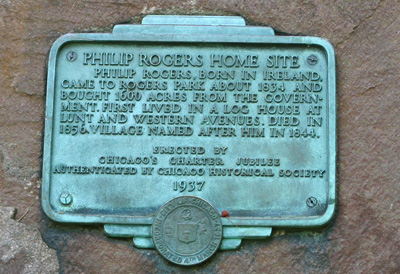 Left:
A plaque honoring a local resident who died in World War I.
Right: This Charter Jubilee plaque in the park marks the site where Philip Rogers' home was in the 1800s. Rogers Park was named for him.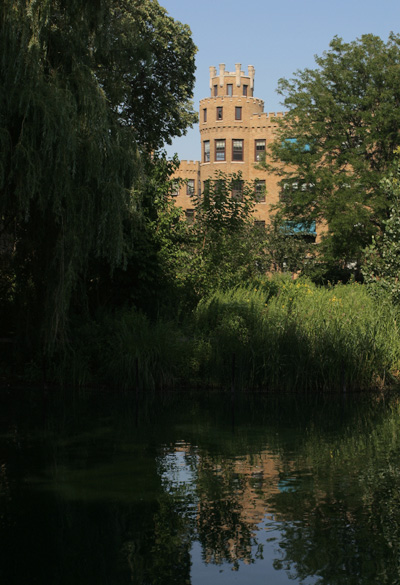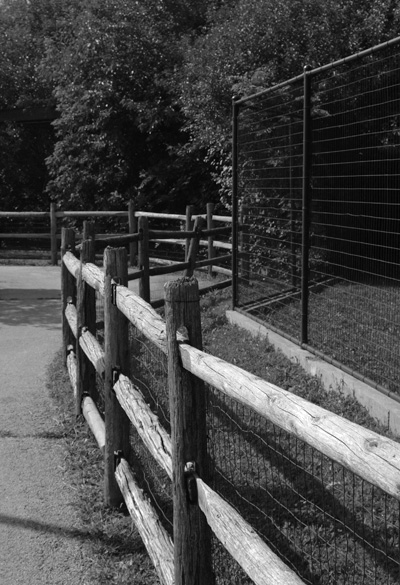 Left: The east side of the park is bordered by a number of 1920s apartment buildings, many with English elements. One was designed by famed landscape architect Jens Jensen.
Right: This park is the only neighborhood park in Chicago that has a zoo.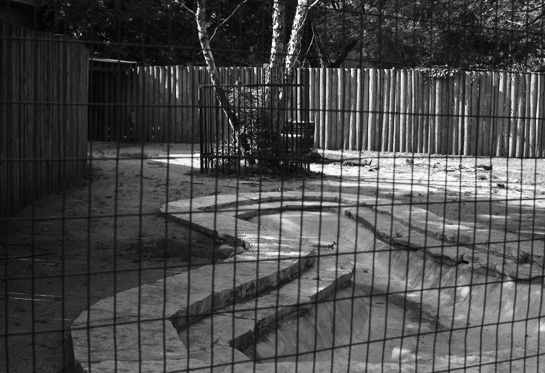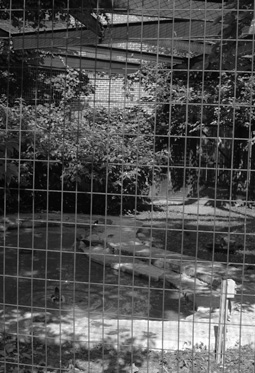 No animals
were present during our visit.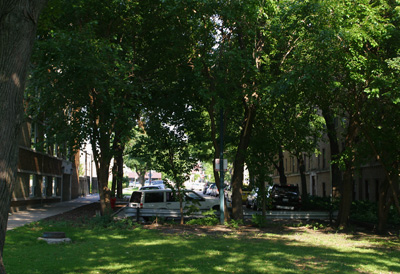 For some reason, Estes was cut off on the north side of the park. You can still clearly tell its path, as it looks like a strange grassy lawn.
West Section
---
Rogers stops and starts several times through the neighborhoods of Sauganash and Forest Glen.


W.L. Flower, Plat Map of Cook County, 1861, Chicago Historical Society.
This 1861-vintage map shows Billy Caldwell's original reservation. This plot of land is responsible for an odd break in Chicago's famous grid pattern. Caldwell avenue bisects the former reservation, and all of the streets within it run parallel and perpendicular with Caldwell. Rogers avenue is the southern border (rightmost on the map).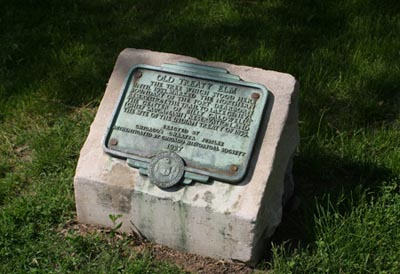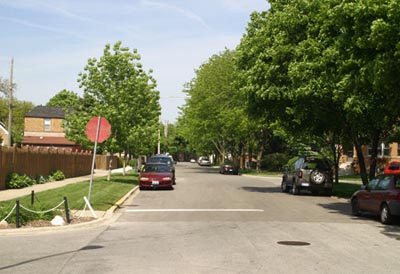 Left: This plaque was also placed by the Chicago Charter Jubilee in 1937. It marks the location where Billy Caldwell signed away his land, the site of the long gone Old Treaty Elm tree.
Right: Rogers running through a residential area.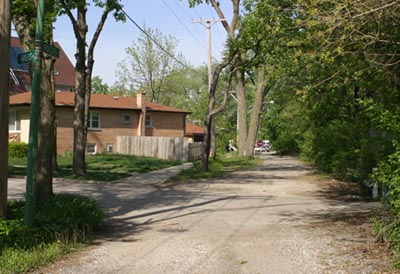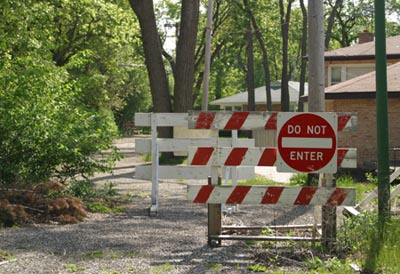 Rogers runs behind Good Counsel High School and Blessed Angela Convent, both just east of Pulaski, and not pictured here. It has the character of an alley, and a section of it has actually been decommissioned and closed off.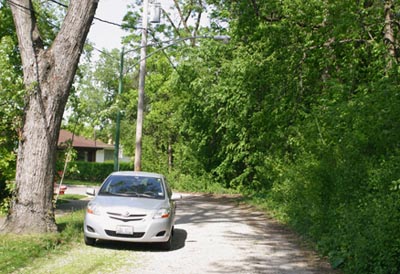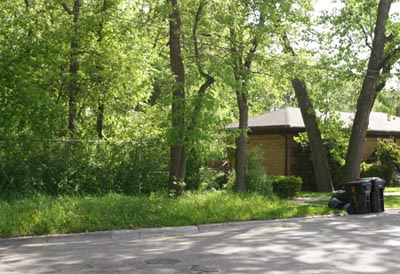 At this point, Rogers disappears entirely into a thick section of brush. This section was likely abandoned a long time ago.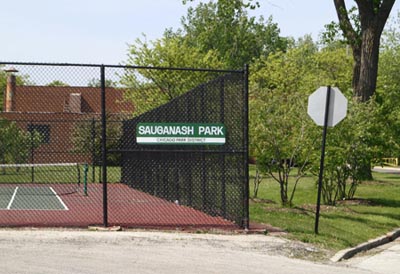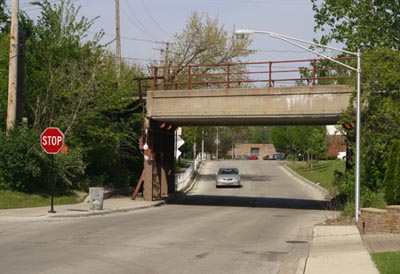 Rogers continues west of Pulaski into the Sauganash neighborhood:
Left: Sauganash park in its namesake neighborhood, along Rogers west of Pulaski.
Right: A viaduct carries an abandoned branch of the Chicago & Northwestern Railroad over Rogers in this section.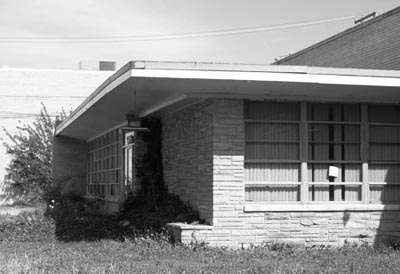 Several light industries are located along this stretch of Rogers. They may have originally be serviced by the abandoned branch line. Regardless, they follow the pattern in Chicago of industrial areas usually being located next to railroad lines.
Forest Preserve Drive is in effect Rogers, as it follows the Indian Boundary Line as well. It runs from near Montrose and Naragansett to Belmont west of Cumberland. Most of the street is in the Chicago neighborhood of Dunning. It is mostly suburban in nature as it was developed later than most of the city.

Above Left: Hiawatha Park serves the neighborhood with a decidedly 1960s looking fieldhouse.

Above Right:The streetscape along Forest Preserve Drive.

Left: This interesting mid-century church is located across from Hiawatha Park.
Read More
---
Tweet