Old Edgebrook is a neighborhood that truly belies its urban setting. Though this tiny enclave in the woods has been part of Chicago since 1889, it still feels as though it is miles away from a city. Alderman/businessman Arthur Dixon and railroad executives plotted Old Edgebrook in 1894 as a railroad suburb beside a golf course. Over time, large homes were built representing many styles and eras. The Milwaukee Road tracks still provide commuter service and run just outside of the wooded neighborhood. The golf course is still in operation with the Cook County Forest Preserve District. Old Edgebrook became a Landmark District in 1988, so the district and its houses are protected against demolition.
| | |
| --- | --- |
| As one can see from these maps, Old Edgebrook appears to have been more connected to surrounding streets in the past. There was a connection to Devon, and several other streets cut through the forest around Central and even went east across it to the railroad tracks. Few remnants of these streets remain. | Left map: 1938 Right map: 2002 |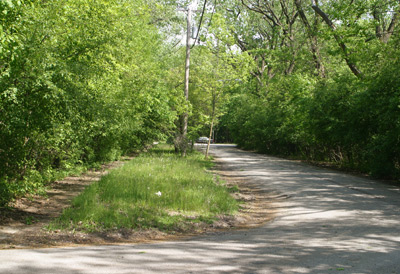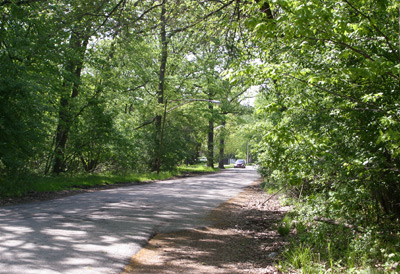 There are only two streets leading into and out of Old Edgebrook, Prescott (left) and Louise (right). Both run through a block of woods before ending at Central Avenue, adding to the secluded character of the neighborhood. The dirt sidewalks further contribute to this ambiance.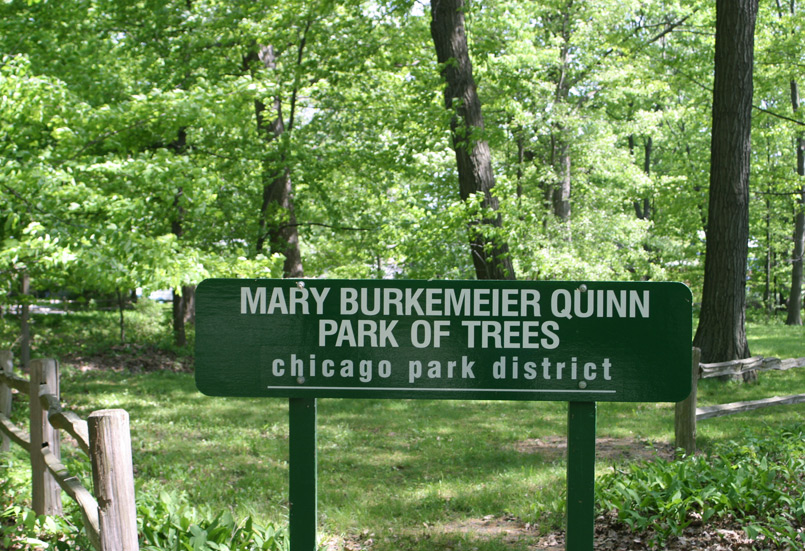 Mary Burkemeier Quinn Park-of-Trees
. Longest park name ever? Anyway, this "park of trees" is the only Park District property within the confines of Old Edgebrook. According to the plaque in the park, it was a gift from Edward M. Quinn, whose house formerly stood on the site, in memory of his wife, Mary. His Will instructed that his house be demolished and a minimum of 21 trees be planted on the property, which was deeded to the Park District.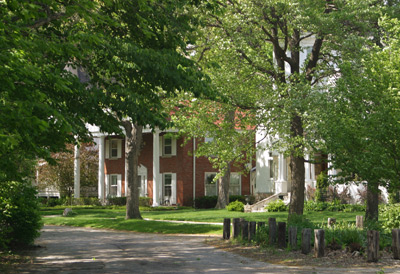 McClellan Street
is a typical street in Old Edgebrook. The street lacks a curb, which is an uncommon occurrence in Chicago. This contrasts with the ubiquitous green streetlight found on countless other residential streets.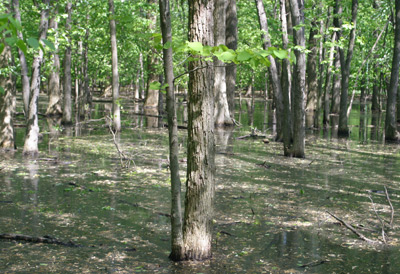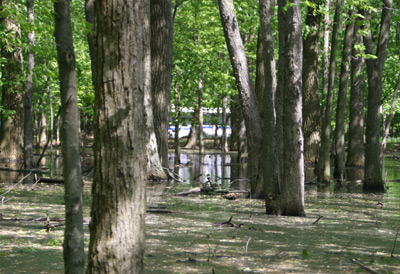 A swamp
in the woods between the neighborhood and Central Avenue. The CTA bus running in the right photo is the 85A route on Central avenue.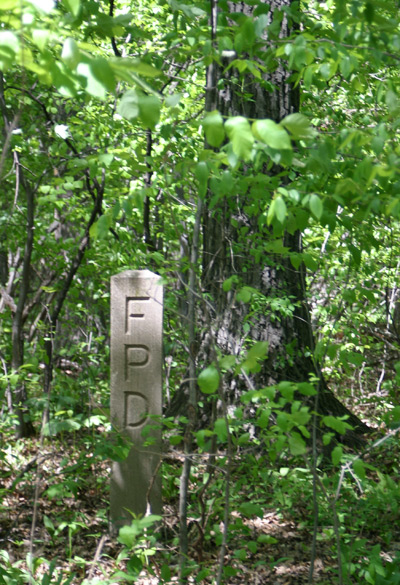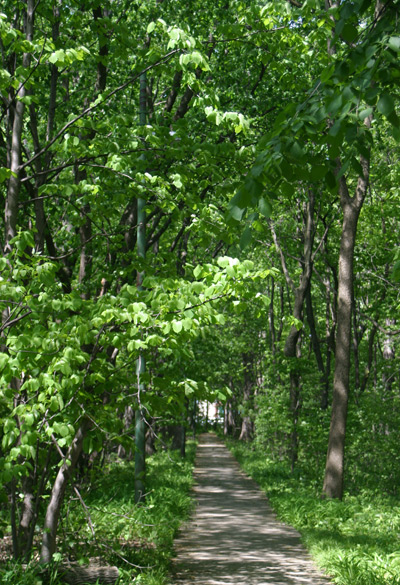 Left: These markers are found throughout the neighborhood where the woods begin. FPD stands for Forest Preserve District, and these markers are placed surrounding the District's property.
Right:
This diagonal sidewalk cuts through the woods, providing access to the train station and commercial district at Devon/Central/Caldwell. It comes complete with green city streetlights, which sport the shortest mast arms we've ever seen.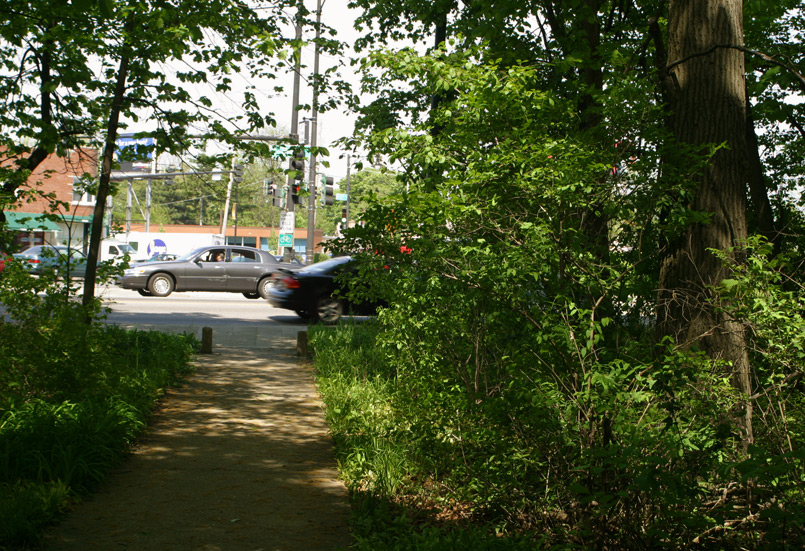 Out of the woods
and back into civilization and traffic at Devon/Caldwell!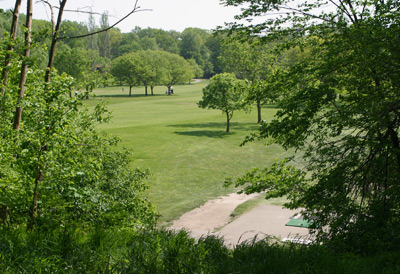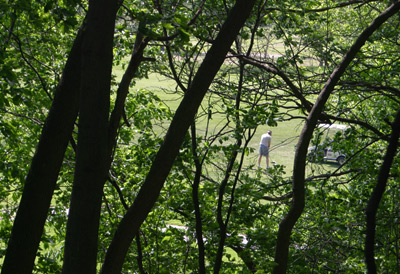 Edgebrook Golf Course
is located just south of the neighborhood and is visible from it through the woods.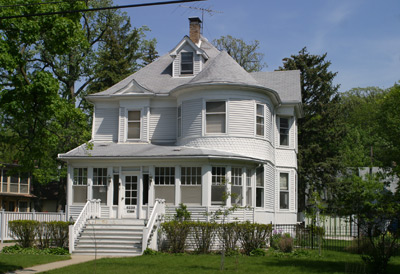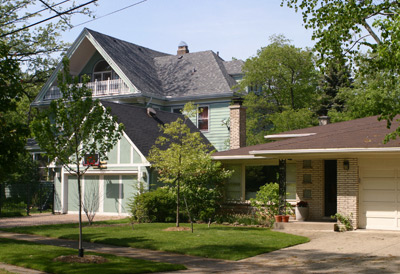 Left:
An old, ornate frame house probably dating to the early days of the neighborhood.
Right: There are houses here from every era. Contrasting with the older house to its left, the small house on the right looks like something out of a typical postwar Chicago neighborhood.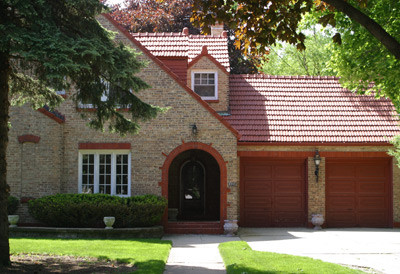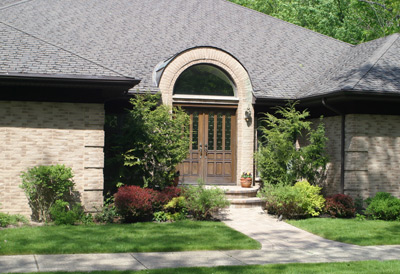 Left:This large house probably dates to the 1930s or 1940s. The entire house is faced in Chicago Common brick, the type usually used on the sides and back of Chicago buildings. Still, it looks good with the tile roof and tasteful paint scheme.
Right:
Probably the newest house in the neighborhood.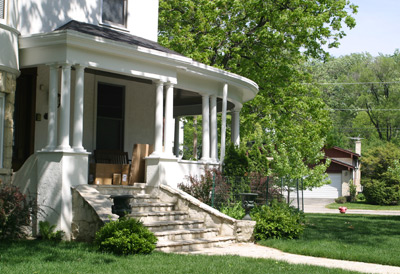 Left:
Large castle-like mansion from the 1920s or 1930s.
Right:
Many houses here have front porches, like this one.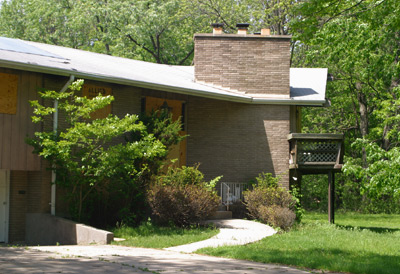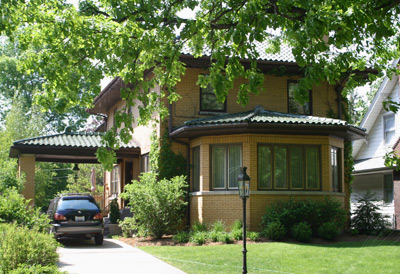 Right: This stately bungaloid (bungalow-like) house, likely dating from the 1920s, sports yellow brick, a green tile roof and a carport.
Left: Even Old Edgebrook has boarded up houses. No ordinary boarded house, this is where Christopher Pucinski, son of the late Alderman Roman Pucinski, perished in a fire. Straight out of the 1950s or early 60s, it has since been demolished.
Read more about the Pucinski story here and here. Thanks to those who wrote in about this.
Sources
---
City of Chicago. "Chicago Landmarks: Old Edgebrook District." http://www.ci.chi.il.us/Landmarks/O/OldEdgebrook.html (accessed May 16, 2007).
Solzman, David M. "Forest Glen." In The Encyclopedia of Chicago, edited by James R. Grossman, Ann Durkin Keating, and Janice l. Reiff, 70. Chicago: University of Chicago Press, 2004.
Read More
---
Tweet