The city began removing yellow street signs and changing them to green in the mid-1970s. We have found a few remaining on street poles, however, there are more floating around in the city (and the world) in use as decorations.
Left: This sign adorns a backyard in Old Town on what would have been the southwest corner of Lincoln and Ogden Avenues, which is less than half a block north of Wisconsin.

Right: This sign is prominently visible from inbound blue line trains, if one looks out of the south-facing window of the train just as it descends into the Milwaukee street subway. The owner's house is indeed on Wicker Park avenue.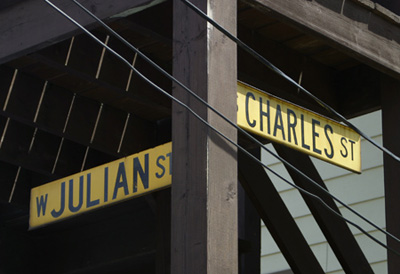 Left: When these signs were coming down, people probably took them from streets close to where they lived or worked. Which is why this one is puzzling. Julian is a small residential street in Wicker Park. Charles street is an angled residential street in Beverly that runs parallel with Beverly Avenue for two miles. But these signs are located in Chinatown! Perhaps the owners work(ed) near these streets, or maybe they chose streets reflecting their names. Who knows?
Right: As much as the Julian/Charles combination, these streets reflect disparate sections of the city. This quad combo is located in a backyard on Cullom near Kildare. Railroad Avenue runs parallel with I-290 near Austin Avenue. St. Louis is a north-south residental street, and Terra Cotta place is a very small (but not that small) street connecting Clybourn and Altgeld.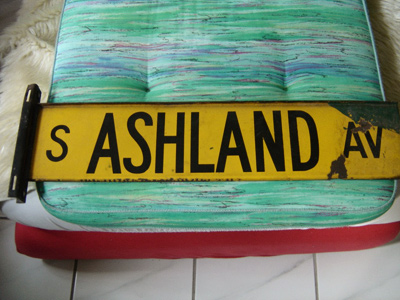 William Doornbos
Some very disconnected yellow signs sent in by reader William Doornbos. He writes:
"I thoroughly enjoy your site. I grew up in Chicago, and as far as I remember, I recovered (although not simultaneously) the two yellow street signs from the two-lot prairie across the alley from our house at 85th and Damen, around 1960. I really DID find the signs in a prairie. I did NOT swipe them from a light pole…honest. I reckon that they qualify as 'Disconnected', as they are now in the basement of my house in Wiesbaden, Germany.
Just a short note about how I wound up in Germany: I was working for Motorola, first on Augusta Blvd. and then in Schaumburg; I received a two-year assignment in Wiesbaden, Germany, in 1973. And, as they say, the rest is history…"
Read More
---
Tweet