In the 1970s, Chicago and the State of Illinois embarked on a plan to place parks on undeveloped land remaining after the creation of the expressway system. Under the so-called Expressway Property Development plan, the city leased sites along expressways from the Illinois Department of Transportation to create parks. While a few of these parks still exist in good condition, others have decayed over the years due to lack of maintenance. Either way, one wonders how the placement of parks next to loud, polluted expressway right-of-ways was at one point considered a good idea.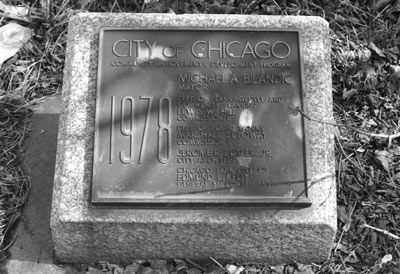 This nameless park is located next an on-ramp to the southbound Kennedy Expressway at Division Street. Fairly small and lacking amenities, it is likely used mainly by the residents of the adjacent Noble Street Co-op.
We're not sure why this park was commemorated with a plaque when none of the other expressway parks we've found so far have one. The plaque indicates that the park was built in 1978 under the Community Improvements Development Program. Another plaque, exactly like this one, can be found at the eastern end of Fargo Avenue, just before the beach. There it commemorates an equally diminutive public works project.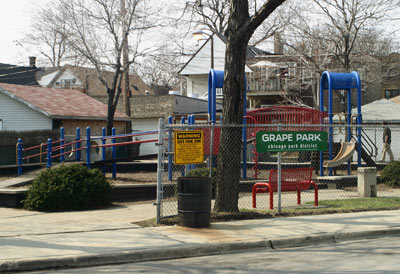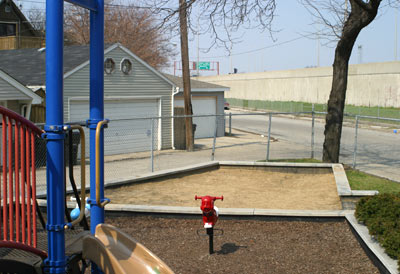 Grape Park, at Avondale and Mozart along the Kennedy Expressway, has been kept up over the years. At some point it was named, unlike most of the other expressway parks. A place with no name is no place, right? Also, this park was originally built with wooden "adventure" playground equipment that either worked out too well or not at all; it now has more modern equipment to amuse the local spawn.
| | |
| --- | --- |
| Noplace. This expressway park at Wood and Avondale along the Kennedy has apparently been abandoned, as all of the original equipment is gone. This park also originally had wooden "adventure" equipment when built in the 1970s. Only the concrete footings and sidewalks remain, giving the park a very desolate feel. Oddly enough, a fence was added somewhat recently, guarding the boundaries of this otherwise barren park. | |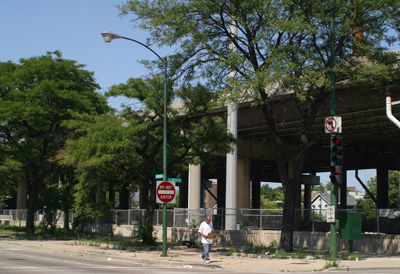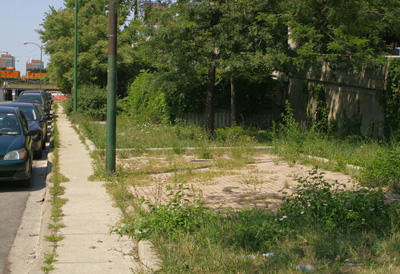 Gracing the east side
of Union Street, between 17th Place and 18th Street, is an overgrown but not underused expressway park. We didn't find record of this park on the Park District website, nor did we find a plaque. In fact, we didn't find anything except for the stately fellow in the left image. Not shown in these images is the most amusing aspect of this park; it is bisected by the 18th Street off-ramp from the Dan Ryan.
Read More
---
Tweet