The more things change…the more they become different. Or the less similar they get? Things certainly don't stay the same here in Chicago, where the demolition machine rolls on and on.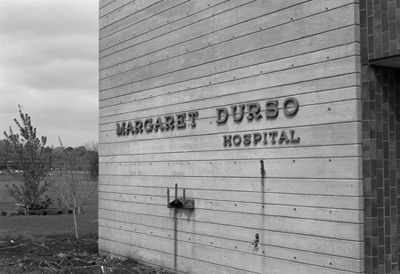 This was an abandoned
building on the campus of Chicago Read Mental Health Center. It is done in a version of Mid-Century architecture that was usually reserved for schools. Check out the typeface, talk about date-stamped. Where it stood on Narragansett Avenue just south of Forest Preserve Avenue, there are currently condos being built.
We probably visited the building in 2000 or 2001, shortly before it was demolished. In order to enter, we had to crawl through an excruciatingly tiny broken window. I punctured the middle of my hand on a shard of glass and bled my entire time in the hospital. Ironic, huh? I still have the scar. When we tried to leave, we found a security guard prowling in front of the building and had to wait for an hour or two until he left.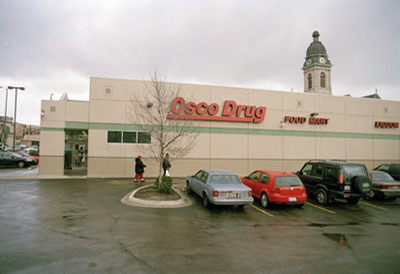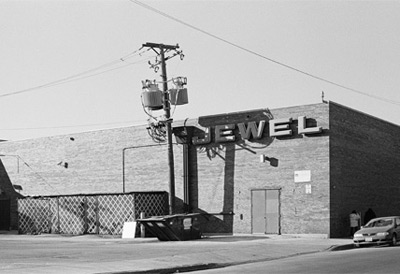 Left:
Jewel-Osco, the largest grocer in Chicago, sold its standalone Osco stores to CVS in 2006. Some were closed, most, like this example on Ogden and Chicago, were re-branded as CVS.
Right:
This Jewel was located on Pulaski near Altgeld. The back is shown as it had a classic late 70's Jewel logo. It is no longer in operation.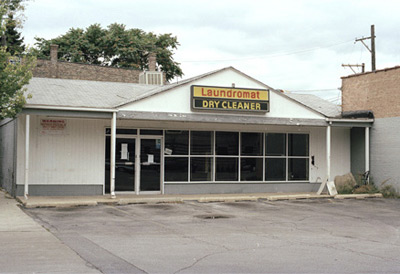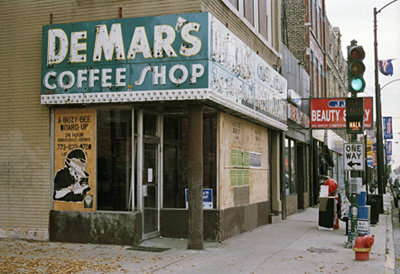 The building on the left
still exists. Originally an Open Pantry convienence store, it was a laundromat at the time of this photograph. It is now some posh nonsense – a sex toy store to be exact. Located on Lincoln at Newport, the change certainly reflects the demographic shift in the area.
The DeMar's Coffee Shop at right has been demolished. It was on the southwest corner of Chicago and Paulina. We've been told that DeMar's was a chain of coffee shops which had numerous downtown locations in its heyday. We've found an old picture of one, which will be posted in due time. An example can still be found on Western Avenue at High Street in Blue Island. Though, it is getting harder and harder to find coffee shops like this. By that, I mean the kind that don't serve lattes.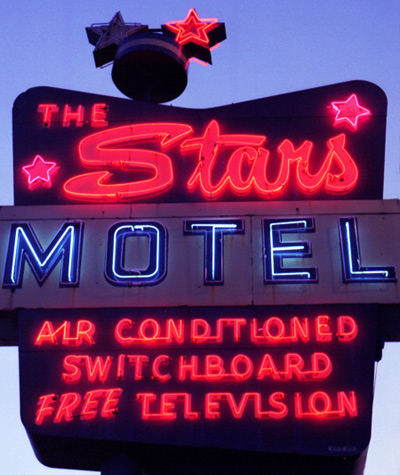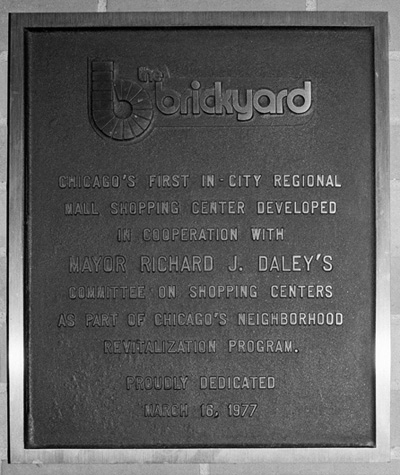 Left: The last time I checked, the Stars' sign is still standing, but it will never be lit again. The motel's buildings have already been razed. Before long, there will be no more motels along Lincoln Avenue. Only condos and chain stores. For more information about Lincoln Avenue Motels, go here and here.
Right:
I was very lucky to have accidentally found this, and it was only time I ever visited Brickyard. It was located in a remote hallway next to the security office and the bathrooms. Guess which one I was there for. I snapped it only to give it a second thought five years later looking through my old photos for material for this site. Brickyard Mall was demolished sometime around 2004 (I think?). This plaque goes to show you the lengths to which Richard J. put his name on EVERY public works project.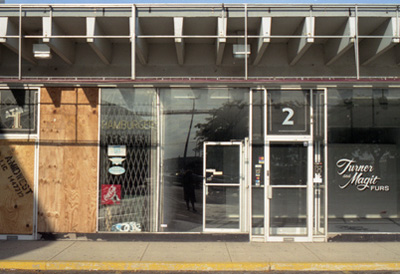 I remember being surprised
by a cabbie referring to this area as "Jewtown." I didn't know anything about Maxwell Street back then. These storefronts were in a strip mall on Jefferson Street and 12th place. Nothing special really, they were all abandoned garment stores. What makes my blood boil in this case is not the loss of a stripmall, but what they are building in its place. A very large Home Depot – another step towards the suburban-ification of this city, and especially the former Maxwell Street area. I won't be surprised when a Disneyworld gets built in Pilsen.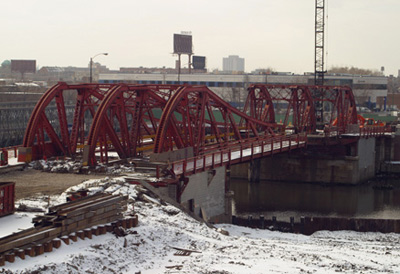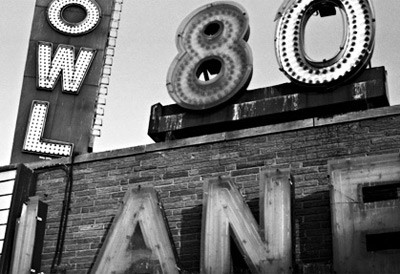 Left:
The North Avenue bridge over the river, built in 1906.
Unlike others
, I don't mourn the demolition of this one. Sure, its old, but not everything old necessarily needs to be preserved. Chicago has plenty of bascule bridges like this one, but no suspension bridges. The replacement bridge supposedly resembles a mini-Golden Gate Bridge. I'm all for it. "Tear it down!"
Right and below:
The Miami Bowl was a huge 80-lane bowling alley on Archer and Pulaski. It was the first place I went bowling in this city. It was a bit dingy, but hey, it was cheap. Chicago-area photojournalist Yvette Marie Dostatni
did a series of portraits of regulars at the Miami Bowl
.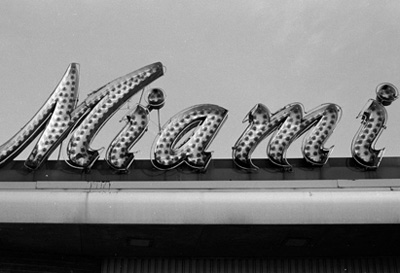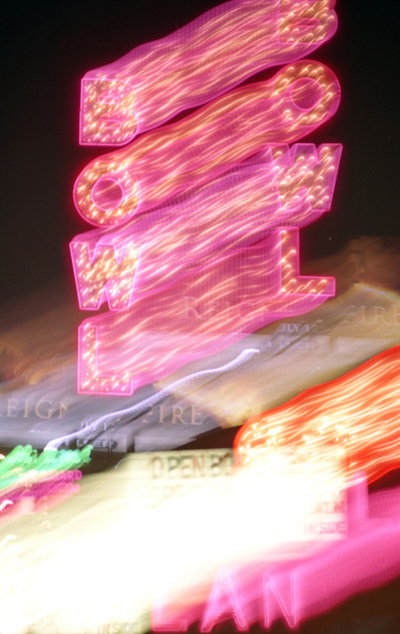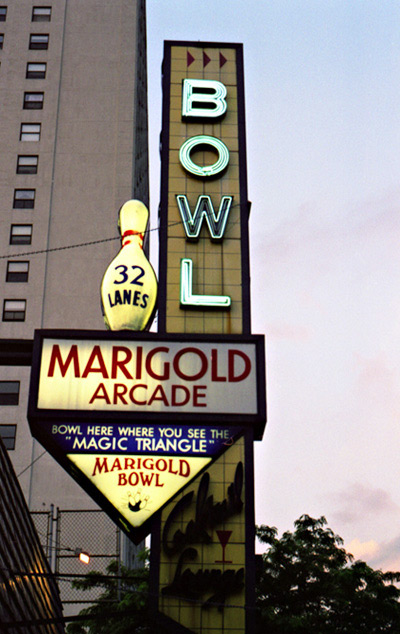 The neon marquees
of the Miami Bowl (left) and the Marigold Bowl. Marigold was another bowling alley without extortionist prices. It was located across the street from the IHOP on Grace at Broadway. I believe it closed when the old couple running it retired. The building was promptly condozed.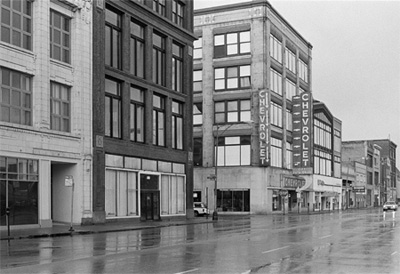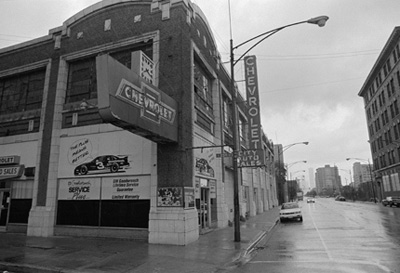 Speaking of condos
, that is what is happening to these historic Motor Row buildings. At least they aren't getting torn down. The scene in the right image has changed drastically since 2001. The fourth McCormick Place was built on the right side of Prairie Avenue, and the street was streetscaped obnoxiously.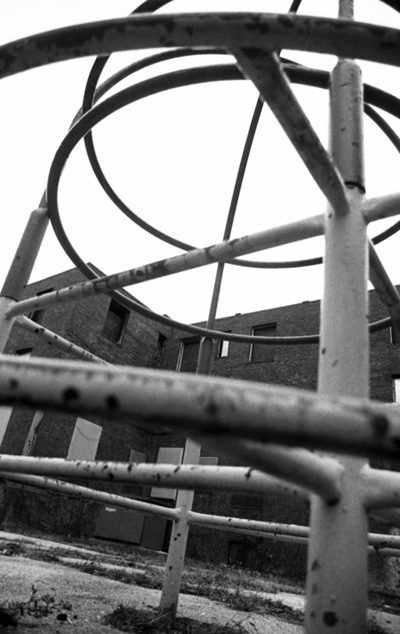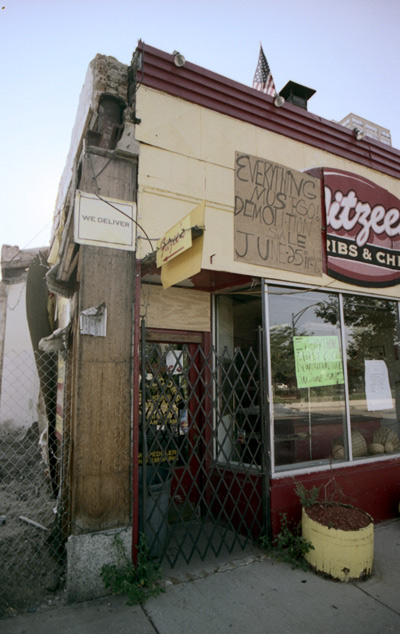 Right:
Some playground equipment in the Jane Addams Homes near Throop and Taylor.
As of this writing, only one of these lowrises still exists, and it will be gone soon
. A few days prior to this update (9/14), a banner was put on the remaining Addams building advertising a public housing museum. Apparently, this building is going to house the museum. We'll see how it turns out. More info
here
.
Left:
Fitzee's had the best rib tips. It got torn down two years ago and I still mourn the loss. Many buildings in this area (Indiana/Cermak) have been torn down in the past couple years. What a waste.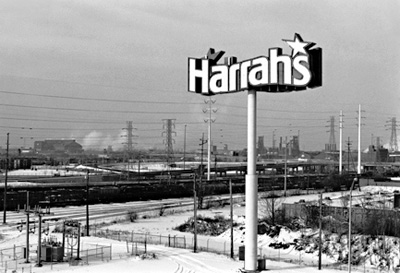 These two signs
were not in Chicago, but they were close enough. The Drury Lane sign was a tour de-force. It was huge and featured vertical bands of neon that lit in succession. You can sort of tell by the photo. It was on 95th and Western, a block west of the border in Evergreen Park. I pretty much stole the idea for the shot at right from Camilo Jose Vergara's
Unexpected Chicagoland
. His is in color and far superior anyway. The casino itself, located in Hammond, is still is in operation, rebranded as a Resorts. The Harrah's sign is long gone.
Read More
---
Tweet