As the Kraftwerk song goes, Ist diese stadt aus licht, although not all lights are made equal, and in 2009 — cities, especially ours, are becoming more and more devoid of the unique light. There are a number of factors contributing to the decline of neon, including the high cost of specialized labor needed to maintain the relatively fragile glass tubes, and the equally high energy costs associated with keeping the signs alight. Backlit plastic signs, where maintenance amounts to changing bulbs, are economical replacements, as are more recent LED signs which consume a fraction of the energy that neon demands.
Here, we're looking at neon signs which are either currently operational, or were so in the past decade. This page is not intended to be a comprehensive list of neon signs and if your favorite sign was not included, please don't tell us we've "missed" it.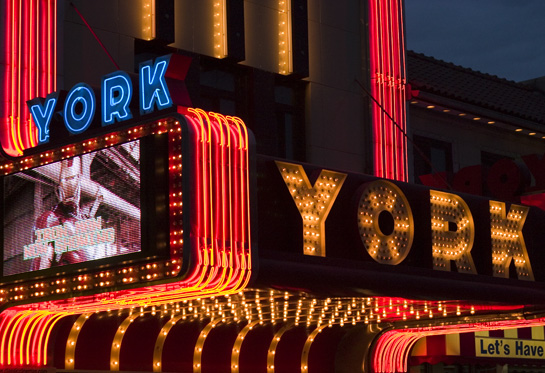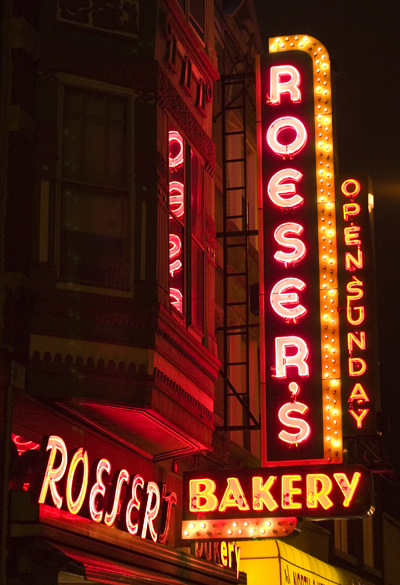 Left: The York Theatre in Elmhurst is still adorned with its Art Moderne neon marquee, which has been masterfully restored. An LED sign was added to the side of the marquee when it was restored, providing an direct comparison of old and new lit-sign technology. A more famous example of an intact neon Moderne marquee on an inner ring suburban theatre is the Lake Theatre in Oak Park. On a side note, the offices of the Theatre Historical Society of America are located above the York Theatre.
Right: Roeser's Bakery is a veritable institution in the Humboldt Park neighborhood. Located on North Avenue just west of Kedzie, Roeser's is a well-maintained example of storefront modifications of the 1940s and 50s, having been tacked onto a building built in the 1890s. Neon is used both on the vertical sign and the facade, which is meant to draw attention to the establishment. "Open Sunday" dates the sign to the time when most businesses were not open on Sundays.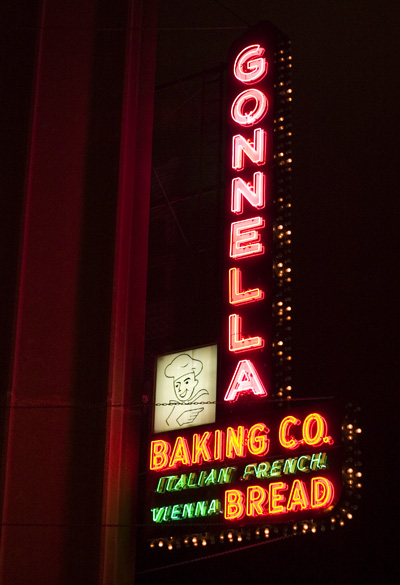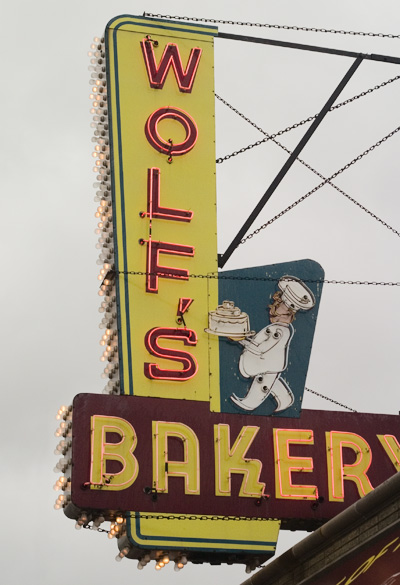 Left: Gonnella is a famous Chicago bakery and its sign is a well-maintained classic. Located on Carpenter near the Chicago/Milwaukee/Ogden intersection, it seems unlikely that the sign is as old as the building to which it is attached. It was probably moved at some point from an earlier Gonnella bakery building, perhaps the one at Erie and Damen. Regardless, the sign is also notable for its incorporation of the smirking backlit plastic baker, demonstrating that neon signs sometimes incorporate other types of lights and materials.
Right: Wolf's Bakery is on 95th Street in Evergreen Park. The baker carrying a wedding cake is a nice touch, though apparently it no longer lights up. Neon is a form of signage that arose concurrently with the automobile, and this close-up view also shows how many neon signs incorporate both neon and incandescent lights (which often flash) to attract the attention of passing motorists.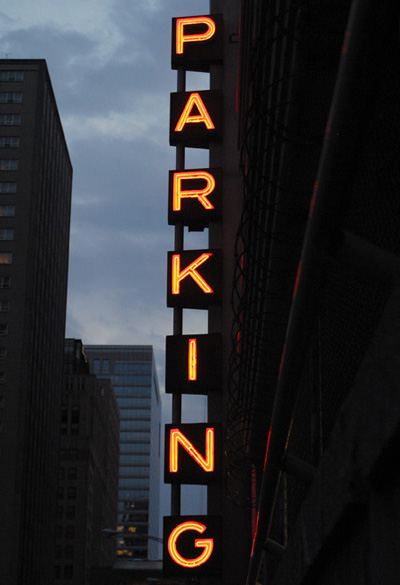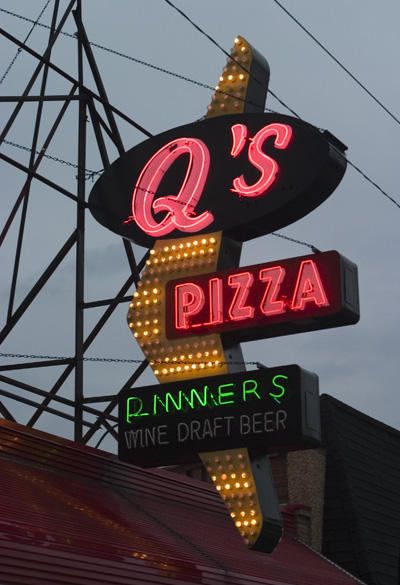 Left: Speaking of motorists, Mid-Century parking garages often featured neon signs to attract customers. This sign remains in operation on former Municipal Parking Facility Number 10, on Grand and St. Clair.
Right: Q's pizza is on Butterfield Road in Hillside. The boomerang shape dates it to the 1950s or 60s.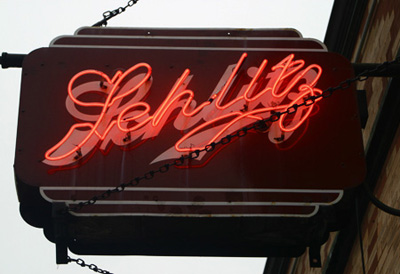 Left: The Pines Steakhouse is located on Harrison Street in Forest Park. The cocktail glass slyly indicates that the establishment serves alcohol without actually stating it. Pines is located only a couple of blocks from Oak Park, which was an historically dry town.
Right: This Schlitz neon sign rests on Schuba's, a former Schlitz tied house. It is not original to this location as neon signs arrived in the United States four years after tied houses were outlawed — the first was American neon sign was installed on a Los Angeles auto dealership in 1923. This sign was added by Schuba's perhaps in order to echo the terra-cotta Schlitz globes adorning the building.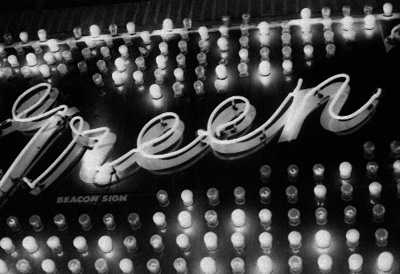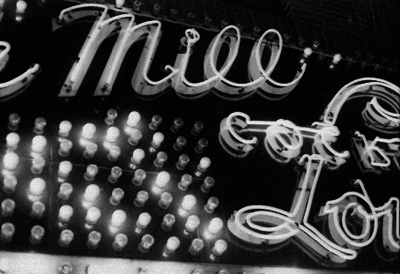 The Green Mill in Uptown (Lawrence and Broadway) is a justifiably famous Chicago jazz bar, with a justifiably famous sign to boot. Institutions such as the Green Mill often spend the money to maintain their classic signs, likely because they are an integral part of their now-retro appearance. The manufacturer, Beacon Sign, is still in business.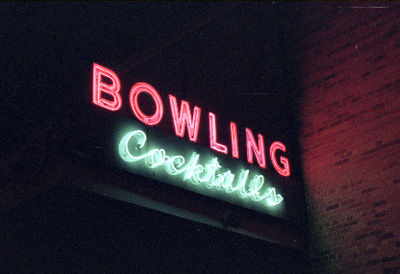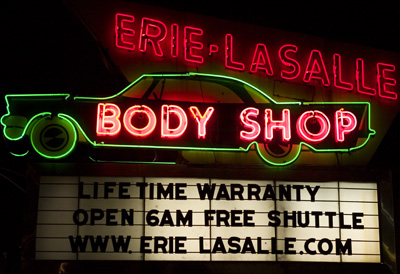 Left: Diversey River Bowl, on Diversey and Logan Boulevard replaced its primary neon sign although this small sign above the entrance remains.
Right: Erie-LaSalle Body Shop, located at the eponymous intersection, is one of the most lauded neon signs in Chicago. This may partially be due to its high-visibility location, but it's hard to argue that the neon sedan isn't a work of art.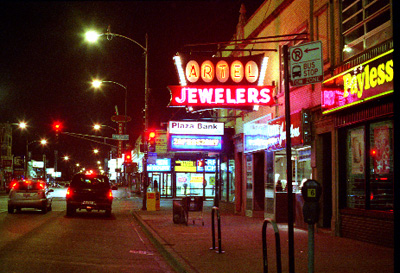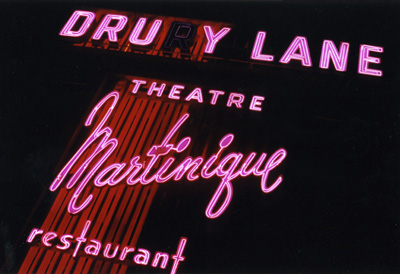 Left: Artel Jewlers is located on Belmont near Central, in one of the most intact streetcar shopping districts in Chicago. The Mid-Century facade may have once exhibited a neon sign as well, though it is now plastic.
Right: The recently departed Drury Lane Theatre and Martinique Restaurant was a landmark of the Southwest Side, located in Evergreen Park on 95th Street and Western. This massive sign drew motorists' attention and was the undisputed king of neon signs in this auto-oriented district, probably the most LA-esque area of Chicagoland, which once had a plethora of neon.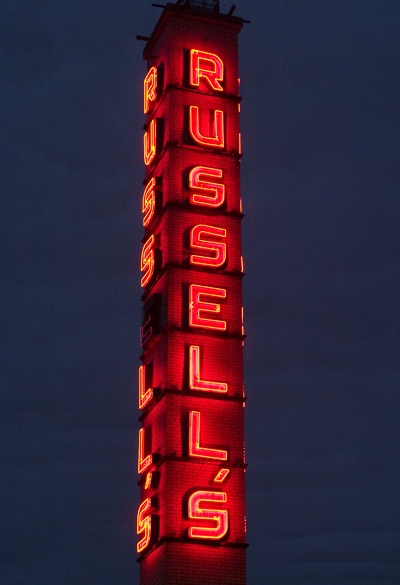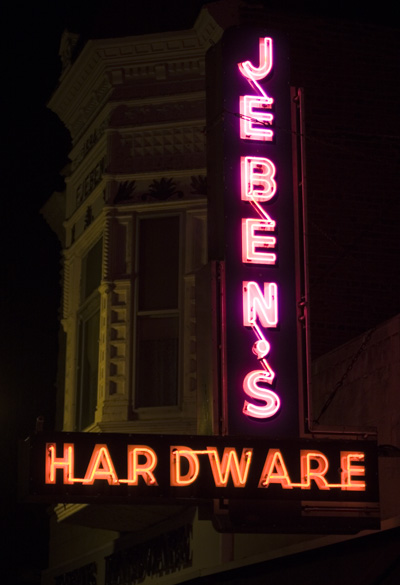 Left: Russell's Bar-B-Q restaurant lights up a stretch of Thatcher just north of North Avenue. This institution has been around since 1930, and exhibits a type of neon installation rarely seen in contemporary times. The letters attached to the chimney in a vertical line are an easy way to draw attention to an establishment without the need for a freestanding sign support structure, though they are likely a maintenance nightmare.
Right: Jeben's Hardware is located on a bypassed stretch of Western Avenue in Blue Island, and is a very old business. Jeben's simple neon sign is of the variety that once proliferated on practically every main street in America, but is now very hard to come by. These signs were meant to attract both the pedestrian and motorists, and their smaller size is indicative of their location on pedestrian-oriented shopping streets. The size and audacity of a sign increases as the speed of passing traffic increases. Large signs on major highways typically featured more eccentric designs meant to attract the attention of speeding motorists from a distance.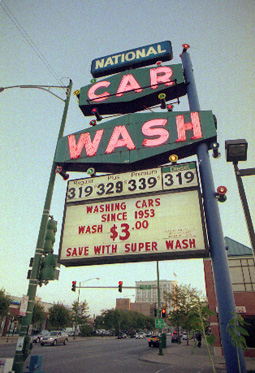 Left: The National Car Wash sign on Broadway and Argyle exhibits an equal mixture of plastic and neon which can seem aesthetically unappealing. A closer look reveals various colored incandescent lights scattered around the sign, a space age touch.
Right: Petey's Bungalow Lounge is still open at the corner of 95th and Kostner in Oak Lawn, another rare survivor along the 95th Street neon corridor. The sign was manufactured by Flashtric, a Chicago firm that is still around designing and installing signs, even a few neon ones.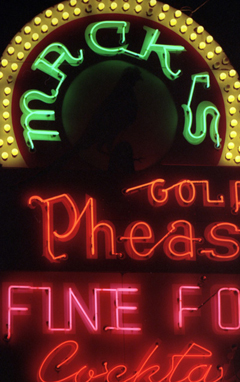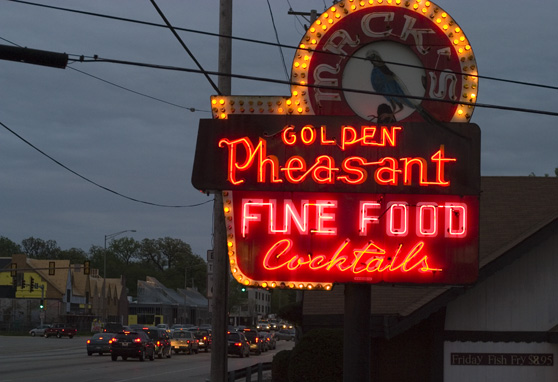 The sign at Mack's Golden Pheasant lights up a six-lane stretch of North Avenue in Elmhurst, just west of Route 83. These images were taken three years apart, 2005 (left) and 2008 (right). In that period, the green "Mack's" text has ceased to be alight, although there is a chance it may be repaired in the future.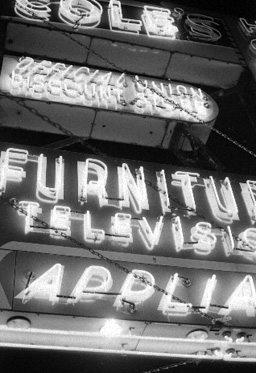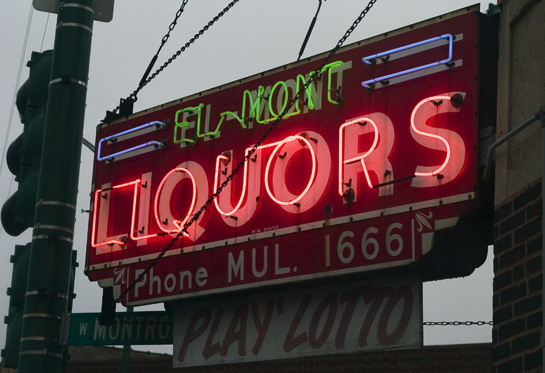 Left: The main free-hanging Cole's sign (see another part of their neon display below) is a complex three-part structure that commands a presence on Lincoln Avenue.
Right: El-Mont Liquors is located at Elston and Montrose, the name is a portmanteau of that corner. Likely one of the older still-operational signs remaining in the city, it also sports an old telephone number.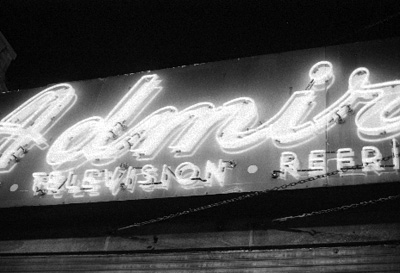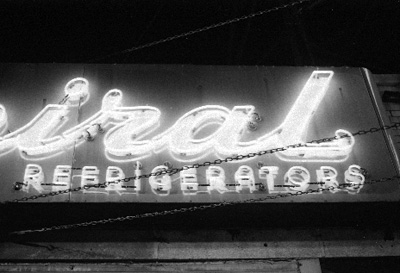 A veritable cacophony of neon resides on the facade of Cole's Appliances at Lincoln and Cuyler, as well as a vertical hanging neon sign (pictured above). Not all of the neon still works, unfortunately. Large neon displays were often a common feature of appliance, electronics and furniture stores, purveyors of then modern products of middle class prosperity.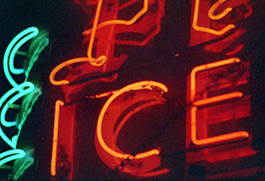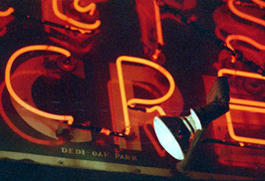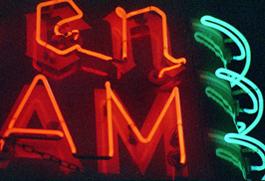 Petersen Ice Cream featured a wonderfully maintained neon sign on Chicago Avenue near Harlem in Oak Park, although this is no longer the case. The central image indicates that it was designed locally by Dedi, an Oak Park sign firm.
| | |
| --- | --- |
| | The Tip Top Motel was one of many motels on the stretch of Lincoln Avenue in Chicago that carries US 41. Many have been torn down as they gained a reputation (deserved or not) over the years as havens for illicit activities. Is the fact that "Daily Rates" (as opposed to hourly) are mentioned on the sign a reaction to this attitude? The Tip Top is still in business on Lincoln near Jersey, though it is now rebranded as the River Park, and its landmark sign is gone. |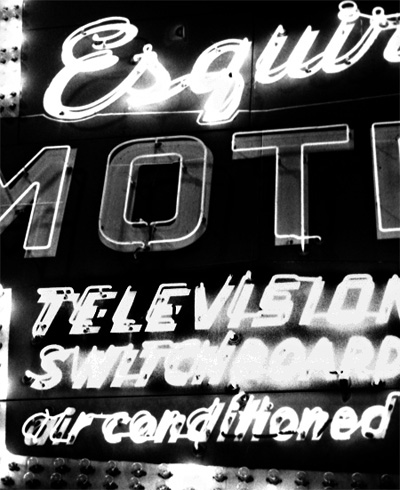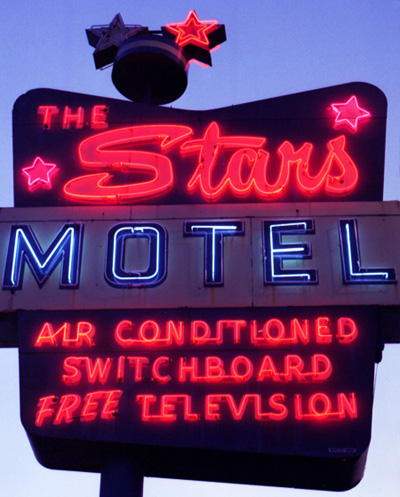 Left: The Esquire Motel is located on the Far Northwest Side at the point where Elston and Milwaukee converge (after separating miles south near Chicago Avenue). The advertisement for television, a switchboard, and air conditioning instantly date the sign.
Right: No longer operational, the Stars Motel sign still stands for the time being, although the motel doesn't. Another of the Lincoln Avenue motels, this one stood near the Tip Top at Lincoln and Jersey. The sign seems separated from the Esquire sign at birth, perhaps suggesting a common designer. However, the Stars sign has the delightful addition of a whimsical extrusion of stars at its top.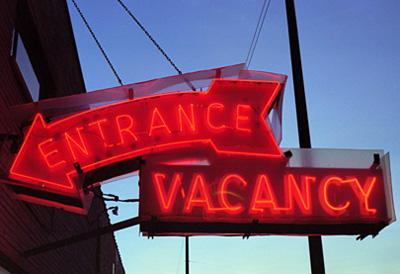 Left: Establishments like motels often used more than one neon sign throughout their property. This standard design, which was on the Rio Motel (also located at Lincoln and Jersey), demarcated the entrance. It seems that these auxiliary signs were often the first to go when a business decided to update its signage; they were probably deemed too expensive to maintain, though the main sign would be sometimes be spared. The opposite was true on the Rio; the primary sign was replaced with a backlit plastic sign before this auxiliary sign was removed.
Right: The Starlite motel is on 159th Street in South Holland. Here, one can glean a clear indication of the hand crafted nature of neon signs. The fact that this sign remains in excellent condition on a downtrodden commercial strip is laudable.
| | |
| --- | --- |
| | Two more North Lincoln Avenue motel signs round out this article. Both feature stylized arrows, demonstrating the influence of the Holiday Inn "Great Sign" of the 1950s. The Patio's "Adventure in Living" moniker became ironic, considering the motel's later seedy reputation. The Patio sign also featured an interesting incandescent animated light display between its neon letters. Like many other neon signs, both on this page and otherwise, these signs were recently removed, representing the constant triumph of economics over aesthetics. |
Read More
---
Tweet