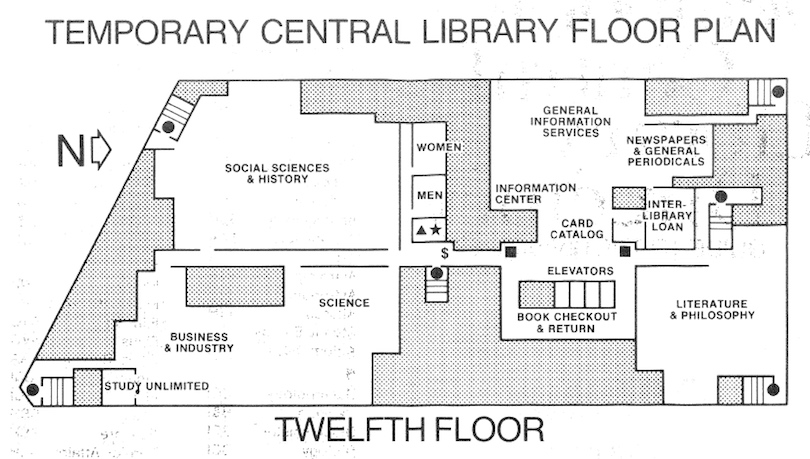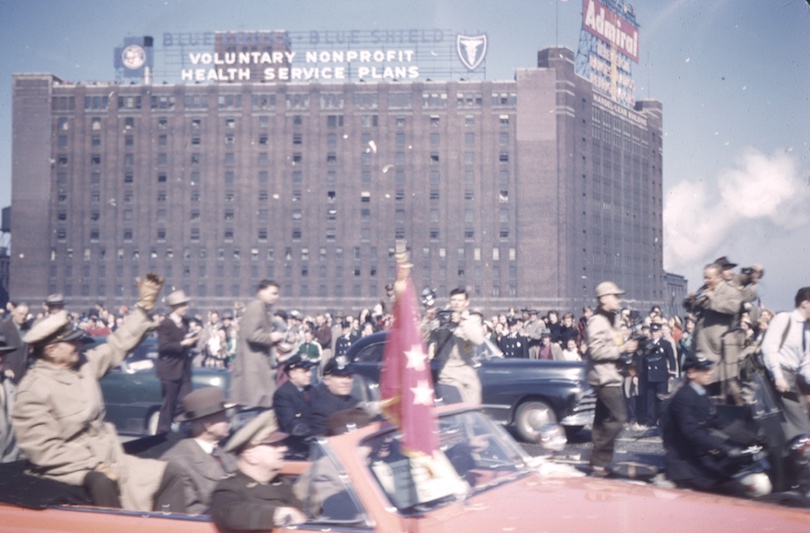 Top: Temporary Central Library Directory, The Chicago Public Library, 1975 Bottom: Courtesy of Joe Sislow
Starting in 1975, the Central Chicago Public Library began moving out of its home since 1897 on North Michigan Avenue between Washington and Randolph Streets to several temporary quarters, including the twelfth floor of the Mandel Building at 211 East North Water Street, facing the Chicago River and just east of North Michigan Avenue. The enormous size of this riverfront structure may be seen in a slide of the April 26, 1951 parade honoring the recently-fired General Douglas MacArthur, seated far left.
As detailed in the first part of this article, the south end of Chicago's State Street shopping district had been in a state of substantial decline for decades. Sixteen years after Chicago's former Central Library began moving out of its long-time home on Michigan Avenue into a series of temporary quarters, the new Harold Washington Library Center (HWLC) was dedicated on October 4, 1991, a fitting tribute to a mayor who championed a world-class new central library. Not coincidentally, HWLC was built on a block that until the 1980s had been home to many marginal and unsavory businesses.
The completed HWLC at 400 South State Street has been a major factor in the enormous revitalization of the area around State Street and Congress Parkway, as well as a testament to Washington's skills as a master politician to build a world-class and purpose-built new library. However, more than four years would pass between the approval of a bond issue to pay for the library and its dedication, as detailed below.
In true Forgotten Chicago fashion, also explored in this article is what historic remnants are still extant along South State Street today. Highlighted below are some often-overlooked fragments of this street's fabled history from the 1930s to the 1970s.
Goldblatt's: The Unrealized New Central Library
---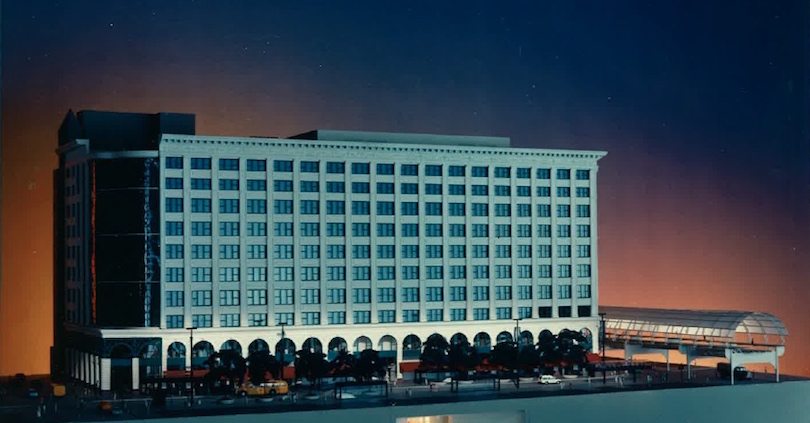 The Chicago Public Library: New Central Library, 333 South State, 1986
With no central library for several years by the early 1980s, an early contender to house the new central library was the former Goldblatt's department store building on the east side of State Street between Jackson and Van Buren, and seen in its proposed conversion above. Less than a week after the store's closing following the 1981 Christmas season, this building was being promoted in the Chicago Tribune as the ideal location of a new central library, at what was said to be at far less cost than constructing a new facility.1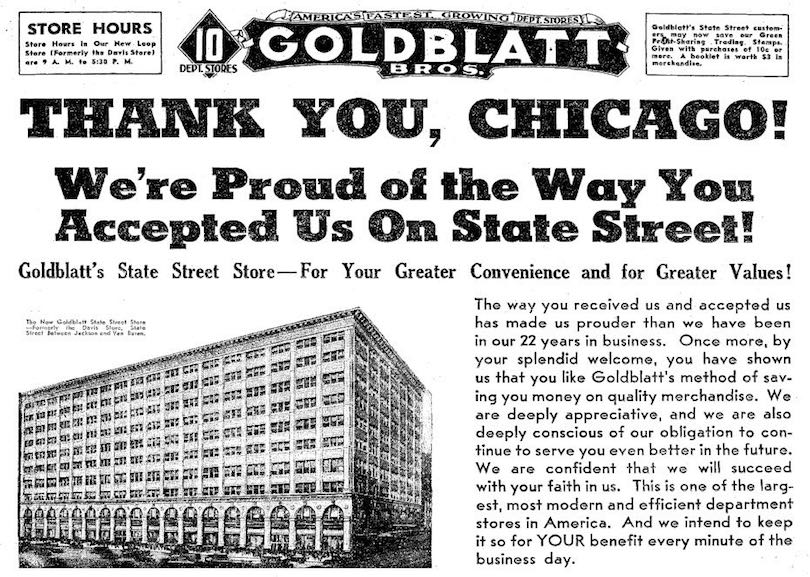 Chicago Tribune, 1936
Goldblatt's had a 45-year long history on State Street, purchasing the Davis Dry Goods Store, a unit of Marshall Field & Company in 1936 and quickly converting it to their own flagship of what had become a vast chain of discount stores throughout the region and as far east as Buffalo, New York. The Davis Store had only been in operation since January 1924, one of the shortest incarnations of a major retailer on State Street, and a rare business blunder during the 1920s and 1930s for Marshall Field & Company.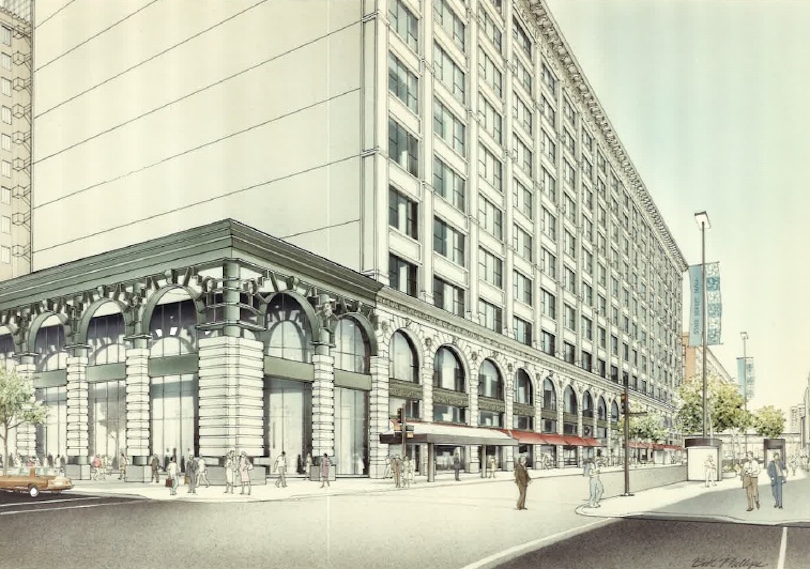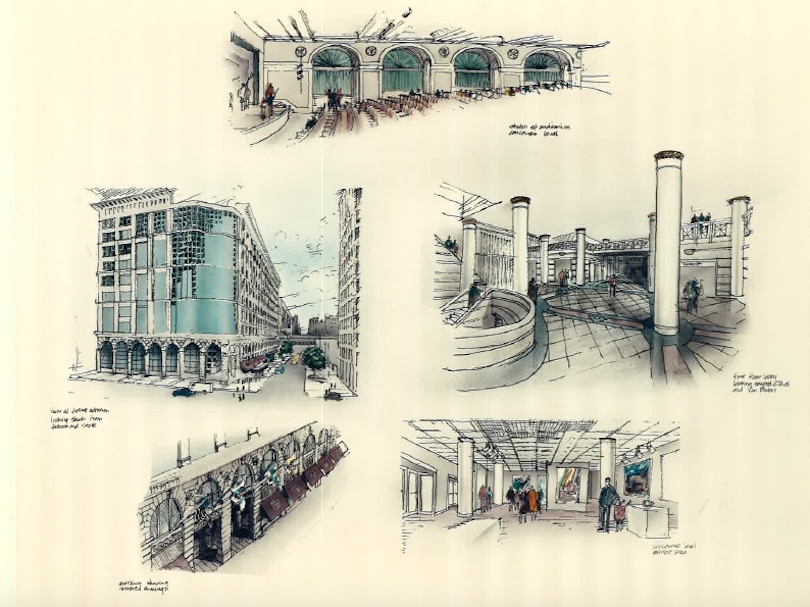 The Chicago Public Library: New Central Library, 333 South State, 1986
In 1986, architecture firm Lester B. Knight & Associates with Holabird & Root prepared a detailed (and quickly abandoned) plan for Goldblatt's conversion to the new central library. Holabird & Root knew the building well, as it's predecessor firm, Holabird & Roche, had designed this building that had opened in 1912. Originally built for the Rothschild's department store, that company was acquired by Marshall Field's in 1923 and renamed the Davis Store early the following year.
These library renderings at top use the existing State Street mall infrastructure, including extremely wide sidewalks and oversized bus shelters. Additionally, these plans show two different treatments of the corner at State and Jackson Streets, including one with a rounded corner and an addition on the north side rising the full height of the existing Goldblatt's building.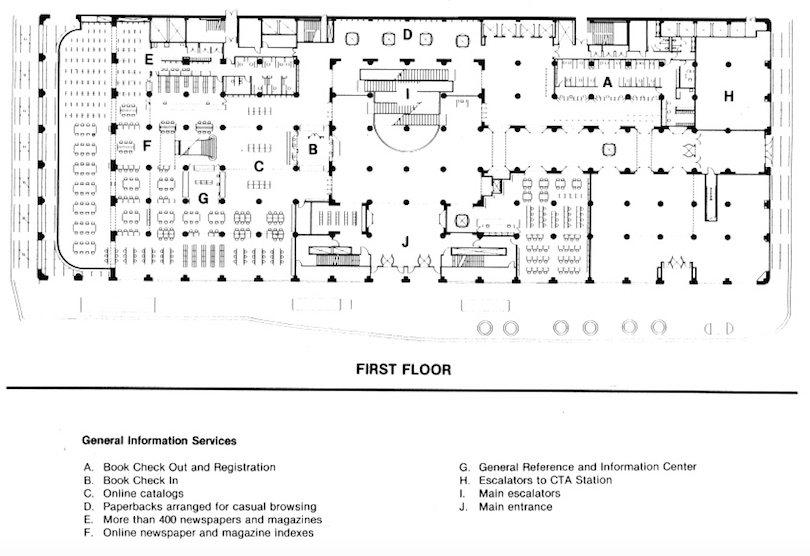 The Chicago Public Library: New Central Library, 333 South State, 1986
Above is the unrealized plan showing the street level of the former Goldblatt's building converted into the new central library. Following the bond issue vote to build a new central library on the west side of the 400 block of South State Street, this building would be converted to a mixed-use building. The former Goldblatt's was remodeled by Daniel P. Coffey & Associates and contained retail on the lower and street-level floor, offices for the City of Chicago, and the downtown campus of DePaul University that opened in 1993, some 12 years after Goldblatt's had closed.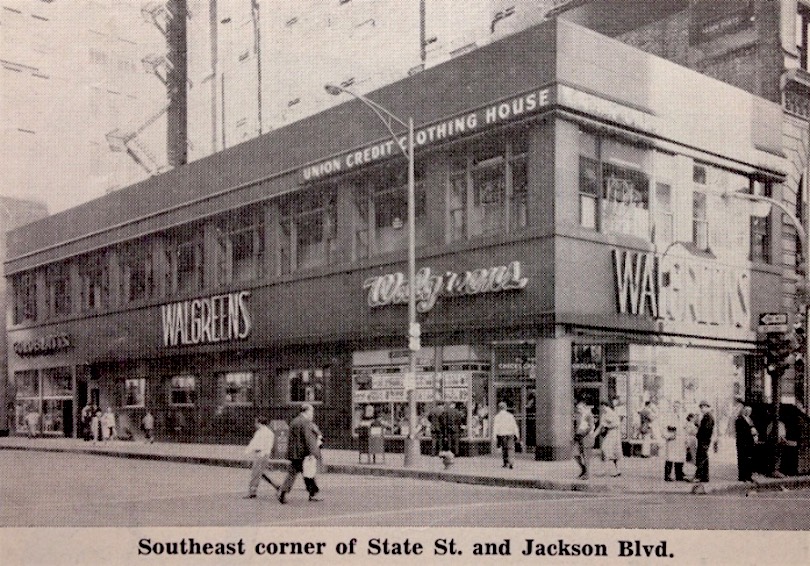 Realty & Building, 1959
Plans for converting the Goldblatt's store into the new central library involved tearing down the modest taxpayer building at the southeast corner of State and Jackson. Taxpayers are modest one- or two-story buildings often built as a placeholder on a lot until something larger can be built, with presumably enough rental income collected to cover the cost of the property taxes for the lot. It is not known when this building was completed or its architect; it would be demolished for the conversion of Goldblatt's into DePaul Center in the early 1990s.
Demolishing the 400 Block of South State Street, Once And For All
---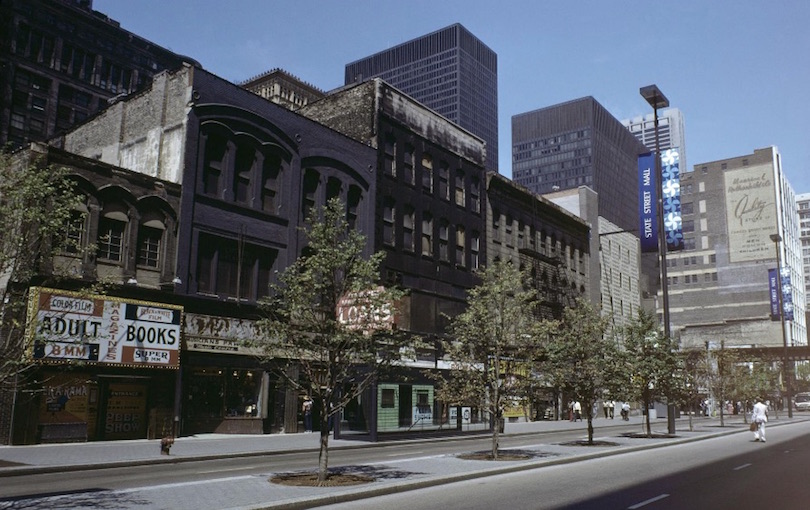 C. William Brubaker Collection, University of Illinois at Chicago, 1982
It is worth noting that with all the talk of a new central library at the former Goldblatt's store one block to the north, by 1982 little had changed along the west side of State Street south of Van Buren, except now the 400 block hosts pornographic book stores and peep shows. Above is what is now the current home of the Harold Washington Library Center, and barely visible above center and below the "LOANS" sign is a long-vanished former entrance to what is now the Red Line subway.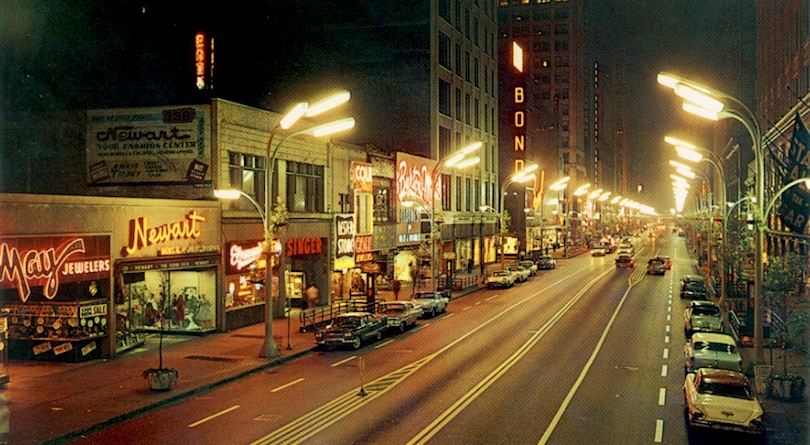 Chuckman Collection, no date
The west side of State Street between Van Buren and Jackson had a modest collection of one- and two-story storefronts, seen above in this undated view. This property would be included in some of the unbuilt schemes for the new central library that would bridge the CTA tracks along Van Buren. These smaller buildings were demolished decades ago, and the site is now the location of Pritzker Park, a rare oasis of grass and open space in Chicago's Loop.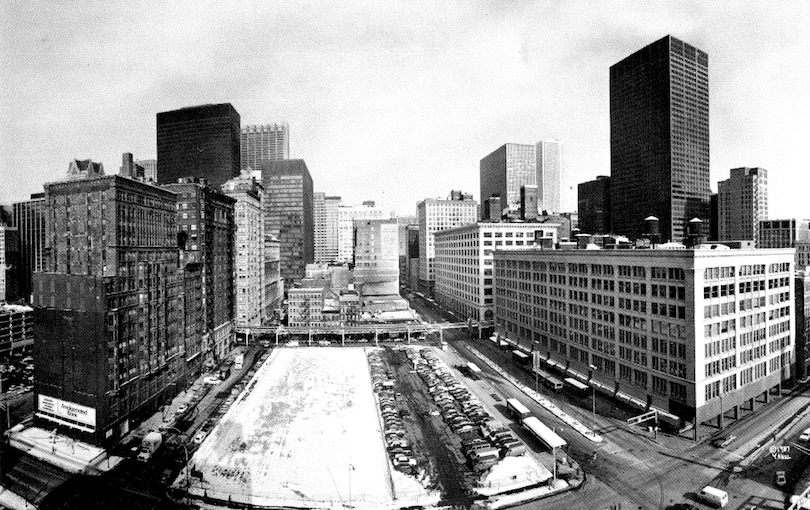 Inland Architect, 1988
In 1987, less than four months before his untimely death, then-mayor Harold Washington had pushed for the building of a new Central Library on the block bounded by South State, Van Buren, Plymouth Court and Congress Parkway (seen above) with a $175 million bond unanimously approved for its construction by the Chicago City Council on July 27th.2
Following approval of the bond issue to build the library and demolition of buildings on the site, what was expected to be a major international design competition to build a new Central Library was announced. Planned as a design-build project where one firm would be responsible for design, construction, and any unforseen cost overruns, there would ultimately be just five final entries that met the competition's criteria.
The International Competition for a New Chicago Central Library
---
Be sure to visit the 8th floor of the Harold Washington Library Center to see scale models of all the final competition entrants, some of which are shown below. The winning design for the library (not pictured here) is housed on the building's ninth floor in a permanent exhibit celebrating the remarkable life, career, and legacy of Mayor Harold Washington.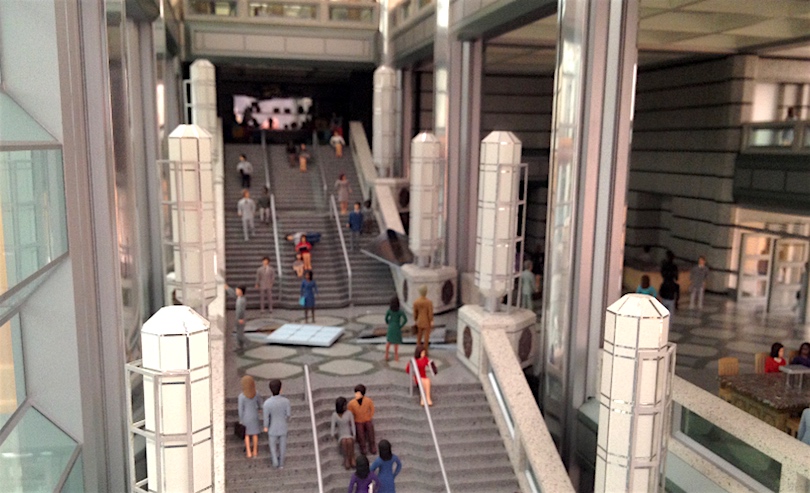 Top: Patrick Steffes Bottom: Architectural Record, 1988
Metropolitan-Lohan, a group comprised of Lohan Associates with Johnson, Reid, Lee Architects submitted the design above, notable for its dramatic multi-story lobby and grand flanking staircases. Architect Dirk Lohan would design additions to Chicago's Shedd Aquarium and Adler Planetarium, both completed in the 1990s. Lohan would also design a portion of the soon-to-be vacated global headquarters campus for McDonald's Corporation in Oak Brook, Illinois, and the currently vacant former Ameritech headquarters / AT&T offices in Hoffman Estates, Illinois hit with a $131 million foreclosure lawsuit in September 2016.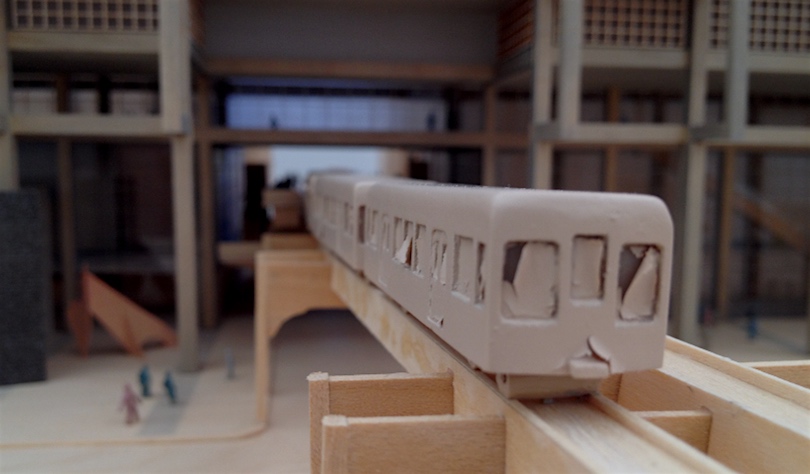 Top: Patrick Steffes Bottom: Architectural Record, 1988
Paschen-Tishman-Jahn, consisting of Murphy/Jahn with Castro-Buchel and Roula Associates submitted perhaps the most daring plan for the new library, a structure that would perch on stilts and straddle the elevated lines above West Van Buren and continue north to what is now Pritzker Park. The elevated can be seen in the image at top and above left. The firm of Murphy/Jahn had completed in 1985 what is now known as the James R. Thompson Center, an enormous landmark state office building in the heart of the Chicago Loop on the site of the once-iconic Sherman Hotel.


Architectural Record, 1988
Unlike the far better known architectural competition for the Chicago Tribune of 1922, the Chicago central library competition was not influential, with none of the losing designs known to have been celebrated, copied, or widely reproduced in books or online. Notably, two of the most renowned North American architects of the 20th century, Mexico's Ricardo Legoretta (design above) and Canada's Arthur Erickson would collaborate on library designs that were not selected.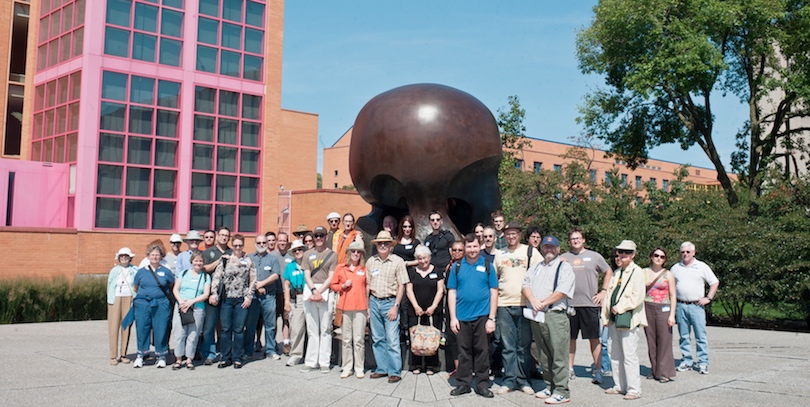 Marc Monaghan
Ricardo Legoretta (1931-2011) collaborated with Skidmore, Owings & Merrill at the Library '88 Partnership for their unrealized library design. Legoretta's only built work in the Chicago area is the colorful Max Palevsky Residential Commons at the University of Chicago, opening in 2001. Forgotten Chicago visited this site above during our Hyde Park Modernism Tour in 2012.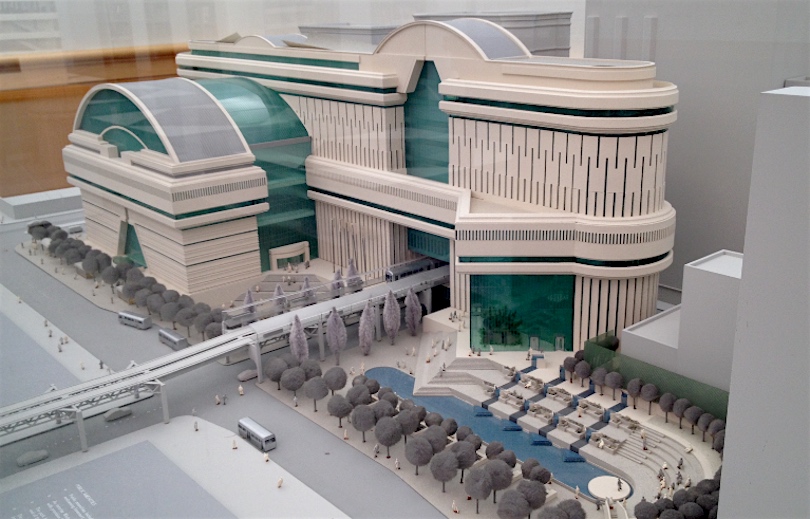 Top: Patrick Steffes Bottom: Architectural Record, 1988
Arthur Erickson (1924-2009) would collaborate with the John Buck Company and Vickrey / Ovresat / Awsumb Associates on the unbuilt library design above, that would also straddled the elevated tracks, and featured a distinctive water feature on the site of what is now Pritzker Park. While Erickson would never design a built project in Chicago, Chicago is poorer for not having a building by him, an architect whose personal life and career rivals Chicago's most famous architect in both controversy and accomplishments.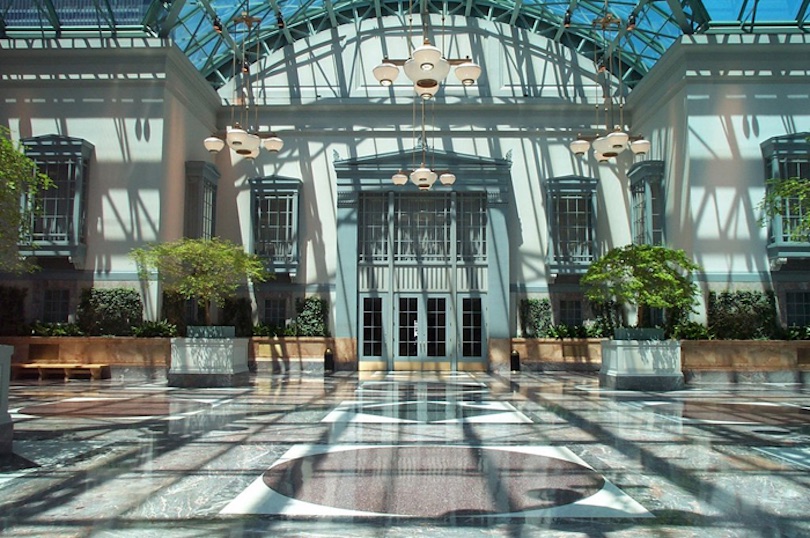 Harold Washington Library Center
The winning design for what was is now known as the Harold Washington Library Center was submitted by The Sebus Group of Hammond Beeby Babka with John Wilson & Partners and A. Epstein & Sons, Architects. Entusiastically embracing the then-popular Postmodern Style of architecture, the completed library would ultimately lead to a dramatic revitalization of South State Street and the surrounding neighborhood, and functions remarkably well 25 years later as a public library building. The library's ninth floor Wintergarden shown above is without question one of the most extraordinary public spaces of any civic building in the U.S.
Finding Remnants of a Bygone South State Street in 2016
---