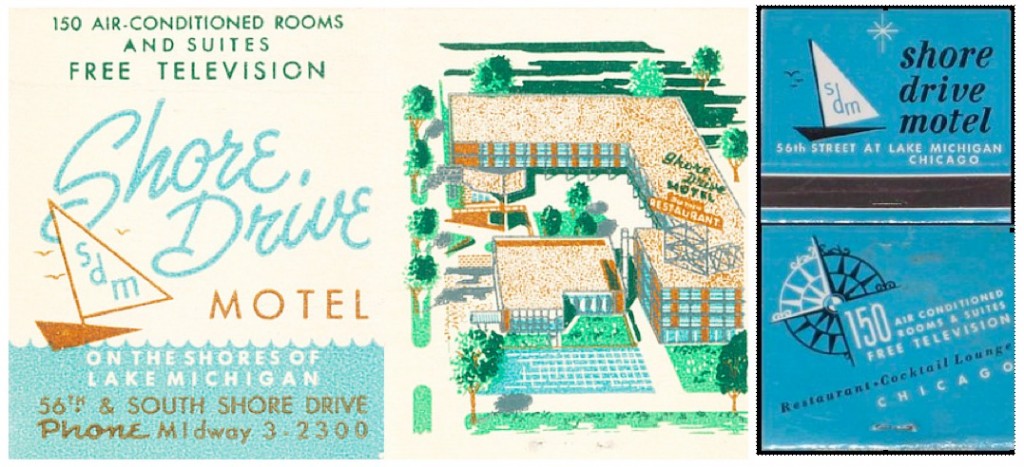 Chuckman Collection
The second Shoreline Motel, the Shore Drive, opened in Hyde Park in April 1956.
Introduction
---
A major business, trade, tourism and convention destination since the middle of the 19th century, Chicago has long been home to countless short-term accommodations for visitors and transients, from pioneer inns to massive convention hotels, short-term rental apartments, beachfront resorts, and the often-humble motel.
One of the shortest-lived and least documented categories of accommodations in Chicago was the Shoreline Motel. Not to be confused with better-known strips of motels on the South Side along Cicero or Stony Island Avenues, or the North Side along Mannheim Road near O'Hare or North Lincoln Avenue, there were 13 identified Shoreline Motels completed between 1955 and 1965. Virtually forgotten, only three of these buildings survive as of this writing, the rest having been demolished: two remain open as motels and one building has been repurposed.




Left: 1964-65 Illinois Bell Chicago Classified Telephone Directory, portion of cover. Center and right: 1959 Illinois Bell Chicago Classified Telephone Directory, motel display ads.
While locals are familiar with the allure of Chicago's lakefront, many visitors do not associate Chicago as a sun-and-sand destination. A characteristic of many of these Shoreline Motels was marketing that suggested a destination far from the Midwest, with names such as Breakers, Sands, Tides, and Tropicana, and architecture and images that would not have been out of place in California or Florida. Besides their locations near the lake, Shoreline Motels also emphasized their newness, in contrast to the rest of Chicago's existing (and aging) hotel accommodations.

Forgotten Chicago Collection
The thirteen completed Shoreline Motels will be discussed at length in three additional Forgotten Chicago articles organized by geographic area, starting with the North Side. Other FC articles will examine Shoreline Motels in the Central area, as well as Hyde Park and South Shore.
Defining the Shoreline Motel
---
For the purpose of identification and research, Shoreline Motels include the following characteristics:
• Facing, or located within a few blocks of Lake Michigan or a lakefront park; all of these motels were or are located on Sheridan Road, Foster Avenue, Marine Drive, Michigan Avenue, North Lake Shore Drive, or paralleling South Lake Shore Drive on Chicago Beach Drive and South Shore Drives.
• With one exception, a low-rise (two to four story) building.
• If taller than four stories, self-identified as a motel (see below).
• Ground-level parking adjacent to first-floor rooms, and/or additional parking onsite, initially provided at no cost to guests.
• Standard, and limited, contemporary motel amenities such as a swimming pool, cocktail lounge, and coffee shop or restaurant.
• Besides a swimming pool, cocktail lounge, and coffee shop or restaurant, Shoreline Motels generally offer limited amenities compared to Chicago's shoreline hotels, such as the Edgewater Beach, The Drake or the Conrad Hilton, which often offer multiple eating and drinking venues, a shopping arcade, bowling alley, beauty salon, large ballrooms, and a nightclub or showroom.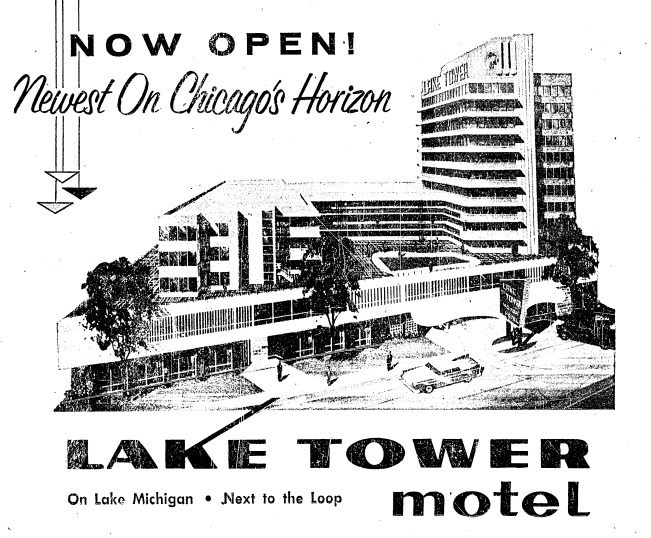 Chicago Tribune, April 28, 1959
Extant for less than 30 years, the 1959 Lake Tower Motel at 600 North Lake Shore Drive was specifically referred to upon opening as a motel in advertising and marketing. The Lake Tower Motel will be explored in an upcoming Forgotten Chicago article, Chicago's Shoreline Motels – Central.
The 1953 Zoning Law and the Appeal of the Shoreline Motel
---
Until a 1953 change in zoning regulations, motels were not allowed within Chicago city limits.1 Once the zoning law was changed, the Shoreline Motels all opened within a relatively brief 10-year time period starting with Chicago's first motel, The Sands, on the North Side, which opened December 3, 1955.2
Besides the change in zoning, there are several reasons that numerous Shoreline Motels were constructed in Chicago during this brief period. Perhaps most importantly, the first sections of the region's expressway system, and the extension of Lake Shore Drive north to Hollywood Avenues were both completed in the 1950s. These new highways allowed visitors arriving by car to travel to and around Chicago with relative ease, and for the first time visitors were able to stay (depending then, as now, on traffic) more conveniently in areas farther from the Loop, including near the lakefront.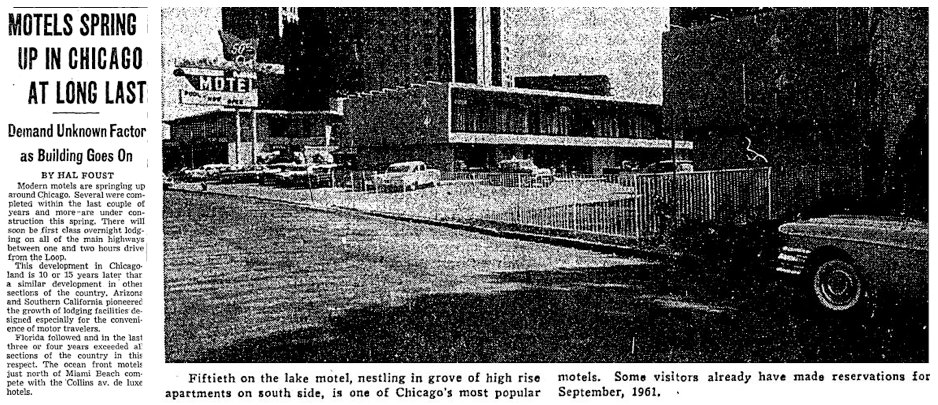 Left: Chicago Tribune, May 10, 1953. Right: Chicago Tribune, August 7, 1960.
After several name changes and upgrades over the years, the property pictured at right is one of two Shoreline Motels to remain open in 2012.
Once open, these newly constructed motels were seen by many as a more convenient place to stay than Chicago's older, centrally located hotels. A leisure or business visitor to Chicago traveling by car could park directly in front of their motel room or park free onsite, come and go by car as they pleased, and carry their own luggage to their room.
Finally, Chicago's lakefront has long been a desirable place to live or stay in a hotel; it may have been inevitable that motels near the lake would follow once zoning laws were changed.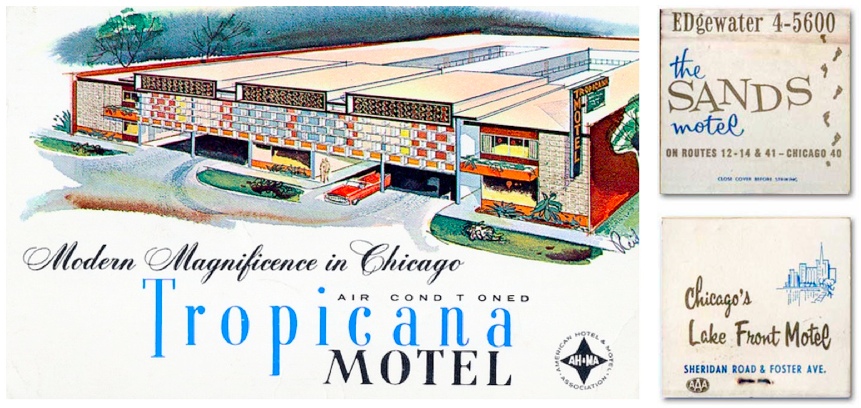 Chuckman Collection
Shoreline Motels often noted their modernity and proximity to Lake Michigan in marketing material.
Chicago's Existing Hotels
---
Since Shoreline Motels were all newly built, they were at least initially seen by many travelers as more modern than many of Chicago's existing hotel accommodations. After the completion of hotel projects prior to or soon after the 1929 stock market crash, there was no new hotel construction in Chicago until the Executive House hotel (now Hotel 71), designed by Milton Schwartz at 71 East Wacker Drive, opened in 1958.3 These new motel properties, with the added amenity of being near Lake Michigan, may have been an appealing and modern alternative for visitors.
Because of their advanced age, maintenance issues, and high property taxes, some of Chicago's existing hotels in the central area were becoming less economically viable by the 1950s. In fact, several formerly prominent hotels would be torn down in the latter half of the twentieth century. For example, despite a key location adjacent to city and county offices on the block surrounded by Clark, Randolph, LaSalle and Lake (where the James R. Thompson Center now stands), the 1,700 room Sherman House closed in 1973; the original portion of the hotel dated to 1910 and the "new" section of this building was built in 1925.4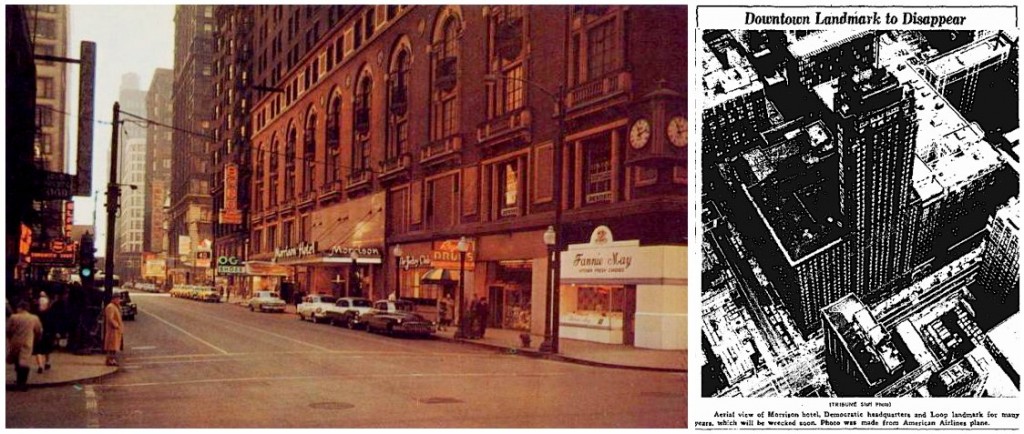 Left: Chuckman Collection. Right: Chicago Tribune, November 8, 1964.
The Morrison Hotel (above) was built in three stages between 1915 and 1931, and was the largest hotel in the Loop. Containing 1,950 rooms at the time of its closing in November 1964, the Morrison, along with the entire block surrounded by Madison, Dearborn, Monroe and Clark, would be demolished beginning in January 1965 for the headquarters of the First National Bank of Chicago.5 The Morrison had two other notable distinctions: it was at the time the world's tallest hotel at 526 feet and 46 stories, and it was the tallest building ever to be demolished up to that point.6
Motel Controversy and Differences with Shoreline Hotels
---
The focus of the Shoreline Motel articles will be to document the dates of operations, number of rooms and architects of Shoreline Motels (when known), and to include images if available. While some of these motels declined in reputation and physical appearance in the decades after their opening, their condition in later years will not be addressed in these articles. However, it should be noted that there has long been discussion about the impact these motels have on the communities they are located in; the excerpts below were taken from the same newspaper article in August 1960, after more than half of the Shoreline Motels (and numerous other motels in the Chicago area) had opened: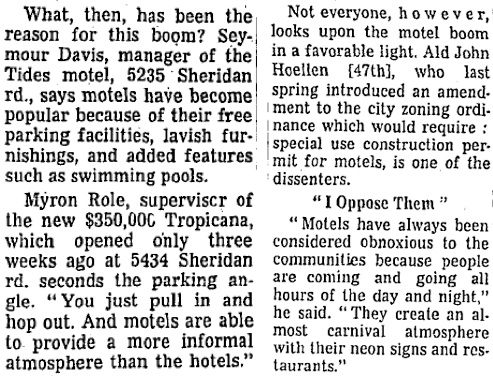 Chicago Tribune, August 7, 1960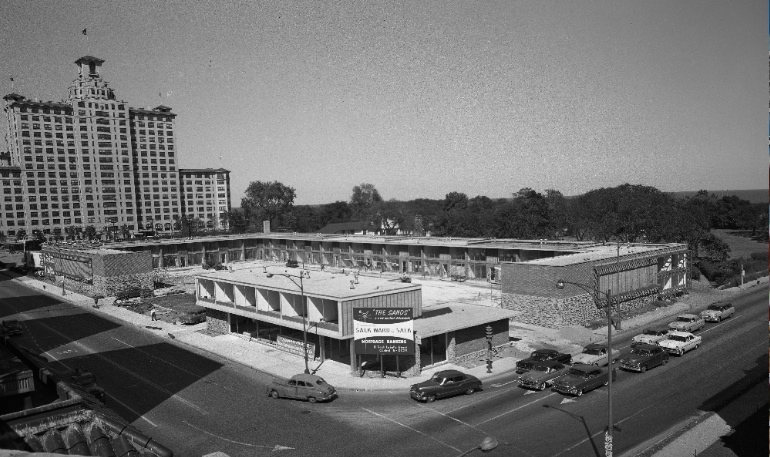 Uptown Chicago History
Shown under construction prior to opening in December 1955, the Sands was the first motel to open in Chicago,7 and was located at the northeast corner of Sheridan Road and Foster Avenue. Seen to the left (north) is perhaps the quintessential Chicago shoreline hotel, the Edgewater Beach, which closed in 1967. Two other Shoreline Motels would later be constructed immediately adjacent to the Sands – The Tides (behind, to the north) and an expansion of the Sands (right, to the east), which would later operate separately and be known as the Chicago North Lodge.
By 1960, the Tropicana would also open near the Edgewater Beach Hotel, two blocks north on the west side of Sheridan Road (not shown in photo above). These four properties, more than 30% of the completed Shoreline Motels, remained open after demolition began on the Edgewater Beach in late 1969, but would themselves all be demolished between the mid-1970s and 2009. These and other North Side Shoreline Motels will be discussed in an upcoming article, Chicago's Shoreline Motels – North.




Chuckman Collection
In contrast to their modest motel counterparts, Chicago's shoreline hotels have always been larger and more opulent. Two of these continue to thrive: The Drake (opened in 1920) and the Hitlon Chicago (opened in 1927 as The Stevens, later Conrad Hilton, and Chicago Hilton & Towers). Typical of the luxury hotels built facing Lake Michigan prior to the Great Depression, both hotels offer guests luxury accommodations and extensive amenities.
The only Shoreline Motel built facing Lincoln Park, the Holiday Lodge (later Holiday Inn) in Uptown opened in December 1959, and is also the only Shoreline Motel repurposed to another use as of this writing. The exterior remains nearly intact in 2012, and while the concrete-block fence has been removed and the windows modified, the stone base for the former Holiday Inn "Great Sign" and the outline of the former outdoor swimming pool (upper right) can still be easily seen.
The End of the Shoreline Motel
---
Following the announcement in February 1964 for a realized three-story, 62-unit Travelodge on Michigan Avenue just south of Roosevelt Road,8 no proposals for additional Shoreline Motels have been found. Rising property values, increased residential construction near or along the lakefront, and possible neighborhood opposition led to the end of the brief era of motel building in Chicago near Lake Michigan.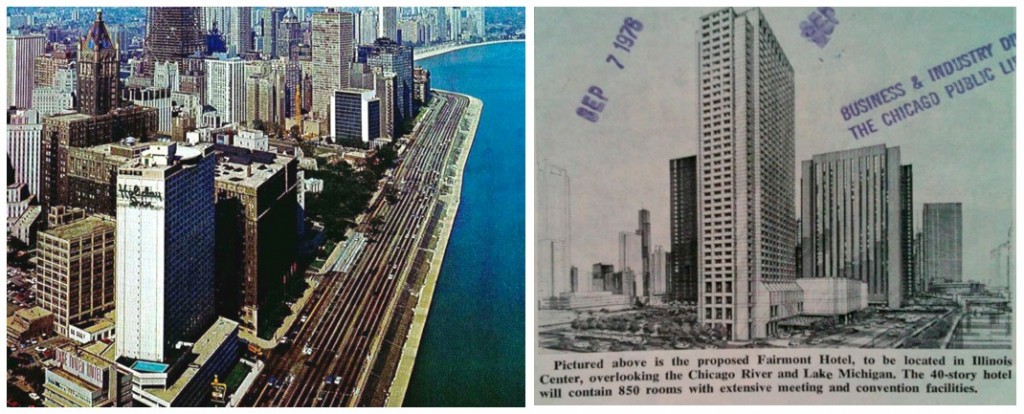 Left: Pleasant Family Shopping. Right: Realty & Building, September 4, 1976.
In November 1965, the largest hotel opened in Chicago since The Stevens nearly forty years earlier,9 the 33-story, 600-room Holiday Inn Chicago Lake Shore Drive (later Days Inn, now W Chicago Lakeshore). Completed just six years after the Lake Tower Motel (lower left in photo above), the new Holiday Inn was a significantly larger project and decidedly not a motel.
In the 1960s, there were various plans for a major shoreline hotel project near the original 1960 McCormick Place complex before the original convention center was destroyed by fire in 1967 (as discussed at our FC175 event). A 600-room hotel, the McCormick Inn, would eventually open on 23rd Street in 1973,10 but was demolished just 20 years later11 for the construction of the South Building addition to the McCormick Place complex. For an interesting post on the McCormick Inn by WBEZ's Lee Bey, as well as rare video footage, click here.
Since the 1970s, there have only been a few additional shoreline hotels completed, including the Hyatt Regency (1974) and the Swissotel (1989), which at the time of their respective completions both directly faced Lake Michigan. Besides an unnamed 200-250 room hotel tenant announced in the original plan for the ill-fated Chicago Spire,12 few other shoreline hotels have been planned in recent decades adjacent to or directly facing Lake Michigan. Fairmont Hotels announced a project on the west side of Columbus Drive facing Lake Michigan in September 1976 (above, right) designed by Welton Beckett; for reasons unknown, this project was never started. A different Fairmont design by HOK, in association with Fujikawa Johnson Associates, directly faced Lake Michigan when it opened in 1987.13
With even shoreline hotel projects few and far between in recent years, the shoreline motel has yet to make a comeback, and it seems unlikely it ever will.
Acknowledgements
---
The title for this article, "The Miami of Canada" is taken from The Simpsons, season 19, episode 1, written by Joel H. Cohen and aired for the first time on September 23, 2007.14 The full quote is uttered by the character Mr. Burns as he and Homer are landing in Mr. Burns' private plane in, or course, Chicago: "Now to enjoy the Miami of Canada: Chicago."15 Besides this unusually descriptive line, this episode is particularly effective in lampooning many other aspects of Chicago.
Sources
---
1. Neon Promises Tempt Traveler with Luxuries: WANT TO JOIN NEWEST FAD? BUILD A MOTEL, Chicago Daily Tribune (1923-1963); Aug 7, 1960; ProQuest Historical Newspapers: Chicago Tribune (1849-1987), pg. SW1 (accessed April 23, 2012).
2. First Chicago Motel, The Sands, Opens 90 Rooms. Realty & Building, December 10, 1955, pg. 3.
3. Big hotel boom here could add 4, 000 rooms in 3 years; Nagelberg, Alvin, Chicago Tribune (1963-Current file); Feb 11, 1973; ProQuest Historical Newspapers: Chicago Tribune (1849-1988), pg. A15 (accessed July 11, 2012).
4. Sherman House closing to mark end of hotel era, Nagelberg, Alvin, Chicago Tribune (1963-Current file); Jan 15, 1973; ProQuest Historical Newspapers: Chicago Tribune (1849-1988), pg. C9 (accessed April 29, 2012).
5. Morrison Hotel to Ring Down Curtain on Gaudy Era: City's Famed Hostelry to Be Razed; Fitzpatrick, Thomas, Chicago Tribune (1963-Current file); Nov 8, 1964; ProQuest Historical Newspapers: Chicago Tribune (1849-1988), pg. D7 (accessed June 23, 2012).
6. Ibid.
7. First Chicago Motel, The Sands, Opens 90 Rooms. Realty & Building, December 10, 1955, pg. 3.
8. $350,000 Mortgage for New Motel. Realty & Building, February 22, 1964, pg. 3.
9. Holiday Inn Opens Thursday; Chicago Tribune (1963-Current file); Nov 6, 1965; ProQuest Historical Newspapers: Chicago Tribune (1849-1988), pg. C7 (accessed July 3, 2012).
10. http://www.emporis.com/building/mccormickinn-chicago-il-usa (accessed July 3, 2012).
11. Ibid.
12. http://www.skyscrapercity.com/showthread.php?t=238320 (accessed July 16, 2012)
13. Paul Gapp, Flag-waving Fairmont: A Refreshingly Right Building In The Wrong Place; Chicago Tribune, December 25, 1988, http://articles.chicagotribune.com/1988-12-25/entertainment/8802270389_1_hok-fairmont-hotel-management-architectural (accessed July 9, 2012).
14. http://www.imdb.com/title/tt1103798/maindetails (accessed July 11, 2012).
15. Ibid.
Read More
---
Tweet