AAA Great Lakes Tour Book, 1965-1966, Forgotten Chicago Archives, courtesy of Joe Sislow
As stated in the dictionary that comes installed in an Apple laptop, ephemera is defined as "items of collectible memorabilia, typically written or printed ones, that were originally expected to have only short-term usefulness or popularity." As anyone who has tried to research the overlooked built environment in general or hotels and motels in particular, there are few resources more valuable than these very fleeting travel guides that were meant to be discarded and replaced annually.
Forgotten Chicago has published four features on Chicago's Shoreline Motels. The first was published in 2012 and is an overview of this building type. The second feature explores these motels on the North Side, and may be seen here. Central area Shoreline Motels were explored here. The final installment was published in 2013 and covers Hyde Park and South Shore.
We hope you enjoy this look at rarely-seen ads and promotional materials from some of Chicago's Shoreline Motels.
Shoreline Motels North
---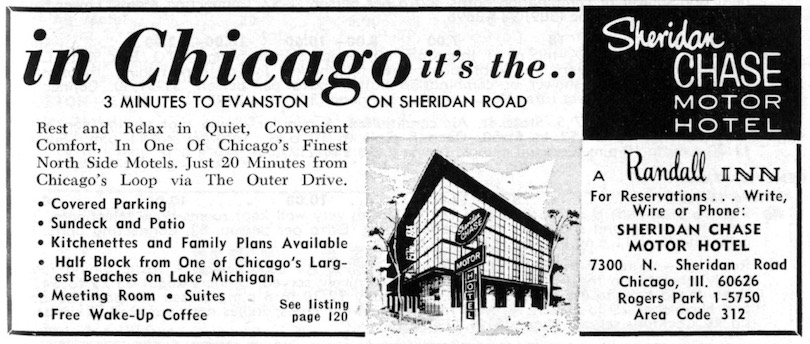 AAA Great Lakes Tour Book, 1965-1966
As mentioned in a previous Forgotten Chicago article, the former Sheridan Chase Motel remains one of only two of the thirteen Shoreline Motels built between 1955 and 1964 to remain open in 2017 in its original function. With four floors and interior hallways, it did not fit the standard definition of a motel. Confusingly, the Sheridan Chase was referred to as a motel, a motor hotel, and an inn, sometimes in the same ad, as seen above.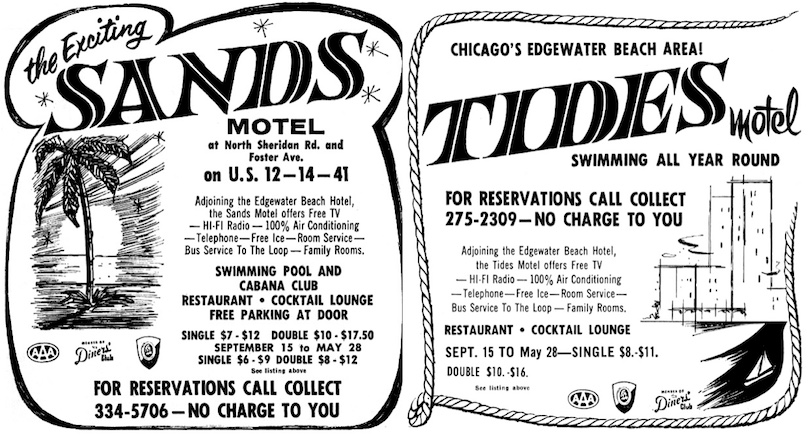 AAA Great Lakes Tour Book, 1965-1966
The Sands and The Tides were two adjacent, but initially rival motels in the Edgewater community that would later be co-managed. In early ads, both motels would mention their location near the iconic, 1,000-room Edgewater Beach Hotel, a landmark that would close permanently days before Christmas, 1967 and be demolished within a few years.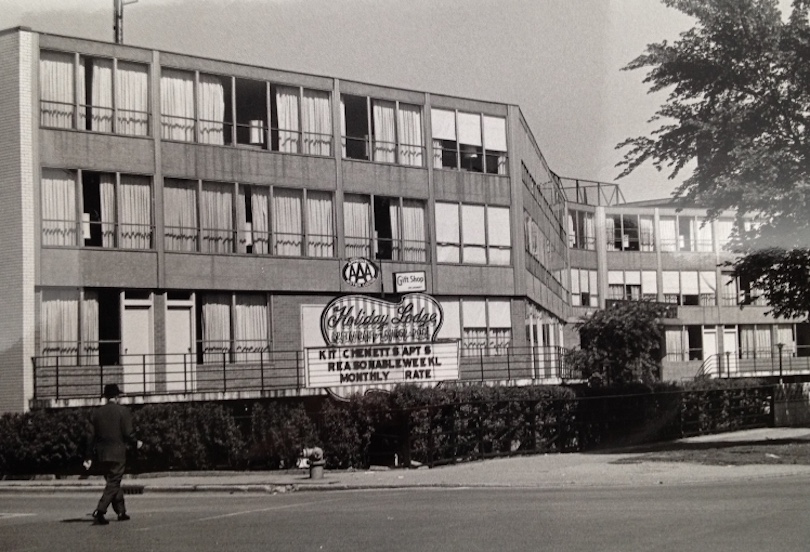 Chicago History Museum, Earl Howell Reed, Jr. photograph collection, 1922-1968
Although not ephemera, this photo is the only image found by the Forgotten Chicago Research Department of the original sign for the Holiday Lodge (later Holiday Inn), the only Shoreline Motel that faced Lincoln Park. Located at the corner of Marine Drive and Lawrence Avenue, this hotel was converted to a Salvation Army facility in 1978, but its exterior remains nearly completely intact in 2017, nearly 40 years after closing as a motel.
Shoreline Motels South
---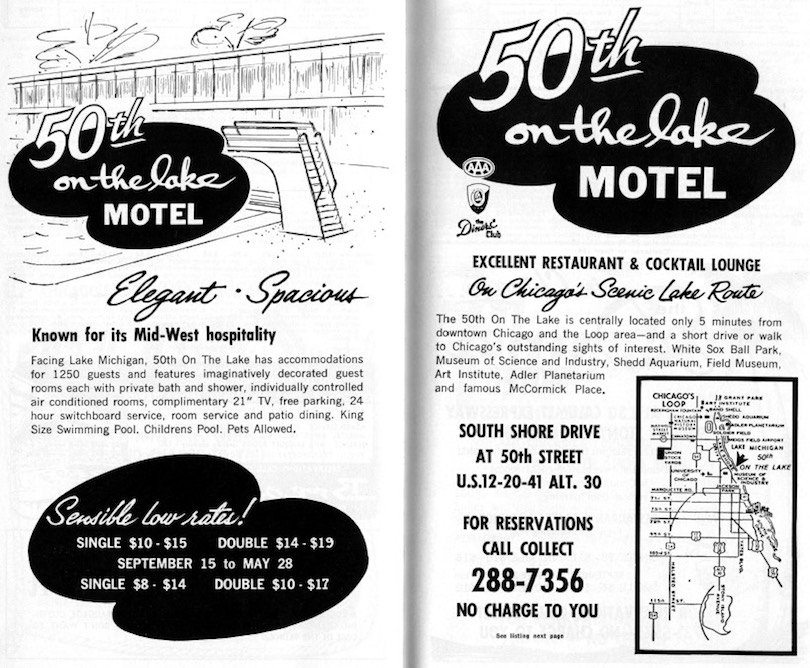 AAA Great Lakes Tour Book, 1965-1966
The second of two Shoreline Motels to remain open as a motel in 2017, the former 50th on the Lake was purportedly known for its Mid-West hospitality, and has undergone many changes in name and appearance since opening in 1958. Long championed by Forgotten Chicago as one of the most significant political and historic sites in Chicago, this Hyde Park non-landmark is where President Obama announced his first run for public office in September, 1995.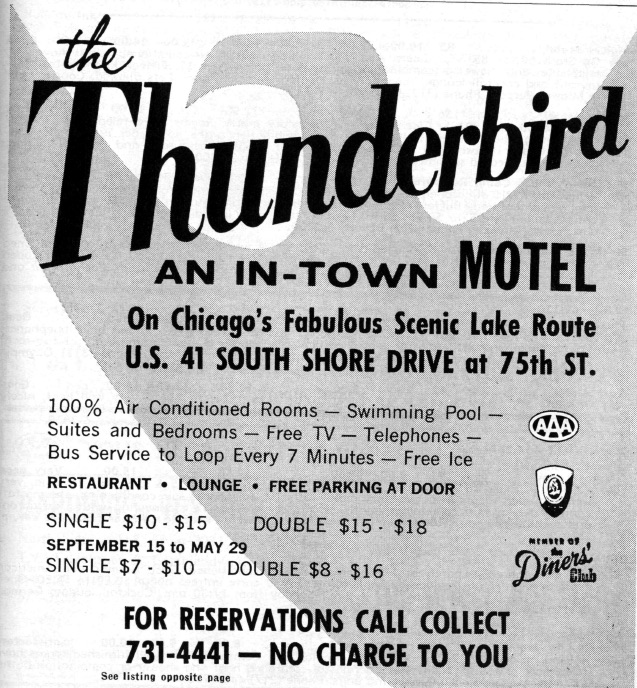 AAA Great Lakes Tour Book, 1965-1966
Opened in 1959 and designed by the noted motel architect Frank LaPasso, the Thunderbird is perhaps the most elusive of Chicago's Shoreline Motels in terms of ephemera and photographs. Well-sited in the heart of the South Shore community, the Thunderbird was demolished by 1988, and is now the site of a school.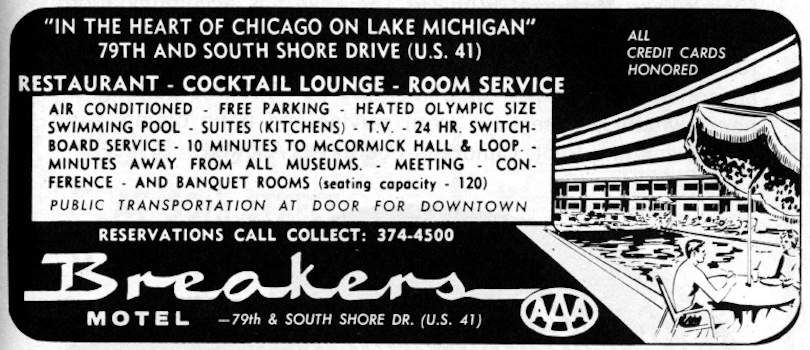 AAA Great Lakes Tour Book, 1965-1966
The southernmost of Chicago's Shoreline Motels, the Breakers would also be known as the Delta and Rainbow Beach, as described here. Another motel with an elusive history, this motel would vanish by 2005 for an extension of Rainbow Beach Park.
Shoreline Motels South
---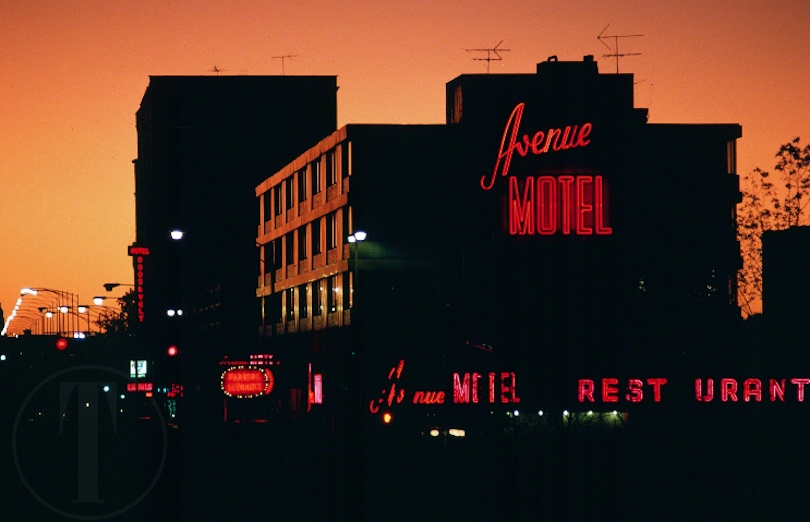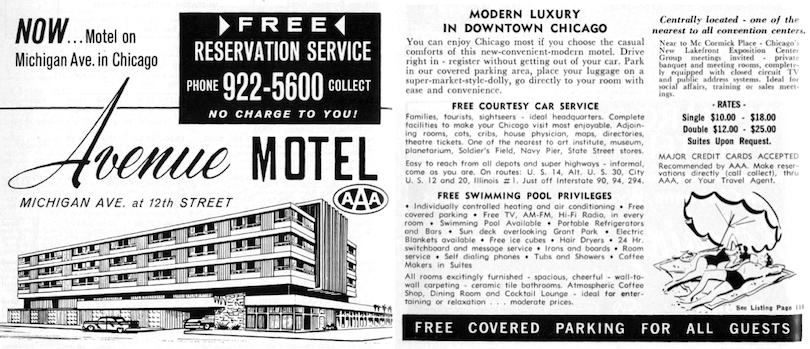 Top: Forgotten Chicago Facebook page Bottom: AAA Great Lakes Tour Book, 1965-1966
Located at the busy corner of South Michigan Avenue and East Roosevelt Road, the Avenue Motel packed a great deal of amenities in a property with just 100 rooms. Seen by some as a garish eyesore by the late 1990s, the Avenue was between the CTA high-traffic subway and elevated train stations and the then-new Museum Campus, and would be demolished and replaced with a condominium tower that opened in 2008.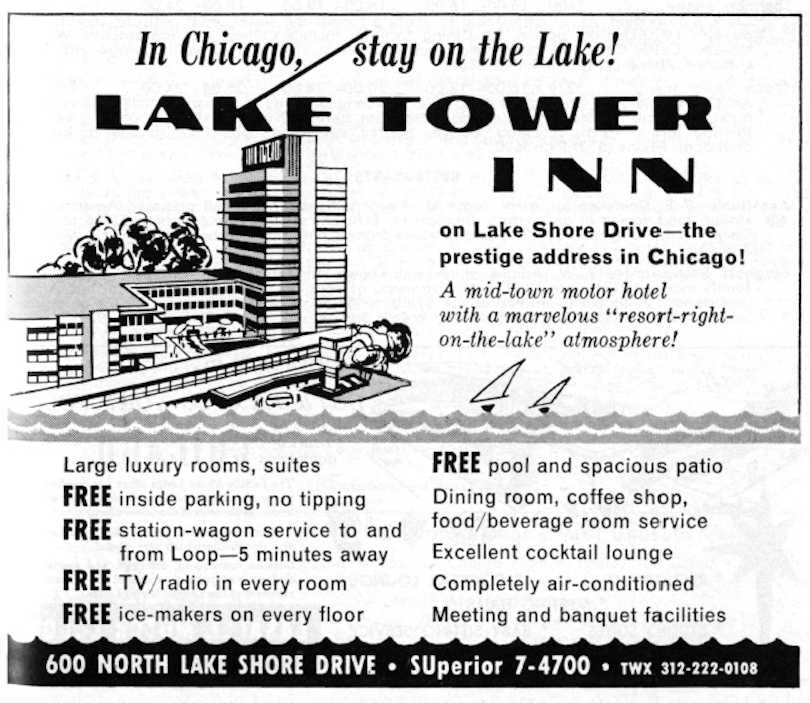 AAA Great Lakes Tour Book, 1965-1966
One of the shortest-lived major (250 room) properties in Chicago hospitality history, the Lake Tower Inn / Motel / Motor Hotel was demolished less than 30 years after opening in 1959, with its high-profile site at Lake Shore Drive and Ohio Street a vacant lot for nearly 20 more years.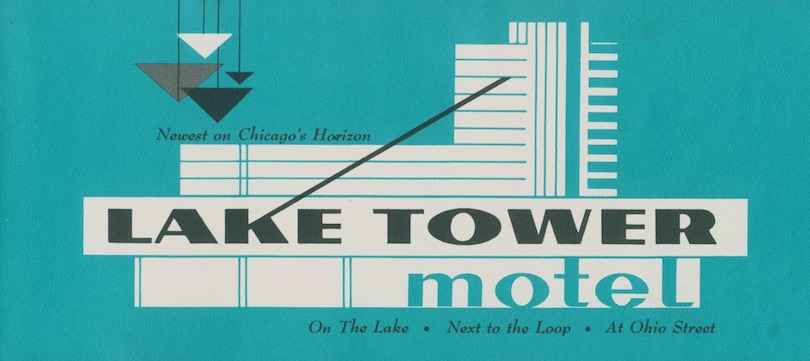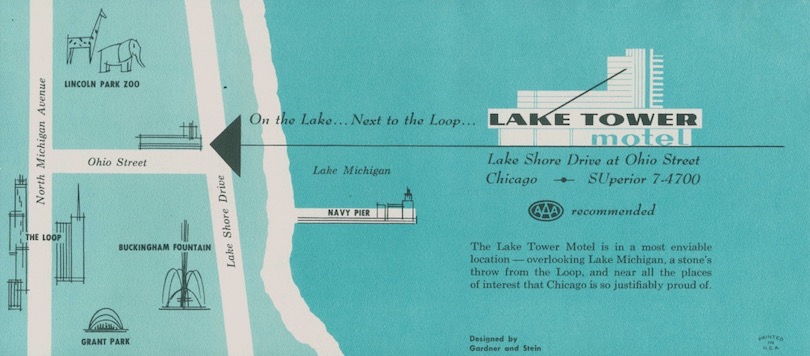 Forgotten Chicago Archives, courtesy of Jacob Kaplan
No other Shoreline Motel had a more unified branding and marketing program than the Lake Tower. Credited to the firm of Gardner and Stein as seen above, no mention of this marketing and/or design firm was found searching the archives of the Chicago Tribune between 1950 and 1989.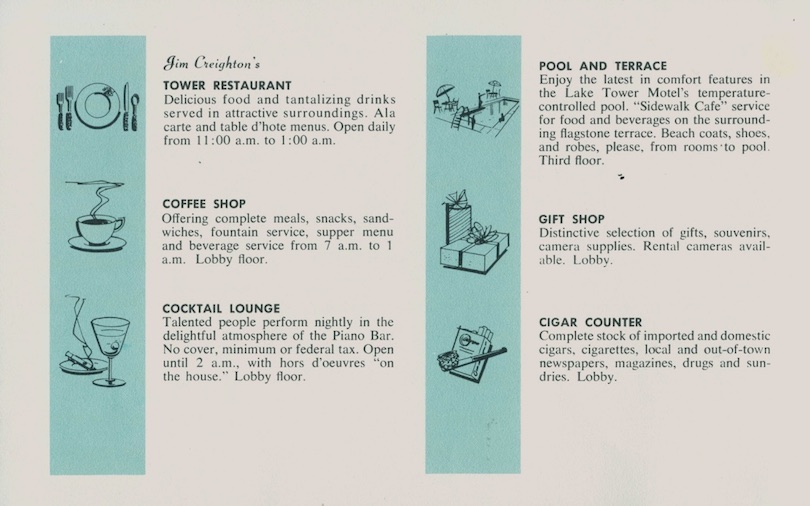 Forgotten Chicago Archives
Designed to compete directly with Chicago's venerable hotels facing Lake Michigan such as The Drake or the Conrad Hilton, the Lake Tower was packed with services and features. The Lake Tower had several advantages over these huge hotels: it was more than 30 years newer, had a large swimming pool overlooking the lake, and offered free, attached parking. Worth noting is that The Drake and Hilton Chicago are both thriving today, more than 30 years after the Lake Tower was demolished. As illustrated above, the Lake Tower also offered free "station wagon service" to the Loop in what appears to be a Volkswagen Bus.

Forgotten Chicago Archives
To date, no interior photos have been found of the Lake Tower; the marketing focus upon opening was its ultra-modern design and stunning location. As with many hotels and motels, extensive promotional materials are often prepared well before exterior and interior construction has been completed.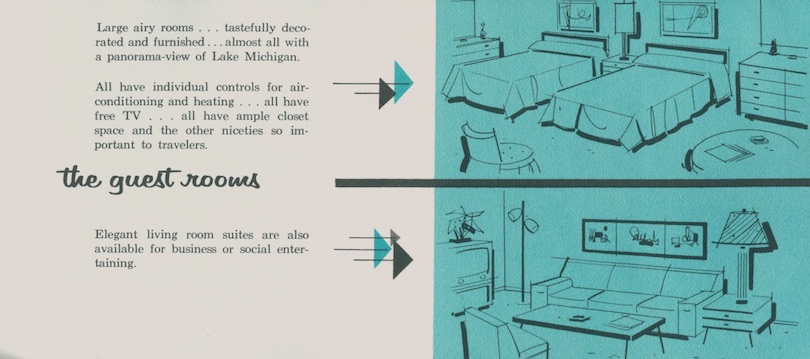 Forgotten Chicago Archives
The meeting facilities and guest rooms are duly described. The advantage for a visitor from Ohio or Wisconsin to park their own car at no charge (and without turning over the keys to a stranger who would do Lord-knows-what with their car on the way to the garage) cannot be underestimated in a big city, perhaps being visited by somewhat nervous travellers for the first time.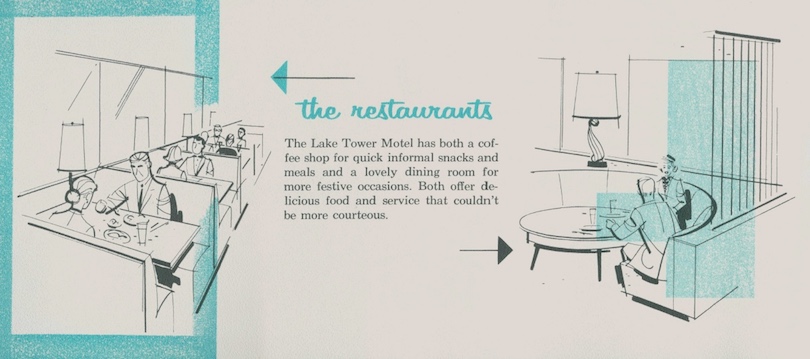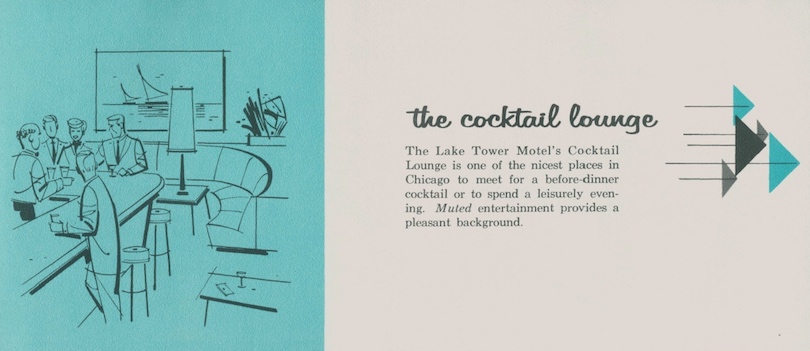 Forgotten Chicago Archives
Then and now, hotels (and most of the 13 Shoreline Motels in Chicago) receive a large portion of their revenues and profits from food and beverage outlets, particularly liquor sales for guests and locals. The Lake Tower had a coffee shop, "lovely" dining room, and a cocktail lounge that emphasized its muted entertainment.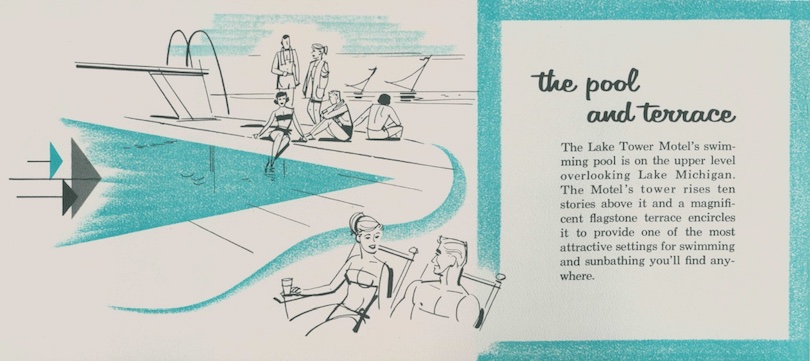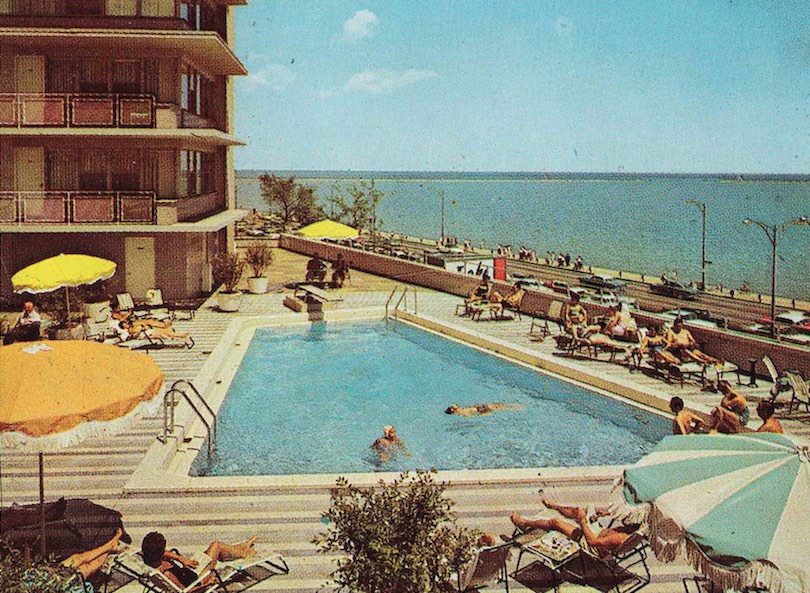 Forgotten Chicago Archives
The Lake Tower's pool was above the busy U.S. highway just steps from its front door. Sitting on the roof of the motel's second floor, the pool's diving board would be installed in a slightly different location than in the promotional brochure.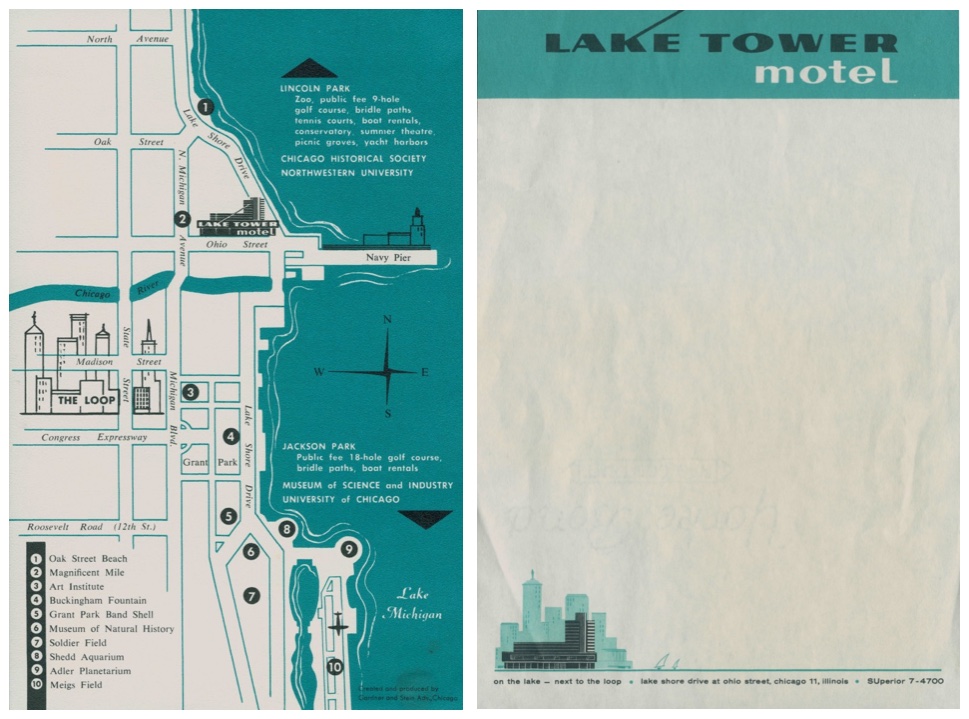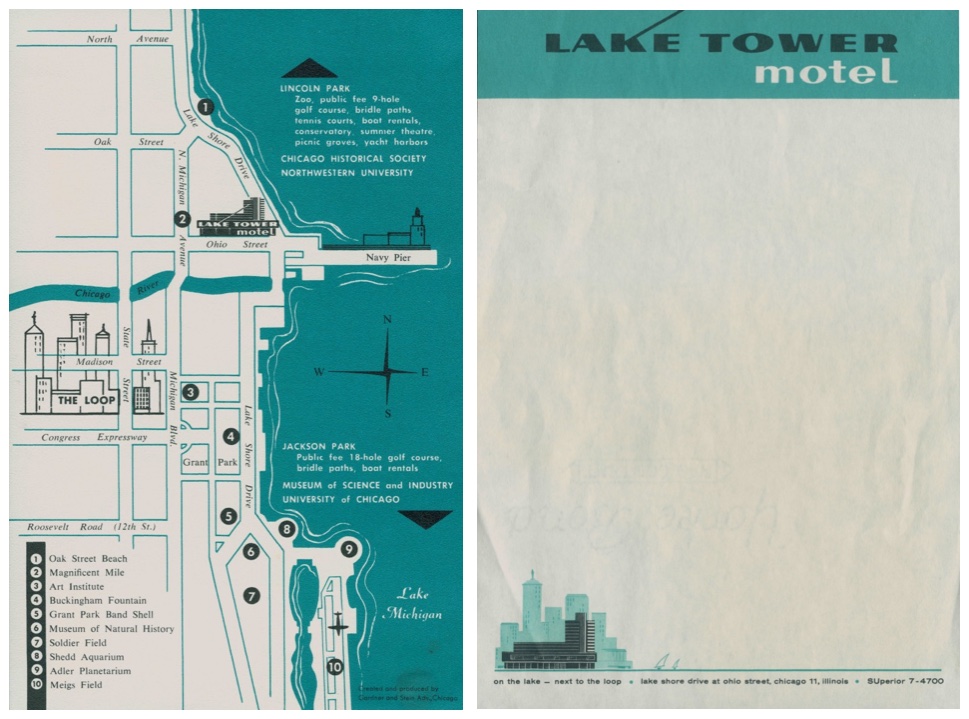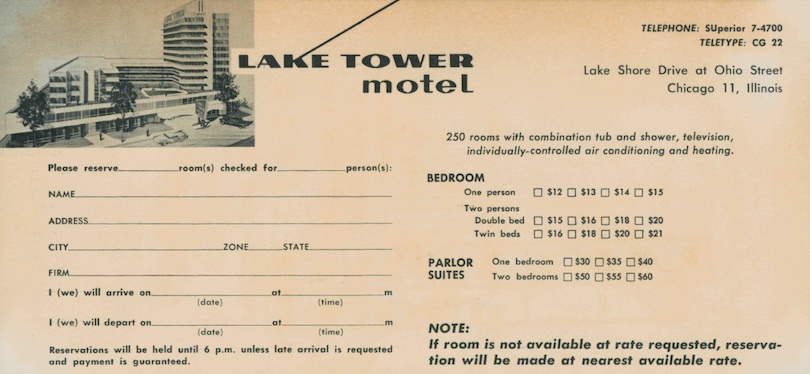 The Lake Tower ephemera in this article was a wonderful gift to this author, purchased from online auctions over several years and include other items not seen in this article, including an envelope, unused shoe shine cloth, two different soap wrappers, a room key (603) and a key fob, all with the Lake Tower logo. No doubt the Lake Tower, and all the Shoreline Motels featured at Forgotten Chicago, were the sites of such delightful memories for thousands of visitors to Chicago that they kept these souvenirs for decades after their stay. We are grateful to whoever saved these items, as well as a 50-year old AAA guide, and that we are able to share it with our readers.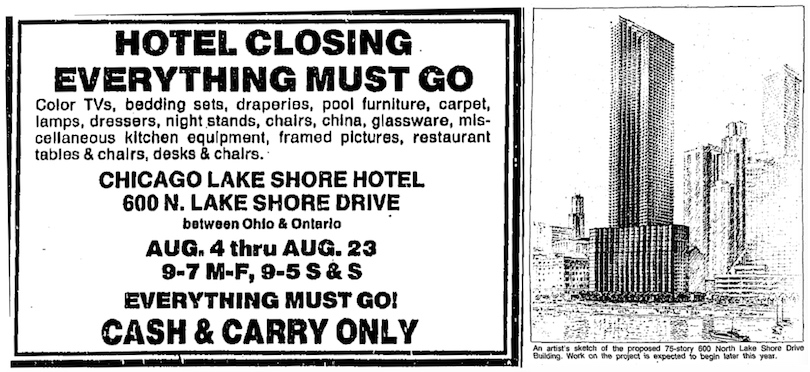 Left: Chicago Tribune, August 1986 Right: Chicago Tribune September 1986
The Lake Tower (then Chicago Lake Shore Hotel) closed in 1986 and was demolished soon after for a enormous project designed by Bruce Graham of Skidmore, Owings & Merrill that would never be built. Nearly 20 years would pass before construction began on the condominium project that was built at this site, as described here.


AAA Great Lakes Tour Book, 1965-1966
Finally, always good advice from our friends at the American Automobile Association, celebrating the American road trip since 1902. Safe travels!
Read More
---
Tweet