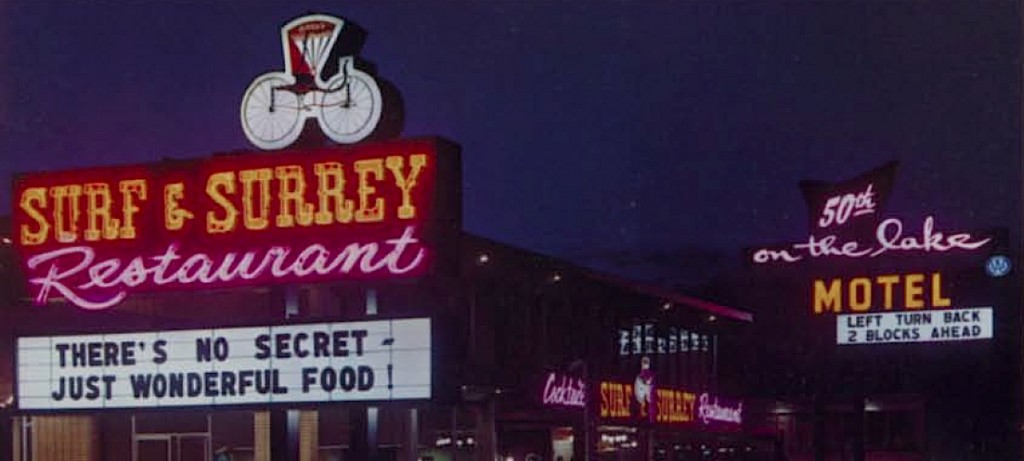 White Way sales brochure, no date
As mentioned previously in previous Forgotten Chicago articles here, here, and here, there were a total of 13 Shoreline Motels built in Chicago in the roughly ten year period from the mid-1950s to the mid-1960s. In this, the final article in the series, we examine the four Shoreline Motels constructed in Hyde Park and the South Shore areas.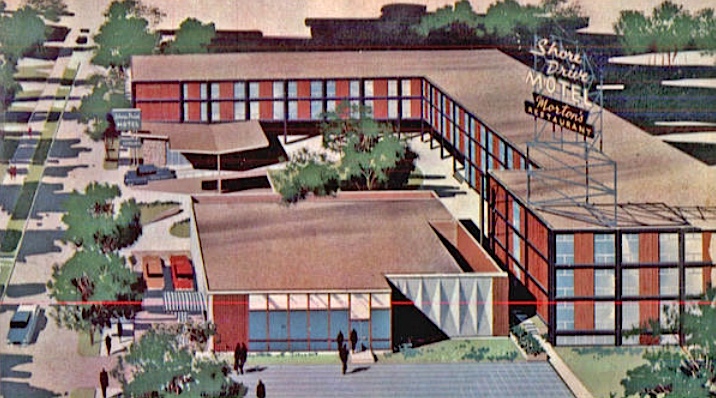 CardCow, no date
As with Chicago's other lakefront neighborhoods, the long history of transient accommodations in the neighborhoods south of the Loop spans the 1800s until today. One of the most venerable hotels south of the Loop was the Shoreland Hotel, built in 1926 and remodeled in the 1930s to keep current in a challenging economy by the highly accomplished but now forgotten architect James Eppenstein.


Left: Chicago Tribune, 1930 Center: Illinois Bell Classified Telephone Directory, 1951 Right: Chuckman Collection, 1954
These three Shoreland Hotel promotional items from (left to right) 1930, 1951 and 1954 show how the Shoreland, along with many aging lakefront hotels, attempted to keep current with changing times. At left, it may be deduced that the Shoreland was struggling during the Great Depression from this awkwardly written ad appealing to a budget-conscious renter. At center, the hotel's ornate 1920s architecture is cleaned up in a 1951 Yellow Pages ad to look as modern as a new Mies van der Rohe skyscraper.
Above right, a new Chevrolet Corvette is prominently placed at the entrance to this elaborate, and very old-fashioned, Roaring Twenties-era hotel. With new highways being built in the Chicago area and a booming economy, there was strong demand starting in the 1950s for new accommodations to supplement and replace Chicago's aging hotels along the lakefront.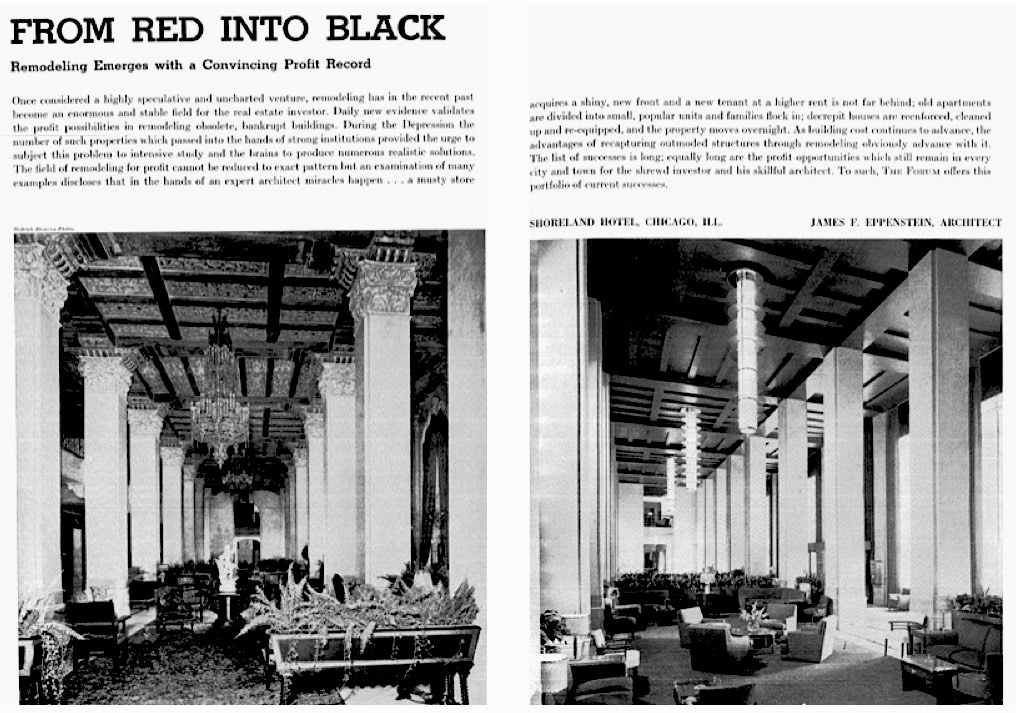 Architectural Forum, 1937
James Eppenstein's 1930s transformation of the Shoreland Hotel, and many of his other remarkable and now-forgotten projects,
will be examined in an upcoming Forgotten Chicago article. Currently being converted into apartments by
Studio Gang
, it is not known how many of Eppenstein's original details will be restored.
The Shoreline Motels on the South Side of Chicago followed a similar pattern of development, success, decline and demolition (for three of the four built projects) as most of their other motel counterparts near Lake Michigan. Worth noting is that unlike any of the motels built further north, two of these four South Side motels were demolished for public use — one for a school, and one for an extension of an existing lakefront park.
The Motels
---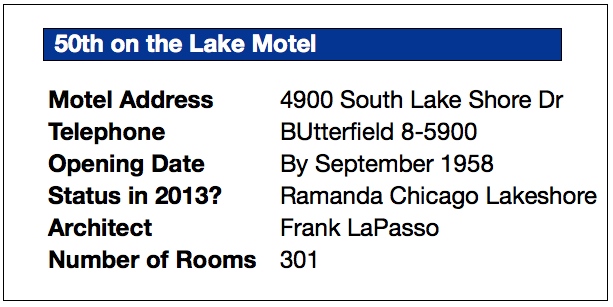 One of only two Shoreline Motels still in operation as a motel in 2013, the former 50th on the Lake (later TraveLodge, then Hilton Hyde Park, now Ramada Chicago Lakeshore Hotel) opened by Fall, 1958. This property was also by far the largest of the Shoreline Motels built, with more rooms (301 at opening) than the 11-story former Lake Tower Motel (250 rooms) discussed in a previous article.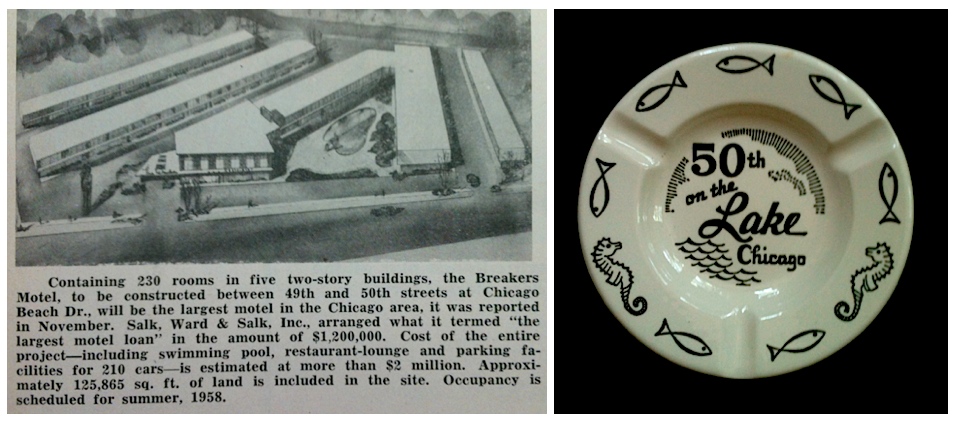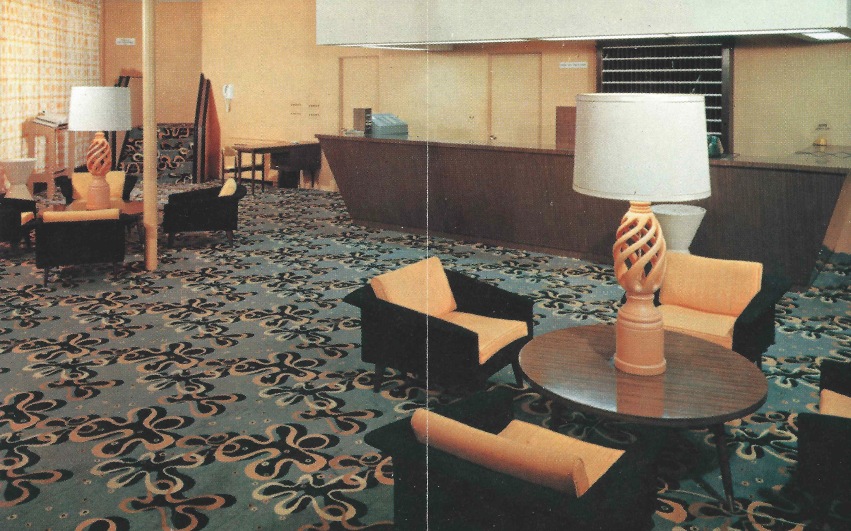 Upper Left: Realty & Building, 1958 Upper Right: Courtesy of Jacob Kaplan Bottom: Forgotten Chicago Collection
By the time this motel opened, its name and number of rooms had changed to 301 according to the information in the article pictured above left. Above right is a whimsical 50th on the Lake ashtray, perhaps swiped by a guest as a souvenir and sold decades later. Note how this locally owned motel had no apparent visual consistency in signage, marketing material, or in-room items. The 50th on the Lake also once had a colorful lobby with striking lamps and what may be a homemade check-in desk.


Left: Chicago Tribune, November 16, 1957 Center: Illinois Bell Classified Telephone Directory, 1958 Right: Lileks, no date
Two of the four Shoreline Motels built on the South Side were announced at the same time, in March 1956.1 These two would open as the 50th on the Lake and the Thunderbird, and were developed by the same team that built Chicago's first motel, the Sands in the Edgewater neighborhood that opened in December 1955. The postcard above right is taken from author James Lileks; his colorful description of the scene above may be read on his extensive, and hilarious, web site.


Chicago Photographic Collection, University of Illinois at Chicago, no date
As with many of the Shoreline Motels in Chicago, the design of the 50th on the Lake has nothing to do with the often-dense development along Chicago's lakefront; just to the south of this motel is a still-extant and concentrated district of luxury high-rise apartment buildings dating mostly to the 1920s. Many features of this motel as built have since been changed, including the wall-to-wall windows in guest rooms, and the removal of fish ornaments on the second floor.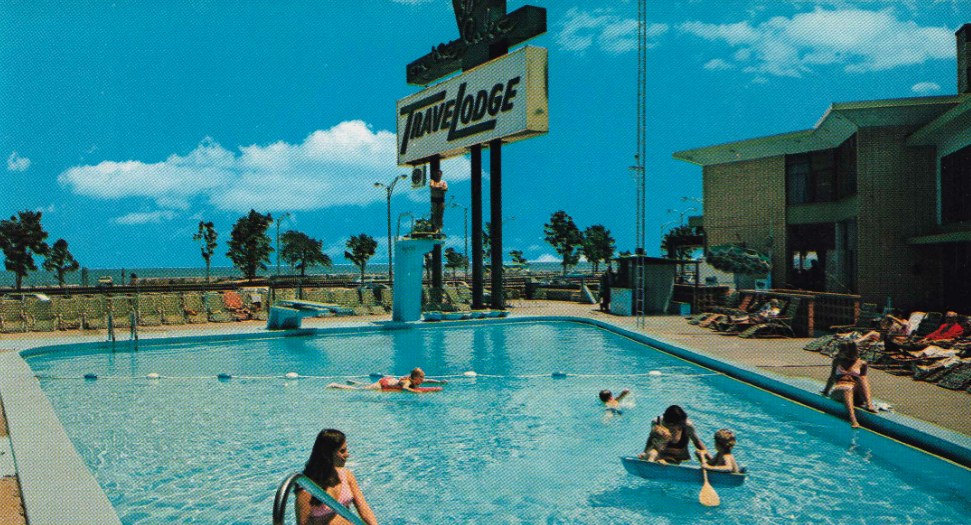 Top: Forgotten Chicago collection Bottom: Courtesy of Jacob Kaplan
Perhaps too expensive to remove at the time of its conversion to a TraveLodge, the original neon "50th on the Lake" signage is still visible in the postcard above. Chicago's largest Shoreline Motel continues to operate in 2013, and according to the hotel's web site, this property now has 195 rooms and suites.


Left: Realty & Buiding, 1959 Right: Wyndham Hotel Group
Above right, a contemporary view of the Ramada Chicago Lakeshore Hotel shows some of the nearby buildings facing Lake Michigan, many built in the boom years of 1920s and typical of dense urban lakefront buildings in Chicago. According to renderings and contemporary aerial views, the four-story building seen above right was not part of this motel at opening; it appears by 1972 aerial views.2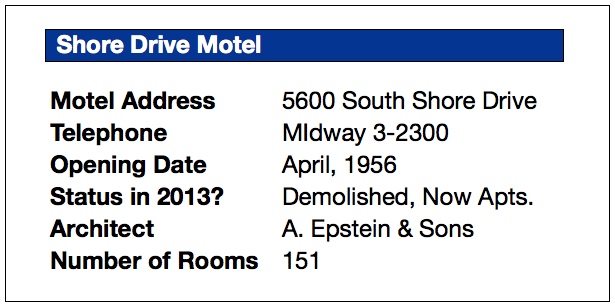 Epstein
Unlike some other Shoreline Motels, the design of the Shore Drive was strictly business, with a modest neon sign, subdued colors, and decidedly no sun-and-surf theme. The Shore Drive also featured wood paneling on the exterior, unusual for a 1950s Chicago commercial building.


Chuckman Collection, no date
One of the most intriguing of all Chicago motels was the Shore Drive, located just north of the Museum of Science and Industry, on the northwest corner of South Shore Drive at East 56th Street. The second completed Shoreline Motel (opened in April, 1956), it was designed by A. Epstein & Sons (now Epstein) and was the only Shoreline Motel designed by an architecture firm that is not only still thriving in 2013, but one with a large staff and offices outside of the United States.3 Epstein's work is a longtime favorite of Forgotten Chicago, and the Shore Drive Motel is a typical example of their great skill and expertise in a modest project on a small lot at a high-profile location.

Courtesy of Epstein
The Shore Drive's unique underground parking garage is seen above. An old fashioned streetlight is visible in the top image at left, along with dense neighboring buildings more typical along Hyde Park's lakefront.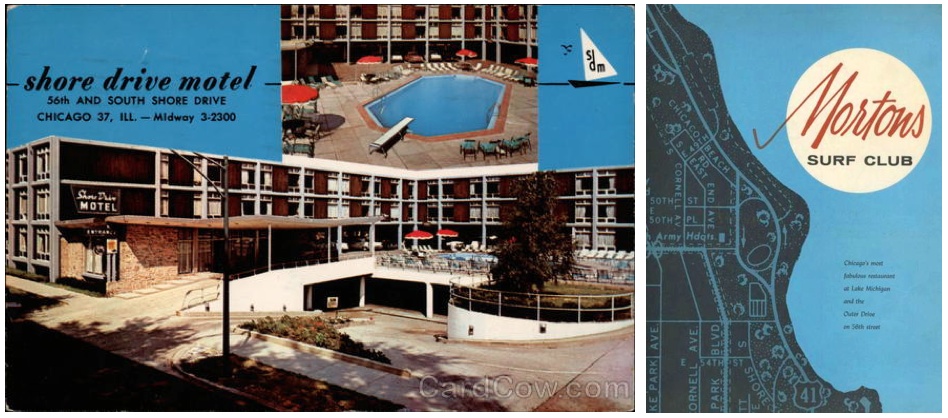 Above left: CardCow, no date Above right: Chuckman Collection, no date
Curiously, more photographs, postcards and ephemera have been found for the Shore Drive than for the other three Shoreline Motels on the South Side combined. The postcard above left illustrates how Epstein included underground parking for the Shore Drive — the only known instance of below-grade parking for a Shoreline Motel. The image above right shows Mortons Surf Club, a high-profile (and relatively short-lived) restaurant tenant at the Shore Drive.

Coutesy of Epstein
The Shore Drive's interior was as no-nonsense as its exterior. The lobby featured a large picture window and stone wall, as well as relatively conservative furnishings. Guest rooms featured wood paneling, a wall-mounted pole lamp and a Raytheon television set. Epstein provided this rare photograph of the bathroom as built, as well as these other little-seen black and white renderings and photographs.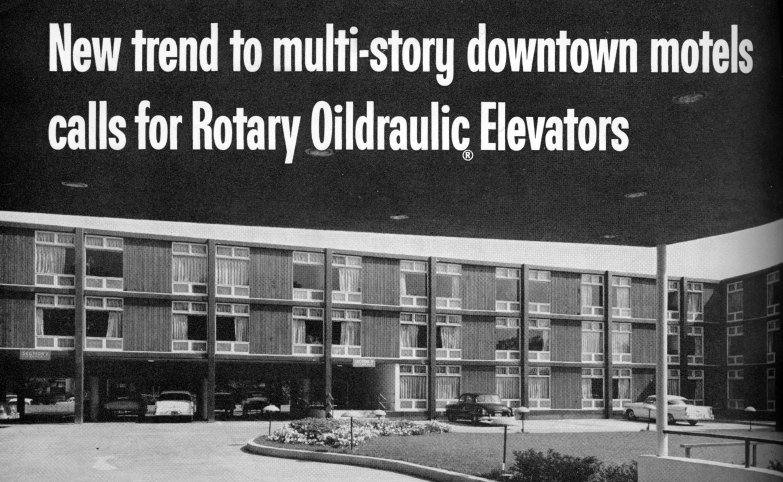 Progressive Architecture, 1958
Published photographs of many Shoreline Motels are extremely rare; as is often the case in Forgotten Chicago's extensive research, non-digitized trade ads in long-gone architectural magazines are good sources of rarely seen images. The above photo was included in a 1958 advertisement in Progressive Architecture for the Rotary Lift Company, an elevator manufacturer still in business as of this writing. Worth noting is that the Shore Drive is actually nowhere near "downtown" Chicago.
Epstein's 90-plus year history is a particular favorite of Forgotten Chicago. Epstein has designed everything from corporate headquarters, including as the 1955 Jewel Tea headquarters and warehouse in Melrose Park seen during our 2012 Corporate Kings of the Suburbs tour to the Hyatt Regency Chicago, McCormick Place South and West, and the 2008 Serta International Headquarters in Hoffman Estates.


Epstein's Facebook page
Additionally, fifteen years after the opening of the Shore Drive Motel, Epstein would design one of Chicago's first postwar shoreline hotels and what was also likely the shortest-lived modern hotel in the city. The enormous McCormick Inn once faced Lake Shore Drive at 23rd Street, and was demolished just 20 years after its 1973 opening for construction of McCormick Place South4. The McCormick Inn's austere exterior does not hint at the remarkable and very period interior. For additional images, including earlier plans for this site, visit here.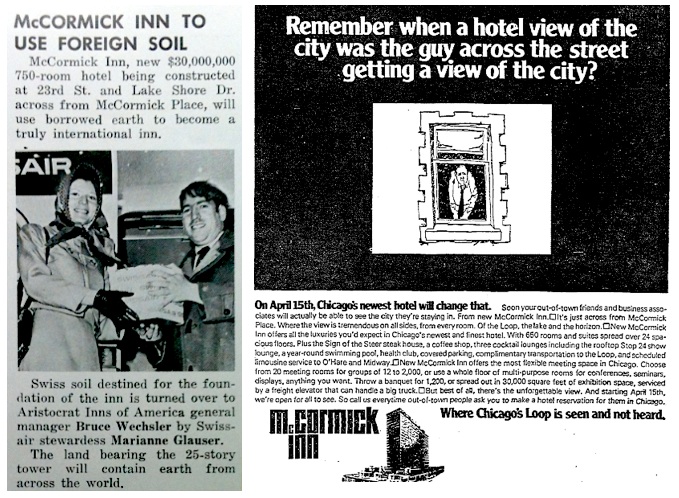 Left: Realty & Building, 1971 Right: Chicago Tribune, 1973
In an elaborate publicity campaign during Epstein's McCormick Inn's construction, a Swissair stewardess is seen above left delivering dirt from Switzerland for the land under this new hotel. With a location then (and now) far from most of Chicago's notable attractions, the McCormick Inn had the curious slogan upon opening of "Where Chicago's Loop is seen and not heard."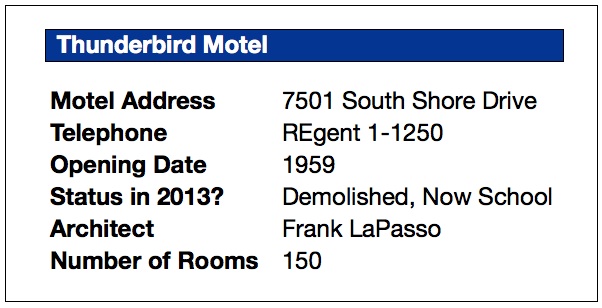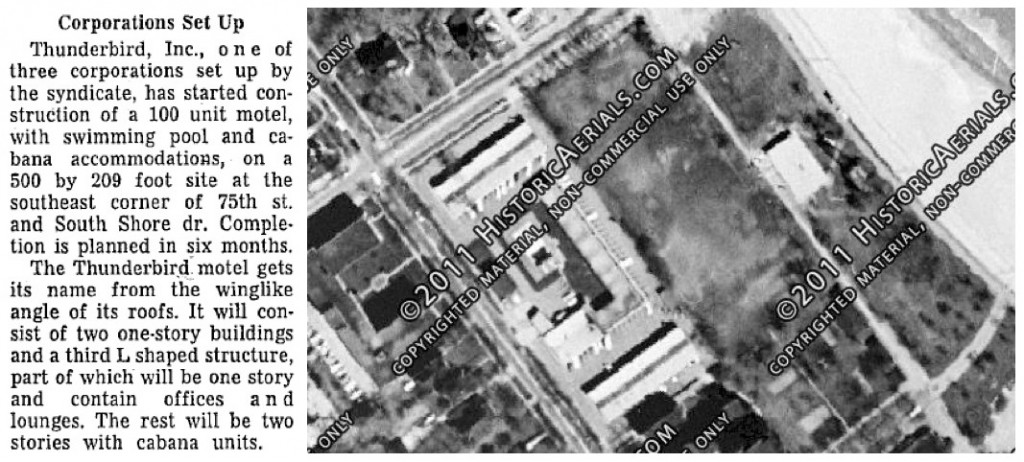 Left: Chicago Tribune, 1956 Right: Historic Aerials, 1962
As mentioned, the Thunderbird and the Breakers (later 50th on the Lake) were built by the same developer and the same architect, Frank LaPasso. Unlike some of the other motels explored in this series, The Thunderbird could truly be considered a Shoreline Motel with Lake Michigan and the beach a short walk away, as seen above right in this 1962 aerial view.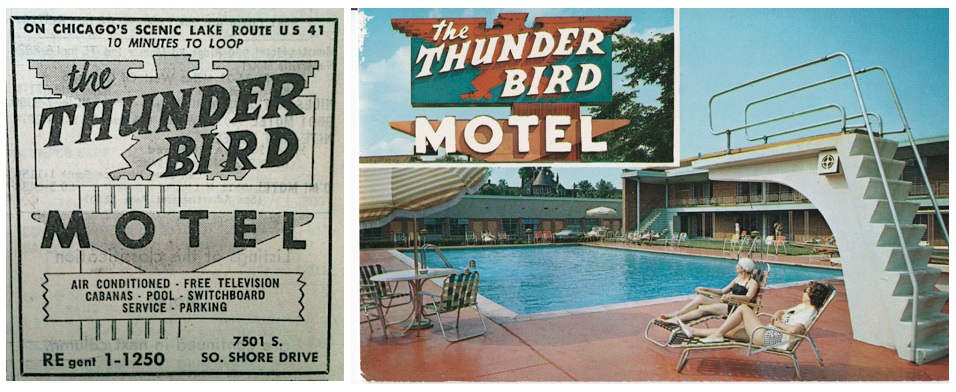 Left: Illinois Bell Classified Telephone Directory, 1958 Right: Chuckman Collection, no date


Left: Chuckman Collection, no date Right: Chuckman Collection, photograph by Charles Celander
Photographs of the Thunderbird are also extremely rare, and little is known about this motel in later years. Demolished by 1988 per aerial views5, the lot would remain vacant until the completion of the current Adam Clayton Powell, Jr. Paideia Academy in 2011.6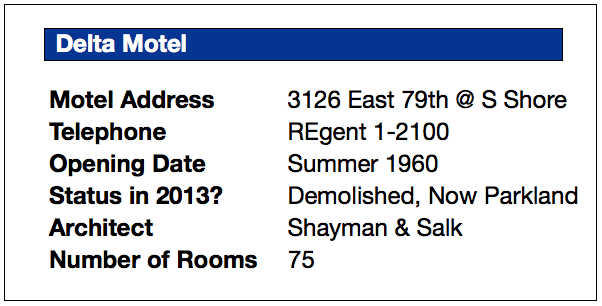 Left: Realty & Building, 1960 Center: Illinois Bell Classified Telephone Directory, 1962 Right: Chuckman Collection, no date
The southernmost Shoreline Motel was the Delta, which was completed in 1960. Designed by the architecture firm of Shayman & Salk, who also designed the Tropicana in Edgewater and TraveLodge on South Michigan Avenue. Shayman & Salk were also announced as architects of the controversial and ultimately unbuilt Sea & Sand Motel on the city's far northeastern border.


Left: Chuckman Collection, no date Right: Historic Aerials, 1962
Located at the high-traffic intersection of South Shore Drive (U.S. 41) and East 79th Street, the Delta was later called the the Breakers Motel, as seen in the closeup of the sign in the postcard below. When it closed, this motel was known as the Rainbow Beach Motel.7


Ryan Khatham Flickr Page, no date
It is not currently known when the Delta / Breakers / Rainbow Beach closed; it had disappeared from aerial views and was replaced by park land by 20058. The site of this former motel is near the northern terminus of the new extension of South Lake Shore Drive, which opened in 2013.
Conclusion
---

Above is a complete list of the known built and proposed Shoreline Motels on or near Chicago's lakefront. The Shoreline Motel, like the four plus one apartment building and the municipal parking garage is one of the little studied building types that Forgotten Chicago specializes in researching.
As mentioned, we will publish a postscript on this series with an article on architect James Eppenstein, his forgotten transformation of Hyde Park's Shoreland Hotel more than 75 years ago, and additional projects from his remarkable career.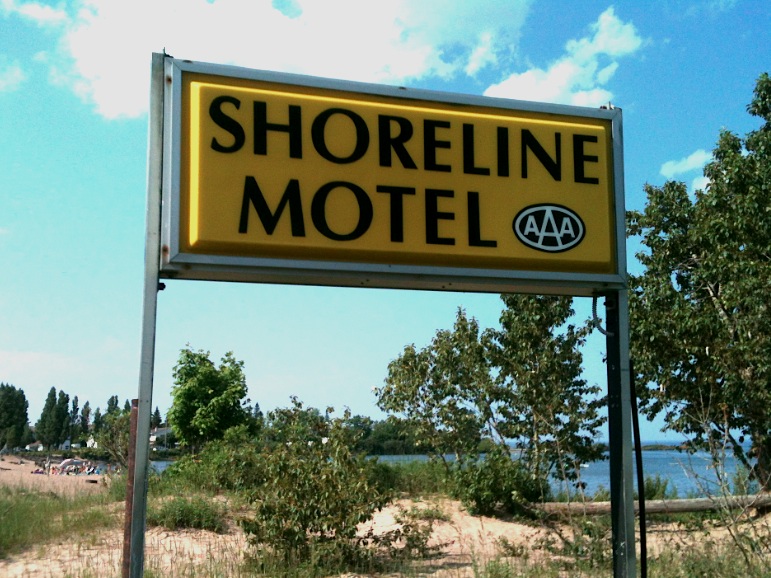 Eagle Harbor, Michigan, July 2013
Sources
---
1. 3 New Motels Will Be Built on South Side. Fuller, Ernest. Chicago Daily Tribune (1923-1963); Mar 12, 1956; ProQuest Historical Newspapers: Chicago Tribune (1849-1988) pg. C5.
2. Historic Aerials of East 49th Street and South Lake Shore Drive, Chicago, IL, 1972; http://www.historicaerials.com (accessed May 30, 2013).
3. History of Epstein: http://www.epsteinglobal.com/history/history_1920.html (accessed June 4, 2013)
4. Forgotten architecture: The long-gone McCormick Inn, caught on video: http://www.wbez.org/blogs/lee-bey/2012-07/forgotten-architecture-long-gone-mccormick-inn-caught-video-100863 (accessed July 19, 2012)
5. Historic Aerials of East 75th Street and South Lake Shore Drive, Chicago, IL, 1988; http://www.historicaerials.com (accessed May 30, 2013).
6. Open House Chicago, Adam Clayton Powell School: http://www.openhousechicago.org/site/270/ (accessed June 14, 2013)
7. Ameritech Classified Telephone Directory 1988.
8. Historic Aerials of East 79th Street and South Lake Shore Drive, Chicago, IL, 2005; http://www.historicaerials.com (accessed May 30, 2013).

Read More
---
Tweet