Those growing up in the Jefferson Park area, like so many Chicagoans who grew up on the Northwest Side, have fond memories of the Olson Rug Park and Waterfall. Just a stone's throw from Kosciuszko Park and St.Hyacinth Basilica in Avondale, Mr. Walter E. Olson built a 22-acre park full of greenery right next to his rug manufacturing mill at Diversey and Pulaski (then named Crawford).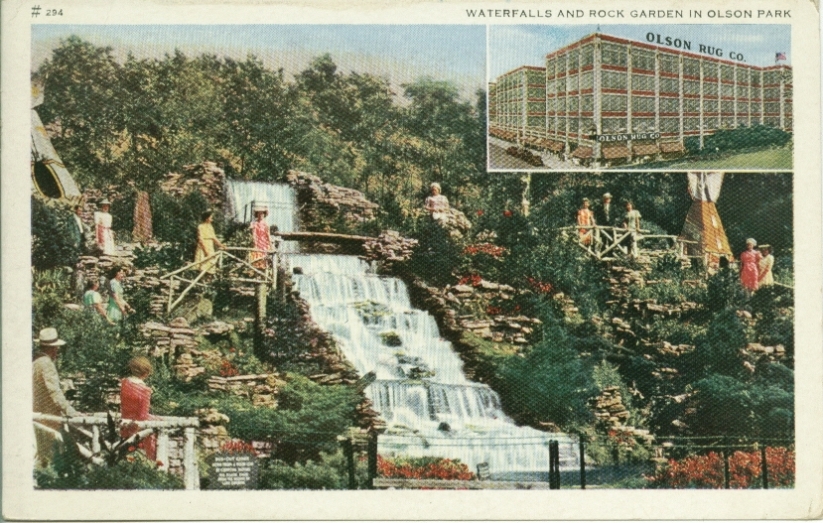 Chicago History in Postcards
Olson, who owned a vacation home in Little St. Germaine, Wisconsin, desired to "transplant some of the Wisconsin out of doors spirit to the then somewhat drab factory grounds," as one Chicago Tribune article put it.1 Approximately 3,500 perennials, along with numerous species of junipers, spruces, pines, arbor-vitaes and annuals served as a stark contrast to the area's industrial surroundings. Olson Park's stunning rock garden, duck pond, and 35-foot waterfall made it a Chicago haven for weekend family outings for decades.
The scope of the project was truly ambitious, taking 200 workers more than six months to fashion it out of 800 tons of stone and 800 yards of soil, leaving it no surprise that the Chicago Tribune has called it one of "Chicago's Seven Lost Wonders." Built against the background of the Great Depression, a contemporary newspaper account referred to it as "the most pretentious undertaking of its kind in the country," a point that's hard to argue given that it was a replica of a waterfall on the Ontonagon River in Michigan's Upper Peninsula.
The opening of the park took place in 1935, on the 100th anniversary of the expulsion of Native American tribes from Illinois across the Mississippi; and included a symbolic gesture deeding back the area of the park to the Indians. This motif was kept up with visiting Native American chiefs performing war dances in full MGM regalia at the park from time to time. Although the factory buildings still stand, it's been over a quarter century since this blue-collar landmark has passed into history. After the mill and premises were sold in 1965 to Marshall Field's, the park closed a few years later in 1978. The legendary waterfall was turned off, and the park was dismantled to make room for a parking lot at the site.
Sources
---
Note:
This article was written by Daniel Pogorzelski. Originally published in the
Jefferson Park Historical Society newsletter (January 2008, Issue VII)
, it appears here in a slightly different form.
1AL CHASE. (1953, October 18). Waterfalls in Factory Park :RUG FACTORY SETTING IS BIT OF WISCONSIN 22 Acre Olson Park Is Beauty Spot. Chicago Daily Tribune (1872-1963),p. b9. Retrieved September 6, 2009, from ProQuest Historical Newspapers Chicago Tribune (1849 – 1986). (Document ID: 504166772).
Read More
---
Tweet