Next time you're waiting in an interminably long line at a Chicago post office, take a look around. If you're in an older neighborhood of the city, you'll likely be standing in an Art Moderne-style Works Progress Administration (WPA Moderne) building with murals or sculpture decorating the interior. If you were standing in a post office in the same neighborhood in the 1910s or 20s, you would likely be in a much smaller, cramped building with a classically inspired look and a prominent post office "pony express" logo on the exterior.
The WPA Moderne post offices that replaced the older varieties were much larger in order to support new sorting machinery and the increased use of trucks in mail delivery. Designed to look as modern as possible, the pony express logo is notably absent from the outside of WPA and later post offices. The pony express logo depicts a mail carrier atop a horse in full stride. Perhaps it was seen as outdated by that point, even though it was still the official post office logo.
Let's take a look at some of the old disused post offices that were replaced during the WPA era and beyond. While they vary in design, they are generally relatively small buildings with classical revival facades.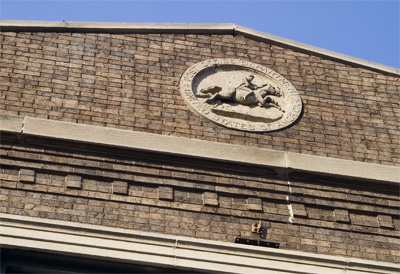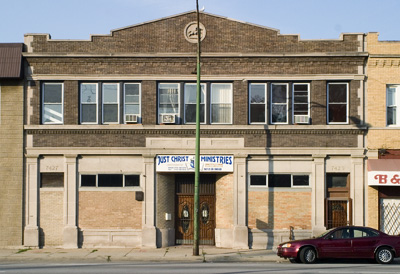 This post office is on South Chicago Avenue just north of 75th Street. It features apartments above the post office portion of the building, a pony express logo, and it probably used to feature the "Chicago Post Office" text above its entrance way.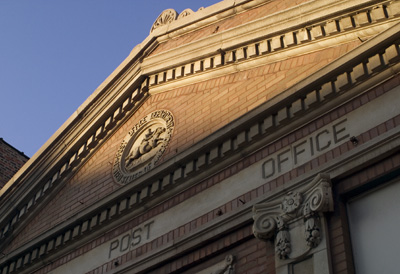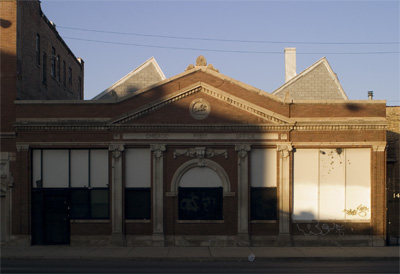 This post office on Western at Hirsch is in great condition. The building and its columns are more ornate than most post offices of this style.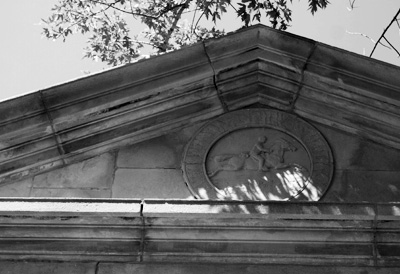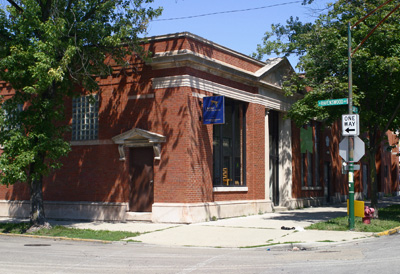 The old Rogers Park post office at Lunt and Ravenswood. A typical example, it is currently occupied by a furniture gallery.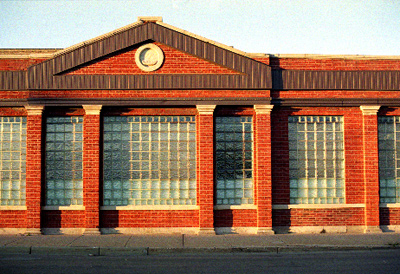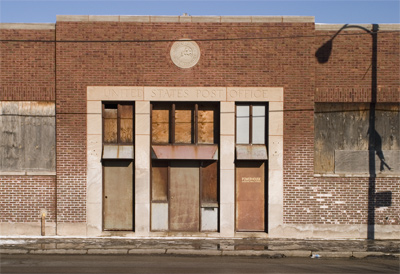 Left:
The old Stockyards post office on Root at Union. Note the aesthetically dubious alterations made by a later tenant.
Right: This old post office on Division at Lavergne is different than most. While it still features a prominent pony express logo, the style is much less classically inspired. The design appears to be a compromise between the pony express and WPA styles, as it was built in 1928, later than the other pony express-bearing buildings. It was designed by prolific Chicago architect Alfred Alschuler.
The former Morgan Park post office is in excellent condition. The pony express logo and post office text are in great shape. Even the patterned window treatments are intact. Located on Homewood near Monterey, the building's current use is undetermined.
Left: On a forlorn stretch of 51st Street east of Halsted, this example has clearly seen better days. It's currently in use as a church, like several other former post offices.
Right: An amateur paint job covers up the post office markings, not so cleverly disguising the building's former use.
Left: An attractive post office from the 1920s, this formerly served the North Center neighborhood on Lincoln south of Irving Park. It still serves the neighborhood, but in a different way; as a drinking establishment.
Right: This brilliant terra-cotta rendition of the post office logo is a defining feature of the building.
We've been driving by this building for years without blinking an eye. Perhaps the stucco job caused us to subconsciously ignore it. Thanks to a loyal reader, we were alerted to the fact that it is, in fact, a former post office. The pony express logo is in plain sight, even! It's located on Kedzie just south of 47th, and was operated as the West Elsdon branch.
Left: The Bailiwick Theatre on Belmont near Racine is located in a former post office building that served a portion of Lake View.
Right: The pony express logo remains in excellent condition.
Left: The former Pilsen post office is on 18th east of Ashland. It is one of the few we've found with a limestone facade. Perhaps proving too small to serve it's dense community, it was replaced with a WPA Moderne post office on Ashland in the 1930s.
Right: Another post office turned church is this one in Woodlawn, on Langley south of 63rd. It incorporates apartments above the post office portion, and still has an intact pony express logo above the main entrance.
Left: This un-ornamented limestone post office is in east Beverly on 103rd near Vincennes. Unlike the others, it does not feature the pony express logo, and simply states "Chicago Post Office" in large type. Although it was built in the same time period as the others, the defining feature of this example is economy.
Right: The former Windsor Park post office is on 75th west of Exchange. A large mixed-use building, it features two floors of apartments and a storefront in addition to the post office.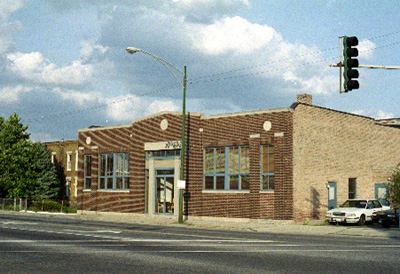 The old McKinley Park post office on Archer and Damen is still in great condition. The text above the entrance actually states the neighborhood it served, rather than the generic "Chicago Post Office" or nothing at all. The current tenant apparently finds it necessary to cover up the "Post Office" text with an artificial vine, in case someone were to get confused and think it's still an active post office. Perhaps a funny encounter prompted this action.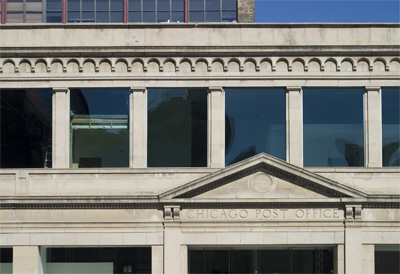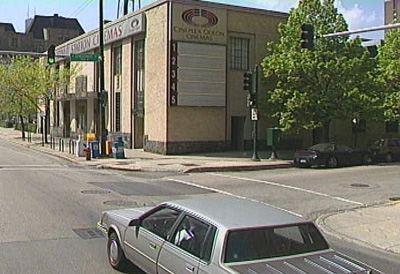 Right: Cook County Assessor
Left: Chicago and Wells, built in 1914, heavily renovated, and now an art gallery. It is larger than most, accounting for its location in a very dense area. The all-limestone facade is unique.
Right: Chestnut Station was a WPA-era post office that has since been demolished. It was located at Chestnut and Clark streets, and replaced the Chicago and Wells location. As can be seen in this image from 2000, it was converted into a movie theatre in its later life. Here is a website with photographs of some of the murals which adorned the interior, and here is the Cinematreasures.com entry for its movie theatre incarnation.
Here are some long gone examples: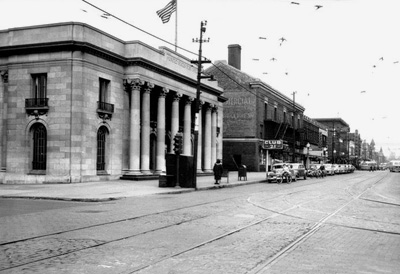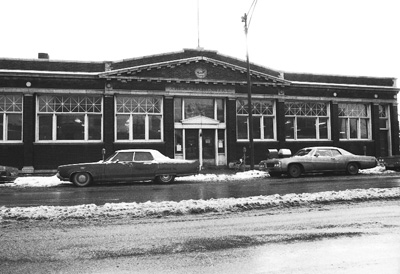 Left: Southwest Chicago Historical Society. Right: Illinois Historic Preservation Association.
Left: Talk about classically inspired! The old South Chicago post office at 92nd and Commercial looked more like a bank or city hall than a post office. Sadly, it was demolished years ago for a municipal parking lot.
Right: The old Lincoln Square post office at Lawrence and Oakley, photographed in the 1970s. It was similar to the others, though it had more ornate window treatments than most. It has since been demolished, in its place exists a strip mall, and of course, a municipal parking lot.
Read More
---
Tweet