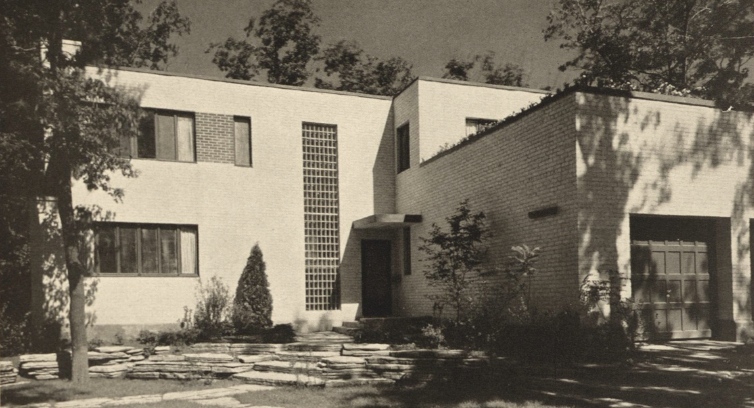 James F. Eppenstein, Architect, Architectural Catalog Co., Inc., 1938
This is the final article in the series of Forgotten Chicago articles on the (previously) forgotten work of architect and design professional James F. Eppenstein. It follows part one and part two.
Eppenstein's tremendous skill in commercial projects extended to residential designs. One of the first known houses completed by Eppenstein was built for Doctor and Mrs. G.F Weinfeld, in Highland Park, Illinois and first published nationally in 1936.1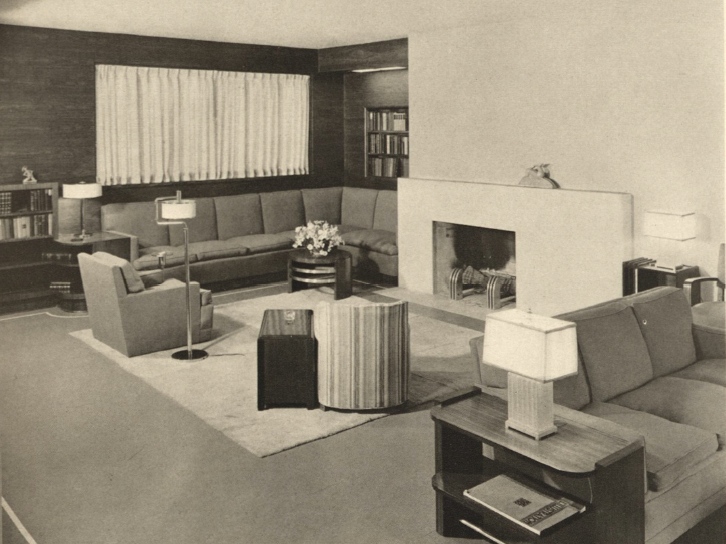 James F. Eppenstein, Architect, Architectural Catalog Co., Inc., 1938
Still standing as of late 2013 on Woodland Road in Highland Park, Illinois, the Weinfeld house is one of the relatively rare International School houses built in the Chicago area during the Great Depression. Based on published photographs of the architect's previous designs, the living room shown above appears to have included Eppenstein-designed custom furniture.


James F. Eppenstein, Architect, Architectural Catalog Co., Inc., 1938
The interior of the Weinfeld house is as clean and stripped-down as the exterior. One of the home's adult bedrooms is seen above left, and the children's bedroom is seen above right. According to the Eppenstein family, Doctor Weinfeld was a well-known pediatrician to many prominent Chicago-area families, including their own. Eppenstein's granddaughter Cindy recalled in 2014 that while the doctor was a "lovely and kind" man, Dr. Weinfeld was also "tremendously fat."2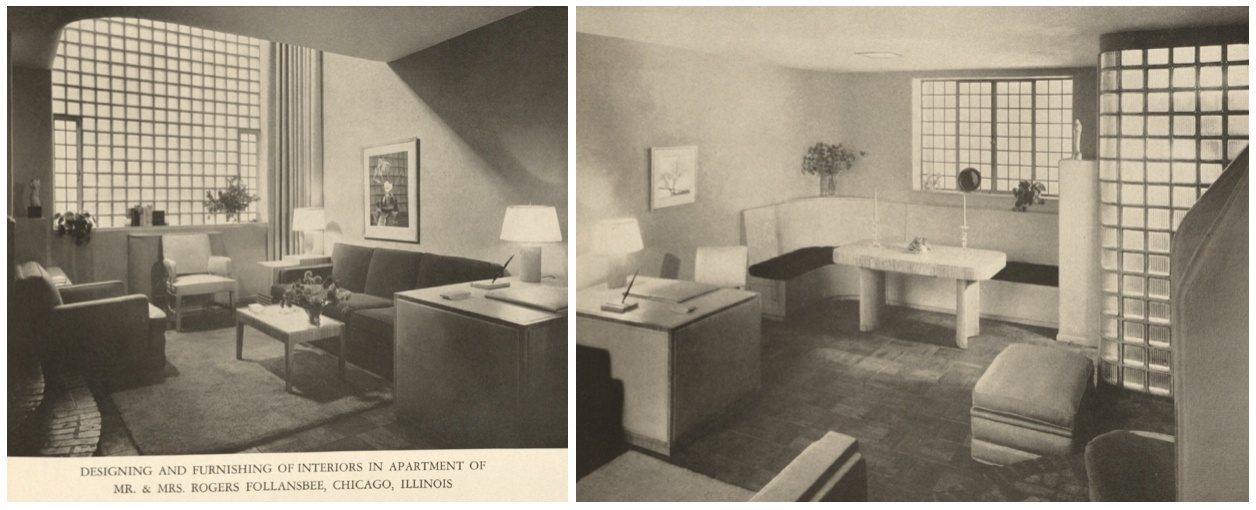 James F. Eppenstein, Architect, Architectural Catalog Co., Inc., 1938
Another early Eppenstein residential commission was the apartment for Rogers Follansbee, located in the landmark Andrew Rebori and Edgar Miller-designed 1936 Fisher Studios apartment building at 1209 North State Parkway in Chicago. As with the Weinfeld House in Highland Park, this apartment may have also included custom-designed furniture by Eppenstein.

Curbed Chicago, July 2014
The Follansbee apartment was in one of the most notable apartment buildings built in Chicago in the 1930s; units in this building are now condominiums. It is not clear which unit Eppenstein designed for Follansbee; a unit with the same windows, ceiling, and steps seen above left was for sale in July 2014 for $259,000 as featured in Curbed Chicago.

Architectural Forum, 1937
The rarely-seen north view of the Fisher Studios is seen above in a photograph of the building's model. The apartment designed by Eppenstein has the same style of window as the units shown.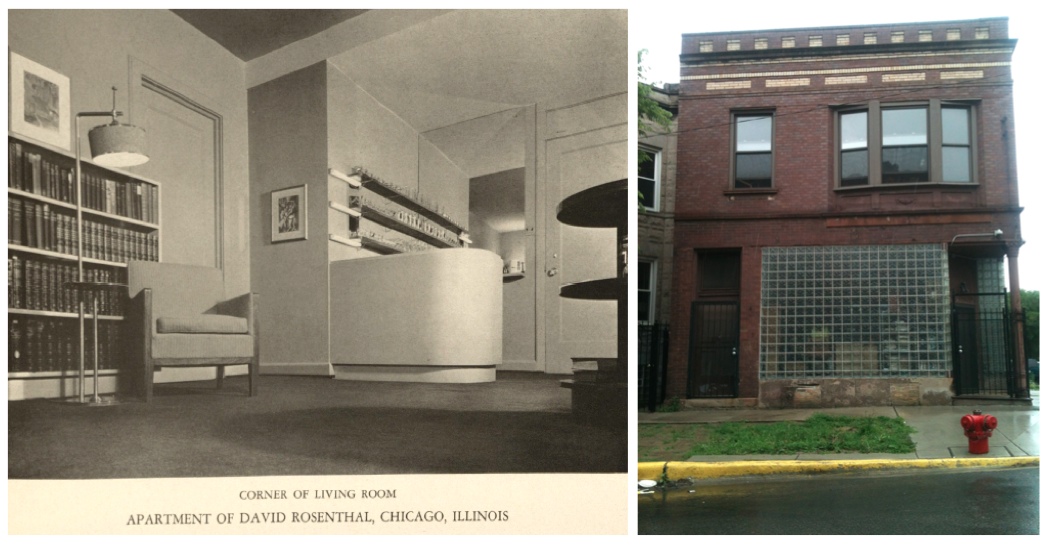 Left: James F. Eppenstein, Architect, Architectural Catalog Co., Inc., 1938 Right: Patrick Steffes, June 2014
By 1938, Eppenstein would also design an apartment for David Rostenthal, seen above. Although no address was listed in the monograph shown above left, census records for 1940 show a David Rosenthal living at 1301 North Spaulding,3 an older building just west of Humboldt Park with what appears to be a circa-1930s remodeling, which may have once contained a tavern. It is not known as of this writing if this is the actual location for this commission, or if Eppenstein may have also remodeled the ground floor of this building with his trademark limestone trim between the windows and the curb line.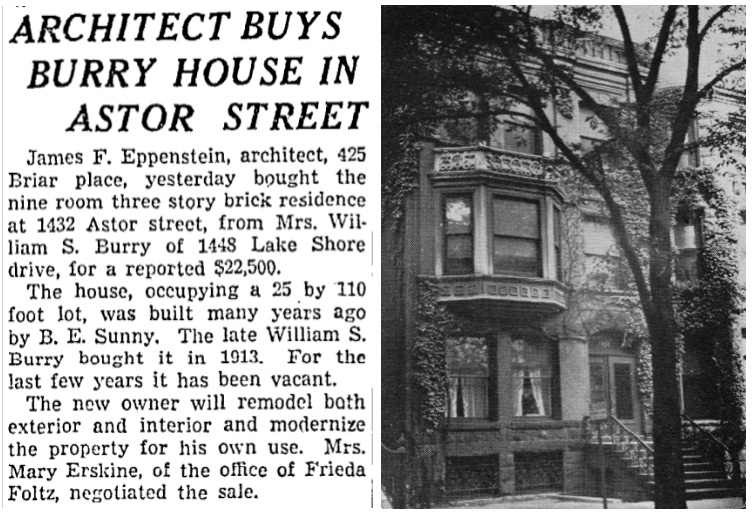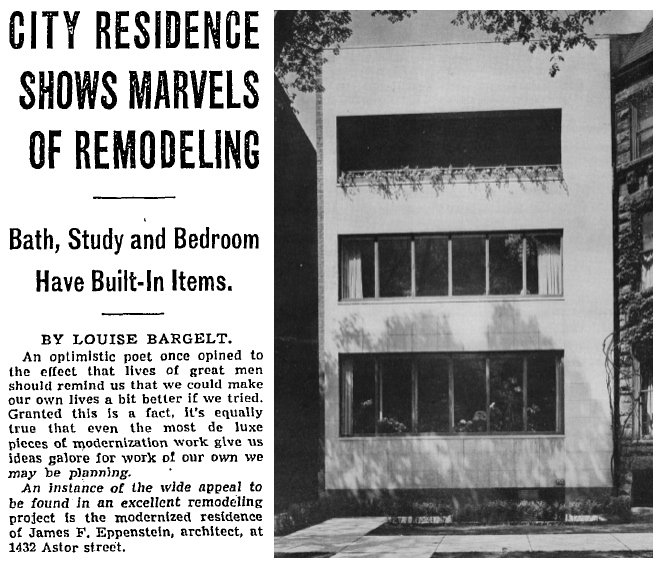 Top Left: Chicago Tribune, 1938 Top Right and Bottom Right: Architectural Forum, 1939 Bottom Left: Chicago Tribune, 1940
The most significant residential work of Eppenstein's nearly two-decade career was for his family home at 1432 North Astor in Chicago, as shown above and below. Widely reported in local and national publications, this building's exterior is intact as of 2015. Notably, as with many significant and irreplaceable Chicago buildings, this home is not an individually listed city landmark as of this writing.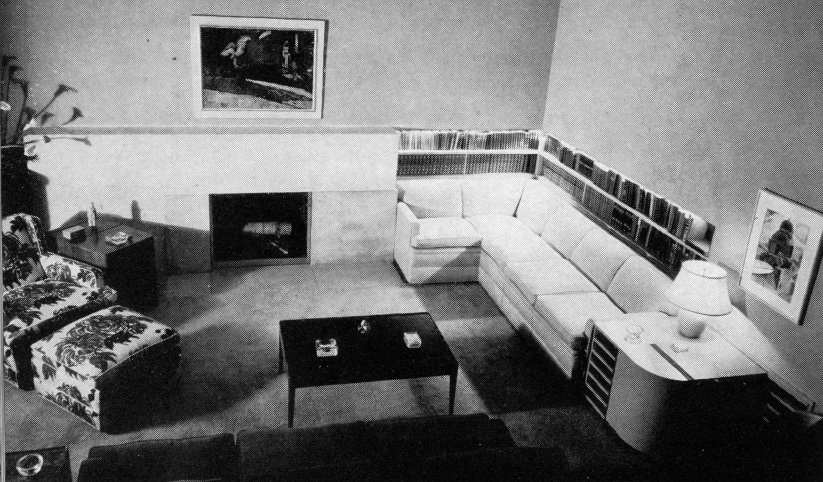 Architectural Forum, 1939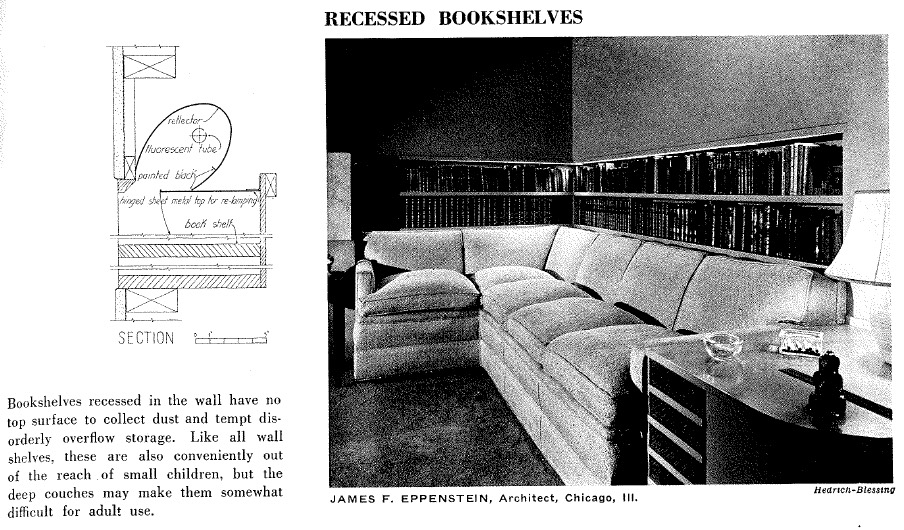 Architectural Forum, 1941
In an unusual move, Eppenstein moved the home's entrance to the basement as seen in the floor plans at top. This drastic remodeling of a decades-old home into one of the Gold Coast's most ultra-modern residences is one of the many mostly forgotten and little-noted stories of the ever-changing built environment of Chicago.
Eppenstein's town home was notable enough be published nationally in 1939 and 1941 in leading architectural magazine Architectural Forum, as seen above. Now more than 75 years old and a rare International Style single-family home in Chicago, photographs of this home are not known to have ever appeared in any books or guides on the history of Chicago architecture.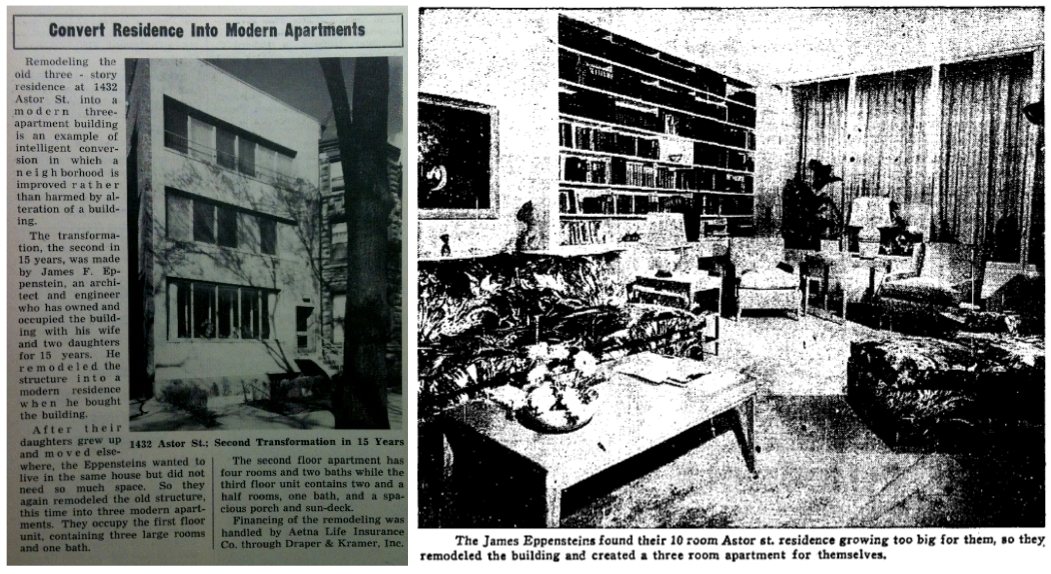 Left: Realty & Building, 1952 Right: Chicago Tribune, 1953
With their two daughters grown and living elsewhere, by 1952 Eppenstein would remodel their four-level home into three apartments, with the architect and his wife occupying the floor above the basement level, as described in the 1952 Realty & Building article above. This remodeling added a door and exterior staircase to the building seen above left; this door would later be removed and the original row of windows restored in a later conversion back to a single-family home.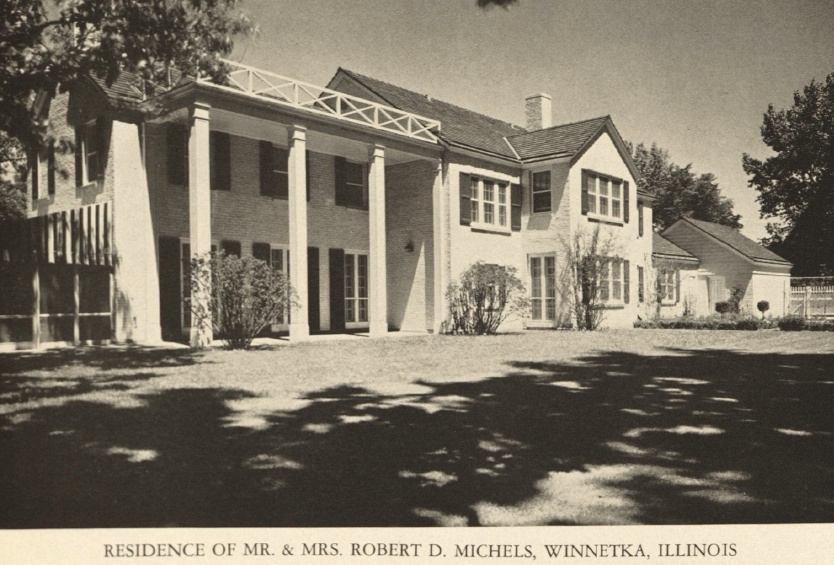 James F. Eppenstein, Architect, Architectural Catalog Co., Inc., 1938
In contrast to his other ultra-modern homes and residential remodelings, during the 1930s Eppenstein would also design several more traditional homes on Chicago's North Shore, perhaps for more conservative clients. One of these homes was the Robert Michels home in Winnetka, as seen above. Completed by the publication of a monograph on Eppenstein's work in 1938, the address and current fate of this home is unknown.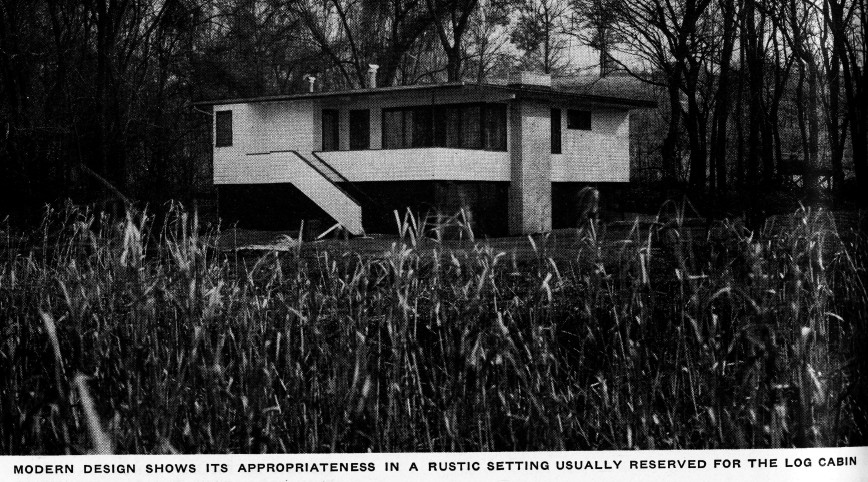 Architectural Forum, 1944
This modest hunting lodge in Henry, Illinois, a small Illinois River town north of Peoria, is one of the smaller Eppenstein homes known to have been built. In the 1944 Architectural Forum article where these photos and floor plans were published, the article declares, "Equally direct and assured is the general treatment of a structure whose main virtue is simplicity without the fake rusticity that usually accompanies such buildings."4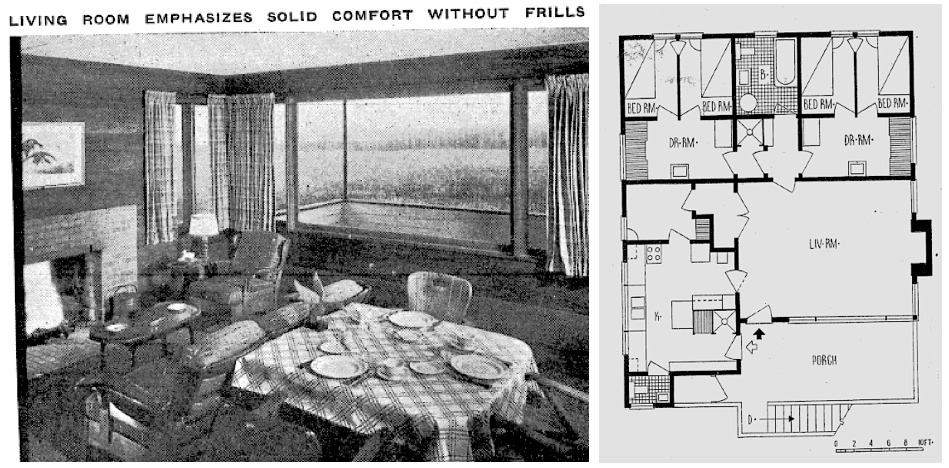 Architectural Forum, 1944
The unique design of this lodge's compact bedrooms and adjacent dressing rooms was also noted in the article describing this commission, and as with the Michels house in Winnetka, the location and fate of this hunting lodge is unknown as of this writing. The Forgotten Chicago crew has studied aerial maps, driven around Henry and the banks of the Illinois River, and contacted the Henry Public Library, but we were unable to obtain any additional information on this structure, including if it remains extant in 2015.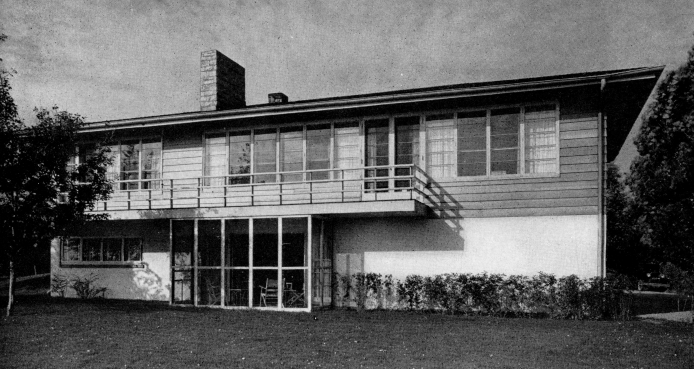 Homes Selected by the Editors of Progressive Architecture, 1949
First published in Architectural Record in 1941,5 Eppenstein would design a home in Menominee, Michigan, the southernmost point of the Upper Peninsula, and a rare commission for him outside of Illinois. Perched on a hillside overlooking Lake Michigan,6 this home featured a practical two-way linen closet, as shown above center right. As with many of these previously unstudied Eppenstein commissions, the fate of this home is also unknown.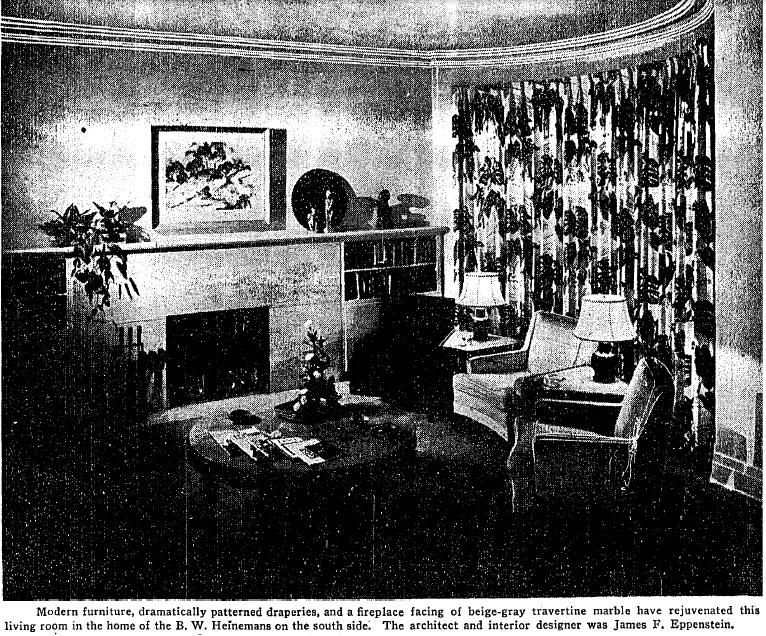 Chicago Tribune, 1947
As shown above, a residential remodeling by Eppenstein was published by the Chicago Tribune in 1947 for the Heineman family on the "south side". Although no address was given in the above article, attorney Ben Heineman as listed in a 1949 phone book as living on East 48th Street in Kenwood.7 Eppenstein would also design the law offices of Swiren, Heineman & Antonon at 135 South LaSalle in 1945.8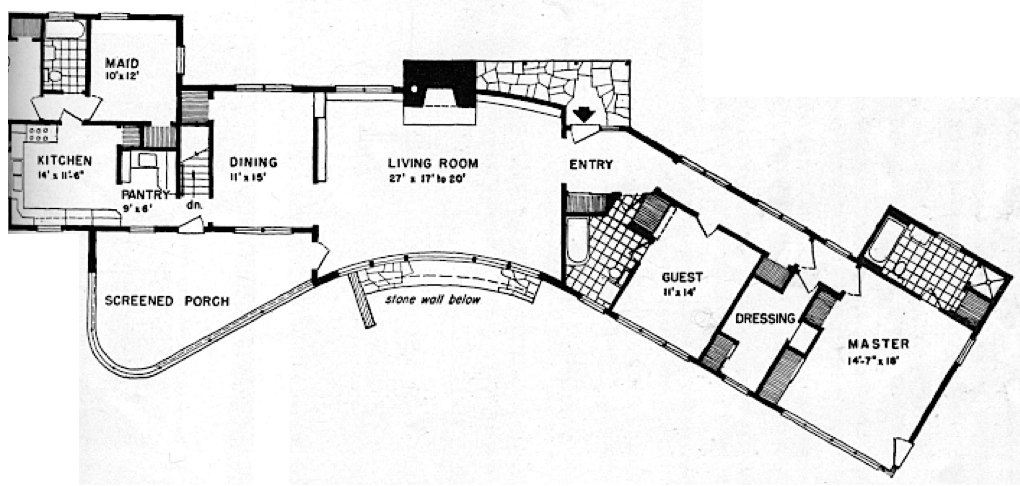 Architectural Forum, 1948
In the years before and after World War II, Eppenstein kept current with residential design trends, and moved away from the sometimes severe International Style of his buildings in the 1930s. The final Eppenstein commission known to be published nationally (1948) was also far from Chicago.
This home was built for an unknown client in tony Chappaqua, New York. The town achieved notoriety in 1999 when President Bill Clinton and First Lady Hillary Rodham Clinton purchased a home there to establish residency for Clinton's run for the U.S. Senate race in New York State in 2000. The location and fate of this home is also not known as of this writing.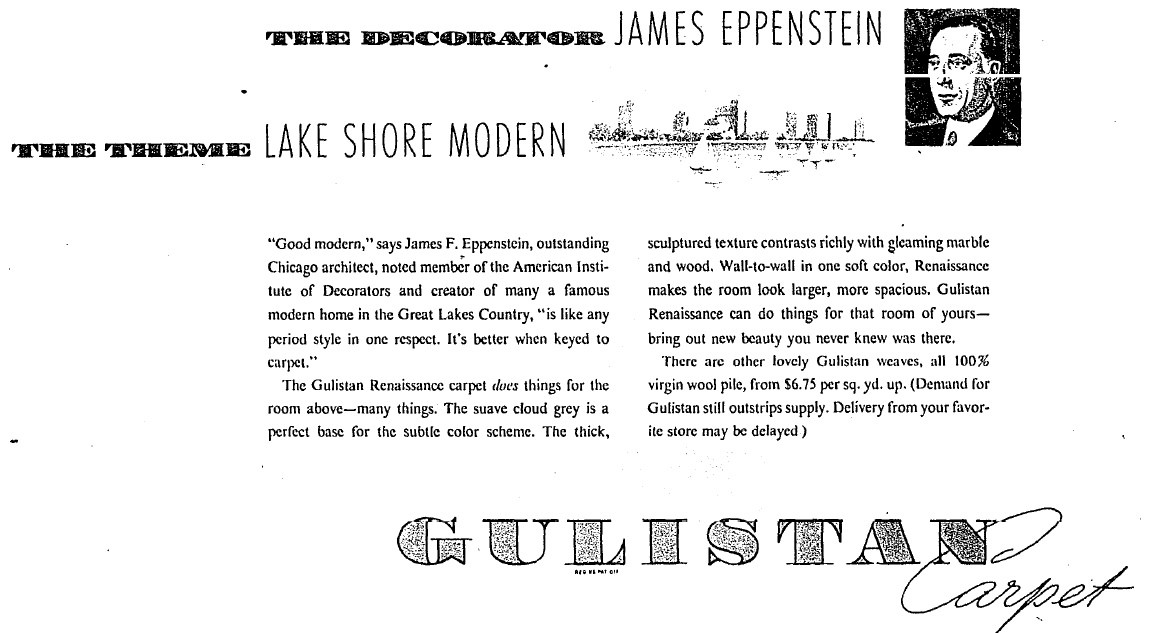 Chicago Tribune, 1948
In 1948, the same year as photographs of his Chappaqua home was published, Eppenstein appeared in an ad for Gulistan Carpets in the Chicago Tribune. Gulistan, one of America's oldest companies, could trace its roots to 1818, declared bankruptcy in December 2012, and went out of business in December 2013.9 It is not known if the curious term "Great Lakes Country" as seen above was in wide use in the Midwest in the late 1940s, or was an invention of this North Carolina-based carpet manufacturer or their advertising agency.
Although an utterly defunct company, Gulistan Carpets maintains a presence as of this writing from beyond the corporate graveyard. As is sometimes the case in the age of social media, Gulistan's Facebook page is still eerily online at this writing. Gullistan's most recent post dates from November 2012, correctly predicting a strong housing market through at least 2014.10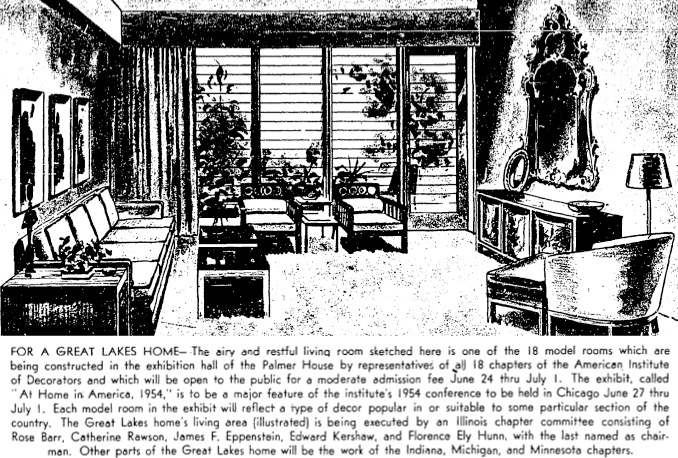 Chicago Tribune, 1954
Another of Eppenstein's periodic appearances in the Chicago Tribune was for a model home constructed inside Chicago's Palmer House Hotel. This rendering appeared in 1954, a year before Eppenstein died.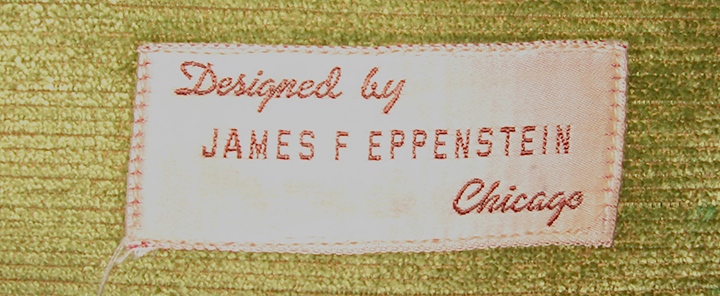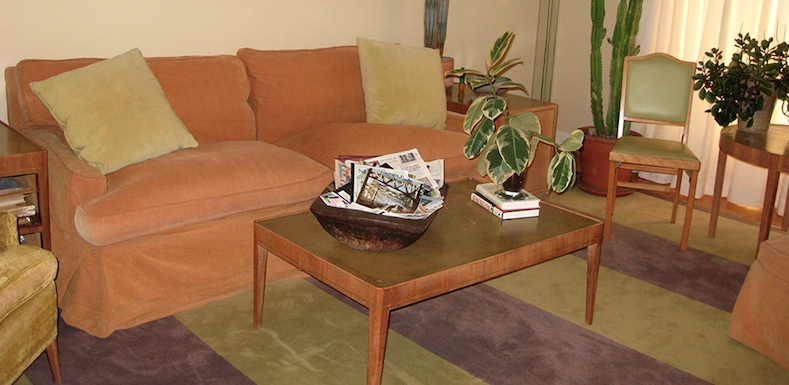 Courtesy of the Eppenstein Family
Eppenstein's granddaughter Cindy has been most helpful in researching the life and career of James Eppenstein. The label at top was from one of the pieces of furniture she inherited from her grandfather. The photo at bottom shows some of Eppenstein's still-smart furniture today, including a sofa and coffee and end tables topped in green leather.


Chicago Tribune, January 1955
James Eppenstein had a periodic advice column for the Chicago Tribune; the above entry was published in January 1955. Eppenstein would die that same year after a series of strokes.11 Although his career had been widely reported in the Chicago Tribune for nearly 20 years, and he was an occasional contributor to the newspaper, no published Tribune obituary for Eppenstein has been found.12

Architectural Forum, 1945
In recent years, the high land values, large lots, and the status of enormous and extravagant new homes has doomed many of Eppenstein's commissions along the North Shore of Chicago, specifically the Village of Highland Park. This home at 90 Lakewood Place was published in Architectural Forum in 1945 as seen above and was demolished in February 2011.13 A picture of this home from the Moraine Township Assessor's Office prior to its demolition is shown below right.


Courtesy Moraine Township Assessor's Office
Some of the demolished Eppenstein houses in Highland Park are seen above and below. The notations with demolition dates in 1998 and 1999 are by the Moraine Township Assessor's Office.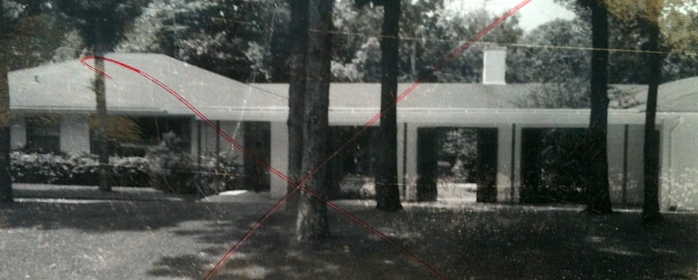 Courtesy Moraine Township Assessor's Office
The most recent known Eppenstein commission to be demolished was also in Highland Park. Formerly located at 115 South Deere Park Road, this one-story home seen above was razed in January 2012.14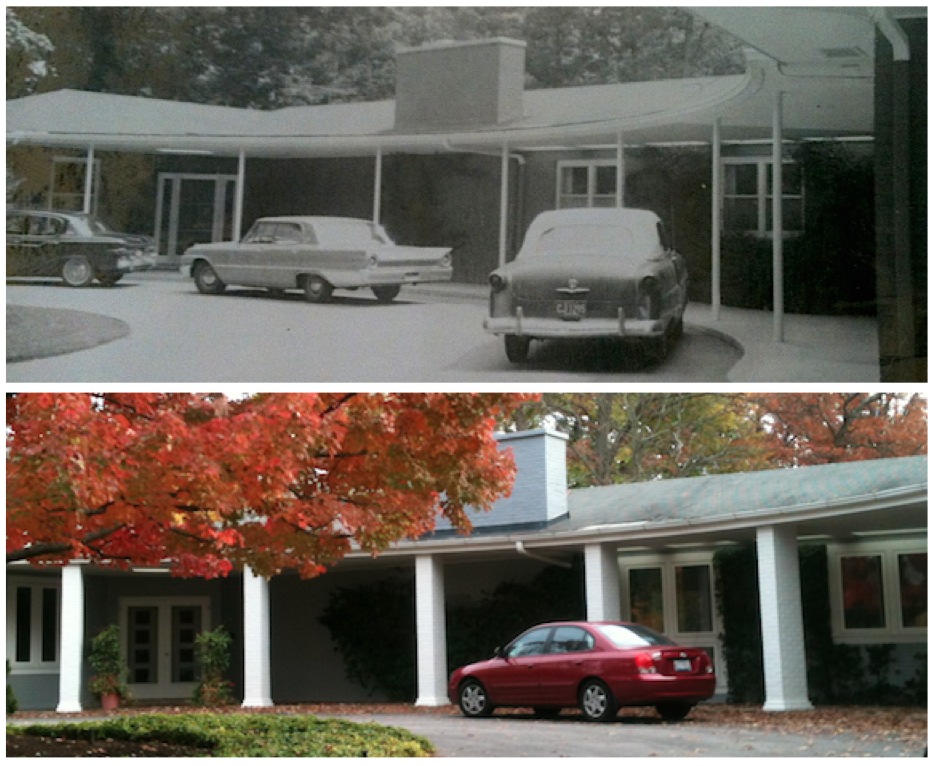 Top: Courtesy Moraine Township Assessor's Office, no date Bottom: Patrick Steffes, 2013
The final known commission by James Eppenstein was a modest, but well-detailed 1954 ranch home on Waverly Road in Highland Park. This home, while modified with new windows, front door and oddly widened porch pillars, was still extant as of November 2013.


Chicago Tribune, 1951
James Eppenstein and his wife Louise had two daughters, Sally and Peggy. Each member of the Eppenstein family worked in a creative field; Sally became a painter, and Peggy became an actress, as mentioned in a 1951 Chicago Tribune column above. Matriarch Louise was the author of a series of books featuring a protagonist with the same name as her daughter Sally, including two of three published titles seen below left and center.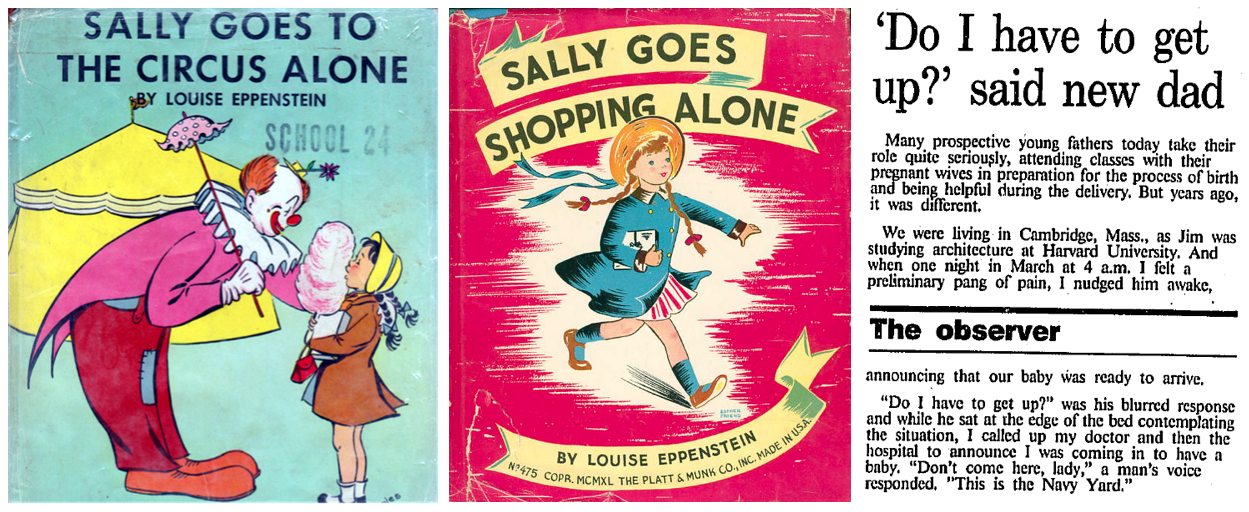 Left and Center: eBay Right: Chicago Tribune, 1986
Louise Eppenstein would also have an occasional column in the Chicago Tribune, including this humorous 1986 entry, above right. Louise Eppenstein passed away in 1987 at the age of 86.15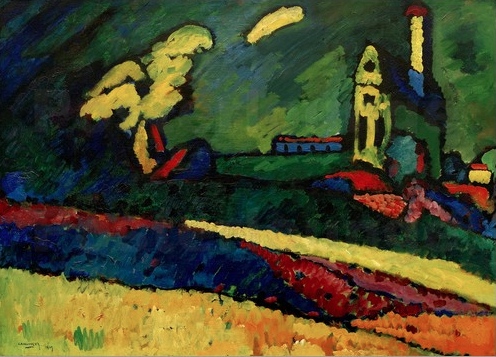 Courtesy Posterlounge
Besides having extraordinarily good taste in architecture and interior design, James Eppenstein also had a gifted eye for art as an investment. As described by the Eppenstein family and in the posthumously published 2006 book by noted former Art Institute of Chicago curator Katharine Kuh, Eppenstein purchased Wassily Kandinsky's 1909 painting "Landscape with Church I" from Kuh for $350 in 1937; this painting was sold at auction at Christie's for $2.4 million in 1987.16 In the decades since this sale, works by Kandinsky have sold for many times that amount.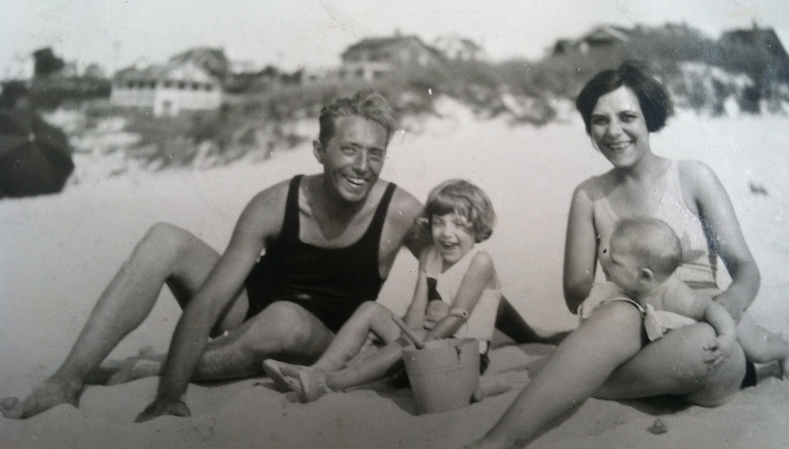 Courtesy of James Markham and the Eppenstein Family
James Eppenstein, his wife Louise, and their children Sally at left and Peggy at right are seen in an unidentified beach location in 1930.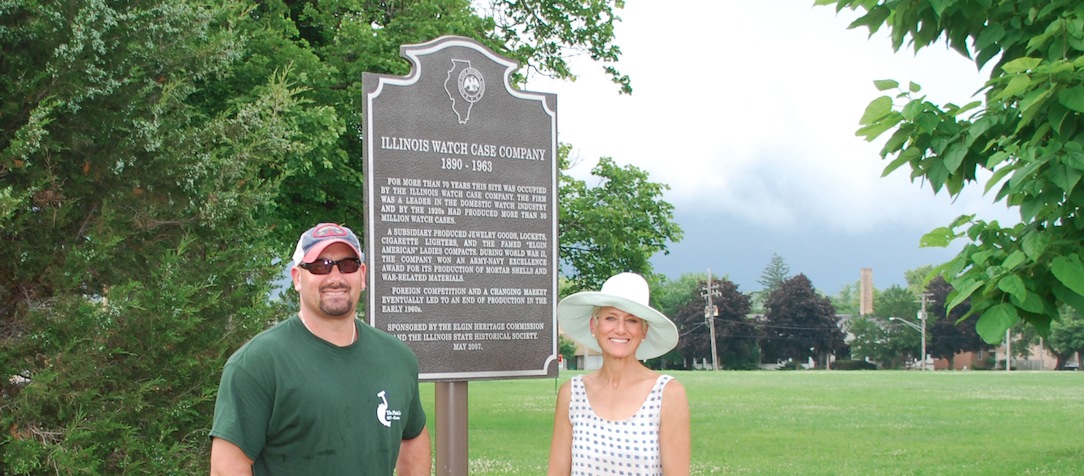 Photo courtesy of Richard Renner
In July 2015, two of James and Louise Eppenstein's grandchildren visited the Chicago area from San Francisco and New York City to explore their grandfather's remarkable body of work. Shown above at the site of the former Illinos Watch Case Company in Elgin, Illinois (once owned by their family) are Jim Markham and Cindy Salans Rosenheim. Besides a visit to many historic family sites in Elgin, the grandchildren and their spouses Susie and Dan were able to visit the interior of an Eppenstein house in Highland Park, the Shoreland Hotel, and a guided tour of the former Thompson's in Motor Row, now a dry cleaner, which still has the original 1942 restrooms on the lower level.
Thanks & Acknowledgements
---
The author would like to greatly thank Eppenstein's grandson James, who contacted Forgotten Chicago after the publication of the first two articles in this series, and has been tremendously helpful in providing additional information about his grandfather's life and legacy.
I would also like to thank Eppenstein's granddaughter Cindy, who has also been a great help in piecing together many details about this vastly under appreciated Chicago design professional. Cindy has also helped tremendously in contacting her mother Sally about the life and career of her father James Eppenstein.
Finally, many thanks to Angela, bartender extraordinaire at Cody's Bar at North Paulina and West Barry in Chicago. The beer garden of Cody's, arguably the best in Chicago, was the perfect location to write and research these articles, as is Cody's indoor bar during colder months. Angela's friendly service and interest in James Eppenstein and his family was most appreciated over many nights writing these articles.
Correction
---
An earlier version of this article included the wrong image and name of the painting by Wassily Kandinksy. The correct information and image is posted above.
Sources
---
1. House for Dr. G.F. Weinfeld, Ravinia, Illinois. The Architectural Forum, October 1936, pg. 282-283.
2. Telephone conversation with James Eppenstein's granddaughter Cindy, July 28, 2014.
3. 1940 Bureau of the Census records for David Rosenfeld in Chicago
4. Hunting Lodge in Henry Illinois. The Architectural Forum, May 1944, pg. 106-107.
5. House in Menominee, Michigan. The Architectural Forum, December 1941, pg. 396-397.
6. Ibid.
7. Illinois Bell Classified Telephone Directory for Chicago. The Reuben H. Donnelley Corporation with permission of the Illinois Bell Telephone Company, September 1949
8. Offices of Swiren, Heineman & Antonon in Chicago (Ill.) [graphic]. Hedrich-Blessing photograph collection – James F. Eppenstein series, Chicago History Museum. Photographs dated October 4, 1945.
9. Bloomberg Business, http://investing.businessweek.com/research/stocks/private/snapshot.asp?privcapId=4272153, retrieved October 7, 2014.
10. Facebook page for Gullistan, https://www.facebook.com/pages/Gulistan/123283351076322, retrieved October 11, 2014.
11. Telephone conversation with James Eppenstein's granddaughter Cindy, July 28, 2014.
12. Search of obituaries for James F. Eppenstein in the Chicago Tribune, January 1, 1954 to December 31, 1956, (accessed February 10, 2015).
13. Records of the Moraine Township Assessor's Office, Highland Park, Illinois; visited November 8, 2013.
14. Ibid.
15. Author Louise Eppenstein, 86. Chicago Tribune (1963-Current file); Jul 14, 1987; ProQuest Historical Newspapers: Chicago Tribune (1849-1989), pg. A8, (accessed May 11, 2014).
16. Katharine Kuh, My Love Affair with Modern Art: behind the scenes with a legendary curator. Edited and completed by Avis Berman. New York: Arcade Publishing Inc., 2006., pg, 284.
Read More
---
Tweet