Rogers Park National Bank was founded in 1912. For the five years prior to the construction of this building in 1917, we presume that the bank occupied retail space elsewhere on Clark Street, although this has not been confirmed. Notable as architect Karl Vitzthum's earliest extant bank design, Rogers Park National Bank is a typical classical revival style corner bank modeled after Stanford White's highly influential Knickerbocker Trust Company.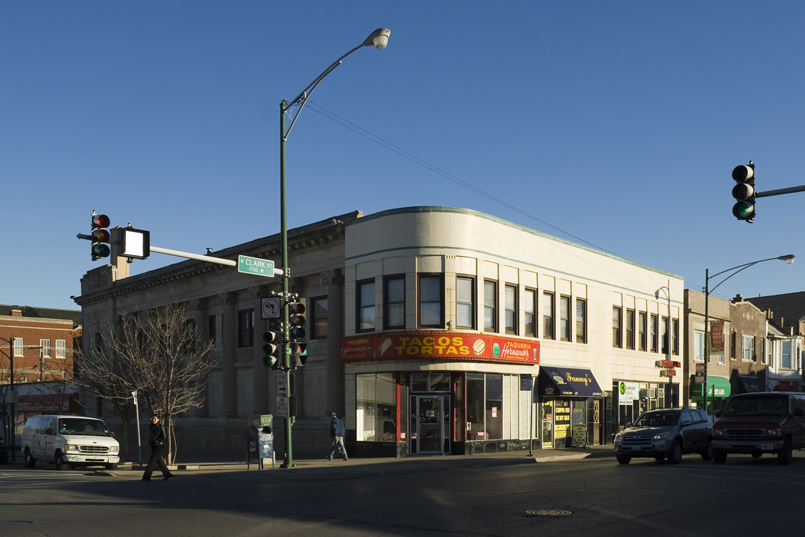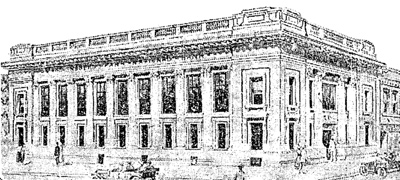 Chicago TribuneKarl Vitzthum was Chicago's most prolific bank architect prior to the Great Depression, designing more than fifty in the Midwest. However, he was no specialist and was equally prolific with other building types such as office buildings, churches, apartments, schools and manufacturing plants. Some of his most well known buildings include the Old Republic Building at 307 N. Michigan, Steuben Club at 188 W. Randolph, and St. Peter's Catholic Church at 110 W. Madison.
Born in Munich in 1880, Vitzthum emigrated to Chicago in 1914, finding work with firms such as Graham Anderson Probst and White, Burnham & Co., and White, Jarvis & Hunt. He often worked with Fredrick J. Teich prior to establishing his own firm with J.J. Burns in 1919. In 1956 Vitzthum took on Robert Kill as a partner after the death of Burns. Vitzthum remained a practicing architect while concurrently serving on the Chicago Zoning Board of Appeals from 1958 until his death in 1967.
Vitzthum's earliest known commission is a high rise building on Lincoln Park West built in 1916, one year before Rogers Park National Bank. He was heavily influenced by the classical revival work coming out of the office of Graham Anderson Probst and White, an influence most strongly felt in the design of his banks. The later bank commissions he would receive were much larger both in scale and budget, monumental in physical size and symbolic considerations.
Rogers Park National Bank closed September 1931, having failed in the wake of the 1929 stock market crash. It would be an understatement to say that the crash had a devastating effect on small banks. Of the outlying banks in Chicago that were open prior to 1929, only 58% survived through June 1931. The building sat vacant for a number of years until it was purchased and remodeled in 1940. Architects Lowenberg & Lowenberg installed an art moderne facade with retail space on the Clark Street side, leaving the Lunt Avenue side relatively intact. The building, used as a store and flats ever since, exhibits a stark contrast between widely divergent modern and classical idioms.
Read More
---
Tweet