S

t. Ignatius is a Jesuit high school located on Roosevelt Road at Blue Island Avenue. The main building, built in 1869, and the adjacent Holy Family Church, built in 1857, are architectural treasures. Those two buildings, however, are not the focus of this page. Placed around campus are bits and pieces of ornament from other architectural treasures that haven't survived as long as St. Ignatius. It is an architectural graveyard.

As St. Ignatius itself is a bit too well known to qualify for the "forgotten" aspect in this site's title, there is no sense in discussing it here when there is plenty of good information out there. For the history of St. Ignatius, there is a Wikipedia page, a succinct entry on the Chicago Landmarks page, and the school's homepage if you're into rosy institutional doubletalk. Also, check out the Encyclopedia of Chicago entry about Loyola University, the original occupant of the building; lastly, there is an entry in the Historical American Buildings Survey. For information about Holy Family Church, there is a good history at The Center For Religious Architecture.

On to the content!

St. Ignatius and Holy Family Church photographed by Charles Cushman in 1958.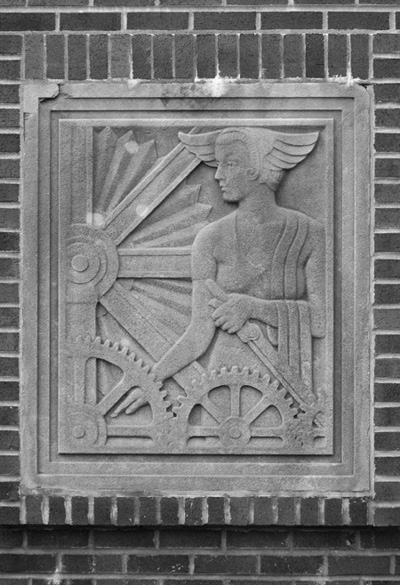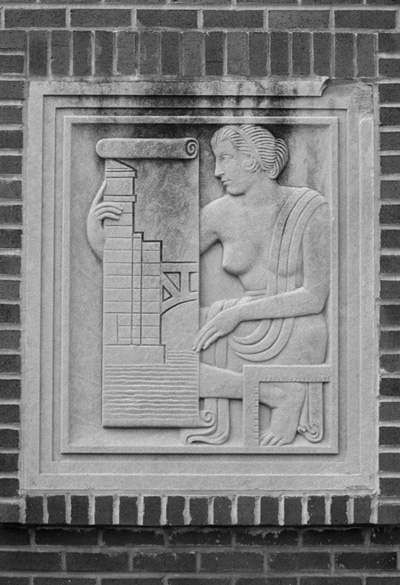 Above and below:
These five plaques are among many that were salvaged from bridge houses on the Ogden Avenue viaduct, built in 1932 and demolished in 1992. Photographer Ron Schramm documented these plaques in their original state, as well as the demolition of the Ogden viaduct. We have some of these images on our
Ogden Avenue page
. In addition, Mr. Schramm informed us that many of the Ogden plaques are in storage under the Roosevelt Road viaduct.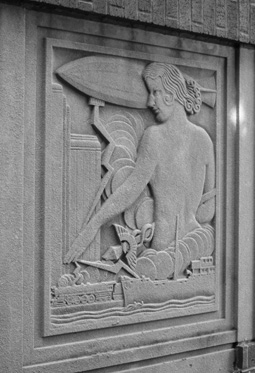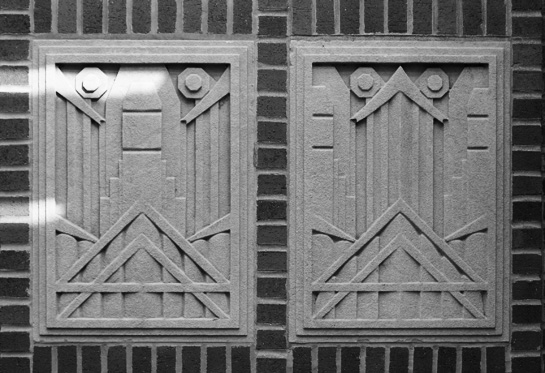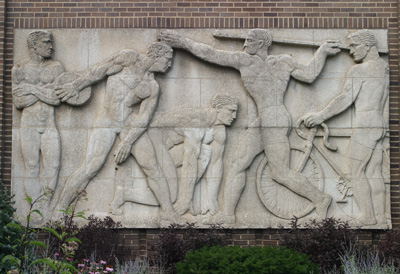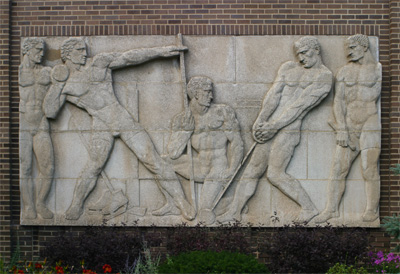 Above:
Bas-relief sculptures from Chicago Stadium, appended onto St. Ignatius' gymnasium. The Stadium was designed by the firm of Hall, Lawrence, and Ratcliffe, however we cannot determine who was the sculptor of these pieces. The sculptures depict…well-sculpted, mostly nude athletes performing a variety of activities. The guy at far left is engaging in the wildly popular sport of Spectating.
In the postcard image of Chicago Stadium at right, the location of the bas-reliefs at St. Ignatius can be seen between the top of the long vertical windows, just under the cornice.
Watching a hockey game in an old arena like Chicago Stadium was a completely different experience from watching one in a modern arena. The same could possibly be argued for any sporting venue. However, those benefits are unquantifiable in comparison to increased revenue for owners and investors. Sports arenas are built to make money first; aesthetics and history are distant concerns. Chicago Stadium was demolished in 1995, the site is now a parking lot for its replacement, the United Center.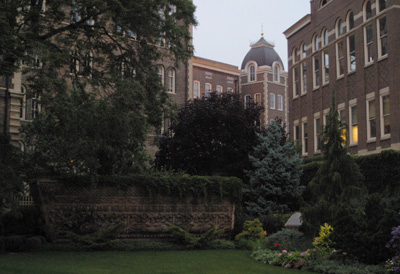 A portion of the cornice from Adler & Sullivan's Stock Exchange Building is on display here. It is the 10-foot tall flowerpot in the bottom left of this image. The building, built in 1894, was well-chronicled before it was razed in 1972. Standing next to it gives one a great sense of scale, as well as mixed feelings of awe and disappointment.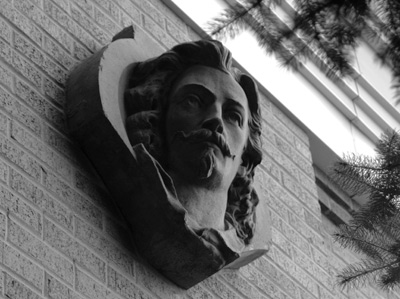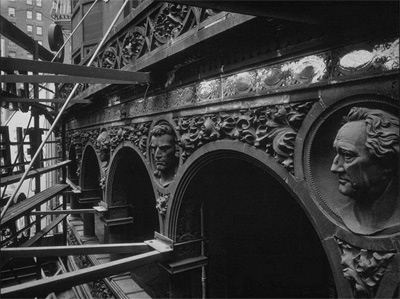 Right: Richard Nickel, UIC – Chicago Imagebase.
This severed German head was originally part of the loggia on the Garrick Theatre (right). The building was torn down in 1960 to make way for a parking garage, but was not without its supporters. The Garrick marked one of the earliest organized attempts by the public to preserve a historic building. A small section of the loggia was salvaged and installed on the facade of the Second City Theatre. These heads have also been cannibalized and turn up in masonry walls guarding at least two houses, 1945 N. Lincoln, and 820 N. Dearborn. The architectural equivalent of scalping, these walls were probably the work of early gentrifiers who didn't think it tasteless to proudly display ornament from a building that so many believe should not have even been demolished.
The above right photograph was taken by Richard Nickel shortly before the Garrick was demolished.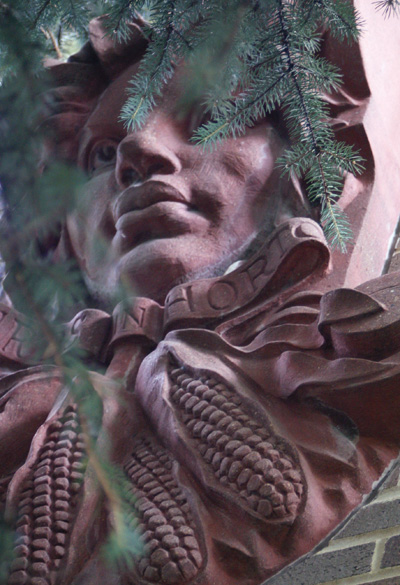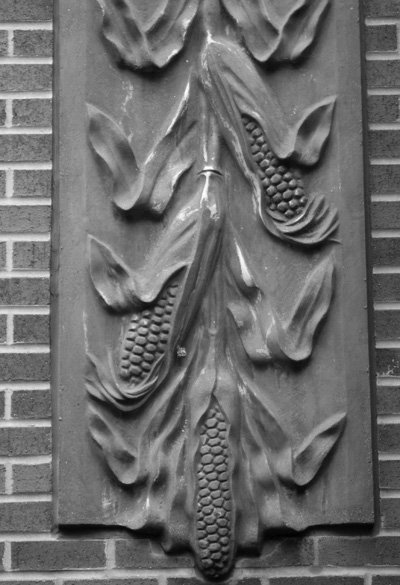 More examples
of both of these pieces can on the Harold Washington Library. These look new enough to have been cast when the building was erected, so they were probably never actually
on
another building. The post-modern design of the Harold Washington library incorporates elements and motifs from other notable Chicago buildings, and although corn is a very common ornamental motif, one wonders if these were influenced by a source such as the Corn Exchange Building…

Left: J.W. Taylor, Ryerson-Burnham Library, School of the Art Institute Chicago.
The Corn Exchange Bank Building was located 122-136 S. LaSalle until 1985. The Corn Exchange Bank was founded in New York in 1852. This was their Chicago branch headquarters; a Beaux-Arts skyscraper designed by the Boston-based architectural firm of Shepley, Rutan, and Coolidge in 1908. The Corn Exchange Bank merged with Chemical Bank in 1954, which in turn became part of JP Morgan Chase in 1996. The location of the vertical corn husk ornament at right can barely be seen in the J.W. Taylor image at left. They repeat horizontally in the spaces between the two stories of windows on the upper register of the building.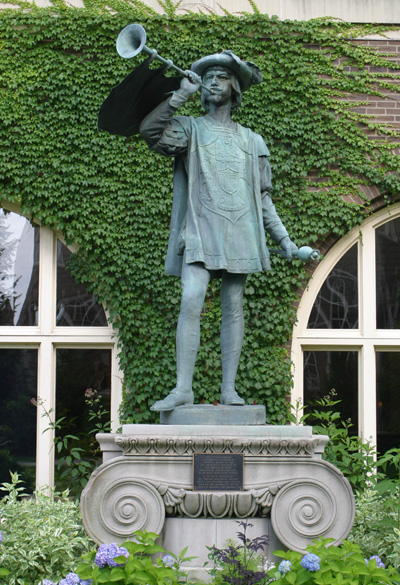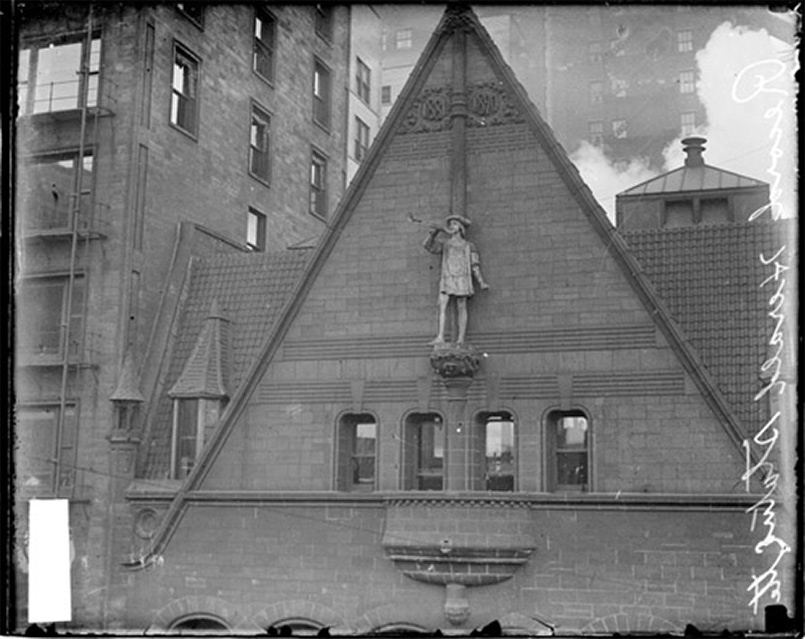 Right: DN-0056677, Chicago Daily News negatives collection, Chicago Historical Society.
There is a plaque at the bottom of this statue, which reads; The Chicago Herald, cast bronze, sculpted by Johannes Gelert in 1890; was originally mounted on the Herald Building, designed by Burnham & Root, at 165 West Washington Street.
The Record-Herald was a newspaper formed in 1901 as a result of a merger between the Times-Herald and Chicago Record. It was in business under this name until 1914, when it became the Herald-Examiner. The paper kept changing names, which were, in chronological order: Chicago Herald-Examiner, Chicago Herald-American, Chicago's New American, Chicago American, Chicago Today American, and finally the Chicago Today, which folded in 1974.
At right is an image of Little Trumpeter Boy from 1911, during his younger years, in his original position on Burnham & Root's Record-Herald Building. The building was demolished at some point before 1950 to make room for a parking lot. The footprint of the International Style 30 N. LaSalle building now occupies this site, in addition to the former site of the Chicago Stock Exchange building. Unless you have made or are making money in or from it, you probably can't picture the 30 N. LaSalle building. This should refresh your memory. If that link irritated you, this may be what you're looking for.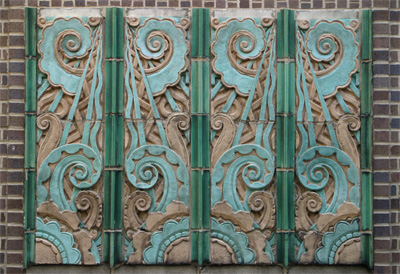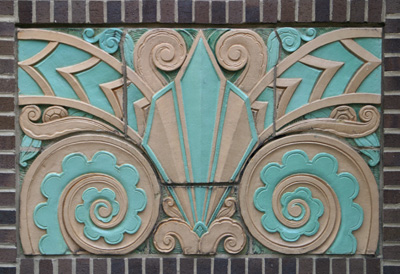 The plaque describing these two Art Deco style relief sculptures incorrectly indicate that they came from a building at 111 E. 47th Street. 111 E. 47th is one of a number of addresses in a still-extant two story taxpayer built in the 1910s. Despite this confusion, we were indeed able to find the source of these reliefs…

Camilo José Vergara
Based on the evidence
we can find, it is very likely that this was 416-18 E. 47th Street. It is difficult to determine the date of construction of this building, which either was built during the 1920s, or was built earlier but received a new Jazz Age façade. It was occupied by the Nickel Electric Garage as early as 1923, which appeared in Tribune advertisements as a distributor of Firestone tires. The Metropolitan Mutual Assurance company moved to this location from 3400 S. Michigan in 1929. A mutual assurance company, or burial society, is a not-for-profit alternative to life insurance in which the members pay subscription fees that cover funeral services upon the death of a member. This particular company also operated a funeral parlor.
Metropolitan Mutual Assurance rapidly became the largest black-owned mutual assurance company in the country, and moved from this building in 1940. However, the building continued in use as a funeral parlor. William and Margaret Henderson operated their a funeral home at least until 1974, when obituaries listing funerals at this location in both the Tribune and Defender cease. We haven't been able to find any information after this date, although it is likely that the building sat vacant. By the time Camilo José Vergara photographed it in 1993, it was in a state of obvious disrepair, and was demolished at some point before 1998.
Sources
---
Camilo José Vergara. The New American Ghetto Rutgers University Press, New Brunswick, NJ: 1995.
"Photo Standalone 5 — No Title." Chicago Daily Defender (Daily Edition) (1960-1973), October 7, 1970, http://www.proquest.com.proxy.cc.uic.edu/ (accessed January 10, 2009).
"Metropolitan Mutual To Mark Anniversary :40th Year Celebration For Dec. 3." The Chicago Defender (National edition) (1921-1967), December 2, 1967, http://www.proquest.com.proxy.cc.uic.edu/ (accessed January 10, 2009).
Read More
---
Tweet