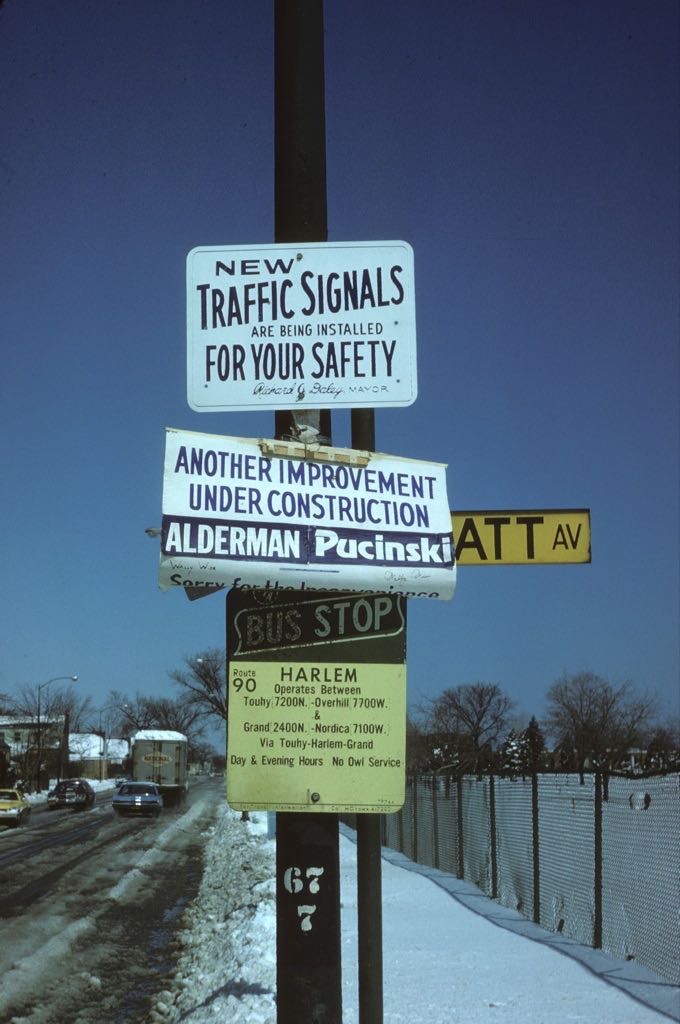 Chicago Transit Authority
One of our areas of focus at Forgotten Chicago is signage. Vintage signs, though often ignored, are a visual link to the past, often referring to buildings or institutions that no longer exist. Perhaps the most uniquely Chicago type of vintage sign that exists around the city involves politics and politicos who left elected office long ago. Being such a politically engaged city, officeholders in Chicago have often used signage to promote their accomplishments, and more importantly, their name. There is no better example than the dual signage seen at right located at Harlem and Pratt Avenues sometime in the early 1970s, showing both Mayor Richard J. Daley and Alderman Roman Pucinski (41st Ward) promoting street improvements.
What is most interesting to us here at Forgotten Chicago is when these signs still exist and refer to politicians that have long since left office. Driving around and exploring forgotten corners of the city, we have come upon many of these signs over the years. Here we will explore just a few of them, along with the often-colorful characters behind the names on these signs.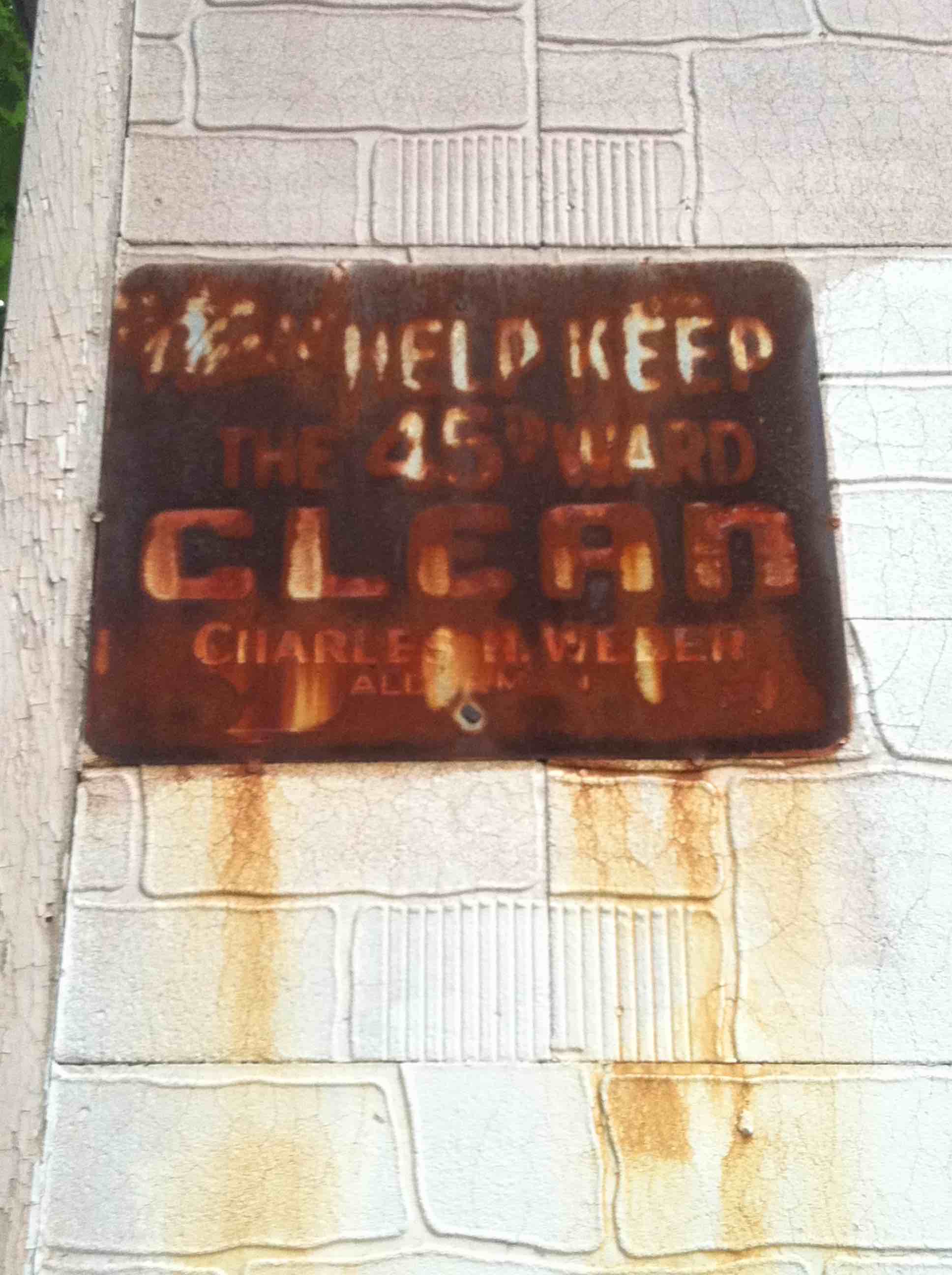 Jacob Kaplan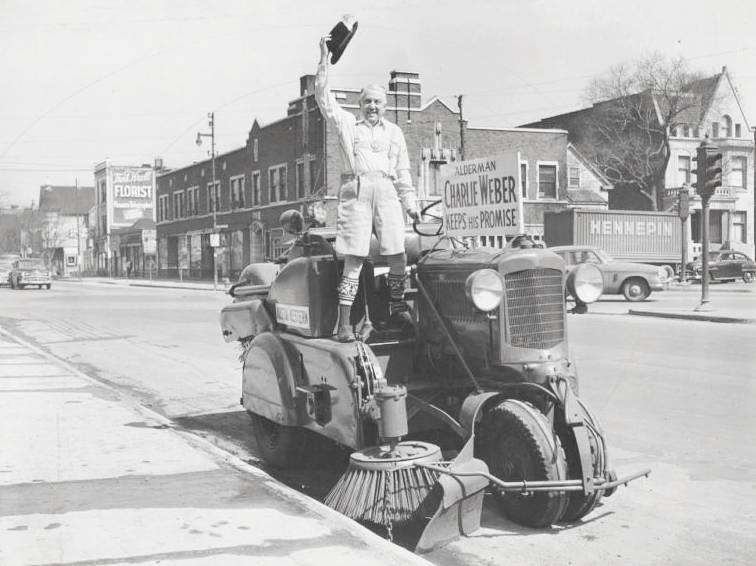 Facebook
Just off an alley near the corner of Barry and Leavitt, the sign above still appears, rusting away on a garage. It is curious for both the alderman and the ward it refers to. This sign references the 45th Ward even though it currently sits in the 32nd Ward. The 45th is miles away, centered in the Jefferson Park neighborhood. What's the story behind this curious sign?
The answer lies in the history of Chicago's wards. Chicago has had 50 wards since the 1920s, yet many areas of the city grew in population much later than that, requiring a shifting of ward boundaries and sometimes a complete relocation of a ward. The 45th was once located here in West Lake View, previously a working-class German neighborhood. The alderman for many years was saloonkeeper Charlie Weber. A true Chicago character, he was also fanatic about keeping the ward clean (right). Every Christmas he would throw a party for the garbagemen in the ward, which he dubbed the "Knights of Cleanliness."1
Weber and his wife suffered a tragic and sudden death in 1960; he accidentally left the car running in the garage of his house at Addison and Wolcott, and he and his wife died of carbon monoxide poisoning. His death coincided with ward remapping, which was ideal timing for Mayor Richard J. Daley, who used the opportunity to move the 45th Ward to the Northwest Side where a new ward was needed due to population growth.2 The 45th has been centered in Jefferson Park ever since, but this sign still remains as a reminder of a long gone ward and its alderman.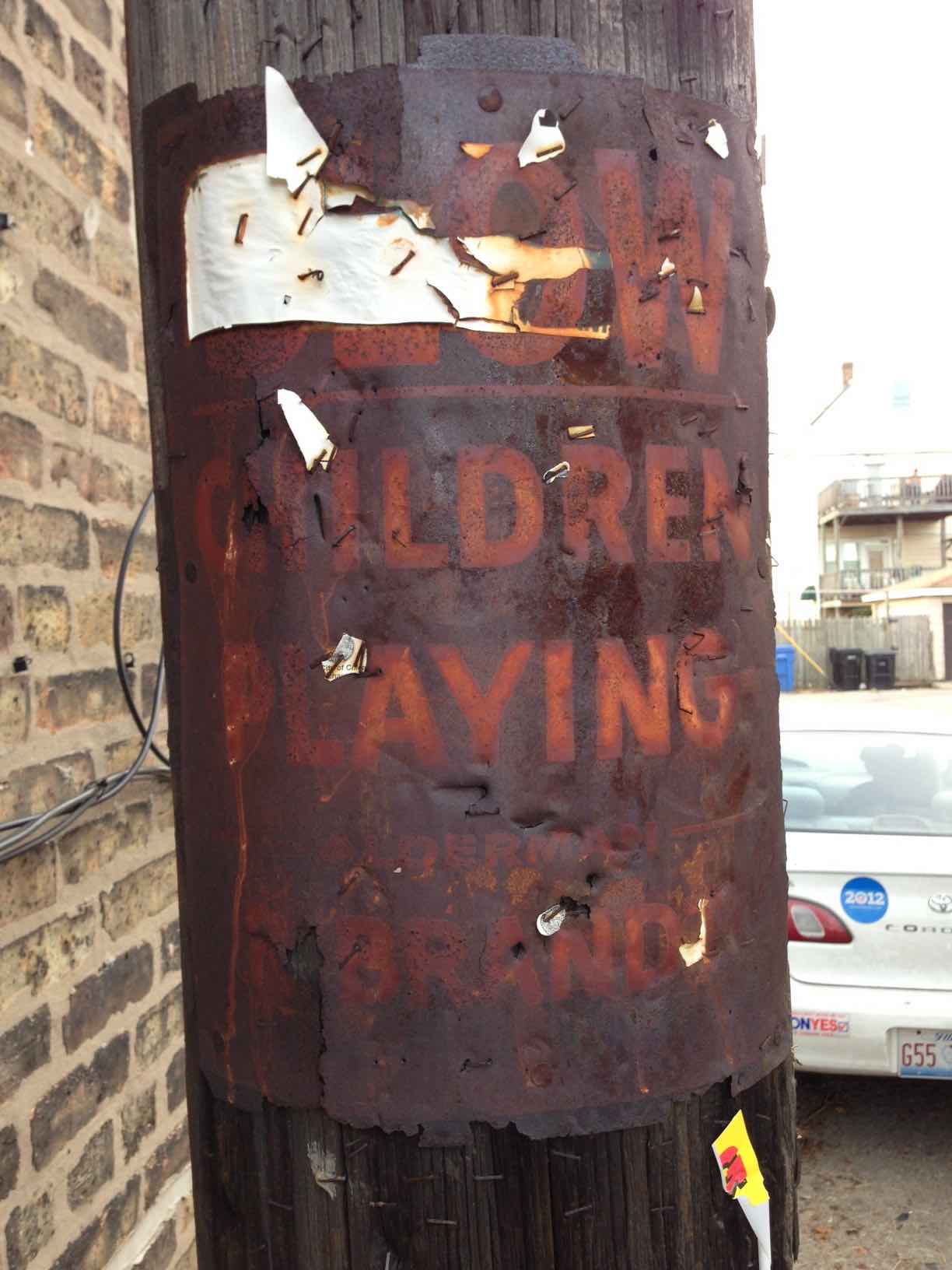 Jacob Kaplan
Nearby in the 33rd Ward, a sign (right) still appears on a utility pole in an alley near Elston and Rockwell. This "children playing" or "watch for children" sign is a great example of the most common vintage politician sign still found in Chicago today. Many aldermen and committeemen would place these signs in alleys in an attempt to get drivers to slow down in alleys. Of course, they also had the additional benefit of reminding everyone who was the alderman or party leader of that particular ward.
This sign was placed by Alderman Robert Brandt, another interesting political personality. Brandt's uncle John was first elected alderman of the heavily Polish 33rd Ward in 1943 as a Republican, before switching to the Democratic Party and subsequently becoming Democratic ward committeeman in 1954.3 In 1960, he was elected to the Metropolitan Sanitary District board and would later serve as a state representative beginning in 1968.4 His nephew Robert then served as alderman of the 33rd from 1963 until 1971.5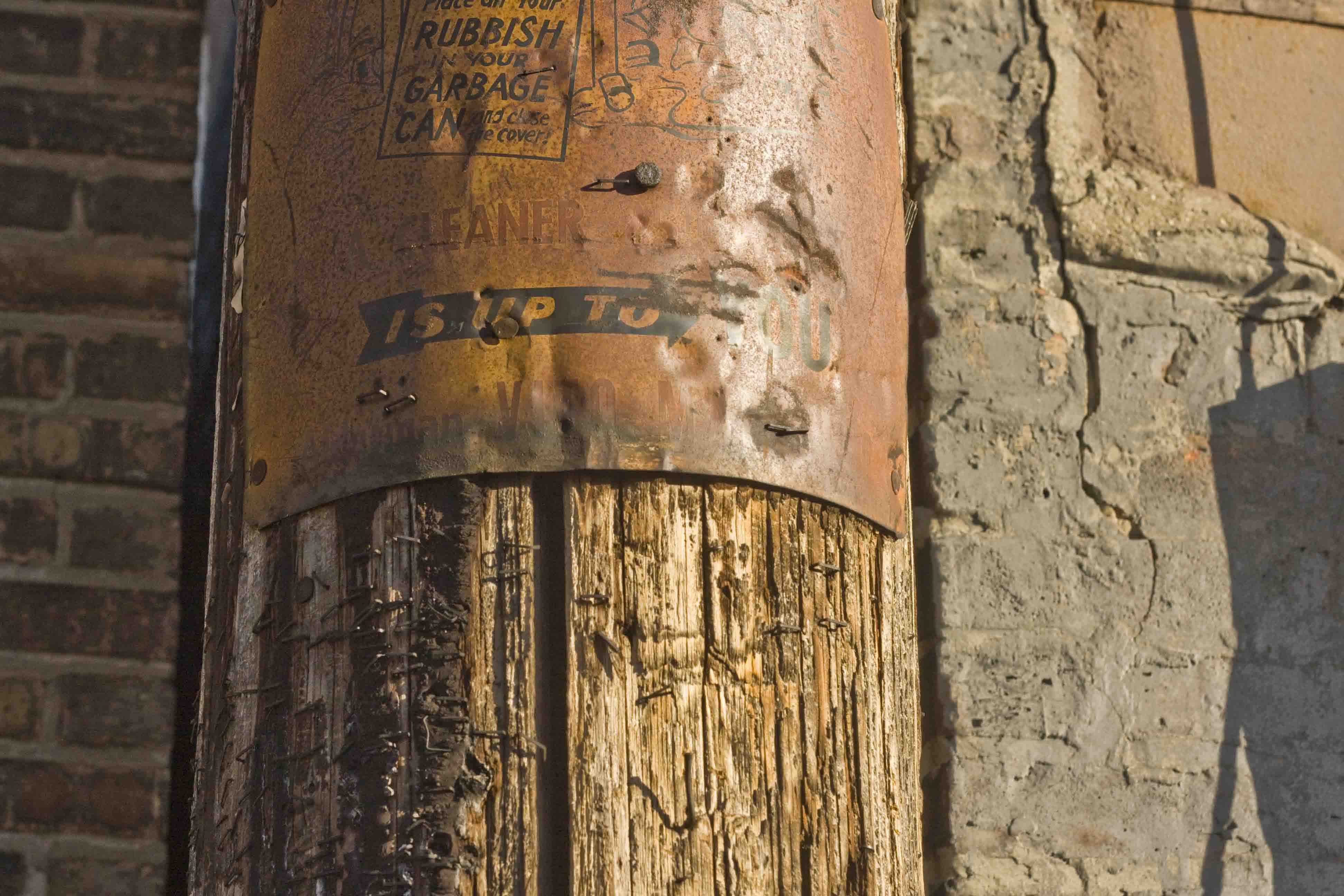 Jacob Kaplan
"Watch for children" and similar signs can still be found in alleys all over the city if you look hard enough. Above is a cartoonish "keep our neighborhood" sign for longtime 25th Ward alderman and Democratic committeeman Vito Marzullo, located in an alley near 21st and California. The sign likely dates from the 1960s. Marzullo, an immigrant from Italy, served as alderman of the ward from 1953 until 1986. With his thick accent, he was known as one of the last of the old-line machine politicians.6 For an entertaining and informative look at Vito Marzullo (who passed away in 1990) from 1978, watch Vito, a documentary produced and directed by Tom Weinberg and available at the Media Burn archive.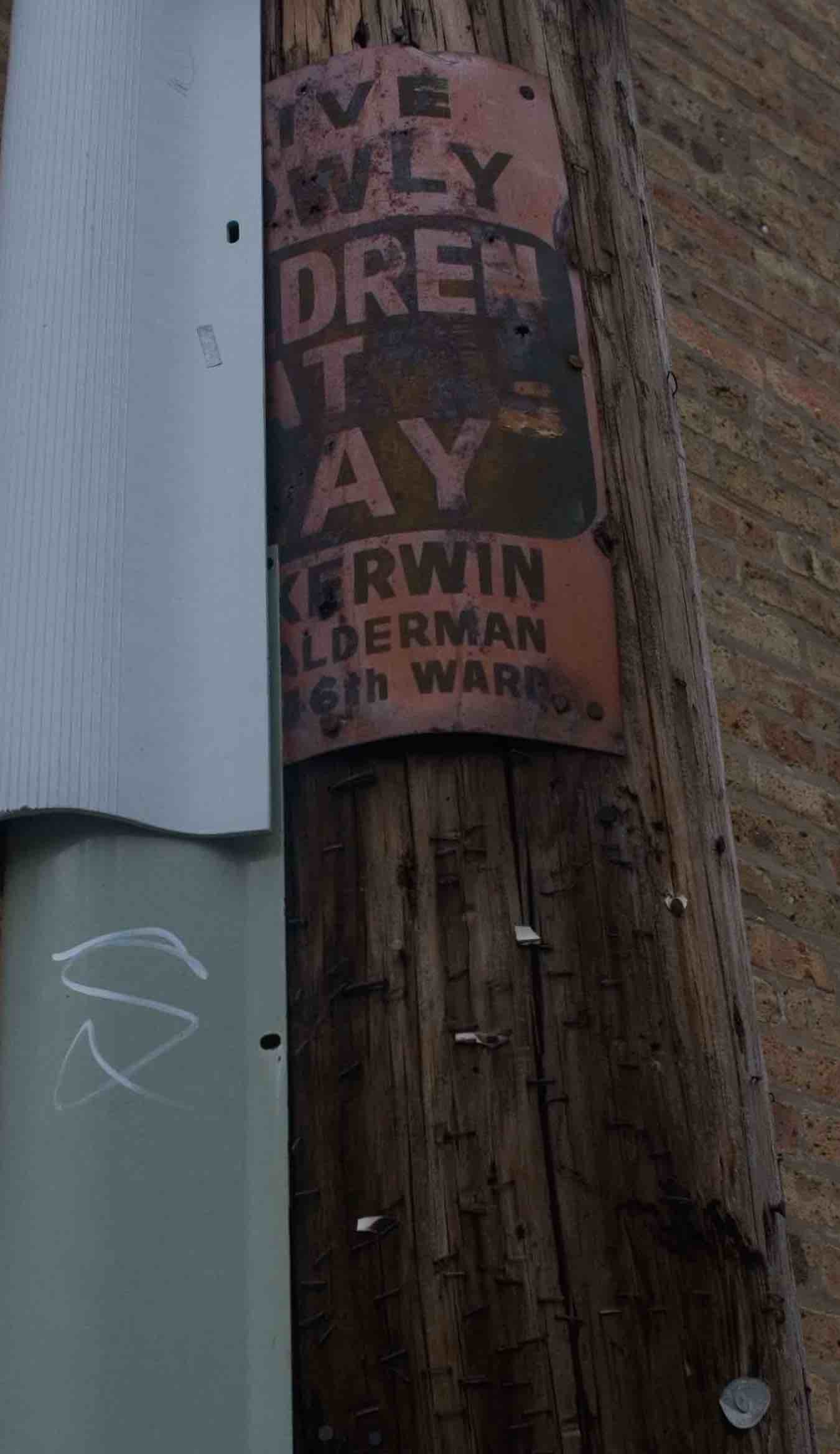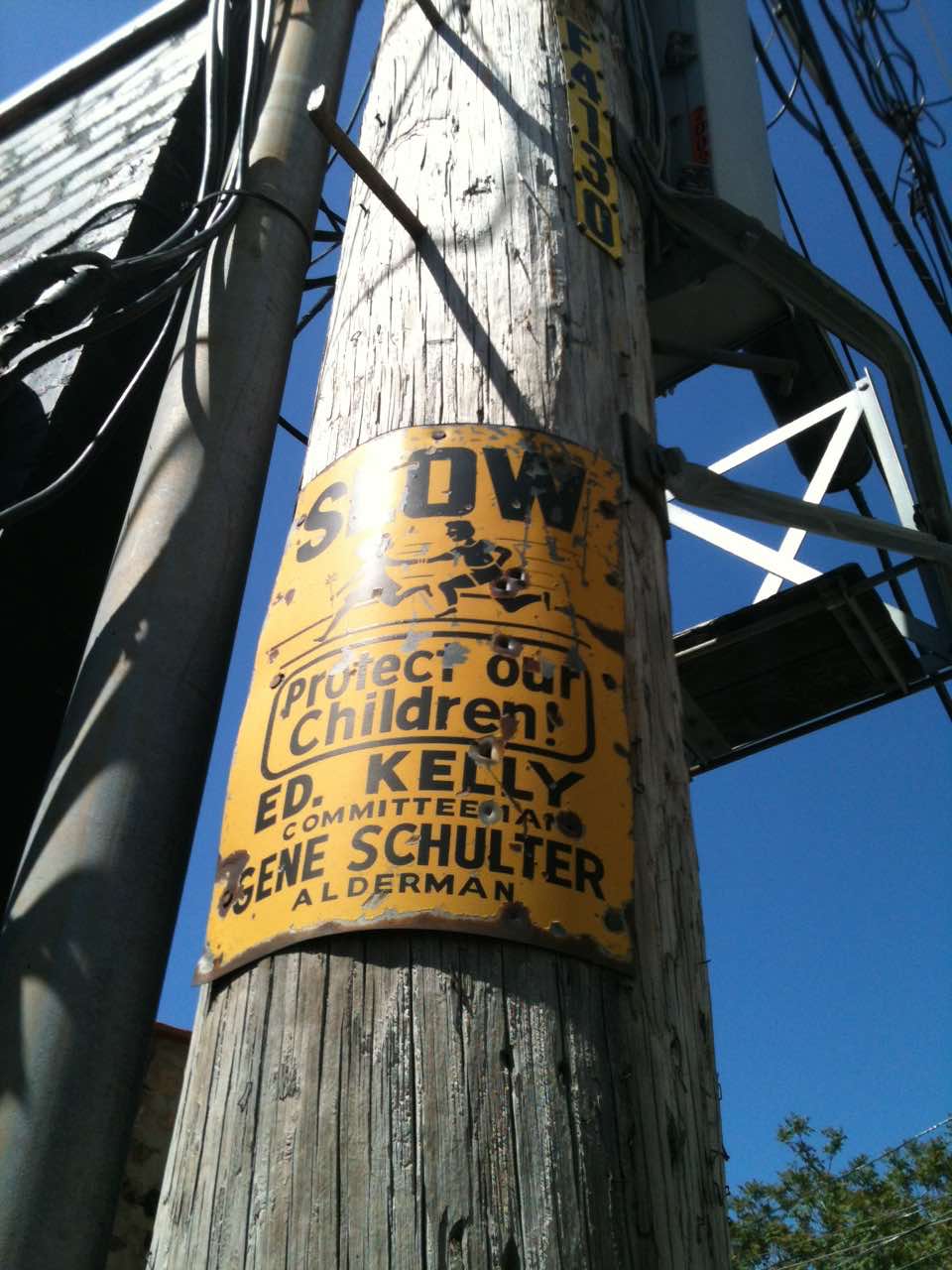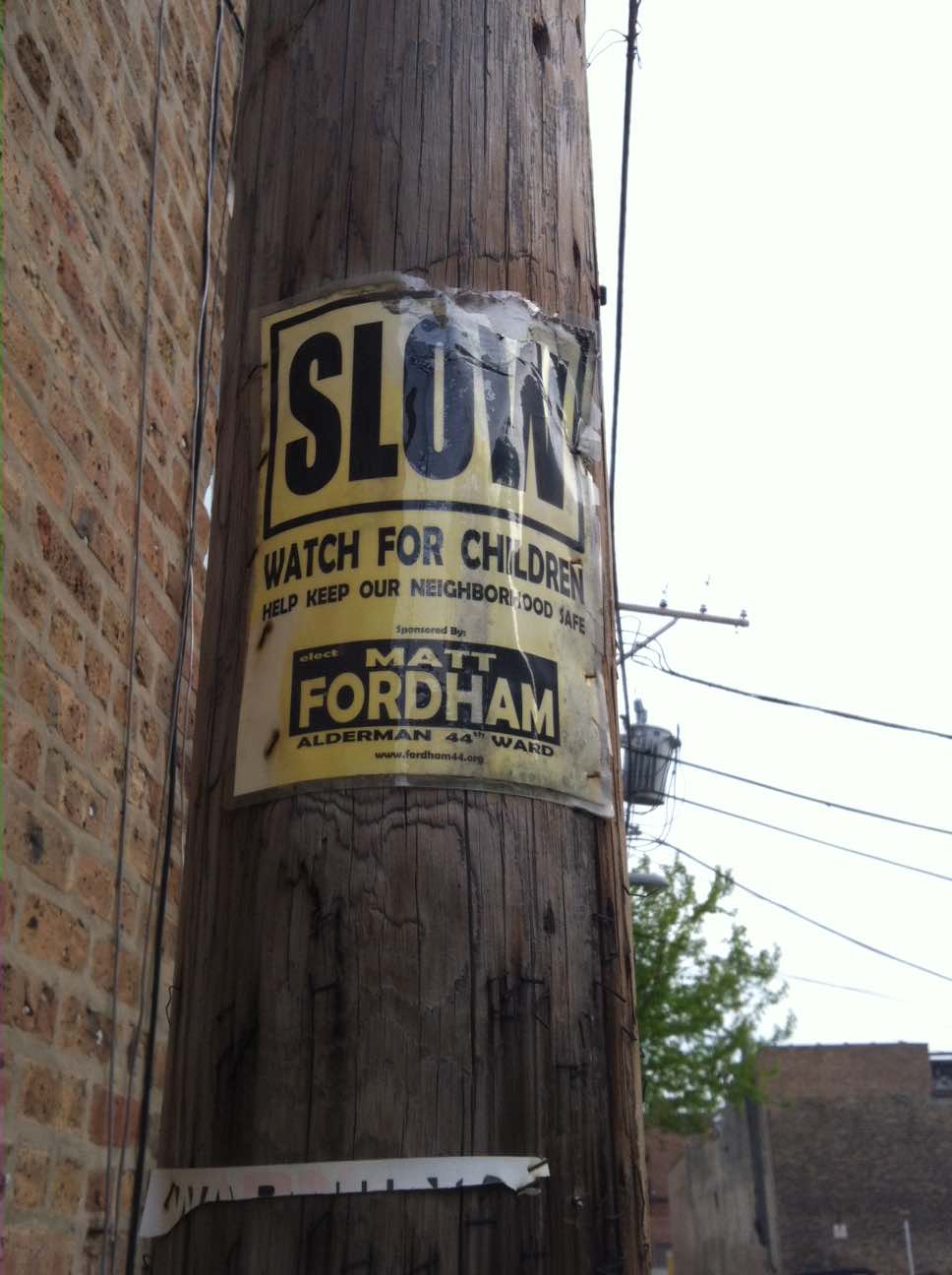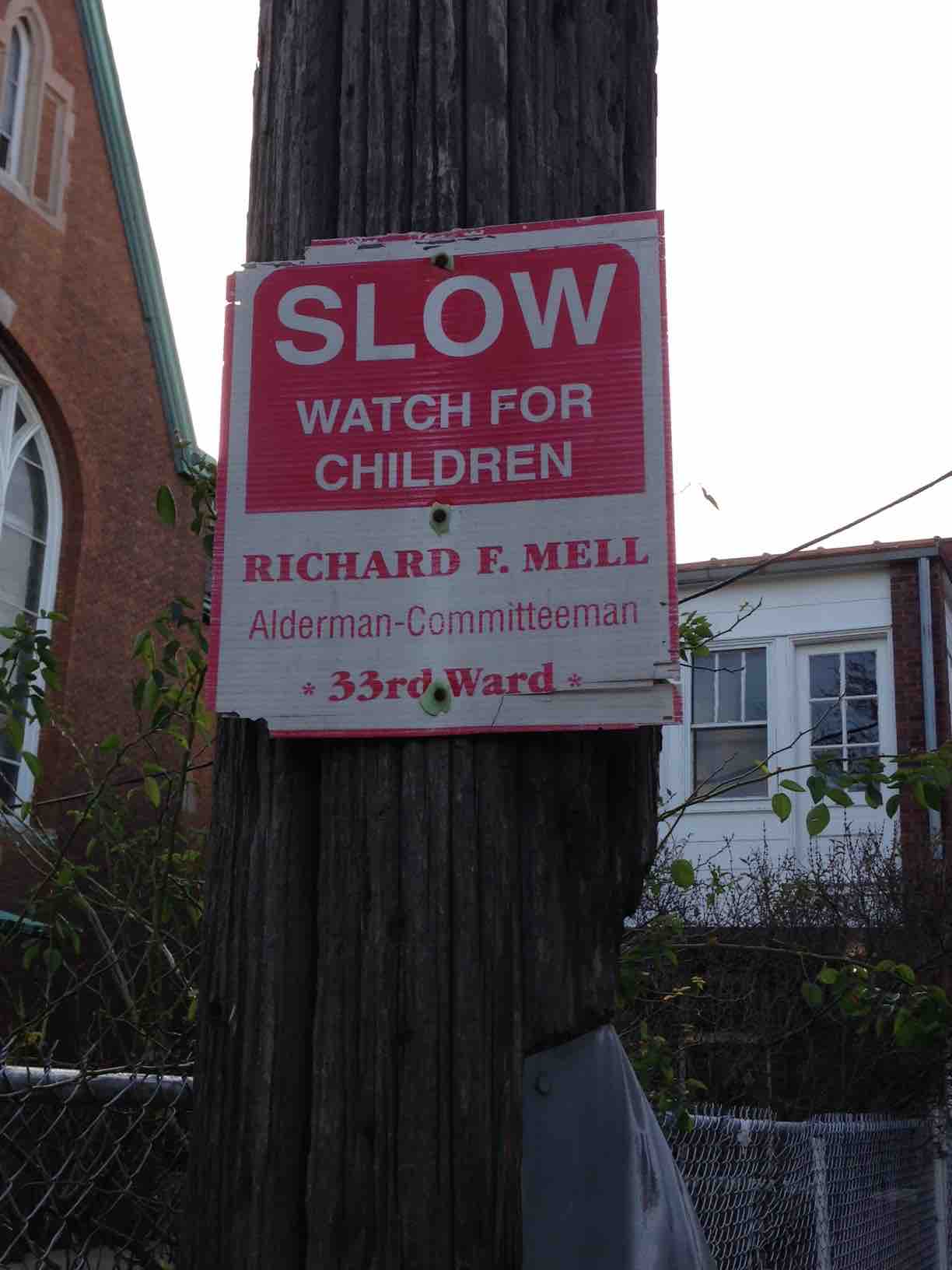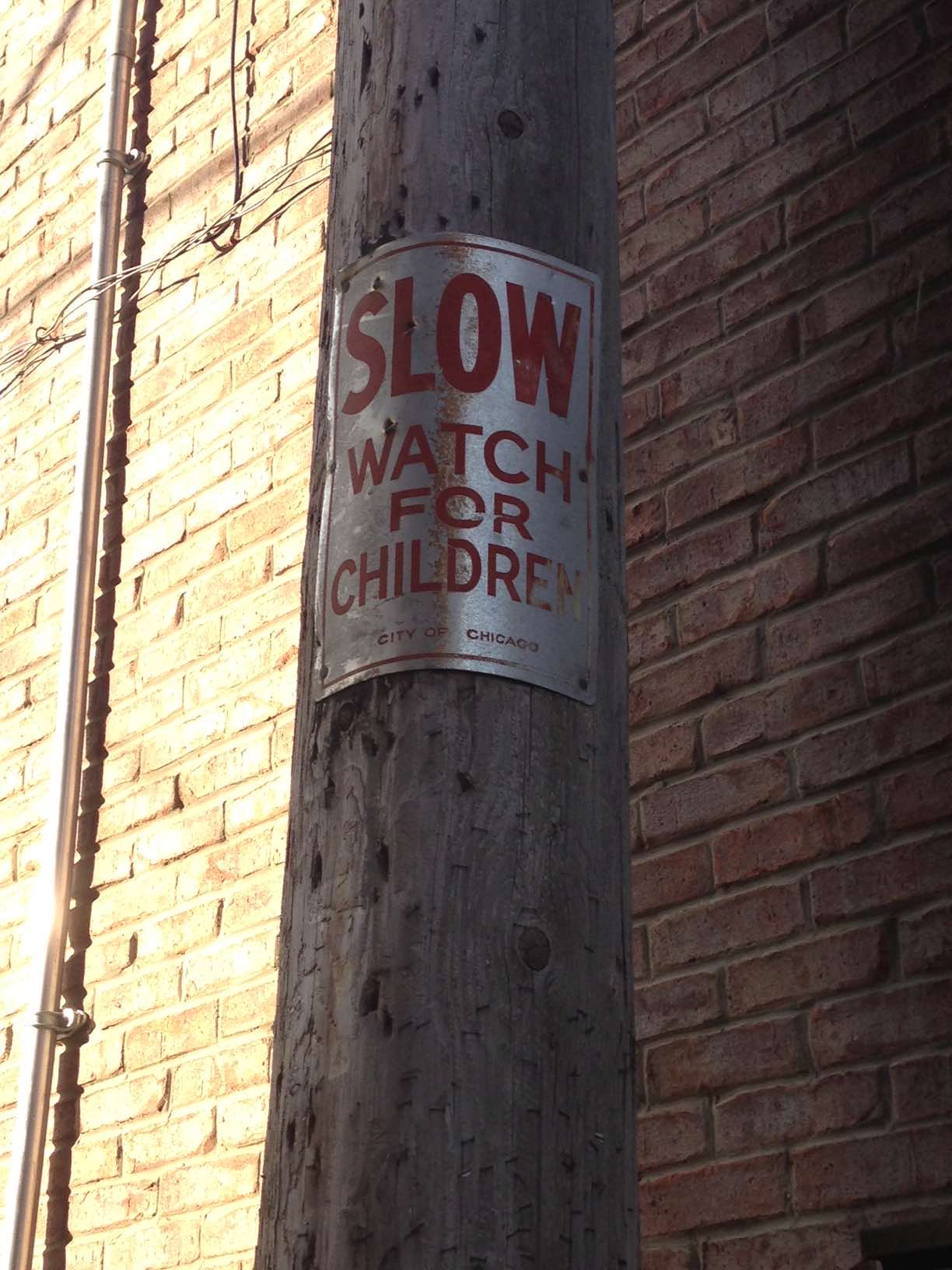 Jacob Kaplan
The alley signs come in many types and some are of relatively recent vintage. From left to right, a 1960s-vintage sign near Ashland and Addison featuring Joseph Kerwin, alderman of the 46th Ward from 1963 until 1971; a 1970s or 80s-vintage sign near Damen and Roscoe featuring longtime 47th Ward Democratic committeeman Ed Kelly and Eugene Schulter (alderman from 1975 until 2011); a campaign "Watch for Children" sign posted near Ashland and Roscoe by unsuccessful 44th Ward aldermanic candidate Matt Fordham in 2003; a 1990s or 2000s vintage sign near Francisco and Nelson featuring Democratic committeeman and former 33rd Ward alderman Richard F. Mell; and a city-posted "Watch for Children" sign from the 1960s or 70s, demonstrating that the city posted non-political versions of these signs as well.
Next time you walk, drive, or bike through Chicago's innumerable alleys, slow down and "watch for politicians" — windows into our political past that refer to elected officials and party leaders who indelibly shaped Chicagoland. With a little bit of research, you might be surprised at the intriguing stories and colorful characters behind these signs.

Sources
---
1. David K. Fremon, Chicago Politics Ward by Ward (Bloomington: Indiana University Press, 1988), 299-300.
2. Ibid.
3. George Tagge, "Brandt Leaves G.O.P. Fold in Surprise Move," Chicago Tribune, October 12, 1954, 12.
4. "Ward Remap Plans Given to Aldermen," Chicago Tribune, July 7, 1961, 3; "November lineup for Upstate House," Illinois Issues, July 1976, 11.
5. "Levatino, Brandt Locked in Giant Ward Struggle," Chicago Tribune, February 17, 1963, Section 10-1; David K. Fremon, Chicago Politics Ward by Ward (Bloomington: Indiana University Press, 1988), 219.
6. David K. Fremon, Chicago Politics Ward by Ward (Bloomington: Indiana University Press, 1988), 164-166.
Read More
---
Tweet