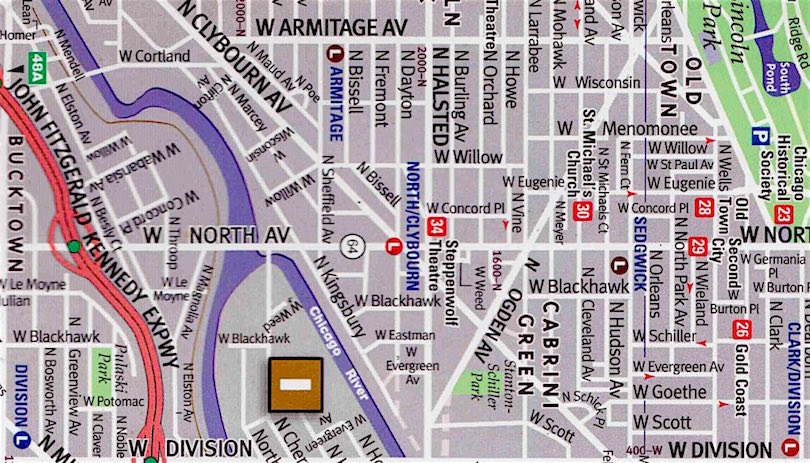 vanDam Street Smart Chicago, 2004
Join us on Sunday, May 7, 2017 as we explore one of the most peculiar chapters in Chicago transportation history: the extension and removal of North Ogden Avenue, written about by Forgotten Chicago in 2009. A major arterial street that was extended from Union Park to Lincoln Park at enormous expense and disruption in the 1930s, the extension of Ogden was closed in stages starting in 1967. While gone, this section of Ogden Avenue and its viaduct are not completely forgotten; the terribly researched map seen above was published in 2004, more than a generation after this section of Ogden Avenue had vanished.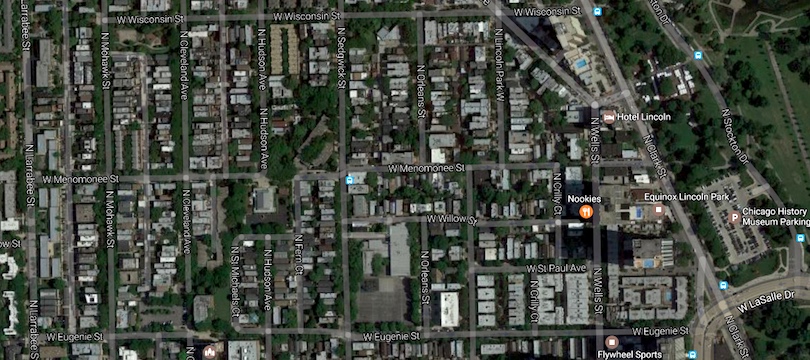 Google Maps
While the long-gone sections of the former Ogden Avenue are largely forgotten, this tour will examine its remnants through the Near North Side. Though much of Ogden Avenue has been vacated for nearly 50 years, tangible evidence of its former existence remains, including Richard J. Daley-era public space and oddly positioned housing.
Now one of the wealthiest communities in the U.S., the northern portion includes many odd reminders of this major street, many curious buildings and landscaping built along the former right-of-way, as seen above. Offered for only the second time since 2011, join us for this tour of one of the strangest episodes in the history of Chicago's built environment. Of course, we'll also examine other forgotten oddities and remnants along the way.
Sorry, sold out.
Tour Details:
When? Sunday May 7 at Noon. Rain or shine.
Where? The tour will meet and begin at the NW corner of Ogden & Chicago Avenues, above the Chicago Blue Line station. It will conclude in Lincoln Park at the intersection of Armitage & Clark.
How Long? The tour will consist of about 3 1/2 miles of walking and will last approximately 2 1/2 hours.
How much? $20. Advance purchase is required. Sorry, sold out. No walk-ups. All sales are final. No refunds or exchanges. If severe weather cancels the tour, credit will be issued for use on a tour of equal value.
Sorry, sold out.
Read More
---
Tweet