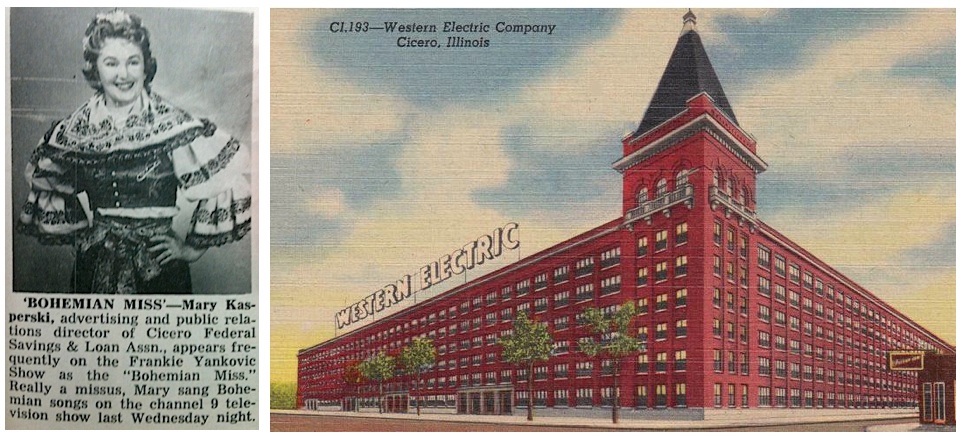 Left: Realty & Building, 1956 Right: Chuckman Collection
On Sunday, June 11, 2017, Forgotten Chicago is proud to again present our exclusive tour of the vibrant communities of Berwyn and Cicero, two of the least understood and most overlooked communities in Chicagoland, for the first time since 2013. We will explore West Cermak Road and its remarkable collection of local landmarks on one of the Chicago region's most intact early 20th century commercial strips.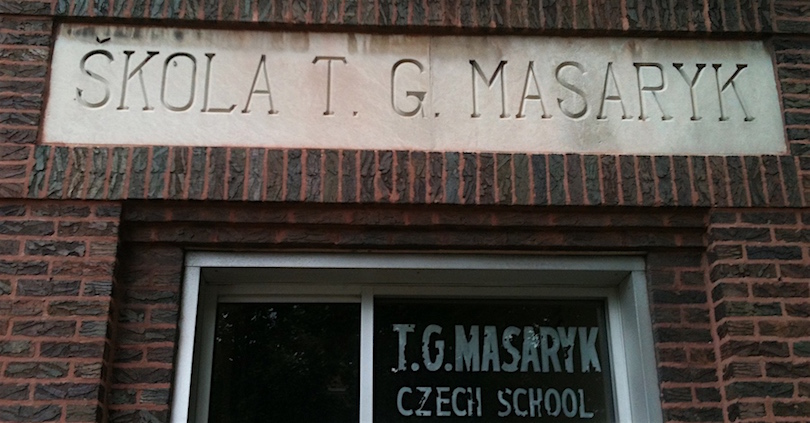 Patrick Steffes, 2014
Additionally, this tour will examine different eras of storefront design, bank architecture (the area was once known as "Bohemian Wall Street," for its concentration of local Bohemian-owned banks), forgotten, and often intact, modernist architecture, along with the usual oddities included on every Forgotten Chicago tour, including one of the few Czech language schools in the region, seen above.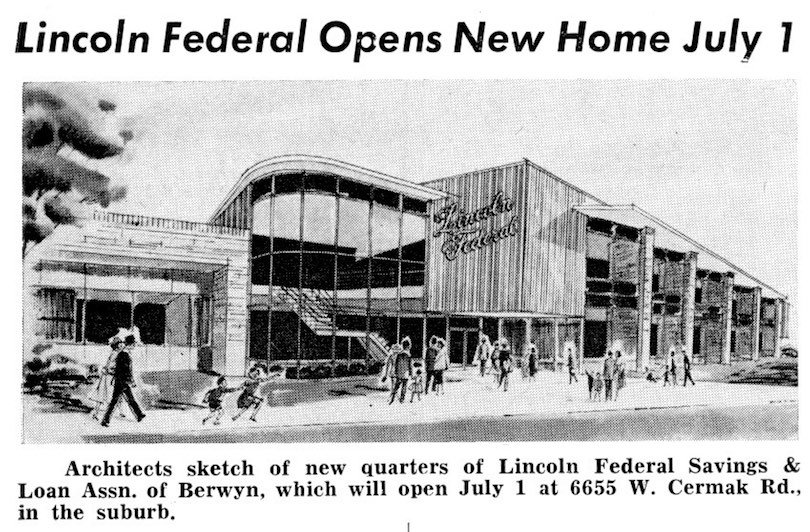 Realty & Building, 1958
Of course, we will tour the rich industrial history of the area. Western Electric and many other notable companies once operated factories in Cicero; we'll take a look at the remnants. Ethnic history and migration will be discussed, as well as interesting twists on the ubiquitous bungalow. The rich Mid-Century Modern architecture of Berwyn and Cicero is often overlooked; we will walk past several including the former Lincoln Federal Savings & Loan by A.J Zelenka and Frank L. Velat and opened in 1958 above. Fittingly, we will take a look at the exterior of Klas, a time-warp Bohemian restaurant/bar that was a community landmark from 1922 until sadly closing in the last few years.


Left: Patrick Steffes Right: American Architect, 1931
Sorry, sold out.
Tour Details:
When? Sunday June 11 at Noon. Rain or shine.
Where? The tour will meet and begin in front of Cicero Pink Line station, just north of the intersection of Cermak and Cicero. It will conclude in front of the former Klas Restaurant, close to the 54/Cermak Pink Line station.
How Long? The tour will consist of about 3 1/2 miles of walking and will last approximately 2 1/2 hours.
How much? $20. Advance purchase is required. Sorry, sold out. No walk-ups. All sales are final. No refunds or exchanges. If severe weather cancels the tour, credit will be issued for use on a tour of equal value.
Sorry, sold out.
Read More
---
Tweet