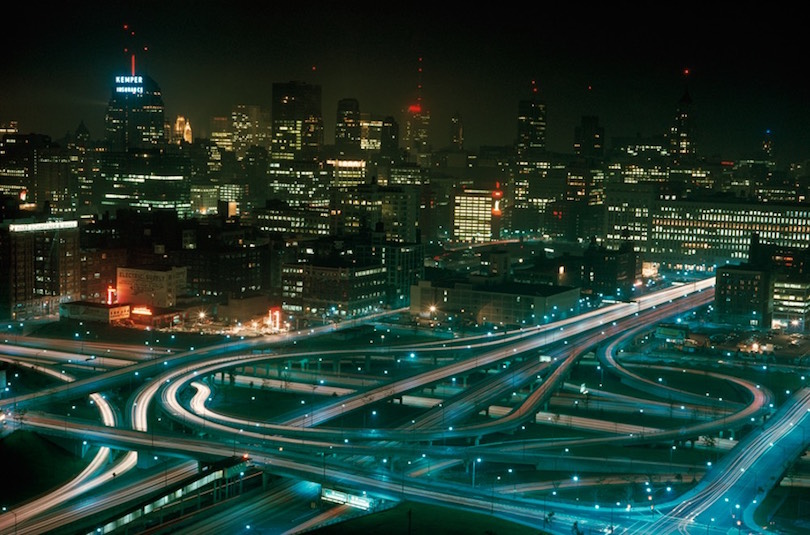 National Geographic, 1968
One of the busiest and most heavily trafficked junctions in the U.S., the Jane Byrne Interchange is an enormous, vital, and often-maddening meeting of three of the nation's busiest roadways, the Dan Ryan, Eisenhower and Kennedy Expressways, as well as Congress Parkway. Completed in 1962 and in the midst of a massive reconstruction since 2013, it was named in honor of former mayor Jane Byrne in August 2014.
Join Forgotten Chicago on Sunday, August 13, 2017 for what is undoubtedly the first-ever public walking tour exploring an area integral to the identity, transportation, and multi-billion dollar economy of the Chicago region, the Jane Byrne Interchange.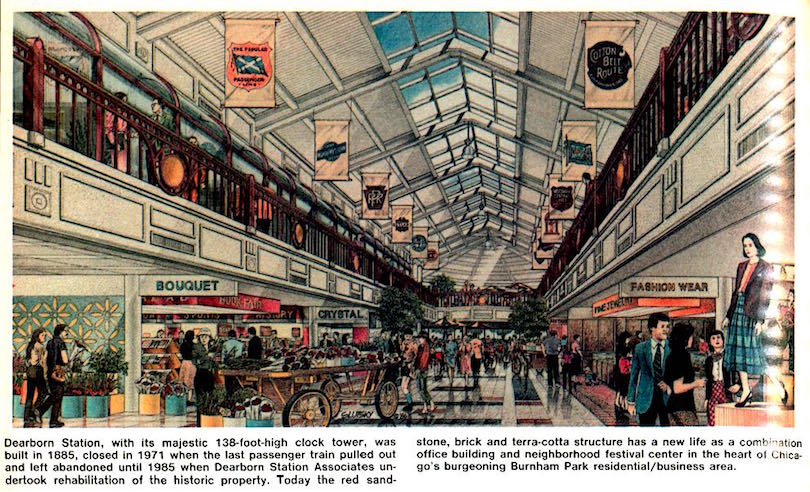 Realty & Building, 1988
This all-new tour will start at the Polk Street entrance of the CTA Red Line, and end at the CTA Green Line stop at Clinton, crossing over and under the Congress Parkway and the Dan Ryan, Eisenhower and Kennedy Expressways several times along the way. We will look at the many nearby remnants both before and after construction of these roadways, including the time-warp Dearborn Station, whose interior is seemingly frozen in time from 1985, when it was transformed into a currently under-utilized "festival center" as seen above.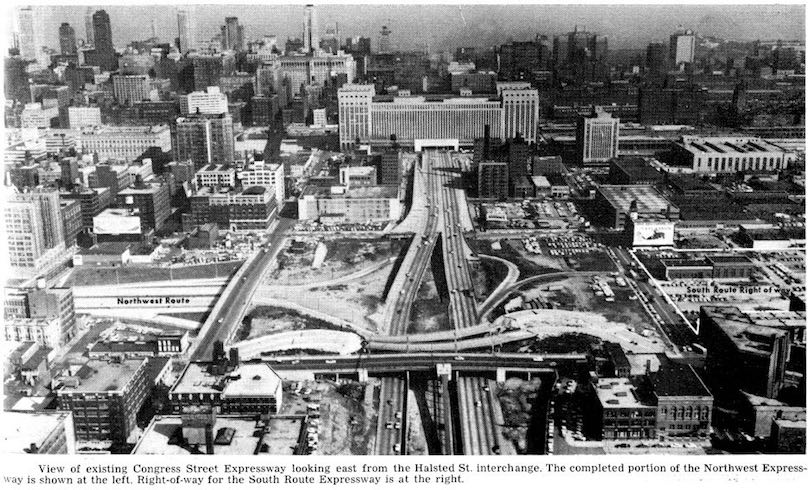 Realty & Building, 1960
The enormous scale of the region's limited-access road system may be seen above, before completion of the Dan Ryan and the Kennedy Expressways. Taken for granted today, the Chicago region as we know it today would not exist without our expressway system and the Jane Byrne Interchange. Forgotten Chicago is looking forward to exploring this curious corner of Central Chicago, for the first time.

Tour Details:
When? Sunday August 13 at Noon. Rain or shine.
Where? The tour will meet and begin above the Polk Street entrance to the CTA Red Line Harrison station (SW corner of Polk/State). It will conclude at the CTA Clinton Green/Pink line station.
How Long? The tour will consist of about 3 1/2 miles of walking and will last approximately 2 1/2 hours.
How much? $20. Advance purchase is required. To purchase tickets click here. No walk-ups. All sales are final. No refunds or exchanges. If severe weather cancels the tour, credit will be issued for use on a tour of equal value.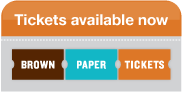 Read More
---
Tweet