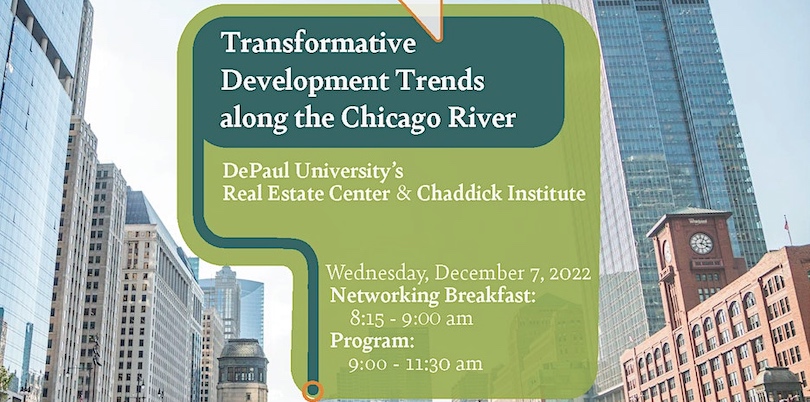 Chaddick Institute for Metropolitan Development at DePaul University
Forgotten Chicago is pleased to promote a half-day program on Wednesday, December 7, 2022 presented by DePaul University's Real Estate Center and Chaddick Institute for Metropolitan Development on upcoming development along the Chicago River. This event continues Forgotten Chicago's series of events since 2019 with the Chaddick Institute on transportation, infrastructure and development of Central Chicago.
A burst of commercial and residential development coupled with a transformation of the shorelines along the Chicago River are creating new and exciting "hot spots" for people to live, work and play. Join us as we explore the exciting initiatives, ranging from the Southbank, "The 78", and Wolf Point to Lincoln Yards. A networking breakfast starts at 8:15 am, with program to follow. This is the 19th annual conference by the DePaul Real Estate Center and Chaddick Institute, and will be held on DePaul's Loop Campus.

Patrick Steffes, 2022
In addition, registrants will receive an invitation to a complimentary cocktail reception on Tuesday, December 6th from 4:00 to 6:00 p.m. at the Lincoln Yards Experience Center in the Firehouse, which will include a 3D model of Lincoln Yards, presentations encompassing the project at large, and a bird's eye view of the 53-acre mixed-use development located between some of Chicago's most iconic neighborhoods: Bucktown, Wicker Park and Lincoln Park. The cost for both days of events is $50.
Professor Joe Schwieterman will also be sharing some brand-new Chaddick Institute analysis on our recent river development.
Please visit this link for more information and to register.
We hope to see you at DePaul!
Read More
---
Tweet