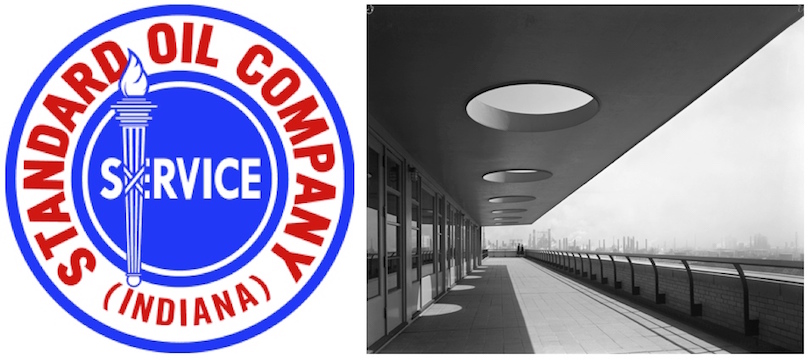 Left: Logotypes101 Right: Chicago Historical Society Research Center
Join Forgotten Chicago on Sunday, April 23, 2017 as we explore by bus the often overlooked, but fascinating, Calumet Region of Illinois and Indiana, and tell the story of one of the most productive industrial regions in the world. The Calumet Region, Chicago's "industrial downtown," is filled with ethnic and industrial history, as well as surprising architectural oddities and unique housing developments.
This tour, last conducted in 2013, has been updated and now includes a rare chance to visit the restored 1927 interior of the tallest building in downtown Gary — the historic Gary State Bank building!
Long before being absorbed by BP in 1998, Chicago-based Standard Oil Company of Indiana (later Amoco) famously built what was then the largest oil refinery in the United States, in Whiting, Indiana. Besides the massive Standard / Amoco / BP refinery, our tour will also have a look at Standard Oil's virtually unknown 1948 Research Laboratory by Holabird & Root & Burgee and Associates, seen above right. Now partially demolished and vacant, a portion of this enormous complex has housed the Calumet College of St. Joseph since 1976.

Left and center: Marktown Historic District Right: Rob Powers, A Chicago Sojourn
One of the Chicago's areas most interesting and overlooked landmarks is Marktown in East Chicago, Indiana. This unique community was built in the English Garden City style in 1917 by architect Howard Van Doren Shaw and landscape architect Jens Jensen. Marktown, a National Historic Landmark since 1975, has deteriorated over the years and many of its buildings have been demolished, with the entire site now endangered. Marktown's unusual street plan was featured in Ripley's Believe It or Not decades ago (above left).

Left: Roadsidearchitecture.com Center: Realty & Building Right: Google Maps
No visit to the Calumet Region would be complete without a visit to the site of the former Woodmar Shopping Center in Hammond, designed by famed shopping center architect Victor Gruen and one of the earliest in the region when opened in 1954. While the shopping mall portion of this complex was demolished in 2006, the unique five-sided Carson Pirie Scott still stands, at least for now. This long-vanished mall is inexplicably still shown on the site of an empty field on Google Maps. This tour will also point out other retail relics and unique examples of mid-century modern design, Calumet Region-style.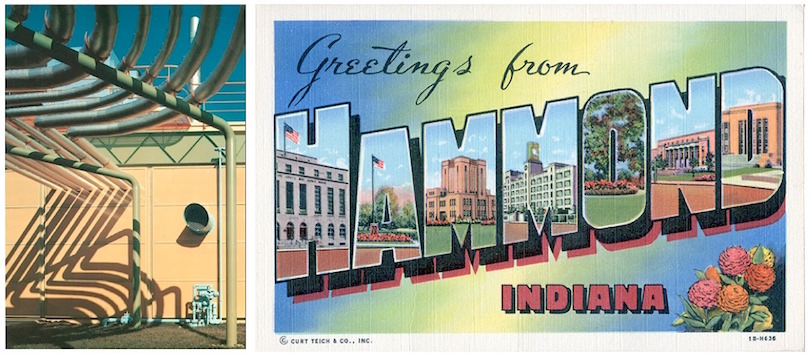 Left: "Helmut Jahn," Text by Nory Miller, ©1986 Right: Chuckman
The Calumet Region is full of surprises, as well as overlooked architectural landmarks. We will drive past one of Helmut Jahn's least known local works, the 1981 former De La Garza Career Center, now Ivy Tech Community College. Unfortunately, this striking building no longer features the unusual color scheme seen above left.
Long-forgotten industrial sites on both sides of the state line will be examined on this tour, such as the decaying but beautiful remnants of the Acme Steel coke plant in Chicago. We will get on and off the bus several times during this four-hour tour to examine endangered landmarks and other points of interest up close. We will head south from central Chicago into the netherworld of industrial Chicago on our trusty yellow school bus (used again for added maneuverability and to keep prices low). From the Southeast Side of Chicago to Hammond and Gary in Indiana, abandoned and active steel mills, oil refineries, industrial architecture, and little-known buildings by well-known architects will be examined, along with much more.
Sorry, sold out.
Tour Details:
When? Sunday, April 23 at 1 PM. Rain or shine. Please note: the bus will leave at 1 PM sharp, so be sure to arrive early.
Where? The bus will load on the southwest corner of Roosevelt and Wabash (in front of Jewel-Osco), convenient to CTA Red, Green and Orange Lines (Roosevelt station), as well as the Metra Electric District station at Museum Campus / 11th Street. The bus will return to the same location.
How Long? The tour will last approximately four hours, returning to the starting point around 5 PM. There will be several stops where we will get on and off the bus and walk for brief periods.
How much? $25. Advance purchase is required. Sorry, sold out. No walk-ups. All sales are final. No refunds or exchanges. If severe weather cancels the tour, credit will be issued for use on a tour of equal value.
Sorry, sold out.
Read More
---
Tweet